Retaining walls are not just there for the aesthetics. They work against gravity to hold soil weight and keep it from sloping down.
There are different materials you can use for retaining walls—stone, timber, brick, concrete. But why should you opt for a big block retaining wall system?
For one, interlocking concrete blocks are small and modular. These come in many textures and finishes. Big blocks are also easy to assemble and can be stacked up to 20 feet high without the use of mortar.
5 Benefits of Big Block Retaining Walls
Erosion Prevention
Soil erosion happens because of strong winds and rainwater. It can cause much damage to your property.
Installing a retaining wall system prevents this from happening. In hilly areas where the soil tends to slope down, big block retaining walls reduce the risk of erosion.
Increased Property Value
If you're planning to sell your house, a sloping piece of land may be a turnoff for most buyers. This is where big block retaining walls solve the problem for you.
It increases your property value since that sloping piece of land would now be deemed usable. It also makes your home look more pleasing, thus giving you an edge over other property sellers.
Durable With Minimal Maintenance
Big block retaining walls are more durable than other materials as they're both water- and fire-resistant. When installed properly, there's no limit to the lifespan of these big blocks.
They're also easy to maintain as they hold soil weight quite well. Big blocks are mortar-free, so you won't have to worry as much about increasing gaps between the blocks over time.
Fashion Meets High Function
Big block retaining walls add great aesthetic value to any home. They bring character to your landscape and allow you to add plants that can improve your house's appeal.
Layered walls also maximize yard space. It not only restrains the soil, but also gives you a place to sit in your garden.
The Greener Choice
Concrete walls are more eco-friendly than, say, railroad ties. This is because concrete walls have less environmental impact than other materials.
Concrete blocks are also made of sustainable materials. There are even eco-friendly stains that can be used on these blocks to make them more pleasing.

Hiring a Pro vs. DIY
Big blocks allow you to DIY your retaining walls. They can be made into different shapes. The interlocking blocks also make assembling easier for you.
You can try doing this project by yourself if you're on a tight budget. Also, DIY-ing is easy for a small-scale project that only aims to beautify your landscape. Make sure you have all the necessary tools and basic skills when you take on this project.
Building a retaining wall is not an easy task. If you want to make sure that the job will be done properly, it might be better to hire some professionals to do it. Remember, redoing a DIY-ed wall costs more than having professionals do it in the first place.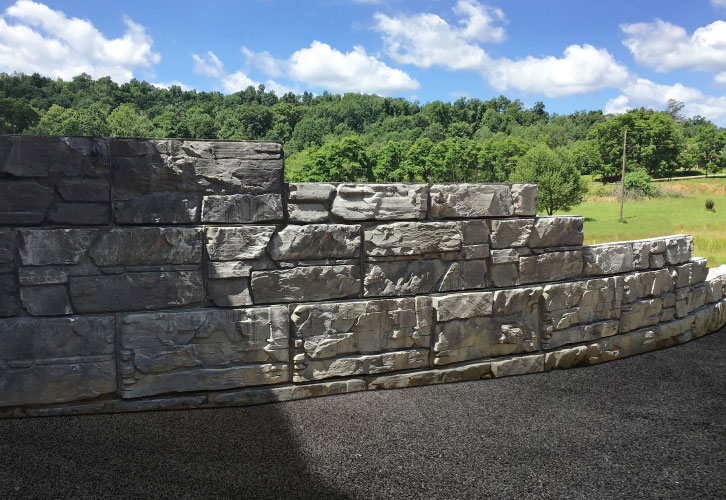 Big Block Retaining Wall System
A retaining wall system is both functional and valuable for your home. It not only makes sloping land usable but also improves how your house looks.
While there are different materials you could use for retaining walls, big blocks are the best option because:
- They prevent the soil from eroding or sloping downwards.
- They add value to your property and give you an edge over other sellers when you decide to sell your home later on.
- They are made of highly-durable materials that are resistant to water and fire. You also won't have to maintain them as much as other materials.
- They are aesthetically pleasing and highly functional. With their several finishes and ease of assembly, big blocks are the best way to go.
- They are made of sustainable materials and have less environmental impact.
---