When the temperatures start to drop and the days become shorter, you will notice that you spend more time at home than you used to. This is why it is crucial to make your home as comfortable as possible. Unfortunately, turning the heating on is rarely enough to keep yourself and your family members warm inside your home during these dreary winter months.
It is crucial to maintain an optimal temperature at your house to turn your space into a comfortable hideaway from the cold. The good news is that you can achieve this by implementing a few interior design solutions, so no need to worry about costly remodeling.
In this article, we will share several cool design ideas that will help you warm up your home this winter. Apart from upgrading your curtains and adding a shag rug, you can also consider investing in high-quality bedding, an aromatherapy diffuser, or a portable fireplace. Continue reading to choose something that will best suit your home's overall style.
Get High-Quality Bedding
One of the best ways to make your time at home more enjoyable is by investing in high-quality bedding that you can sleep on every night. You would be surprised how much of a difference high-quality bedding can make to your overall health and well-being. For example, if you are looking for something that will help you fall asleep faster and stay asleep longer, then consider investing in a good-quality mattress pad or buy 8lb throw blanket.
Some people prefer the latter option because it comes with a built-in cooling effect thanks to the fabric, while others prefer mattress pads because they can be easily removed when the weather gets warmer. Regardless of your choice, make sure to opt for organic cotton or wool material, as they are ideal for winter months when you want to keep yourself warm at night.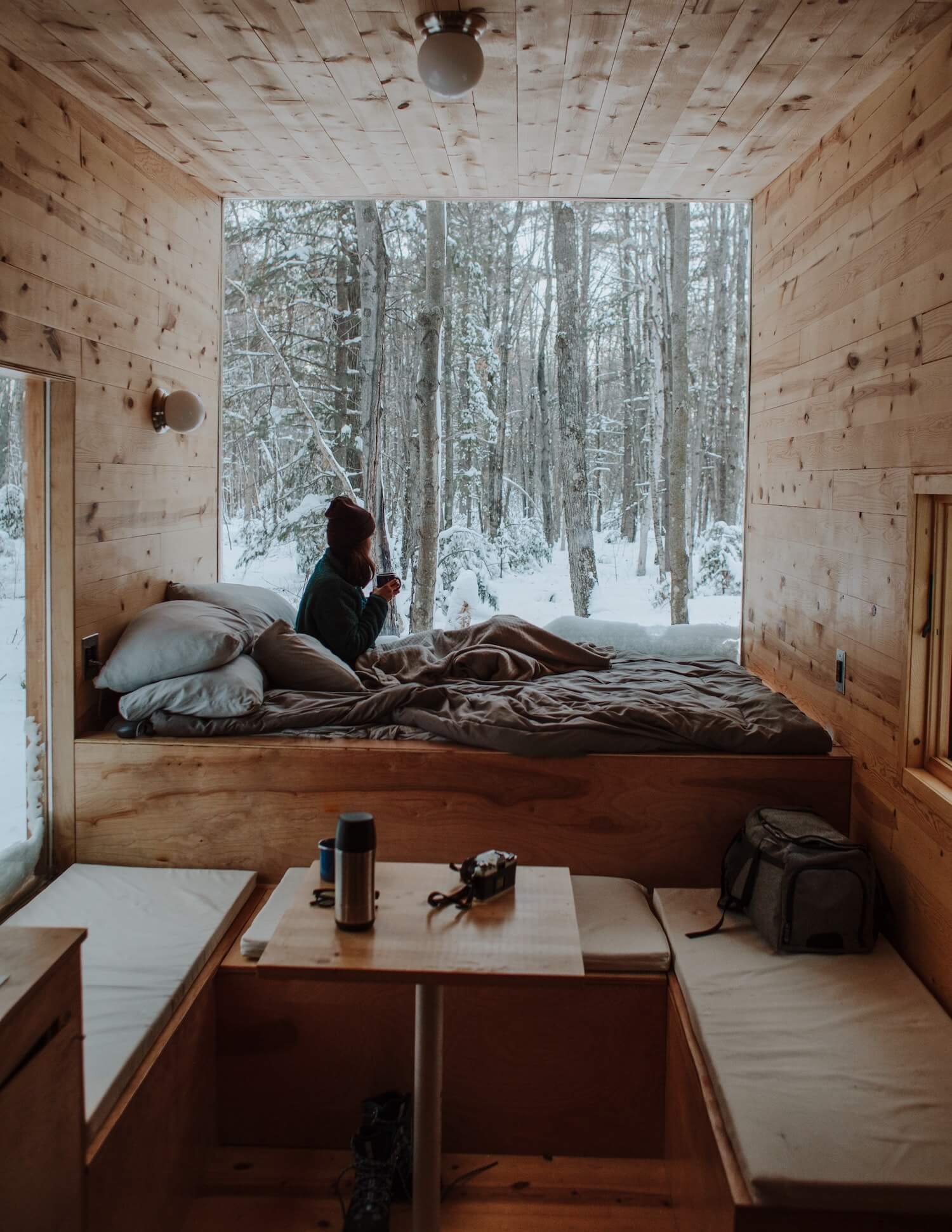 image © Nachelle Nocom
Upgrade Your Curtains
If you have never invested in new curtains for your home, now is a great time to do so! Not only will a fresh set of curtains make your room more inviting, but it will also make a huge difference when it comes to the temperature inside your home. To stay warm this winter, replace your curtains with insulated ones, which are designed to help you keep the warmth in during cold nights.
These curtains consist of two layers - an opaque inner layer and an insulating layer on the outside. The inner layer acts as a thermal barrier between your place and the outside cold, while the outer layer conserves heat even in extreme weather conditions. In addition, these curtains provide a better noise reduction and UV protection than normal ones, so you can rest assured that your home will be more comfortable no matter how cold it is outside.
Add a Shag Rug
Laying a shag rug on the floor is one of the most effective ways to turn your house into a cozy nest that invites you to sit down and relax. Think of the feeling you get when you get home from work – wouldn't it be nice if you could always feel the same way? Well, placing a shag rug in your living room or bedroom will definitely help!
The thing with shag rugs is that they are made out of various fibers, such as wool, silk, coir fiber, or even synthetic fibers like polypropylene or nylon. The main difference between them is the texture and feel they give off, but they all provide warmth. So, if you are looking for something soft under your feet and want your home to look stylish, then opt for a soft shag rug. You may also check some affordable and quality rugs that is perfect for your needs.
Add an Aromatherapy Diffuser
Winter months can be pretty stressful, especially if you have to deal with daily stressors such as work and family life. Therefore, why not try some aromatherapy to relieve some of that tension? It is safe to say that aromatherapy is one of the best ways to unwind after a long day at work. It is said that the sense of smell has an impact on our sleep patterns, moods, and emotions, which means that introducing a pleasing scent into your home will improve your general well-being.
While a diffuser won't make your home warmer per se, it will help you relax, so it is definitely worth investing in one. If you combine it with a scent that invokes feelings of warmth and comfort, such as vanilla or lavender, and a weighted blanket to wrap yourself in, you can help yourself fall asleep faster. This way, you will be ready to enjoy a good night's sleep in the morning!
Get a Portable Fireplace
If you are looking for something that will really make your home feel warm and cozy this winter, we recommend getting a portable fireplace! Unlike most interior design solutions that cost quite a lot of money to implement, portable fireplaces are inexpensive and easy-to-use devices that will transform any room into a cozy space in no time. Thanks to their compact size and portability, portable fireplaces can fit pretty much anywhere in your home – even in small apartments!
These devices are easy to install even by yourself, which means that there is no need to hire additional help. Some models come with built-in heaters; however, they might not be as efficient as standalone heaters. Nonetheless, portable fireplaces can be placed in any room of your house, and they can even be used on open terraces or balconies. So, if you are looking for a quick fix to make your home cozier, then a portable fireplace is the solution!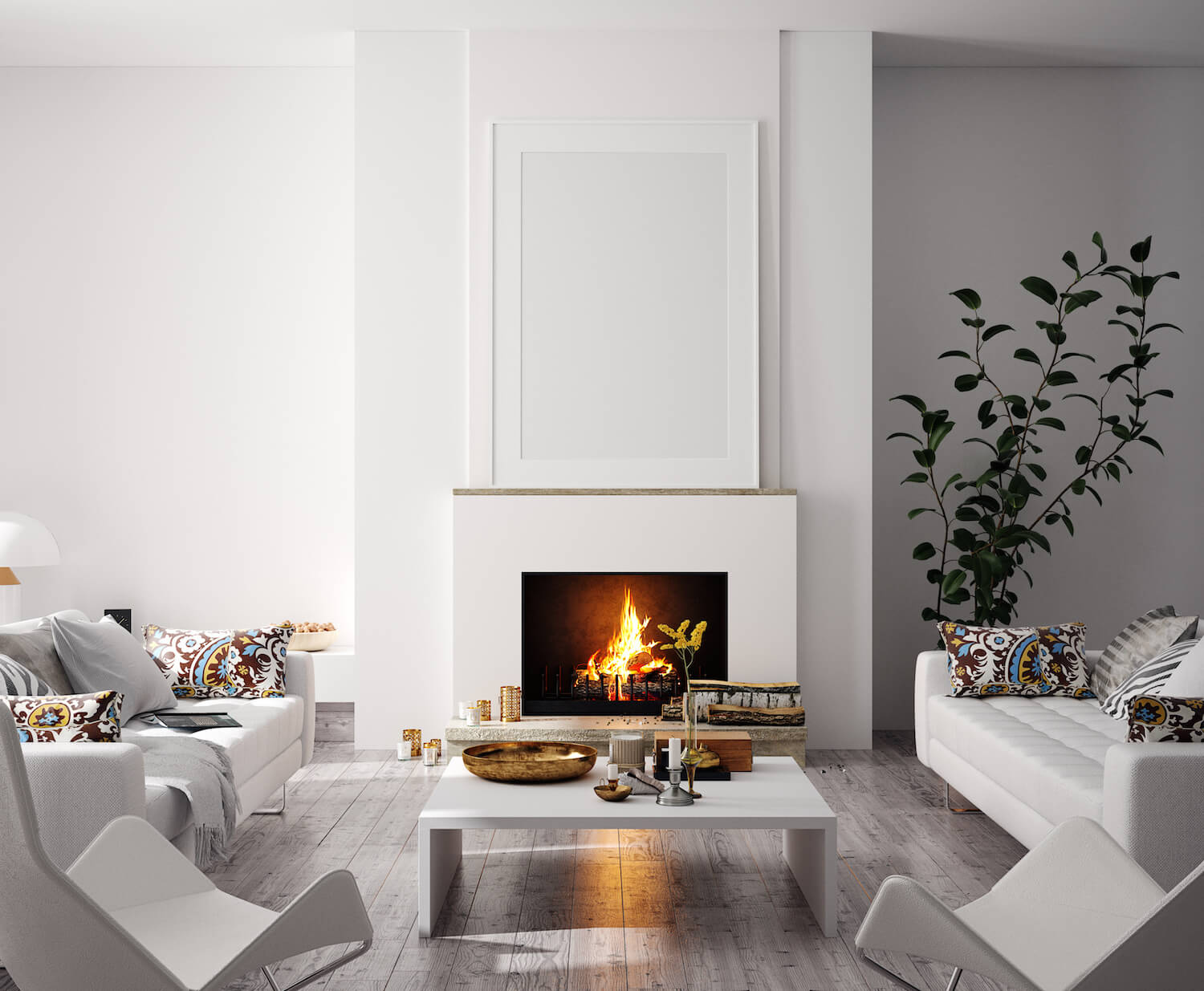 image © Artjafara
Conclusion
Changing the interior design of your home is not as hard as you might think – as long as you know which parts of your house need to be upgraded, that is. If you are planning on spending most of your time at home this winter, then we highly recommend implementing our tips to keep yourself and your family members warm and comfortable.
The best thing about these solutions is that they don't require major remodeling, which means you can complete them in a matter of a few days – just in time for the first snow!
---