When you take a look at pictures of ski chalets online, you probably marvel at the beauty and attention to detail that goes into those spaces. And if you have your own ski chalet, you're probably wondering how to achieve that kind of beauty and have a place you can be proud of.
Designing a ski chalet isn't easy. You need to think about so many details such as the type of paneling you want, what furniture will look like it was created just for your chalet, decorating the interiors, and much more. If you're not sure how you can design your chalet, keep reading.
Be involved in the planning process
If you're buying a chalet that is yet to be constructed, you need to take a look at the architect's plans. Sometimes architects rush these plans or try to maximize the space by putting certain rooms in strange places.
If you don't want your rooms to have a strange placement that won't work for you, take the time to meet up with your architect and look over the plans to see if everything is placed the way you want.
One of the things you need to discuss with your architect is dead space. A certain amount of space in your chalet is probably going to be unusable, but with a little creative thinking, you can ensure you have as little dead space as possible.
For instance, if you have low ceilings, you can use dead space for shelves and cupboards, if you have dead space in the kitchen, you can place wine racks there, and so on.
Use wood paneling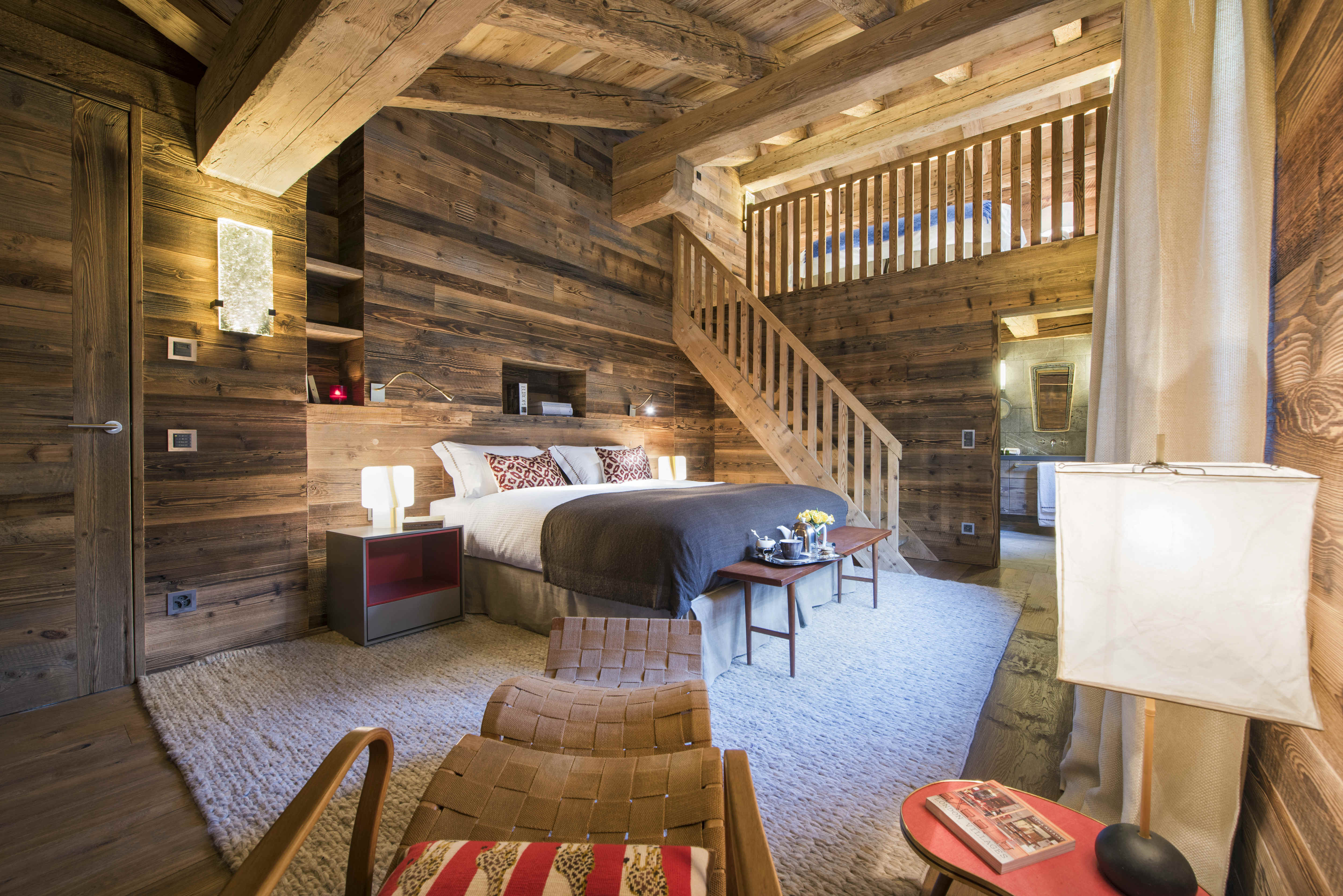 image © Yves Garneau courtesy of Ski Verbier Exclusive
When you think "ski chalet", your first association is probably wood wall paneling that goes from the floorboards all the way to the ceiling. This type of paneling is used by designers that want to create a cabin-style interior and make the space feel natural.
However, you need to be careful with wood paneling because it can create a completely different aesthetic than the one you're aiming for. And if you use the wrong type of wood or don't use the right furniture, you will end up with a space that isn't inviting.
Aside from keeping the natural feel in your chalet, there are multiple benefits to using wood paneling including enhanced durability, eco-friendliness, and easy installation.
Find inspiration in the nature around you
You probably noticed that interior design for chalets takes a lot of inspiration from nature and there is a good reason for that. If you want an authentic chalet, you're going to have to incorporate all of the beauty of your surroundings while also thinking about interior design psychology.
This isn't just about using natural materials such as wood and stone, it's also about making a relationship with the environment and mirroring the feeling of nature outside of the chalet. If you're surrounded by tall redwoods and pines overlooking a huge mountain, your furniture also needs to be dominating.
Chalet furniture is typically robust because the homes in which it is used are usually grand scale as well. And since they're usually paired with natural elements, their size doesn't make it look like they're out of place.
You can also create that log-cabin feel if you use tree trunks for side tables and hang accessories made out of twigs so you have natural elements everywhere you look.
Don't take risks with cutting edge design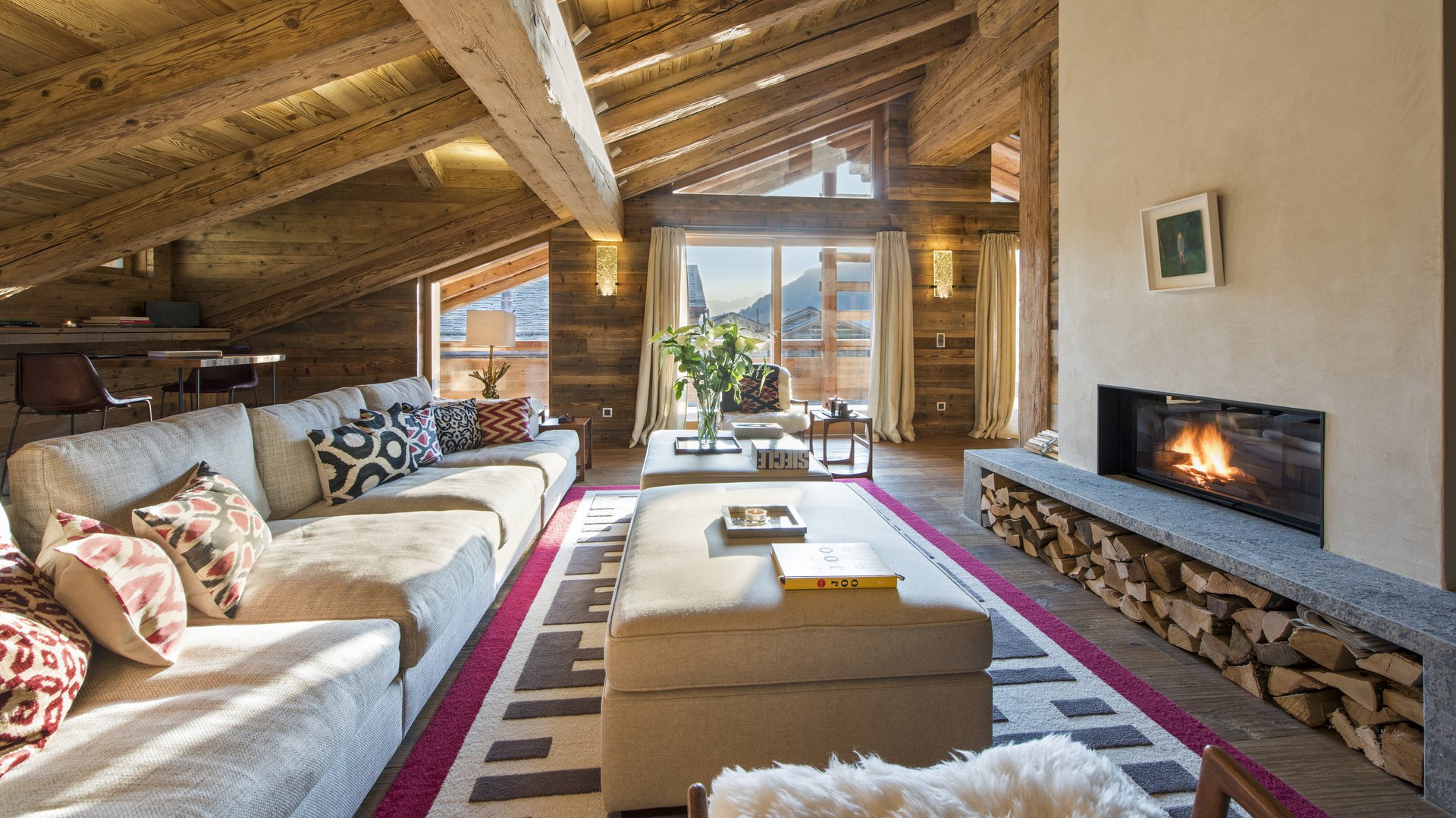 image © Yves Garneau courtesy of Ski Verbier Exclusive
You probably want your chalet to be one of a kind and there are many ideas on how to design your dream home which you can use to get that uniqueness. But you should keep some aspects of your chalet classic.
Modern design is all the rage and there's nothing wrong with incorporating some elements of modern design into your chalet, but something you should never do is dabble in cutting edge design. This is the newest and hottest type of design that is currently very popular but won't be so for long.
Cutting edge design becomes dated within a month or two. If you choose it for your chalet, you are probably a trend follower and will have to refurbish your chalet up to the point of bankruptcy. Instead of taking risks with something modern, stick with the classic style that will always be popular.
Another drawback in using cutting-edge design is if you're planning to rent out your chalet, you will have a hard time finding renters. This is because people who come to spend their holiday in a ski chalet are looking for the traditional mountain experience.
Get professional help
Designing a ski chalet takes a lot of work but also someone who has an eye for good design and fitting multiple elements perfectly together so nothing looks out of place. If you're not sure how you should design your chalet, that doesn't mean you don't have good taste, it just means you aren't an experienced designer.
While all of the tips we talked about here will undoubtedly help you see the direction in which you want to go, you might think it's all too complicated. Or you simply believe someone else would do a better job than you.
If that's the case, you should consider real estate renovation services. No matter if you're looking to do a partial or total renovation or complete remodeling, you can be sure that with a professional team by your side, your chalet will look amazing.
Final thoughts
You may want to design a chalet where you will live, spend your vacations in, or one you're looking to sell or rent. In either case, all of the elements you put into it have to be well thought out. Creating a rustic and natural feel is the best choice you can make, and all of the tips you just read about will help you do that.
---