Your home is your castle, and as such, you want it to look its best. While there are many ways to improve the appearance of your home exterior, adding a few key details can make all the difference. You might want to focus on one area or make changes throughout – either way, here are six useful details to add for a great home exterior.
1. A Patio or Deck
A patio or deck is one of the best additions to a home exterior. It's a great way to get outside and enjoy the nice weather, plus it provides an extra area for entertaining guests. You can choose from either wood or composite materials and create whatever size you need. Adding a few chairs, benches, and tables will complete the look and make it perfect for hosting any event. Make sure to install impact-resistant patio doors that meet current building codes. In addition, place non-slip mats and rugs to make sure your family stays safe. Especially if you're doing the project entirely yourself, you will need to do more research on the specifics of building a patio.
2. Outdoor Lighting
Outdoor lighting can enhance your home's exterior in a big way. The right type of lighting will also boost security and create a warm, inviting atmosphere. You can choose from several options – solar-powered lights are an ideal choice as they're cost-effective and efficient. For areas around your patio or deck, you might want to consider landscape lighting fixtures like path lights or spotlights for dramatic effect. If you're considering doing any kind of electrical work yourself, make sure to consult with local electricians who have experience dealing with outdoor projects before starting the project.
3. Landscaping
Landscaping is an important part of exterior home design. Not only does it improve the curb appeal of your property, but it can also reduce energy costs and increase the value of your home. You can go for a simple clean-up or opt for something more elaborate like flower beds and shrubs – whatever you choose, make sure to pick plants that are appropriate for your climate and soil type. Trees and shrubs can provide shade and help keep your home cool in the summer, while hardscaping elements like walkways, fences, and decks can add visual interest to your yard. When planting flowers and trees, be sure to use fertilizer and mulch to help retain moisture, reduce weeds, and encourage healthy growth.
4. Siding
Siding is another way to enhance the exterior of your home. It's available in a wide range of materials such as wood, vinyl, metal, and stone veneer. Each material has its advantages and disadvantages so it's important to weigh them all before making a decision. Before installing any siding, be sure to check the local building codes and hire a professional to do the job if needed. The main advantages of siding include increased protection from the elements, improved insulation for your home, and a more aesthetically pleasing look. To make sure you choose the right material for your particular needs, consider factors like climate conditions (snow or rain), exposure to UV rays and pests, maintenance requirements, cost, durability, and overall appeal.
5. Windows
Windows are essential for both aesthetic and practical purposes. They let in natural light, provide ventilation, and frame the exterior of your home. The right windows can also help reduce energy costs by controlling airflow. Choose between single- or double-hung windows based on your preference and budget – they're available in different styles such as casement, bay, and bow. Be sure to pick materials that will last longer and look great too. Make sure to invest in insulation and weatherstripping to help keep the inside of your home comfortable and energy-efficient.
6. Gutters
Gutters are an important part of home maintenance since they collect rainwater from the roof and carry it away from the house foundation. Installing new gutters is a great way to enhance the exterior of your home and protect it from water damage. You can choose from different types, such as aluminum, vinyl, or copper – each material has its advantages, so weigh them before making a decision. Make sure to hire a professional to do the installation if you're not confident in your DIY skills.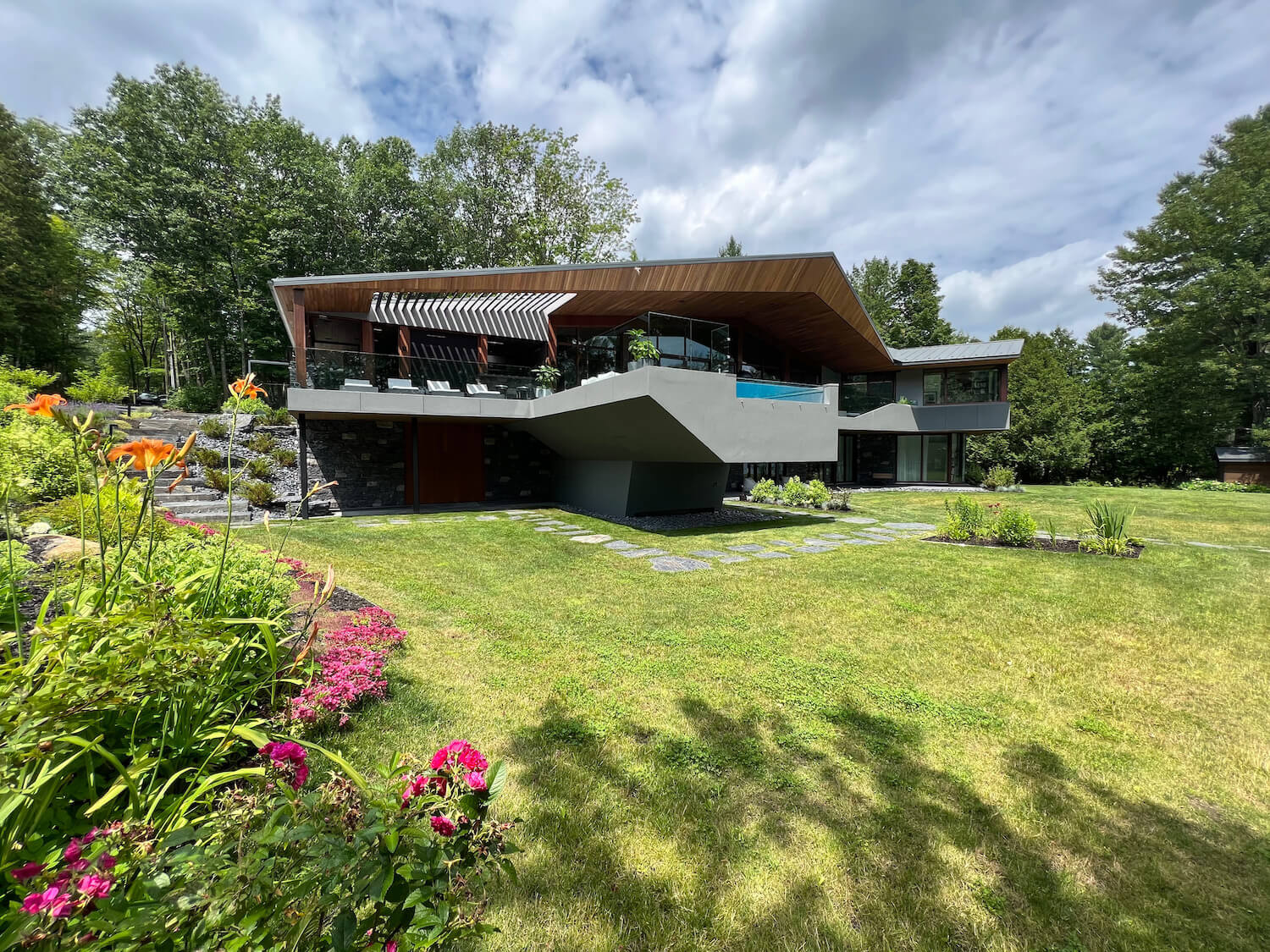 Memphrémagog Lake Residence in Magog, Canada by MU Architecture. Image © Ulysse Lemerise Bouchard
These six useful details will help you create a great-looking home exterior that stands out in your neighborhood. With just a few simple updates, you'll be able to add value and beauty to your property for years to come! Be sure to research local building codes and regulations before starting any project and consult with an expert if needed.
---