AI imagery predicts what our homes could look like 50 years from now.
14% of UK greenhouse gases come from 28 million homes in the UK, according to Climate Change Committee1.
Window and door specialists, Safestyle partner with Tom Ferguson, Civil Engineer from leading engineering design and consultancy firm, to uncover the top five features we're likely to see more of in home designs.
With extreme weather recently listed as one of the key threats to the future of the UK2, it's no secret that we need to start preparing for such events. Coupled with the need for more sustainable buildings and green architecture trends - what will our homes of the future really look like? And how will standard features of our home such as our doors and windows have to adapt?
Safestyle has partnered with Tom Ferguson, Civil Engineer at a leading engineering and design consultancy, to predict what our homes will look like in 50 years time, based on climate change challenges, lifestyle differences and emerging building trends. AI has been used to visualise the predictions.
So, whether you live in an apartment block, suburban area or you're based in the countryside, AI visualises what our homes of the future will look like…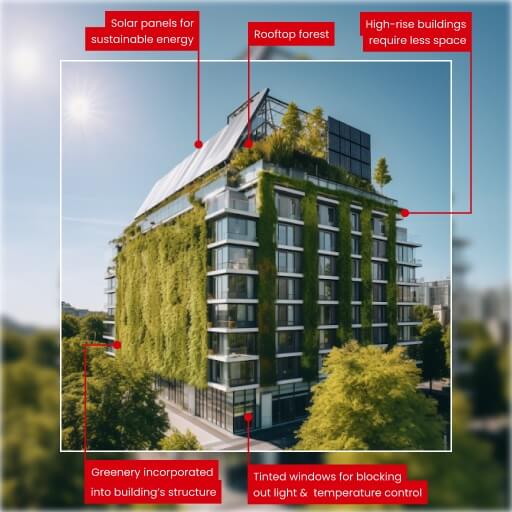 1. Apartment block
Tom explains: "A trend we're likely to see more of - particularly in cities - is building up, rather than out. With rising populations but minimal space, tall buildings such as high-rise flat blocks will help to save on space.
"High rise buildings traditionally have been less integrated into their surroundings, but integrating green spaces into high-rise, urban environments will start to become more commonplace. This not only helps to improve the urban heat-island effect (cities tend to be warmer so greenery will help to reduce this), but it also mitigates against the pollutive effects.
"With sustainable construction also becoming more important, we'll likely see more green architecture features such as living walls and rooftop forests as a common building component. As we embrace living more harmoniously with nature, these green buildings boast a number of positive effects. These include reducing flood risk and noise, heating and cooling places, improving biodiversity, filtering air pollution andimproving wellness - especially in city-scape scenes."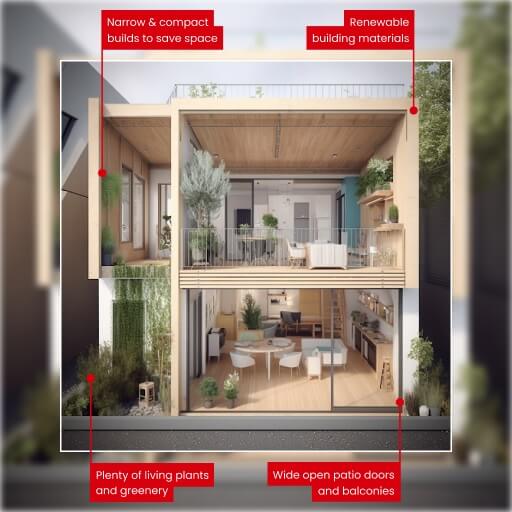 2. Suburban home
Adam Pawson, property expert, Safestyle says: "With populations living longer, multi-generational households are becoming more common both in the UK and other countries. This can involve a family with children and elderly grandparents or relatives all living under one roof.
"Because of this, accessibility is key. This may mean that hallways, porches and front doors may become wider, to allow easier access in and out of the home. The search term 'wide front door' has seen a 3,400% increase over the past five years.
"We might also see fully retracting patio doors become more popular, to create a seamless transition between indoors and out, in line with biophilic design."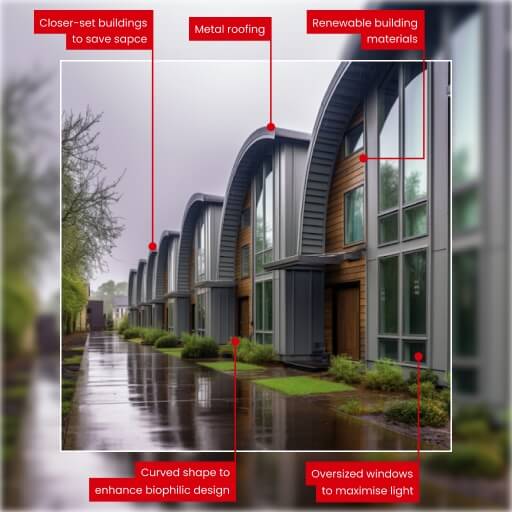 3. Townhouses
Adam says: "Townhouses may embrace more space-saving design features, such as adding additional floors and becoming closer together. They may also sport metal roofing for increased energy efficiency and larger, more curved or oversized windows to take on a more organic, nature-inspired look."
Tom says: "Timber is becoming a more common practice as a building material. It's a very sustainable material as it is regenerative. We can expect to also see more wood panelled houses and recycled materials in concrete."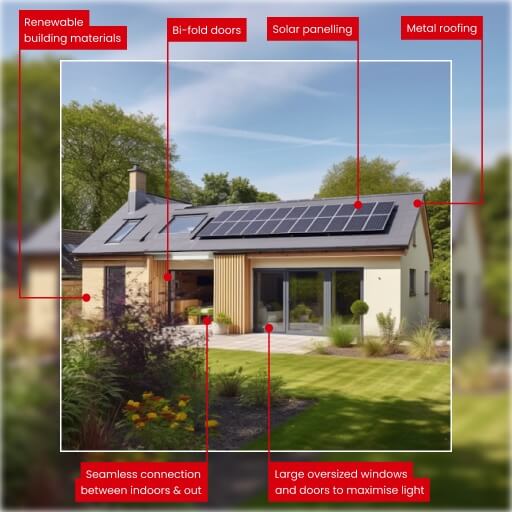 4. Bungalows
Tom says: "There's already legislation that new builds have to have a certain energy rating and rental properties have to have a certain energy rating ECP.
"In the future there could be development upon this legislation. High performing features will be a must, such as double glazing, solar panels, metal cladding and high performance windows and doors. Retrofitting will also be important - this is the use of existing materials and products to create aesthetics that are well suited to their existing environment or traditional appearances."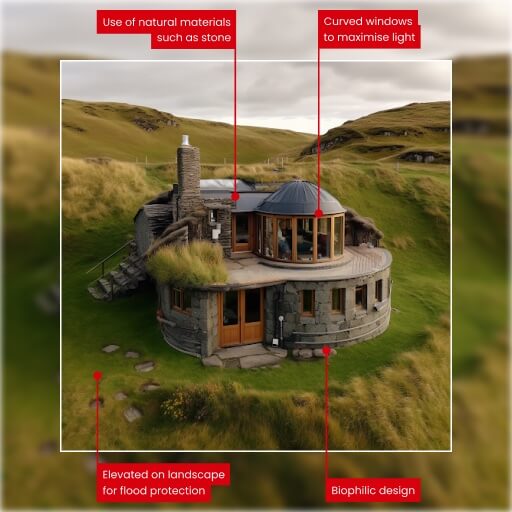 5. Rural country homes
Tom says: "With climate change related shifts, we're starting to see extreme weathers such as heatwaves and stormy weather become the norm. It's these changes that are inspiring a new wave of designs and materials to enter when it comes to building our homes.
"To adapt buildings to these extreme weathers, we'll start to see more flood prevention techniques built into house designs, such as the use of sustainable drainage systems. These systems will not only help to reduce and slow the volume of runoff rainwater but can also help to store excess water - reducing the risk of flooding in urban areas.
"Other ways to mitigate flooding around housing developments will include green infrastructure techniques such as rain gardens. Added green spaces such as flower beds will feature around the perimeter of homes to absorb excess water, before it reaches the house."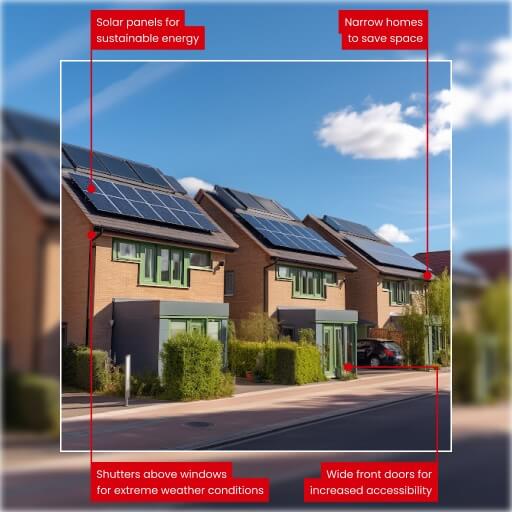 Methodology:
We researched the most increasingly popular and/or emerging home architecture trends, before using Google Trends and Google Search data to determine which ones have seen most growth in the UK between June 2018 and June 2023.
Using MidJourney, an AI image generation tool, we then used these trends to inform our prompts and obtain projected images of what future new builds may look like 40-50 years from now.
About Safestyle
Safestyle has been manufacturing and installing affordable, high quality, energy-efficient and secure windows and doors for homeowners across England and Wales for over 25 years. It is the Number One installer for windows in the country, according to FENSA.
Safestyle's award-winning products are bespoke-made in its UK state-of-the-art manufacturing facility and exceed high and exacting British Standards.
---