There are several variables to consider when selecting a fireplace for your house. One of the most crucial considerations is how it would complement your current living room decor. It's also very important to choose a fireplace that blends in with the rest of your decor rather than sticks out. Here are some pointers on how to choose a fireplace that will look good in your living room.
Design of the House
It's one thing to match a fireplace to a home's aesthetic, but it's another to match the fireplace's usefulness to the room's architecture. When you are adding a fireplace to a room, always think about the function of the space. Will the addition of heat improve or detract from the attraction of this space? When you install a fireplace in a kitchen, for example, it's preferable to transfer the heat elsewhere or use an electronic fireplace that does not emit any heat. Fireplaces can be used to link two or more rooms in a house, such as the living room and the kitchen. The fireplace is an aesthetic standout that also serves as a barrier between the two spaces. It's nice to set these fireplaces a little higher so that furniture may be placed right up to them.
Consider Electric Fireplaces
Electric fireplaces are becoming increasingly common nowadays. The wiring of the fireplace is linked to the primary wiring of your home, and it is built within walls. If you're looking for your first fireplace, you can read a guide to electric fireplaces and get all of the needed information. You'll notice that electric fireplaces are designed to seem like they're made of logs. You can be sure that your living room will have a unique appearance if you have such a design. After the winter season, you don't even have to worry about removing ashes or cleaning your chimney. Furthermore, trendy electric fireplaces are available in a variety of shapes and styles. You will undoubtedly discover an electric fireplace that complements your furniture style and home's decor.
Size of the Room
The important step is to assess how much space you have available for a fireplace by measuring the size of your room. If you have a spacious room, you may be able to purchase a larger fireplace. If your living room is on the smaller side, though, you'll want to keep things simple.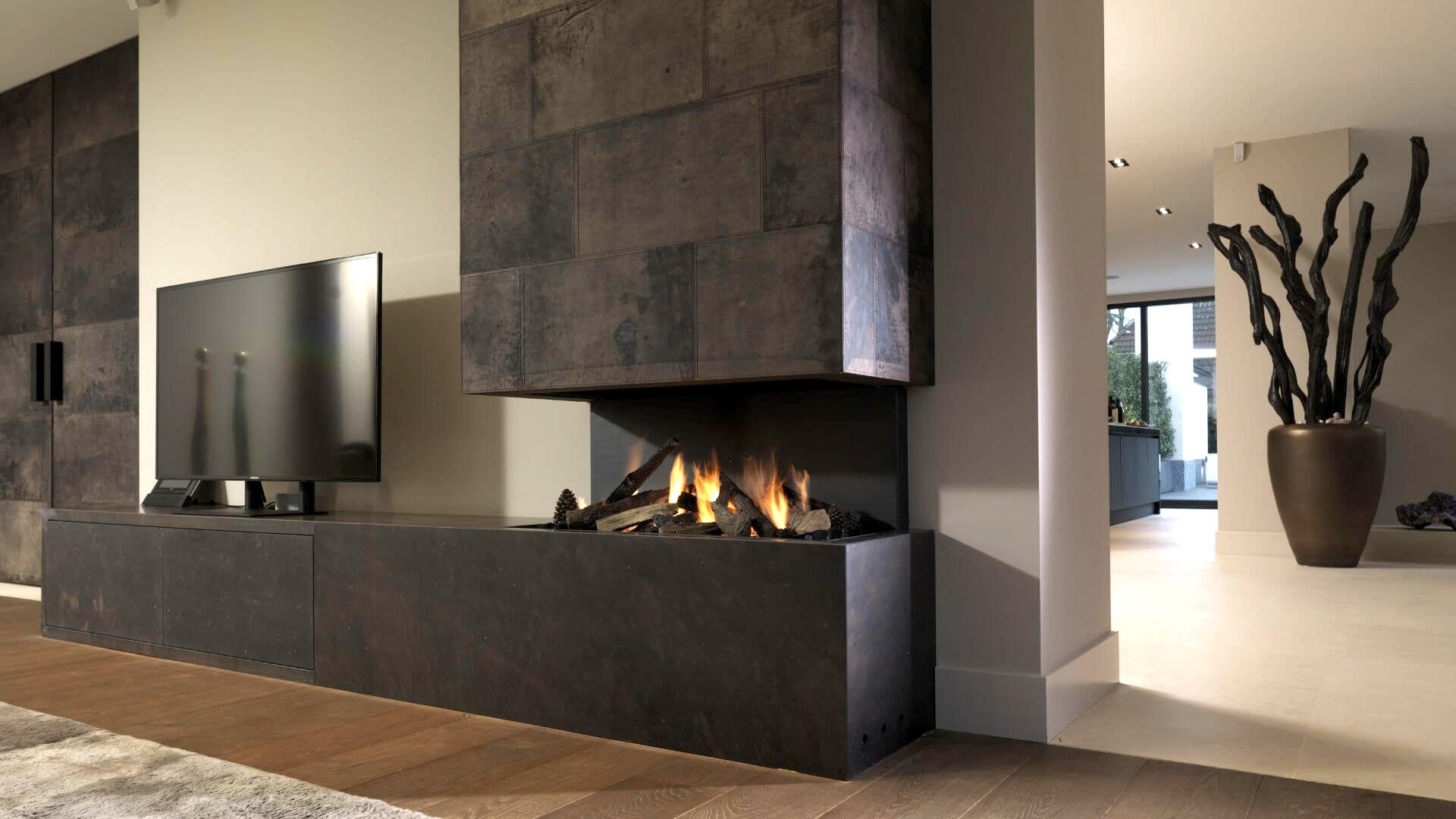 image © Imagedesigner784
Think About Its Purpose
Think about why you want to have a fireplace in your home in the first place. Sometimes it can be to improve the aesthetics of your gathering place or to make your home more valuable. It's possible that your explanation is a mix of the two, but knowing this info can help you determine which type to acquire and where to put it. It's also a good idea to think about how much heat you'll need to keep your indoor living space comfortable. If you want to utilize your fireplace to heat your entire house, one with a higher ambient temperature and lower carbon emissions is recommended. Consult your home builder to determine the most cost-effective method of heating your home.
Features
When it comes to choosing a fireplace, there are a lot of things to think about. Would you like a fireplace with a mantel, for example? Do you require wood storage space? Is a built-in fan something you'd like? All of these factors must be considered before making your ultimate selection. You may start limiting your search once you've settled on the characteristics you desire. It's also crucial to consider your fireplace's budget. Because not all fireplaces are made equal, it's critical to pick one that meets your demands as well as your budget.
Consult a Professional
If you're still undecided about which fireplace is ideal for your house, it's time to get advice from a professional. There are several fireplace designers and sellers that would be delighted to assist you in finding the ideal fireplace for your house, such as fires2u, who have incredibly well-designed gas fires for sale. They can assist you with anything from selecting the proper gasoline type to selecting the features you need. You'll be able to select the ideal fireplace for your house in no time with their assistance. It's critical to get advice from a professional before making a final decision. You can be confident that you're buying the ideal fireplace for your home this way.
It is necessary that you have a clear strategy for the appearance of your fireplace. After you've decided on the sort of fireplace you'd like to install, create a design or layout. Finally, once you've located a suitable spot for your fireplace, you'll be able to make the right decision.

---