A small living room can be a challenge when it comes to furniture placement. This is because they don't have enough space in order to place the sofa and other pieces of furniture. There are some ideas that can help you out with this problem.
An Introduction to Small Living Rooms and How to Decorate Them
Many people have small living rooms, but they don't correctly decorate them. For example, if you have a small living room with a sofa, you can use the sofa as a focal point of your room and add some accessories around it like candles or vases with flowers to make it feel cozier.
The living room is the heart of the home, and thus, it should be a comfortable and inviting place. This room is also where you spend most of your time when you're at home.
Creating a small living room design doesn't have to be difficult as long as you know what kind of furniture works in small spaces. You can use different colors and textures to create an appealing look for your area.
Living Room & Kitchen Design by NeY' Smart / Ney Architects
How To Create an Elegant & Stylish Interior in a Small Space?
Small living rooms have a lot of challenges. They are typically smaller than standard house rooms, they have limited space to place furniture and decorations, and they don't have a lot of natural light.
If you have a small living room, you should know many ways to make it look larger. You can use furniture layout and design to give the illusion of a bigger space. You can also use mirrors, wallpaper, and decorative elements like plants to create the illusion of more space.
Before choosing specific furniture, use special services for the 3D visualization of your room. Knowing the correct dimensions of the room and the size of the furniture elements will help you better understand what suits your space and what does not. Also, detailed 3D models of sofas, chairs, tables, and other pieces of furniture are suitable for this purpose.
To start, we need to think about what kind of furniture we want to keep in the room. We can choose from sofas, coffee tables, side tables, and end tables. We also can add some decorative pieces like lamps and vases for that extra touch of style.
We should consider how much space we have before deciding how much furniture to keep in our small living room. A good rule of thumb is that every square meter of your living space should be used for at least one piece of furniture or decoration item.
What are the Ideal Types of Furniture to Use with Sofa
Many different types of furniture can be used with a sofa. Choosing the right kind of furniture will add to the aesthetics of your living room and create an atmosphere that is conducive to relaxation.
The ideal pieces for your living room include:
- A coffee table: This can be used as a surface for drinks and snacks. It also has the option to hold a TV if you have one in your living room.
- Chairs: Depending on what types of chairs you want, you can go for ones that are upholstered or those with wood legs and arms.
- Side tables: These will provide additional surfaces for drinks, snacks, and other items that you may need in your living room, such as books or magazines.
- Bookcase: A bookcase is an item on shelves for holding books with open fronts and backs that rest on free-standing supports called brackets.
One of the most important things you need to consider when furnishing your living room is what type of furniture you are going for. The ideal types of furniture for your living room can be classified into different categories, such as space-saving or design-focused.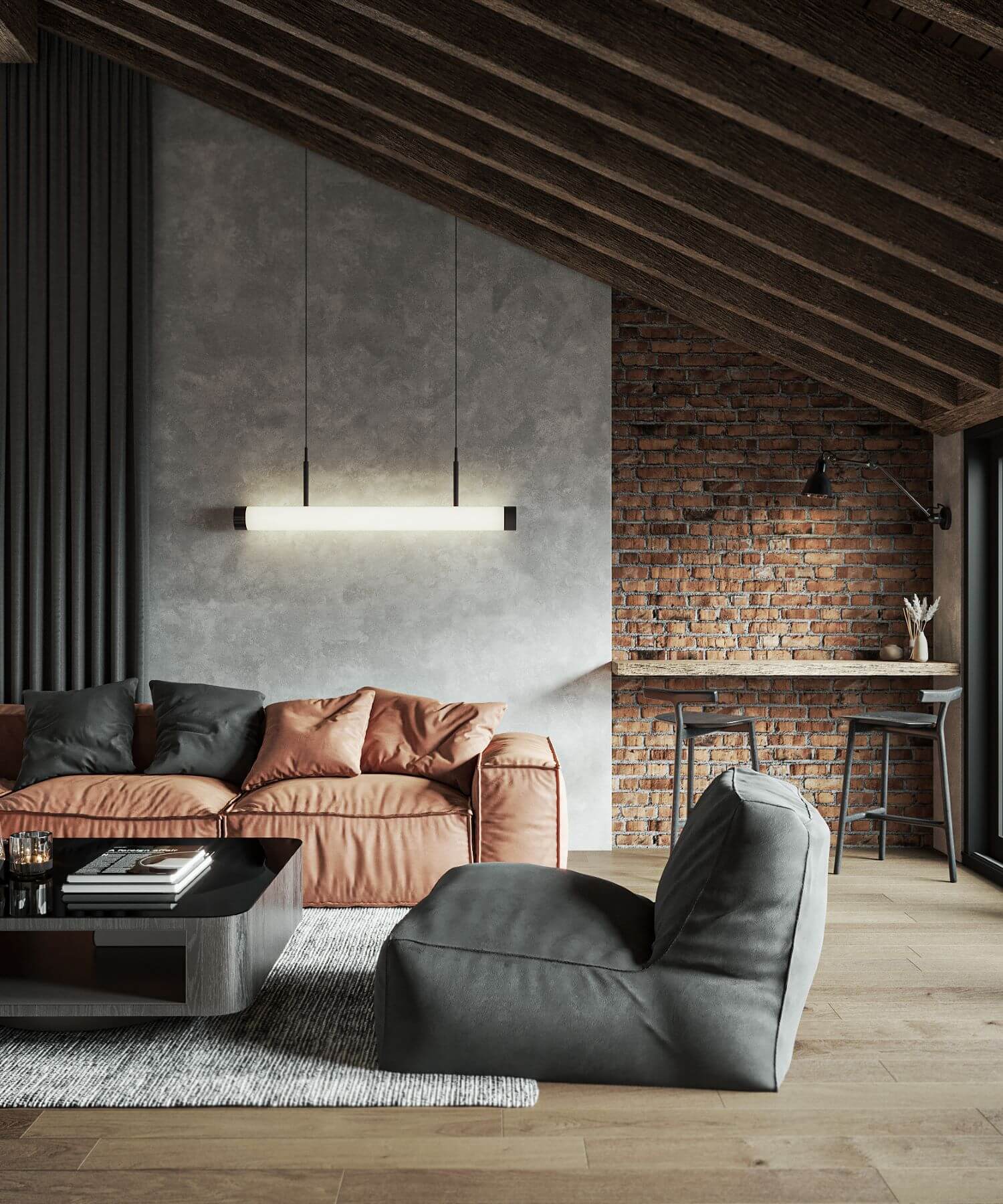 Living Room & Kitchen Design by NeY' Smart / Ney Architects
The two main categories include:
1) Space-saving furniture: These pieces are usually smaller and can be easily stored away. They are perfect for smaller rooms and apartments where space is limited.
2) Design-focused furniture: This category includes pieces with a more modern or elegant look that will help make any space look more luxurious and inviting.
Best Locations of Sofa in a Small Living Room
Some people might think that it is impossible to fit a sofa in a small living room, but this is not true. It is possible to fit one if you know where to put it and how. In order for your living room to look bigger, you need to have furniture that takes up space and makes the room feel more open.
Some people believe that a sofa should not be placed near the front door and it should be placed in the middle of a room. Others believe that it should be placed near the window so that you can enjoy the fresh air while relaxing on your couch.
There are no hard and fast rules on where to place your sofa in your living room; however, there are some general rules you can follow when deciding where to put it:
Rule 1: There should be at least three feet between the couch and other furniture.
Rule 2: Make sure that there is enough space for people to pass by without bumping into anything.
Rule 3: Make sure that there is enough space for your feet when sitting on the couch.
A sofa should be placed at the end of the room or near a wall so that you can still move around easily when sitting on it. The couch should never block your view of other parts of the room or obstruct any doorways or windows.
Final Words
There are many factors to consider when choosing the best location for a sofa in your living room.
The most crucial factor is the size of your living room. If you have a small living room, you need to choose a smaller sofa that will fit into the area. If you have too many pieces of furniture already in your living room, then there is less space for other pieces, and it will be harder for the sofa to fit in.
The best place for a sofa in a small living room would be near the window and away from the door. This will make it easy for people to walk past without bumping into it when they enter or exit the room.
---