Floors are a crucially important part of our homes. They hold everything else up, and they add a sizable aesthetic value to the interior of homes. There are a lot of decisions around selecting the perfect floor for your home. Consider the color, price, and durability.
Durability includes how long the floor will last; how resistant it will be against any form of damage, like insect attacks if it's a wooden floor. Some factors that determine the durability of wood are:
- The species of the wood
- The quality of the wood coating
There are several kinds of floors with varying levels of durability. There is bamboo, vinyl plank, tile, laminate, engineered oak, and solid timber wood floors. The solid timber wood floors are among the most durable and resilient against wear and tear and any type of weight placed on them.
We make them from natural timber of slow-growth trees. They are heavier than all other types of floors. They possess refined grains and are famous for becoming beautiful. Solid timber floors have the reputation of lasting decades if they are adequately maintained.
When selecting a wood floor for durability, use the Janka hardness rating system. This rating system is commonly used to measure wood resistance to denting and determine if a tree species is suitable for use for flooring. It is advisable to select timber which rates between
This article contains the most durable solid timber wood floors you can select for your home.
Maple Floor
Maple flooring is a popular, multi-functional option for hardwood floors. If properly installed and maintained, it can last for many years without major signs of damage or fading. Maple is among the hardest wood species available for flooring – scoring 1,450 on the Janka Hardness Test. One pattern that stands out is the Birdseye Maple flooring, a unique and beautiful way to bring a touch of elegance to any room. Its distinctive grain pattern creates an earthy look that will stand out amongst all other types of hardwood flooring options. With its stylish texture and subtle color variations, Birdseye flooring will become the centerpiece in any room with its classic charm.
Ironbark Floor
They get the timber for these types of floors from ironbark trees. These trees are highly valued for their timber. They have many species that include the Eucalyptus sideroxylon (pink ironbark), Eucalyptus paniculata (Grey ironbark), and red ironbarks.
They have the following qualities:
- Durability with a life expectancy of over 25years
- Termite resistance
- More fire resistance than many other timbers
- Heat resistance
The trees rate 14 on the Janka. We cannot underestimate the durability of the timber from trees of the ironbark species. They outlast many other kinds of wood by several years.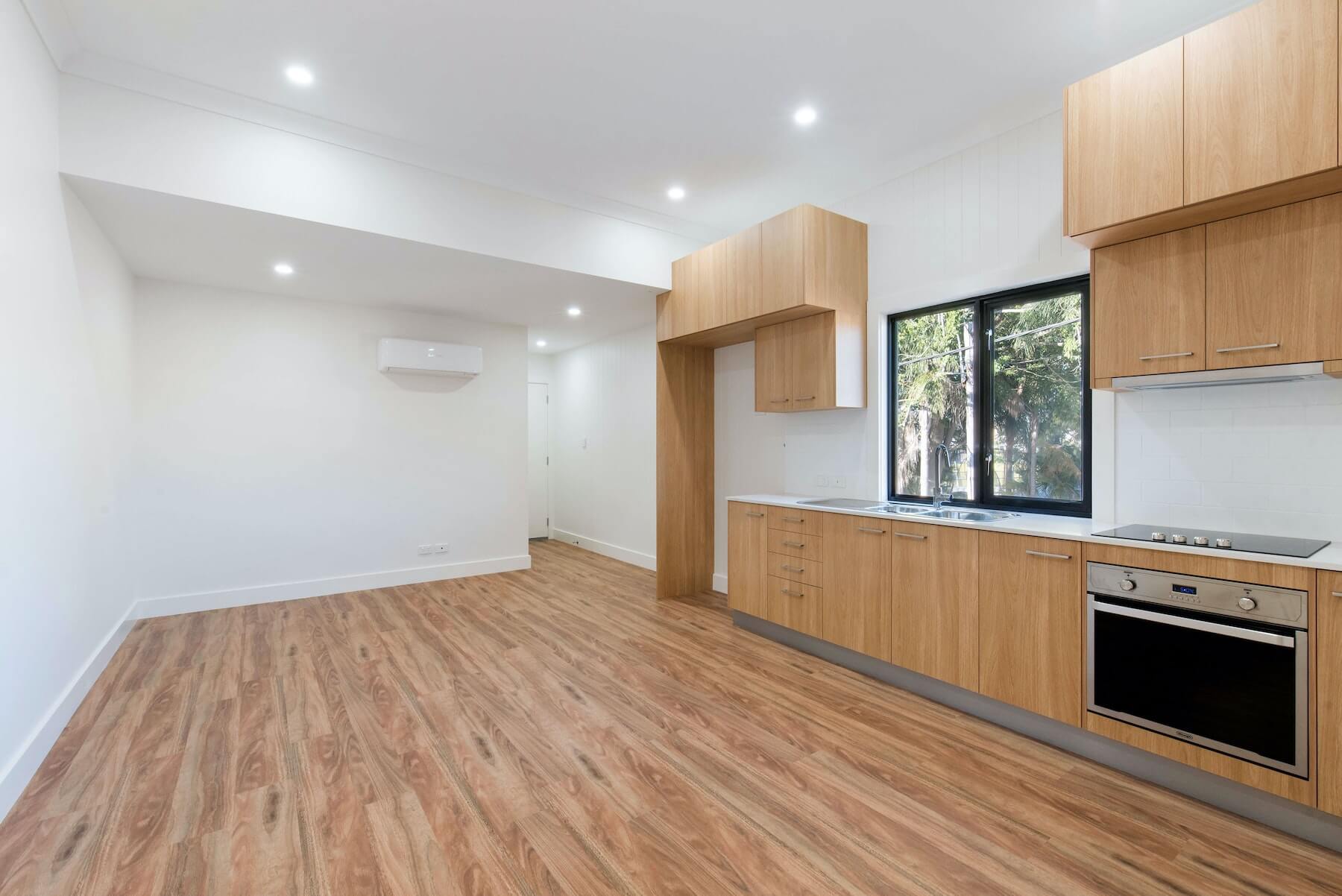 image © HausPhotoMedia
Spotted Gum Floor
This tree is a popular choice because of the variety of shades and colors it has. Its Janka hardness rating is 11, and it is an extensive native hardwood grown in forests. You can go to website to discover more about spotted gum floors. It is a common and highly recognized tree in Australia. It produces high-quality, strong, and attractive timber that stands the test of time and can be used for light or dark interior decor.
Blackbutt Floor
This tree is a member of the Eucalyptus family, and it is native to Eastern Australia. The tree got its name 'Black butt' from the coarse bark, usually charred black or grey from bushfires. It is hardwood valued for its hard quality timber and rapid growth. It shows excellent resistance to insect attacks. Its Janka rating is 9.25, and it provides highly durable timber perfect for flooring.
Bluegum Floor
It is a commonly forested hardwood species that is relatively hard and dense but easy to work on. Its color ranges from pale brown with blue or green tinges. It produces moderately durable timber, but it is still more durable than a good deal of wood of 9ther trees. Its Janka rating is 9.0
Cypress Pine Floor
We got the timber here from the Cypress pine tree. The tree belongs to the coniferous tree native to Australia and New Caledonia. Although it is softwood, it has properties that make it similar to hardwoods. It has the following features:
- Light
- Decay resistance
- Termite resistance
It rates 6.5 on the Janka hardness rating. It is a great flooring choice because, along with its durability, it is soft and aromatic.
Oakwood Floor
We got this type of floor from the timber of oak trees. Oak trees are commonly from Europe or North America. There are 500 living species of oak, but the most prized oak for wood is the Red Oak.
Their color ranges from blonde to mid-brown; they are moisture, fungal, and insect-resistant; they also possess noticeable grains. Oaks are a highly sought tree species for their hardness, strength, and longevity. They are also resistant to denting and scratching. This type of wood, along with its durability for timber, comes at highly affordable prices. All the properties of oak make it a great option for solid wood floors.
The durability of a floor is necessary. When you are choosing a floor, pick a floor that promises to be long-lasting. To avoid fixing the floor you just got set, choose right. Choose durable.
---