The WASA World Architectural Student Awards are the world's largest architectural student competitions held mainly in Japan, China, the United States, and Europe. This is a contest designed to test the diverse abilities of architecture students by allowing them to submit works they have created in the past, such as design projects, competitions, and graduation projects, as they are. For all participating students, AI and architects will comprehensively calculate the ranks and ability values of successive, world, national, and grade rankings and provide feedback. Outstanding works will be presented with a certificate of merit and sent to the world. In the final judging, architects, university professors, and architecture students from all over the world will vote globally to decide the Grand Prix and to excite the competition.
Languages: Japanese, English and Chinese are available.  Participation fee: Freehttps://www.zenkokukenkomi.com/worldarchitecturestudentaward2023%E3%83%BCenglish
For details, go to the official website of the tournament ↓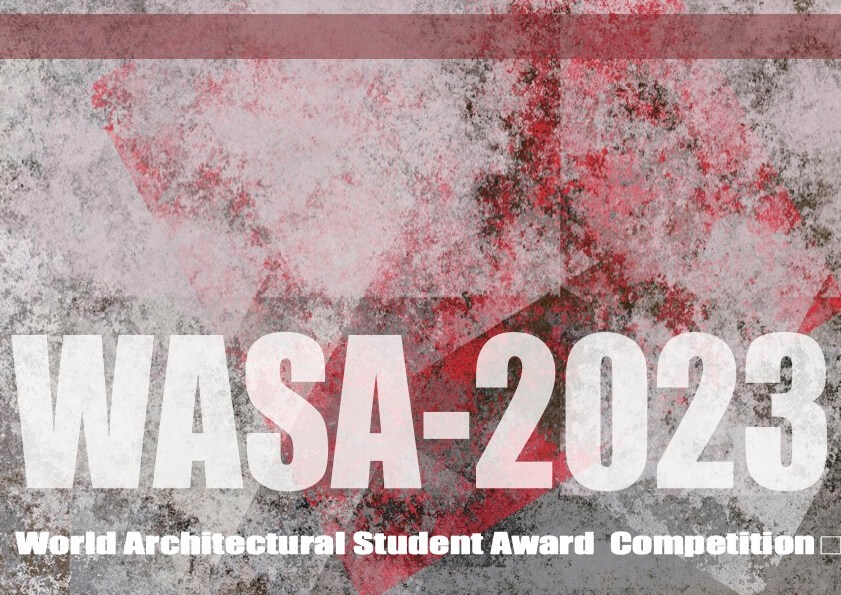 【 Entry work 】
Design proposals for design projects, competitions, graduation designs, master's designs, cities, interiors, and landscapes at educational institutions related to architecture (universities, junior colleges, vocational schools, and graduate schools)【 Submission method 】
You can submit the work data created in the past as it is. PDF, video, CAD, 3D, BIM, etc. can be submitted with unlimited data capacity and formats. The number of works is unlimited, and any number of works can be submitted.
【 Judging method and award certificate 】
WLS World League Match (Preliminary Examination)
Based on the ability value calculated by the AI screening, we will divide it into the optimum league that the designer is good at among 10 types of leagues and perform ranking calculation and award screening. A total of 100 winners will be selected by calculating the ranking of each league, world, national, and grade. The winner will be able to advance to the World Championship match.
・All league: A league that competes for comprehensive perfection in architectural design proposals
・ONE League: A league that competes only for comprehensive proposal ability in architectural design proposals ・TWO league: A league that competes only for comprehensive expressive ability in architectural design proposals ・Omitted from A League to G League certificate
87 types awarded to 100 works
WCSS World Championship Match (Secondary Judging)
WLS passing works will be disseminated to the world via YouTube and online exhibition halls, and will be voted and questioned by architects, architecture students, experts, professors and construction companies from all over the world.
After the global vote, the votes will be counted, and based on the results of the preliminary screening, students will discuss and select 14 works from 100 works, and 3 works will be selected as award-winning works.
Certificate
World Championship Gold Medal Gold Prize 1 work Prize money $1000
World Championship Silver Medal Silver Prize 1 work Prize money $500 World Championship Bronze Medal Bronze Prize for 1 work $200 prize money 14 world championship medals
【schedule】
Entry period: January 1, 2023 to August 1, 23:39 (local time)
Submission period: January 1, 2023 to August 1, 23:39 (local time) WLS Examination: August 1st to September 1st, 2023 Global Voting, WCSS Judging: October 1 – November 1, 2023 *The screening period may change depending on the number of applications.
【judge】
Qualifying judge A: AI Genius architect version.15 (1st generation)
Qualifying judge B: Yusuke Shimizu (AIGA developer) ・The accuracy of the ranking calculation has been improved. ・An esquisse function has been added to the feedback sheet. ・Feedback sheet calculation of similar buildings has been added.
【Tournament page】
Japanese: https://www.zenkokukenkomi.com/worldarchitecturestudentaward2023-compeEnglish: https://www.zenkokukenkomi.com/worldarchitecturestudentaward2023%E3%83%BCenglishChinese: https://www.zenkokukenkomi.com/worldarchitecturestudentaward2023%E3%83%BCchinese
【Organizer】
KENKOMI.JAPAN WASA World Architectural Student Award Executive Committee
【cooperation】
World Architectural Design Institute State-of-the-art Technology Development Department
---