The Melbourne-based architecture firm Gardiner Architects has recently completed ''Anna's House'' a single-family home that located in Brunswick, Melbourne, Australia.
Architect's statement: Anna's House sees the transformation of a tired Brunswick weatherboard workers cottage into a considered, practical and comfortable home. Situated on a small site with close neighbours, the design had to incorporate clever space efficient design methods to allow the living spaces and gardens to feel open and spacious. The project incorporates passive solar design principals to catch northern light while ensuring it doesn't get too hot in summer. With a client that was open to finding the best sustainable solutions tailored to her project, we sought to ensure the design did everything it could to positively impact the environment and neighbourhood. The period house was transformed into a comfortable; light filled home that is fit for purpose while flexible with great connection to outdoor spaces.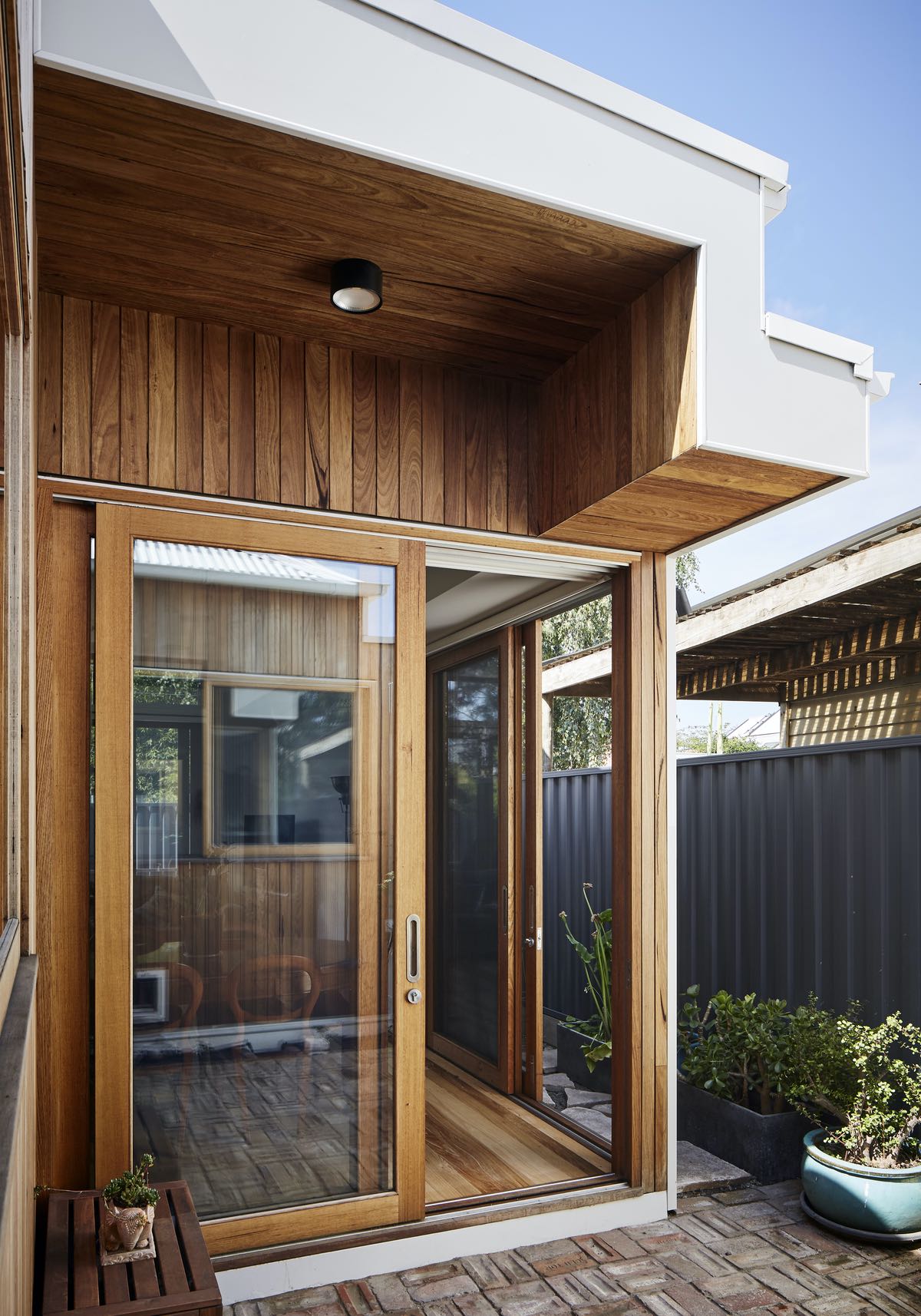 image © Tess kelly
What is the house like now?
We decided it was best to retain the more solid, heritage section of the house to the front, fixing it up as needed while removing the substandard back section. Anna felt strongly about having the front of the house restored to match the period features of the adjacent terraces. We removed the 1970's concrete porch and added back in a timber deck and bullnose roof. Repairs to the worn out weatherboards was also needed. The front porch is much more inviting to sit out on and connect with neighbours. We saw repairing the old house rather than making a whole new architectural statement as a valid approach and respectful of what is already there on the street. It also allows for the budget and new architectural gesture to be left for the addition to the house, and provides opportunity to play off the old and have a bit of fun with the new.
Walking through the home from the front entry, you see the retained front two rooms and hall. What was an awkward walkthrough living space, has been transformed into the bathroom and study. The corridor that connects the old and new sections of the house has a separate toilet, a laundry and a whole lot of storage coming off each side. Doubling up a corridor with service areas is a space saving tactic that assists with the efficient use of space in small footprint homes. Usable bench space with drawers below runs under the window along the corridor, which can be used as a part of the kitchen. A courtyard allows for more areas of the house to connect to outside. The study looks into the courtyard, as does the corridor. The new open plan living space has a raised ceiling to give a sense of spaciousness while opening up even more to northern sun and views to both garden spaces.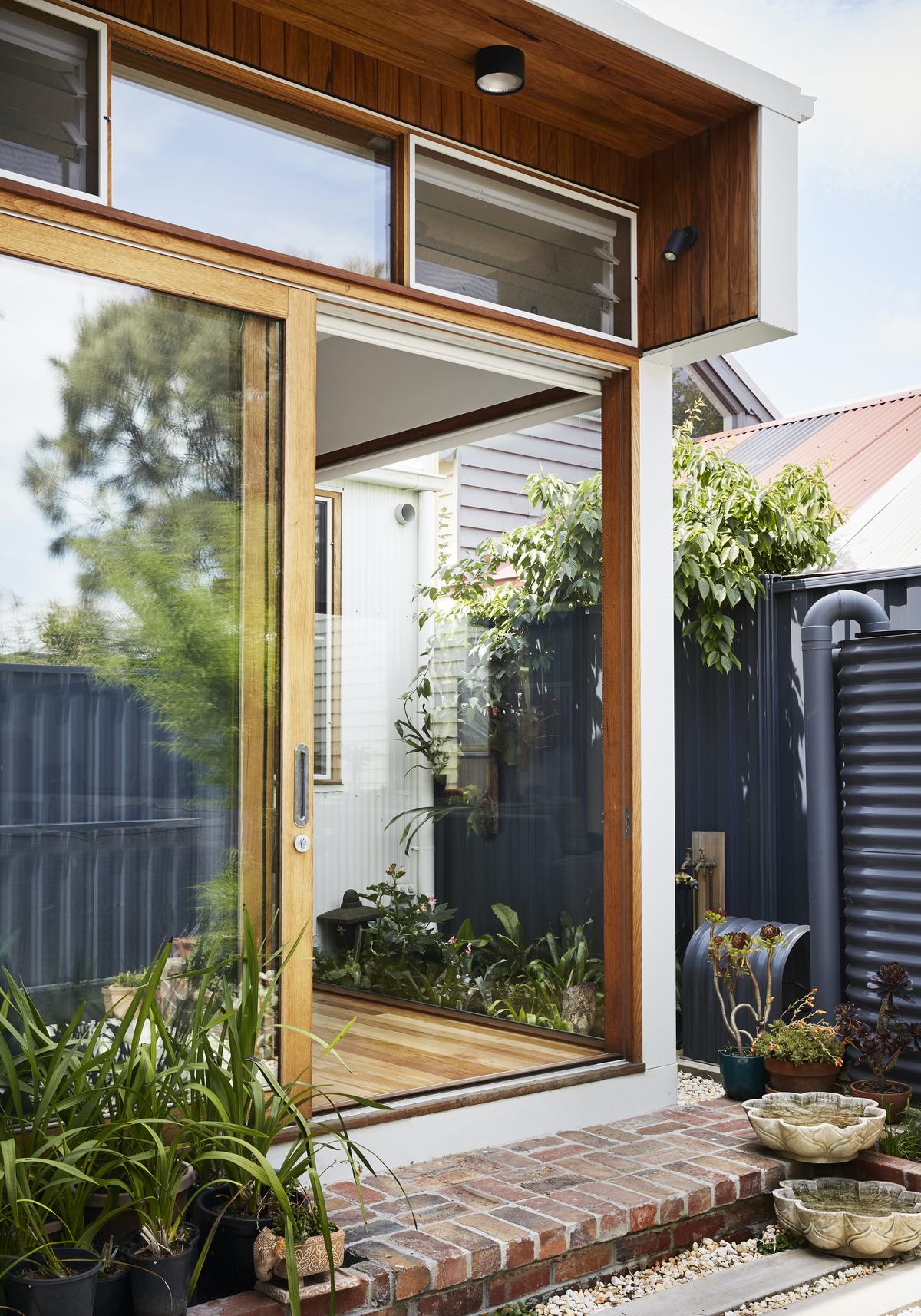 image © Tess kelly
What was the existing building like?
Anna's existing house, located on a quiet tree lined street in Brunswick, was a small workers cottage on a small site. The front section of the house encompassed two bedrooms, a hall and a lounge. The other rooms at the rear of the house were within your typical run down lean-to. Small, dark and pokey with low ceilings and no insulation. Along with being hot in summer and freezing in winter, the house as it was had no connection to the outside.
How did you approach the visual aesthetic?
Anna has a beautiful collection of old furniture and art. A mix of special pieces from her family and relics from her travels around the world, that collectively have a very warm and rich aesthetic. She loves the warmth of timber, as do we, so timber flooring and cabinetry was incorporated. The simple palette of timber and white allows Anna's art and furniture to bring character to the spaces without being dominated by the architectural expression. We weren't seeking a minimalist approach, just a backdrop for all her beautiful belongings to sit within. The spaces have a comfortable feel while being open and full of natural light.
What has the client reported about the experience of her new home?
We've visited Anna in her new home and found that she's really comfortable living there. It's light and open while feeling private and protected even though the neighbouring properties are so close by. The garden aspect from all rooms really helps with this. The orientation, incorporation of the concrete slab and well-insulated walls assists the house feeling comfortable all year round.
What aspects of this project show the general Gardiner Architect's approach to renovations?
Our approach is to find ways to allow for internal spaces to have adequate light, protection from hot afternoon sun and a visual connection to green spaces and the sky. Design decisions such as incorporating the courtyard and having the high ceiling over the living space really eventuate from these requirements. The shape, size and constraints on an inner urban site also influence the design. It's teasing out the best solutions to ensure that a project is doing all it can to be a practical, useful and enjoyable space to inhabit.
We see value in not only retaining but celebrating and preserving heritage buildings regardless of whether regulations enforce this or not. Keeping construction materials already in use has to be one of the most effective and sustainable things to do. Unfortunately in Australia we don't have adequate systems that see demolished materials sorted and sufficiently reused and recycled. So we say, don't knock it all down. We also value new expression in new architecture. Rather than extending the same roofline or using the same materials for the new area of the house, we like to find a way to relate to the old without replicating a period aesthetic. We say make the decision about what you replace and what you rebuild, where you draw the line and what you value.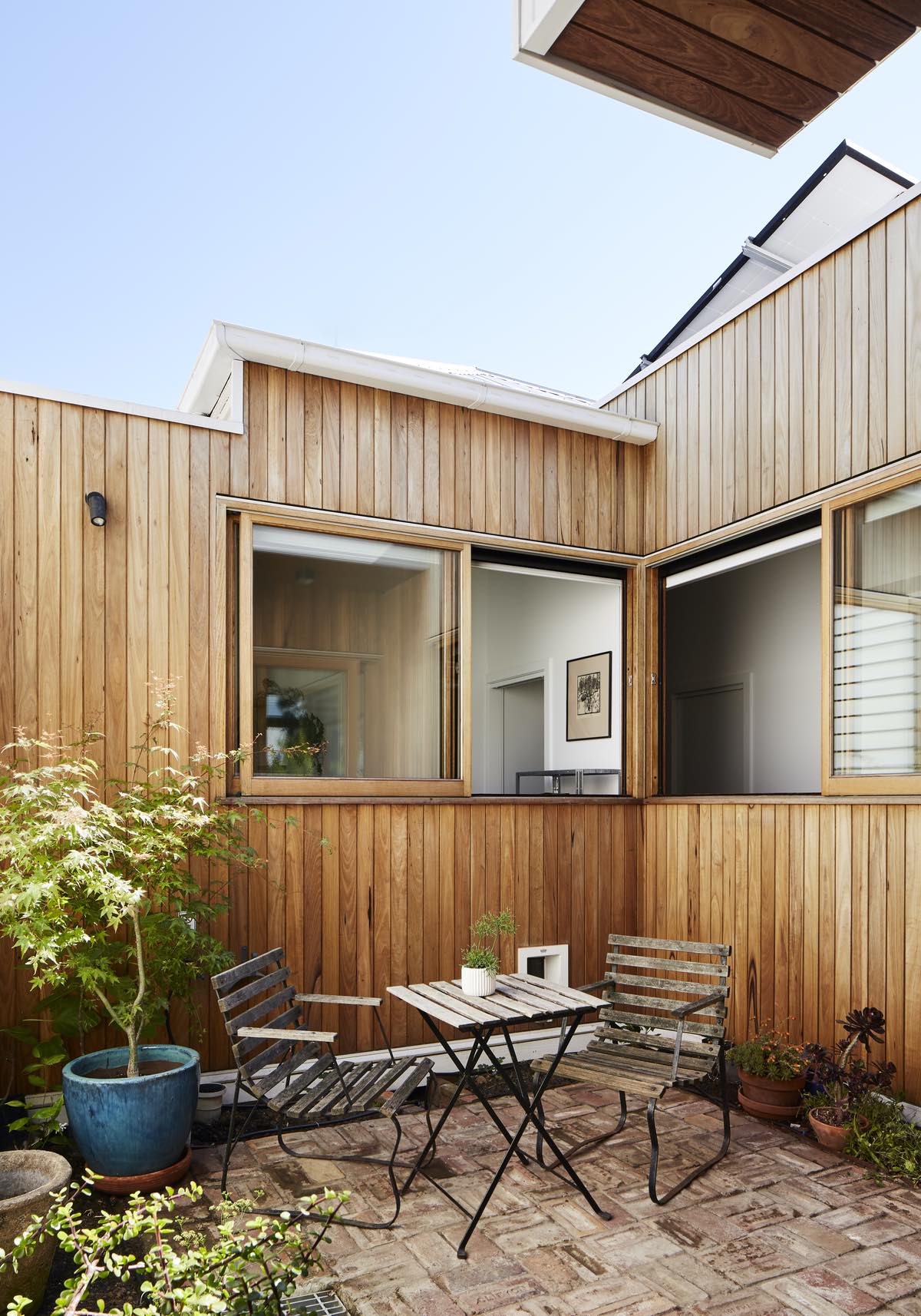 image © Tess kelly
What are the sustainability features?
We went through a normal briefing process with Anna and discussed the various aspects of sustainability. The sustainable elements incorporated into a project always vary and were guided by Anna's lifestyle and priorities. We like our clients to feel assured that together we've found an approach that does everything it can to reduce the projects impact on the environment. While Anna started not entirely sure what a sustainable project entails and not wanting it to impede too much on the overall budget, she ended up with an efficient home based on passive solar design principals.
To start, keeping the house small is a sustainable action, a fairly major one at that. We explored where existing building stock or services were best kept for the remainder of their life span rather then sending usable materials to landfill. The passive solar design principals that guided the renovation were namely an orientation to the north and protection from the hot afternoon sun from the west. This guided a range of elements such as an inclusion of a courtyard and roof overhangs above windows. We chose to incorporate a concrete slab for thermal mass that helps maintain a temperate climate inside. Solar panels and water tanks assist to reduce the usage of mains electricity and water which inturn reduces the homes running costs.
How did you come to work with the client?
Our client Anna first connected with us through the recommendation of the small building company Sustainable Homes Melbourne with their business name first sparking Anna's interest. It was an unusual way to be engaged by a residential client but not uncommon to see someone seeking ways to ensure their project is sustainable but not quite sure how to go about it.
The word sustainability has become such a buzzword and is often teamed with the green-washing of products as being environmentally aware continues to gain mainstream popularity. Though a builder can only be sustainable to a certain extent without the design they're constructing driving that prerogative. We respect that Sustainable Homes Melbourne venture to have green work practices such as reducing waste, using ethically sourced materials and engaging eco-friendly demolition companies though there's a range of things that are beyond a builders scope that an architect can only take responsibility for.
What was the client's brief?
Anna's brief differed to most residential projects we're involved in as the house is just for her. No growing family with the need for extra rooms, which often means an upper level is the only option to comfortably house all occupants. It was the perfect opportunity for a house to fit her exact needs. Anna sometimes works from home so a home office was an important element to the brief.
Anna had minimal, subdued requirements. Two bedrooms, a single bathroom, a European style laundry and a separate study. Luxuries like an ensuite or a separate laundry weren't too important to her. In this way, the design evolved to be the space efficient form it is, allowing the priorities of comfortable sized living areas and garden space to take reign irrespective of the restricted size of the site.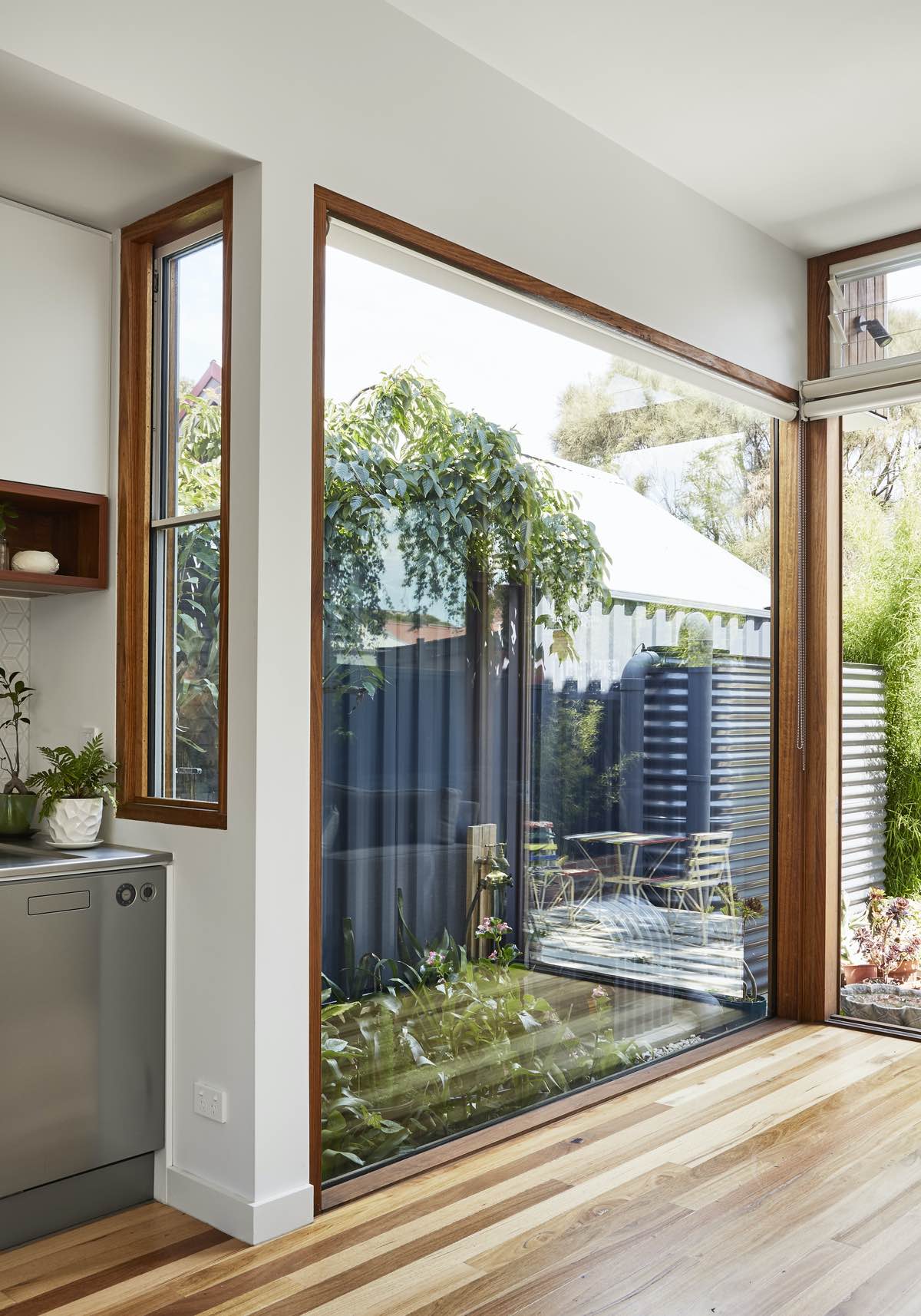 image © Tess kelly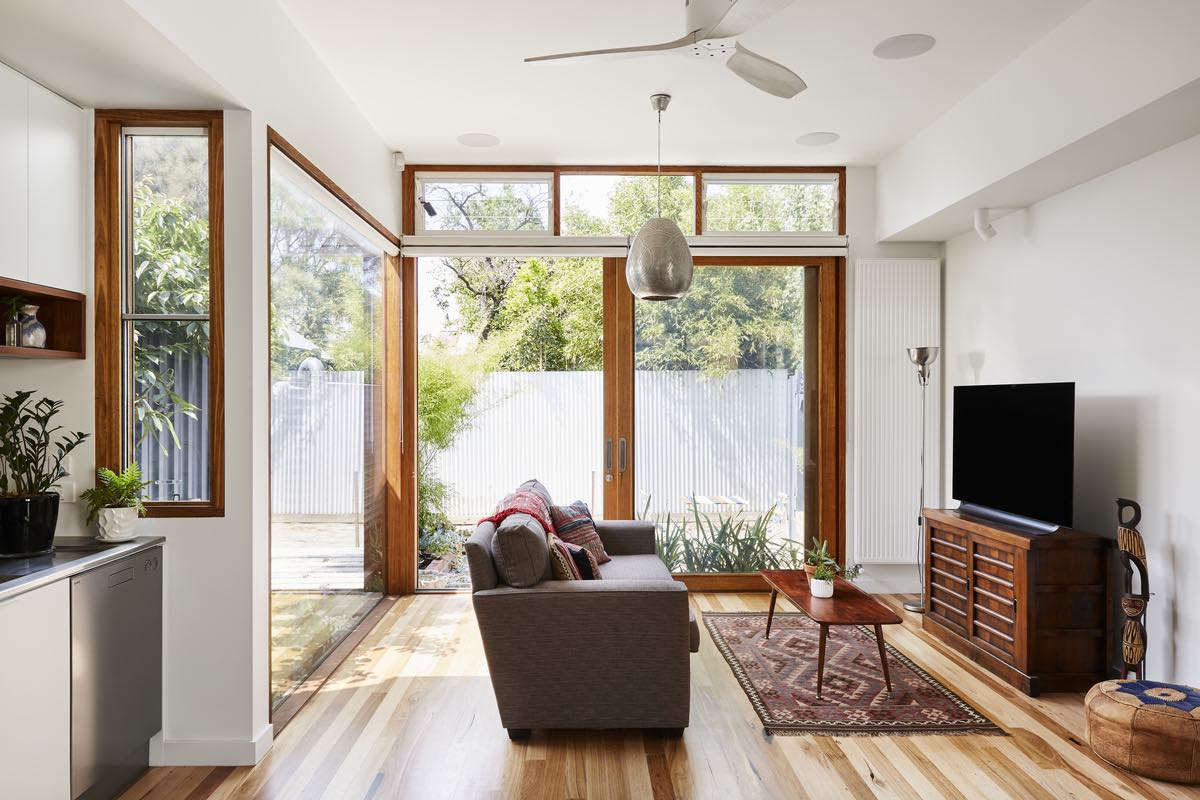 image © Tess kelly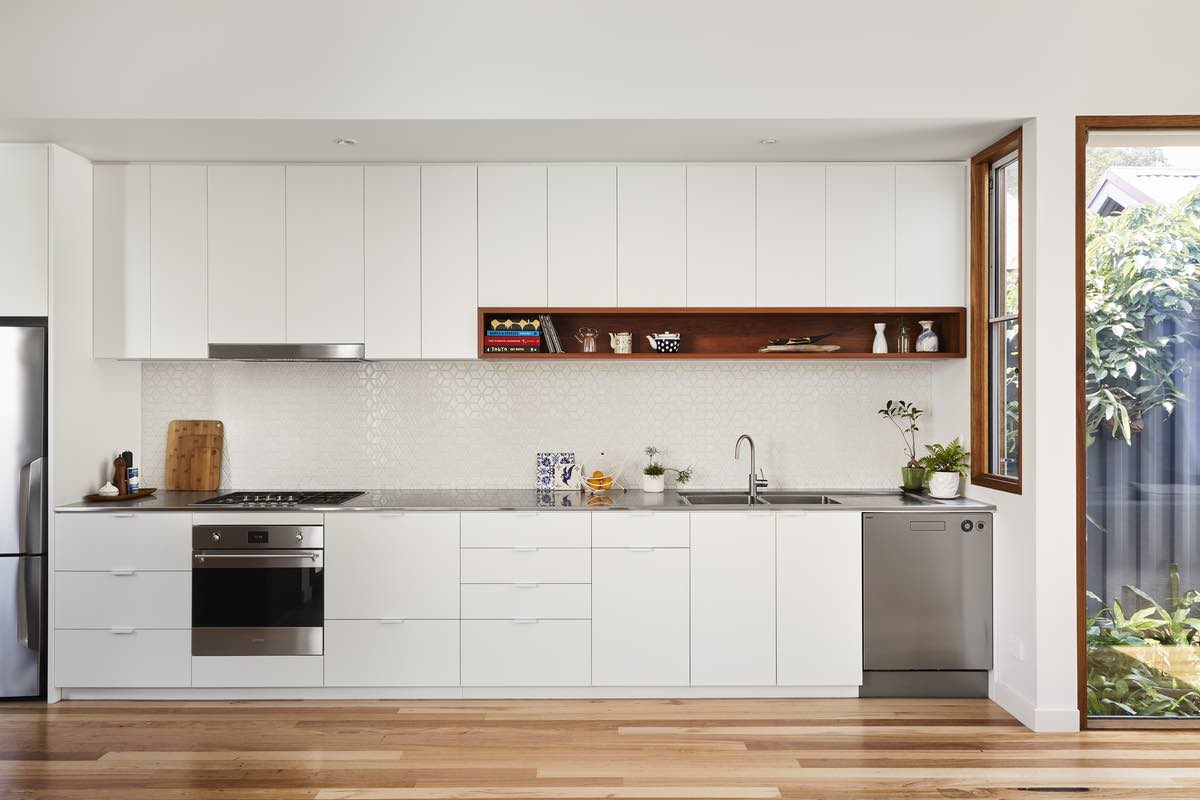 image © Tess kelly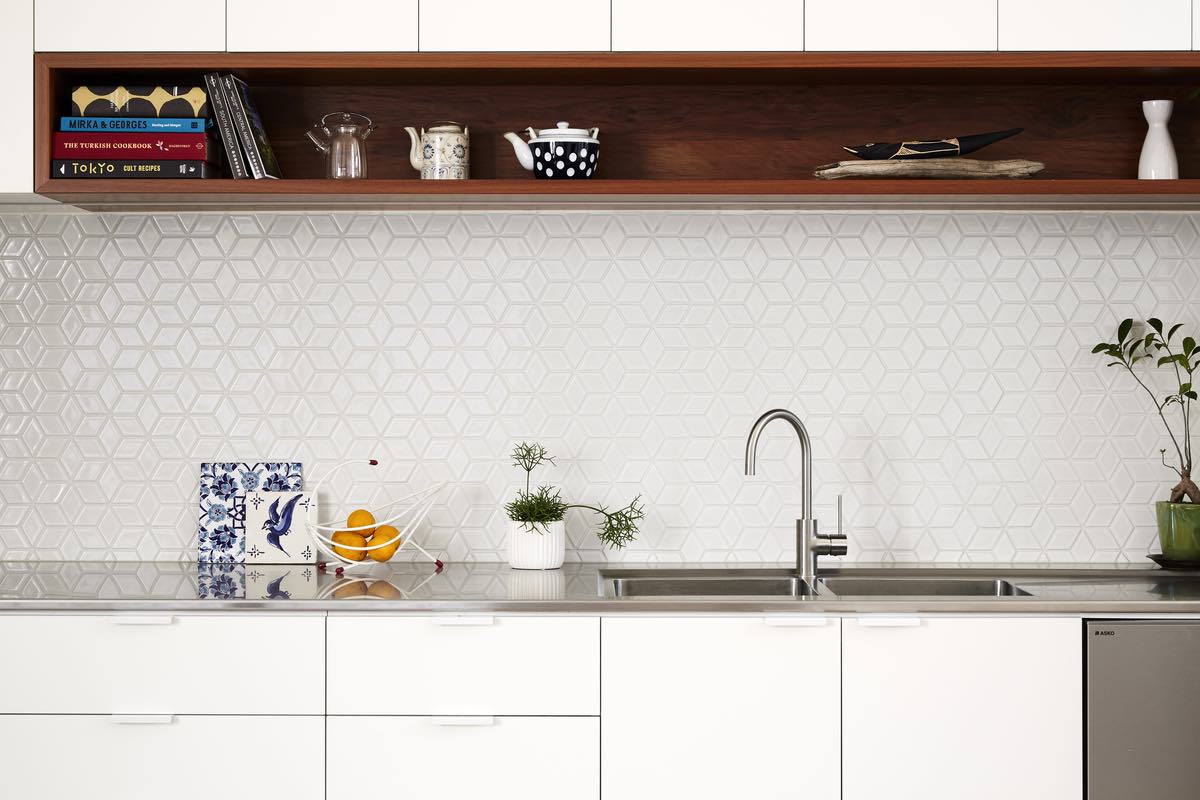 image © Tess kelly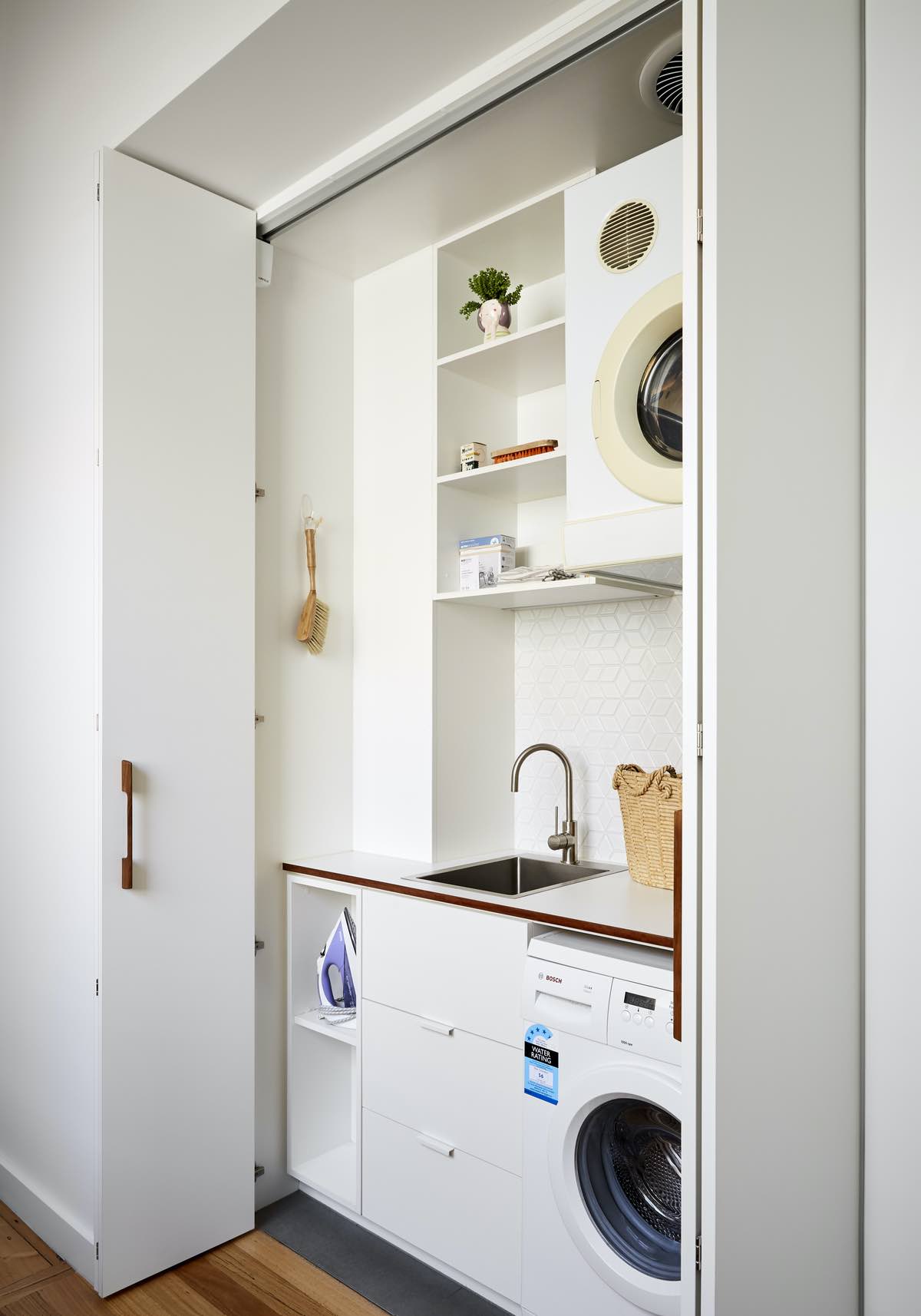 image © Tess kelly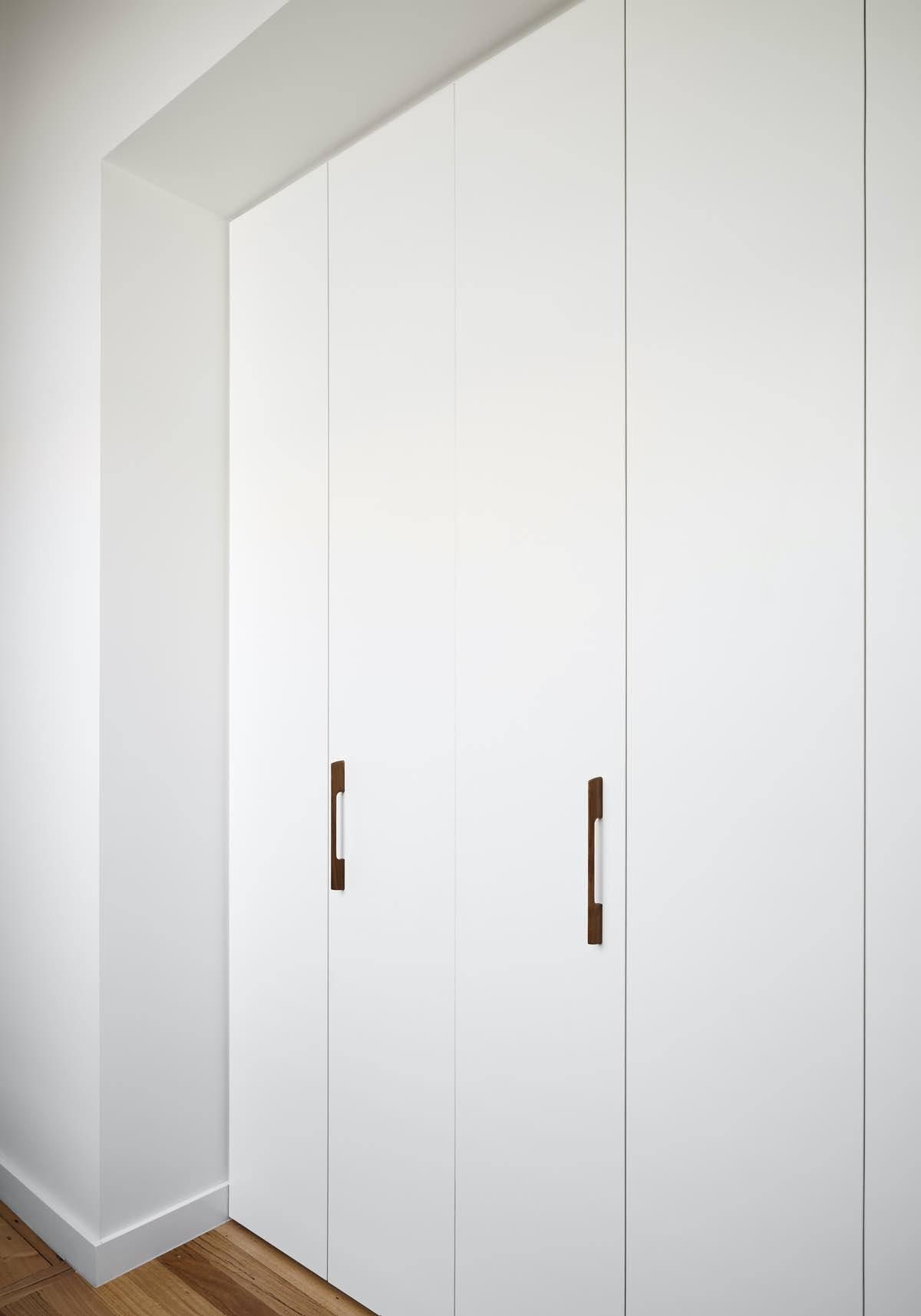 image © Tess kelly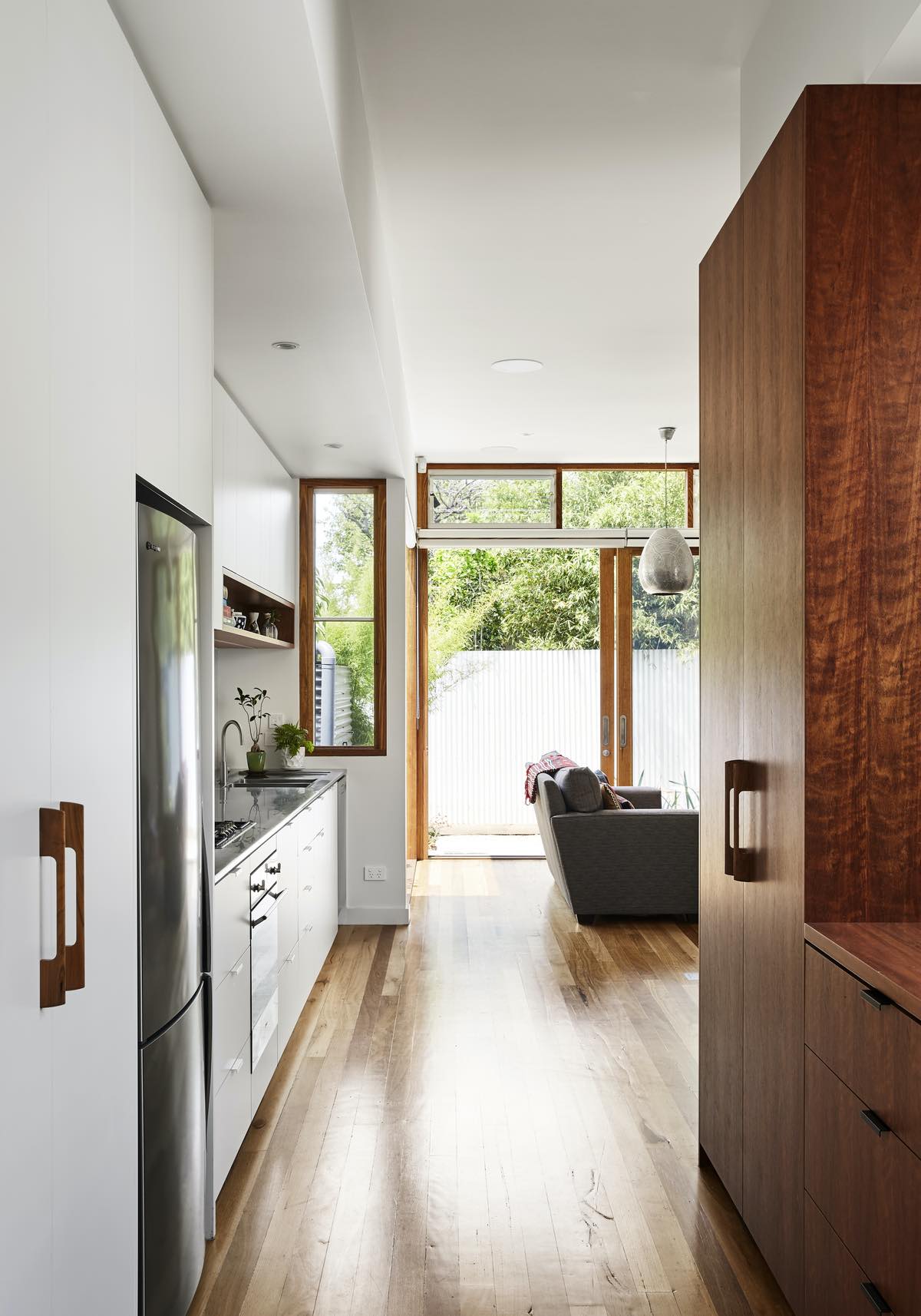 image © Tess kelly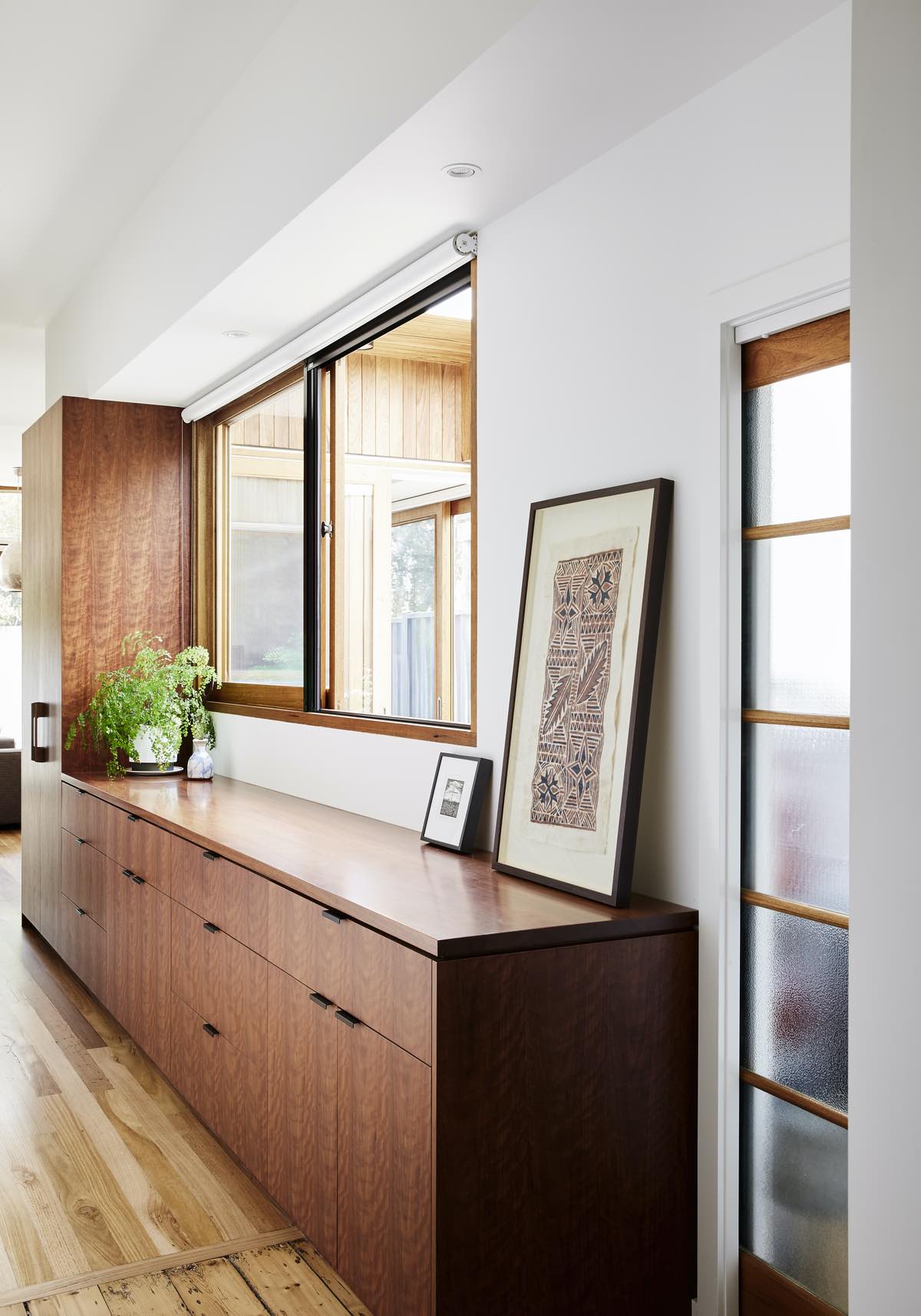 image © Tess kelly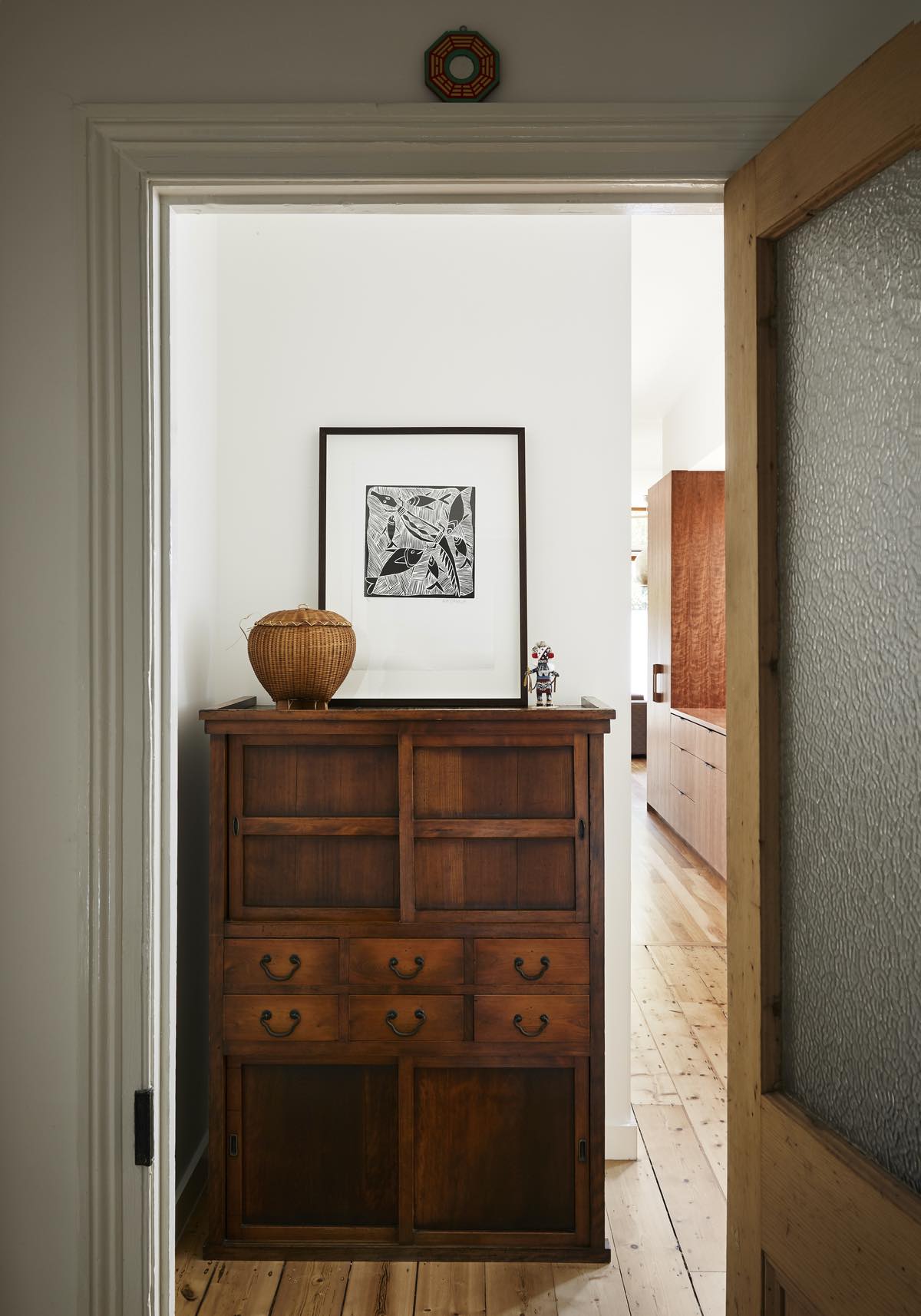 image © Tess kelly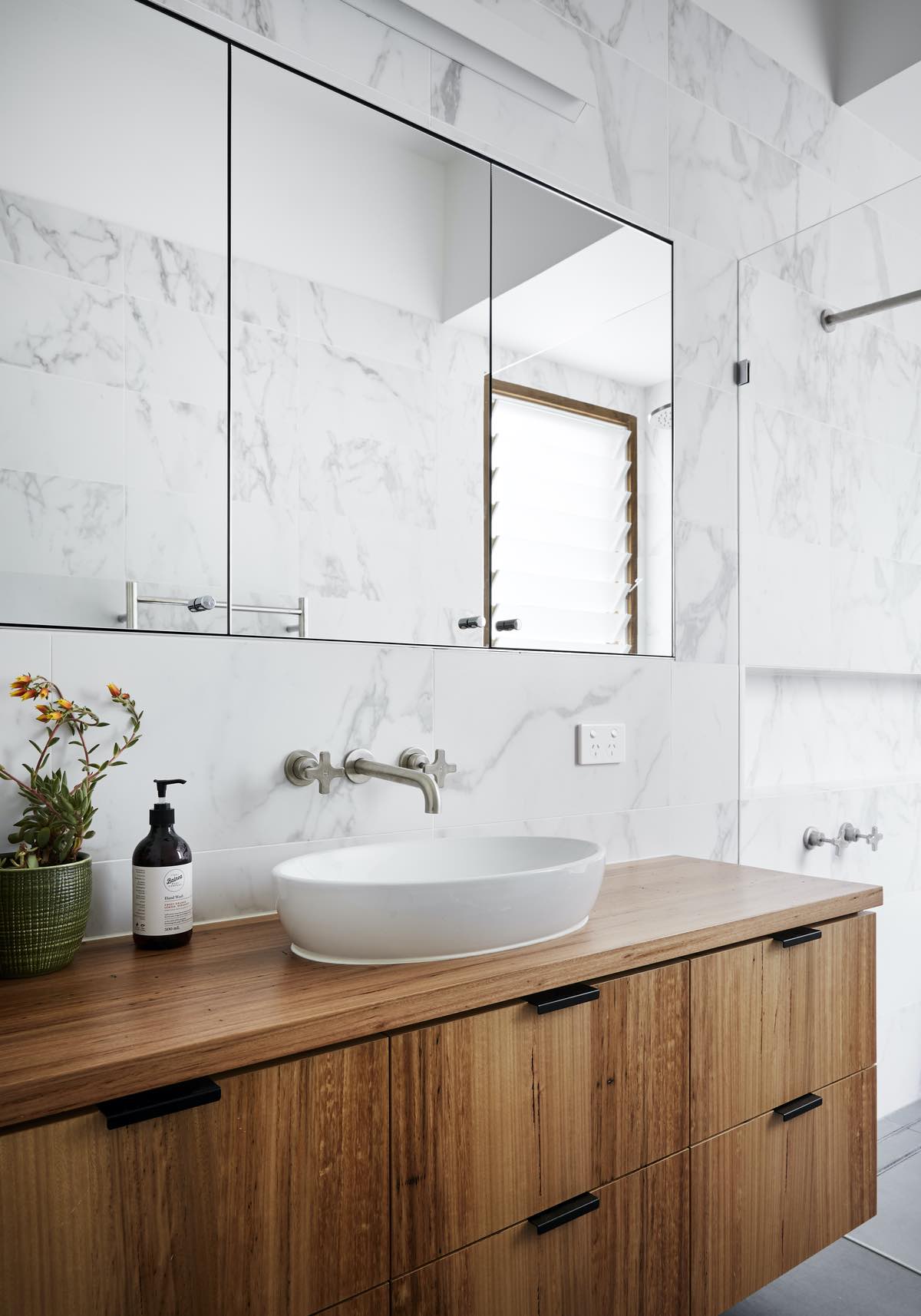 image © Tess kelly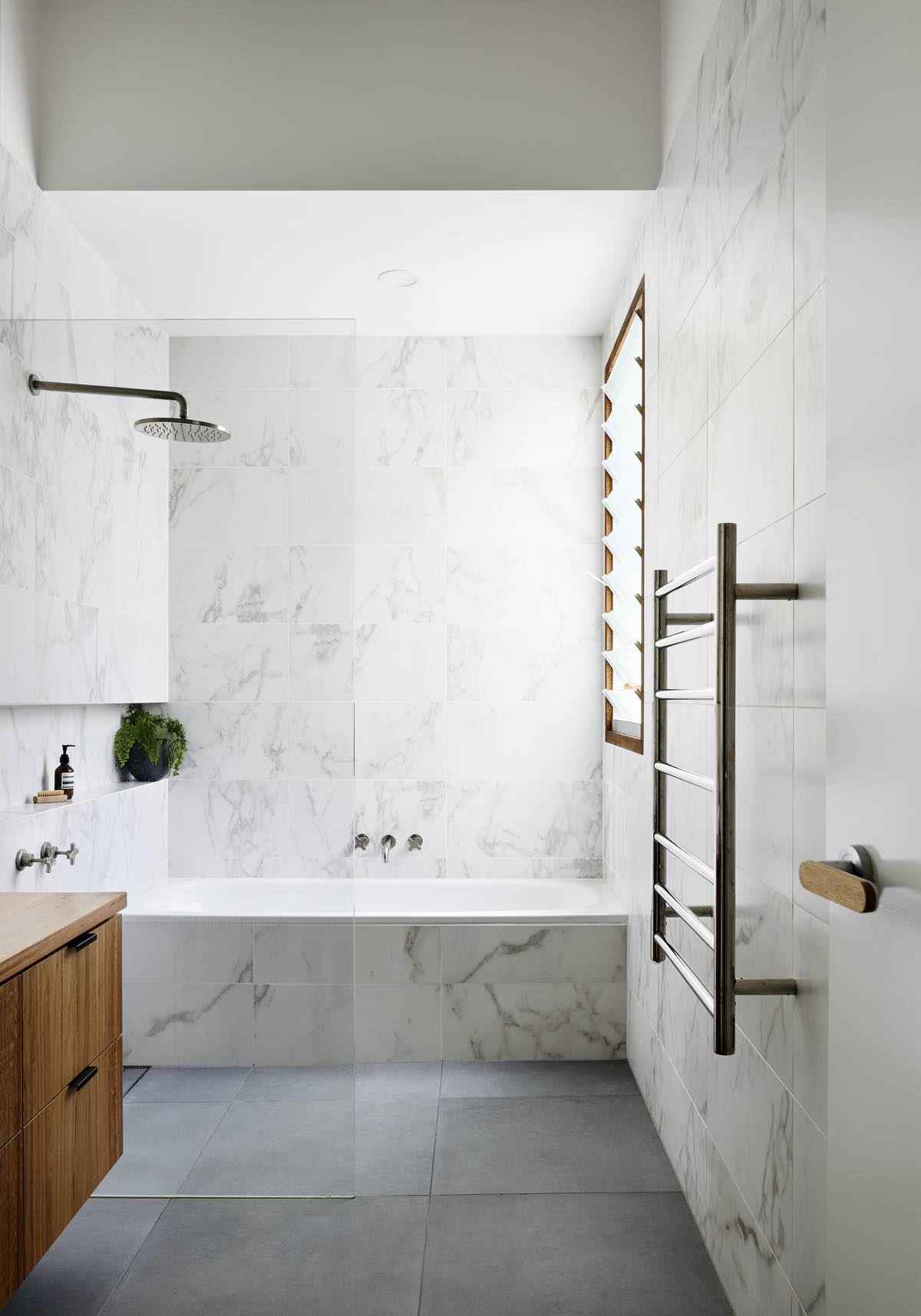 image © Tess kelly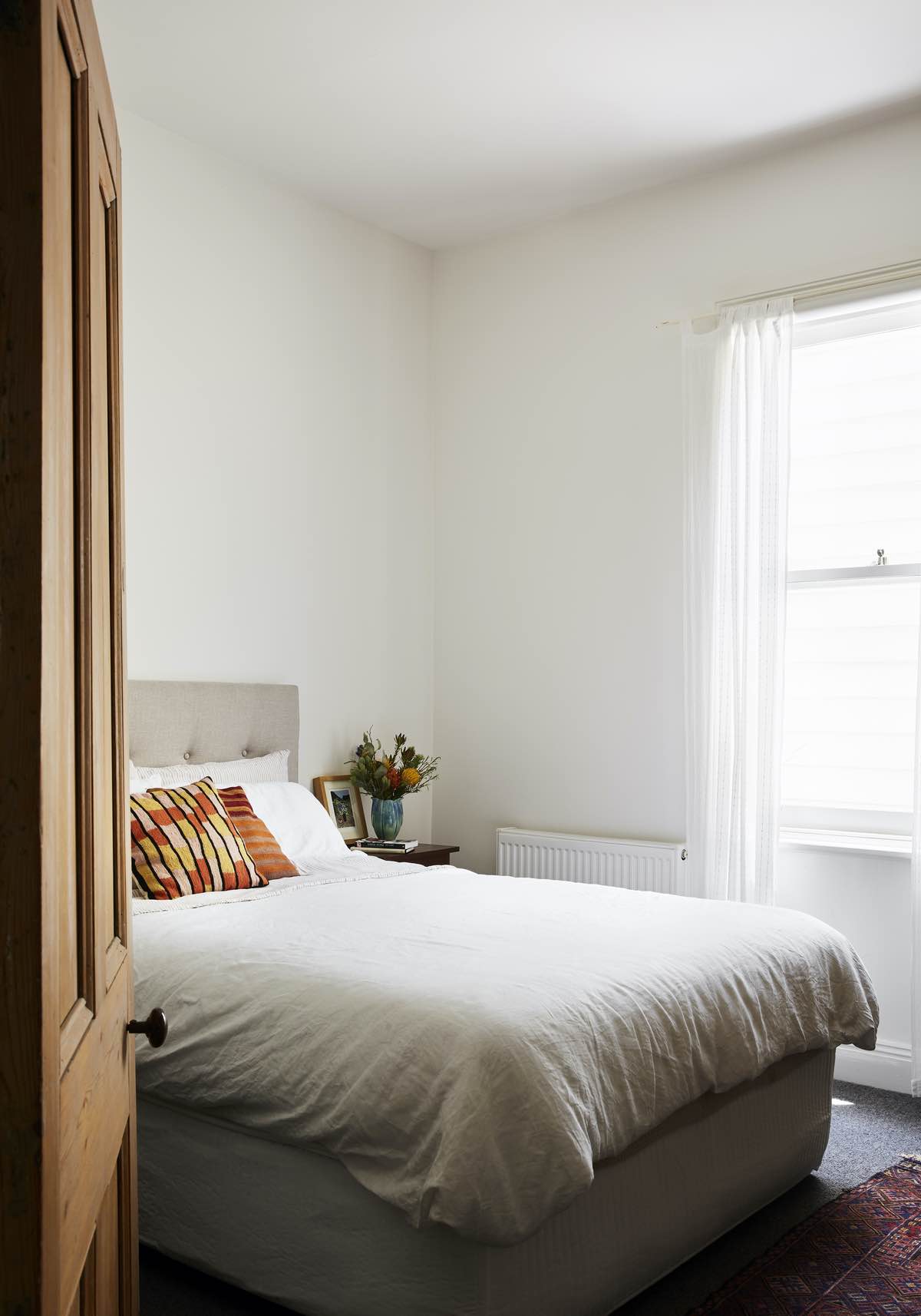 image © Tess kelly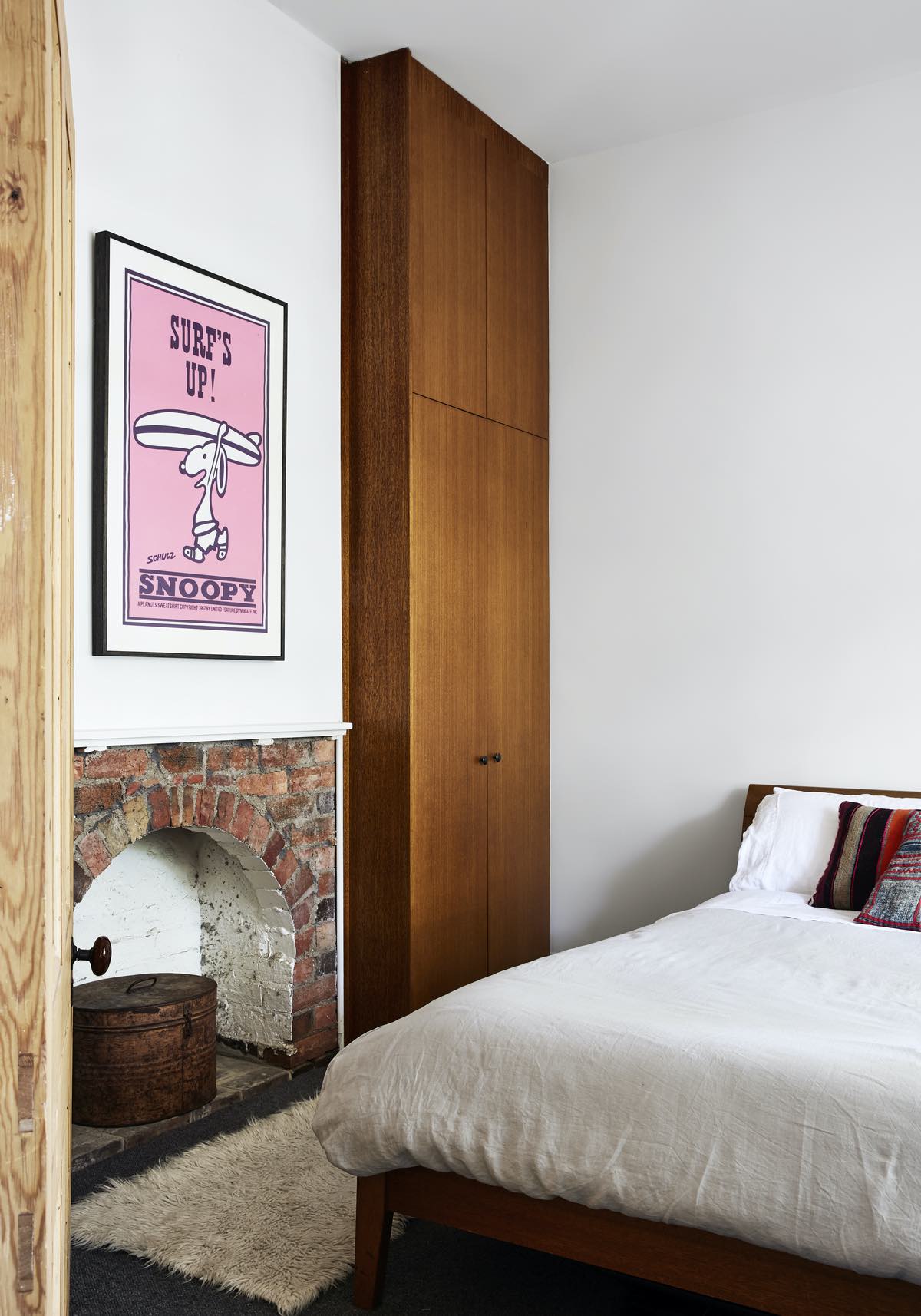 image © Tess kelly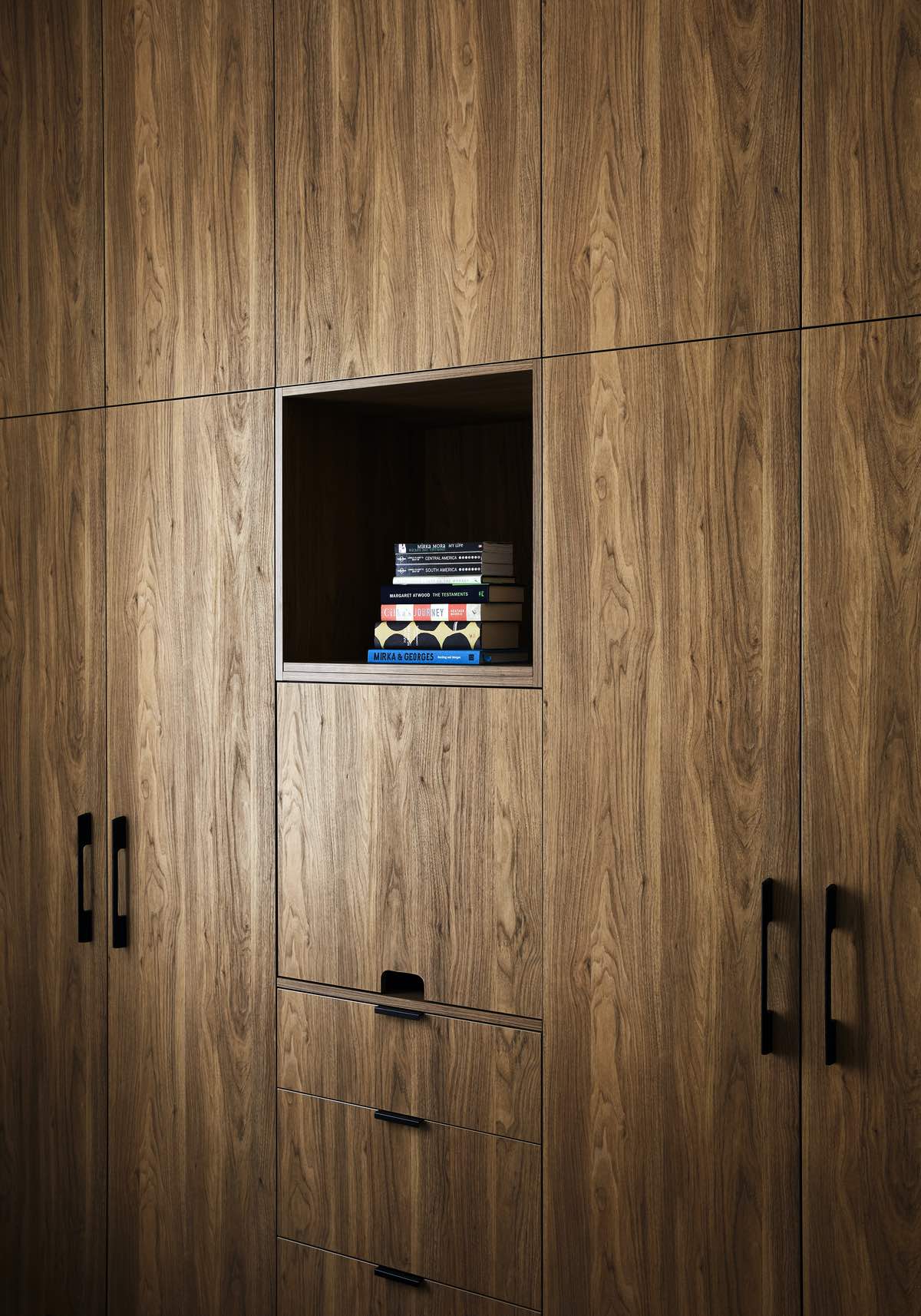 image © Tess kelly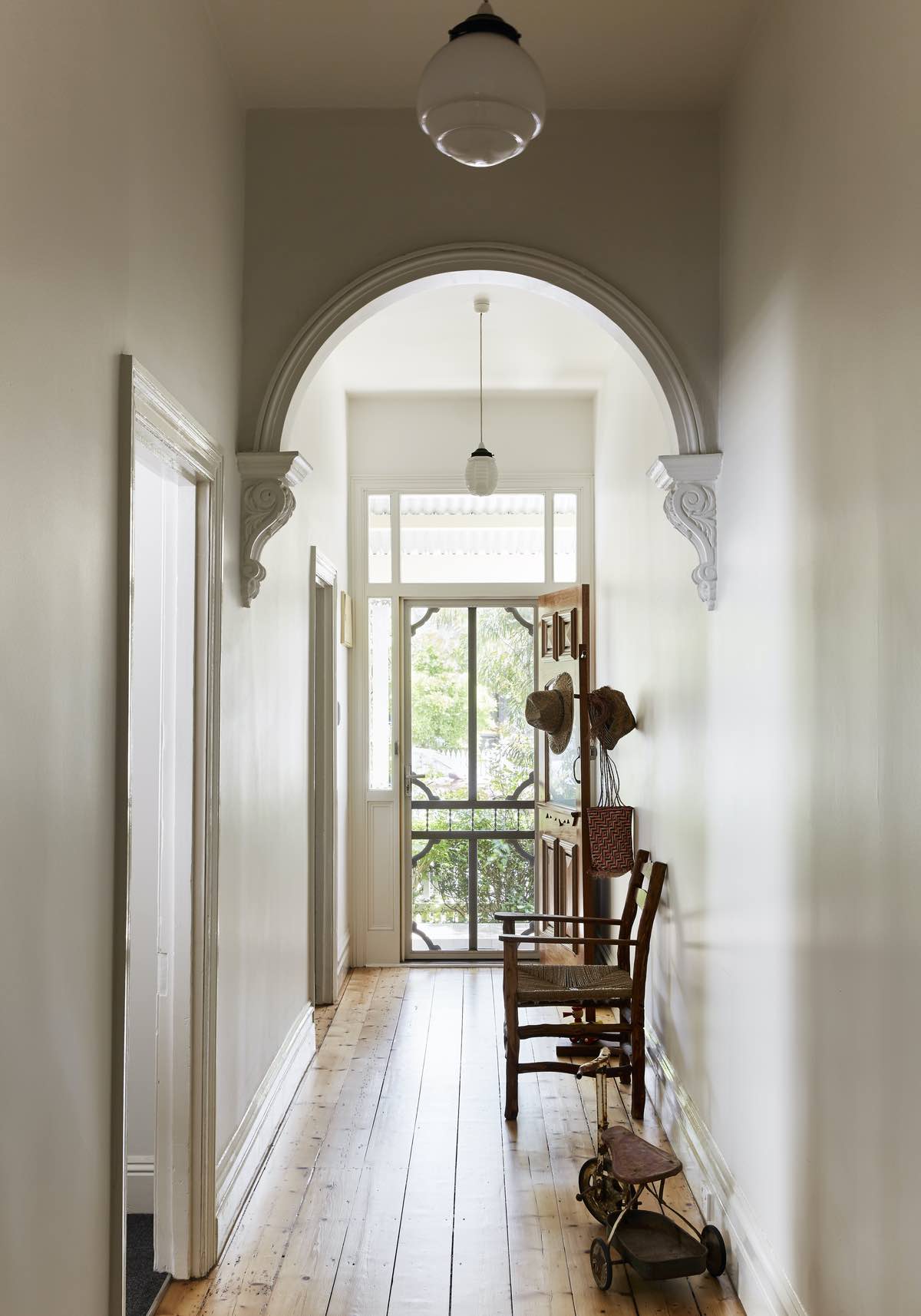 image © Tess kelly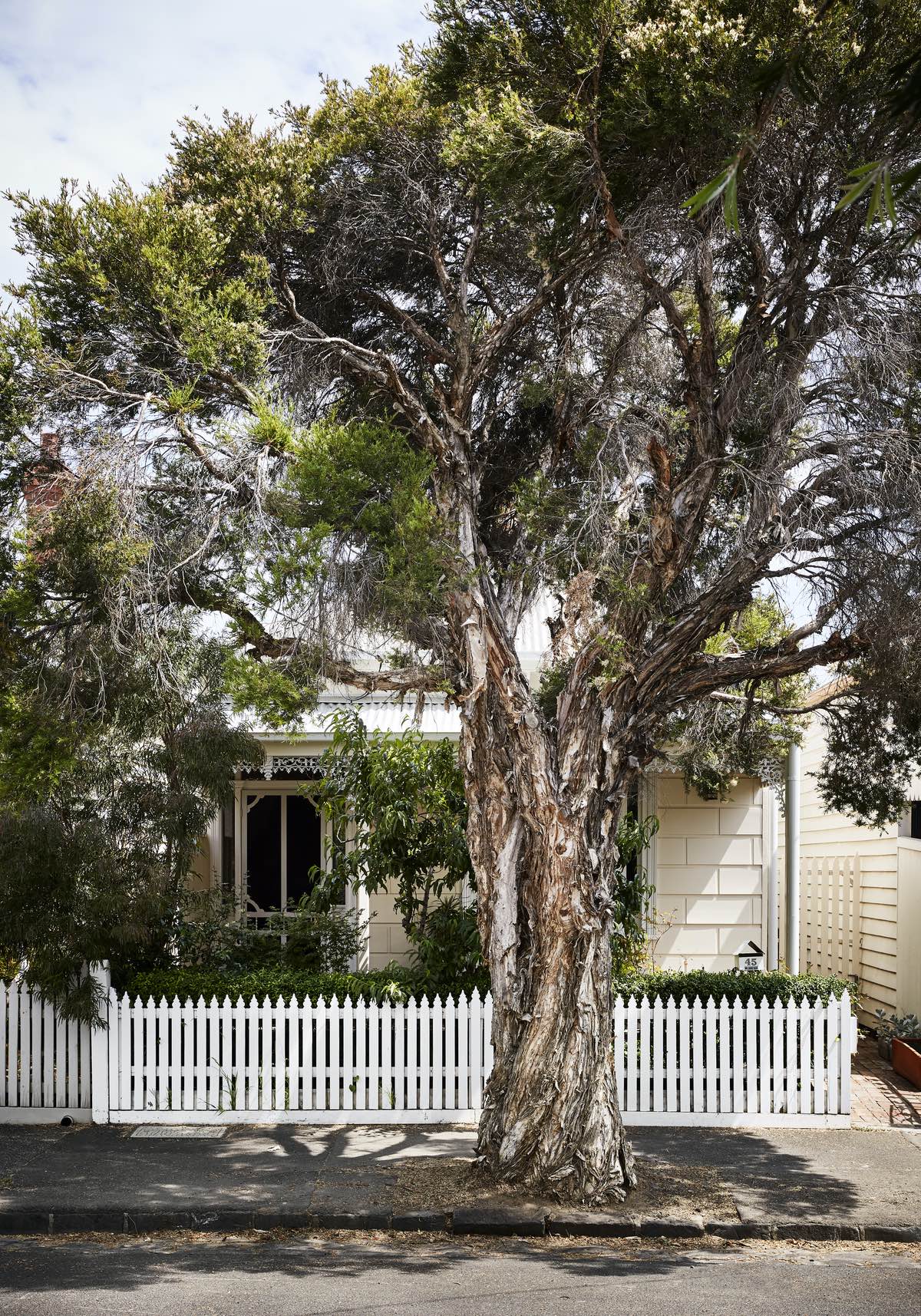 image © Tess kelly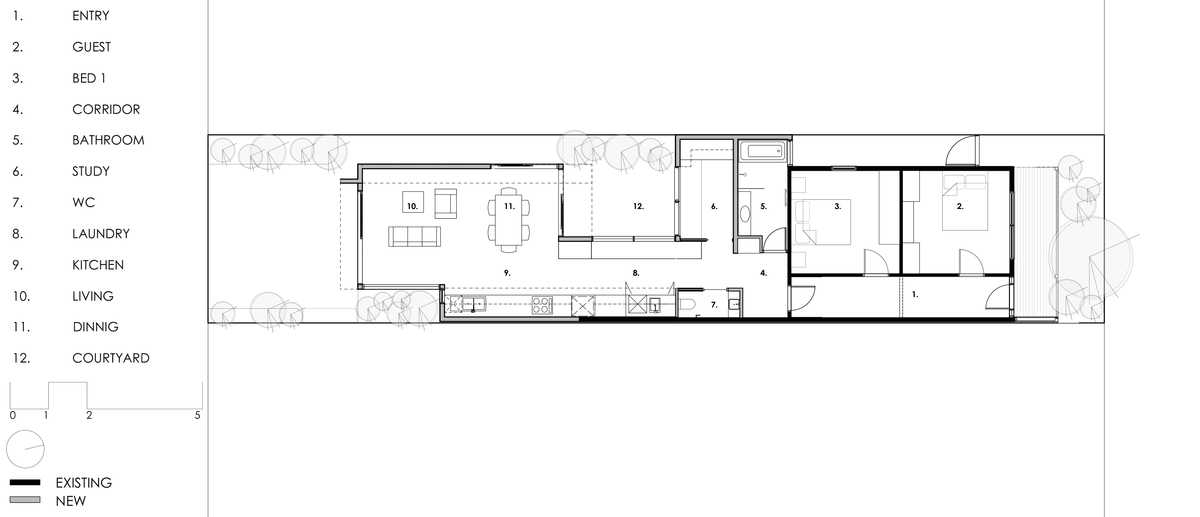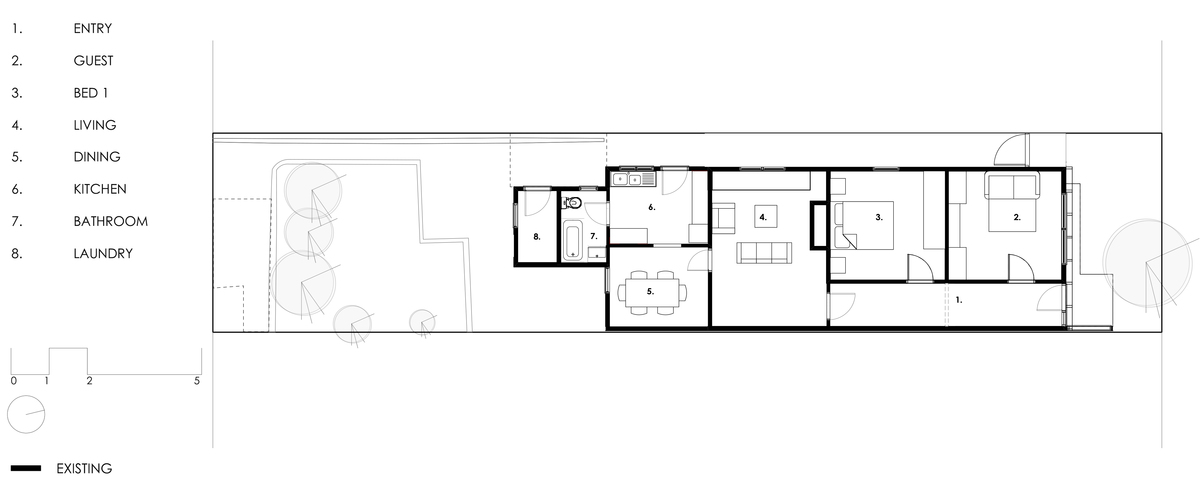 ---