The Los Angeles-based Architect Dan Brunn, Principal of ​Dan Brunn Architecture built a sustainable bridge house nestled in nature.
Project description by architect:
A visionary architectural project born in the heart of Hancock Park, ​Bridge House LA offers an updated approach to residential building, characterized by a respect to the environment and a deep connection to nature. Designed by ​Dan Brunn,​ AIA, Principal of ​Dan Brunn Architecture,​the one-of-a kind "bridge house" earns its name by bridging 65' over a natural stream. The 4,500-square-foot home, realized with the help of trusted partner ​MODAA Inc.​, serves as a demonstration of ​innovative systems and ​forward-thinking processes. The design exemplifies Brunn's signature minimalist aesthetic, evident in dynamic spatial choreography of light and volume. "​The idea is to do something extraordinary with ordinary means,'' ​says Brunn .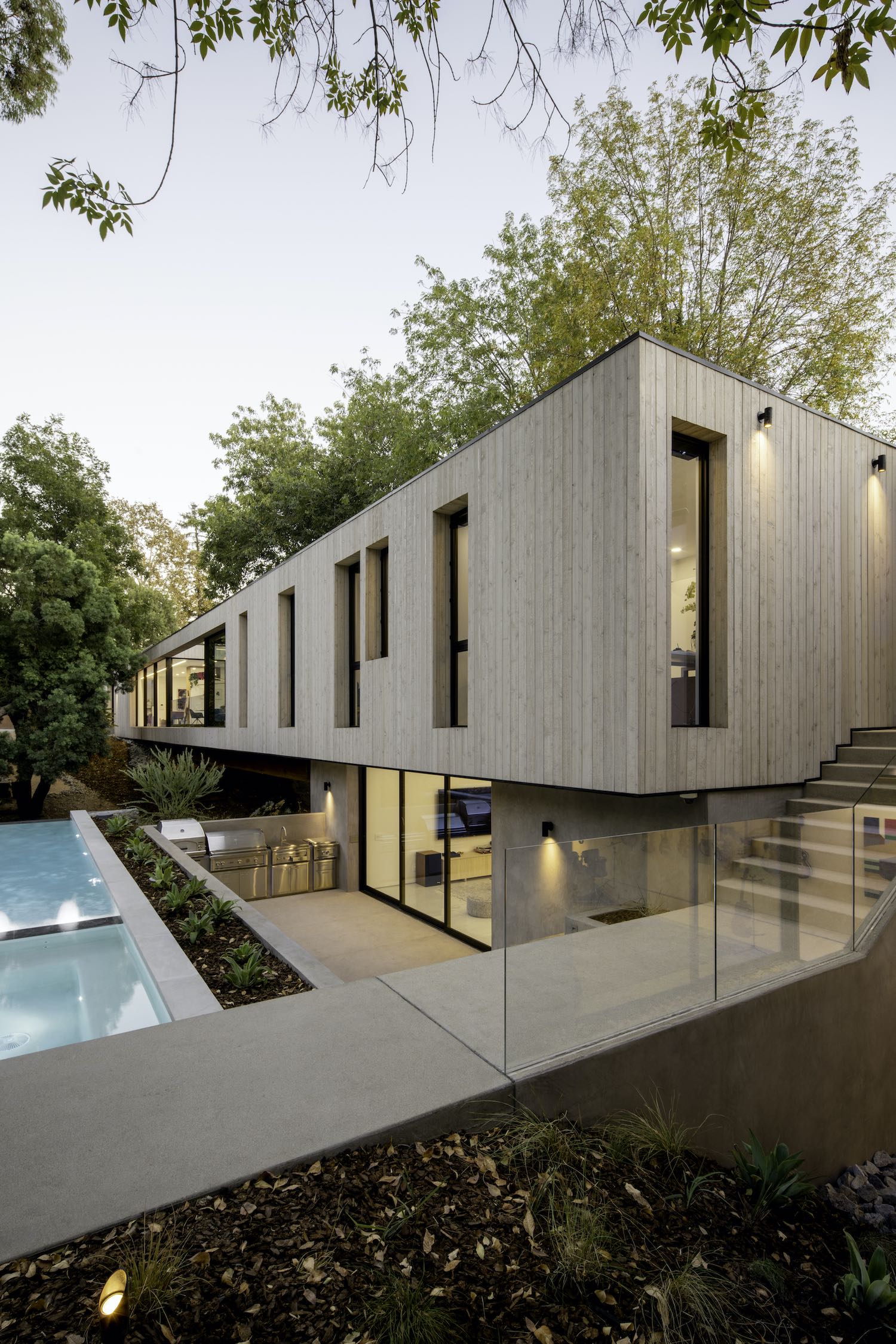 image © Brandon Shigeta
Dan Brunn carefully curated a roster of leading brands to contribute to the construction and design of this property with their innovative products. The selection of Bridge House sponsors include: ​Aero Shade, Aquor Water Systems, Aromatech, Aster, Atlas Concorde, Baldwin, Bassines, Benjamin Moore, BMW, Bone Structure, Bosch, Caesarstone, Cantoni, Castelli Framing, Clopay, Concrete Collaborative, Dornbracht, Duravit, Dwell, Eaton Halo + Eaton Neo-Ray, Eero, Elite Building Materials, EQ3, Esthec Terrace, EZ Concept, Habitat Horticulture, HPC, Hydrazzo, Infinity Drain, JEE-O, Lanai Construction, Legrand, LiftMaster, Lynx, Madera, MODAA Construction, The Modern Fan Co, Montigo Fireplaces, Mosa., Mr. Steam, One Button, Pentair, Quick Joist, Real Cedar, Savant, Segal Shuart, Signature Hardware, Simple Human, Somfy, Stickbulb, Sunpower, Tamlyn, Western Window Systems, Xtreme Interior Architectural Solutions, and Yamaha​.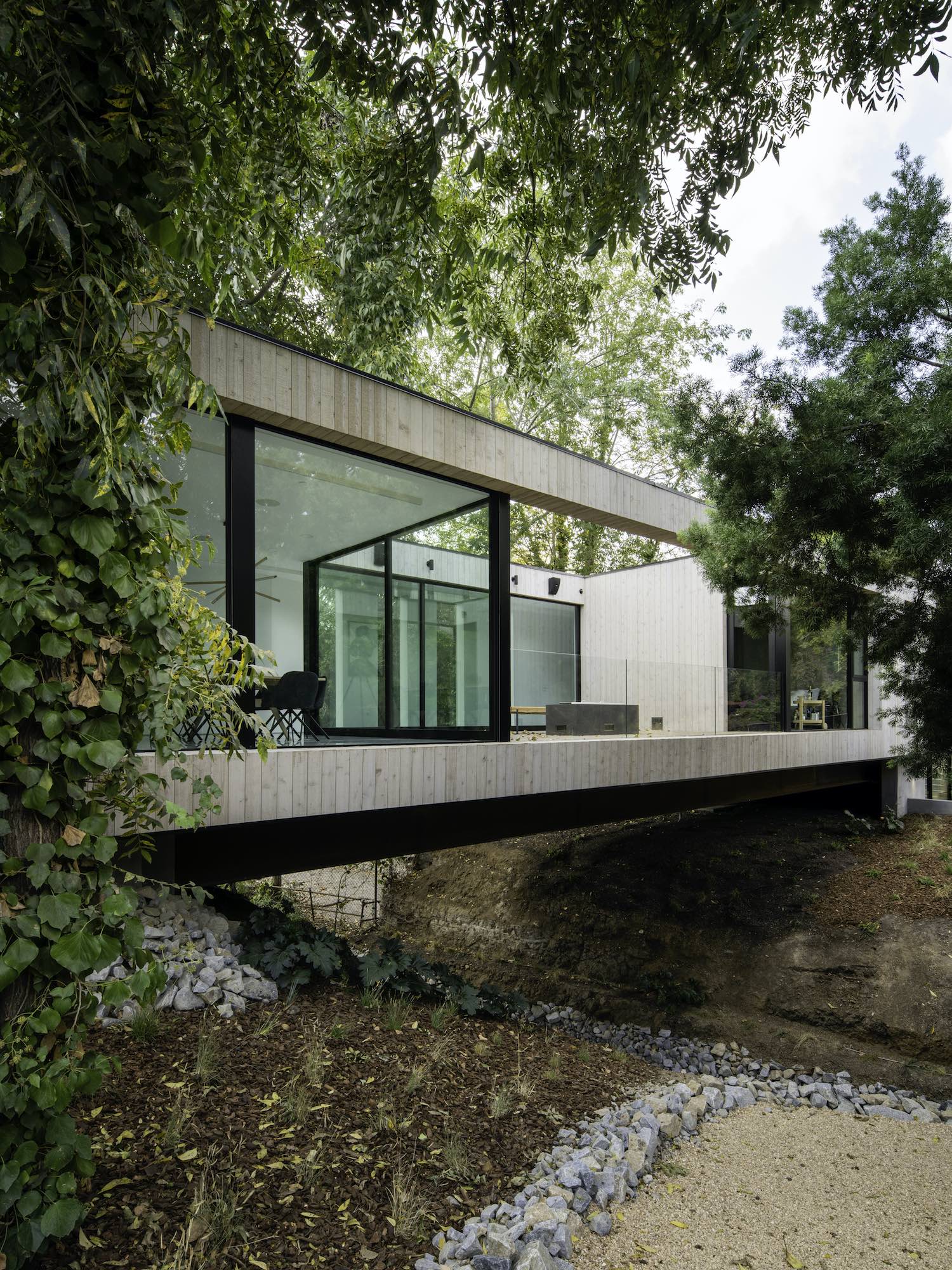 image © Brandon Shigeta
Following its recent unveiling, and throughout the coming year, Bridge House will be activated with a variety of events sponsored by the likes of BMW, Pentair, MODAA, Oliver Peoples, and many more.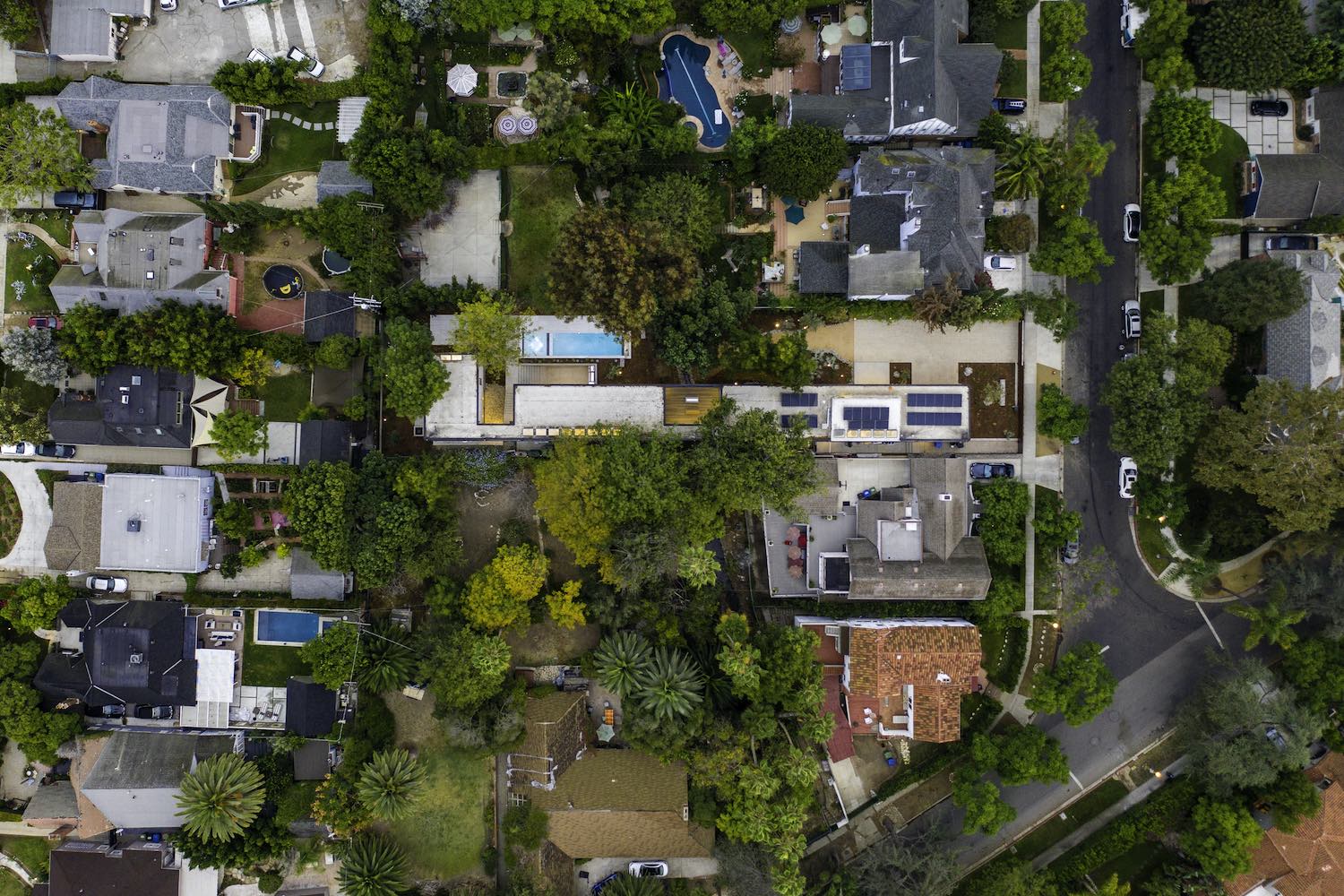 image © Brandon Shigeta
Th​ e property will also be used to showcase revolving art exhibits. The first installation to adorn the Bridge House walls was a body of work by multidisciplinary artist ​Tasya van Ree t​itled ​"Mother Nature and The Sound of Her Feminine Dream"​, which is a representation of visual dreamlike imagery; an inspirational message of love, self empowerment, and a deeper understanding of the heart and the invisible patterns of its cosmic foundation. For ​Frieze Los Angeles 2020, Bridge House became home to ​"Paris-Los Angeles"​, a conceptual art exhibit featuring works from artists like John Baldessari, Alex Israel, and James Jean.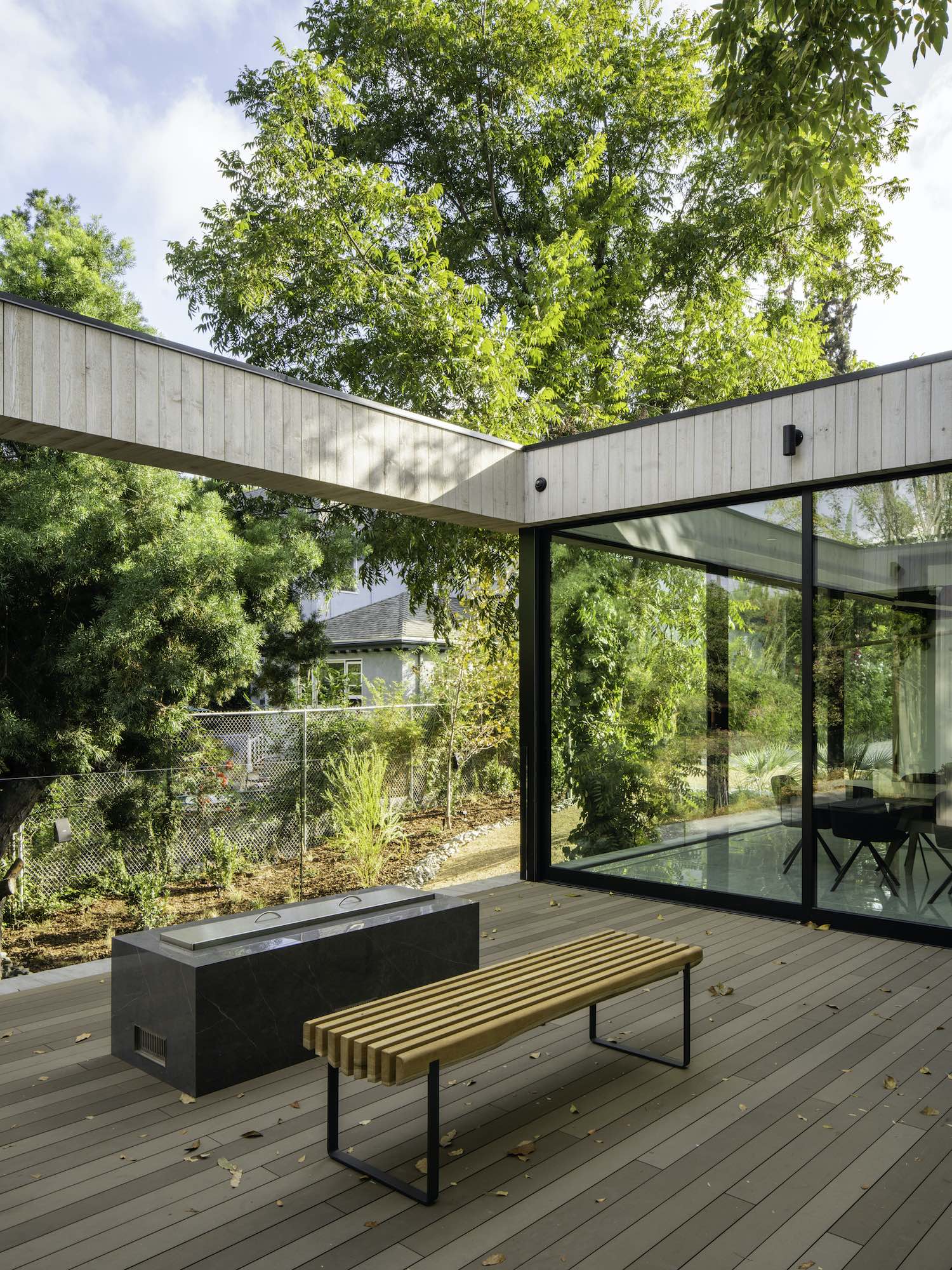 image © Brandon Shigeta
PROGRAM: Bridge House's program includes: living room, dining room, kitchen, den, master suite with ​walk-in closet, two bedrooms with shared bath, one bedroom with en suite bath, terrace powder room, laundry, garage, pool, below-grade pool house with game room and shower.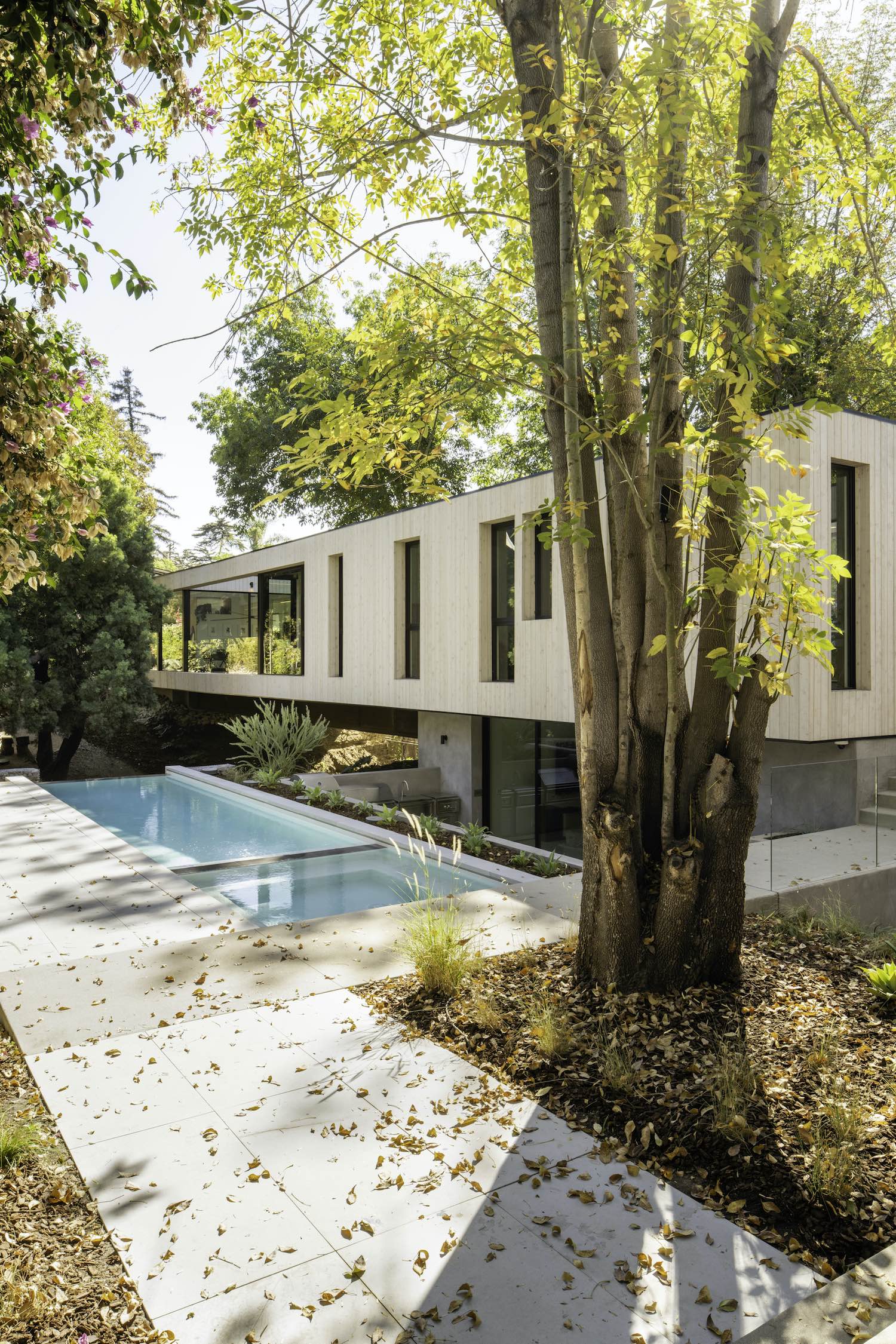 image © Brandon Shigeta
INSPIRATION: Bridge House stretches ​210 feet across the grounds, straddling a brook in an architectural maneuver that gives the project its moniker. When principal Dan Brunn purchased the property, his initial plan had been to renovate the existing home. However, after visiting the Breakers in Newport, Rhode Island, he found himself inspired by the elongated motor court of the Vanderbilt Family's former waterfront retreat.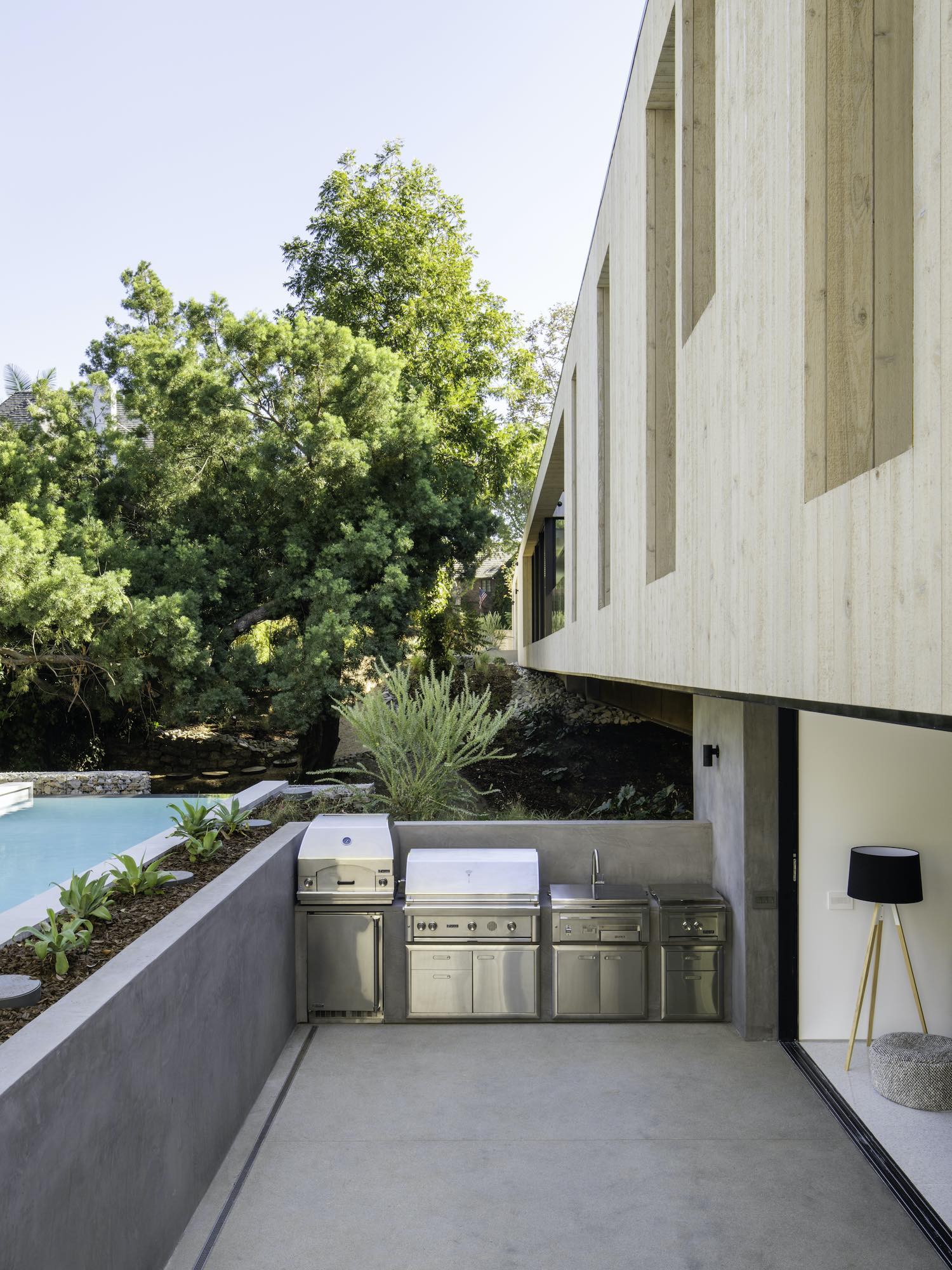 image © Brandon Shigeta
"I fell in love with the motor court and entry," says Brunn. ​"Back at the site, I started with a motor court, and the bridge evolved because of the structure. I could go right over the river instead of basing the whole house on one side." The river forms a natural division for public and private spaces in the residence, marking the point where one circulation transitions into another: "Instead of a first and second floor, you think of it in terms of length."
The result of Dan's inspiration, paired with his unique background and signature style, is a pointed approach to development and a brilliant use of space. Once inside the home, it is clear that square footage and physical measurements do not describe the emotion that Bridge House evokes, and this is exactly how Dan intended for it to be. Instead, the spatial choreography of light and volume convey drama and intrigue.​In this case, simplicity is key, less is more, and the concept of a modular space leaves no room for exploiting geometry. Dan also drew inspiration from his early modernists Pierre Koenig FAIA, Mies van der Rohe FAIA, and Craig Ellwood.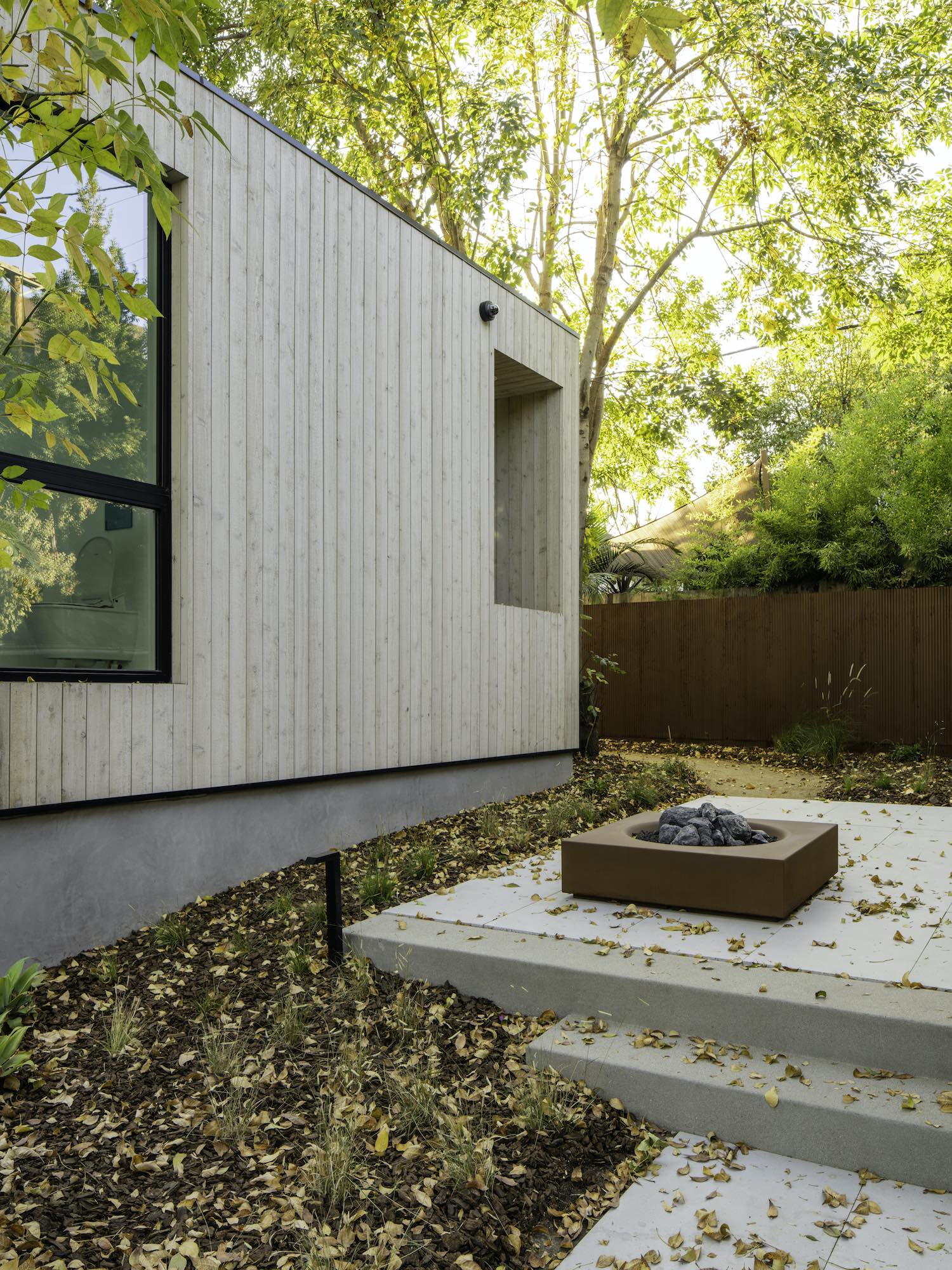 image © Brandon Shigeta
In rethinking suburban home development, Dan was influenced by ​The Case Study Houses,​ which were experiments (largely in SoCal) in American residential architecture sponsored by Arts & Architecture Magazine, commissioning major architects of the day to design and build inexpensive and efficient model homes for the US residential housing boom caused by the end of World War II's influx of home bound soldiers. While not all of the proposed homes were built, many serve as a representation of the simplistic aesthetic elements of mid-century modern architecture, highlighted by clean lines and delineated spaces.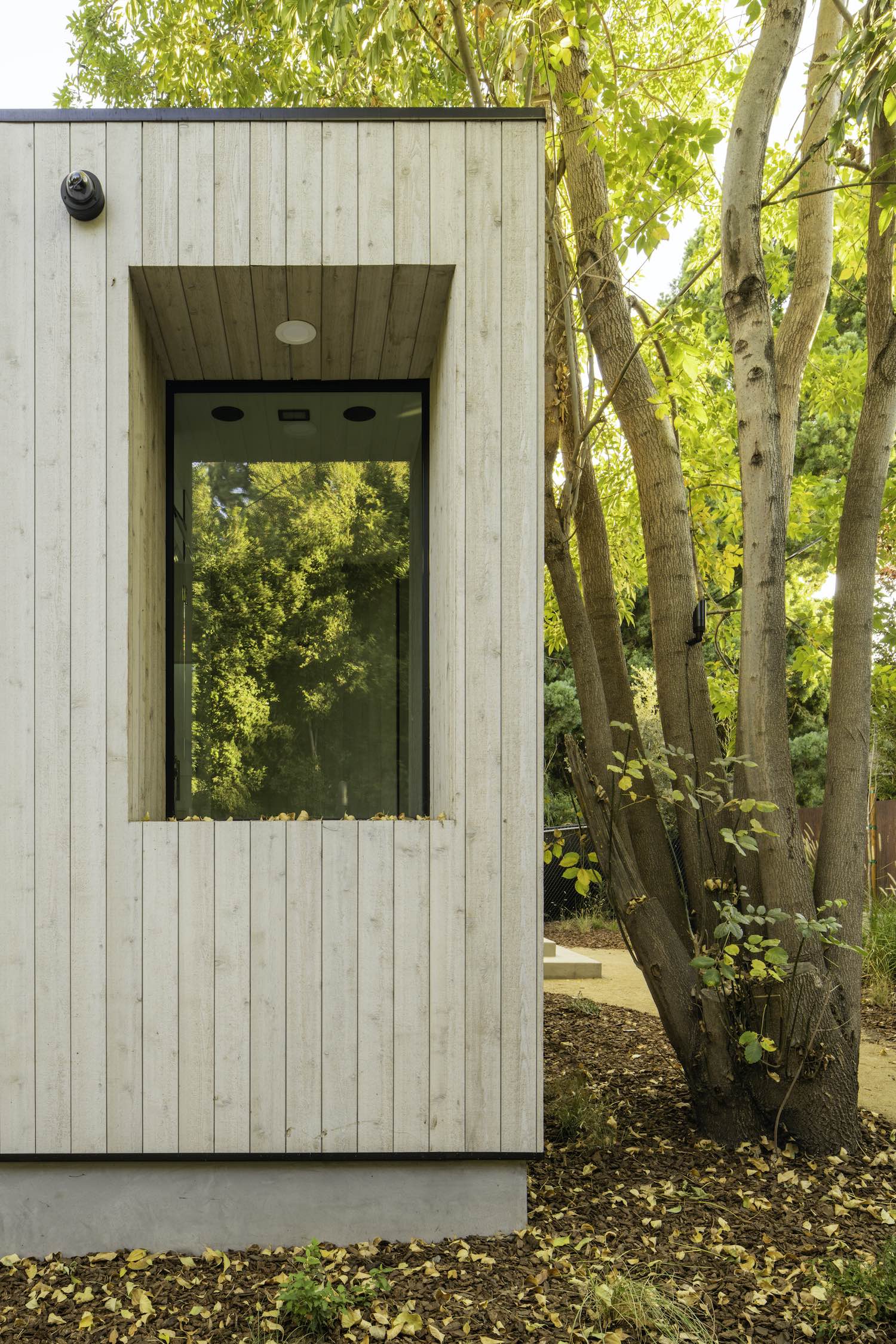 image © Brandon Shigeta
INTERIOR: Bridge House is divided into ​public and ​private space, allowing for welcoming and natural entertaining. Upon entering the public sector of the home, guests will first encounter the living area which features double height volume; the space gives way to high clerestory windows, open skylights, and an arresting "Living Wall" of plants that give the room an enchanting brio. At the center of this wall, is an inconspicuous opening to the pantry, to facilitate easy serving and entertaining. Maintaining the organic intimacy and emphasis on functionality evoked by DBA's creations, a grand fireplace wall gives the space warmth, both literally and figuratively.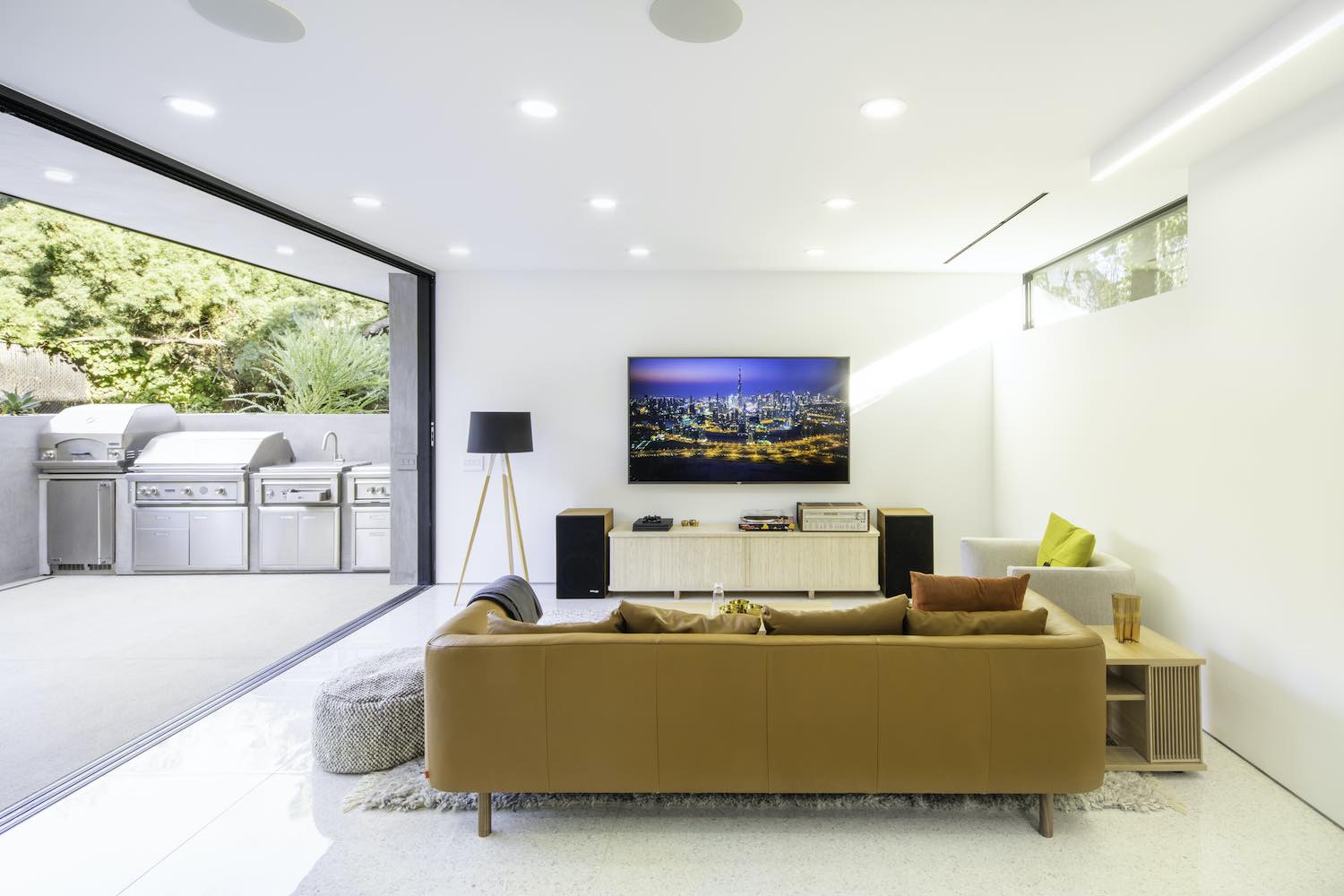 image © Brandon Shigeta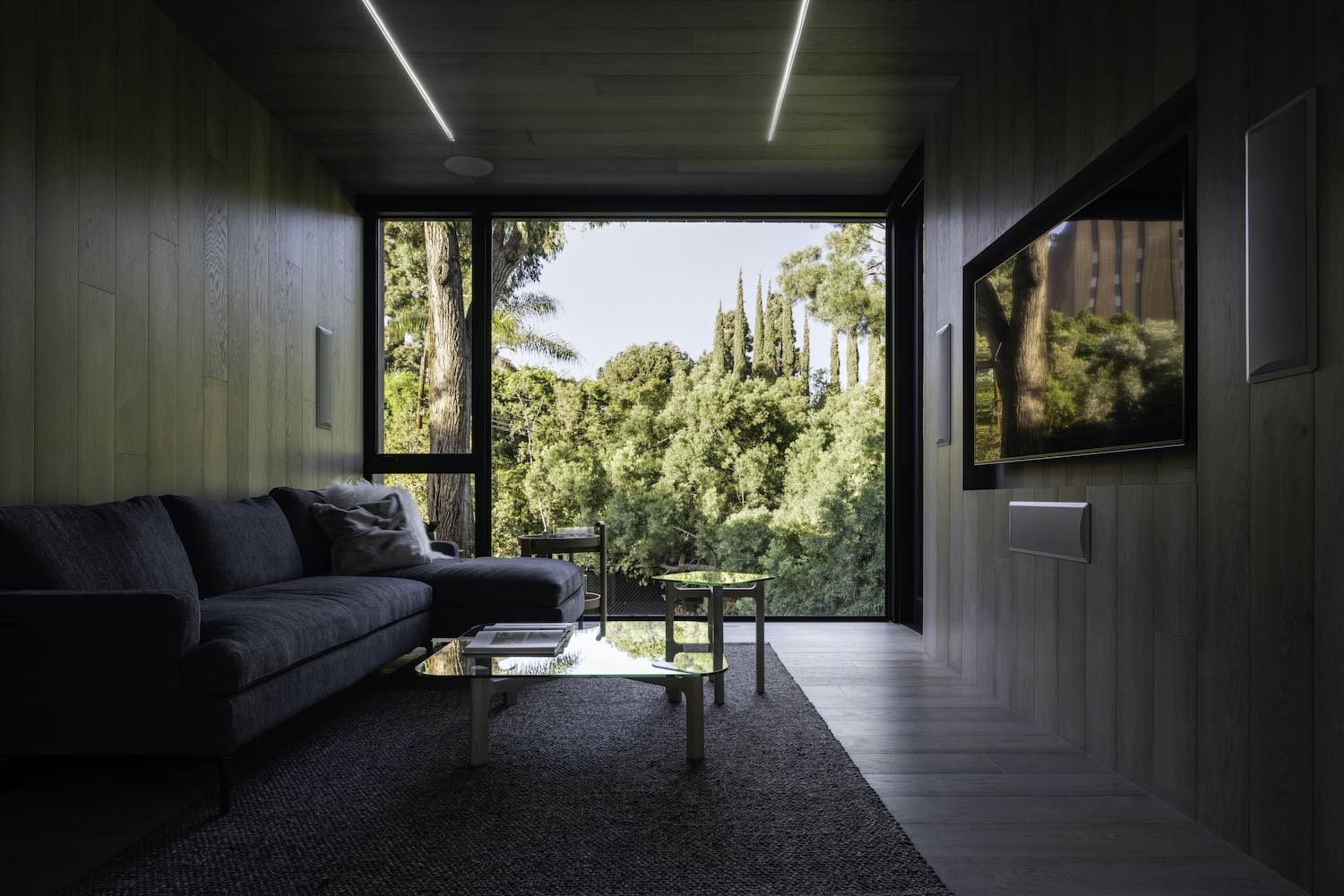 image © Brandon Shigeta
The kitchen, which Dan believes is the heart of the home, opens out to the living room via a concealed egress. Modern wooden cabinetry, quartz countertops, and a substantial island compliment the expansive sliding glass window doors. Floor to ceiling windows invite in a flood of natural light and sun-lit beams. Much like the living area, the kitchen is designed to promote sleek and seamless entertaining, with a minimal footprint.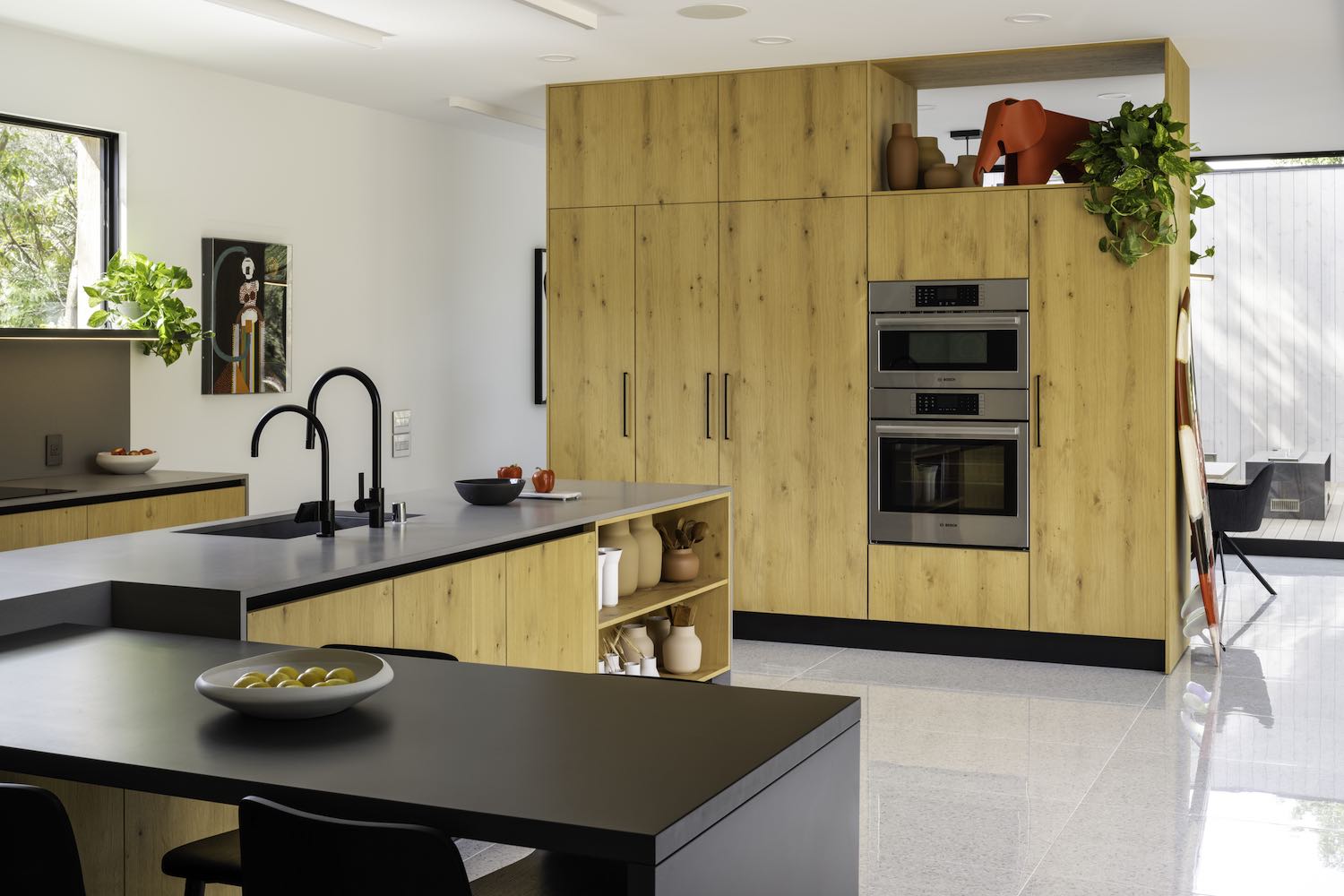 image © Brandon Shigeta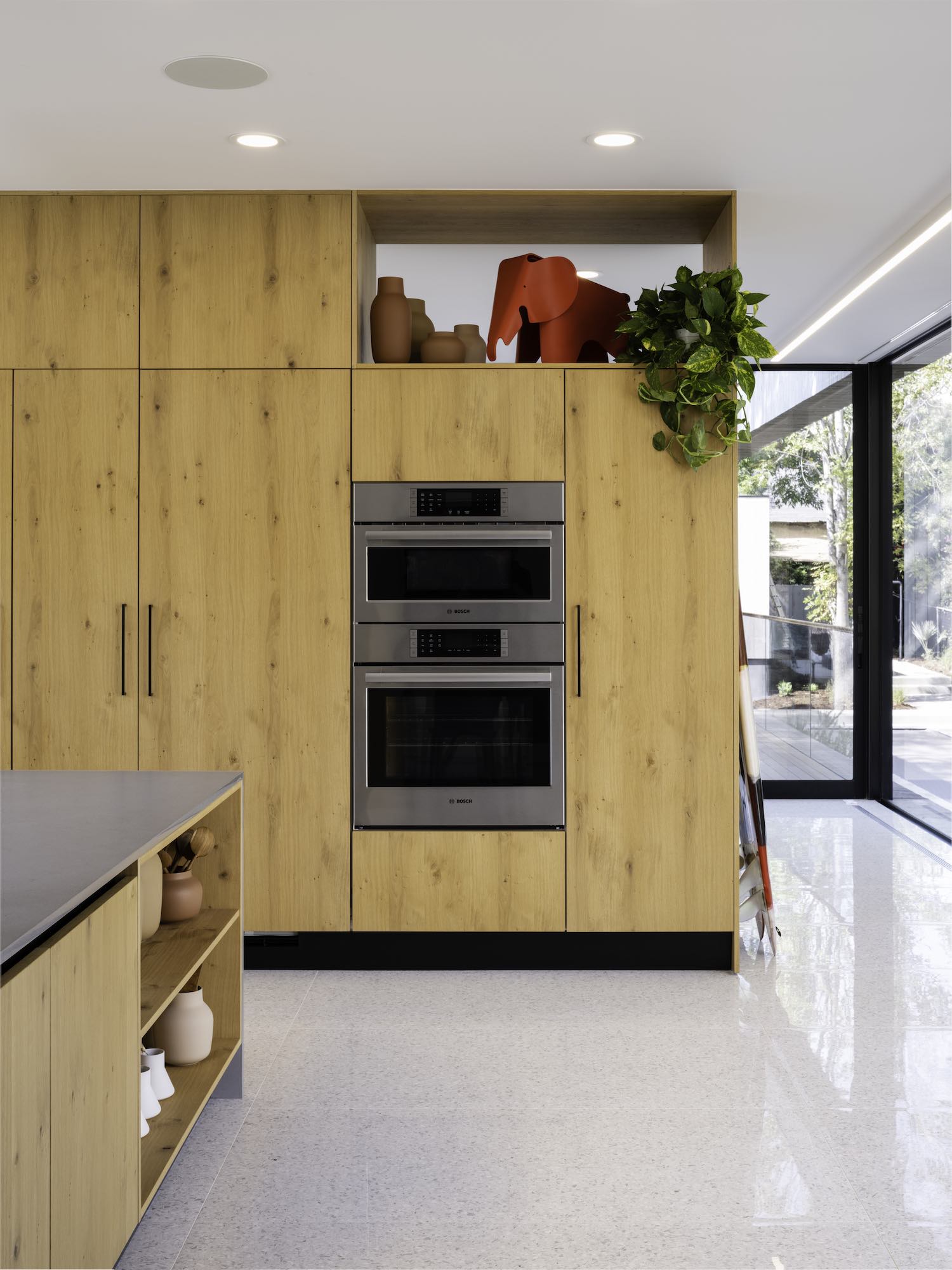 image © Brandon Shigeta
An extension of the public space, an outdoor terrace, features floor-to-ceiling sliding glass doors to revealafirepitandloungearea.​ ​Consistentwiththethemeoftherestofthehome,theopendeckarea invites the inside out, and the outside in. Right off of the outdoor living area, just as you pass to the private sector, sits a den, with wood wrapped walls, offering a warmer and more intimate setting in comparison to the other rooms.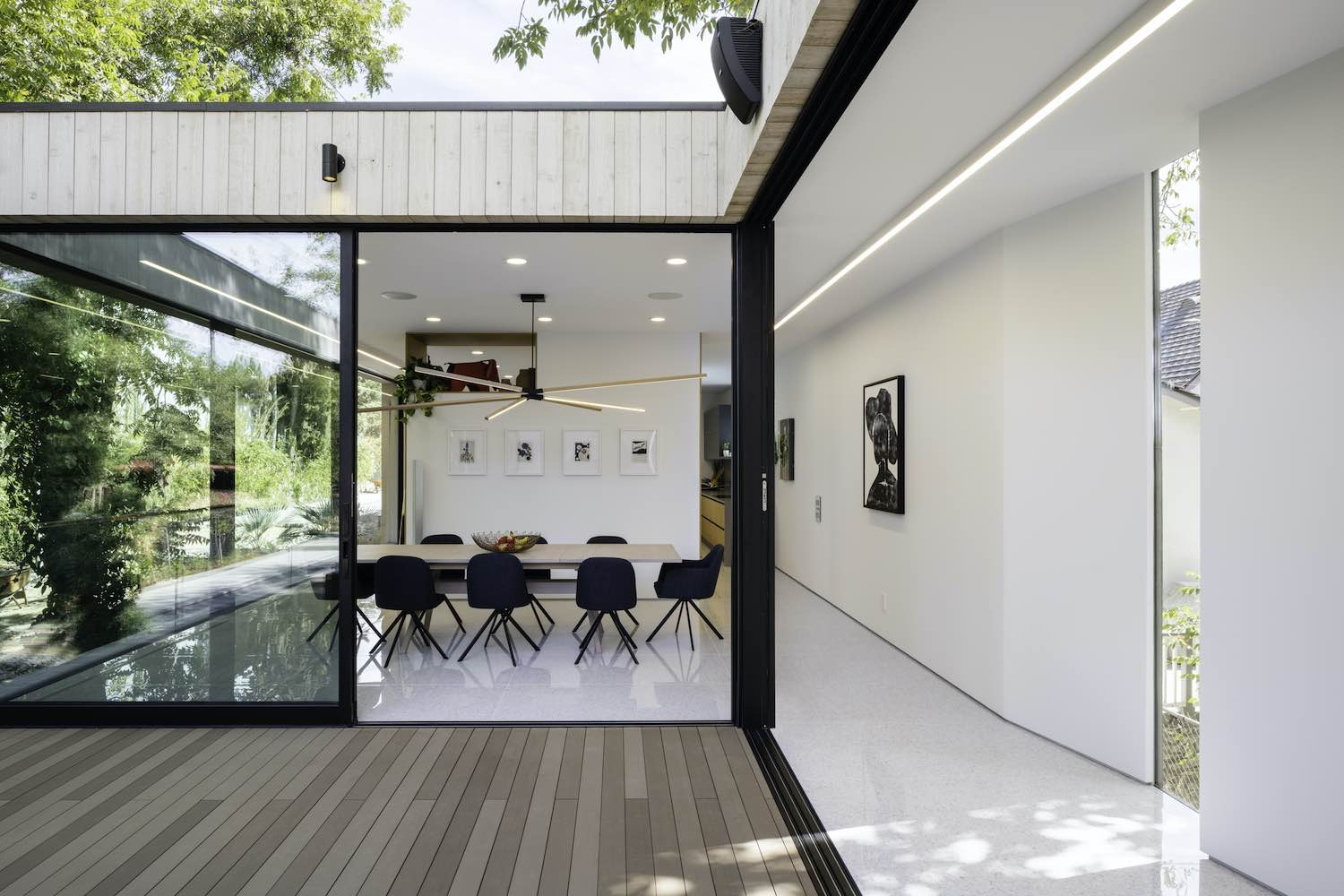 image © Brandon Shigeta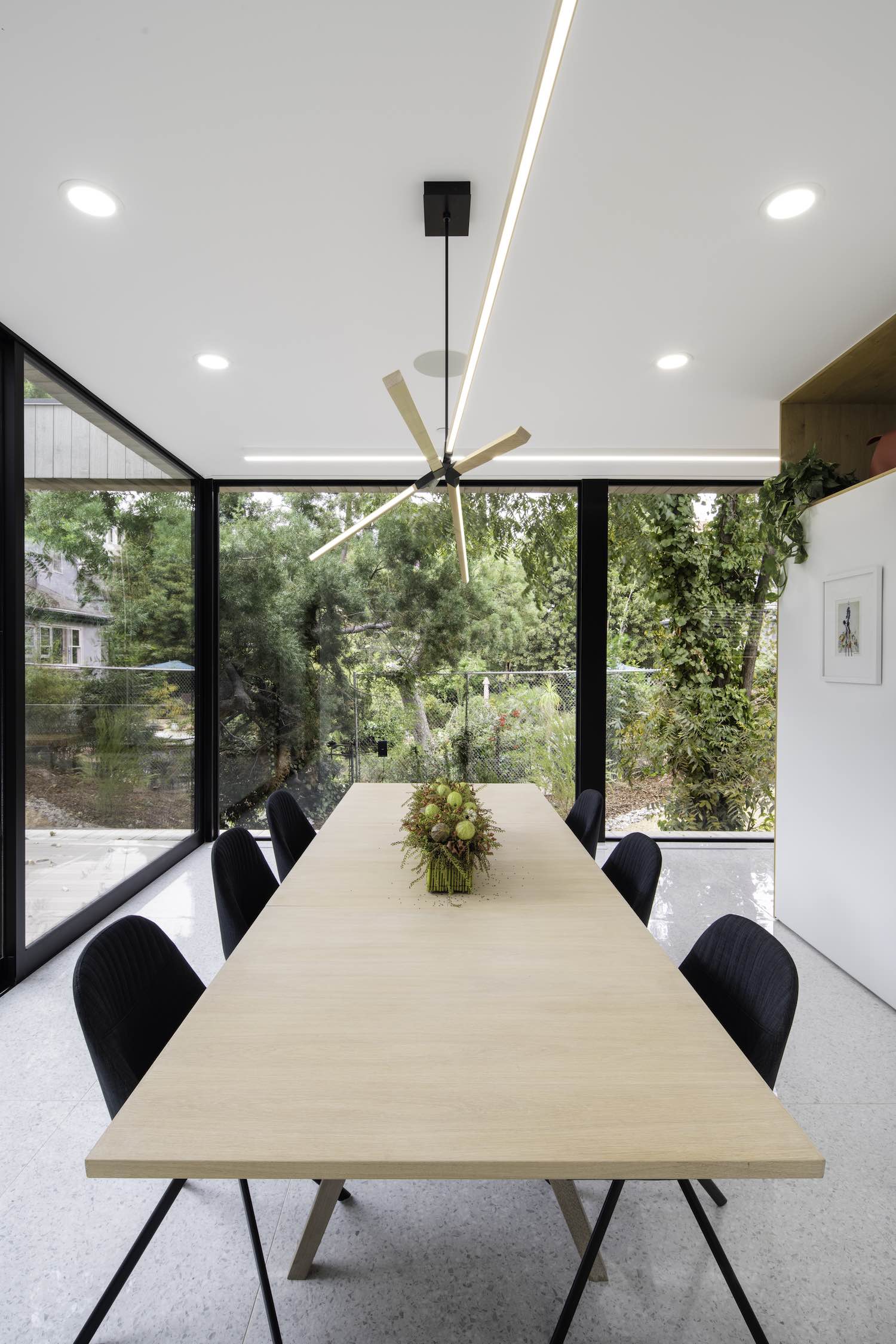 image © Brandon Shigeta
Traveling posterior, the hall is pierced with fin windows, a signature of Brunn's architectural style - allowing those inside to view out, without enabling outsiders to view in. The fin or gill style window was born from a past client's desire to have a beachfront home with floor to ceiling glass, but still a space to display art. The solution: rotating walls that offer ocean views when partially open, as well as a space for displaying art. The next iteration came from a client who desired similar waterfront views, without compromising privacy, so a gill window was conceptualized.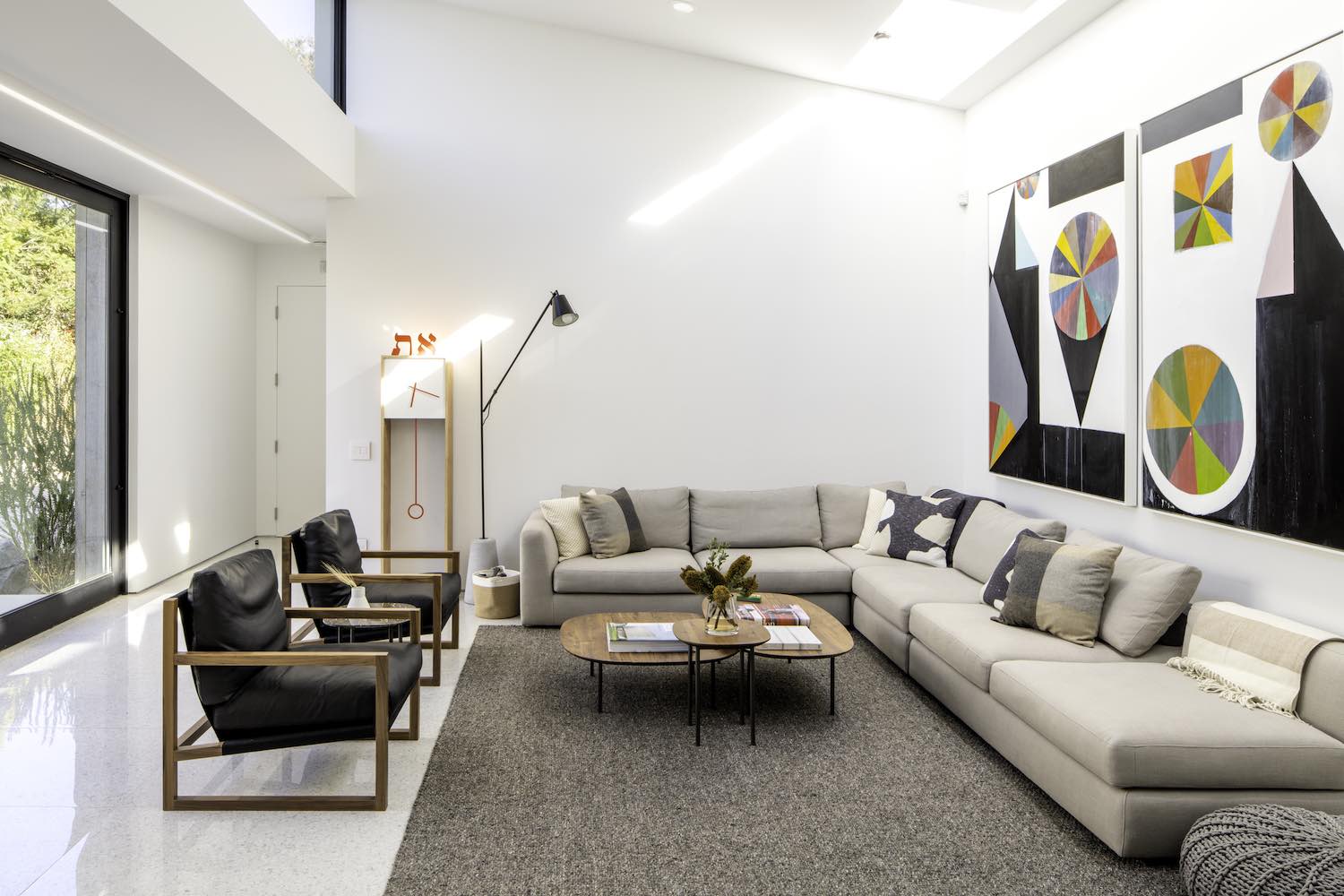 image © Brandon Shigeta
Finally, evolving to Bridge House's windows, a punctuating transition that delineates public space from private space. Approaching from the public side, you experience rays of light and warmth, overlooking a lush landscape. Once on the private side, you are shielded from the neighboring home's views.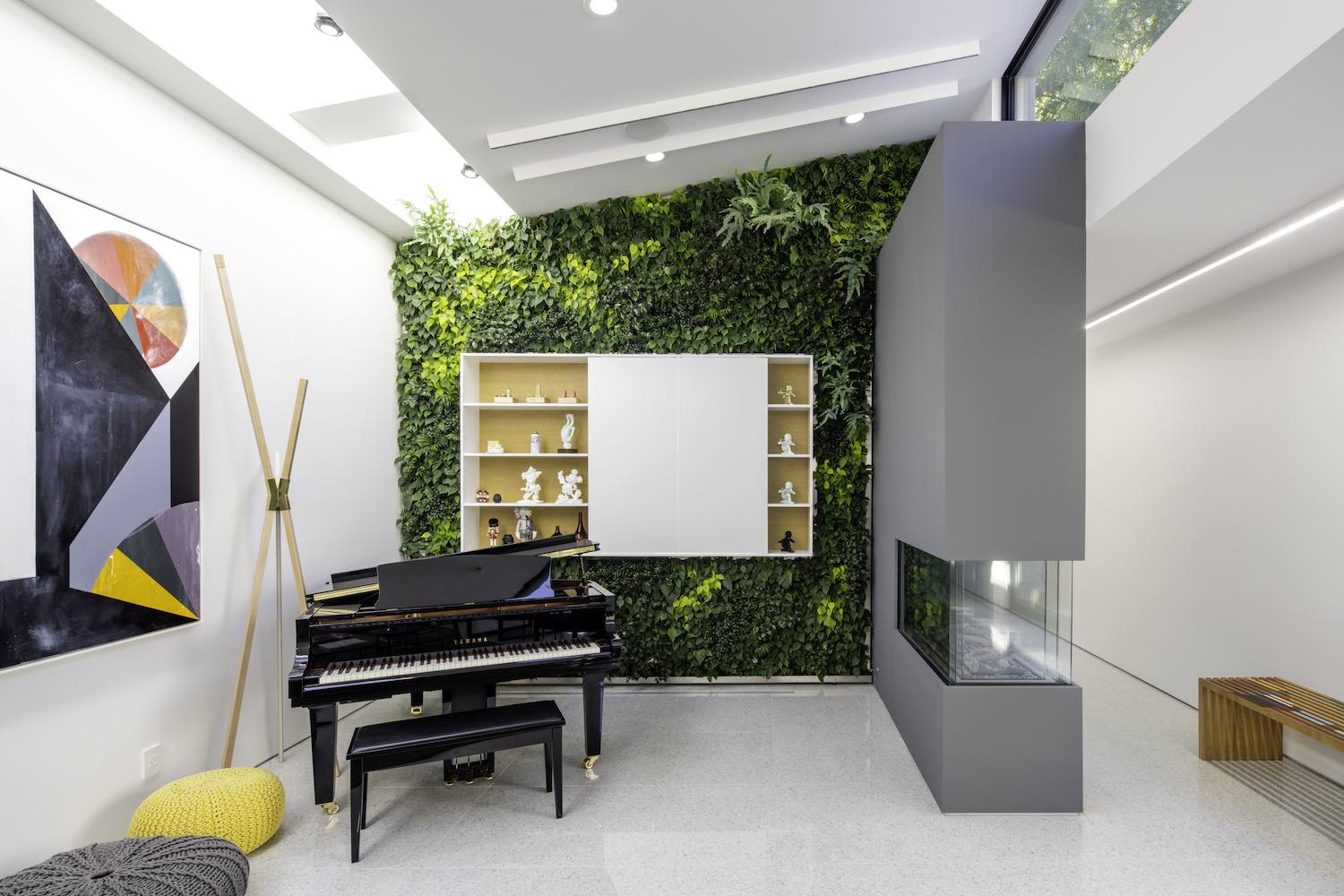 image © Brandon Shigeta
The private sector features a Master Suite with a walk in closet, attached bathroom, and private sanctuary garden. The suite is uniquely characterized by a warm wood wrapping all walls, in addition to the hallmark large windows that open out to reveal an abundant landscape of greenery. The sanctuary garden, just off the master bedroom, was designed to replace the typical indoor sitting area, in order to maintain the homes relationship with nature. The connected bathroom offers ​his and hers sinks, a bath, and a steam shower.
Moving below grade, is a pool house, complete with a kitchen, outdoor shower, outdoor grill area, and a music room filled with Yamaha's latest and greatest. Dan draws inspiration from movement and rhythm, as he composes music and performs with his band, DLD. Explaining the relationship, he notes:
"Architecture should capture the rhythm of a client's inner being, propelling the user through the space with movement. Good architecture is temporal and evolves as needs and technologies change."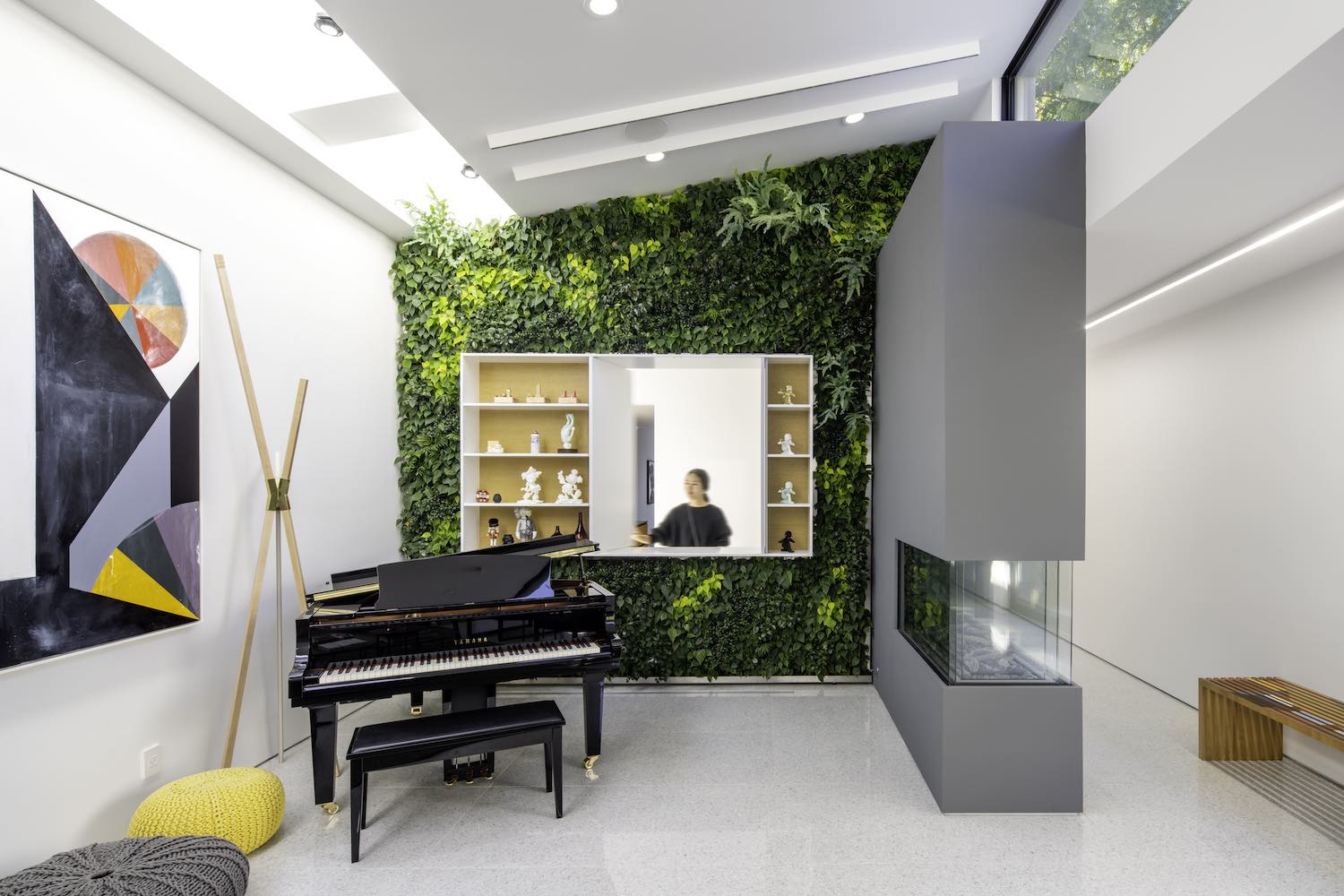 image © Brandon Shigeta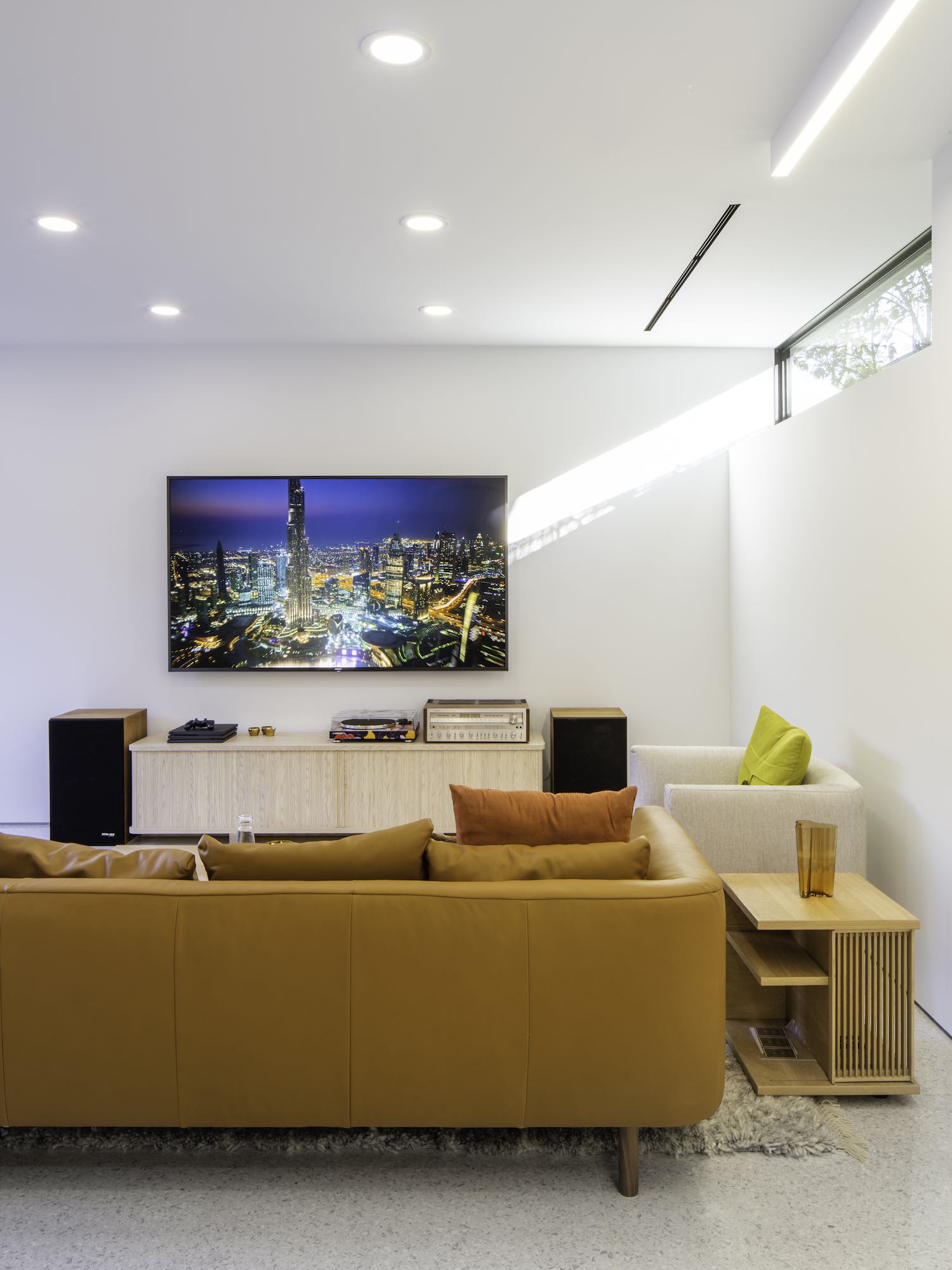 image © Brandon Shigeta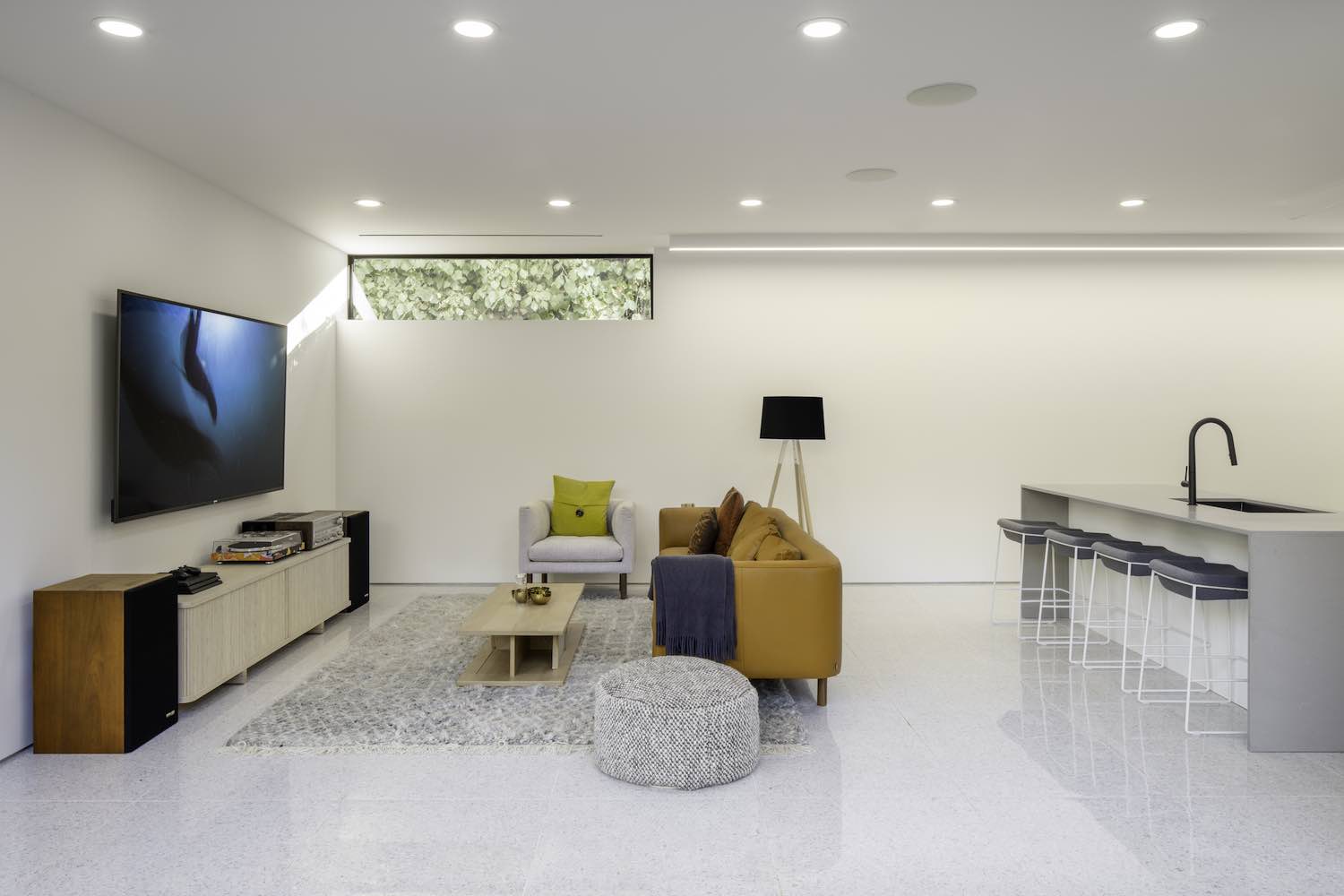 image © Brandon Shigeta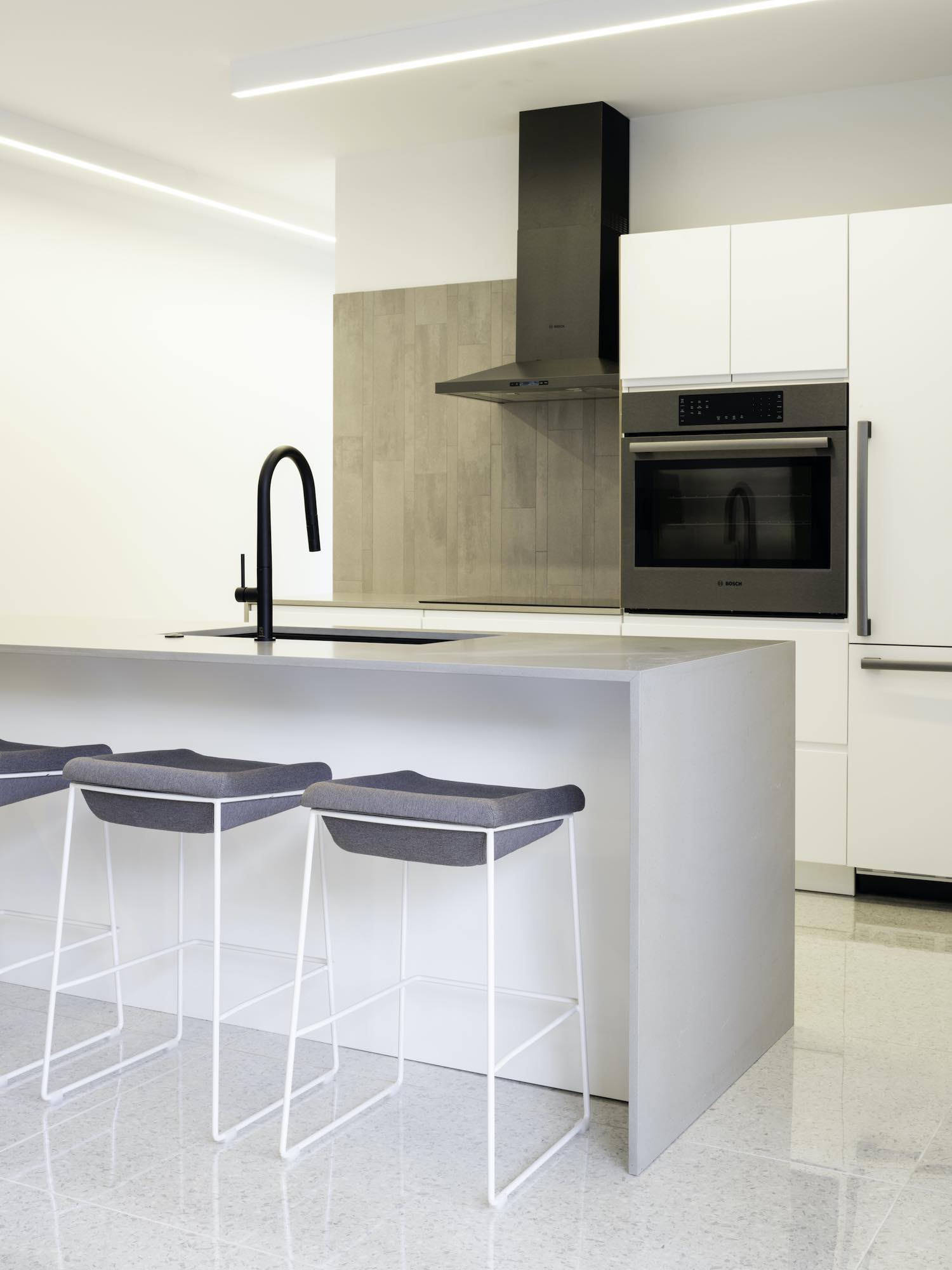 image © Brandon Shigeta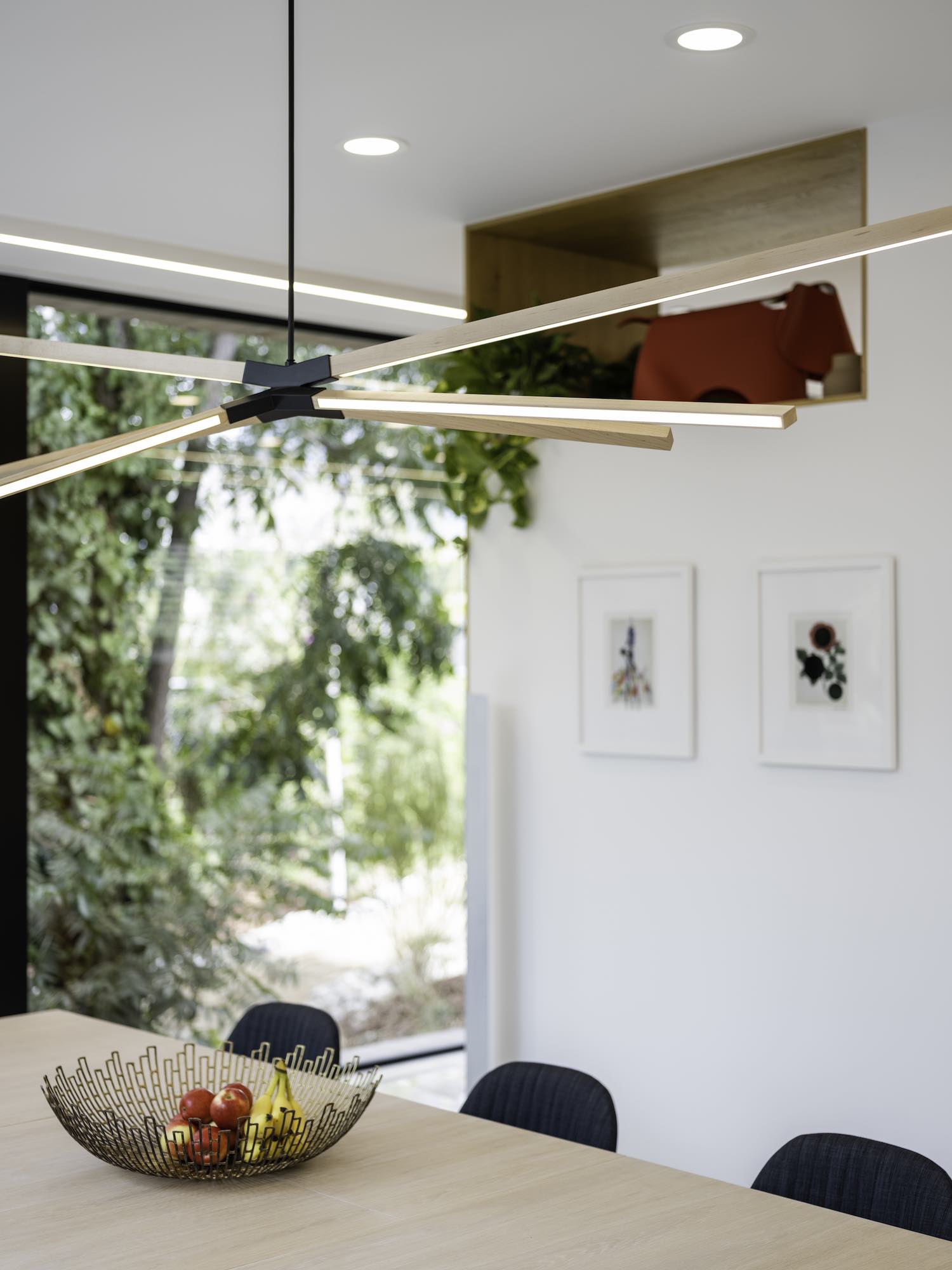 image © Brandon Shigeta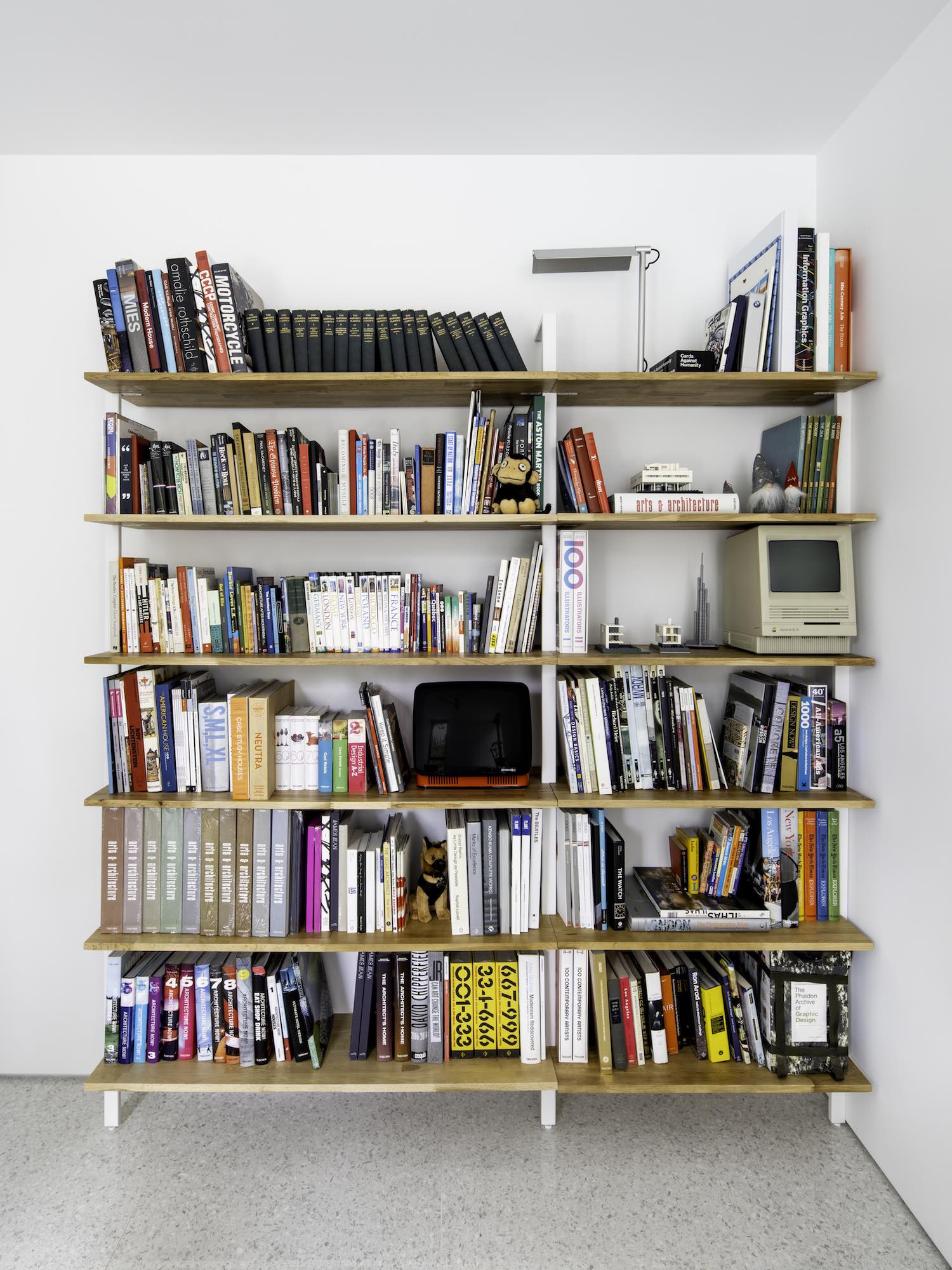 image © Brandon Shigeta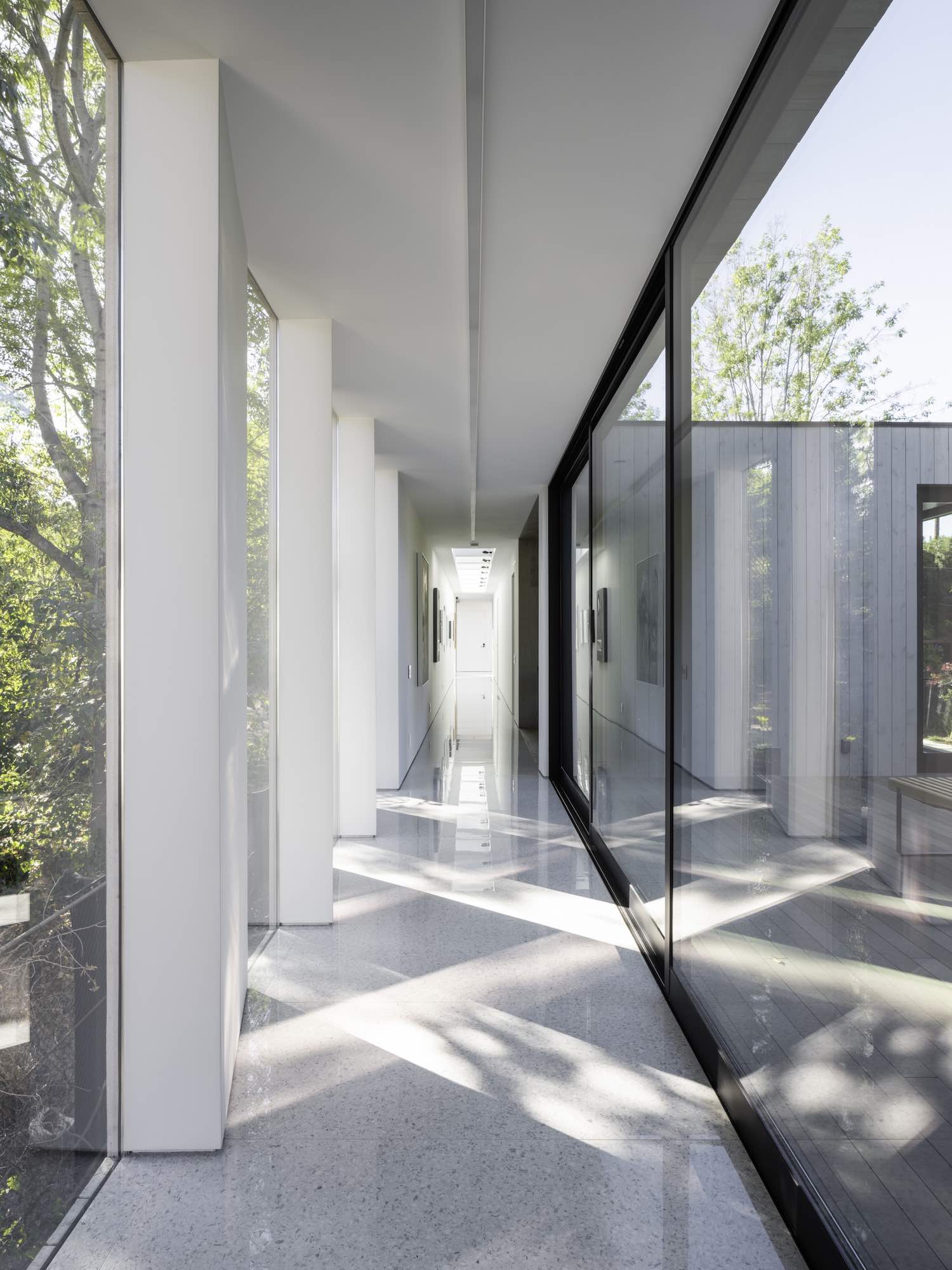 image © Brandon Shigeta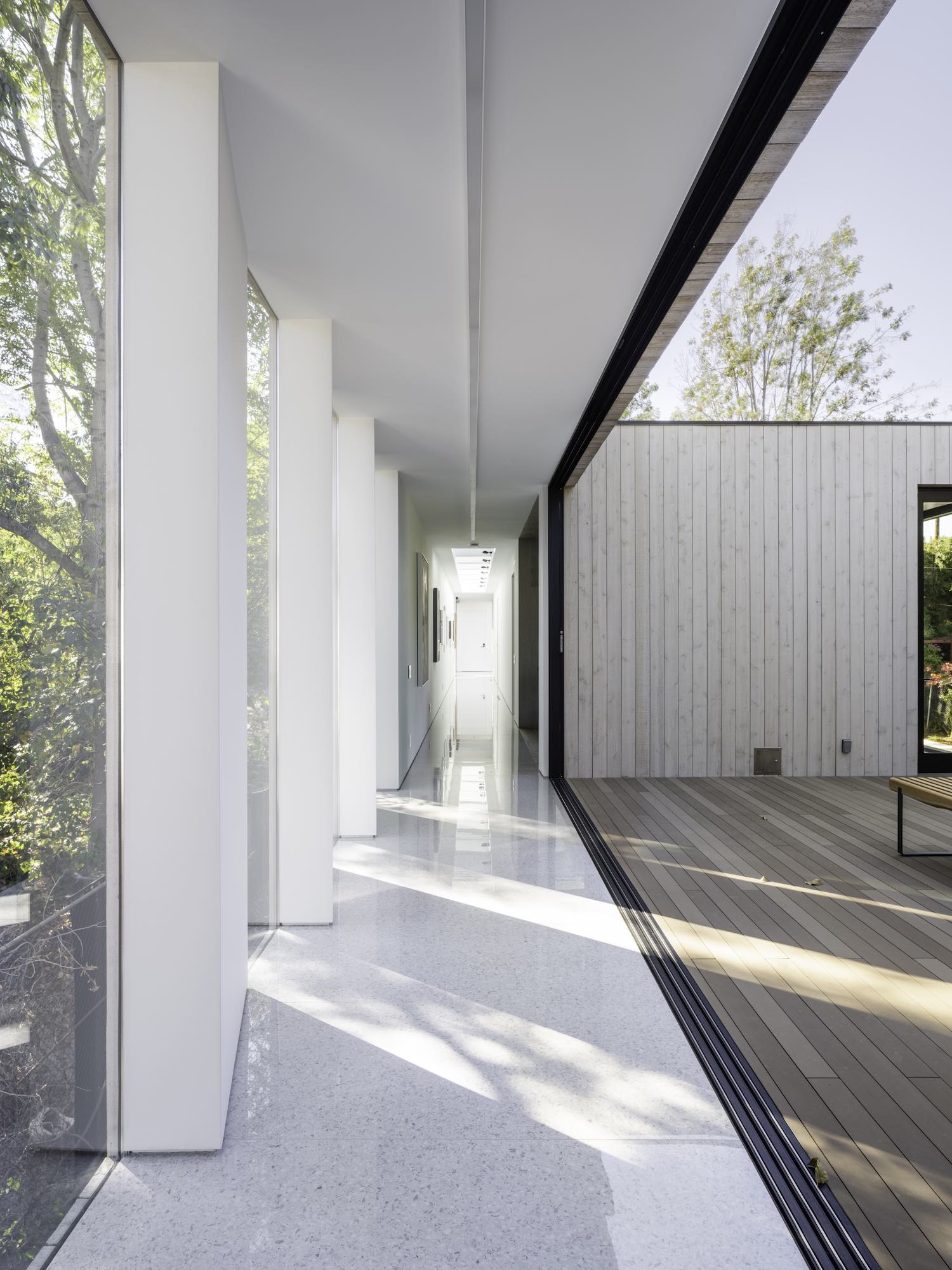 image © Brandon Shigeta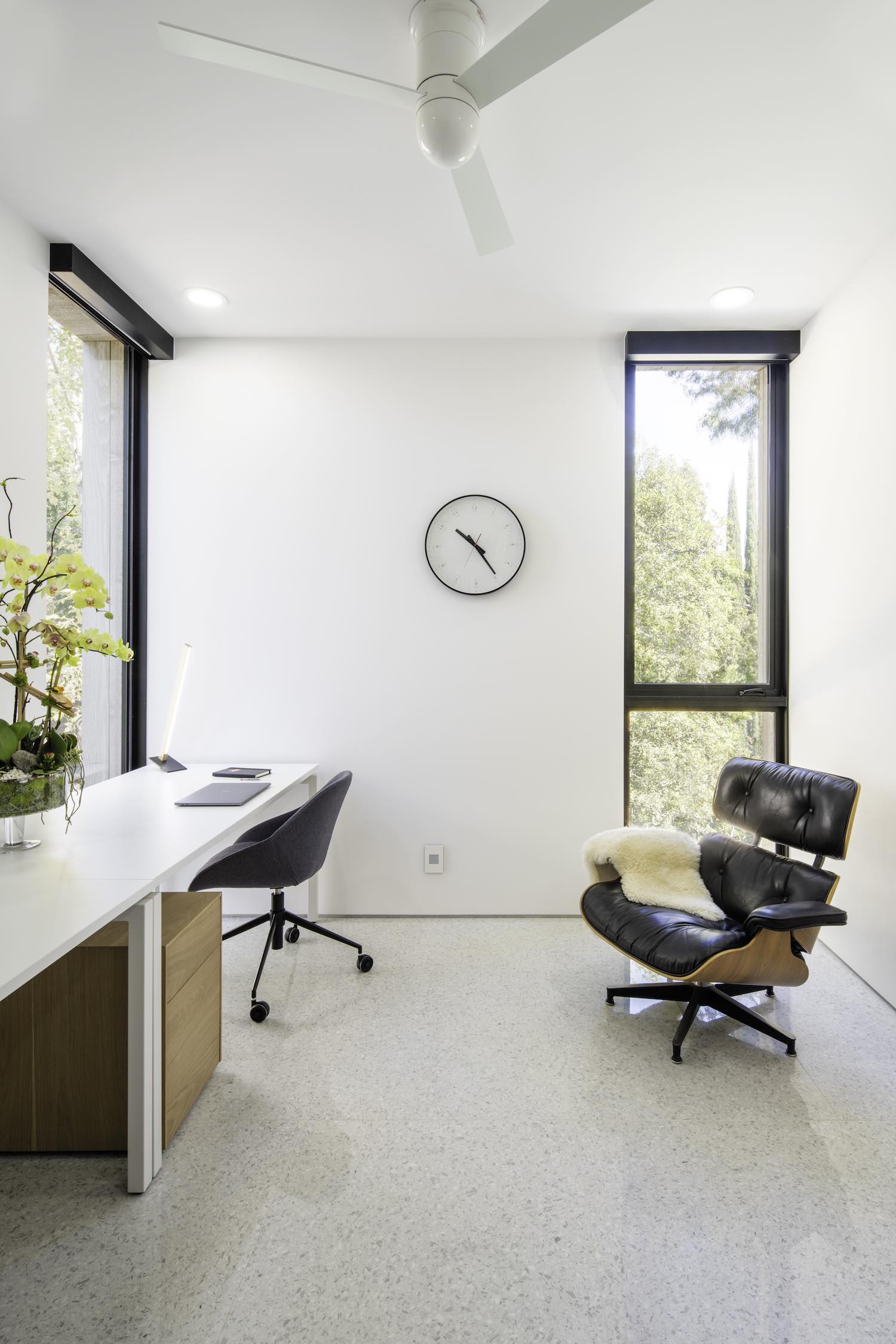 image © Brandon Shigeta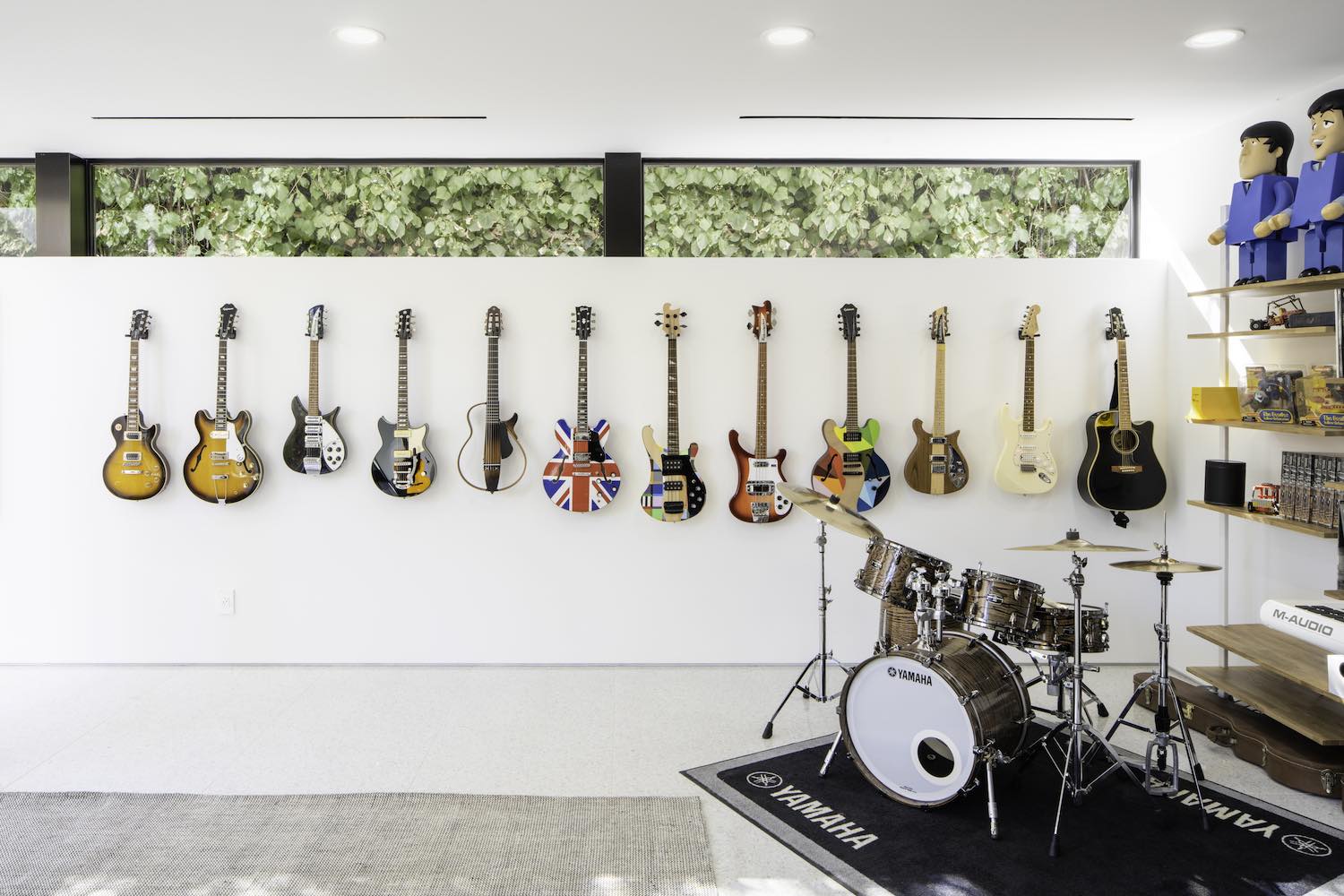 image © Brandon Shigeta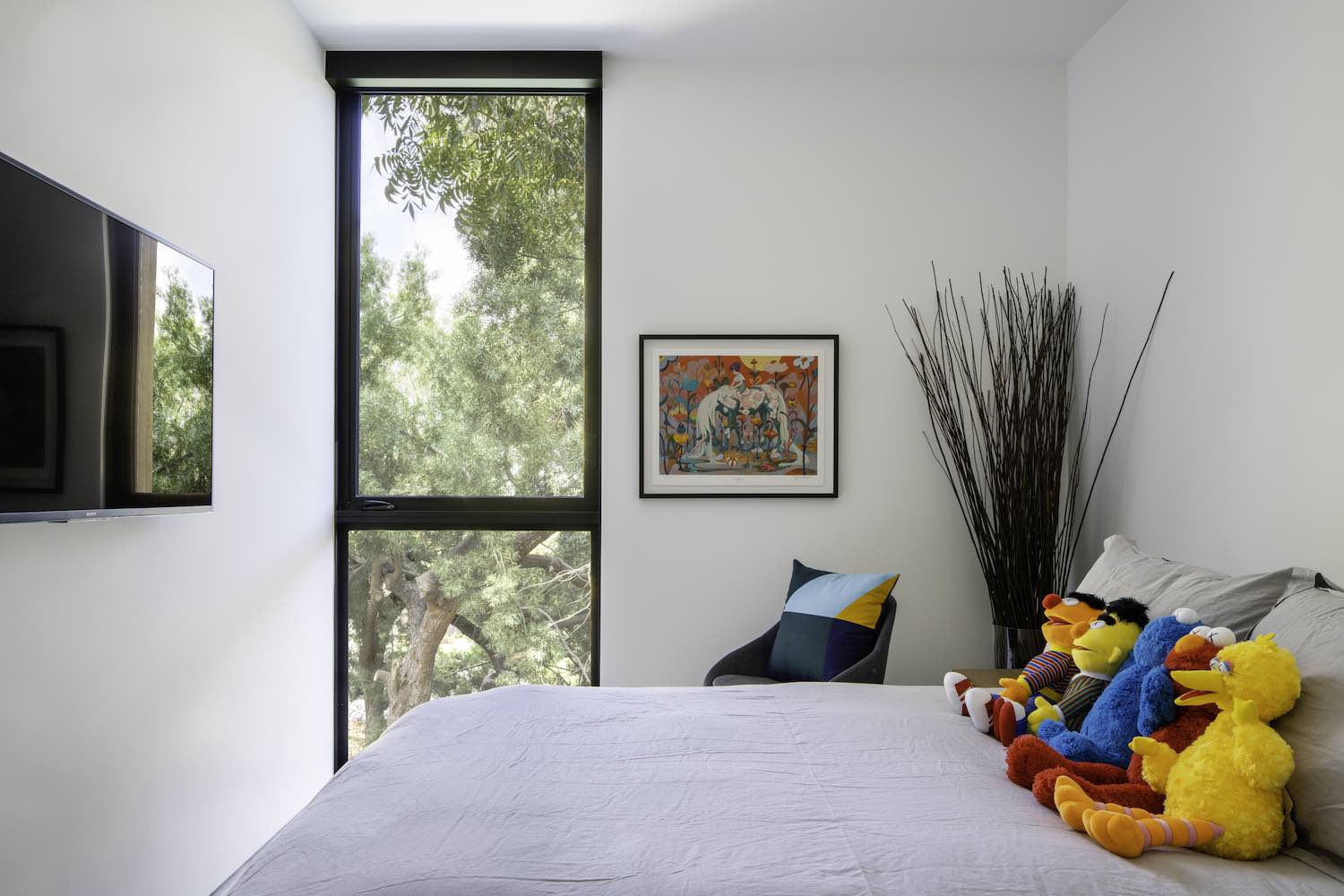 image © Brandon Shigeta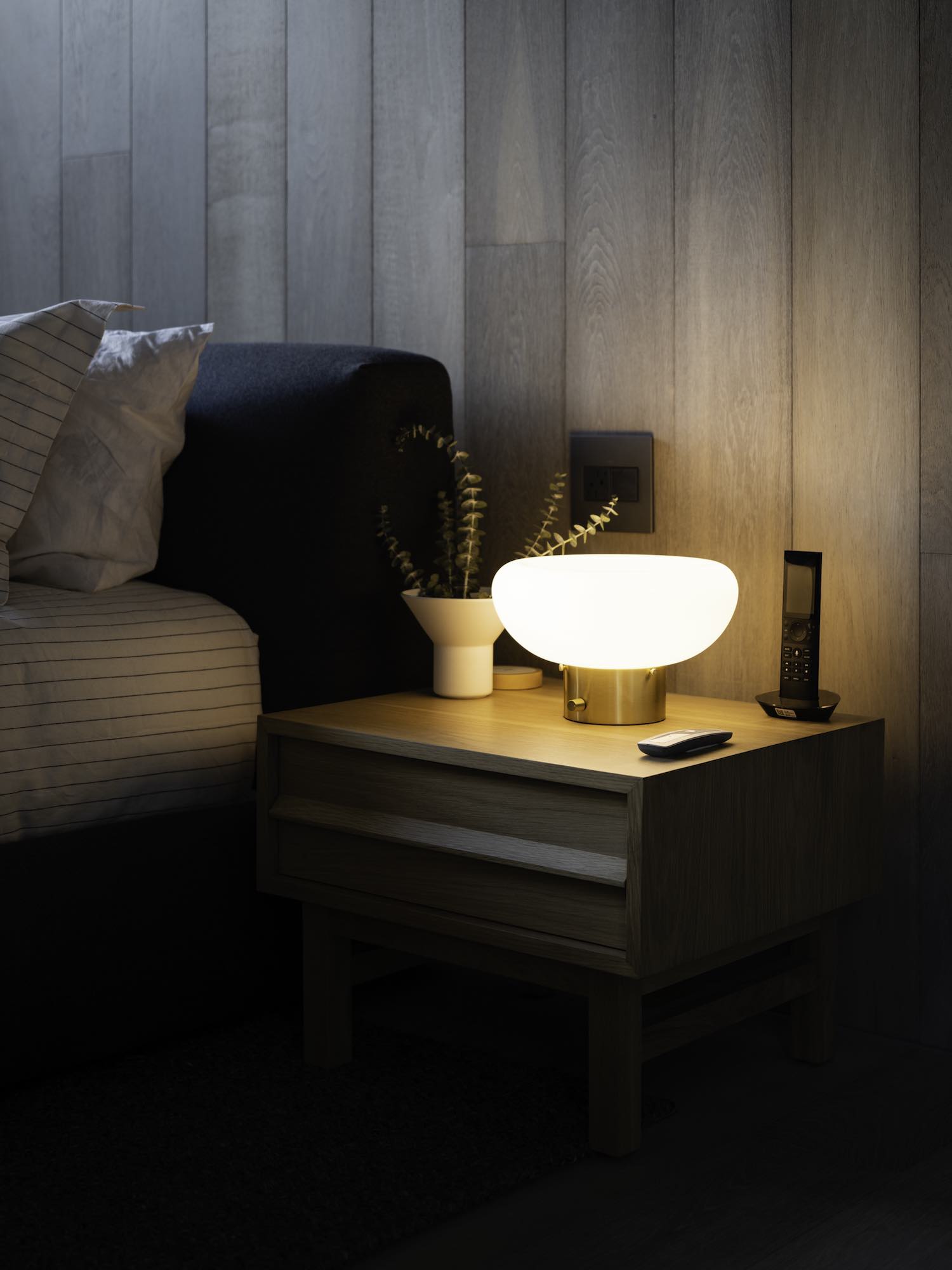 image © Brandon Shigeta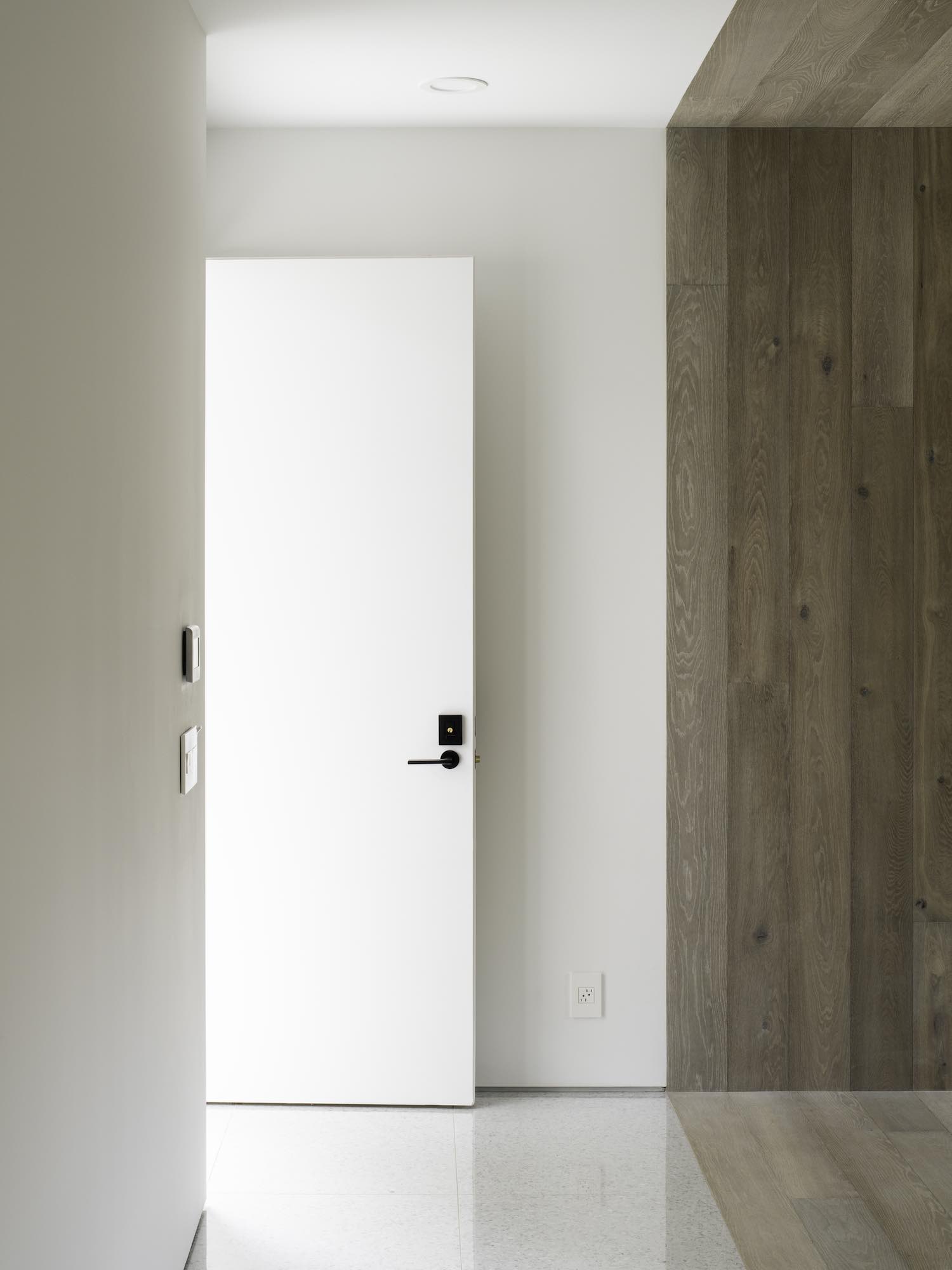 image © Brandon Shigeta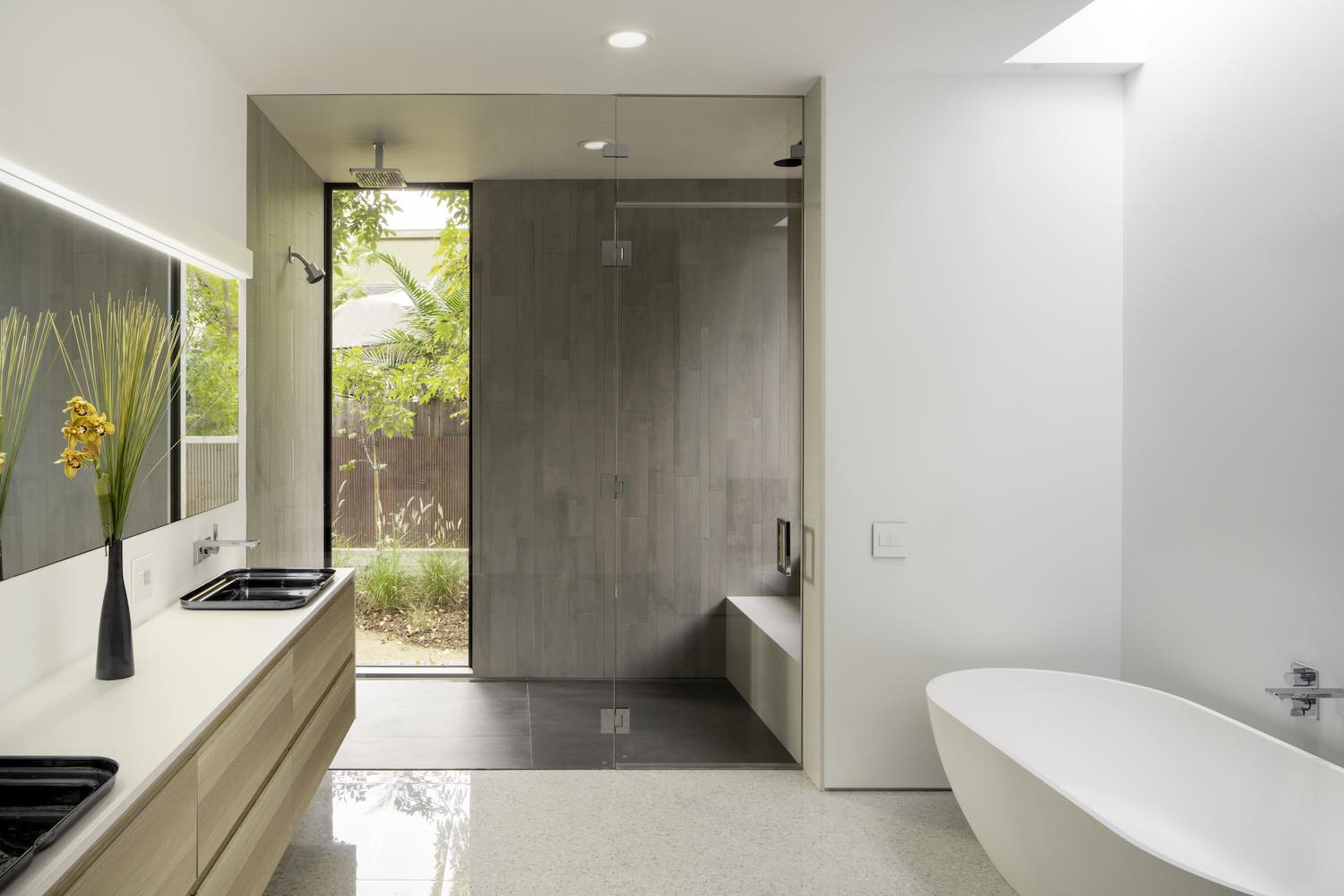 image © Brandon Shigeta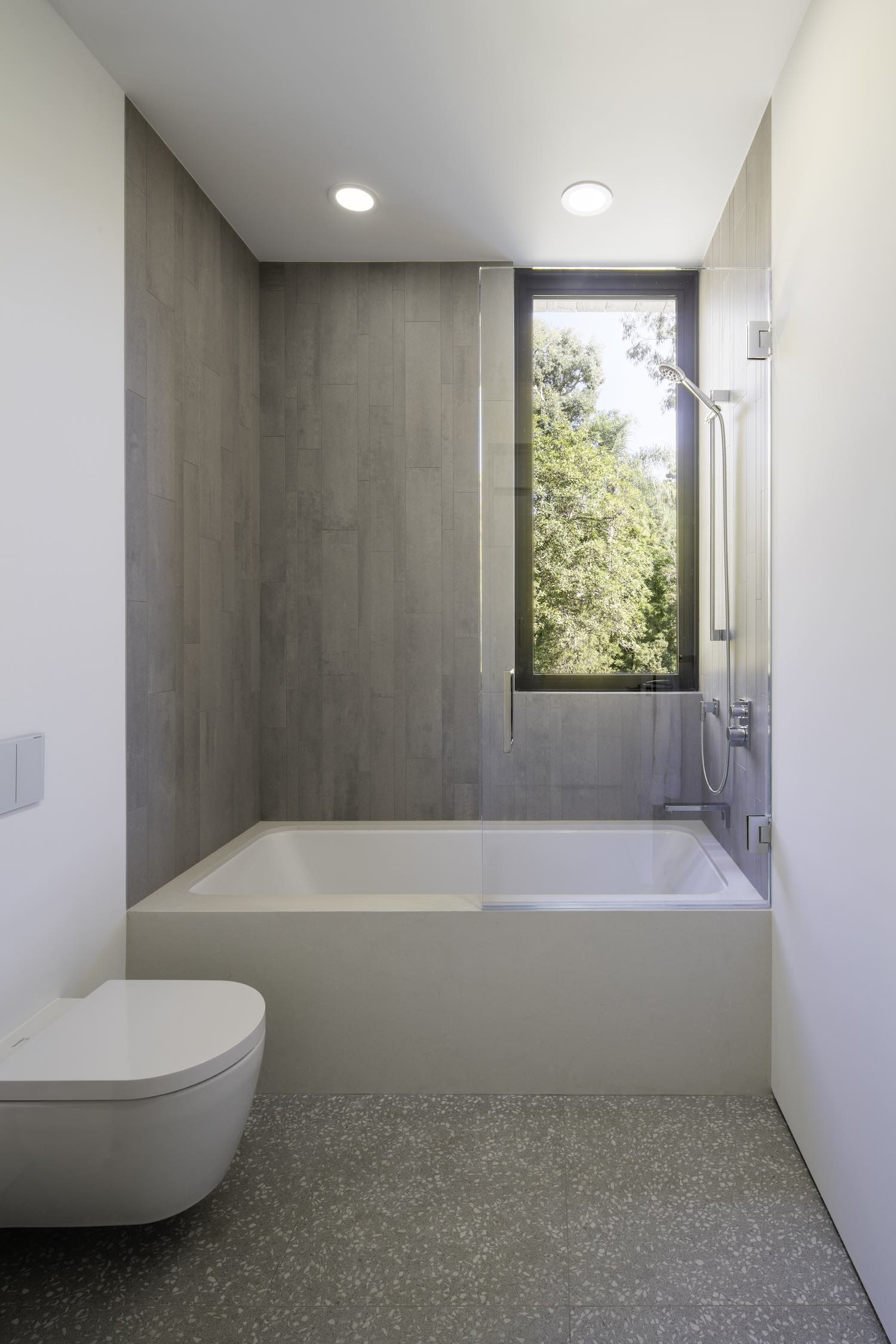 image © Brandon Shigeta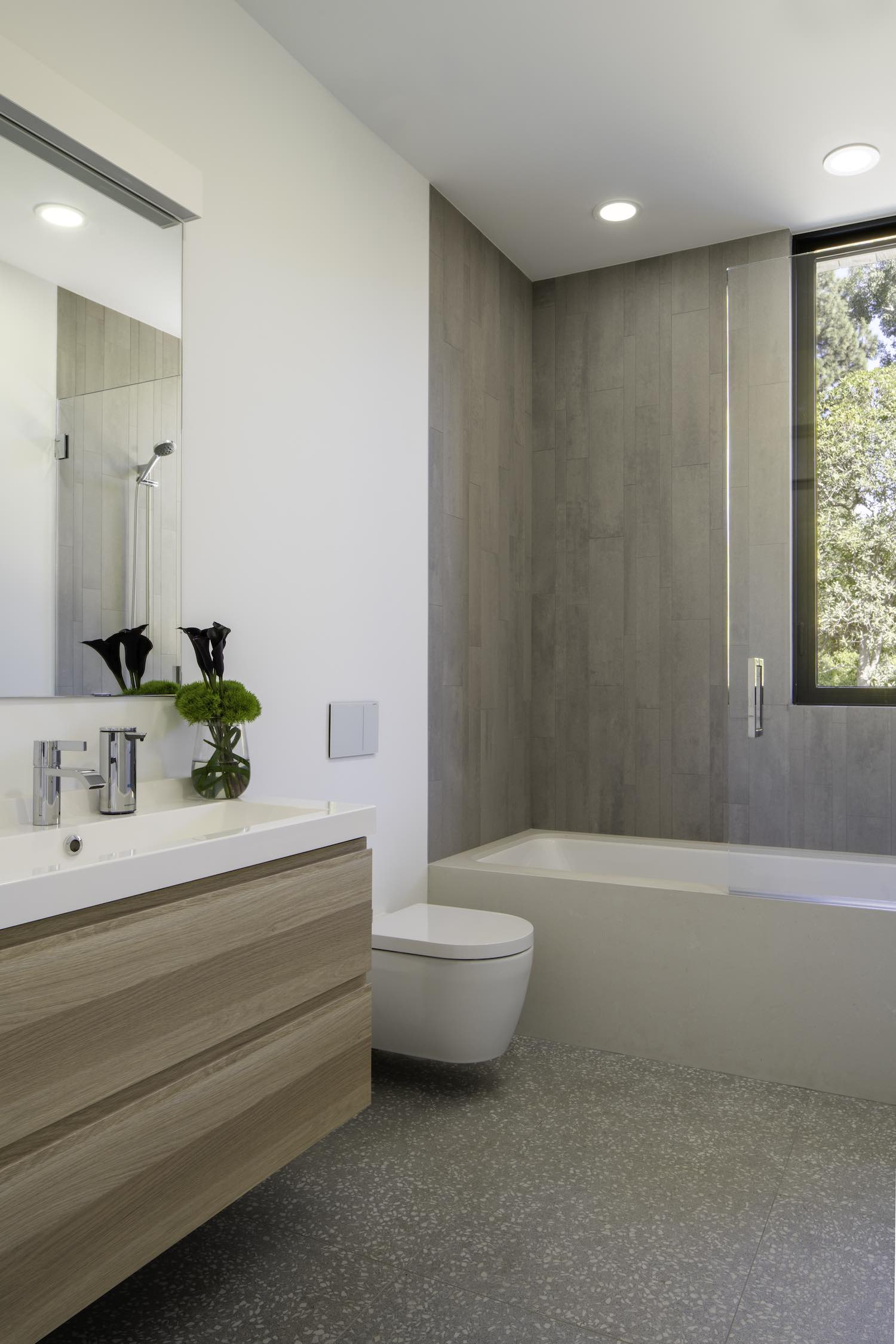 image © Brandon Shigeta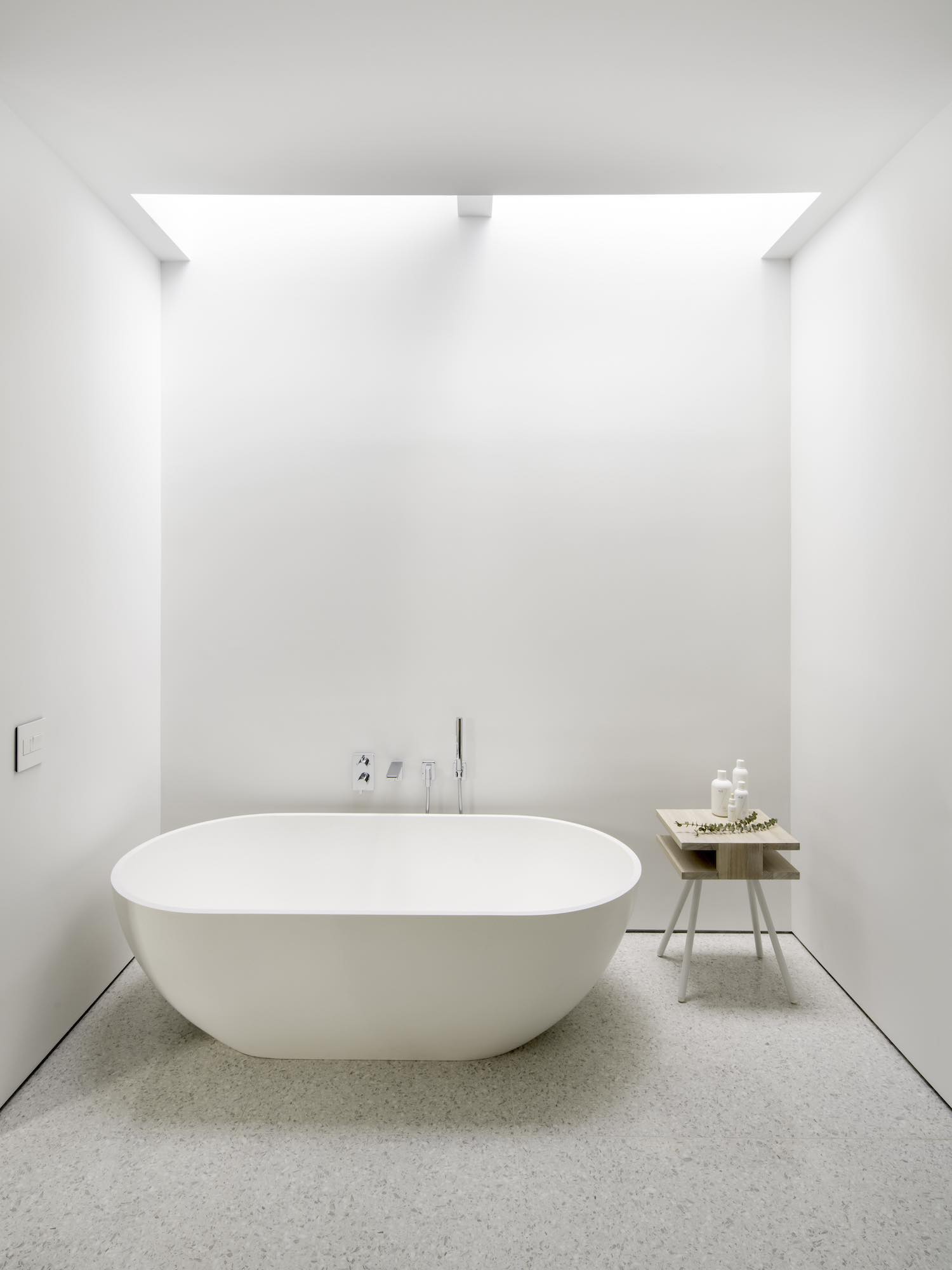 image © Brandon Shigeta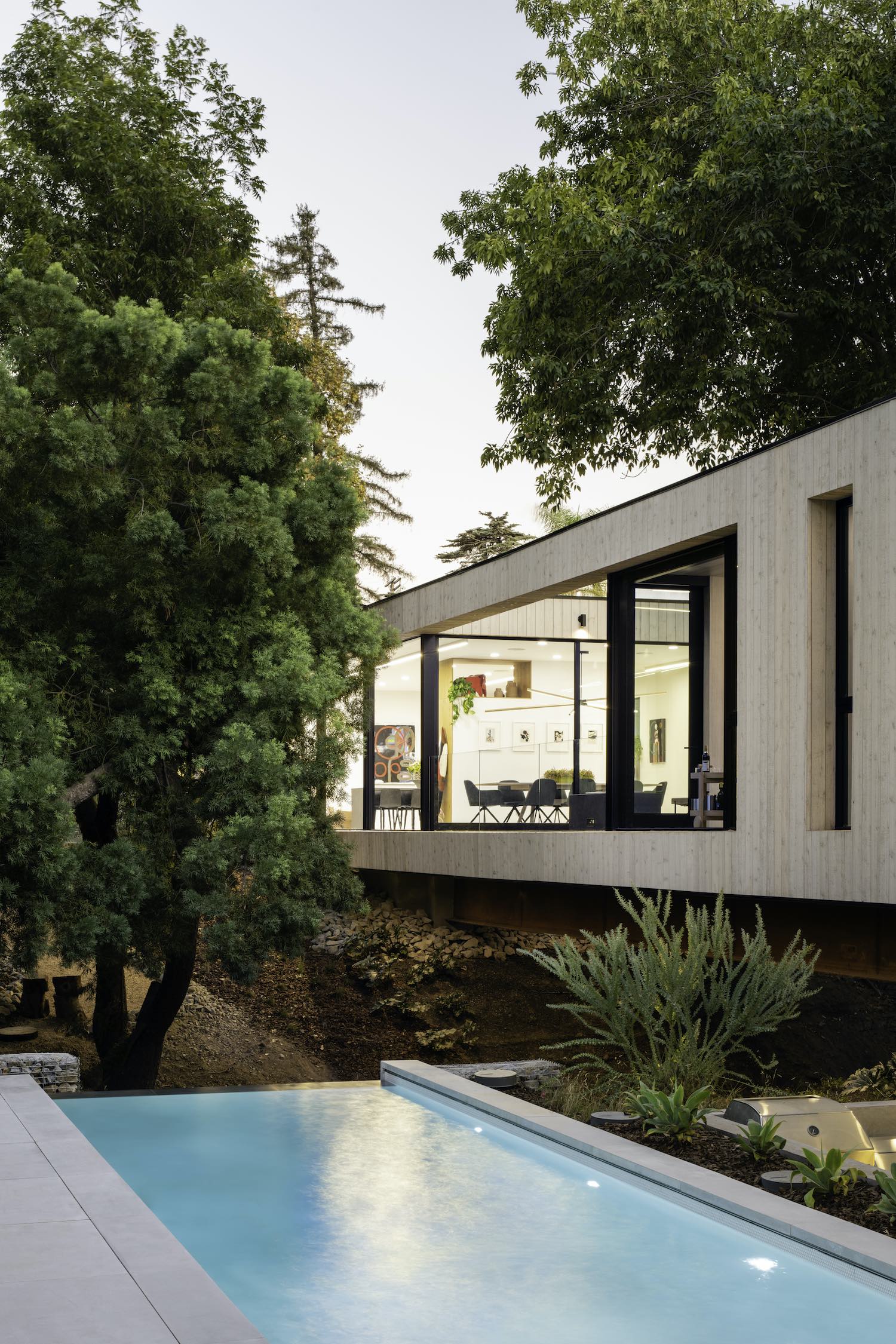 image © Brandon Shigeta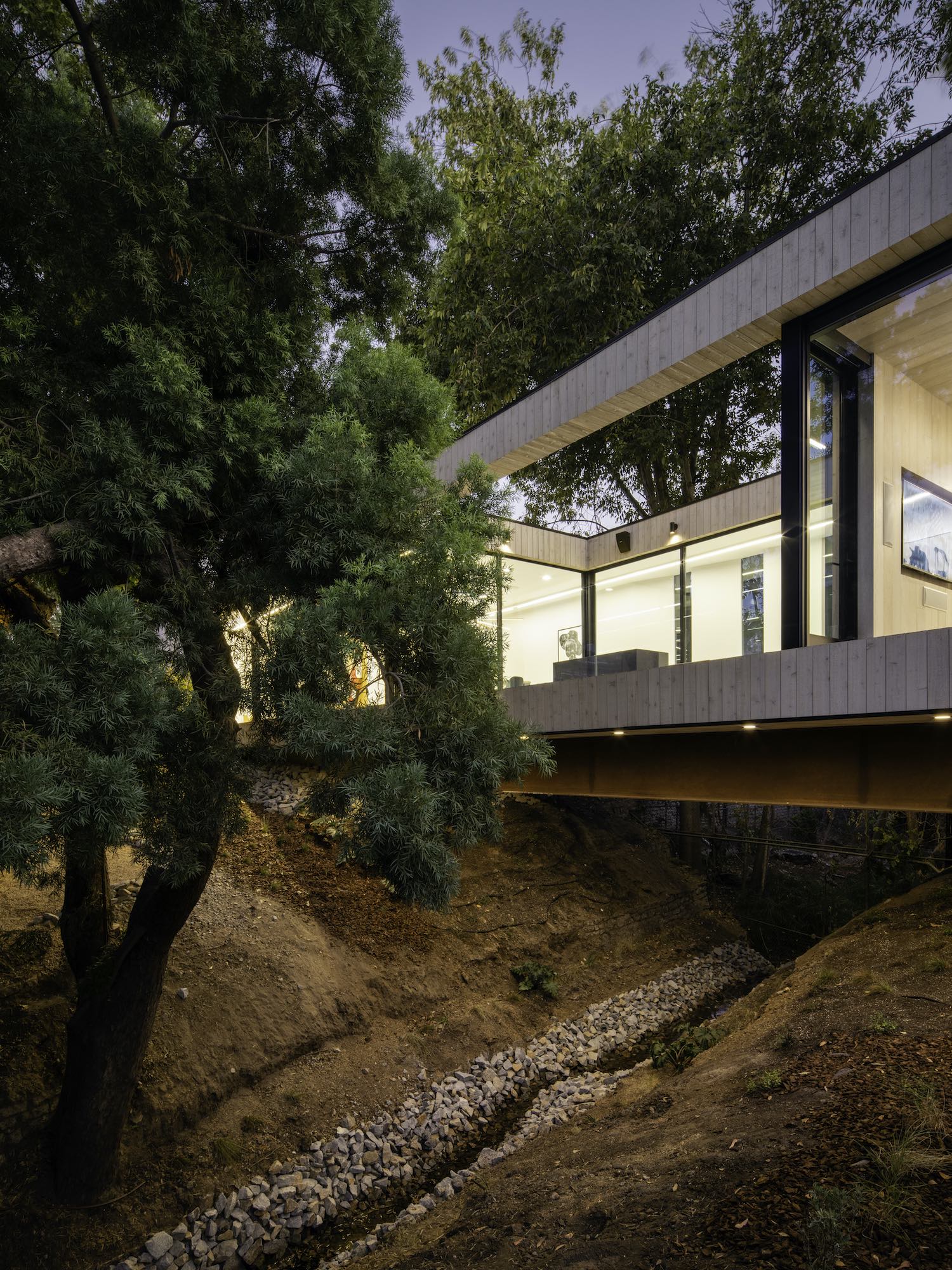 image © Brandon Shigeta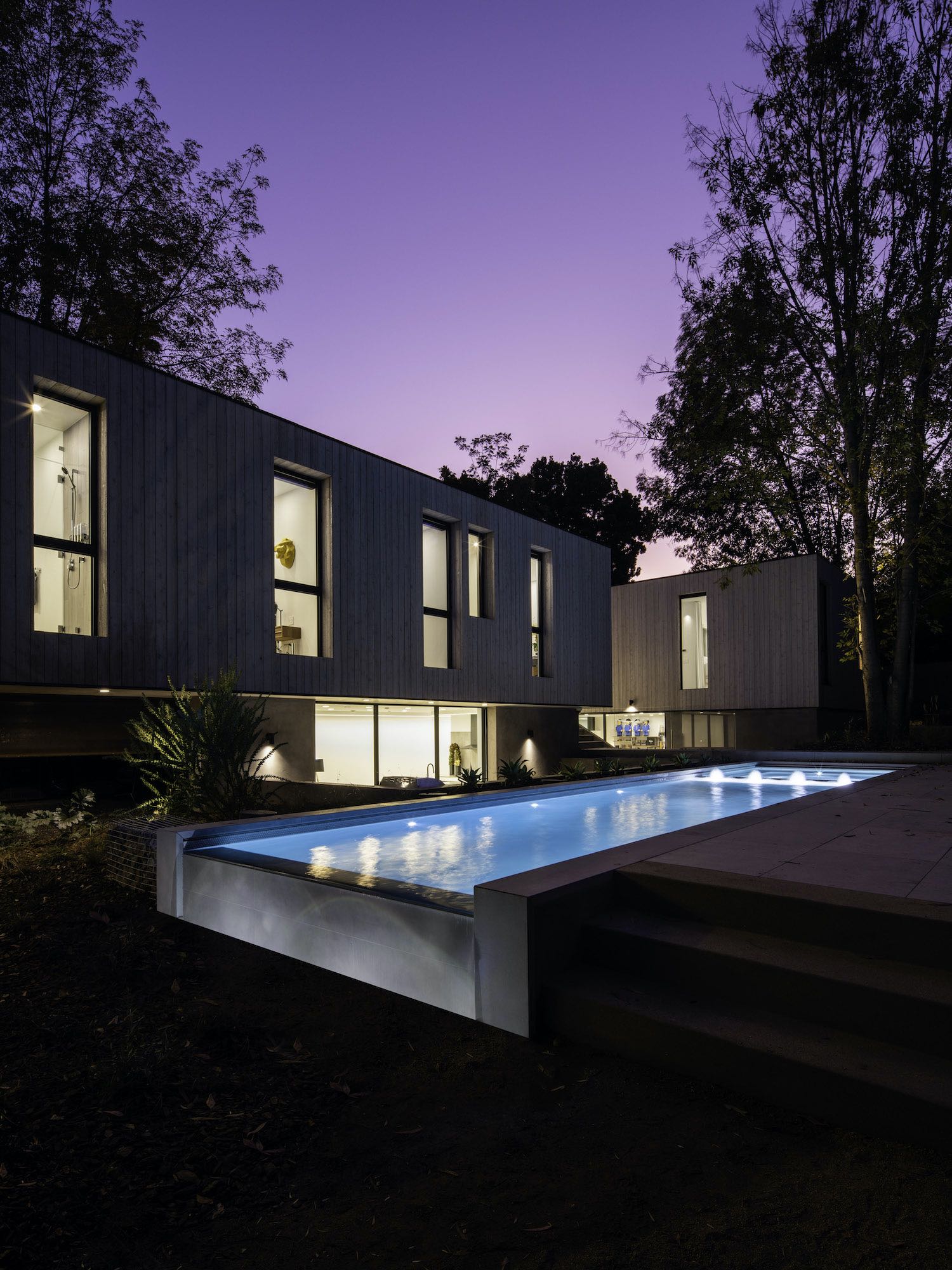 image © Brandon Shigeta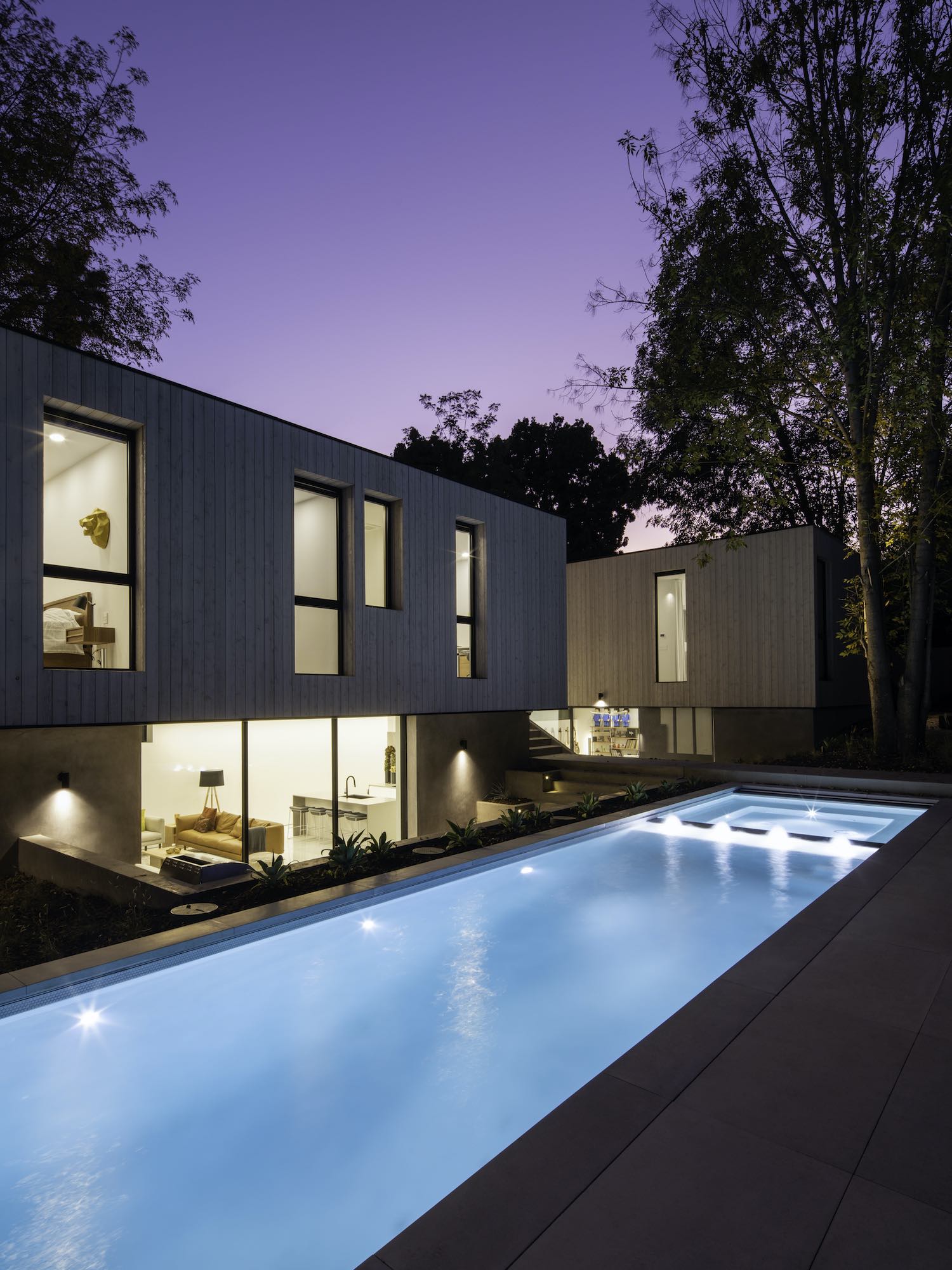 image © Brandon Shigeta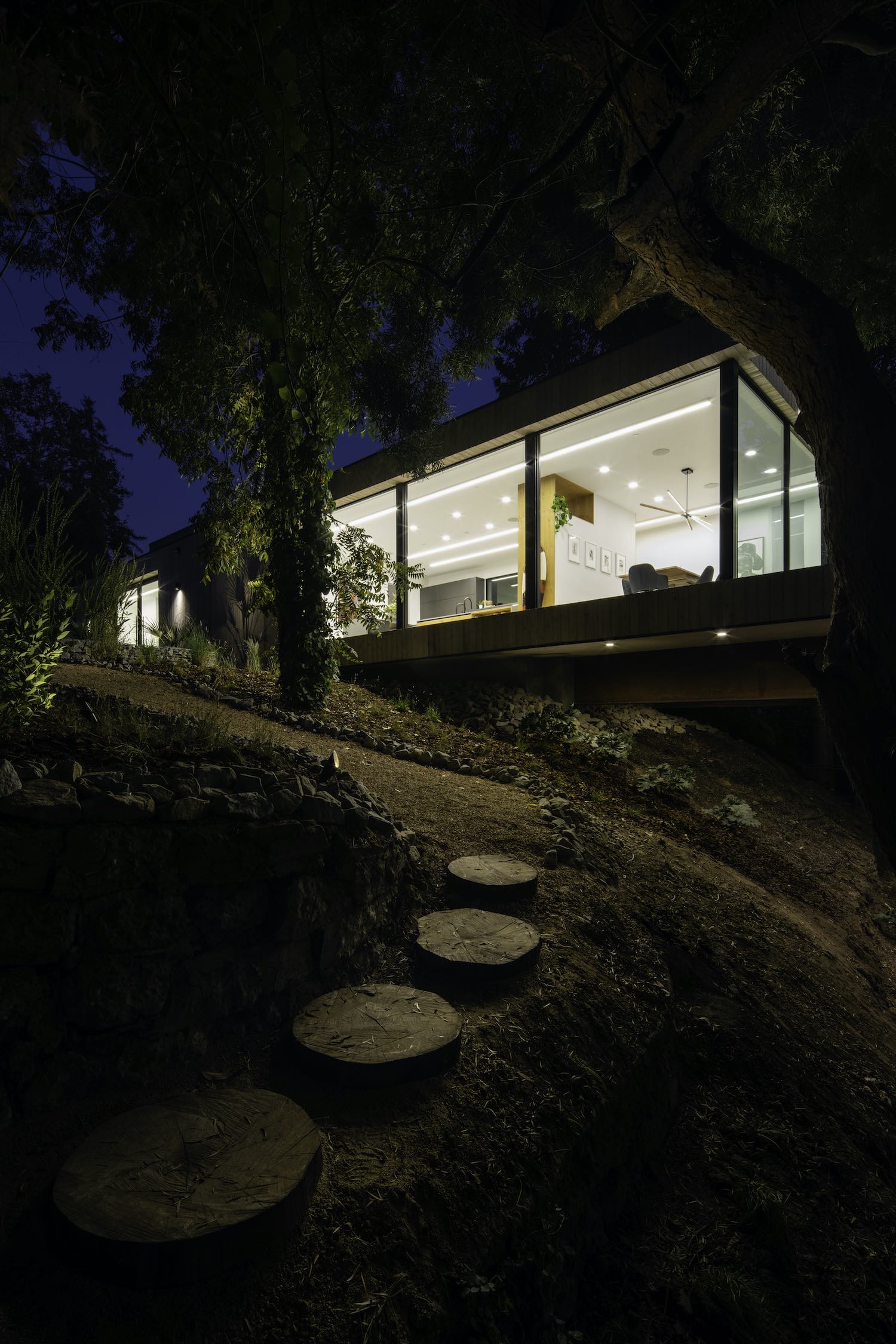 image © Brandon Shigeta
image © Brandon Shigeta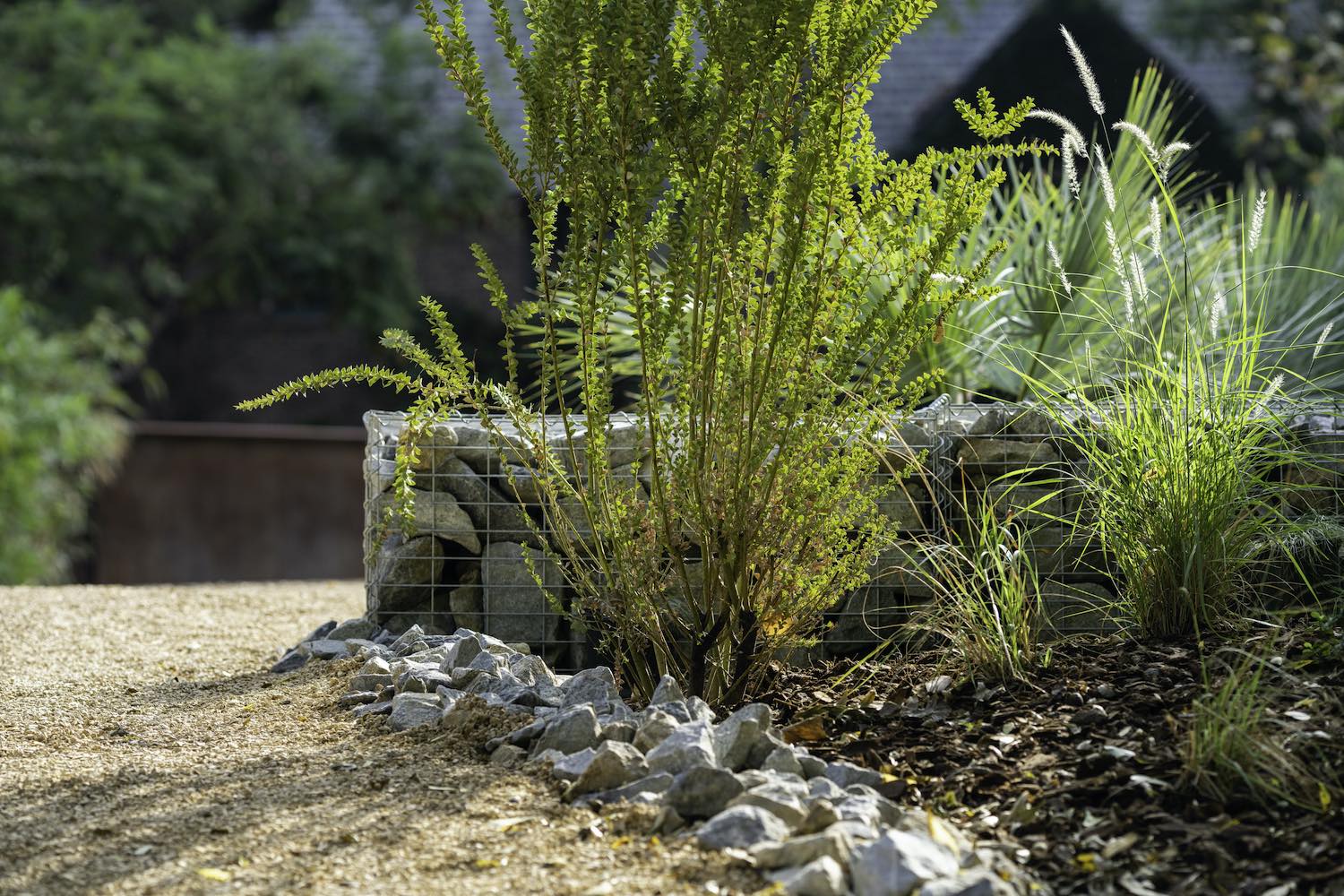 image © Brandon Shigeta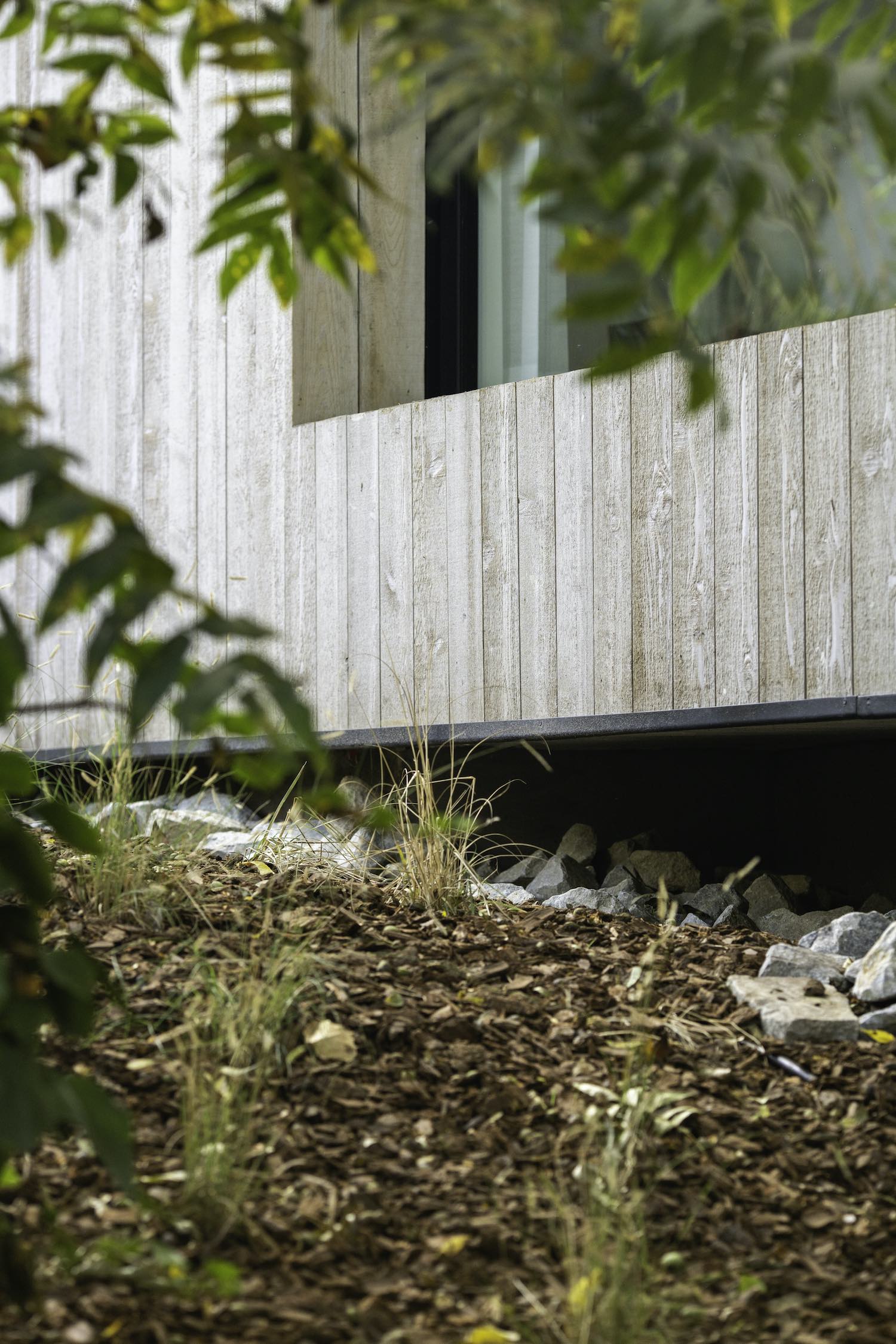 image © Brandon Shigeta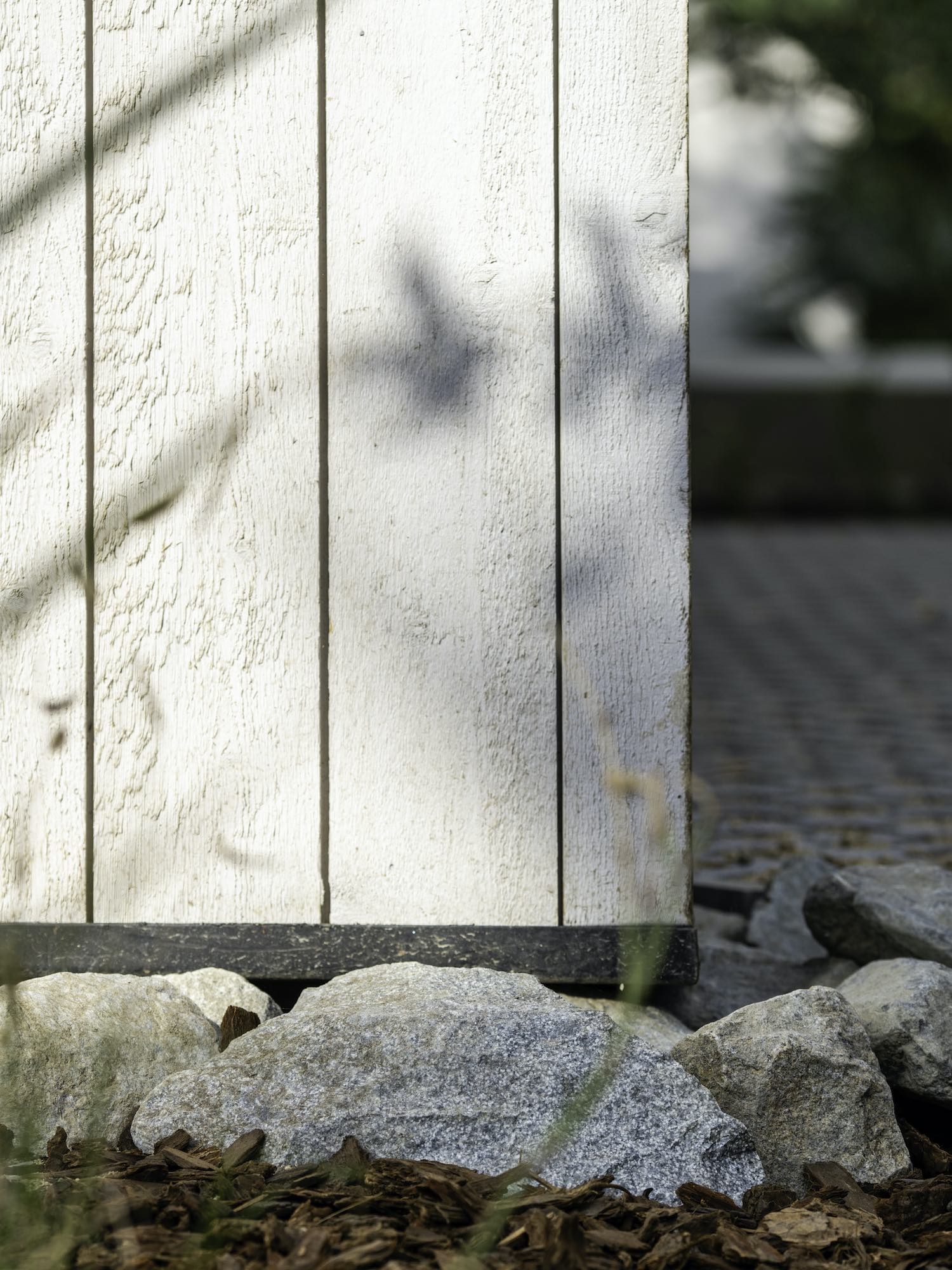 image © Brandon Shigeta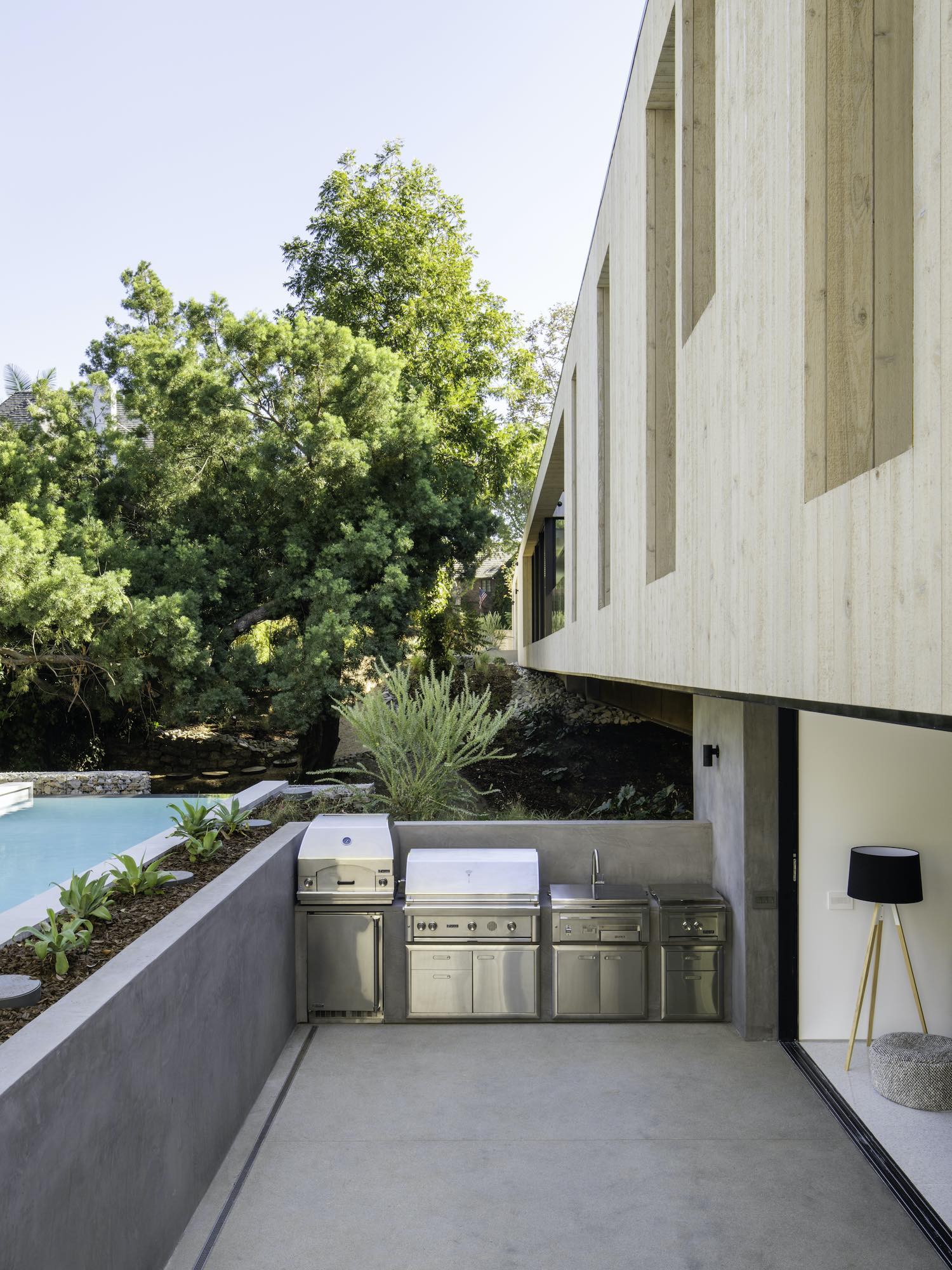 image © Brandon Shigeta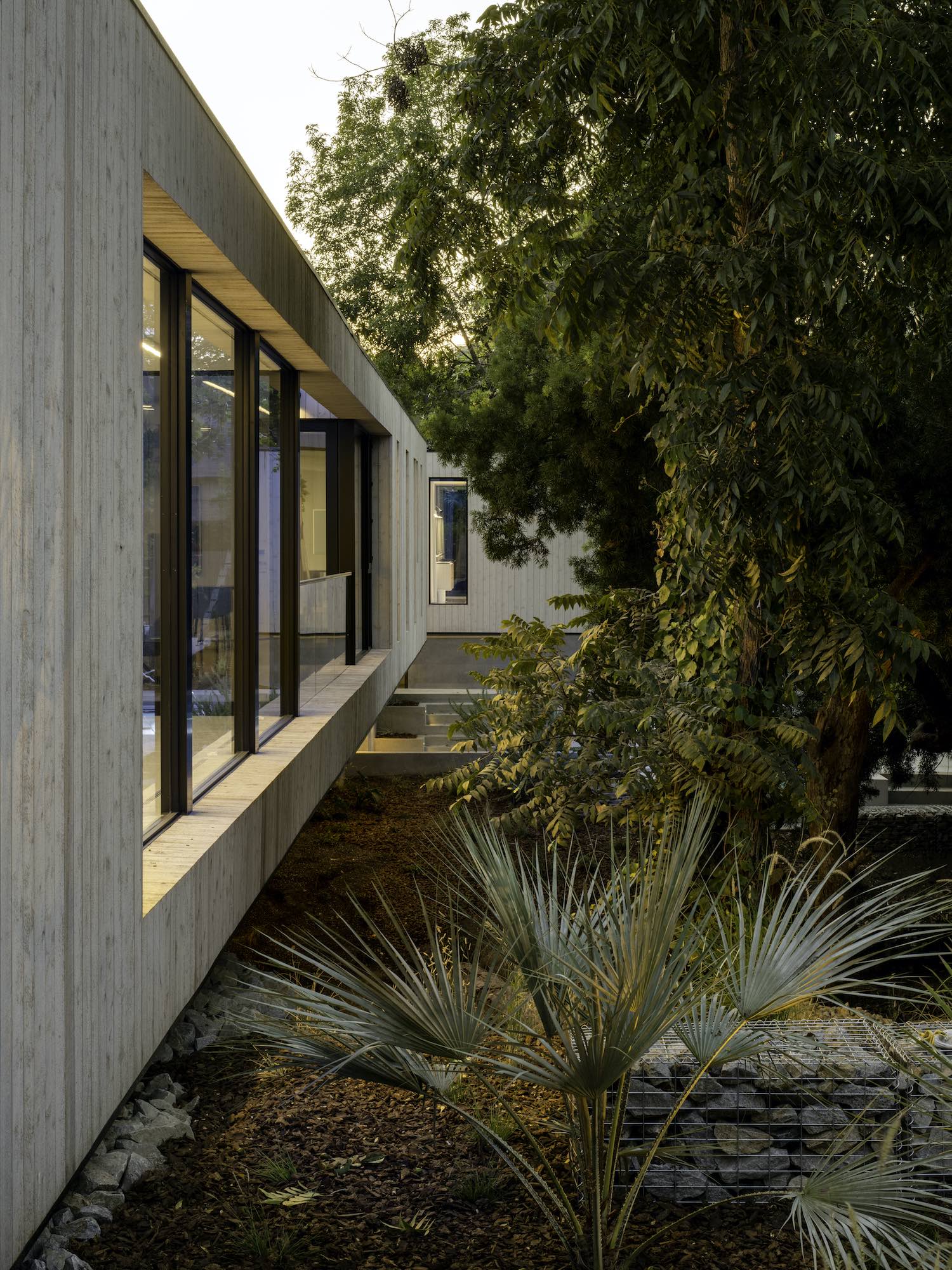 image © Brandon Shigeta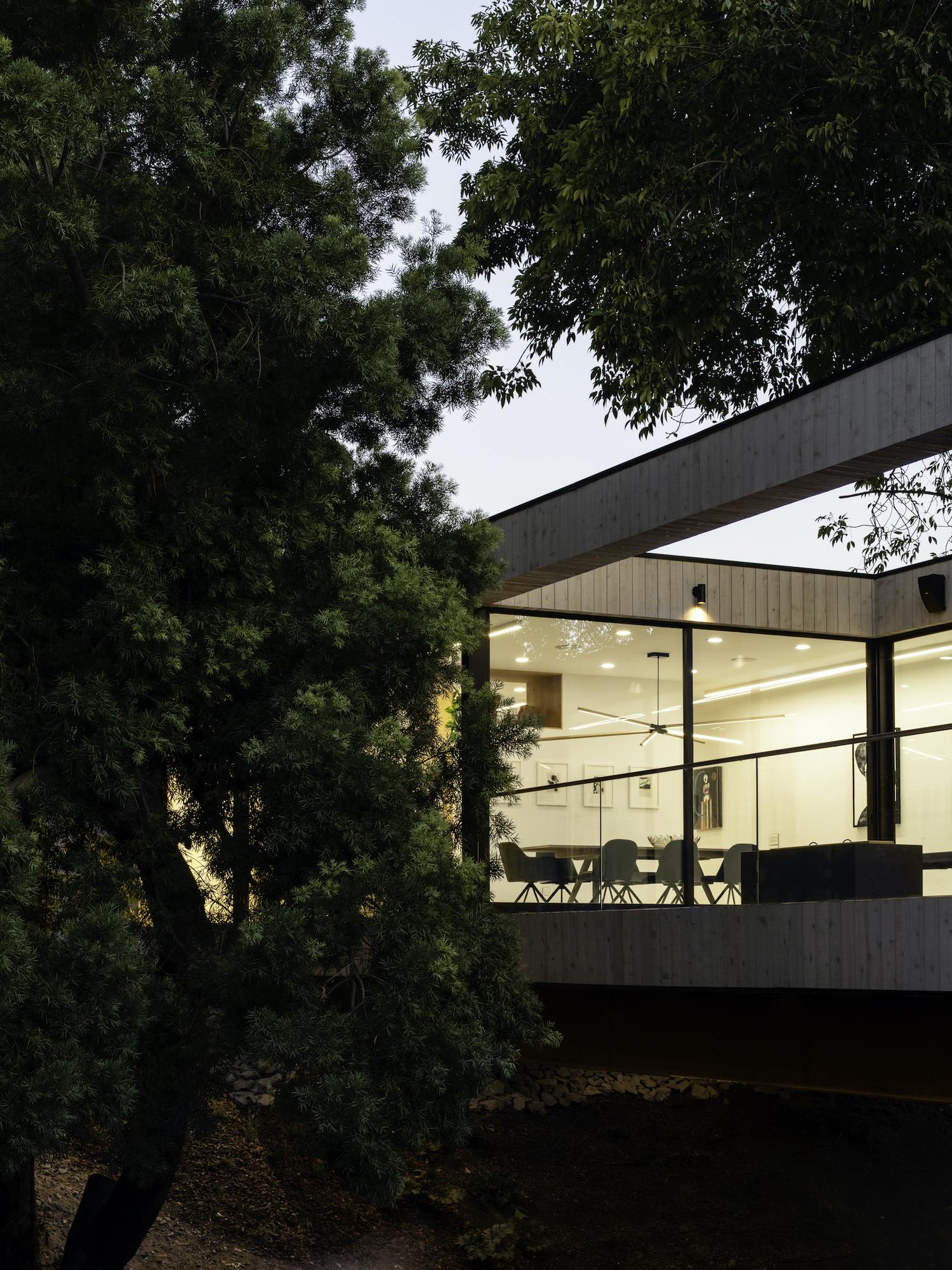 image © Brandon Shigeta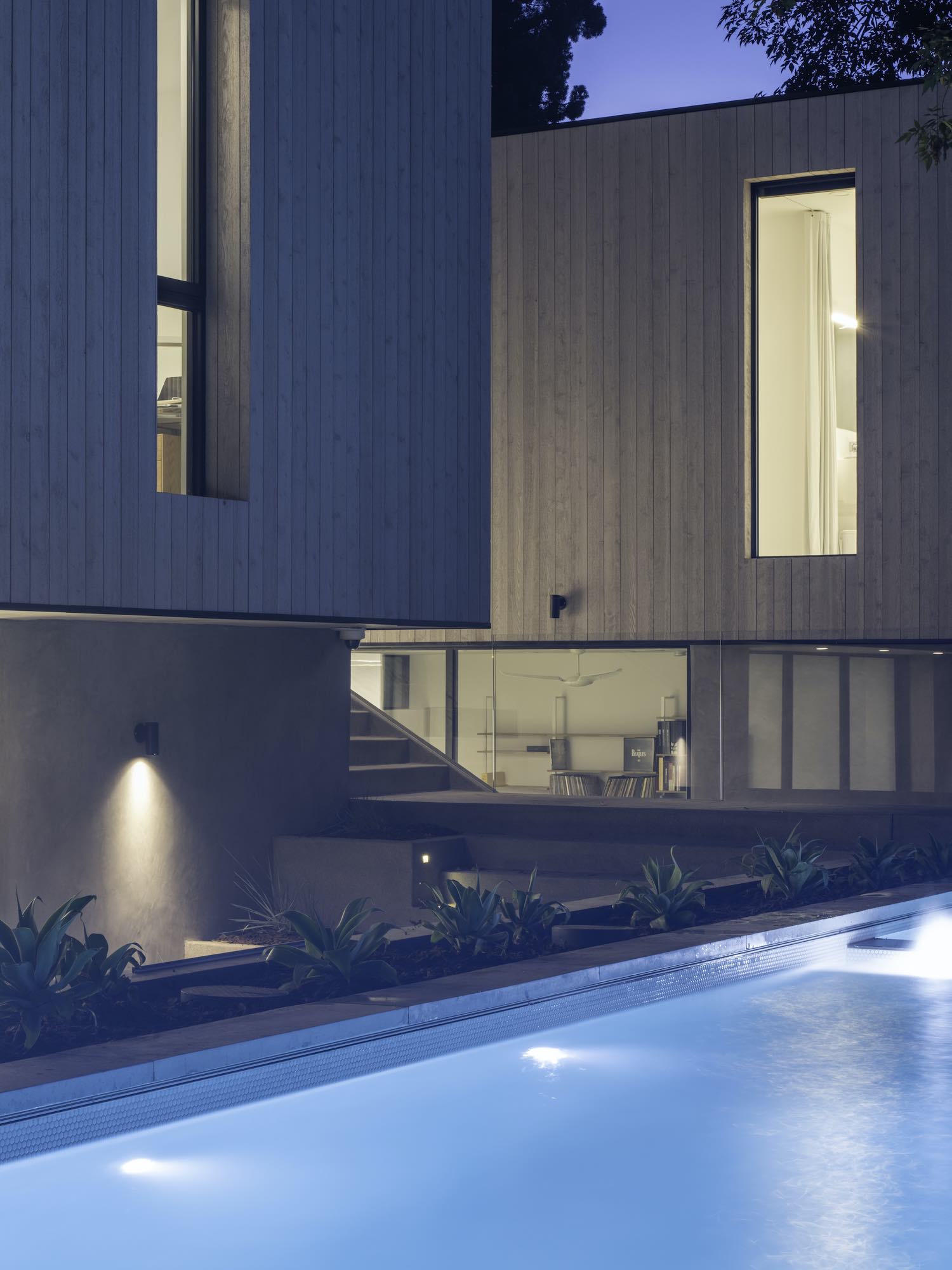 image © Brandon Shigeta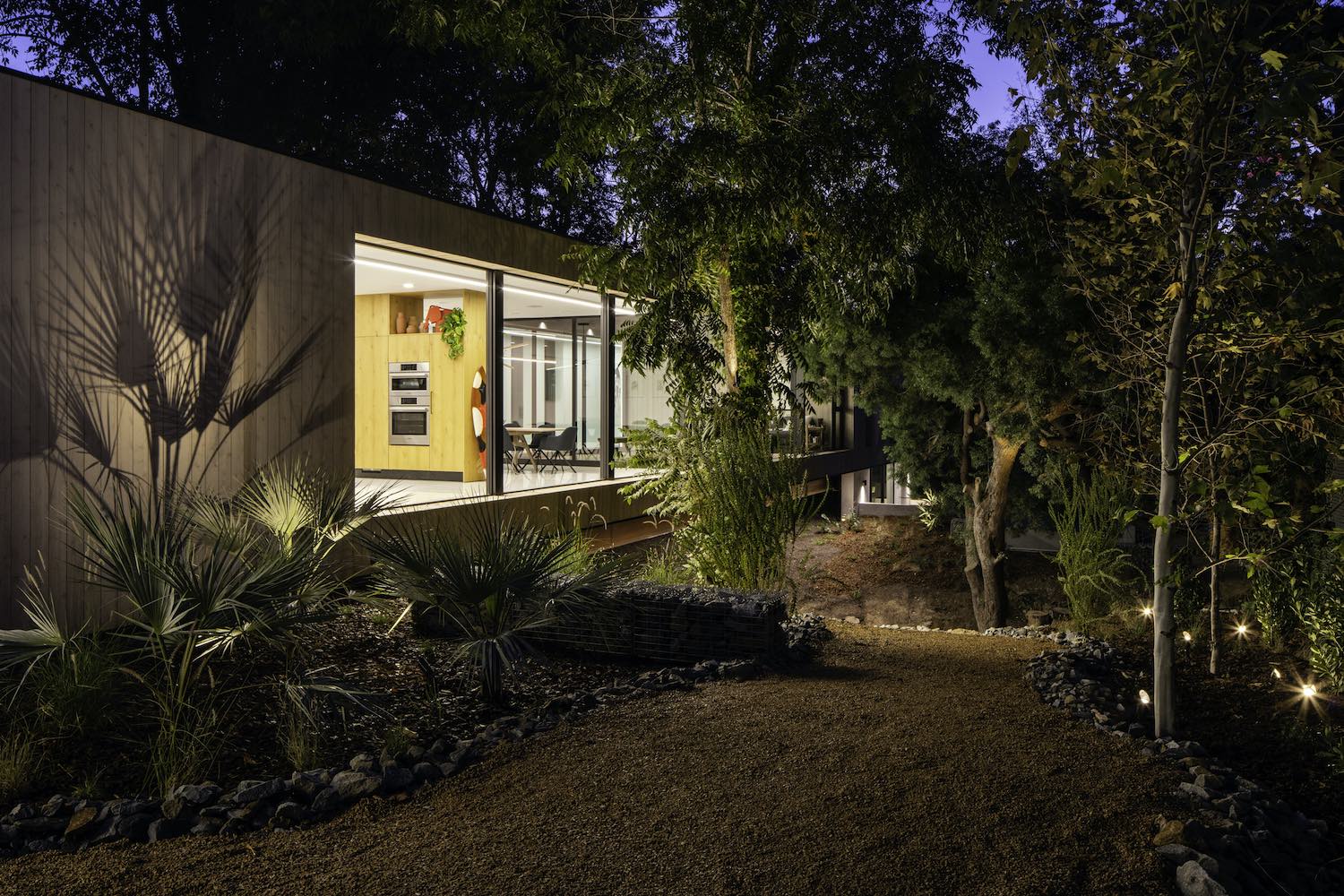 image © Brandon Shigeta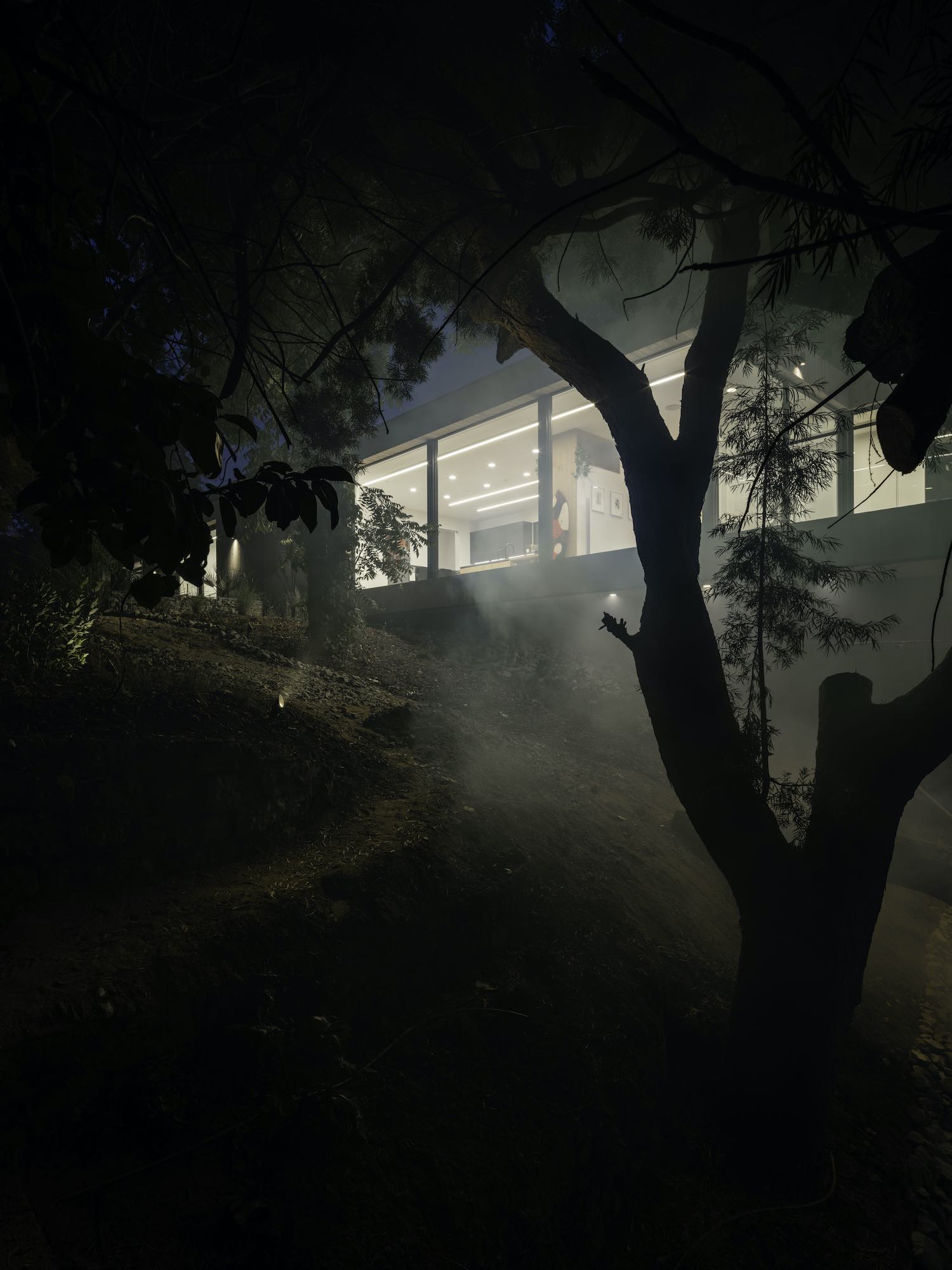 image © Brandon Shigeta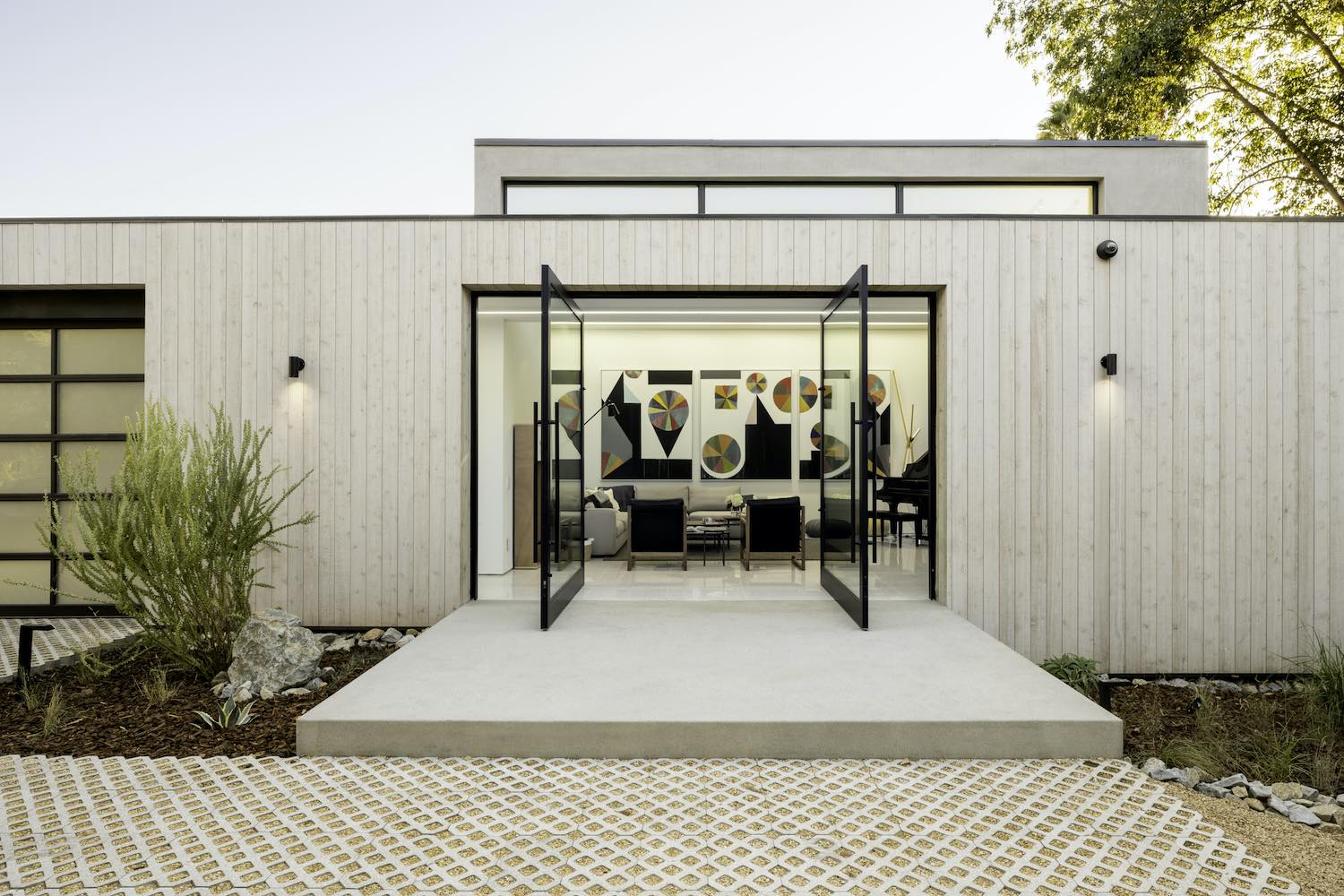 image © Brandon Shigeta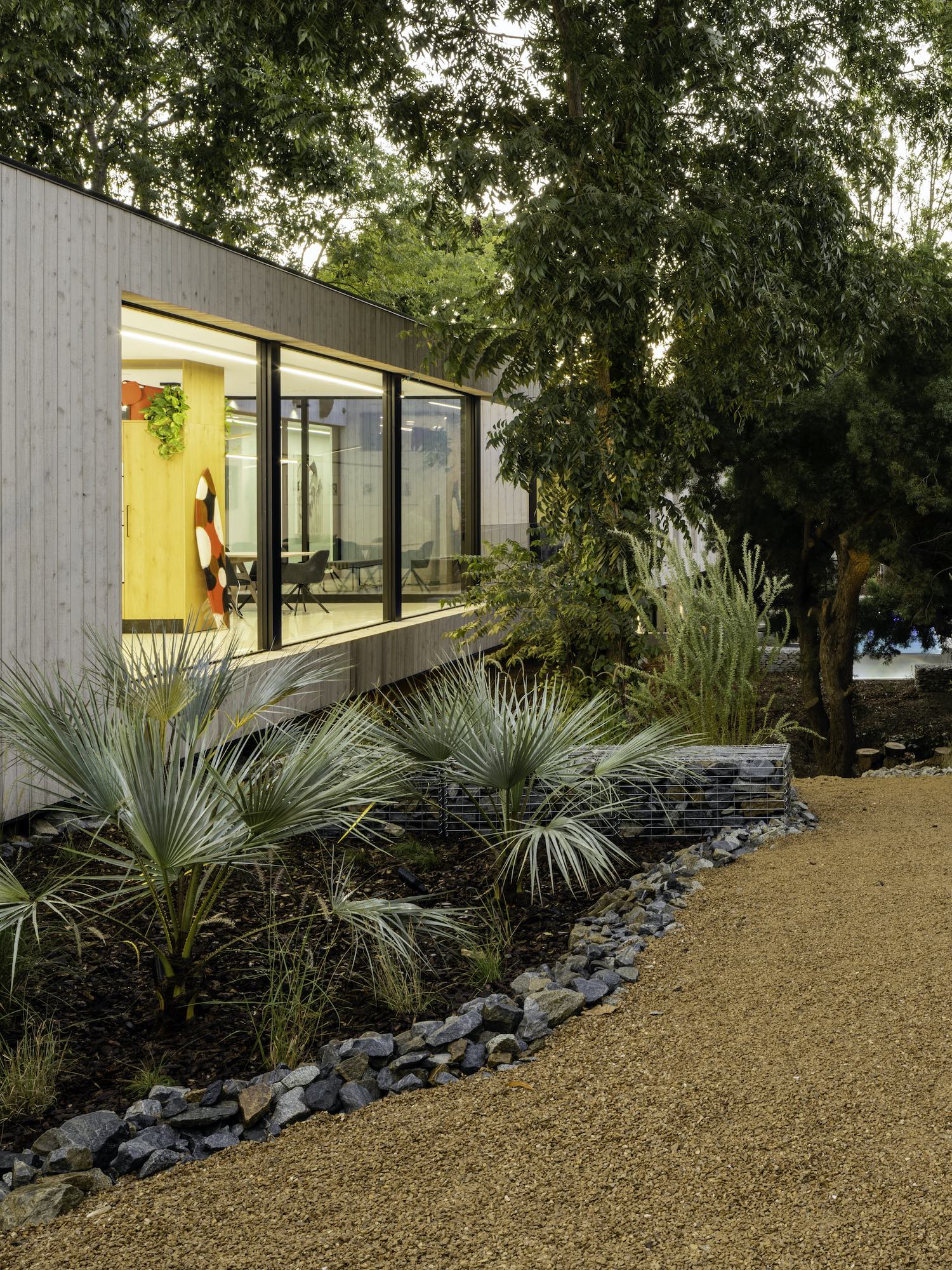 image © Brandon Shigeta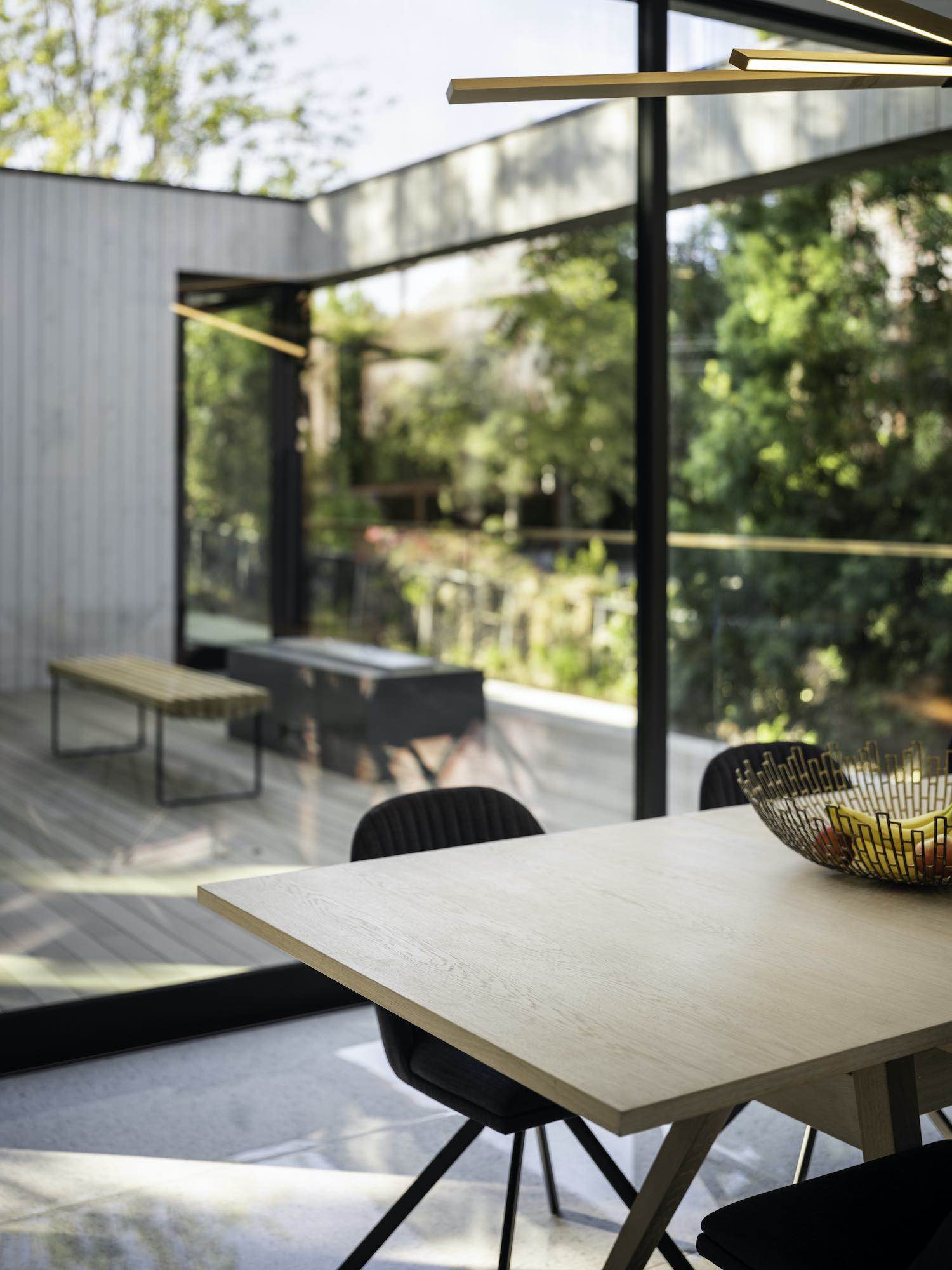 image © Brandon Shigeta
EXTERIOR & LANDSCAPE: A relatively small street front profile gives way to volume, set deep within a forested area. Behold, a 4,500 sq. foot structure that harmonizes seamlessly with its lush surroundings, clad in a muted cedar, plaster, glass, and steel; outfitted with custom windows. The result of the warm and textured wood, plus floor-to-ceiling Northern and Western facing windows, is a union between interior and exterior, that mirrors the wooded nature of the surrounding landscape. A combination of expansive and directional exteriorviewspermeateeverypartofthedwelling,bringingtheoutsidein.Thehousecan be entered via a set of custom pivoting glass doors. Positioned at the property midpoint, just above stream, sits an indoor/outdoor terrace with sliding glass doors. Down the hall, an exterior staircase leads down to a rear garden with a solar cell-powered, infinity edge, swimming pool.
The landscape of the home is deeply intertwined with the surrounding natural environment. Lush and wild, this landscape preserves the existing trees and serves to retain as much of an organic feel as possible, incorporating a flourishing arrangement of grass and foliage. The stream may be crossed by entering the home, or via small wooden bridge, which was created from a repurposed tree.
IMPACT: Bridge House was conceived and created with the goal of becoming a ​net-zero home. Every aspect of the space keeps low impact living in mind and al​ l building materials and finishes used have advanced ecological properties. ​From the layout, to the structure, to the furnishings, this eco-conscious approach starts at the foundation. The ​bridge aspect allows for less land to be disturbed, which means less impact on its immediate physical environment; 65 feet of the home's 210' base are suspended.
The project uses unprecedented designs and systems, with an emphasis on economy and efficiency of design, accordingly the firm was eager to incorporate BONE Structure's steel-construction modular system in Bridge House. Combining a classic post-and-beam structure with energy-efficient solutions, BONE Structure delivers a flexible, durable, and sustainable product, that affords expedited on-sight assembly.
"Building construction technology is so far behind, and we haven't really progressed," says Brunn, "so we were excited by the prospect of not having waste."
Not only is this lightweight steel recyclable, but the BONE Structure system is so precise, that there is nothing left once the job is complete. 50% of waste in landfills comes from construction sites. The BONE Structure steel is also up to 89% recycled content steel. Furthermore, all elements from the pre-existing home were donated to ​Habitat for Humanity.​
This construction also allows for unprecedented eco-conscious innovation by improving internal air quality; traditionally, for every six feet an architect will have a quarter inch of tolerance, however, Bridge House has 210 feet, with the exact same quarter inch of tolerance. As a result, the home is precise and well insulated with no air leakage or infiltration. In the interior, the living room is enriched by a Living Wall of plants, which helps to purify the interior air, beyond simply contributing to the overall connection to nature.
Brunn is also collaborated with Western Window Systems to outfit the dwelling with state-of-the-art solutions that utilize thermally broken aluminum and dual-pane low-E glass, responsible for lessening the home's ecological footprint while providing a direct relationship with the outdoors.
"Working the systems together makes a lot of sense," says Brunn. "​You want to try to get the whole envelope of the building thermally sound."
The technologically advanced building system creates thermal resistance, with a high performance shell design, offering extreme energy efficiency.
A pivotal element of conception and construction of this home is its length, which allows for more Northern exposure, and since the space is only 20 feet wide, there is more natural light and less electric energy consumed. This Northern exposure aids in keeping the ecological footprint down, as there is no direct heat gain, and less need for artificial cooling, contributing to the net-zero goal. Furthermore, Bridge House has natural ventilation, including a series of skylights to ventilate corridors. All window applications are outfitted with custom s​hades, to block out even more sun exposure and keep the interior cool. On the exterior of the home, a series of photovoltaic cells on the roof allow for efficient and low impact energy sourcing.
Sparing no effort, Bridge House is equipped with a customized, whole home water solution by Pentair that provides premium water throughout, with an emphasis on reduced impact. On the interior, the filtration system eliminates the need for plastic water bottles. Pentair's residential filtration systems help reduce the need, globally, for more than nine million plastic bottles per year.
Project name: Bridge House LA
Architecture firm: Dan Brunn Architecture
Location: Hancock Park, Los Angeles, California, United States
Completion year: 2019
Area: 4500 ft²
Contractor: MODAA
Structural Engineer: Gordon L. Polon
Landscape Architect: Segal Shuart
Photography: Brandon Shigeta
---