The new grant funding will identify and support the preservation planning, training, and storytelling for historic modern buildings designed by Black architects.
LOS ANGELES / WASHINGTON D.C. – The Getty Foundation and the National Trust for Historic Preservation's African American Cultural Heritage Action Fund announced Conserving Black Modernism, a $3.1 million grant program to preserve historic modern architecture by Black architects and designers. The two-year program will advance efforts to further identify historic sites that represent this architecture style, while also providing necessary preservation planning, training, and storytelling resources for long term sustainment.
Conserving Black Modernism is the Getty-funded portion of the Action Fund's national grant program, which to date has supported 160 historic sites representing Black history at a total investment of $12.4 million. With more than $80 million in funding, the Action Fund is the largest U.S. resource dedicated to the preservation of African American historic places.
Grant applications will be managed by the National Trust and open in November, with the first round of grantees to be announced in Summer 2023.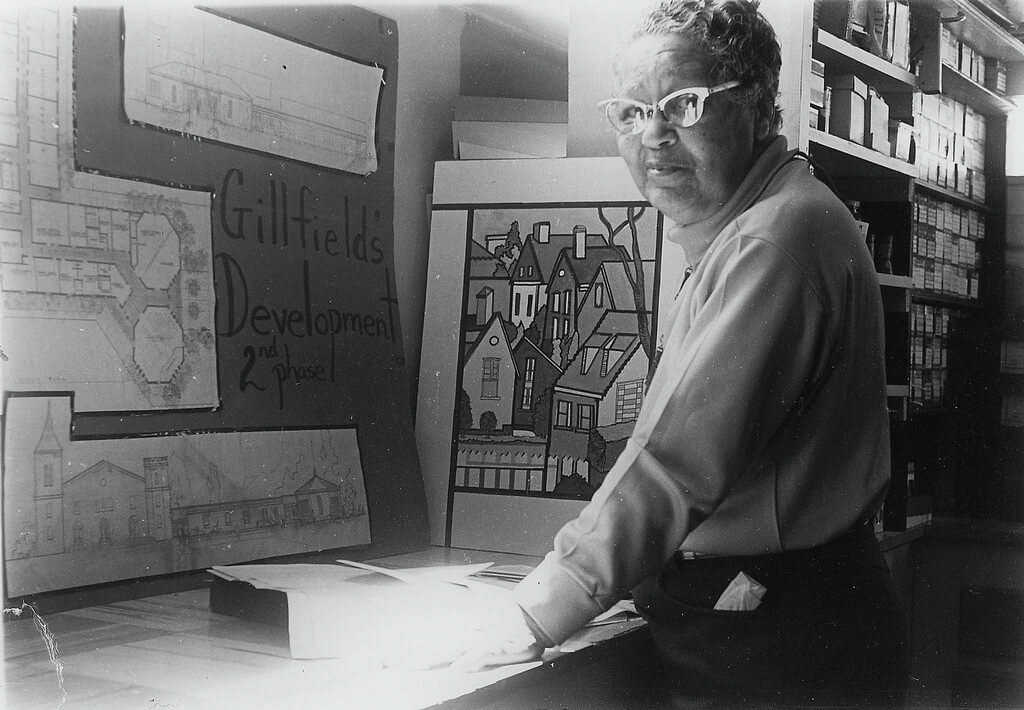 Amaza Lee Meredith at work in 1958 on plans for an addition to the Gillfield Baptist Church in Petersburg, VA. Photo: Virginia State University Special Collections and Archives
For more than a century, the achievements of African American architects and designers have been overlooked and undervalued. Their contributions helped shape the modern architecture movement in the U.S., fueling innovation and experimentation, while also pushing the limits on how individuals live within their built environments. While a handful of Black architects and designers gained notoriety for their innovative and modern designs, most worked in the shadow of larger offices under white architects of record, and thus remain relatively unknown.
"We must address the invisibility of generations of Black architects whose architectural genius, creativity and ingenuity helped shape our national understanding of modernism," says Brent Leggs, executive director of the Action Fund and senior vice president of the National Trust. "With Getty, the Action Fund will further demonstrate the power of historic preservation as a tool for increased recognition, interpretation, and protection of the physical sites representing Black achievement."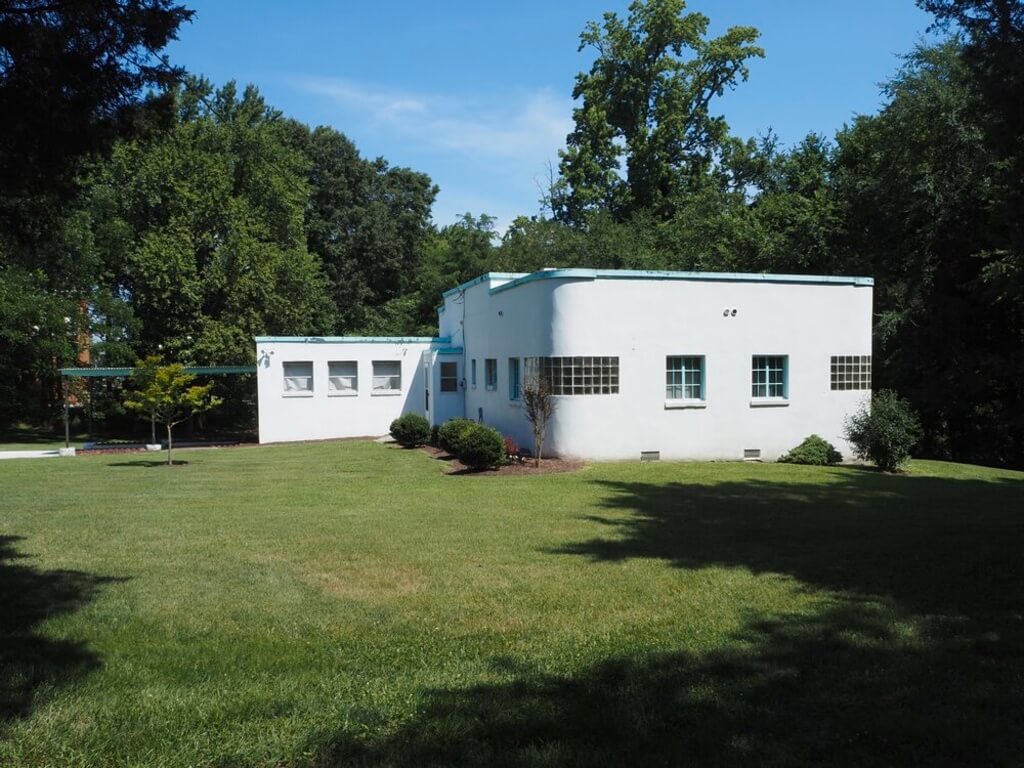 Azurest South, Amaza Lee Meredith, 1939, Virginia State University, Ettrick, Virginia. Photo: Brian D. Goldstein, 2021, CC BY-NC 4.0
Conserving Black Modernism is also an extension of the Getty Foundation's Keeping It Modern initiative, which awarded 77 grants totaling $11.8 million between 2014 and 2020 that supported conservation planning and research for modern buildings and sites from around the world. None of the U.S.-based grantees included the work of Black architects and designers, and this new round of grantmaking will address this omission and add support for approximately 16 buildings.
"We've heard the increasing calls in recent years to rethink and expand the story of modern architecture in the United States and do a better job of recognizing Black architects and designers," says Joan Weinstein, director of the Getty Foundation. "Conserving Black Modernism offers a strategic opportunity to meet this moment in partnership with the National Trust and build on nearly five years of success with their existing Action Fund.
Long-term funding and conservation management planning are ongoing challenges to the protection of Black modernist buildings, and the grant program directly addresses both issues.
"These grants provide support for emerging study and advocacy to preserve the undervalued works of Black architects across this nation who worked within and beyond the aesthetic and economic constraints of their time," says Milton Curry, professor of architecture at the University of Southern California. "The complex story of Modernism cannot be fully revealed without new research on its impacts in and on the Black communities that it has touched."
To build the expertise of those in the architectural field, the grant will support convenings of project participants, consultants, and preservationists that foster peer-to-peer learning and professional connections. It will also aim to create lasting partnerships between the Action Fund, Getty, Black heritage networks, grantees, and national stakeholders preserving sites of Black-designed modern architecture.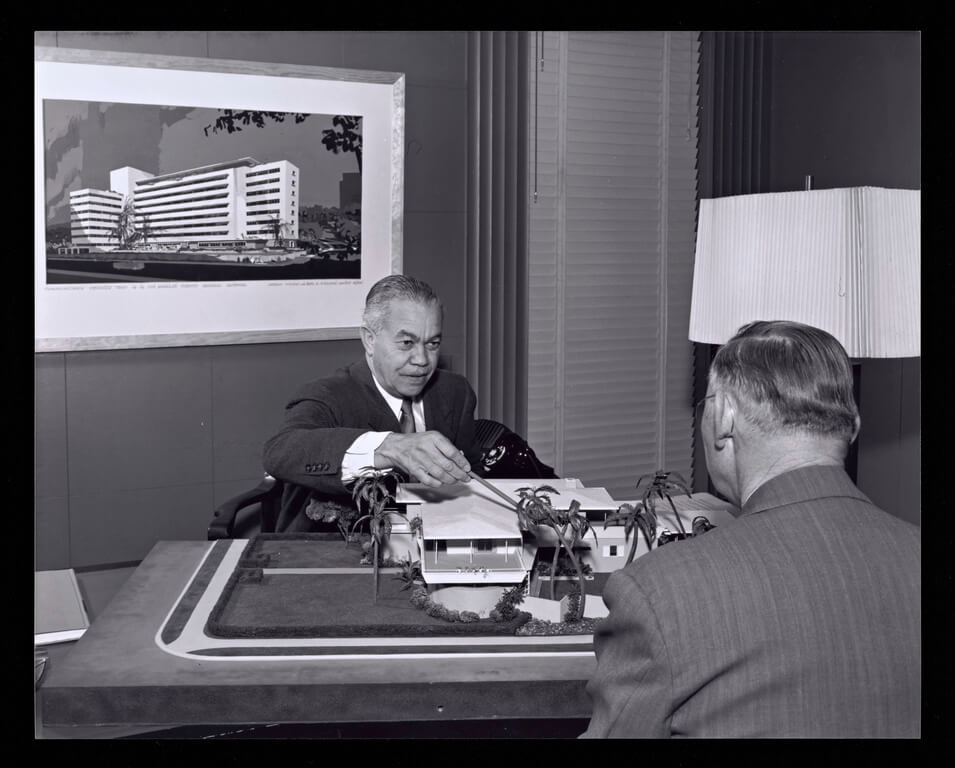 Portrait of Paul R. Williams, 1952, Julius Shulman. Gelatin silver print. © J. Paul Getty Trust. Getty Research Institute, Los Angeles (2004.R.10)
The grant will also mitigate the erasure of modern architectural sites by Black architects and designers by telling their stories in more lasting, robust, and creative ways.
"Black modernism has always been out there. It's like Lonnie Bunch [Secretary of the Smithsonian Institution] is fond of saying: oftentimes Black history is hiding in plain sight – there's a way in but it just isn't legible," says Mabel O. Wilson, professor of architecture, planning, and preservation and director of the Institute for Research in African American Studies at Columbia University.
"It's just who was writing the histories, who was defining modernism that determined who was included or excluded. This program will go a long way to expand our thinking around modernism and shed light on Black architects – like Robert Taylor, Amaza Lee Meredith, Vertner Tandy – whose work shaped modern architecture in the United States but have largely been left out of the history books."
This is Getty's 17th grant to the National Trust for Historic Preservation. Previous grants have supported annual conferences, conservation planning at individual sites, and major initiatives and partnerships such as Save America's Treasures, the Fund for New Orleans, and the Neighborhood Mainstreet Initiative.
The Getty Foundation's grant is one of several current efforts by Getty to broaden awareness of and preserve Black architectural heritage, the most recent being the launch of the Getty Conservation Institute's Los Angeles African American Historic Places Project and the Getty Research Institute's joint acquisition of the archive of Paul R. Williams, one of the best-known 20th century Black architects in the United States.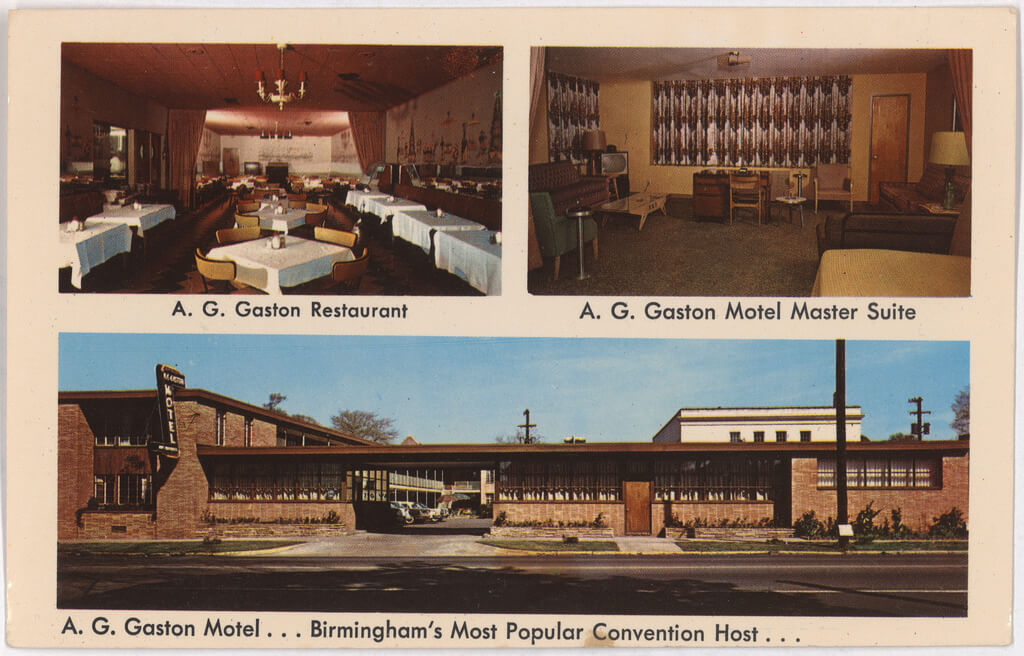 Postcard of the A. G. Gaston Motel in Birmingham, Alabama, circa 1960-1969, from the Book of letters sent to Arthur Shores, prominent attorney and civil rights leader in Birmingham, Alabama (Vol. 2). © Alabama Department of Archives and History
Getty is a leading global arts organization committed to the exhibition, conservation, and understanding of the world's artistic and cultural heritage. Working collaboratively with partners around the globe, the Getty Foundation, Getty Conservation Institute, Getty Museum and Getty Research Institute are all dedicated to the greater understanding of the relationships between the world's many cultures. The Los Angeles-based J. Paul Getty Trust and Getty programs share art, knowledge, and resources online at Getty.edu and welcome the public for free at the Getty Center and the Getty Villa.

The Getty Foundation fulfills the philanthropic mission of the Getty Trust by supporting individuals and institutions committed to advancing the greater understanding and preservation of the visual arts in Los Angeles and throughout the world. Through strategic grant initiatives, the Foundation strengthens art history as a global discipline, promotes the interdisciplinary practice of conservation, increases access to museum and archival collections, and develops current and future leaders in the visual arts. It carries out its work in collaboration with the other Getty Programs to ensure that they individually and collectively achieve maximum effect. Additional information is available at www.getty.edu/foundation.

The African American Cultural Heritage Action Fund is a program of the National Trust for Historic Preservation in partnership with the Ford Foundation, The JPB Foundation, the Mellon Foundation and other partners, working to make an important and lasting contribution to our cultural landscape by elevating the stories and places of African American resilience, activism, and achievement. Visit savingplaces.org/actionfund.

The National Trust for Historic Preservation, a privately funded nonprofit organization, works to save America's historic places. Visit savingplaces.org.
---