Announced today, Thursday 21 April 2022, Architects John McAslan + Partners wins the Queen's Award - Britain's most coveted business prize.
John McAslan + Partners has today been honoured with the Queen's Award for Enterprise in International Trade for 2022. This prestigious Award recognises John McAslan + Partners' excellence in achieving outstanding growth internationally, whilst remaining true to the business's core values of design excellence, with both social value and sustainability at the heart of the architectural practice's ethos.

Since its founding in 1993, John McAslan + Partners has developed an international architectural portfolio from its design studios in London, Edinburgh, Belfast and Sydney. Particularly respected for its work in urban regeneration and renewal, the practice's diverse international work includes a group of new civic landmark buildings and landscapes which define the widely acclaimed Msheireb Quarter in Doha; the rebuilding of the iconic Iron Market in Port-au-Prince, Haiti; and the on-going transformation and extension of Sydney's historic Central Station.

Central to the practice's ethos is its commitment to societal and educational issues which includes the building of low cost, environmentally sustainable rural schools in Malawi and an on-going series of educational bursaries for architectural students and recent graduates.

John McAslan says:

"Within the challenging context of the world we live in, during recent years our practice has continued to develop significant collaborations both within and, importantly, outwith the UK. Winning the Queen's Award for Enterprise in International Trade for 2022 means a great deal to all of us at John McAslan + Partners and reflects our team's achievements and, importantly, our collective resilience and creativity."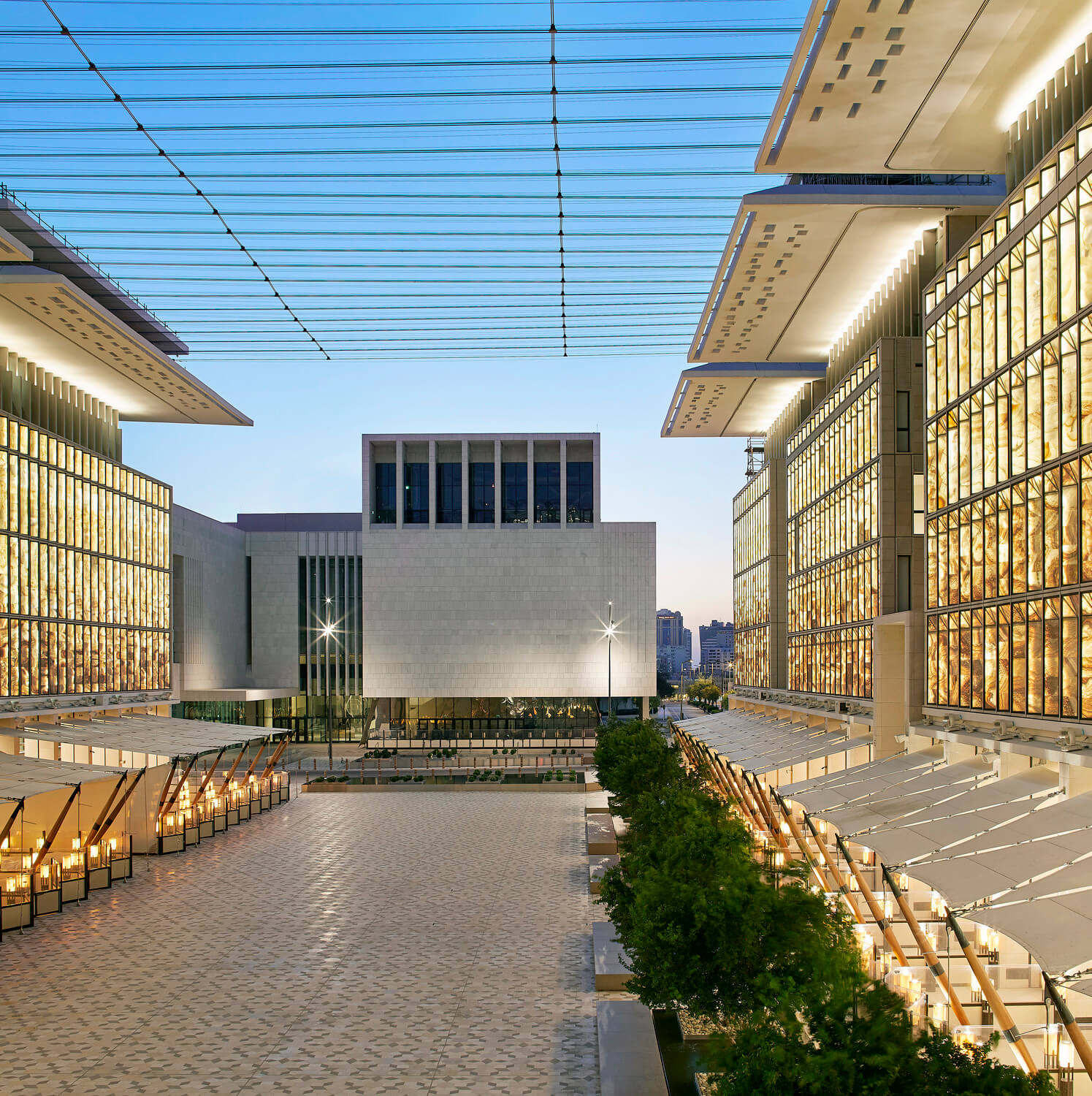 M7 Cultural Hub, Msheireb Quarter, Doha (Photo Credit: Hufton + Crow)
About the Queen's Award

Now in its 56th year, the Queen's Awards for Enterprise are the most prestigious business awards in the country. Winners join over 7,000 UK enterprises which have received this Royal recognition. The Queen's Awards for Enterprise are for outstanding achievement by UK businesses in the categories of:
· innovation
· international trade
· sustainable development
· promoting opportunity through social mobility


About John McAslan + Partners

John McAslan + Partners is a leading London-based architecture practice with studios in Edinburgh, Belfast and Sydney. The practice has worked internationally across the continents and across sectors with widely recognised expertise in urban design, conservation and regeneration as well as landscape architecture.

Recently completed projects include Lancaster University's Health Innovation Hub, the restoration and remodelling of the Burrell Collection in Glasgow and the M7 arts and culture building as part of the studio's wider regeneration scheme at Doha's Msheireb Quarter. The practice is currently working on major transport projects, for example, Sydney Central Metro's upgrade, Crossrail's Bond Street Station in London, and Belfast's new multi-modal Transport Hub. Other on-going projects include: the masterplan and new landscape design for London's Sloane Street; the revitalisation and reconfiguration of Glasgow's George Square; the repurposing of Osney Power Station for the University of Oxford's Saïd Business School; and the British Museum's new archaeological research facility in Berkshire.

Over the years, John McAslan + Partners has won in excess of 200 design awards, including some 30 RIBA Awards, numerous Civic Trust Awards and three Europa Nostra Awards, Europe's most celebrated prize for cultural heritage restoration.

A hallmark of the practice is its commitment to social issues and, over the past 25 years, John McAslan + Partners has instigated and supported a broad range of educational and other initiatives through bursaries and a programme of publications, exhibitions and events, many of which have been hosted in the studio's William Road Gallery in London.
---