Metaverse Dubai' opens up a new realm of human interaction with new-age digital technologies and NFT Marketplace. Virtual World in the Prime Area of Dubai with 220,000 blocks available now to purchase online. People from 'physical world' can now enter the city, create digital assets, purchase products and attend various events. The new world platform provides endless possibilities for investors, business owners and consumers.
Metaverse Dubai is becoming the first global virtual platform based on real-world map.
The newly-launched gateway allows people to buy, sell, and own non-fungible digital tokens (NFTs) lands using blockchain technology and digital innovation.
Investors, business owners and consumers can now create their own digital identities, build communities and engage in various business and networking activities on Metaverse Dubai.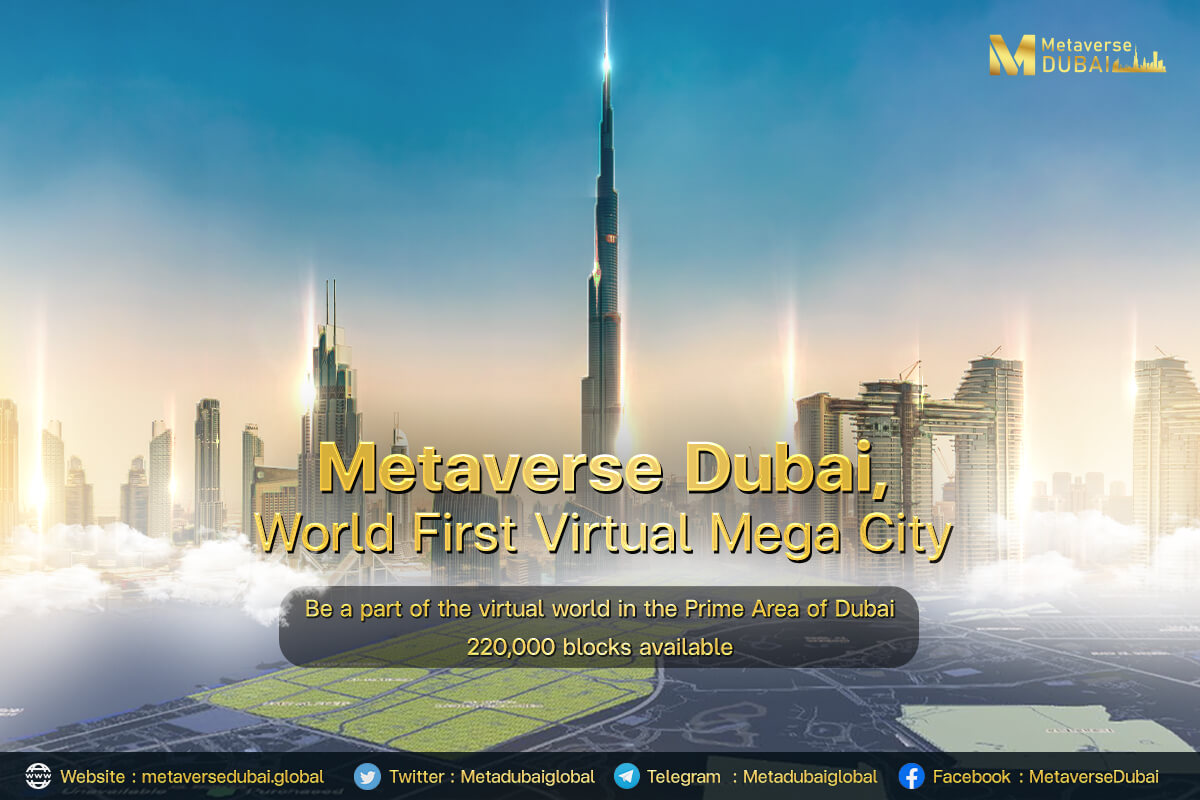 With META chain system and enhanced Augmented Reality (AR) and Virtual Reality (VR) technologies, users of Metaverse Dubai will be able to do business in the same 'old-fashioned way' – but in a better way.
MVP coin holders and others marked earlier last week the first Dubai Metaverse private sales of land NTFs -- two sessions were organized, each lasted for 30 minutes with 1000 Hexs maximum purchase limit for each participant.
According to an official spokesperson at Metaverse Dubai; one (1) Hex on Metaverse Dubai is now worth 3,000 MVP Coins/ 100 BUSD.
The Public sales is now available with minimum purchase order of nine (9) Hexs in the first week (22nd-28th Dec 21), then the user would only need pay seven (7 Hexs) (29th Dec -5th Jan 22), five (5 Hexs) (6th-13th Jan 22) , and one (1 Hex) (14th-21th Jan 22) respectively.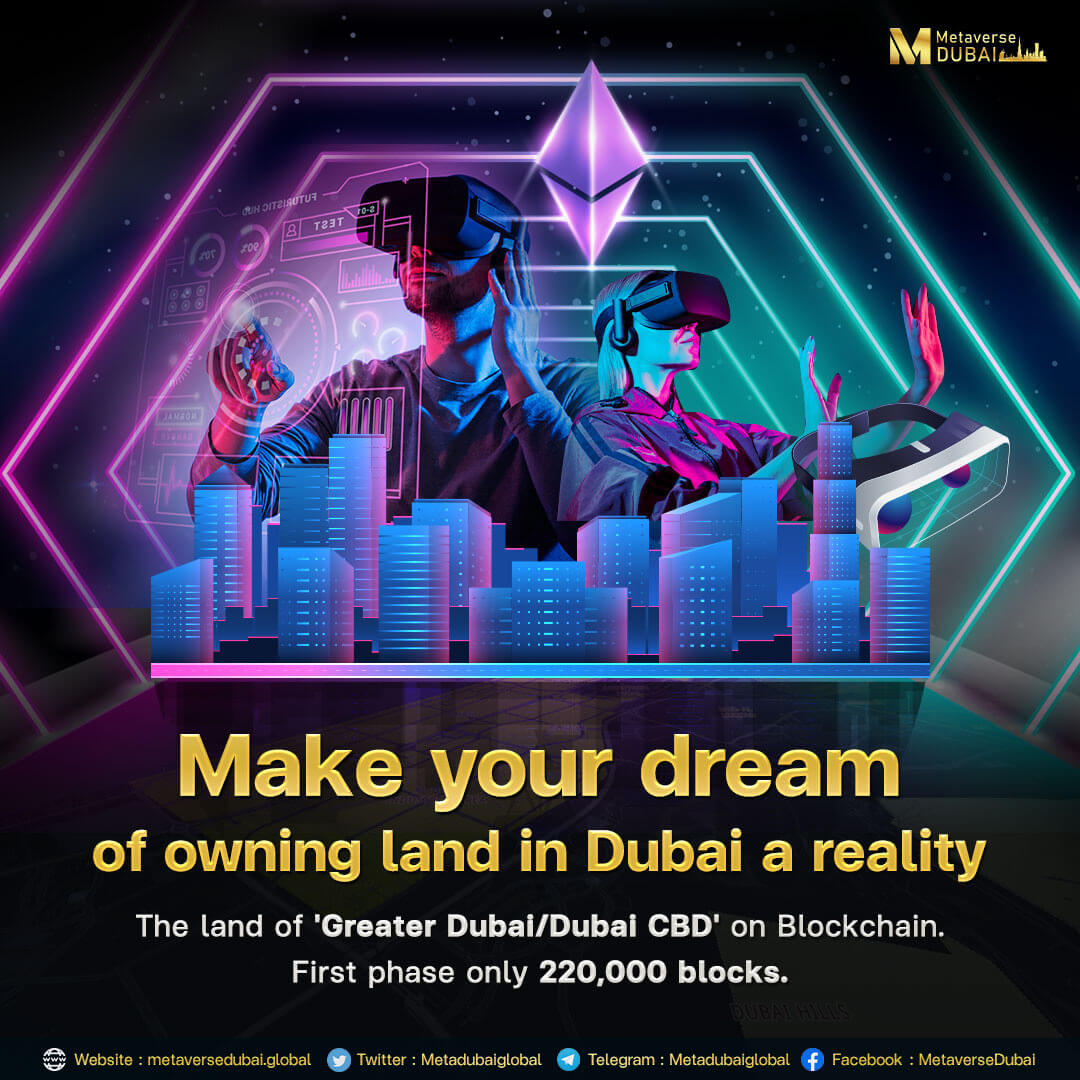 Join us at 12:00 pm, 5:00 pm and 8:00 pm (GMT +4) everyday Dubai Time – Each session will last 30 minutes.
Commenting on the launch - a spokesperson at Metaverse said: "Our world is diving into the Metaverse Era (Web 3.0) especially during the covid-19 period when contactless economies are prevalent. The main goal of this virtual megacity, a GameFi platform that combines NFTs and blockchain technology, is to address the persistent issues arising from the centralization of Web 2.0 such as poor security, data controls, and, most importantly, the imbalance of creator economics. The soft powers and cultures are critical components of establishing a strong virtual community and we intend to make this virtual megacity a reflection of real-world Dubai city, which is open to vast cultures and diversity. It shall be a collaborative and user-driven space where people can truly communicate, interact, and virtually express their real-world and imaginative activities.
"Imagine you could hangout by a beach with your friend in a cartoonish version of yourself before joining a business meeting and then attend a concert. with AR/VR wearables, all of these can be done from the comfort of your own bedroom or from anywhere in the world. I am confident that the Metaverse could provide numerous benefits and allow people to interact and transfer knowledge from afar in the blink of an eye. Another sign is how tech behemoths such as Facebook or Microsoft are expanding into this realm. However, it is not about size or dominance of the creators when it comes to building a long-lasting virtual community. It is about how users can feel in a decentralized and collaborative environment, as well as how convenient and safe it is for users to conduct transactions using digital currencies on the platform." He added.
Unlike platforms in Web 2.0, Metaverse Dubai is a 3.0 platform that empowers users with the true ownership of digital lands and items. These lands can be customized or developed further to generate value outside of the gaming sphere; users can open their virtual retail stores, host events, or establish digital art galleries within their digital estates. With blockchain technology, these digital assets can be exchanged safely across different marketplaces, with many features available such like voting and VR/AR. More features will be introduced in the future to ensure sustainable and vibrant community.
Note
Land purchased on Metaverse Dubai do not constitute rights over real-world properties.
---