Located on the second and third floors of the Carhartt Detroit flagship store, the Carhartt Workshop is a collaborative community space conceived as part of the renowned apparel company's ongoing efforts to support and serve the hardworking and skilled tradespeople of its Detroit hometown. Detroit-based McIntosh Poris Associates developed the Workshop's design, which was directly informed by Carhartt's core principles: integrity, perseverance, and hard work. Authenticity is central to the design, which bolsters Carhartt's present story, history dating back to 1889, and future.
The second-floor program includes flexible meeting and gathering Community Rooms for workshops and local community organizations, the Tool Bench loaner-tool library, an open gallery with company timeline and displays, and the Detroit Lounge, which showcases historic Carhartt artifacts and new products. Under-utilized garage space on the third floor was converted to a clothing manufacturing area.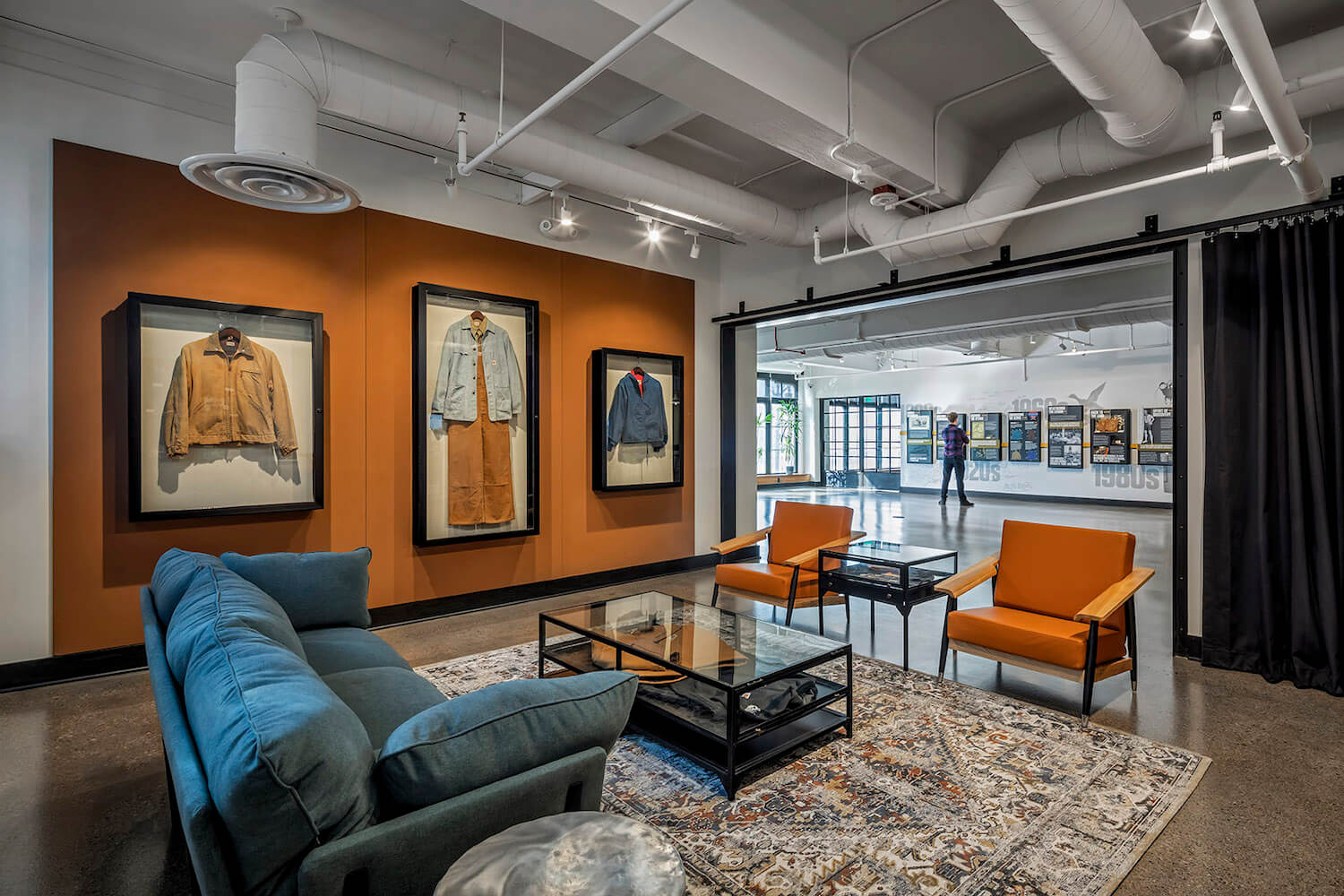 McIntosh Poris Associates worked closely with Carhartt to develop the program and design scheme concurrently, as this was the first time the manufacturer embarked on such a working community space. Local artists and fabricators were engaged to create the program, and the honest material palette includes reclaimed wood, blackened steel, and concrete. Existing concrete floors were sealed and left exposed; ductwork was also exposed and painted white throughout.
The second floor opens to a large flexible space available for use by local organizations. Included is a 26-foot-long visual timeline detailing Carhartt's more than 130 years of workwear innovation. Separated by a curtain is the more intimate Detroit Lounge, furnished with an inviting plush sofa upholstered in denim blue as well as natural leather chairs—materials reflecting Carhartt's rugged apparel offerings. On a feature wall in Carhartt's corporate color hang framed clothwing items. Custom-designed display tables also hold classic merchandise.
Carhartt Workshop's two Community Rooms can be reserved for free by local organizations and small businesses to host a variety of meetings, training sessions, and workshops. Multi-media features that enhance meetings include a laser projector with HDMI capability, a network of Sonos One smart speakers with voice recognition, rolling carts equipped with 56-inch displays and computers, conference phones, whiteboards, and business-class Wi-Fi. Folding metal-framed doors with frosted glass allow the rooms to be partitioned off or flexed into one large space to accommodate large groups.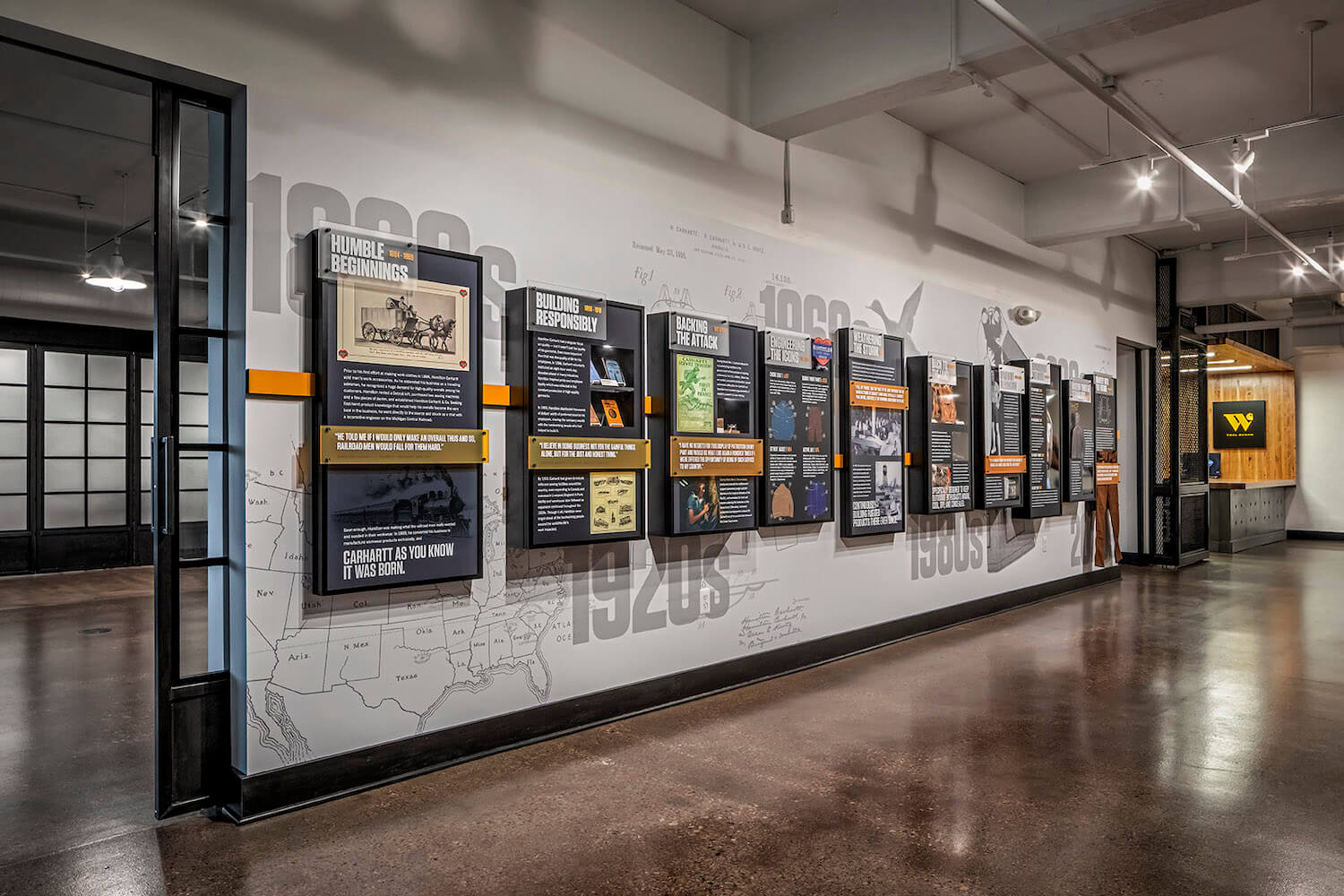 Reflecting Carhartt's do-it-yourself ethos, the Tool Bench loaner service allows community members to choose from 150 different tools, free of charge, for use on DIY home and garden projects. Carhartt loans these tools for seven days at a time, and an on-site tool expert is available to help answer questions or offer demos. Slats of reclaimed wood wrap from the ceiling to the wall and the counter. In the well-organized storage area beyond, industrial-yellow tools pop on shelves set against dark gray pegboard. Coordinating long wood-slat worktables are available for demonstrations and workshops.
In addition to the Workshop, a third-floor parking garage was converted into manufacturing space. Currently home to ISAIC Detroit, a non-profit apparel manufacturing group with a social mission, the raw concrete shell was enclosed by new expanses of glazing and large skylights that illuminate workstations with plenty of natural light. Early in the COVID-19 pandemic, ISAIC used the space to manufacture face masks for healthcare professionals and first responders.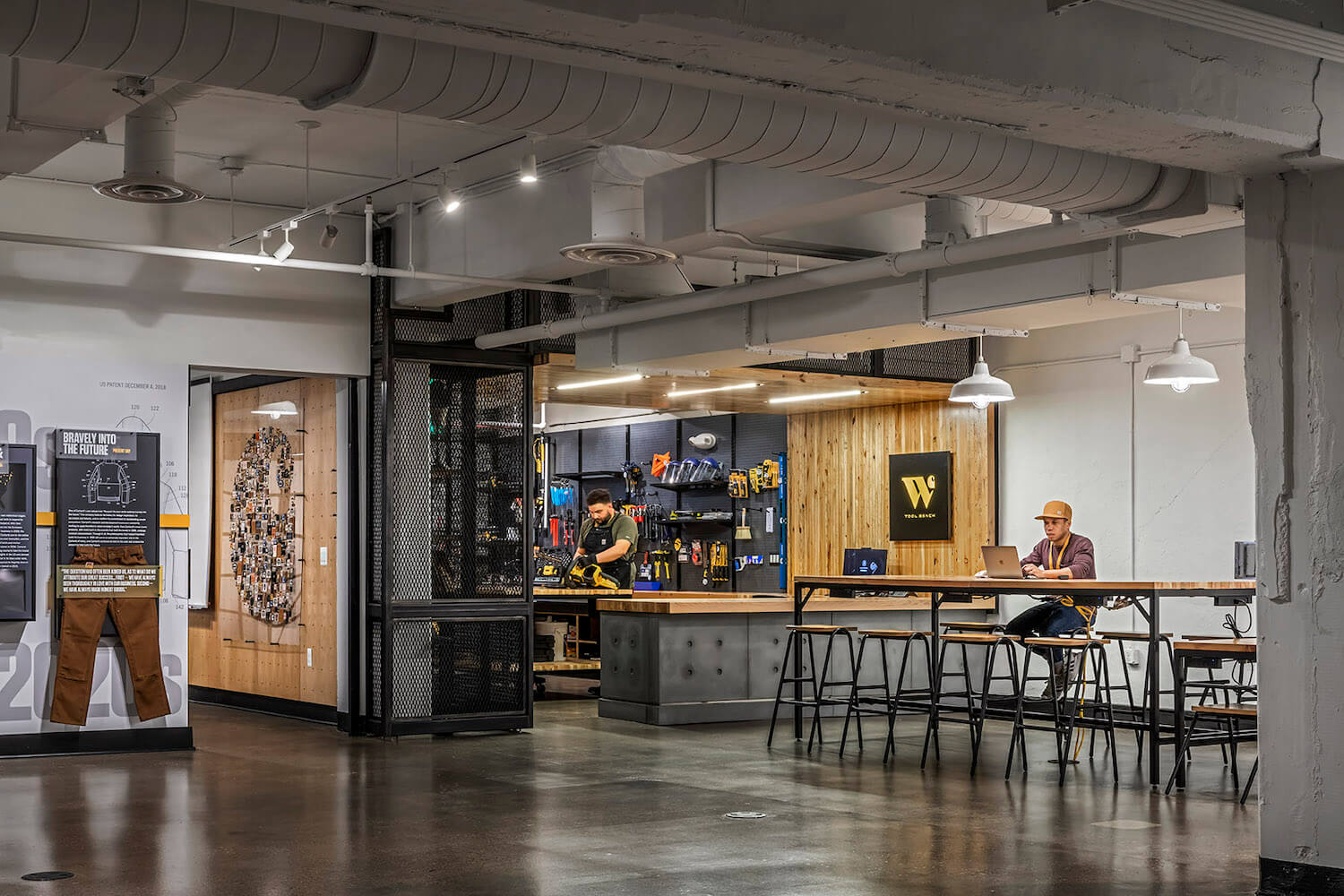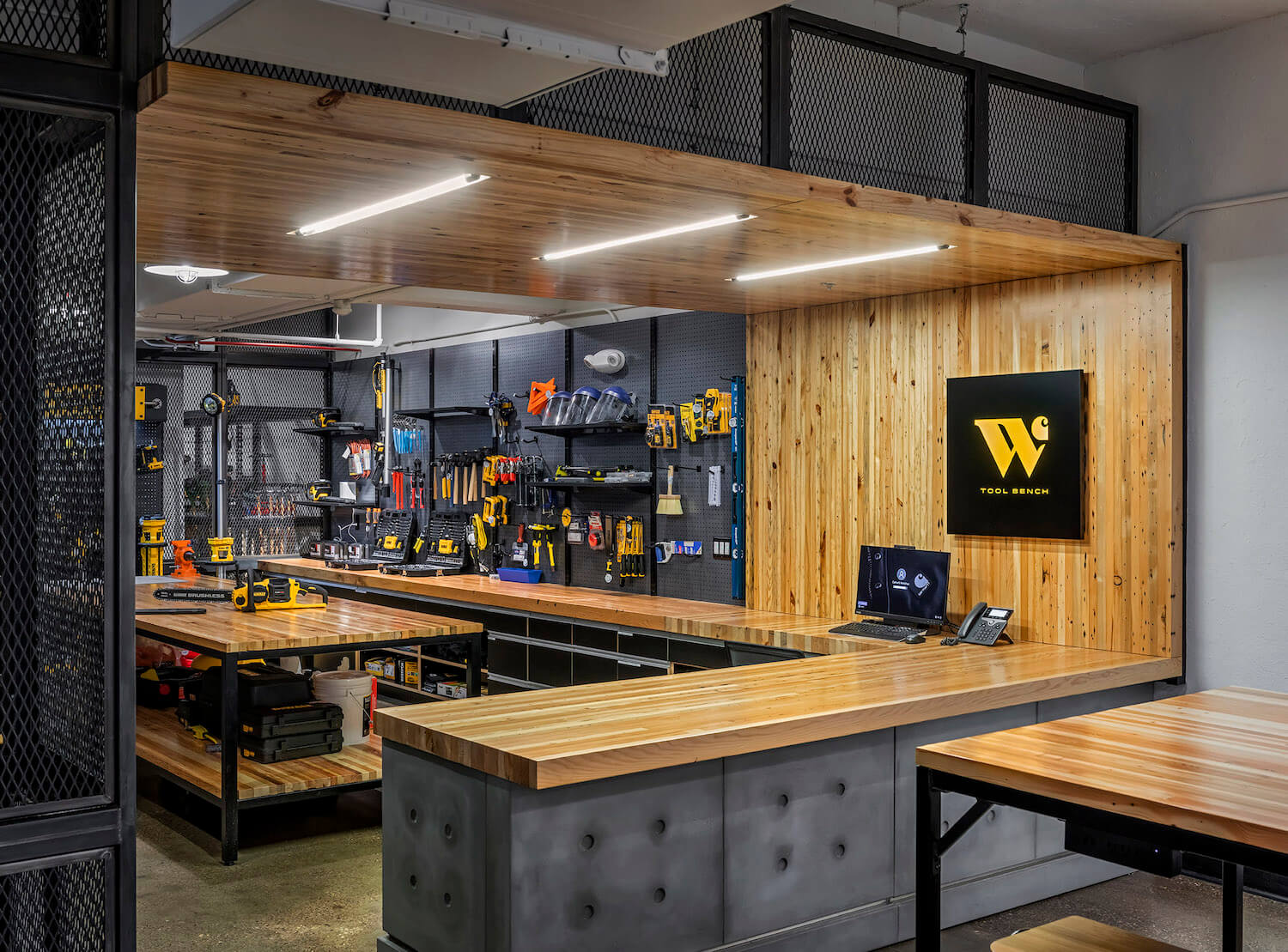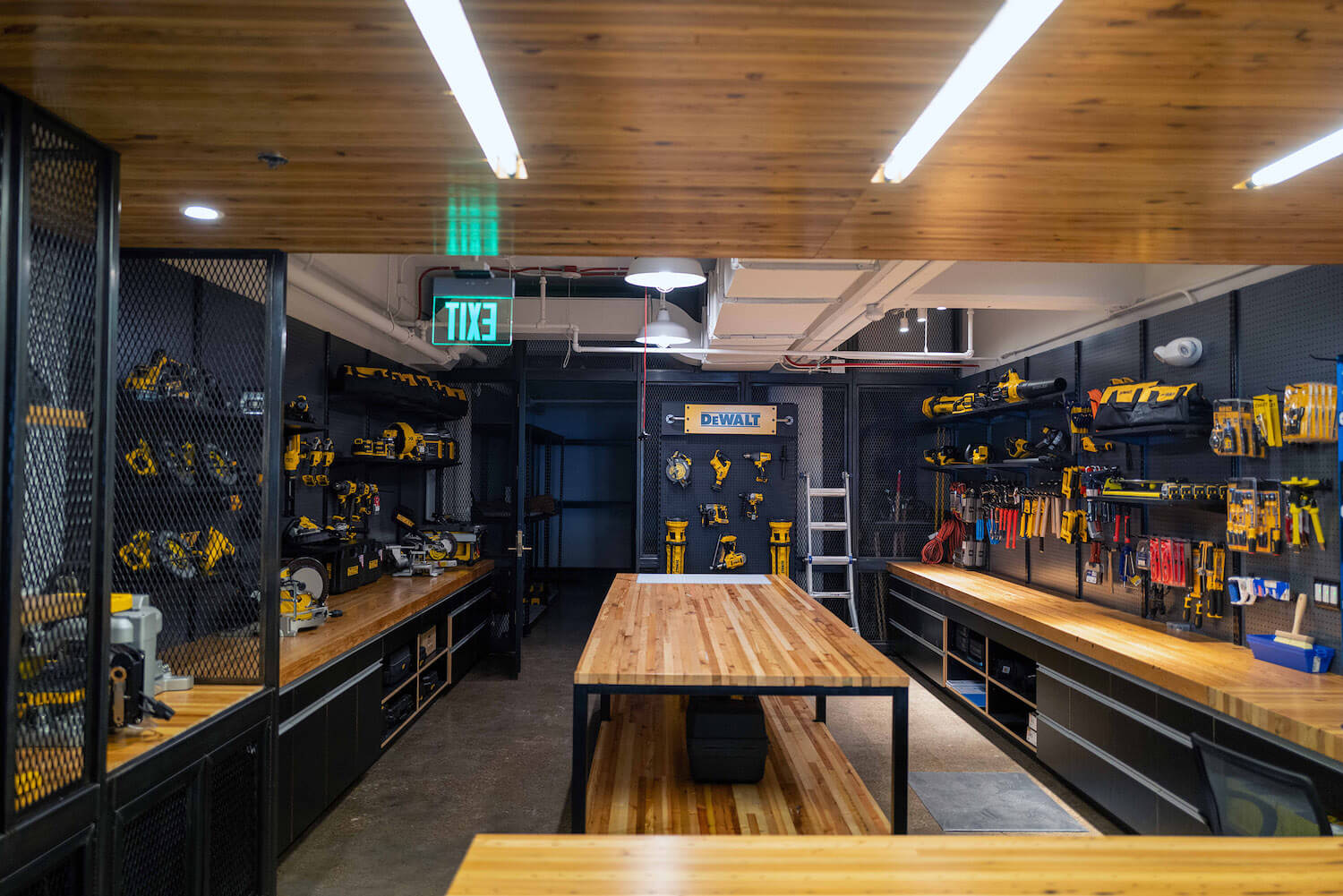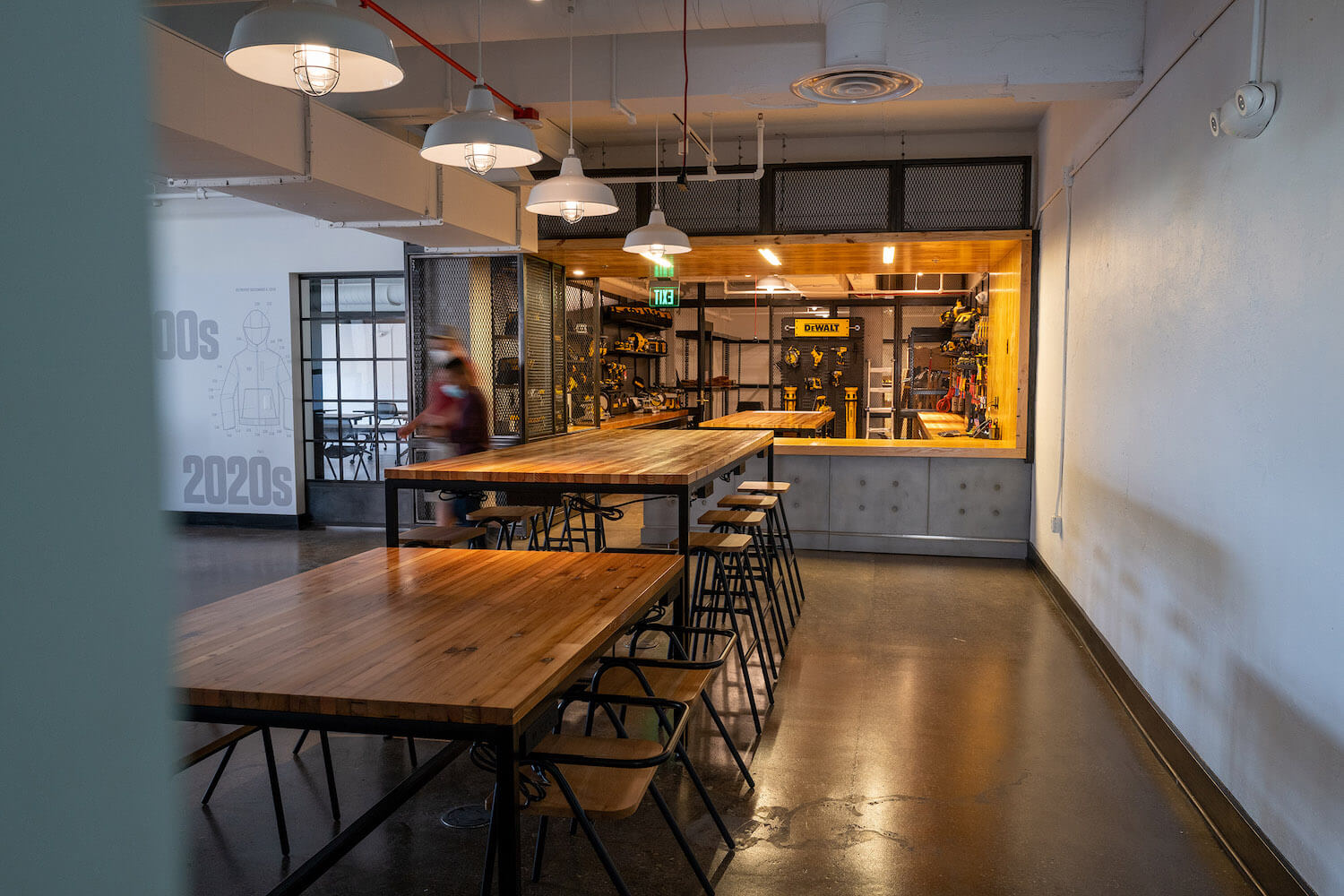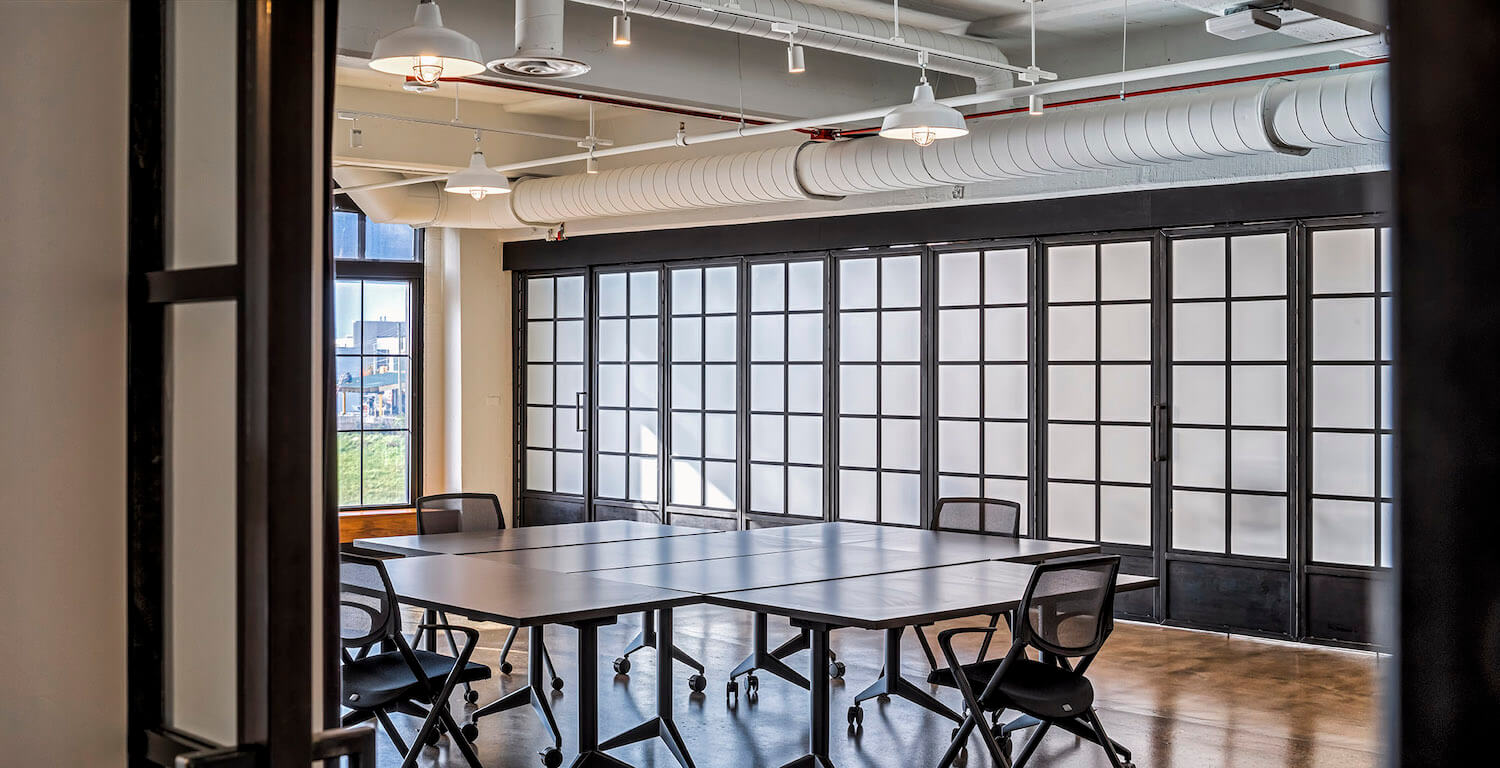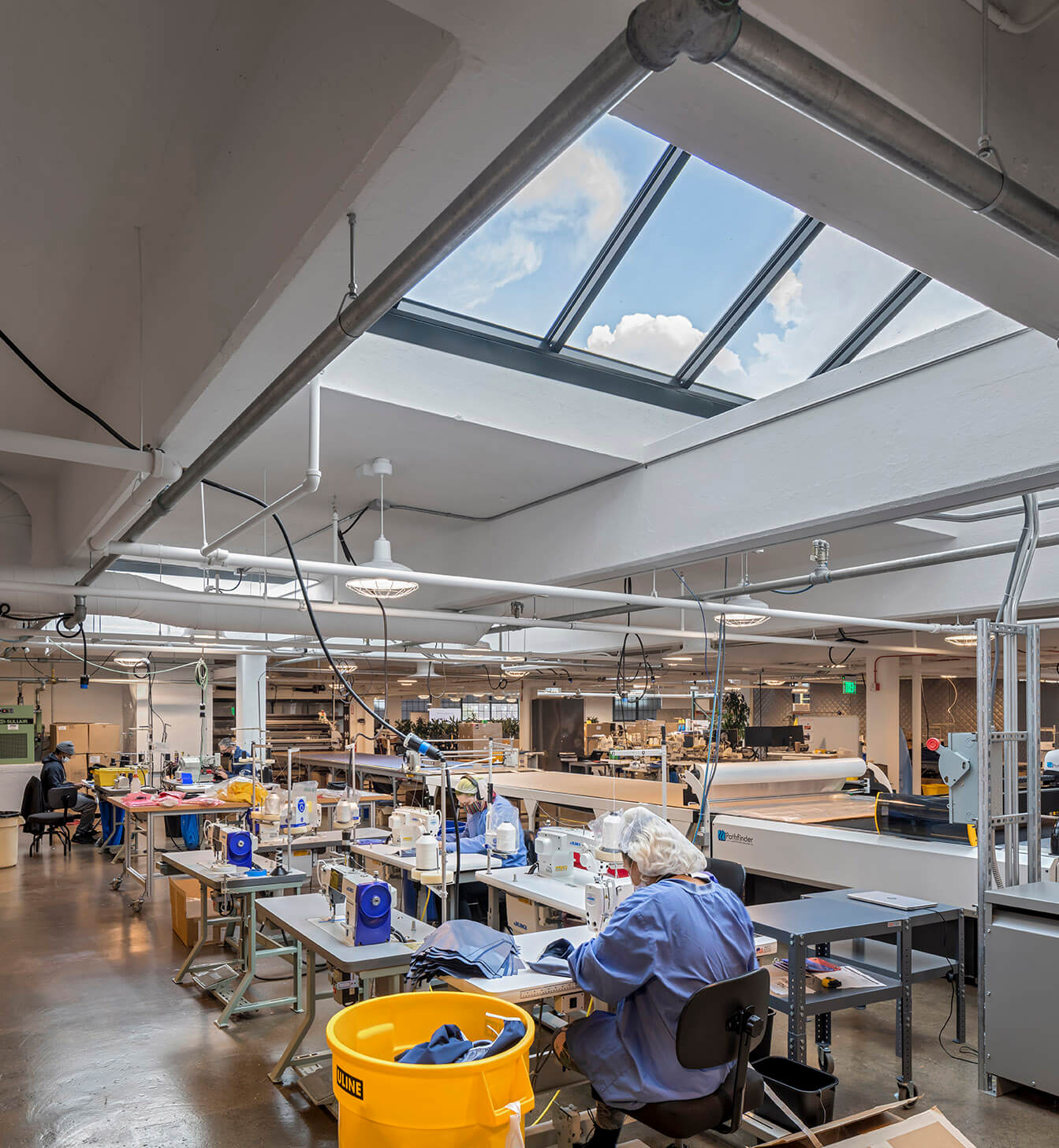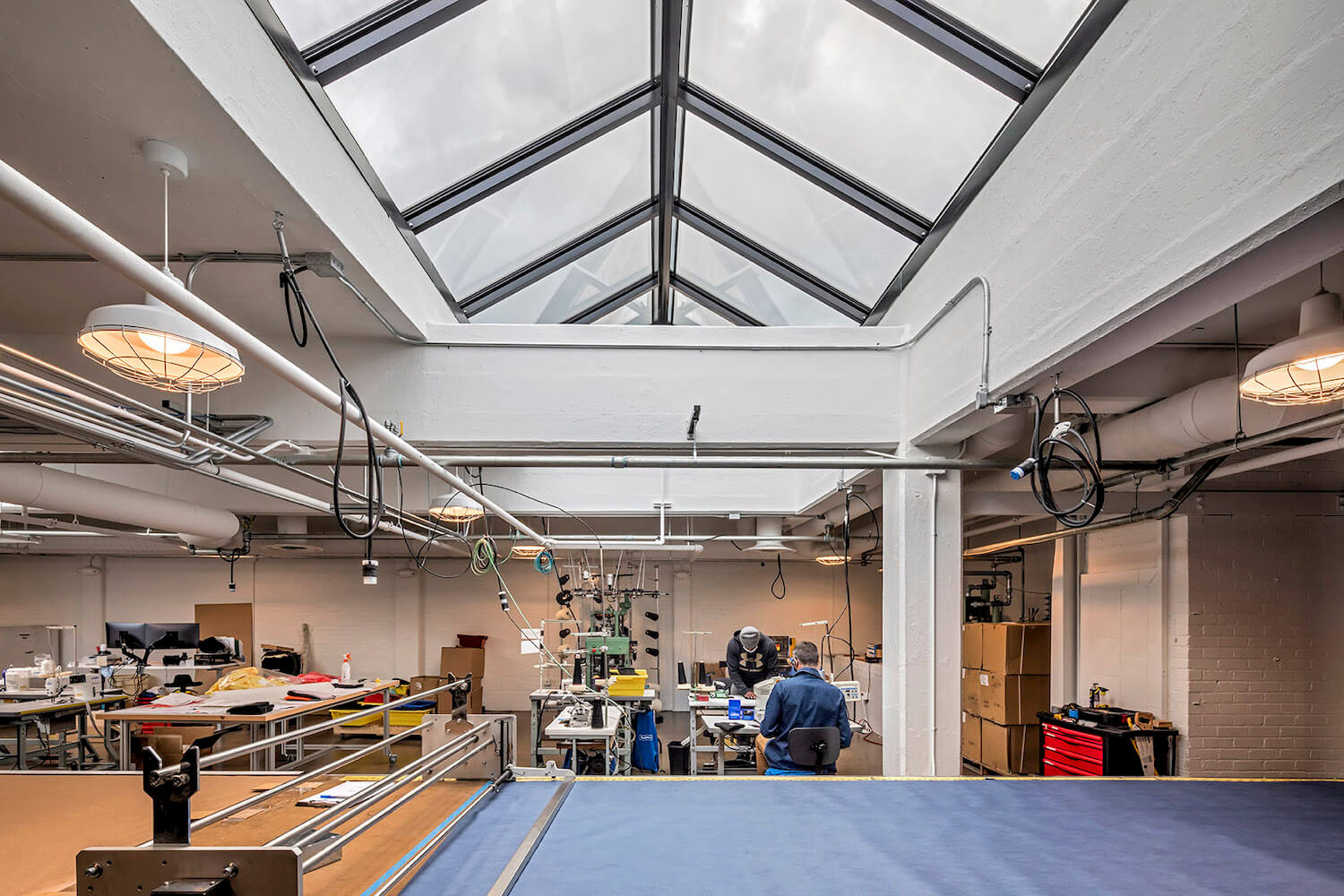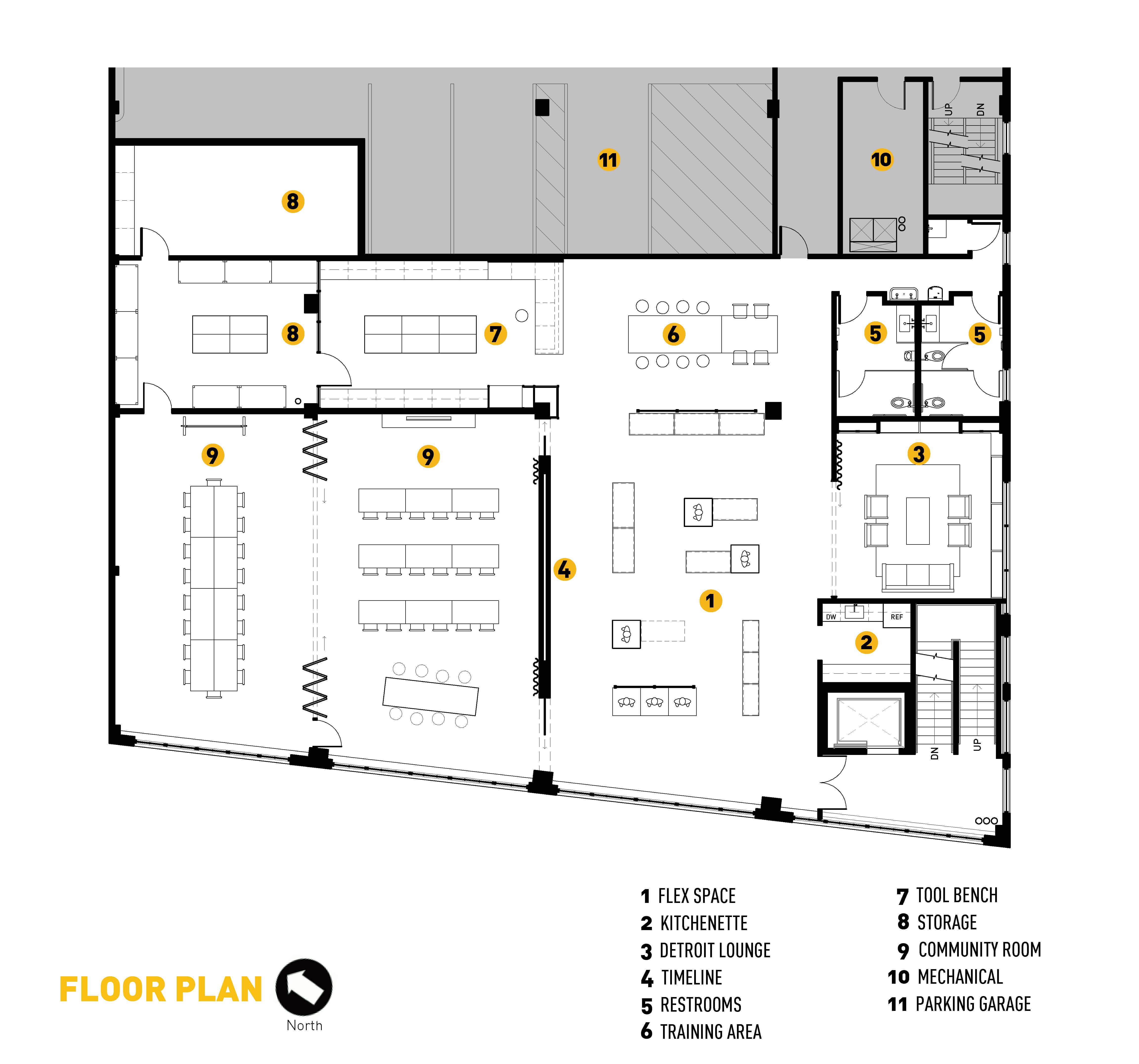 ---