In the heart of Brisbane, Britt White Studio has crafted a luxurious modern home, for a global executive who wanted to create a peaceful haven for his family.
Occupying the penthouse level of Le Bain, a luxurious 15-story award-winning development in the Brisbane suburb of Newstead, sits a modern family retreat. Splitting their time between San Francisco and Brisbane, the family briefed Britt White Studio on an immersive space, utilising Australian and Scandinavian designer furniture with sustainable principles, that would bring the family together after months apart.
The home needed to be a modern hub for the young family - a series of interconnected tranquil, calm and inviting spaces. With the added complexity of lockdowns and designing remotely via video call, Creative Principal Britt took on the project to completely furnish the home, and in the process, design a jungle oasis bedroom for the two young boys to enjoy.
With an incredible collection of original modernist and indigenous art from the likes of Sidney Nolan, George Hairbrush Tjungurrayi, Fredya Price Petyarre, and Brian Eno, Britt took cues from the client's love of midcentury architecture to curate the furniture, lighting and decor through the whole home. A lover of art, with an eye for Australian design and an ethos for sustainable practice, Britt worked with the finest local craftspeople on key custom furniture pieces like the elliptical American Oak faceted pedestal dining by Steel Road of Yackandandah, Victoria.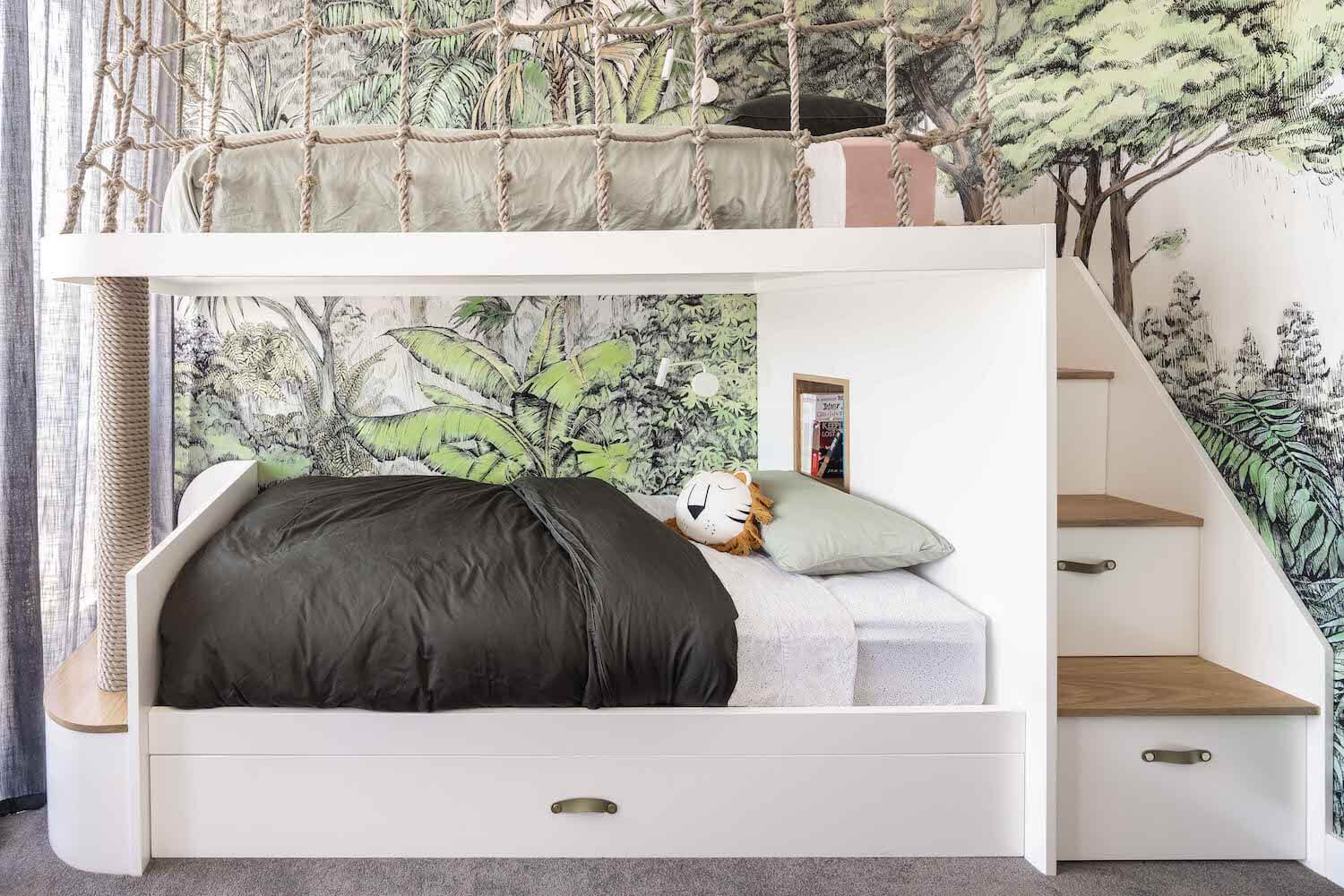 These modern custom pieces have been accented with iconic furniture like the Grant Featherstone 'Scape' Dining Chair and an original Kofod-Larsen 'Knitting Chair'. The overall result is a curated space, providing a haven away from a busy life of work and business travel, which instills a sense of calm - being inviting, organic and textural. Whilst delighted with the overall result, the client holds a special place in his heart for the Jungle Room, created for his two sons aged 7 and 9. This room was an exciting opportunity for the Britt White Studio team to showcase their creativity in designing a playful yet highly functional room for the siblings.
Working closely with the boys to understand their ideas and needs for their shared room, Britt enlisted the help of Ken Brooks, Managing Director of BRC Cabinets to create the bespoke bunk-bed solution. Featuring plenty of storage for their belongings, including under stair hidey-hole and a reading nook for magazines with a built-in charger for electronics, the top bunk is cocooned in rope-work designed and hand-tied by local craftsmen Emmett Ropes who also provided the wrapped pole details on the supporting pillar.
All elements of the Jungle Room were designed specifically for the boys by Britt, bringing their individual love for adventure and nature indoors whilst creating a secluded space that they could call their own. This vision has been accentuated via an extraordinary tree-top wallpaper from Rebel Walls, which dances across the homes curved walls.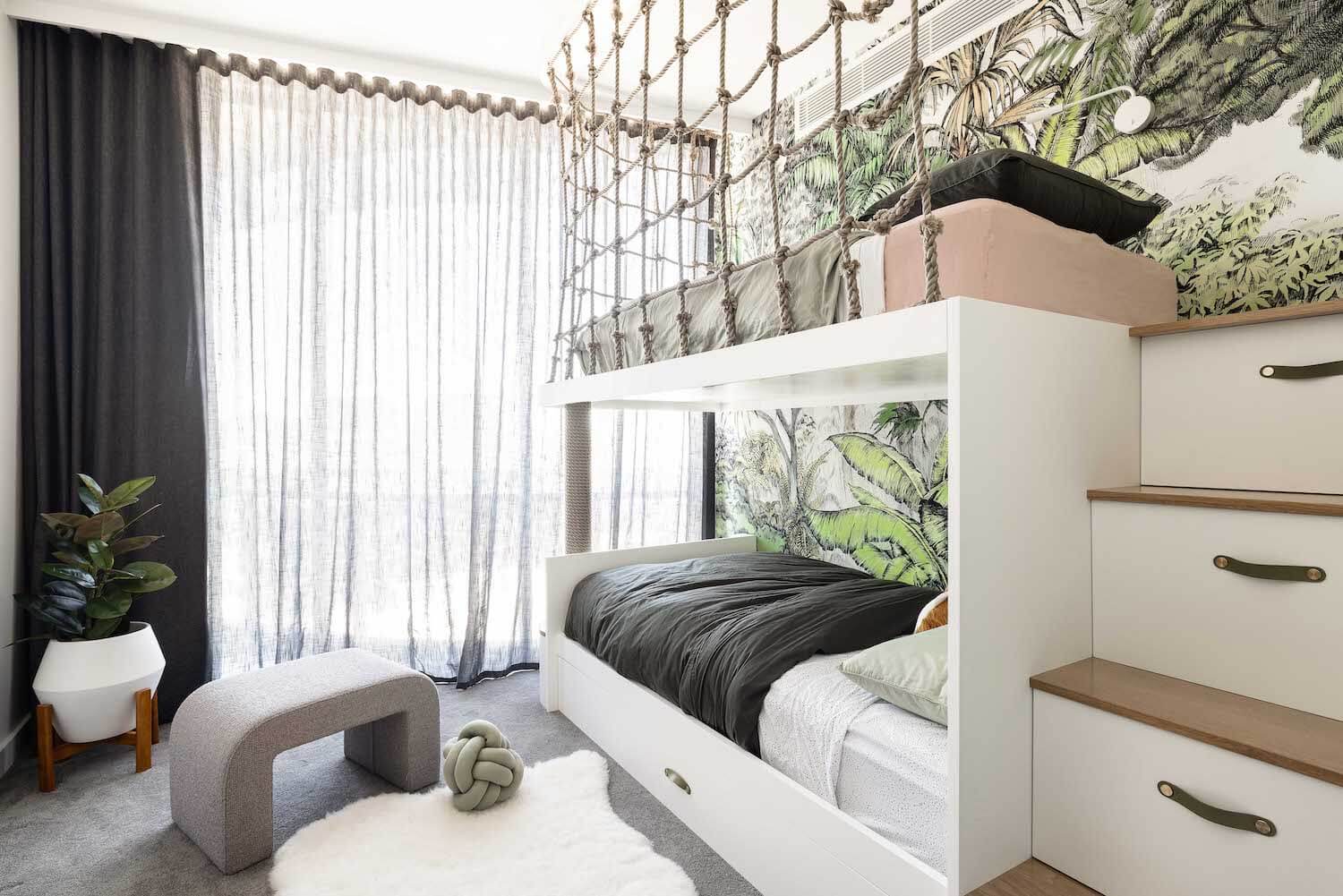 "We are thrilled beyond belief with the home that Britt White Studio has created for us", said the client, and head of the household, Matt. "Britt took my vision for a space that utilised the best of Australian craft and a sustainable overlay, creating a sophisticated yet lively modern family home. The boys spend more time hiding out in their Jungle Room than they do swimming in the rooftop pool, which was certainly unexpected!" "Occupying a highrise development in Newstead, Brisbane, this project created a unique challenge for my team. Whilst the surrounds may be vastly different from our regional HQ in the Victorian High Country, we still drew inspiration from the river outlook and surrounds of the penthouse - not to mention the boys love of nature - to create a beautiful and functional space in which Australian design, nature and sustainability come to life.
We're incredibly proud of the outcome of the Le Bain project, a complete interior decoration project with a jungle design solution that will last for years to come" explains Britt Howard of Britt White Studio. NB: Images supplied of the kids Jungle Room in the BowerKit, by Joe Brosnan, are royalty free . Additional images of the rest of the penthouse project are available to view by contacting Matt White (or take a look here - https://www.brittwhitestudio.com/our-projects/lebain), but there may be an additional fee payable to that photographer, Hannah Puechmarin.
What was the brief?
On the surface, the brief for this project was very simple - create a family haven. But peeling back the layers a bit, revealed some further objectives and complexities that needed to be taken into account with the final solution: 1. Splitting their time between Brisbane and San Francisco, the house needs to be low maintenance - locked off for weeks at a time, but welcoming the family back with ope arms upon their return. 2. The client has a wonderful collection of art and furniture), and the home required spaces designed to house the collection. 3.The two boys were Britt's direct client for their shared room and they had very specific requirements, that needed to gel with the rest of the project.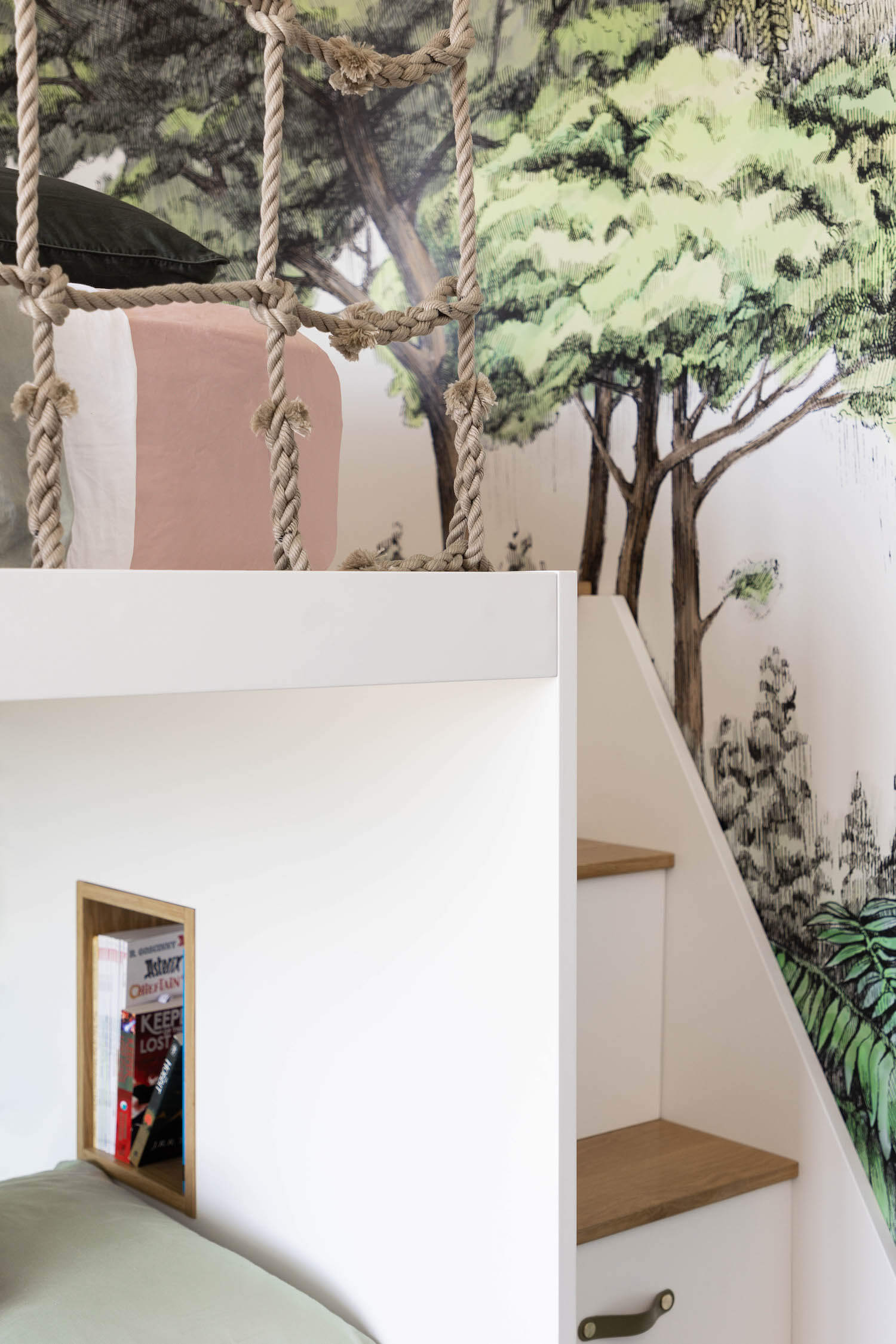 What were the key challenges?
This project was first briefed to Britt White Studio in 2021, when (like the rest of Victoria) we were in the middle of Covid lockdown. Travel between Bright and Brisbane is difficult at the best of times, but the state of the world at that time made it almost impossible. Briefing and presentations were conducted almost exclusively via video call with site visits arranged at a moments notice when restrictions permitted.
Operating remotely also presented an issue being so far away from our warehouse and storage solution. We were able to procure the services of a third party receiving, quality control, warehouse and delivery service. While more time consuming than our regular (local) process, it was a great learning experience that yielded excellent results.
We also usually work with a select group of trades, who we have had a strong working relationship with for years working together. It is one of the benefits we provide our clients. However, with travel restrictions in place and the tyranny of distance (over a 3,100km return trip!) we had to embark on a procurement, qualification and quality control process with a new group of trades. Again, this was time consuming, but a great experience and we now have an incredible group of local trades and suppliers in Brisbane for our next Southern Queensland project.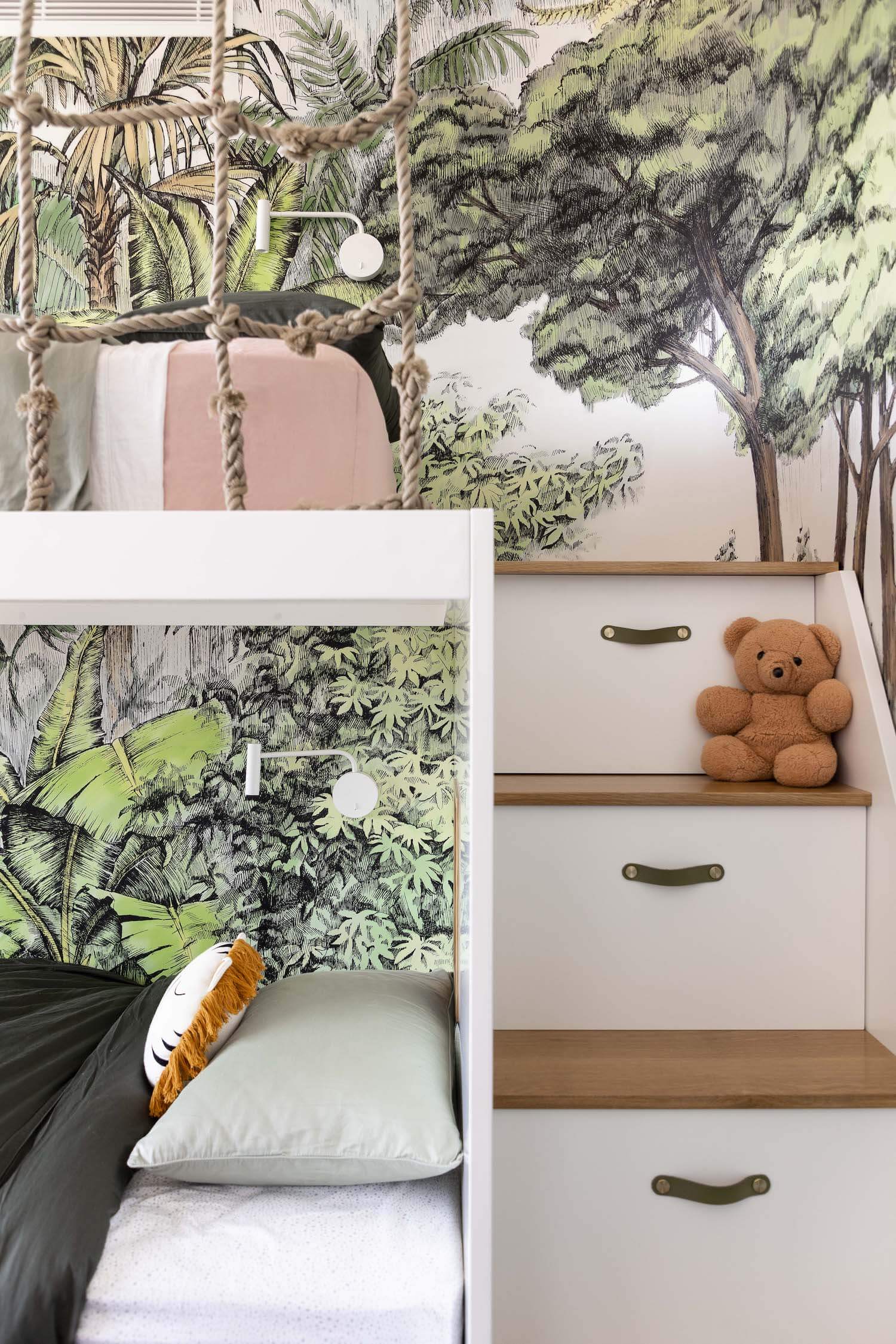 Who were the trades and suppliers you used in this project?
1. Trades and Craft
BRC Cabinets, Brisbane - Custom bunk bed joinery
Emmett Ropes, Brisbane - Rope craft
Steel Road, Yackandandah - Custom dining table, front door plinth and custom desk in solid American Oak
Juniper Design, New York - Custom kitchen pendant, Thin Dyad Multiples in Brass
2. Suppliers
Rebel Walls, Sweden - Secret Garden Wallpaper in Lush Colourway
Grazia & Co, Melbourne - Grant Featherstone Scape Dining Chair, Reeno bench seat and Dita stool
Halcyon Lake, Melbourne - Salsa Bali rug in Living Room
Armadillo & Co, Melbourne - Malawi Rug in bedroom and office
Jardan, Melbourne - Hudson Sofa and Onn Pendant
Daniel Boddham, Sydney - Booham Chair in boucle by Warwick Fabrics
Zuster, Melbourne - Jewel Coffee Table
Globe West, Melbourne - Outdoor table, bedside tables and lamp
Satara, Melbourne - Outdoor seating and rug
Soft Furnishings from Cultiver, The Sheet Society, Flash Minky, LM Home, Citta Home, Walter G and Grace Garrett
Objects from UAU Project, Makers Market, Jan Vogelpoel Ceramics, Flos, Coco Republic, Design Stuff, Marmoset Found, Fenton and Fenton, and clients' own.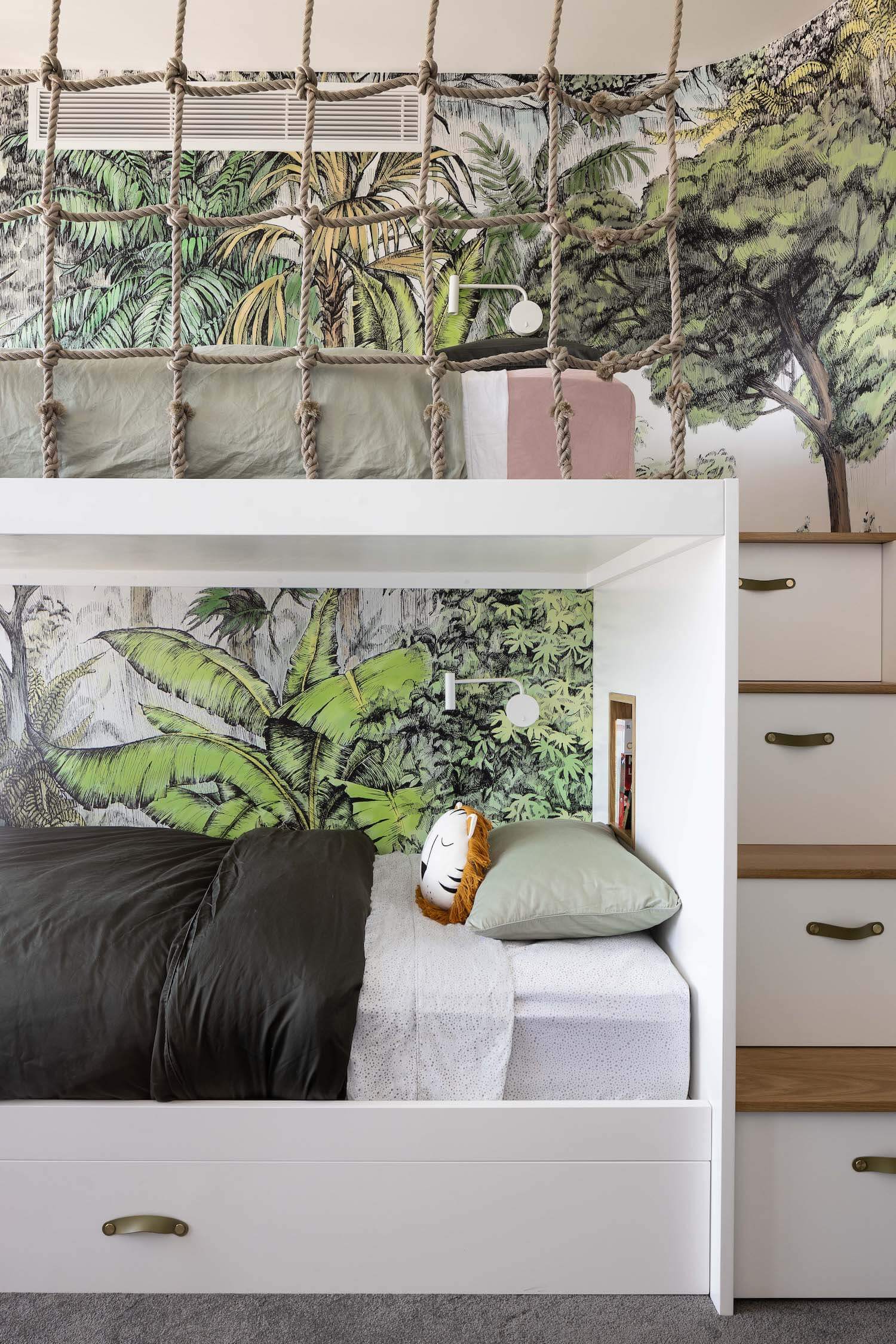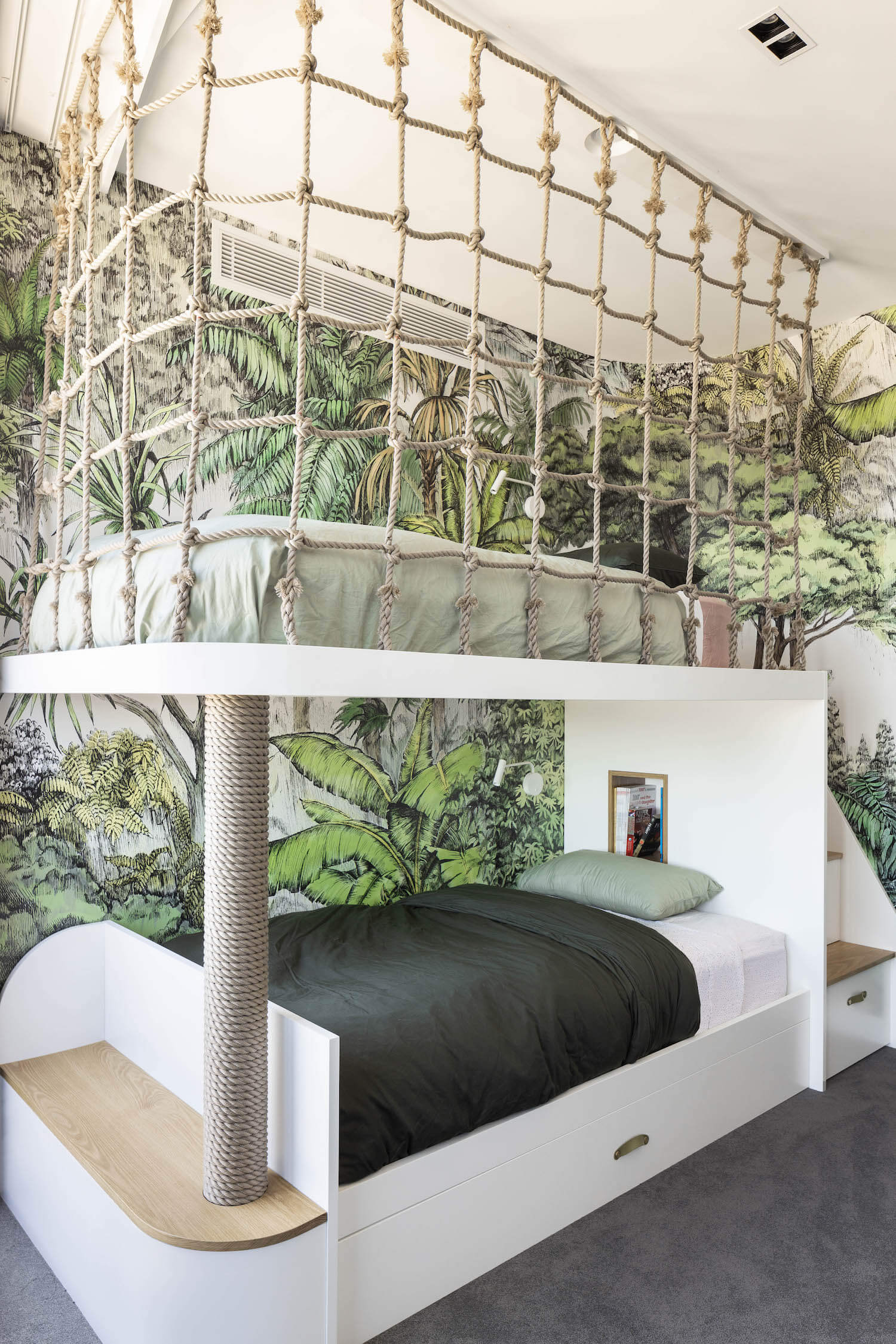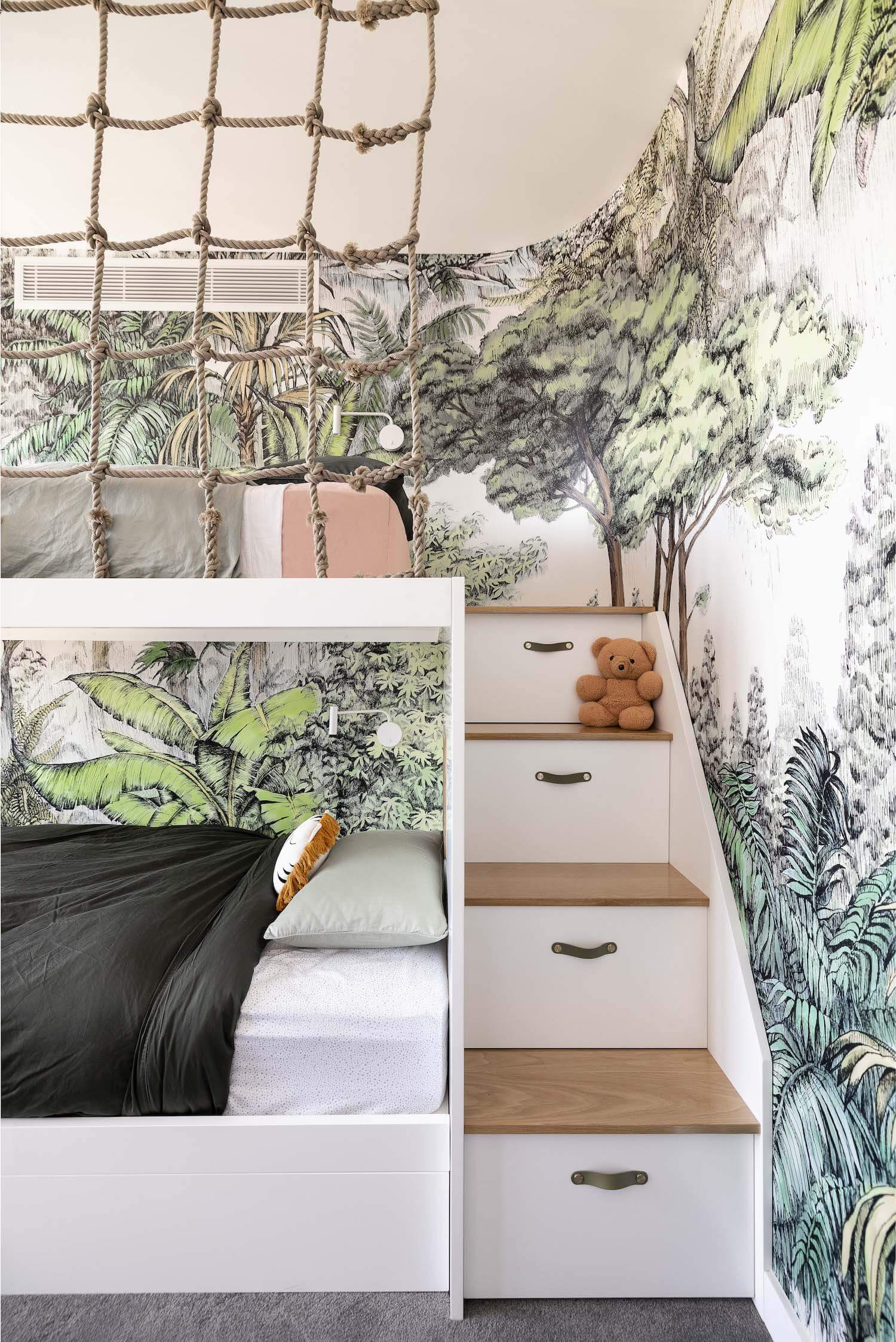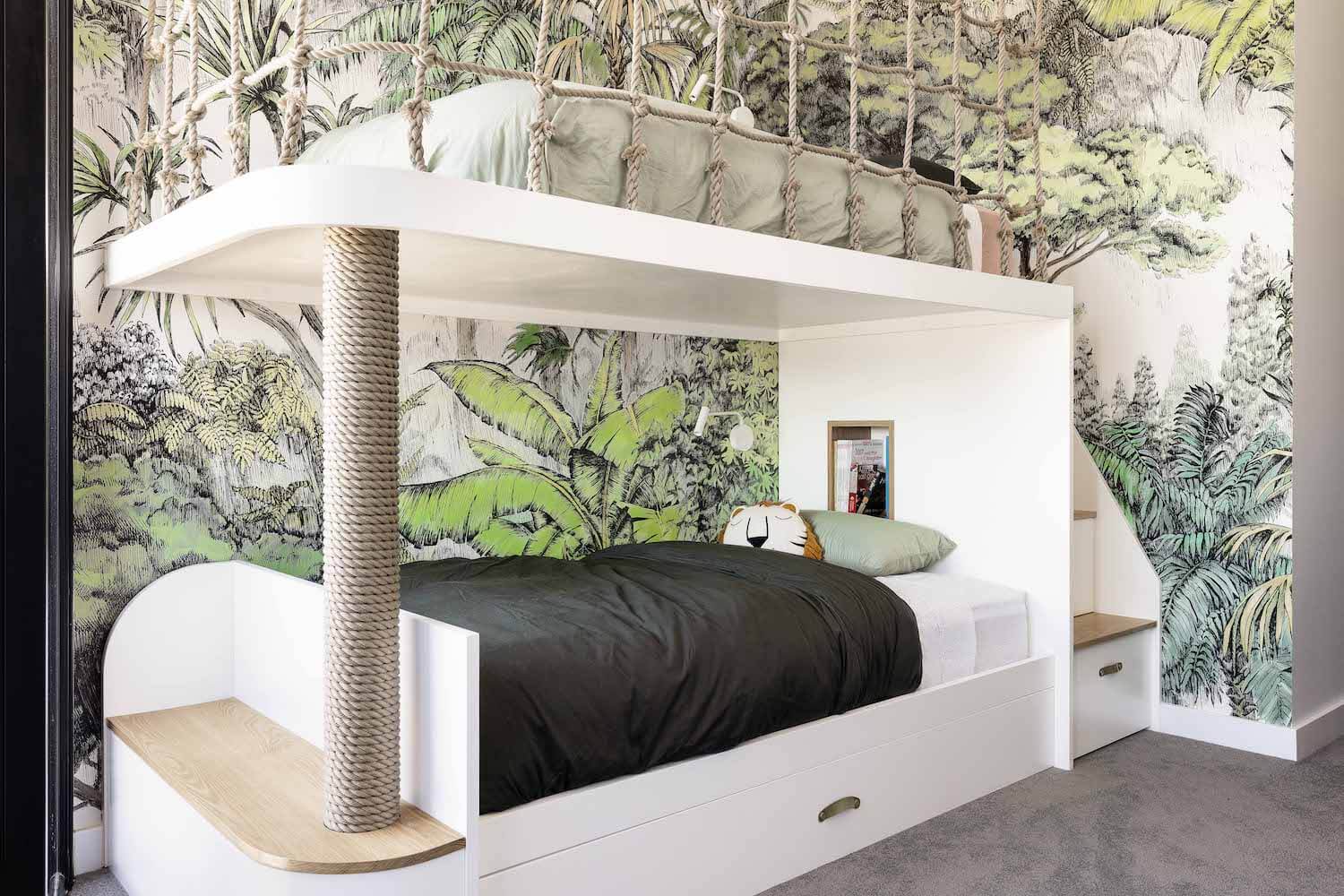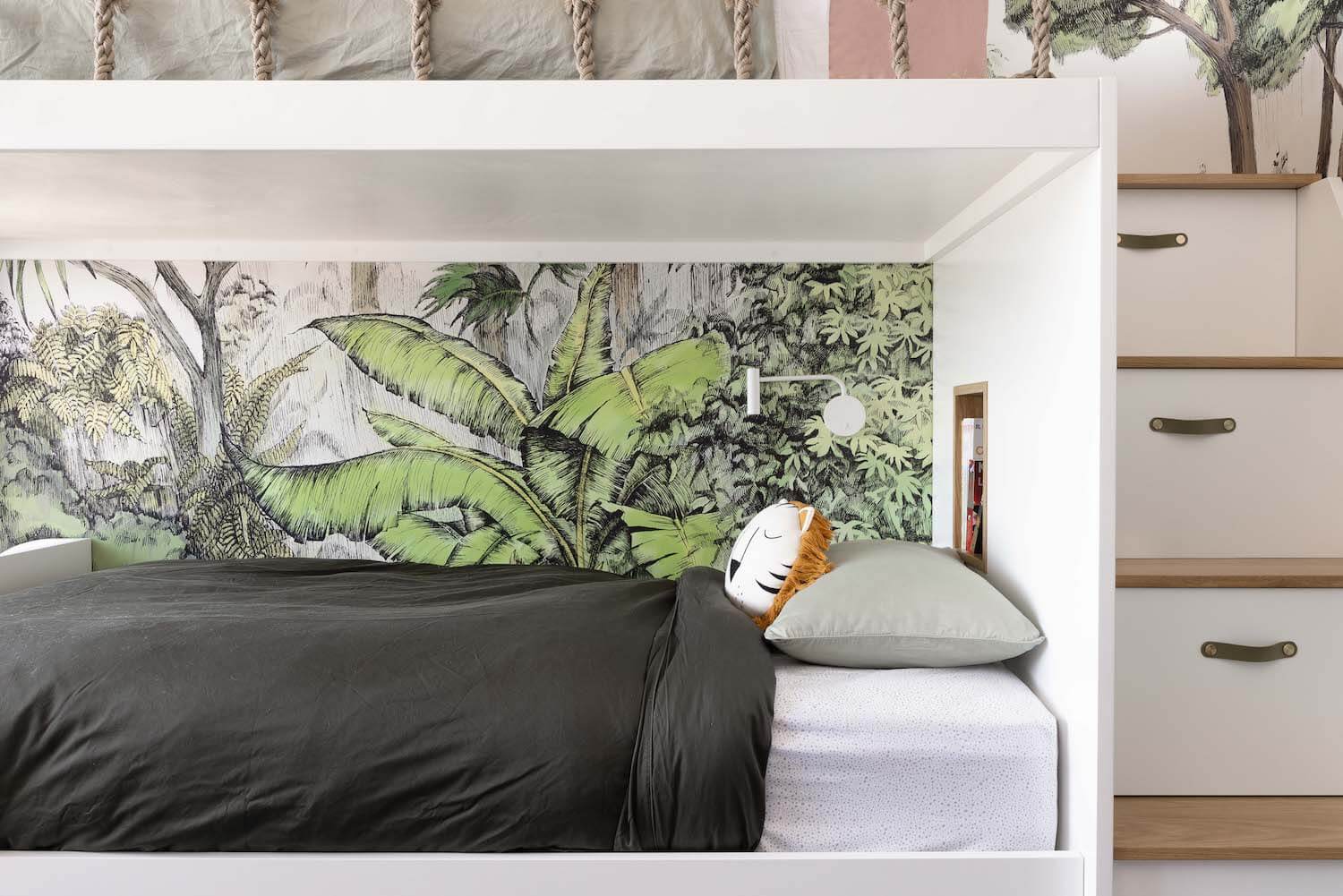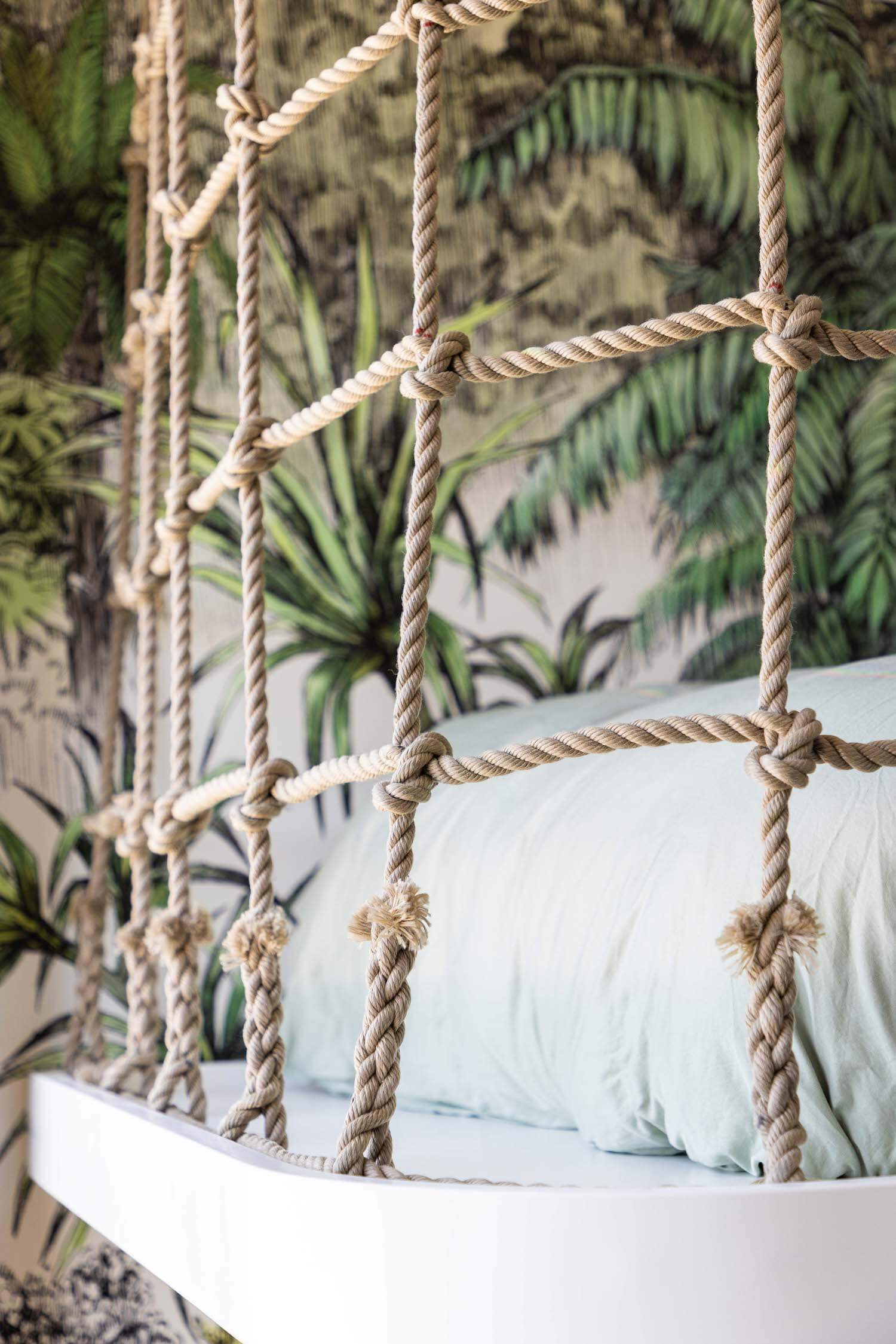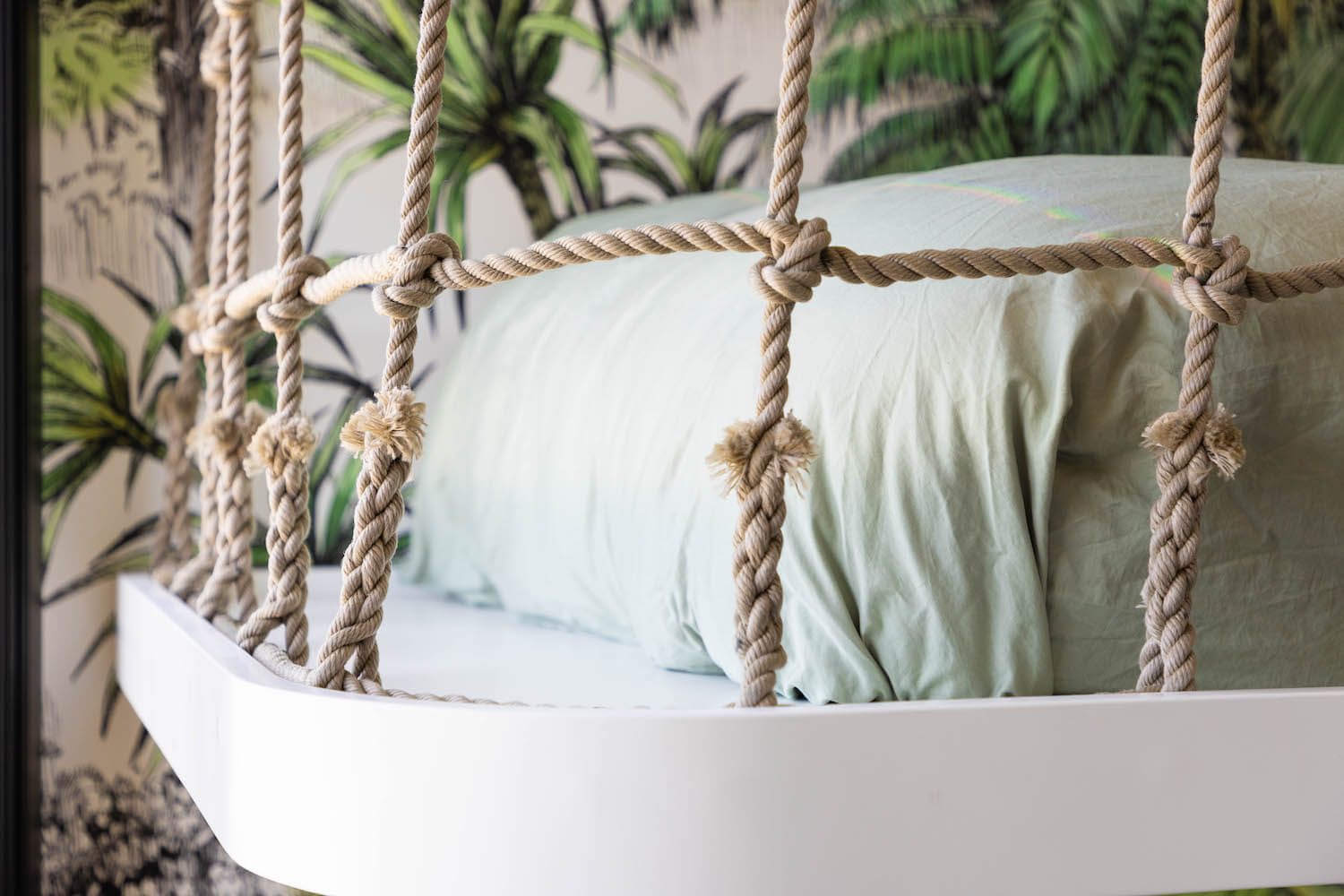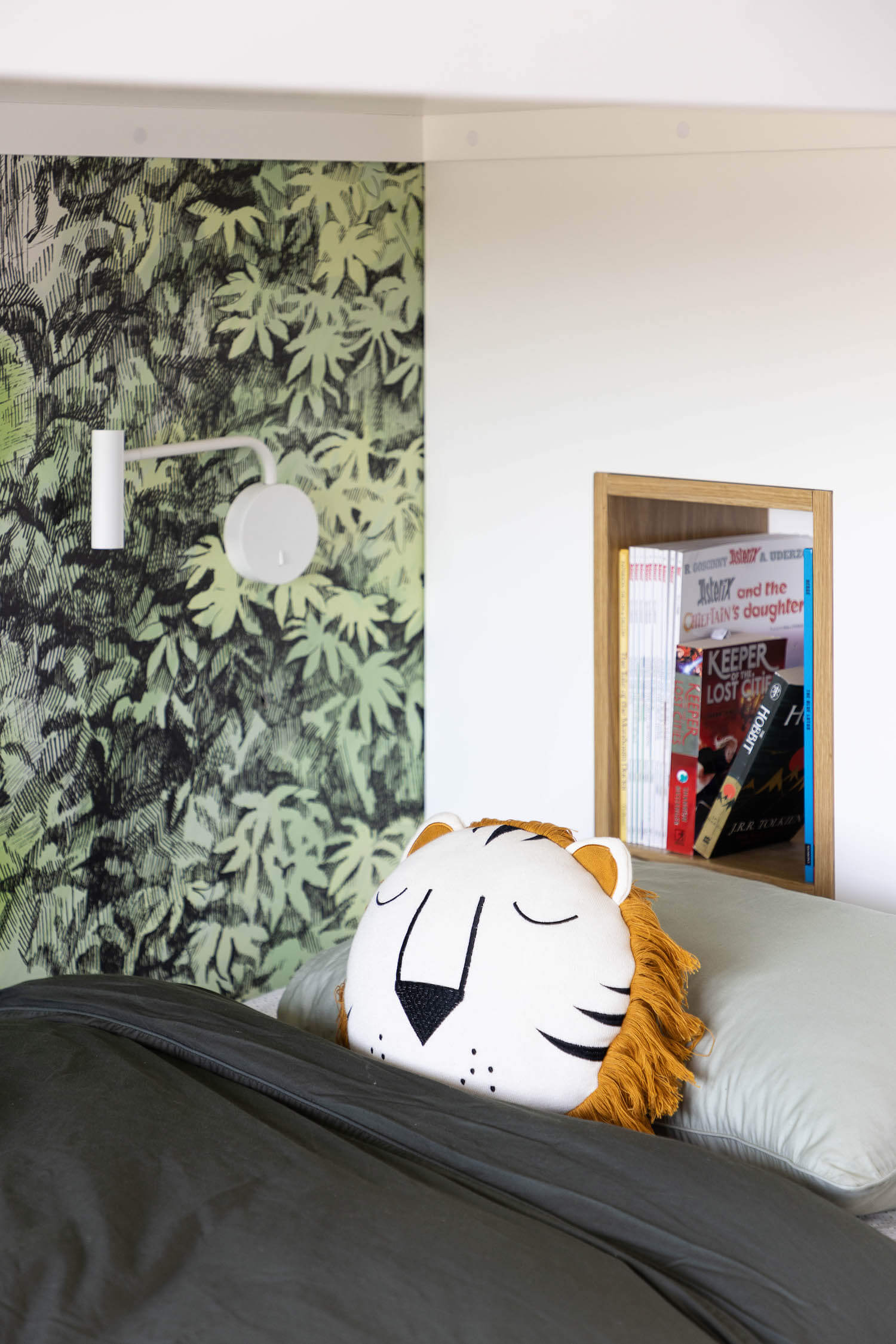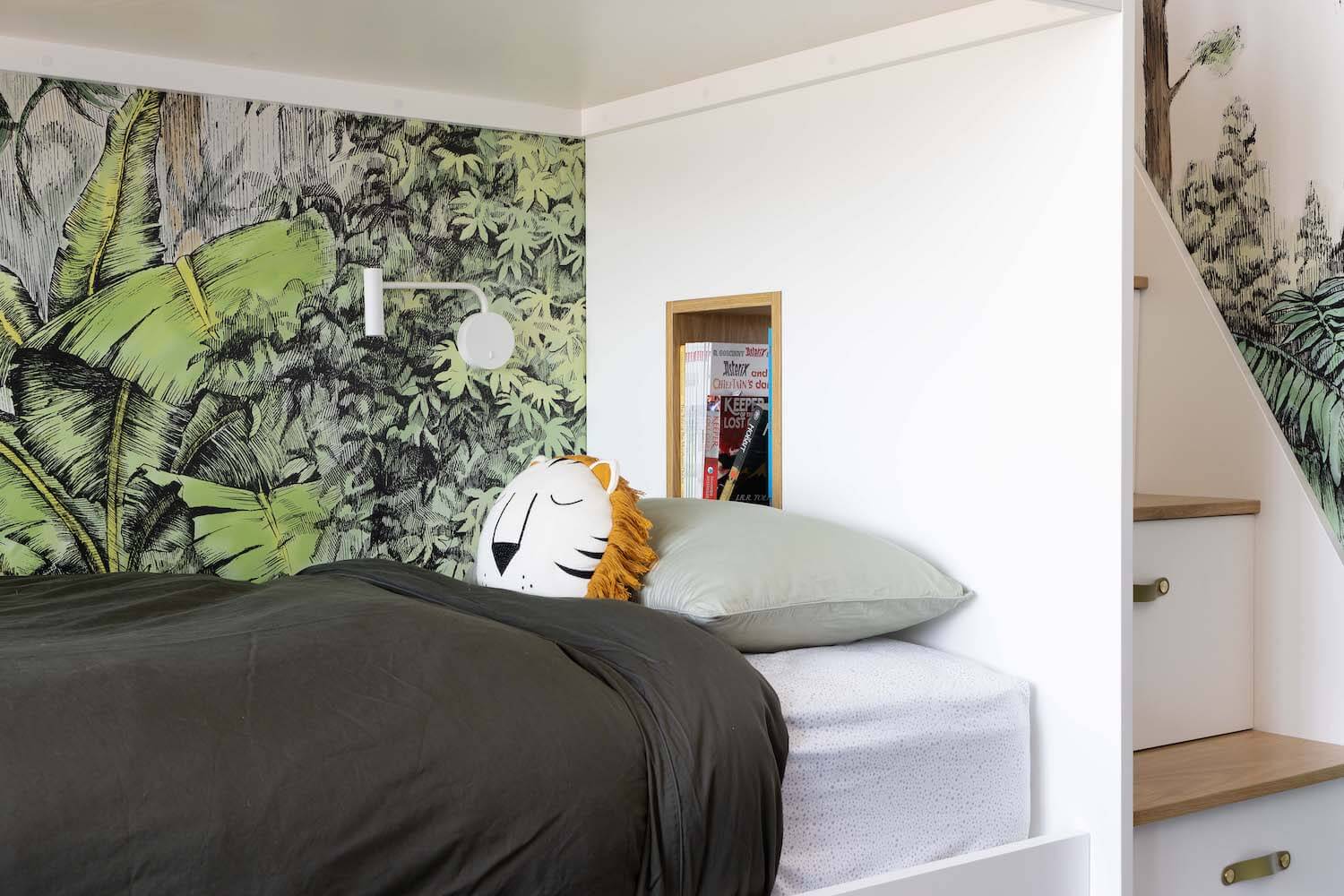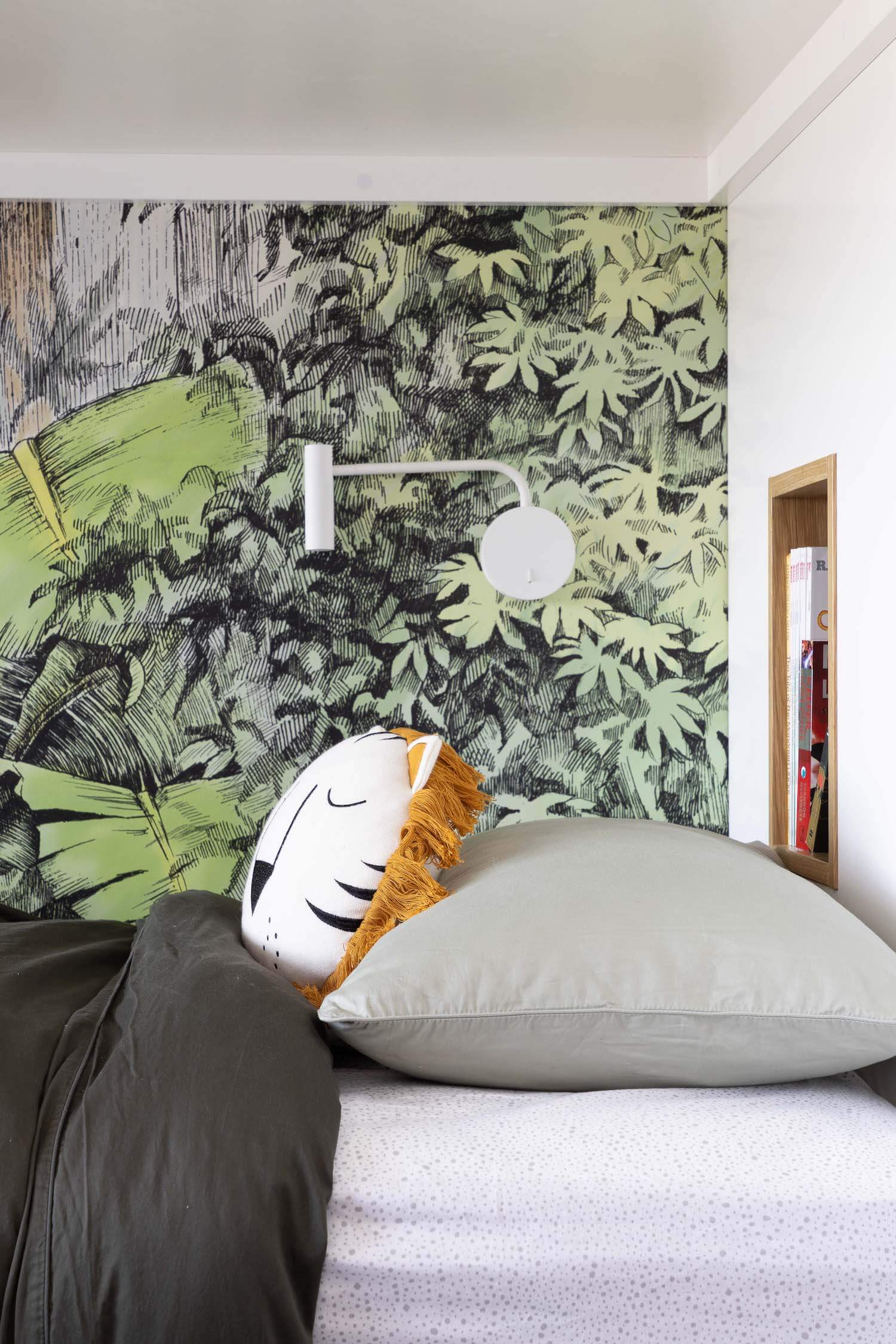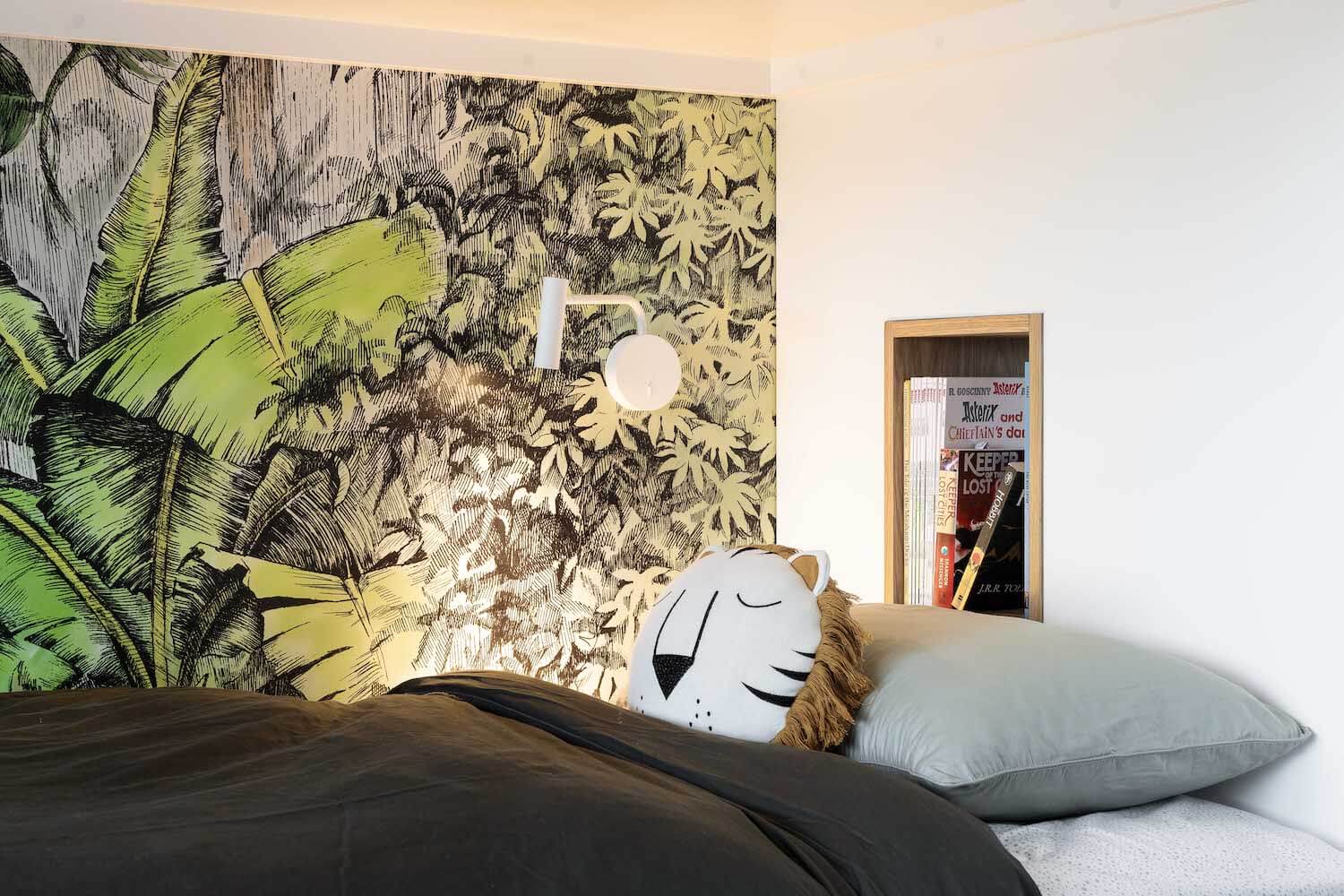 ---