Does your bedroom feel a little dated? Perhaps your matching furniture is heavy and outdated. Below you'll find six design tips that go beyond switching to a platform bed and buying a new medium-firm mattress that will upgrade your sleeping space — and perhaps help you sleep better to boot!
1. Try a Fabric Headboard
Whether you prefer tufted or smooth, you have plenty of options for fabric headboards. Their plushness feels welcoming and luxurious, just like a brand-new medium-firm mattress. Because fabric headboards are on-trend like never before, there's no mistaking this trend for belonging to any other era than the one we're in now. Fabric headboards are also a good choice when you don't want to increase your bed frame dimensions because you can secure them directly to the wall.
You'll find tufted headboards in endless shapes, colors, sizes, and textures. However, you can go the do-it-yourself route with just a few materials: plywood, fabric batting, foam, fabric to finish the headboard, and a staple gun to secure it all.
2. Install a Textured Wall
Think of a textured wall as 2022's upgrade to an accent wall. You can almost instantly add visual interest and prevent your bedroom from seeming bland with a textured wall. Most people texturize the wall behind their headboard because the bed is usually centered in the bedroom. Another option is to forego the headboard entirely if you don't have much room to spare with your medium-firm mattress in place.
You can add texture to the entire wall, a center panel, or on either side of the bed, with the latter options working well to frame the room. When it comes to materials, you have plenty of options to match your budget aesthetic, and if you opt for softer materials, you may be able to skip the headboard entirely.
Leather
Tile
Fabric
Wood
Textured paint or wallpaper
Folded paper or cardboard
Stone or brick (real or faux)
Cork
Textured plaster
This living room by Ney Architects uses multiple materials and can serve as inspiration for your bedroom. However, you don't have to break the bank to add a textured wall. Paneling makes upgrading your bedroom wall easy.
Focus on fabric if your budget is tight after buying a new medium-firm mattress. You can hang it floor-to-ceiling with a curtain rod and add texture by ruching the material on the rod. Another option is to fold the fabric into pleats, securing the top and bottom to 2x4s attached to the ceiling and floor.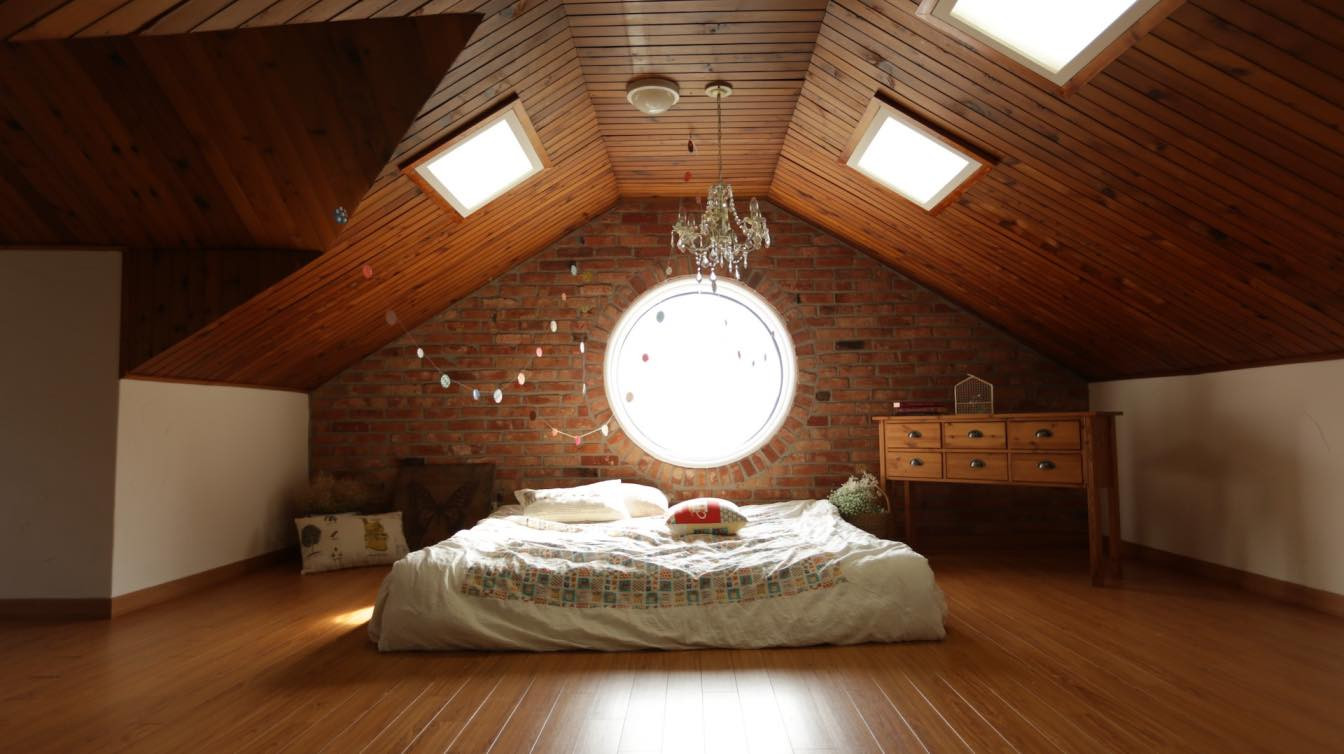 image © Pixabay
3. Use Wood Smartly
While heavy wooden furniture in the bedroom — or any room — can seem dated and large bed frame dimensions can make a room look tiny, you don't have to forego the warmth of wood to give your bedroom a modern makeover. Instead, opt for smaller, lighter, and thinner pieces. Nightstands inspired by midcentury modern style are a perfect example. They're generally smaller with thinner panels and legs set wide apart, offering plenty of room for light. You can even mimic the style by mounting a similar shelf or drawer to your wall.
If mid-century modern isn't your style, no problem! Try woods that feel lighter, such as cane or bamboo, or wood in a lighter stain. Instead of furniture with solid pieces of wood, those with slats or other open designs won't make your space feel heavy or cramped without changing your mattress dimensions. Floating wooden shelves can be any color to match your decor while adding functional storage or areas to add cozy decor.
4. Add Plants
Keeping plants can help your memory, along with other health benefits. Even if it's a fake plant, adding a touch of nature to your bedroom will achieve a cozy, contemporary look. Green leaves will also pop if you use a more neutral color scheme. A faux potted plant can fit an awkward corner or space. Or try placing a real potted plant directly on the floor or stand in the center of your window, framed by open curtains. Plants can extend outdoors, too, if you have a patio off the bedroom.
Is floor space a premium? Add a few sprigs to a vase on your nightstand or dresser. Hanging plants can feel modern if you choose a suitable hanging planter and accessories. Planters that mount directly to the wall can add that touch of green and a focal point at once. Let a branch or vine drape over the edge. Don't worry; fake plants are fine if you're worried about their security.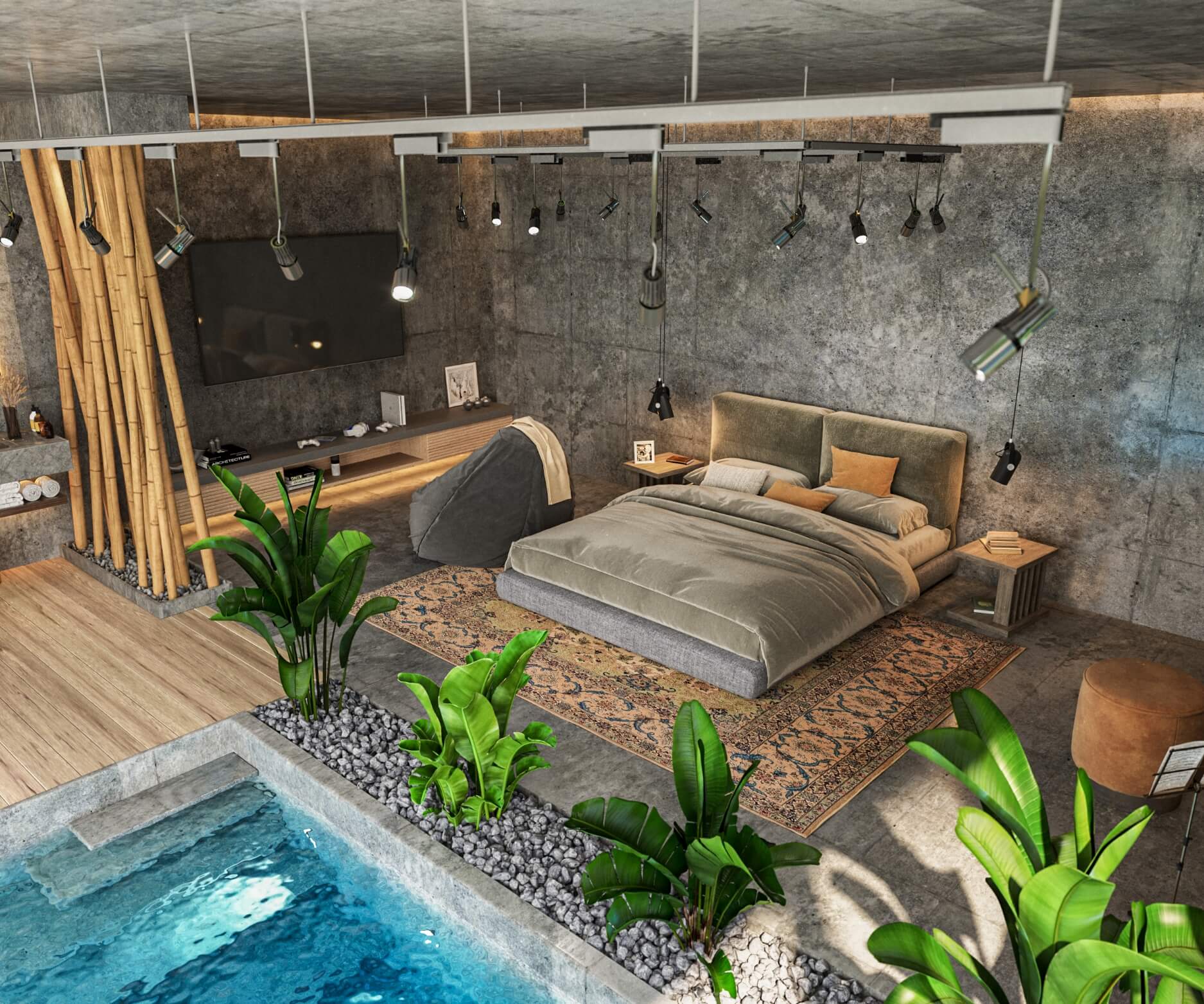 Modern bedroom design for a musician by Omid Merkan
5. Make a Statement with Lighting
A bedside light is a staple for anyone who wants to read in bed or fall and wake from sleep gently without turning on an overhead light. However, you don't need to take up nightstand space with lamps — or even a nightstand if you don't want, especially if you'd prefer to use the space for a medium-firm mattress.
Instead, a sleek hanging light or wall-mounted light will ensure your area feels much more contemporary, and you can easily install them in pairs, one for each side of the bedroom. Measure the chain, so it's at a suitable height for your mattress dimensions, and you're good to go.
6. Upgrade Your Bedframe
Have you always wanted a canopy bed? They're back in style but with a twist! Many people leave modern canopy frames bare to define space without overtaking it and will work with just about any medium-firm mattress. Canopies are also a good compromise if you don't love how many platform beds extend from the mattress dimensions. Just make sure the bed frame dimensions fit in your space vertically.
Sleek metal frames are common; you needn't worry about matching your other furniture because mixing materials is in. You can always add fabric to achieve the canopy of your dreams without increasing your bed frame dimensions but stick with lighter colors and airy fabrics.
Swag fabric over the frame or keep it pulled to the corners, so your contemporary canopy won't feel dated and heavy. Adding curtains with grommets, rod pockets, or tab tops directly onto the frame of your canopy as you build it is an easy way to achieve the look.There are plenty of bedroom designs that can help you upgrade your space. Whether you're thinking of buying a new medium-firm mattress or updating the furniture in your bedroom, you can try any of the six design tips discussed above and see for yourself — how you can easily transform your room into a homey yet contemporary sleeping space.
---