In this modern era, just as there are many ways to decorate your house, there are no limits on the types of homes you can construct. But due to the lengthy construction period for traditional brick-and-mortar structures and increased awareness of environmental problems, many individuals today prefer building prefabricated homes over conventional houses.
Thanks to improvements in technology and craftsmanship, a fully functional residential building can now be designed, prefabricated, and constructed in no time. Prefabricated homes, sometimes referred to as modular or transportable homes, are created off-site in a factory and then transported to the site to serve as permanent residences. This unique prefab construction method allows savvy homebuyers to build a high-quality home in a quick and affordable way.
And contrary to what many think, the faster construction doesn't mean they're made with inferior materials. Prefabricated homes are usually made with premium quality materials, such as steel. In fact, if you are looking to build a large home with intricate detailing and shape work, a prefab steel home can be the ideal solution for you.
But besides the speed of build, there are plenty of reasons why your next home should be a prefab steel one.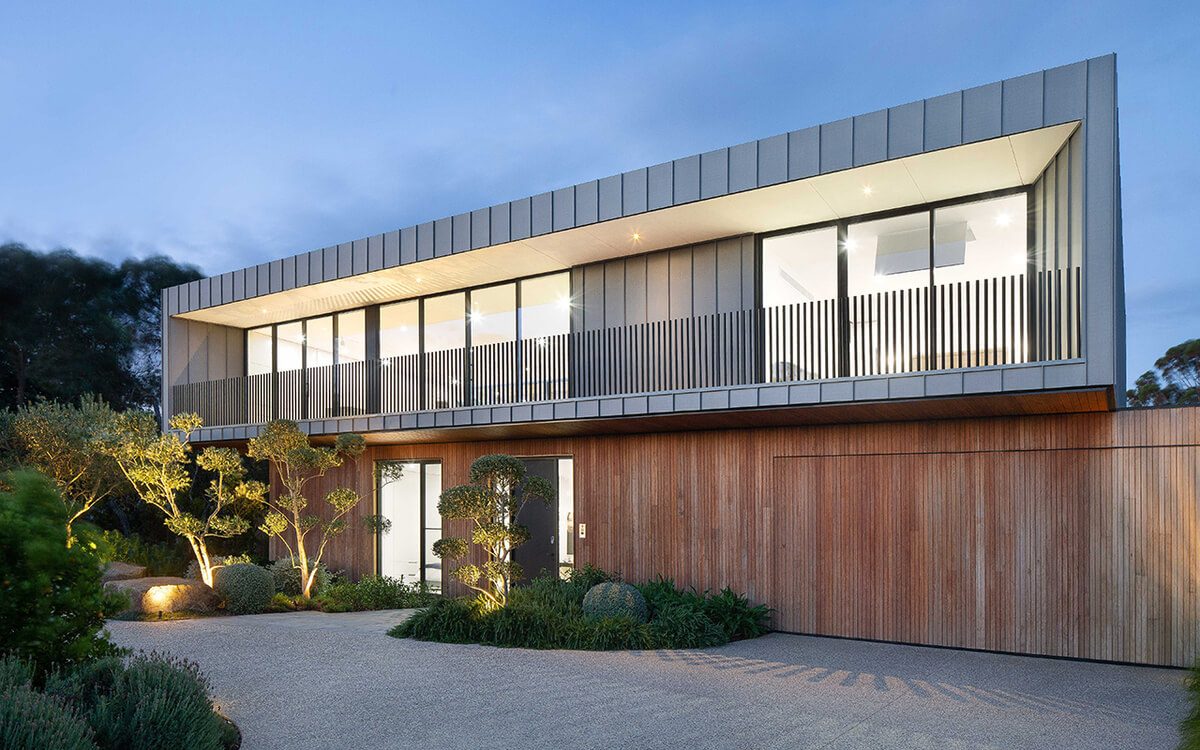 Somers Modular Home by Modscape. Image © Emily Bartlett
Affordable Cost
One of the main reasons to choose prefab steel homes over stick-built ones is that they are more reasonably priced. The cost of a metal building is less than that of a standard or conventional home constructed of other materials. You can cut costs because of:
- The shorter time frame for construction - Since a metal building does not require a substantial foundation excavation, time is saved. Lower labour costs result with faster erections. This is great news if you want to move into your home faster.
- Lower construction cost - Steel structures are pre-fabricated which means they are simple to assemble and quick to disassemble.
- Reduced repair costs - Since termites and wood rot are unlikely to occur, future expenses in repairs are unlikely.
Ability to Customise
Designing a metal building in any shape is generally not difficult because steel can be easily modified. This means that you can create any design that you can think of. Even if you decide to change your mind after the initial design, you can still accomplish this.
This also means that remodelling is simpler than using a wooden frame. By simply removing one end wall and adding clear span sections, metal buildings may be easily and affordably enlarged.
Maintenance
In order to protect your property and be able to pass it on to your children, maintenance is crucial. Buildings made of wood are prone to certain structural issues that you may not be willing or able to deal with. For one, wood can rot or split over time, so it may need to be replaced. Another risk is termites, which can be a pain in the neck and expensive to treat.
You won't have to deal with these kinds of problems with a steel home. There is also no need for you to be concerned about rot, mildew or mould because pest damage and moisture are also not a problem in metal homes. Plus, a steel frame house is fire-resistant and requires little upkeep.
Due to their durability, steel homes can even withstand the force of hurricanes and other extreme weather conditions.
Quality Assurance and Safety Concerns
Depending on your needs, prefab homes can be designed for wind safety and energy efficiency. When compared to on-site construction, factory conditions provide improved quality assurance and the stable interior environment in the factory helps minimise the impacts of most weather on output. And streamlined production and assembly procedures boost overall job site safety.
Less Impact on the Environment
Off-site construction lessens the number of pollutants and environmental disruption on job sites. Prefabricated construction environments encourage the recycling of waste materials while also conserving water. It minimises disruption to native flora and fauna and safeguards surrounding water bodies or protected areas.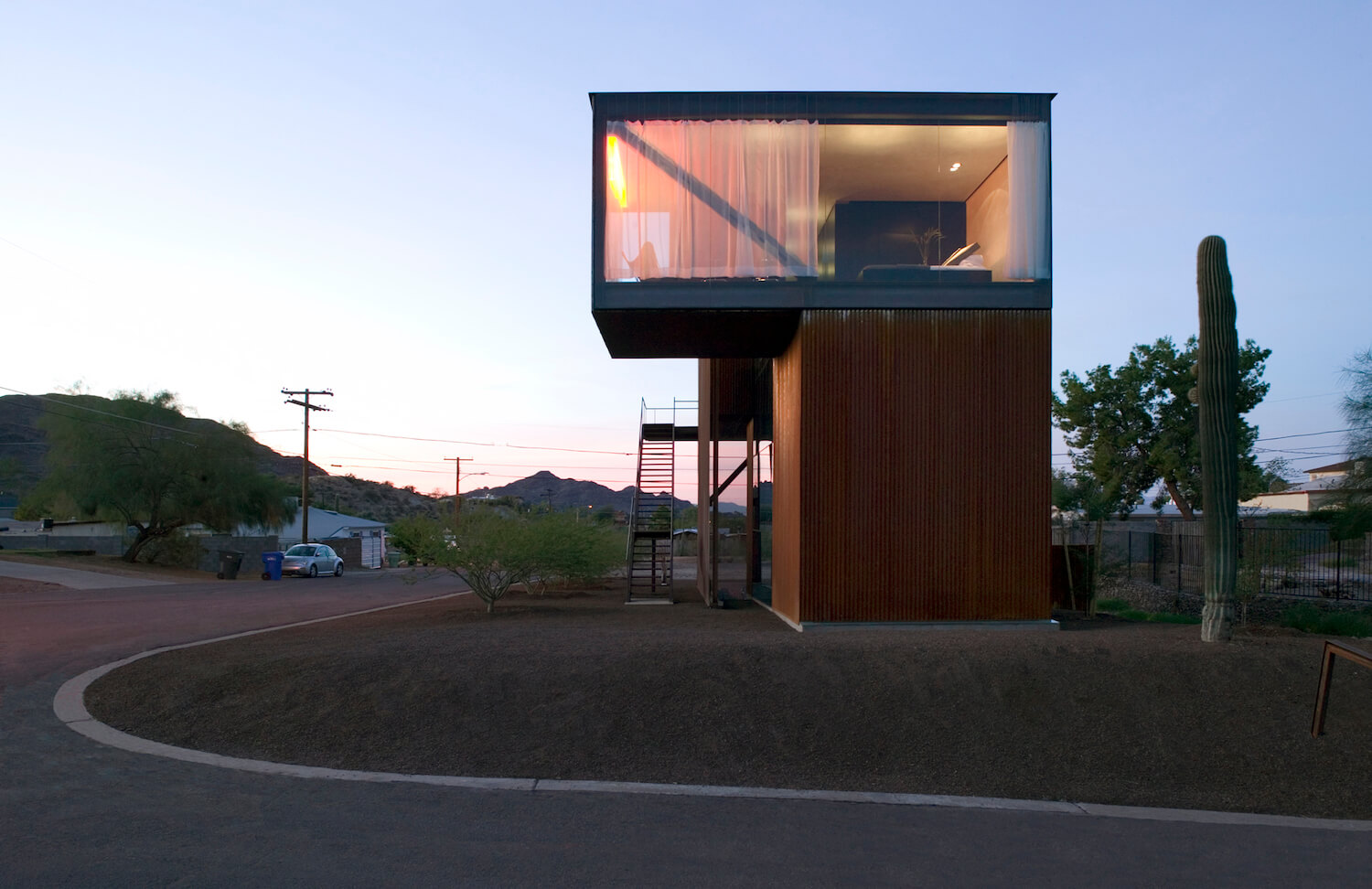 Xeros Residence in Phoenix, Arizona built by 180 Degrees Design + Build. Image © Bill Timmerman
How to Find a Reliable Prefab Home Builder?
One of the largest investments you'll make in your lifetime is probably buying and building a home, so it's crucial to pick a builder who is skilled, competent, and genuinely has your best interests in mind. But how can you find a custom home builder who is ideal for you and your family when there are so many of them?
Look for Experienced Prefab Home Builders
In order to feel secure in a builder's skill set and experience, it's very important that you choose a company with a strong resume and decades of experience.
Offers that are very tempting can mean the builders are unfamiliar with the numerous building methods that are unique to modular construction. There are numerous processes involved in the production and construction of prefab steel homes. Working with builders who are prepared to take the time to walk you through the building process step by step will give you the confidence that they are knowledgeable about what they are doing.
You'll get more skilled builders, a higher-quality steel modular home, and a better understanding of the customisation process by working with a firm that only constructs modular homes. They will therefore be able to provide you with advice on floor layouts and special features that would be ideal for your new house.
Ask for a Comprehensive Quote
Consider choosing a different builder if your possible one cannot give you a detailed price. The benefits of building a custom home are too great to pass up, so it's smarter to deal with a builder who can keep their word and consistently produce amazing outcomes.
Make Sure They Consider Your Needs and Wants
When you decide to build the home of your dreams, you should feel happy, excited, and maybe even a little nervous. But does the person who will construct your home share that outlook? If not, it might be time to pick a builder who is as enthusiastic as you are.
It is important to respect the decision to build a home because it is a big step. Focusing on achieving your dream home should be your joint priority with your builder. You won't get the kind of top-notch customer service you want if they seem less eager or responsive. Regular communication with your general contractor is essential during the construction process.
Working with local contractors means you can expect routine phone calls or in-person meetings with your builder so you can get updates on the status of the project as it progresses.
So make sure you choose a builder who will take the time to ensure that you are content and confident in each decision you make and to discuss the best building solutions for your requirements.
---