The Turin-Italy based architecture and design practice WAFAI has designed "The lake house'' that located in Switzerland.
Architect's statement: The house located in Switzerland on the lake Türlersee, it is supposed to be a vacation house for a small family ( a couple and a baby on the way ) It was initially for a client but the project unfortunately didn't show up as the client had difficulties acquiring the land ,I decided to visit the area alone after studying the area on the internet, and I was fascinated by its nature, it's far better than any image found online.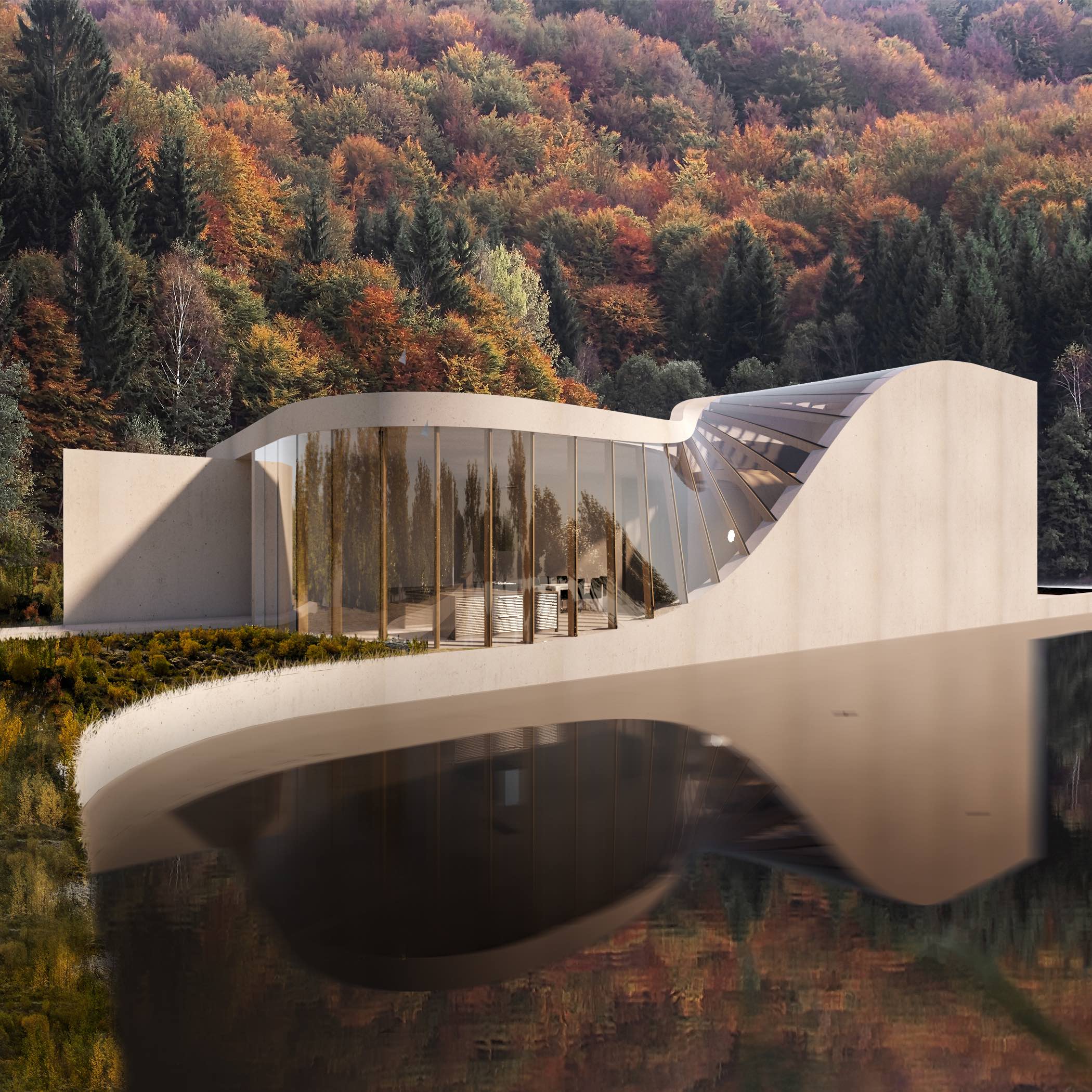 The main spine moves upward gently directing the eye to the forest
The inspiration came from studying the site features and contrasting them gently some times, and emphasizing them some other times. The dynamic form of the house stands in quite a contrast against the lush forest behind.
But the surface of the wall gradually transforms itself into a roof element, these dynamic lines drive the eyesight to the forest and merge the house in the environment, gently without bothering the sky, forest and water scene.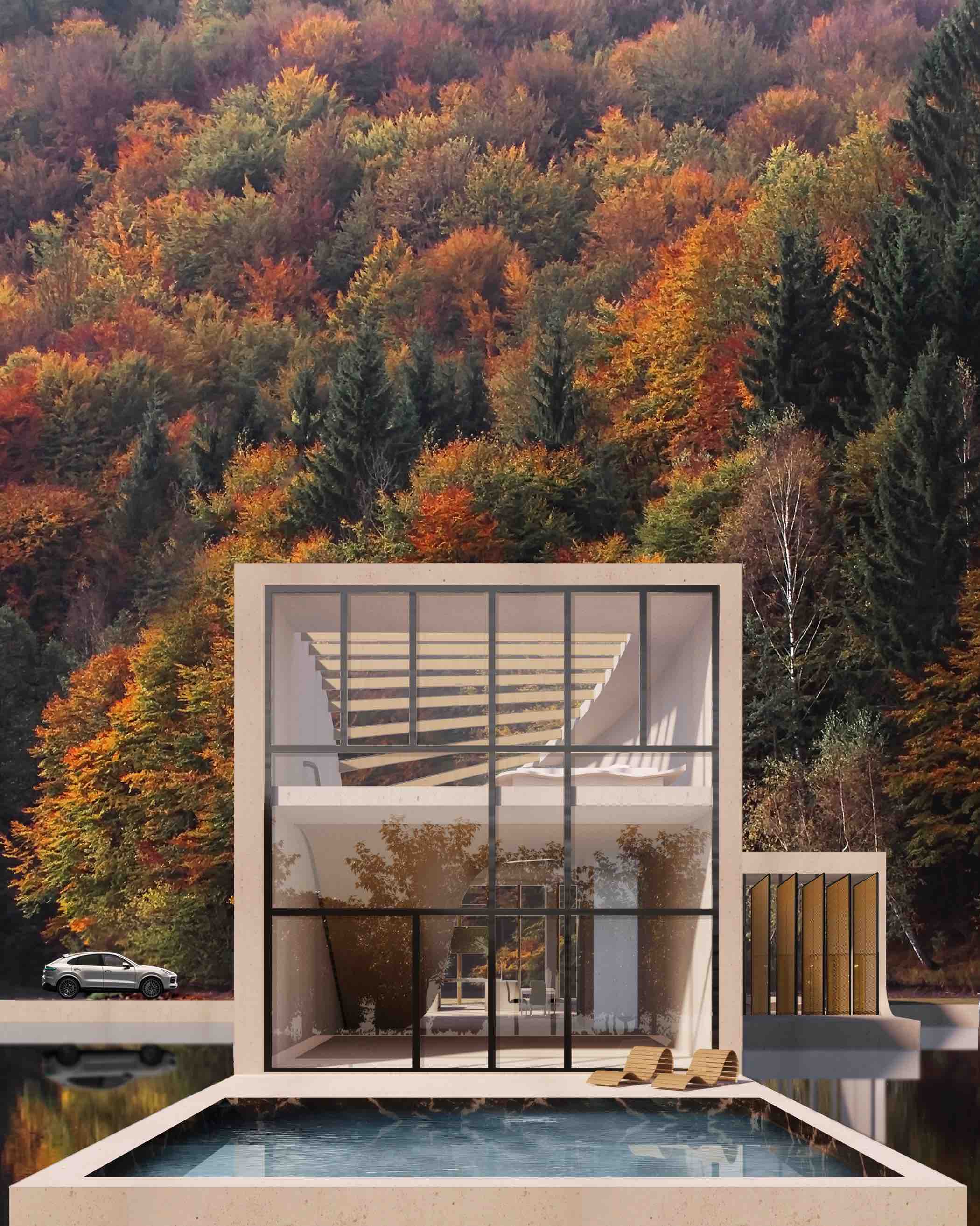 The Waterfront/Lake Facade
The wood/glass, wall/roof move progressively, providing a natural sun light complement the simple, yet cozy interior design, and a panoramic view for the sky and the forest.
The dynamic open space starts to move progressively as the wall/roof around the entrance as you walk inside the house, and create a playful space towards the glassed main facade.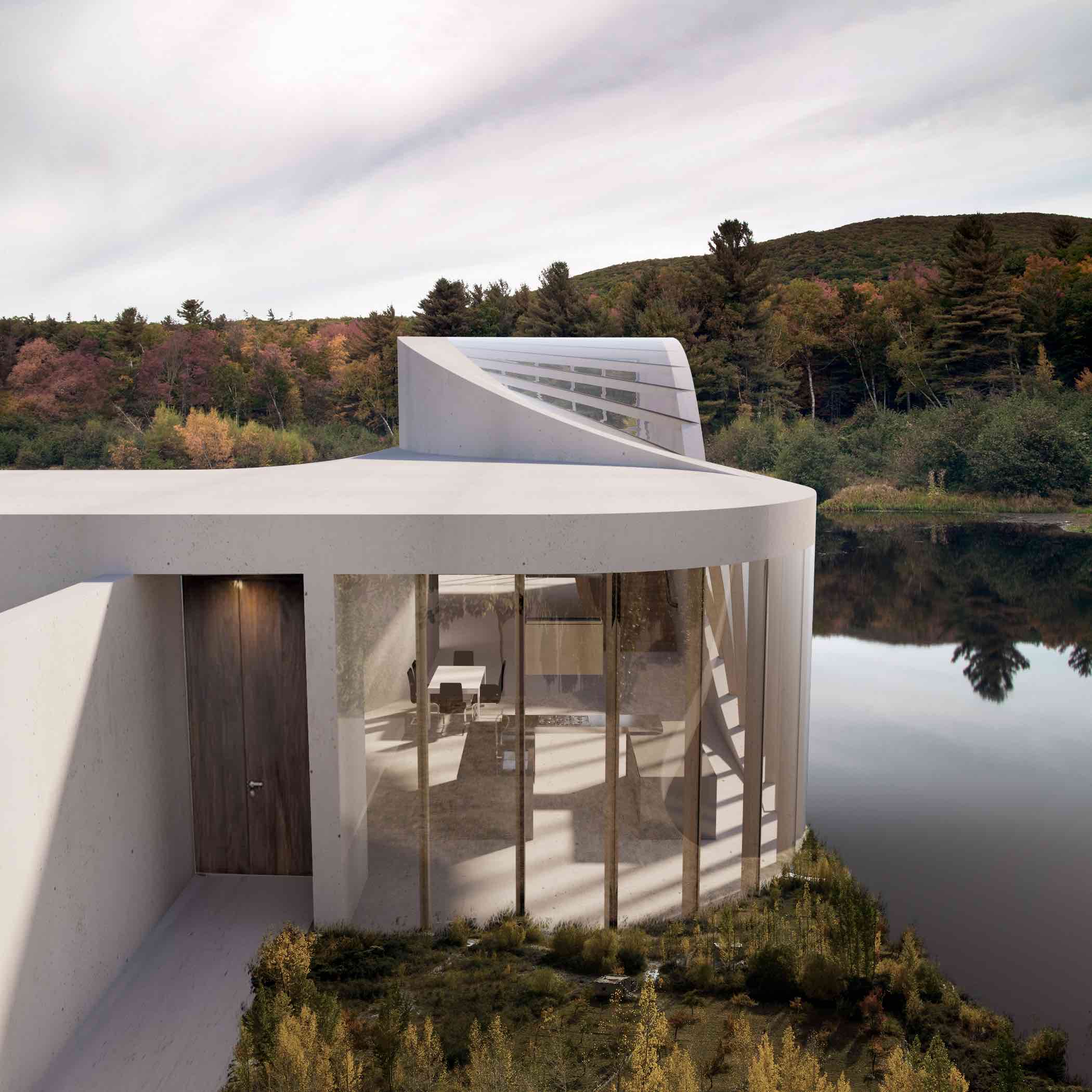 The twist as seen from above the entrance and how the wall is turning into the roof
For materials I used casted concrete/blocks, covered with plaster, and a little bit of wood when necessarily to create the colour/feel variations of the space and save money to use it for the main theme of the building which in this case is the roo.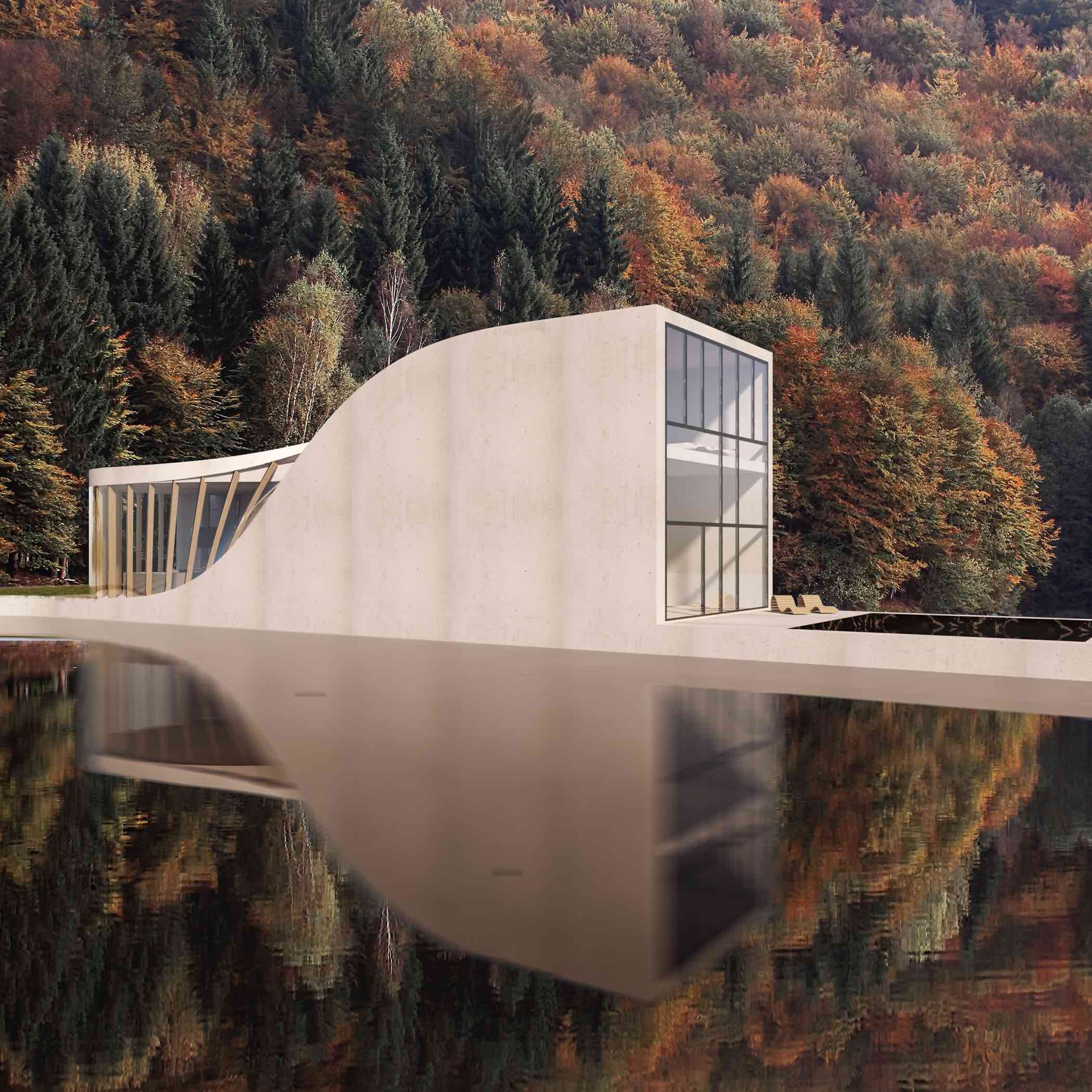 The relation between the mass and the water
The concept evolves around a dynamic open space that will start to move since the entrance as you walk inside the house towards the main facade that opens toward the lake making the light flow inside and complement the simple yet cozy interior design that emphasized by a sculpted wooden staircase that imposes the main house space of the residential living room. The dynamic exterior lines will lead the eyes towards the forest and merge the house in the environment gently without bothering the sky/forest scene. The wood/glass wall/roof moves progressively provide natural sunlight and a panoramic view of the sky and the forest.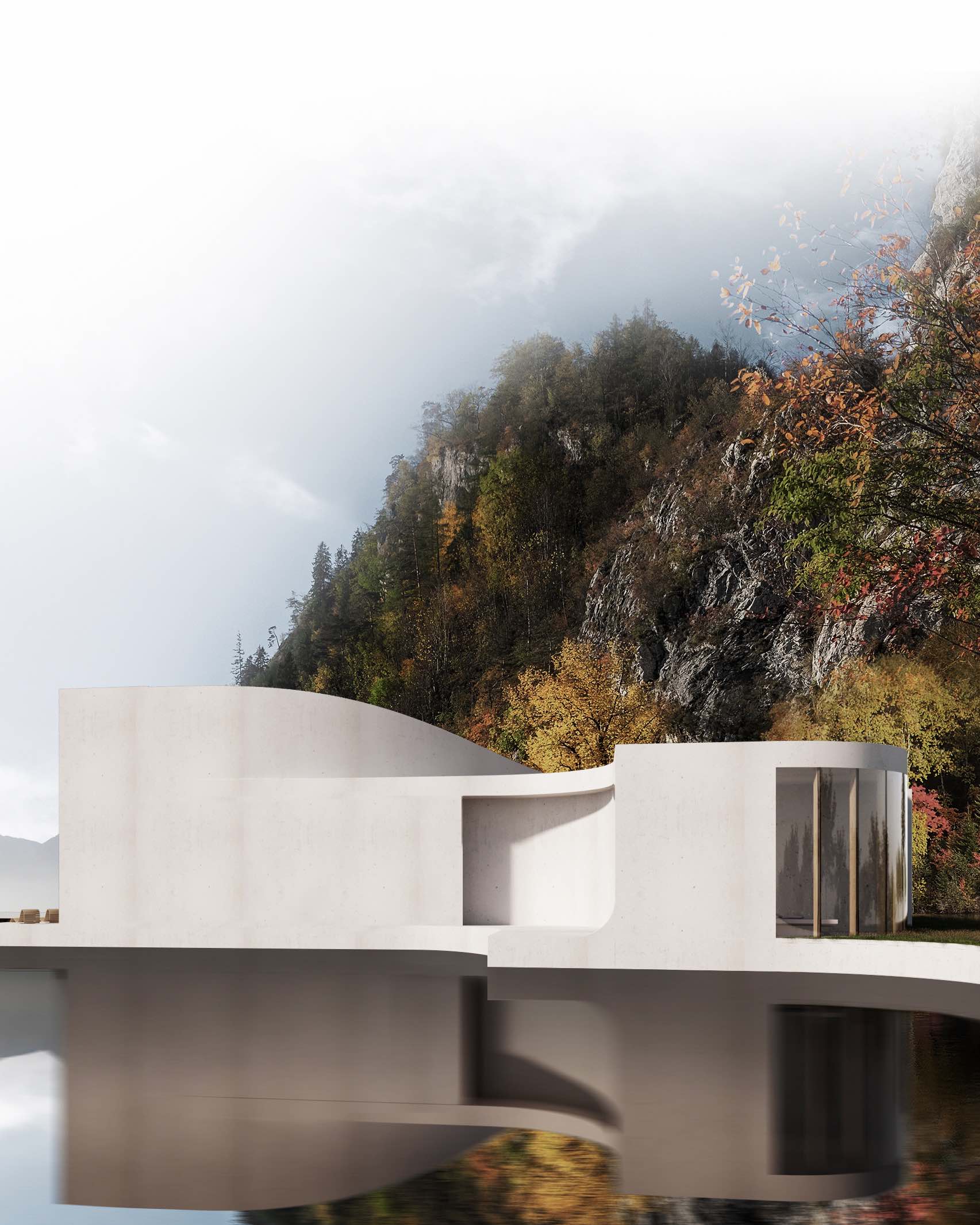 The other side of the story where everything is silent and imposing nature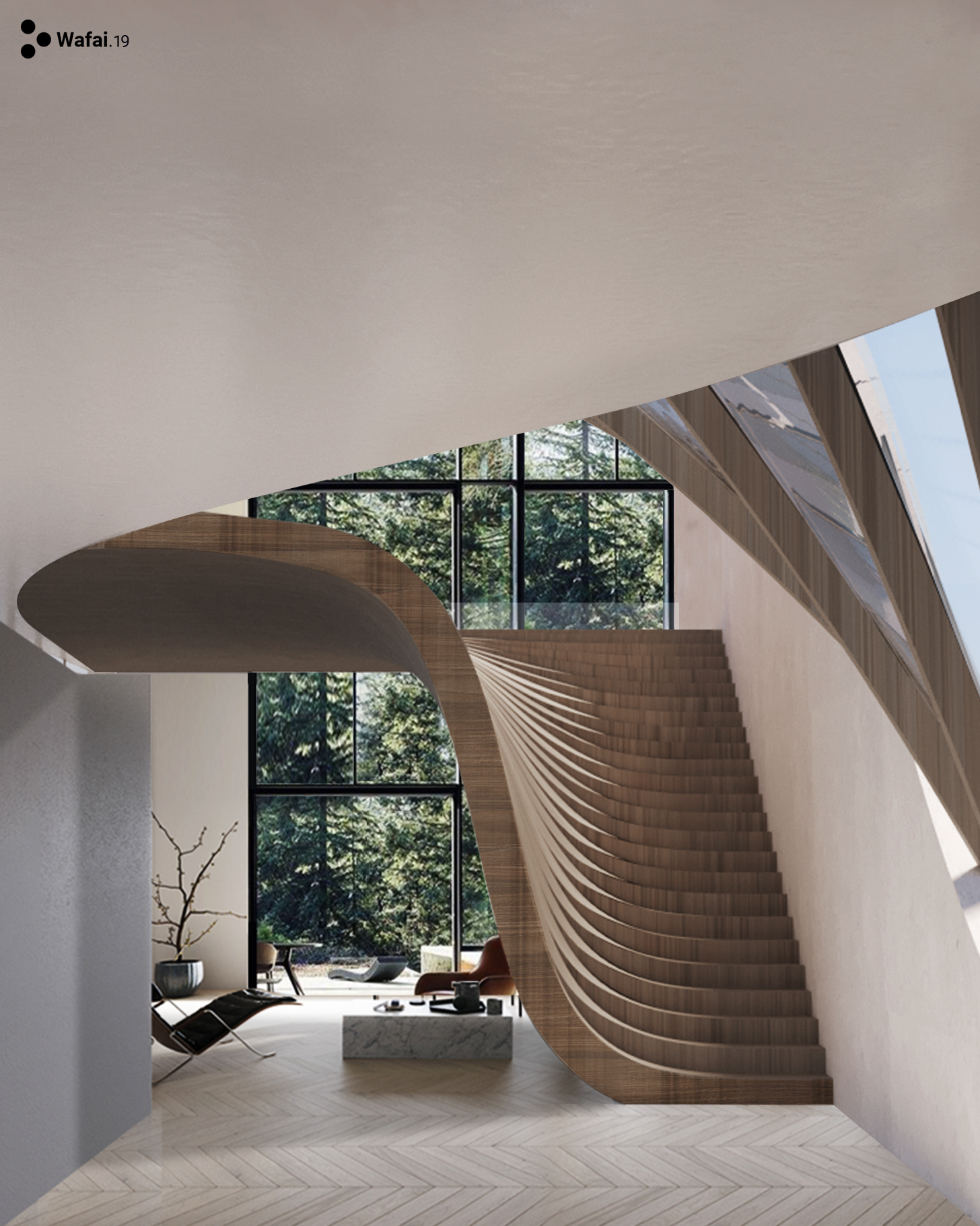 The Dynamic yet cozy interior space imposed by the sculpted wooden stair
---
Architect: WAFAI
Location: Switzerland
Year: 2018-2019
Tools used: Rhinoceros 3D, Autodesk 3ds Max, Vray, Adobe Photoshop
---