AI (Artificial Intelligence), while still evolving, is accelerating fundamental changes to our environment and values in society. AI that utilizes deep learning can possess independent cognition and acquire imagination and creativity like that of human beings. We are already beginning to see experimentation in AI's creative ability through visual and performance art as well as writing.
This competition fosters the use of artificial intelligence as a medium of creativity by allowing entrants to generate images using AI tools such as Midjourney and Dall-E.
Entrants are challenged to create visualizations using AI to complete their architectural narrative.
Arch Hive 2022 AI Architecture Competition Results.
1st Place Winner
Winter Fashion Store by Jenifer Haider Chowdhury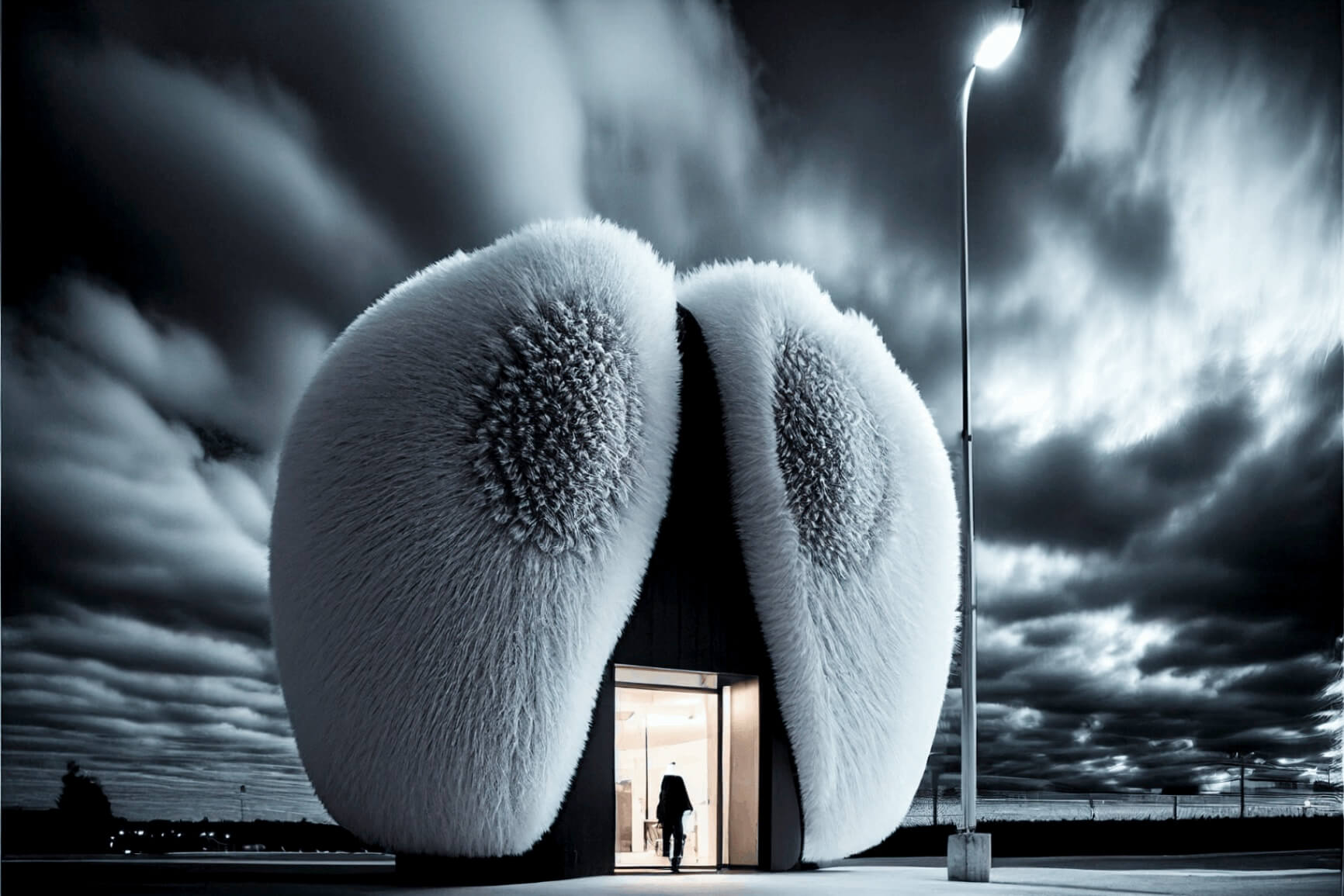 The first thing that comes to our mind when thinking about the winter season or frosty weather is a warm attire like a furry jacket, a woolen sweater, a blanket, or a thick cloak that makes us feel warm and comfortable. So if a store sell these winter attires , the store should represent a warmish vibe in it's architectural features to welcome the customers warmly . There is no need to set up a billboard or model's photo to make this a winter fashion store.
So my idea was that the store could have some interesting features on it's exterior facade like big furry balls or wrapped blanket or woven wool etc. I took some inspiration from nature like a woolly aphid bug's skin pattern, a moth's skin pattern, a dandelion's puffball pattern, black swan's feather pattern and used those in my prompts to generate the ideas. I tried to create a winter architecture that is easy to build, yet fascinating to watch.
I choose the black and white combination because these colors are giving a bold impression and the warm tone light makes the whole environment super cozy
Jury Comment: "Think it was a great example of the level of detail and control you can have with AI image generation. The project illustrated the power of using AI to create a series of ideas/images with a continued style and concept. The designer is clearly in control of the direction, aesthetics and level of detail showing the true potential of collaborating with AI." - Oliver Thomas
2nd Place Winner
The Iceberg Hotel by Steve Brodie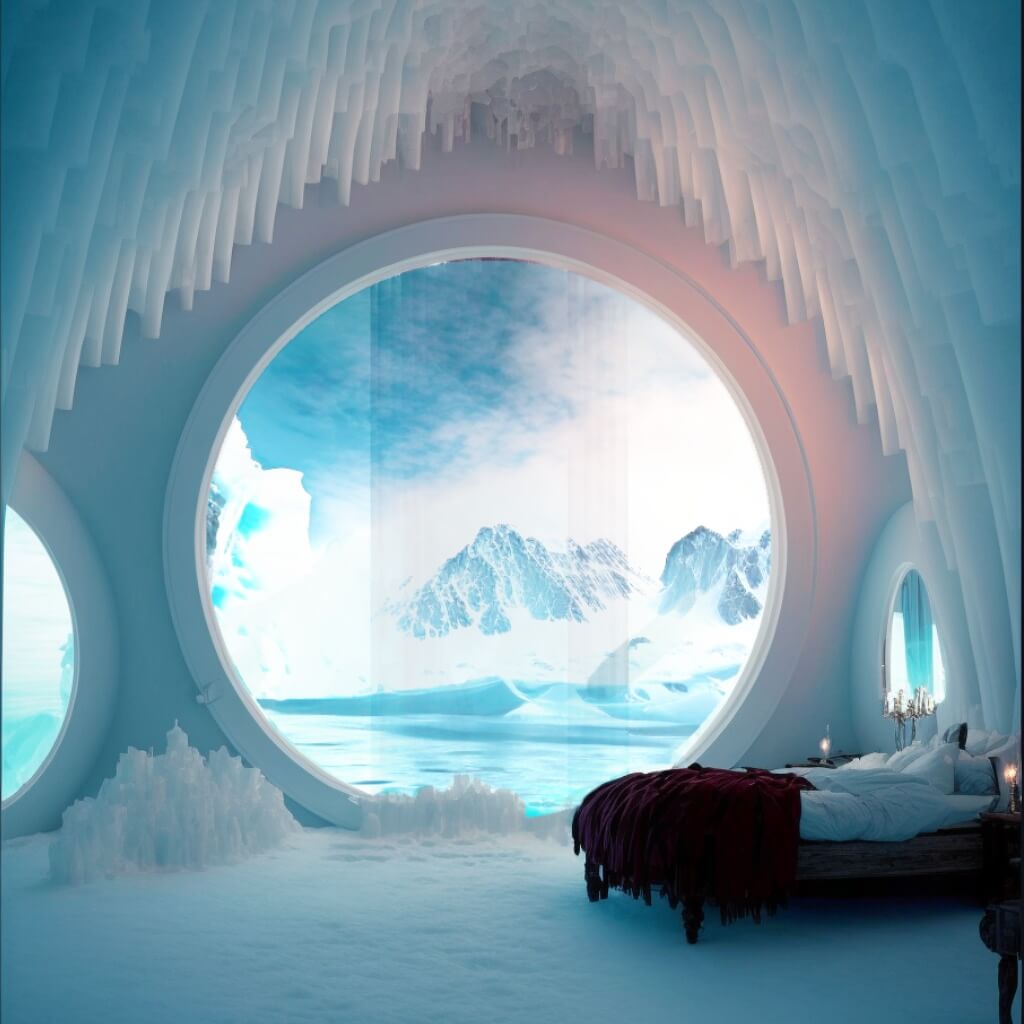 The Floating Iceberg Hotel is a one-of-a-kind hotel experience that moves with the seasons in the Arctic. The hotel is carved into a fresh iceberg, giving guests the unique opportunity to stay inside a natural wonder of the world. The interior of the hotel is designed to showcase the natural beauty of the ice, with a foyer containing a check-in desk, two bars, 40 bedrooms, a nightclub, a retail store, an elevator, chandeliers, and a long scooped ice aesthetic on walls and ceilings.
The hotel features exterior decks for patrons, providing breathtaking views of the surrounding Arctic landscape. Guests can also enjoy a soak in the exterior hot tub, while taking in the icy surroundings. The hotel is powered by two large engines that orient and move it, allowing it to follow the Arctic's seasonal patterns.
Access to the hotel is primarily by boat, with a carved secure dock for mooring boats. The hotel's unique location and design make it the perfect destination for adventurers and nature enthusiasts looking to explore the Arctic in a truly unique way.
The project is more fantasy than reality, but its not an impossible design.
Jury Comment: "The iceberg hotel concept is well executed using a combination of AI generated geometry, thoughtfully inserted furnishings, and tasteful post-production effects. The Amundsen ice bar is beautiful, sophisticated, and inviting. Bedrooms and circulation spaces are simple but elegant. At a technical level, all images are crisp and high resolution. The moody lighting and cool color palette of the images contribute to the hotel's sublime atmosphere." - Mark Wang
3rd Place Winner
Nordic Hotel Design by Mohamad Darkazanli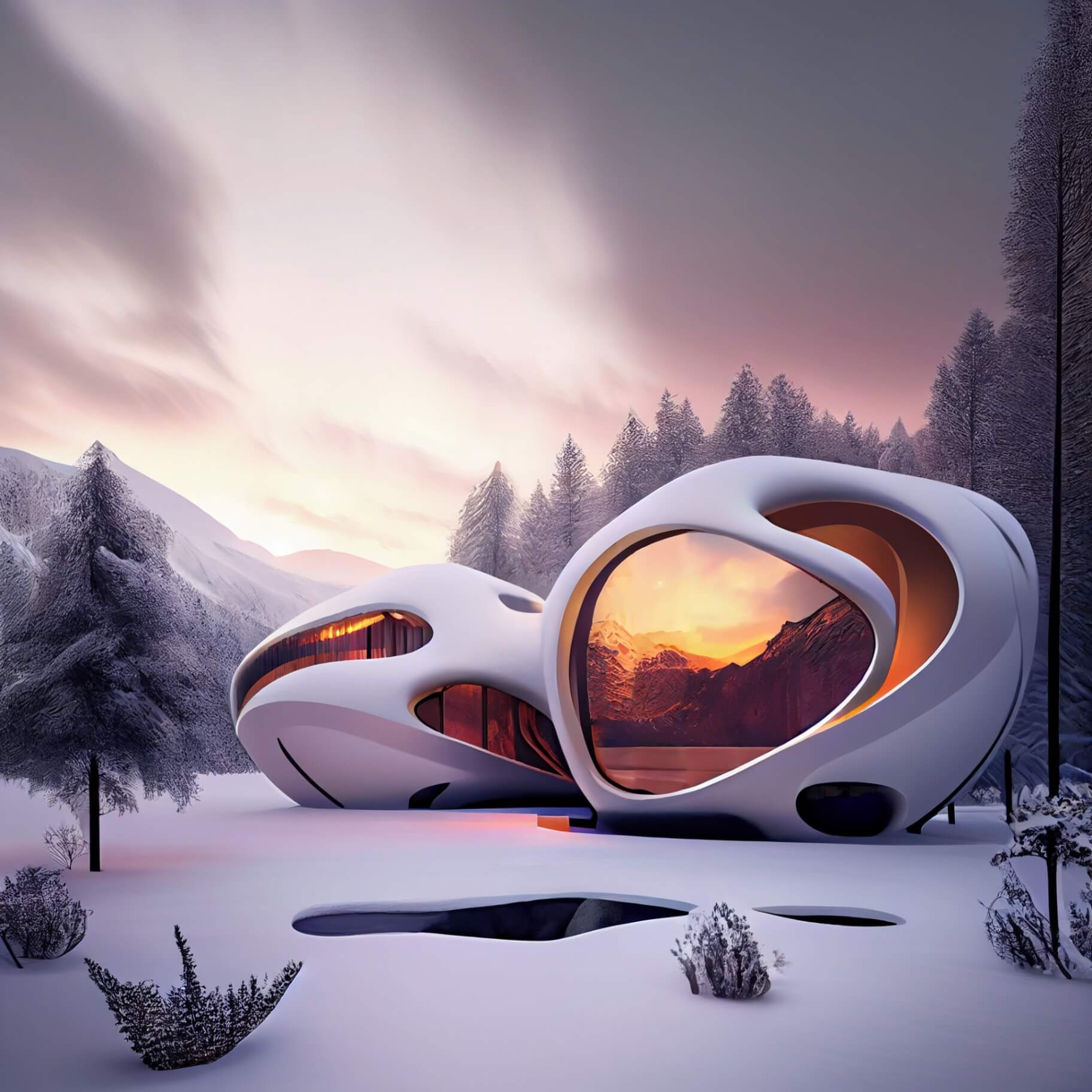 Nordic Hotel is a special form of design exploring different styles that merge with mountains and snow landscapes into harmonious compositions. It is combined with the Scandinavian mountains and organic architectural language into a unique experience.
Jury comment: "This entry goes to show that AI can be used to extend human imagination and conceive original and feasible geometry for architecture. The project is well executed and interior images are atmospheric and convincing. It is not difficult to imagine how these images can inspire built projects in the near future." - Bennett Oh
---