'The office experience' redefined by Earthitects. Using local labour to fabricate almost every single piece of furniture in-house, we have crafted tables, seating, workstations and lighting–all from "wood which no one else wanted." The design of the workspace follows organic curves rather than rigid lines and right angles, so it suffers little from the inevitable variations which occur in handmade craftsmanship. The building blocks are nature's materials—much of the wood is live edge, procured from timber yards where it had been lying in the open for years, naturally weathered by the sun and rain. "The owners were happy to get rid of it.
AVID CONCENTRATION – AIR PODS
The 2,400 square-feet is with a linear footprint is awash with natural light through the bank of windows on one side. "Promoting flexibility and interaction while still confined to one's own space, the ceiling hung 'Pods' have their own controllable light and storage. They are also used as spaces to quickly jot or write down ideas or information. With focus on user engagement, the open workstations encourage collaboration and team spirit." Sliding doors between cabins create expansive, multifunctional spaces during large meetings and interaction. The marketing spaces are open and interactive.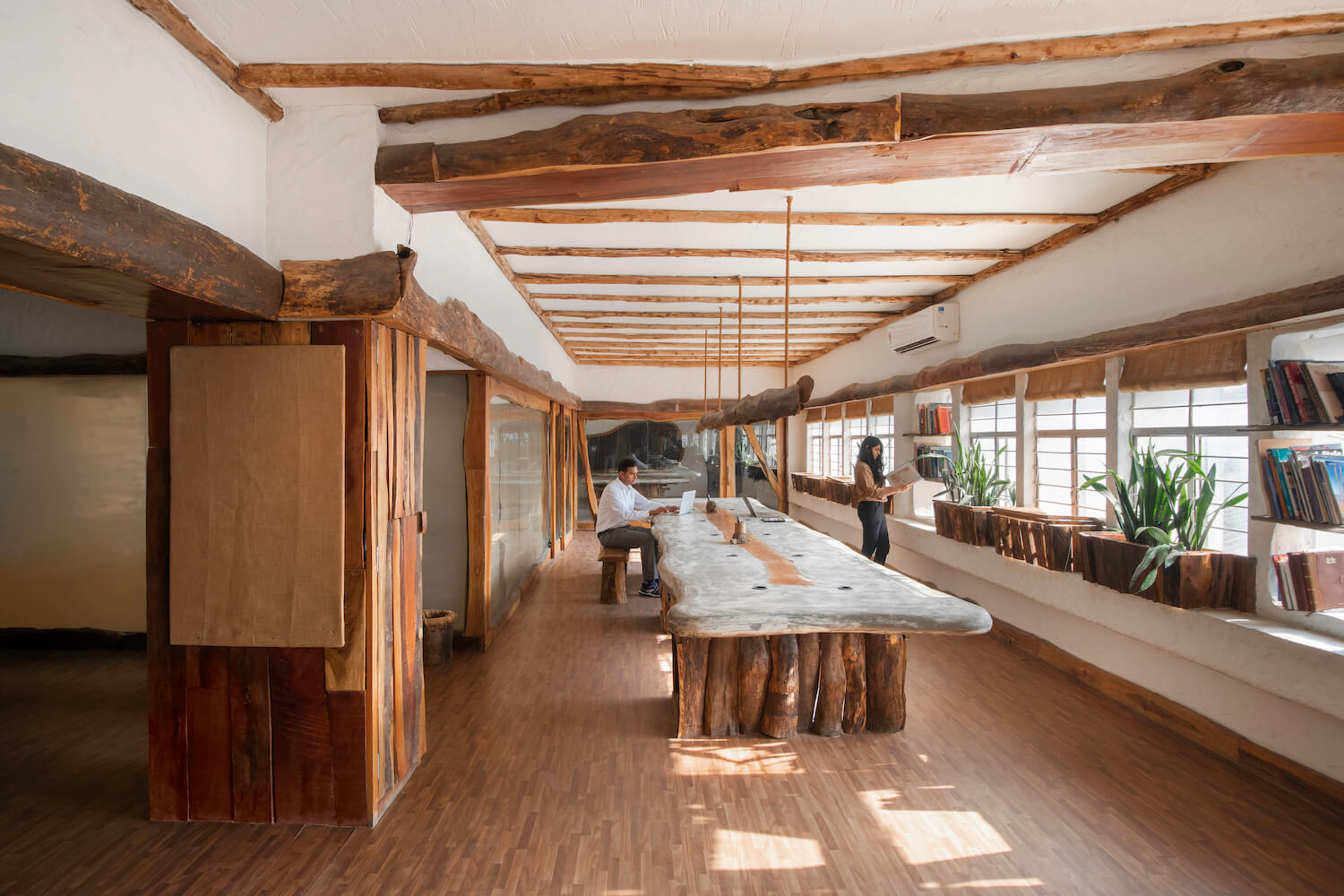 The constant evolution and innovation in any design we undertake, led us to take a fresh look at workspace design. Taking a new turn in workspace design, this extraordinary design aligns perfectly with our Brand Values of Sustainability and Care for the Environment.
The organic, open workspace sustains high performance, work patterns, and workforce measures such as engagement, wellness, and efficiency. This People-Centric office portrays natural materials and its unique design ensures every user is immersed in a luxurious and natural spatial experience!
REDEFINING THE OFFICE EXPERIENCE
With Offices evolving constantly, we took a new turn in the way we designed our workspace. Keeping our core values, sustainability and the environment in mind, our people-centric workspace is crafted from nature's materials and is an experience in itself, like none other!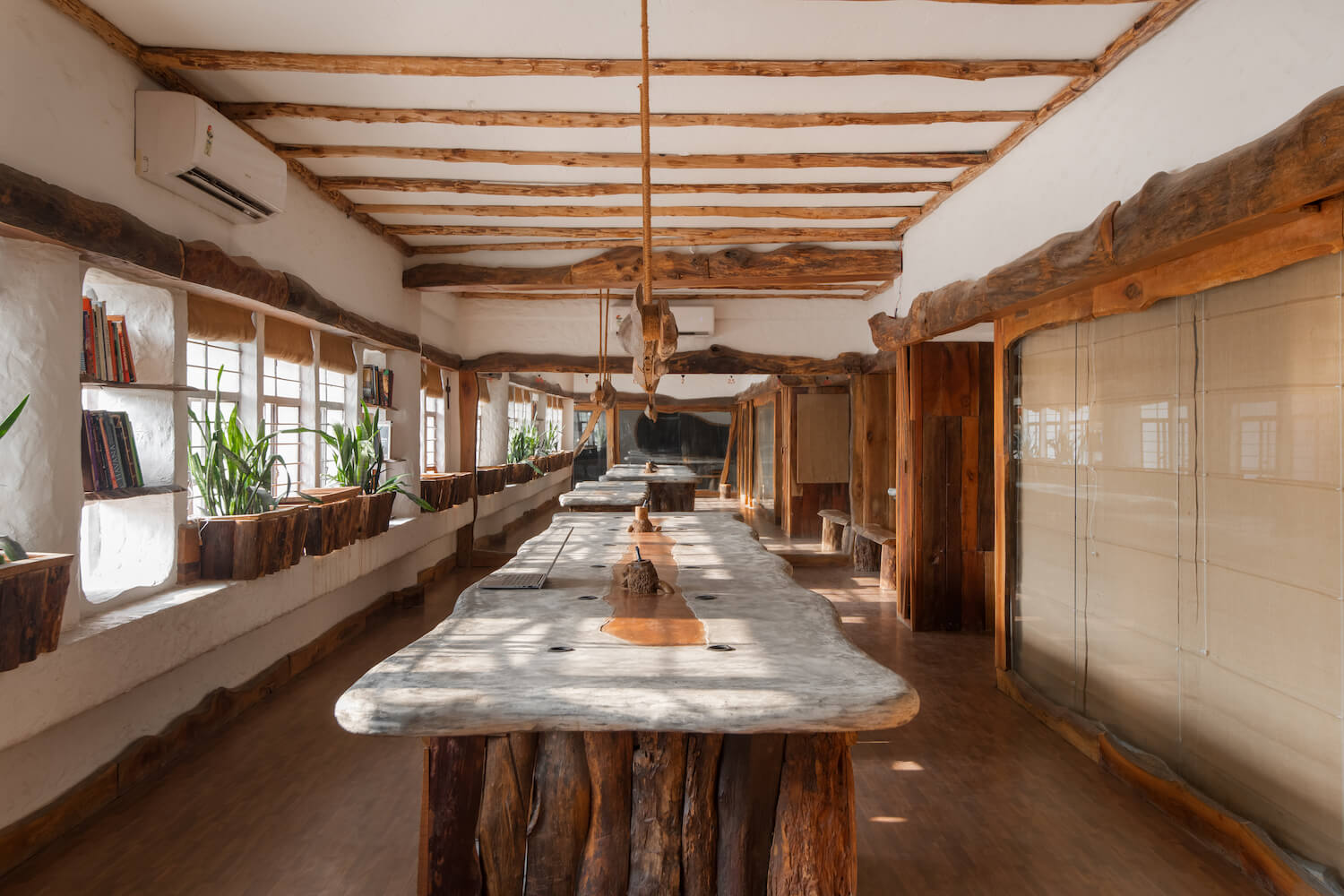 INNOVATION MEETS DESIGN
Design Follows Philosophy
Our organic workspace sustains high performance, work patterns, and workforce measures such as engagement, wellness, and efficiency. Keeping the design aligned with our goals we have created an environment where the design communicates the brand's values and philosophy.
Transform
A flexible work space is created in order to increase usability of the area based on function and number of people thus transforming public spaces to a private setting.
Space is Luxury
To inspire collaboration and promote well-being, (an enduring state that encompasses wellness of mind and body, leading to productive, engaged, and healthy employees) with ample natural light pouring in, to create the most sustainable work environment.
Cross Functional
Cross functionality is achieved by implementing multi-functionality within the work environment which is a smart design creating more utility per square feet.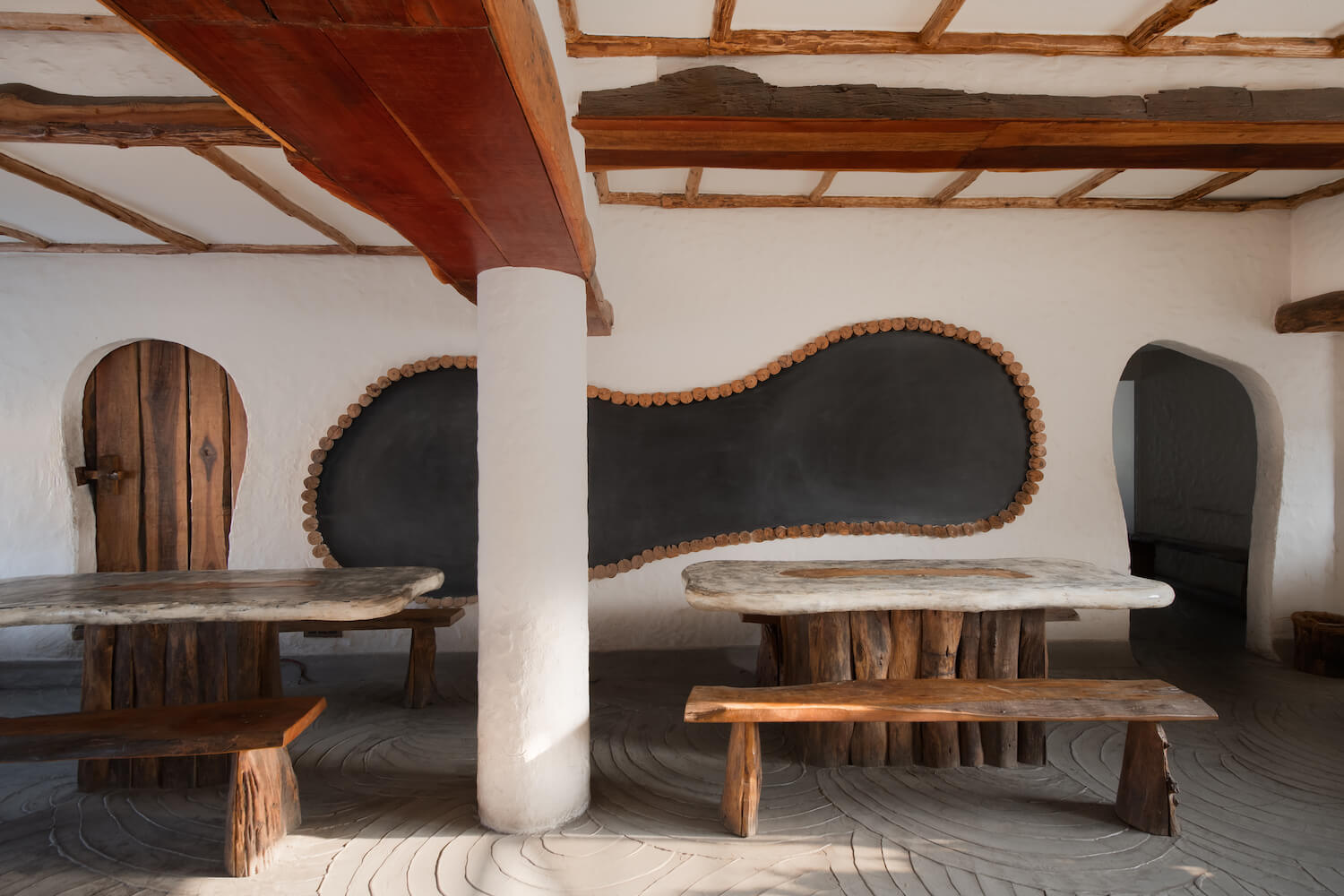 DESIGN
The concealed lighting is through wooden poles crafted with precision encasing their source of light. Sliding doors between cabins create expansive and multifunctional spaces during large meetings and interaction. Created from up-cycled live edge wood, the storage spaces seamlessly blend with the elements of the workspace.
Grains and Textures of wood are brought together. Carefully stitched faux leather pods are combined with Eucalyptus poles and jute create a splendid contrast. Pieces of wood with its natural live edge is used for door frames, door handles and storage.
MATERIALS
Grains and textures of wood are brought together, with the carefully stitched faux leather pods juxtaposed with Eucalyptus poles and jute to create a contrast. The Eucalyptus wood contains oil which protects it from infestation. Pieces of wood with the natural live edge are used for door frames, door handles and storage. Reclaimed wood and teak joinery portray the striking grain of natural wood all around.
To allow openness without compromising on privacy, glass partitions the cabins and workstations.
The space seems endless and larger with the use of mirrors where important information can also be jotted down.
The fixed seating proves to be a great defensive design element.
The walls are perfectly textured showcasing a specific aesthetic unique to Earthitects.
Carefully stitched faux leather in chairs and tables promote cruelty-free luxury creating a comfortable working environment.
Every detail, fitting and furniture is envisioned, designed and crafted by Earthitects thus making them unique to us.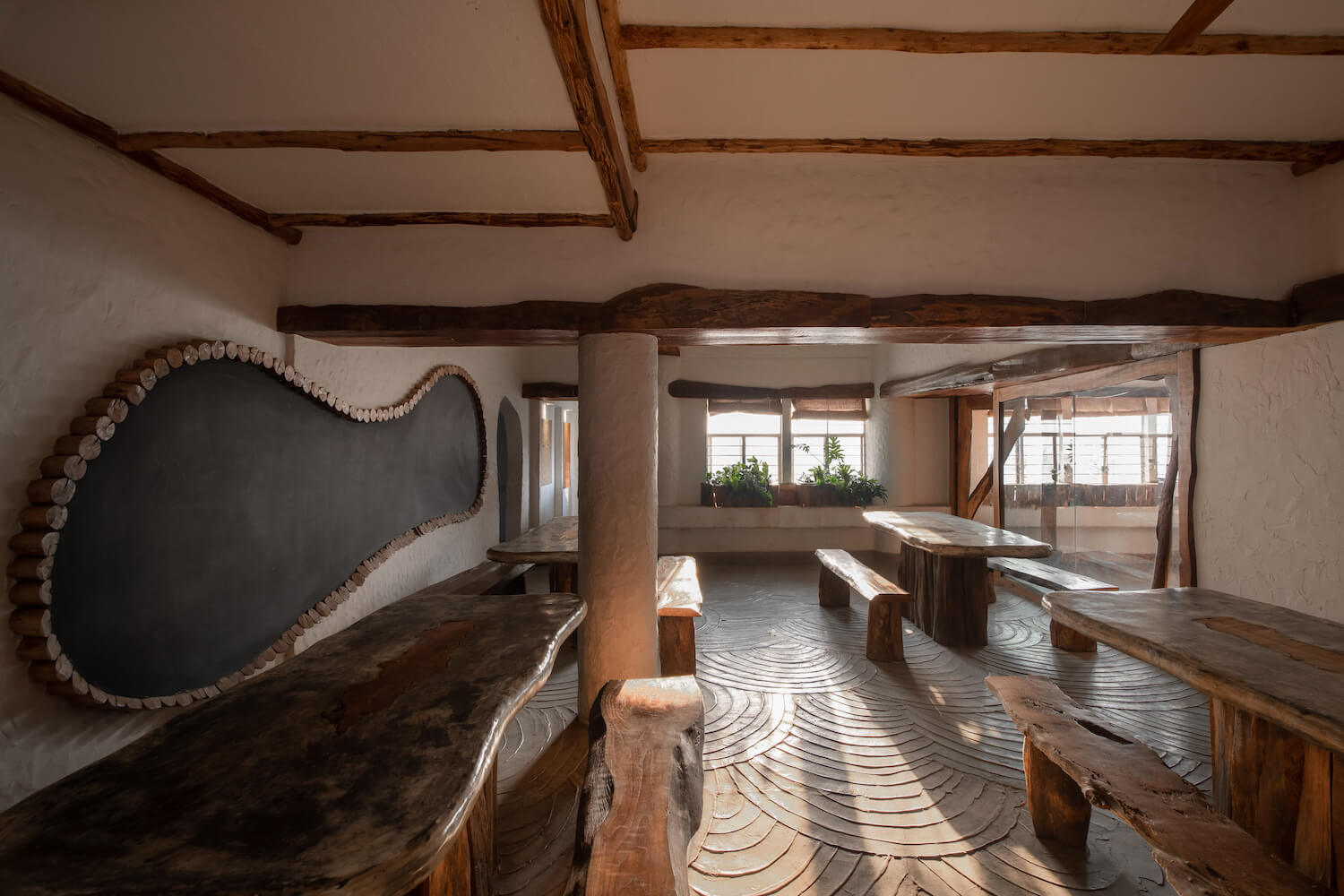 Redefining Workspace Design
With Offices evolving constantly, we took a new turn in the design of our workspace. Our passion for Extraordinary Design and Exquisite Craftsmanship, along with the strive for excellence in everything we create led us to envision a workspace that facilitates a new lifestyle.
Crafted from reclaimed wood and eucalyptus poles, every intricate detail delineates nature in its purest form. Designed using upcycled live-edge wood, the storage spaces blend seamlessly with the earthy palette.
Portraying the perfected Earthitects craftsmanship, faux leather carefully sewed on the pods and tables contributes to a cruelty-free environment.
Inspiring collaboration and wellness, the organic space is designed to sustain high performance and efficiency. With sustainability and the environment in mind, our natural workspace is an experience in itself.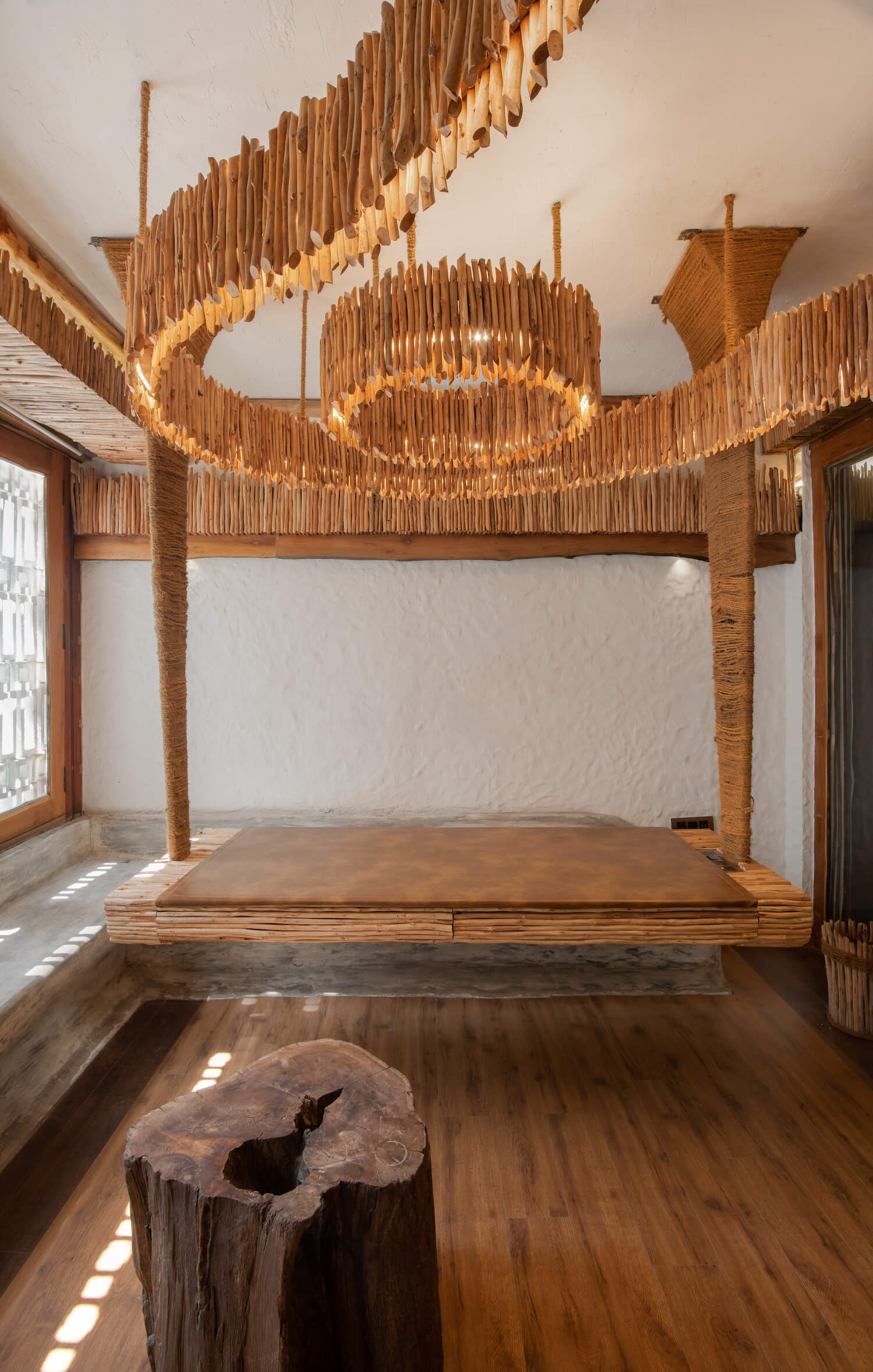 Inspiring a New Workspace Experience - Open and organic Workspace Promoting Efficiency and Engagement – Crafted from Natural Materials and keeping the environment in mind, every detail in the Workspace is customized for the user. The Marketing Space is open and interactive while the Sales space has hanging Natural Pods made from poles and Faux leather that promote user interaction as well as privacy.
Pushing the limits of Innovation with Nature in every inch, our hanging Tables and pods are steady and can take a lot of loads. With attention to detail in every creation of ours, our people-centric workspace is filled with intricate details that showcases our keen eye for detailed design and innovation.
Bespoke Design customized as per the user. Natural Pods for our Sales team and Open Tables for our Marketing Team. The storage spaces are crafted with upcycled live edge wood while maintaining the wood's authenticity.
The lighting fixtures from the ceiling emanate light without the source being seen. The organic layout of the tables breaks the conventional planning of office spaces bringing a new dimension to Office Design. The cabins are open with glass thus promoting an open and inclusive office environment. Manager's Table with understated Faux leather, Poles and Wooden Legs - Designed and crafted by Earthitects.
Within, there's very little furniture on the floor. Most of it, including a row of "pods" are suspended from the ceiling, leaving the floor level free for the staff to stretch their feet while seated at a work station. "Since the space is also used as a sales office, they're on the phone for many hours every day, so it made sense to offer the comfort of extra legroom. "The CPUs are placed behind the monitors, the low decibel white noise which they generate serving to mask conversations at adjacent work stations."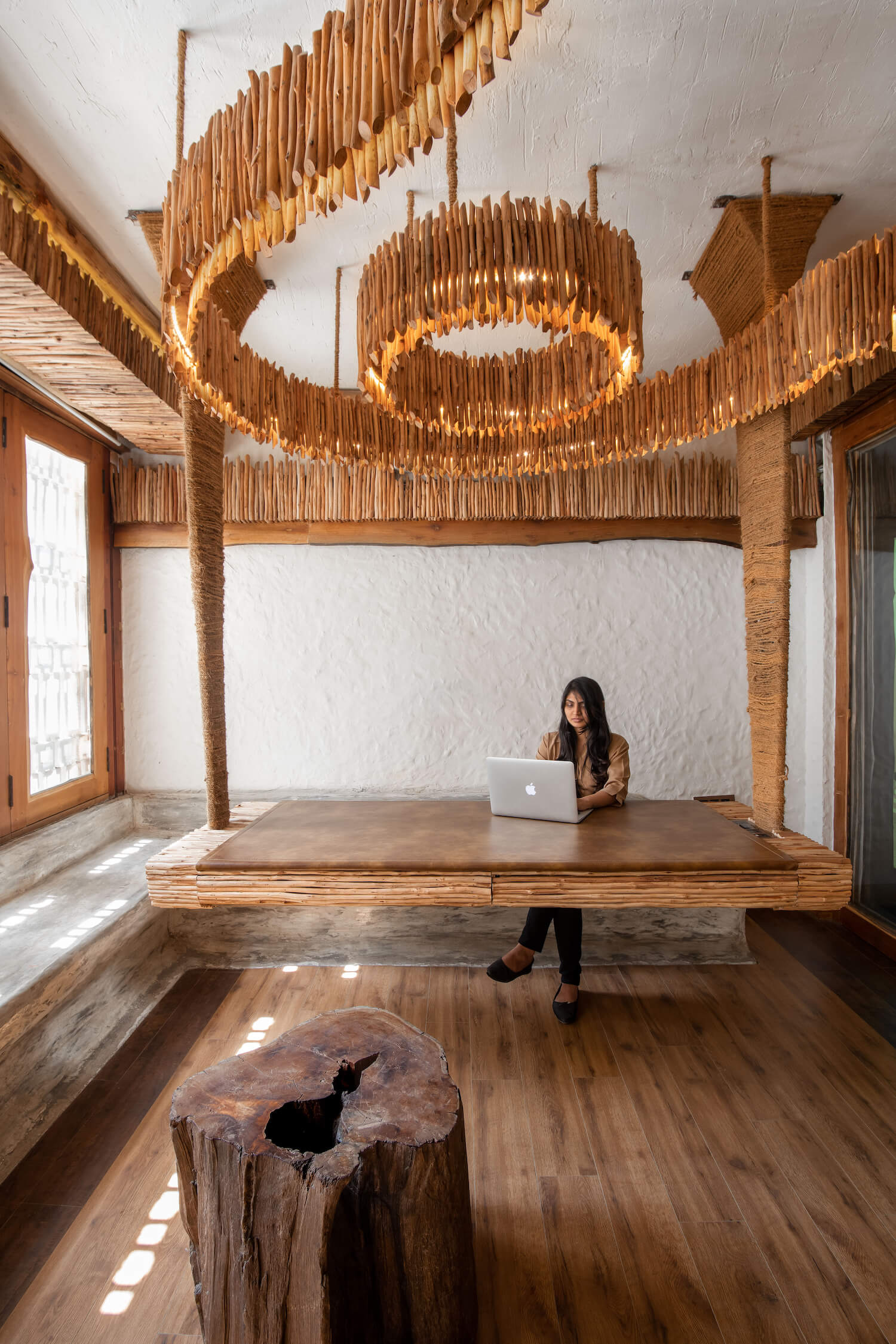 Meet and Greet Space - A mulitfunctional space for Large or Small Meetings with a Hanging table innovated and crafted by Earthitects. The Meet and Greet is perfect for both Small and Large meetings due to the design of the Seating.
We subscribed to Defensive Design, the practice of planning for contingencies in the design stage of a project or undertaking. This reduces human error and other risks by anticipating them and designing them out, including influencing behaviour through design. "The design of the entire office is based on productivity. In the cafeteria, for instance, the seating is not ultra-comfortable." Similarly, in meeting areas where someone may realize a long meeting is not reaching any conclusion, the concrete seater enables a quick, graceful exit by the user.
Detail of our Concealed Lighting. All light fixtures used in the space are crafted from Eucalyptus poles following the organic architecture. The details are in such a way that the source of the light is not visible to the eye. Soft and Warm Ambient and task lights help in creating a soothing environment that calms the mind and is not too harsh on the eye facilitating the wellness of the mind and body. Our signature textured walls contrast the warmth of the wood all around. Reception and Seating with our signature Bole Center Table.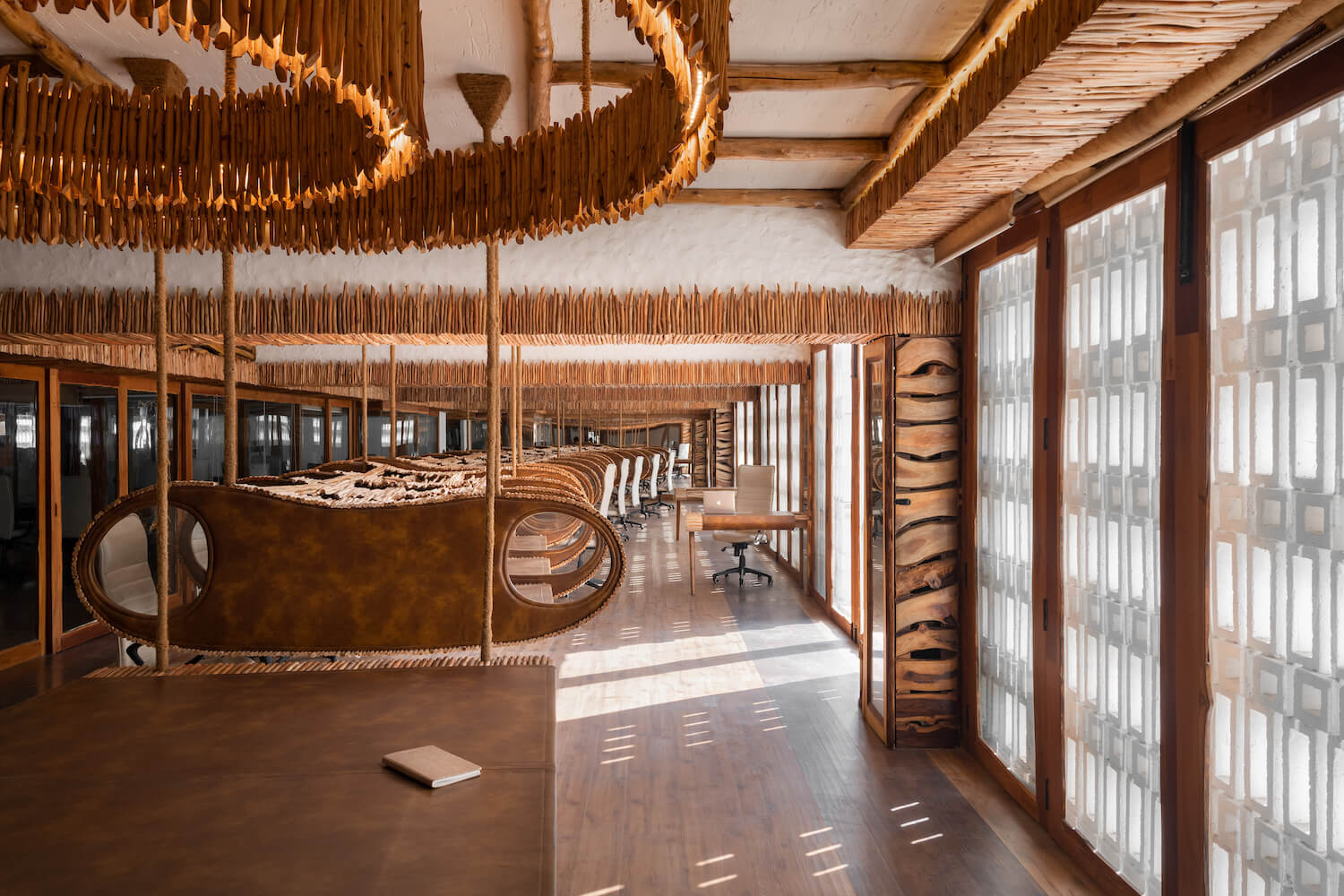 Earthitects' creative space with upcycled live edge wood which had been discarded, to be used as firewood. This is where the architects design their creations, the Eucalyptus poles in the ceiling concealing the source of light to cast a soft ambient light in the workspace. The task light is concealed in the live edge wooden poles that are hung from the ceiling. "I did a stint with a lighting company after I studied architecture. I noticed that a great deal of effort goes into concealing the source of the light. International brands have great engineering, and their fittings can double for art or sculpture. I've tried to replicate that effect with local materials," -Ar. George E. Ramapuram.
Showcasing the materials of the Earth, even the notice board is made from jute to tread lightly on the environment. Cafeteria with Waste wood and flooring inspired by the Cow Dung flooring pattern in traditional villages. Textured white walls complement the wood and organic openings in the space.
In the circulation spaces, the flooring bears a pattern reminiscent of cow dung whorls used as a finishing treatment for surfaces in village construction. Under the workstations, the ridges in the pattern would have hindered movement of the wheels on the chairs…but in corridors and the cafeteria, we get by without it causing an issue.
Corridor with Cow Dung inspired flooring and Natural Jute Noticeboards bespeaking a Sustainable and Natural Workspace. Warm Lights throw light on the textures and patterns. We have designed an office in line with the vision and beliefs that we share with Evolve Back, to make a comfortable shared workspace. "This office is like a part of the resorts offered by Evolve Back. There is a merging of values". The upcycling of materials, going back to roots—this is what we are about. The design of this space communicates the very philosophy of the brand."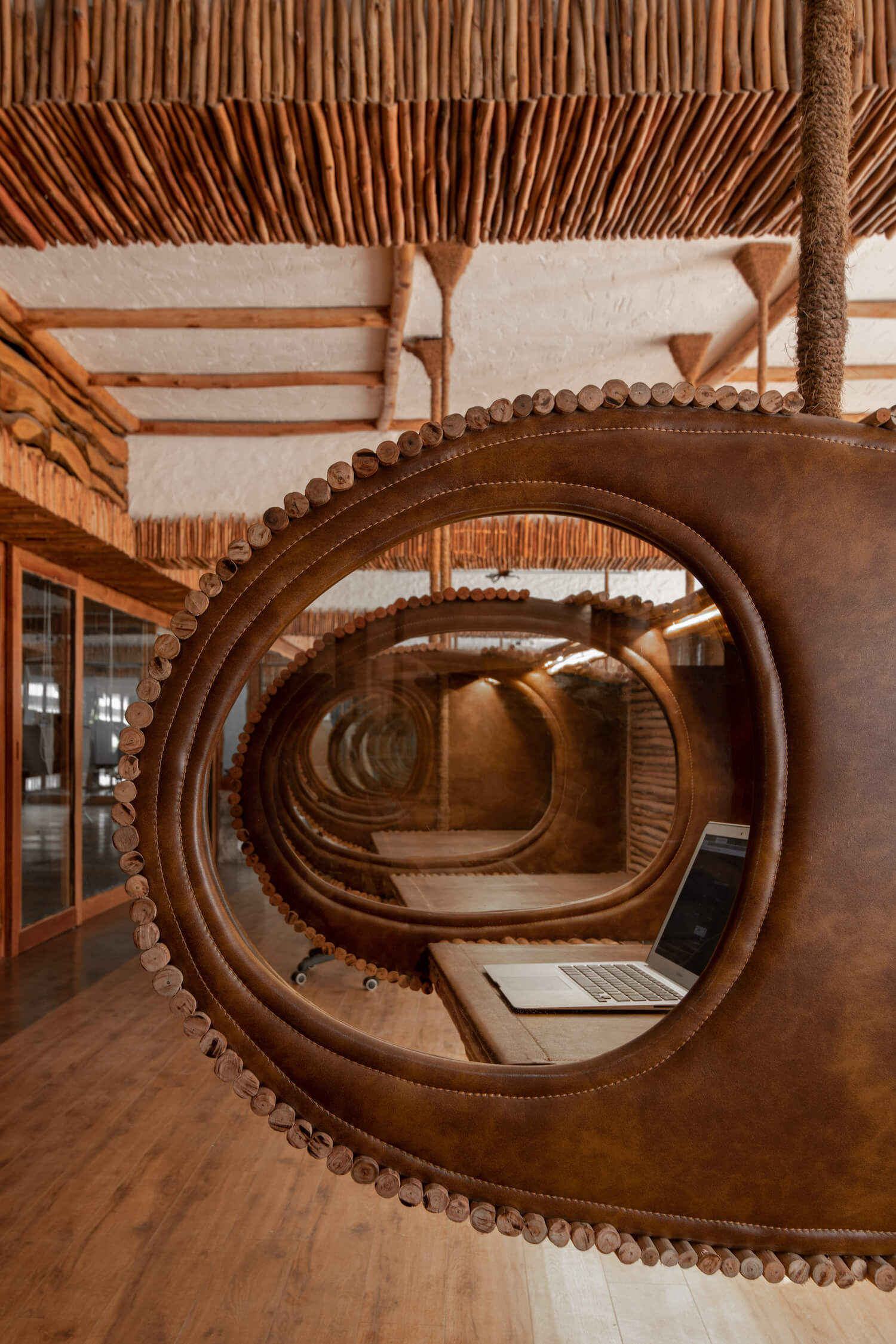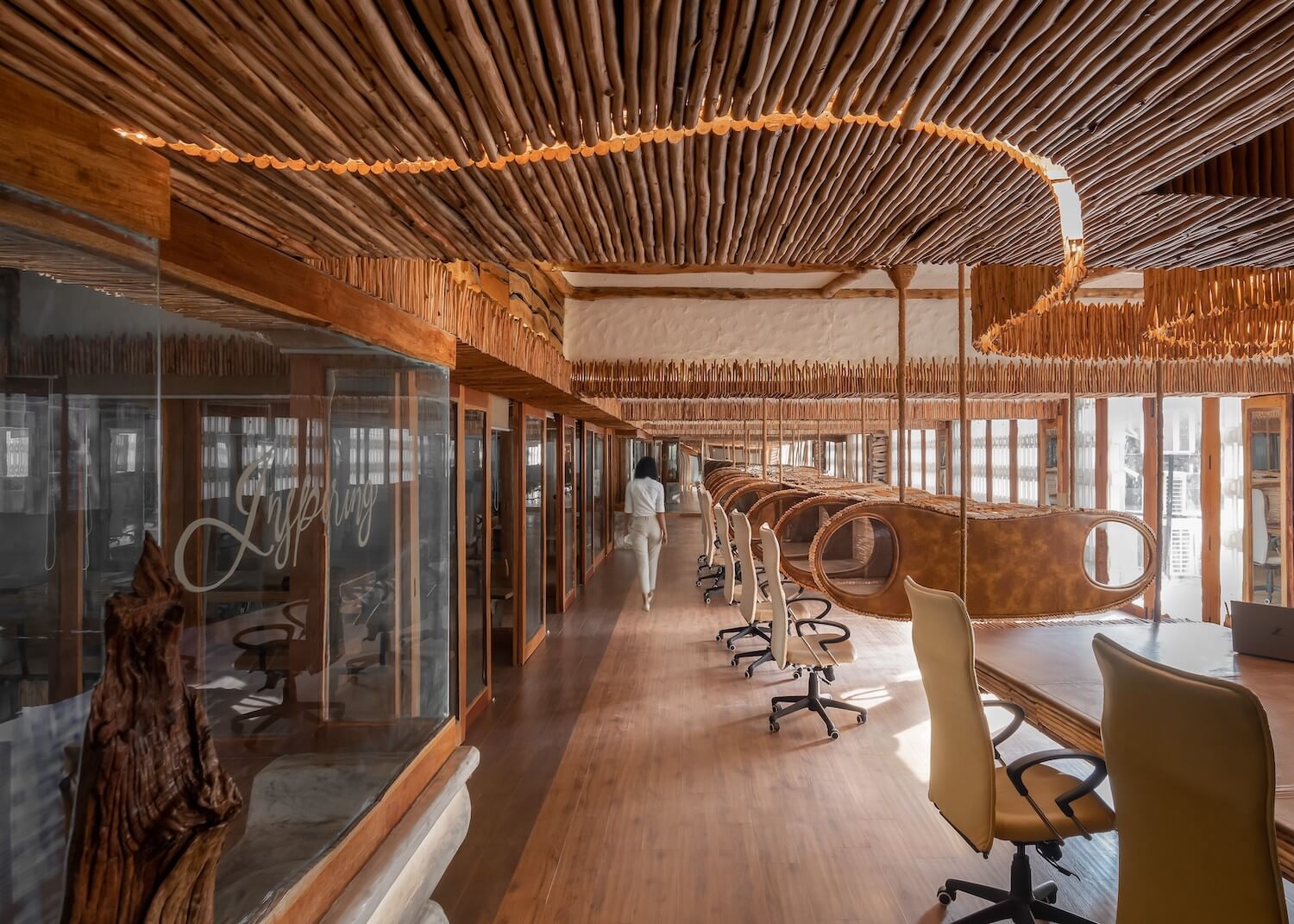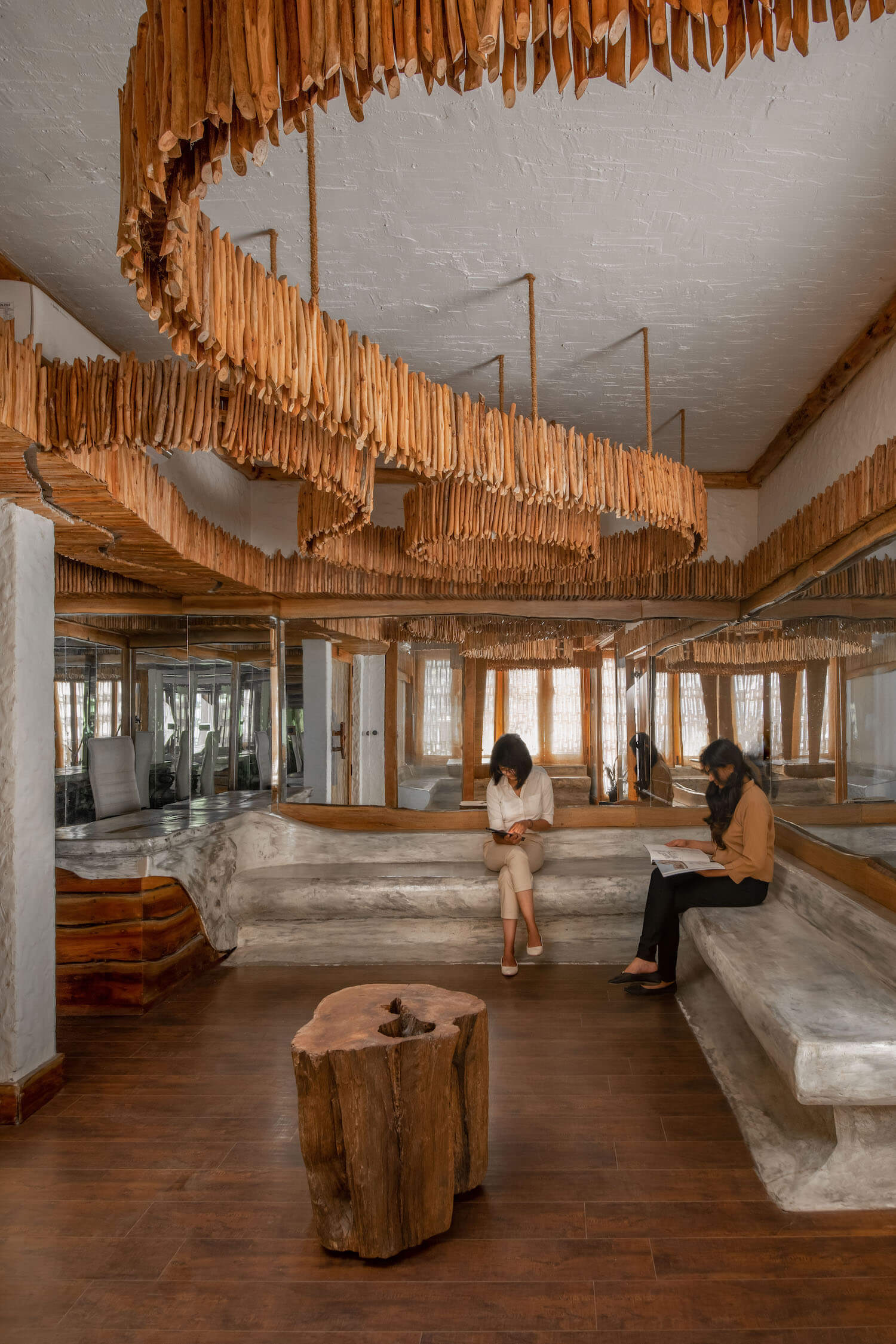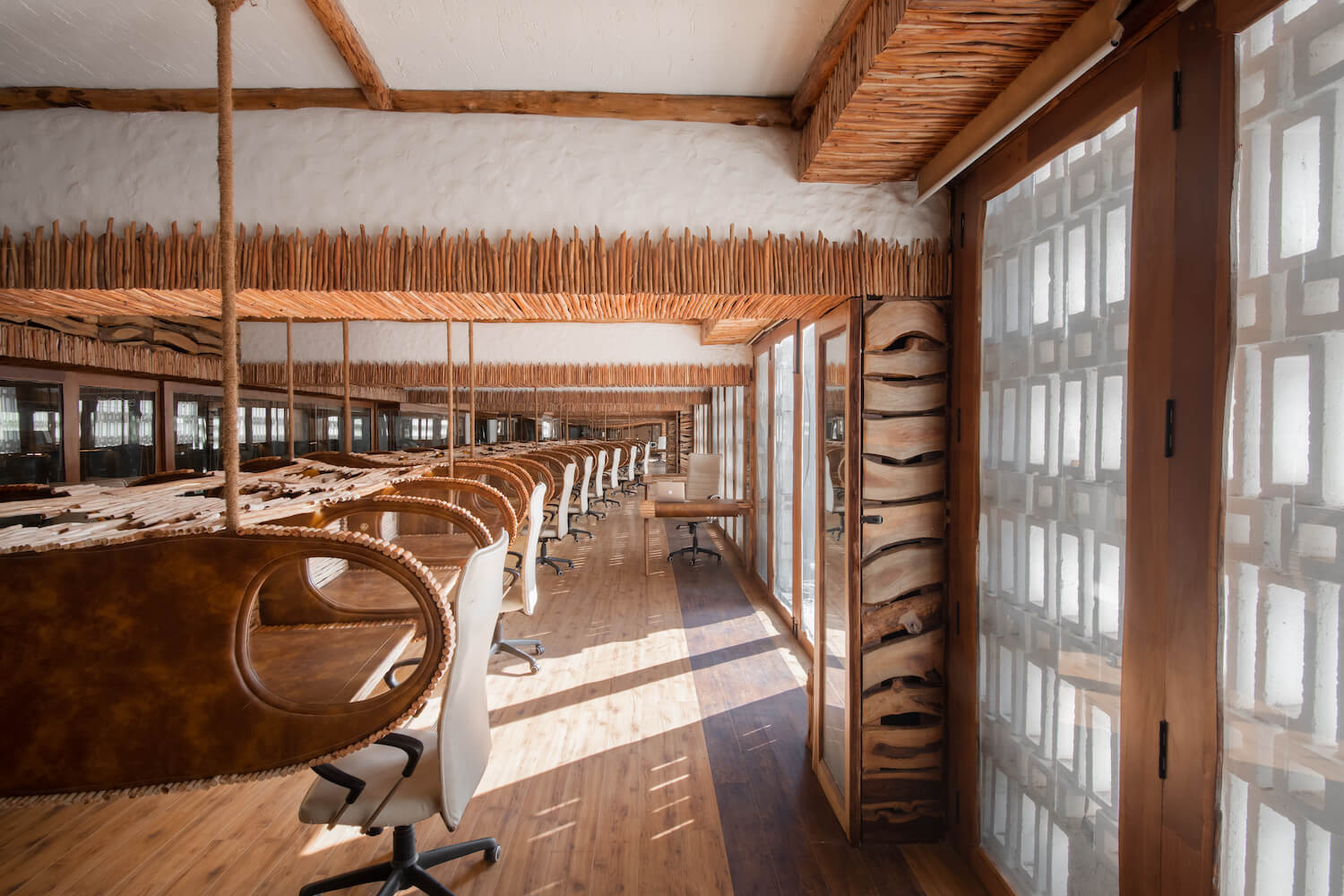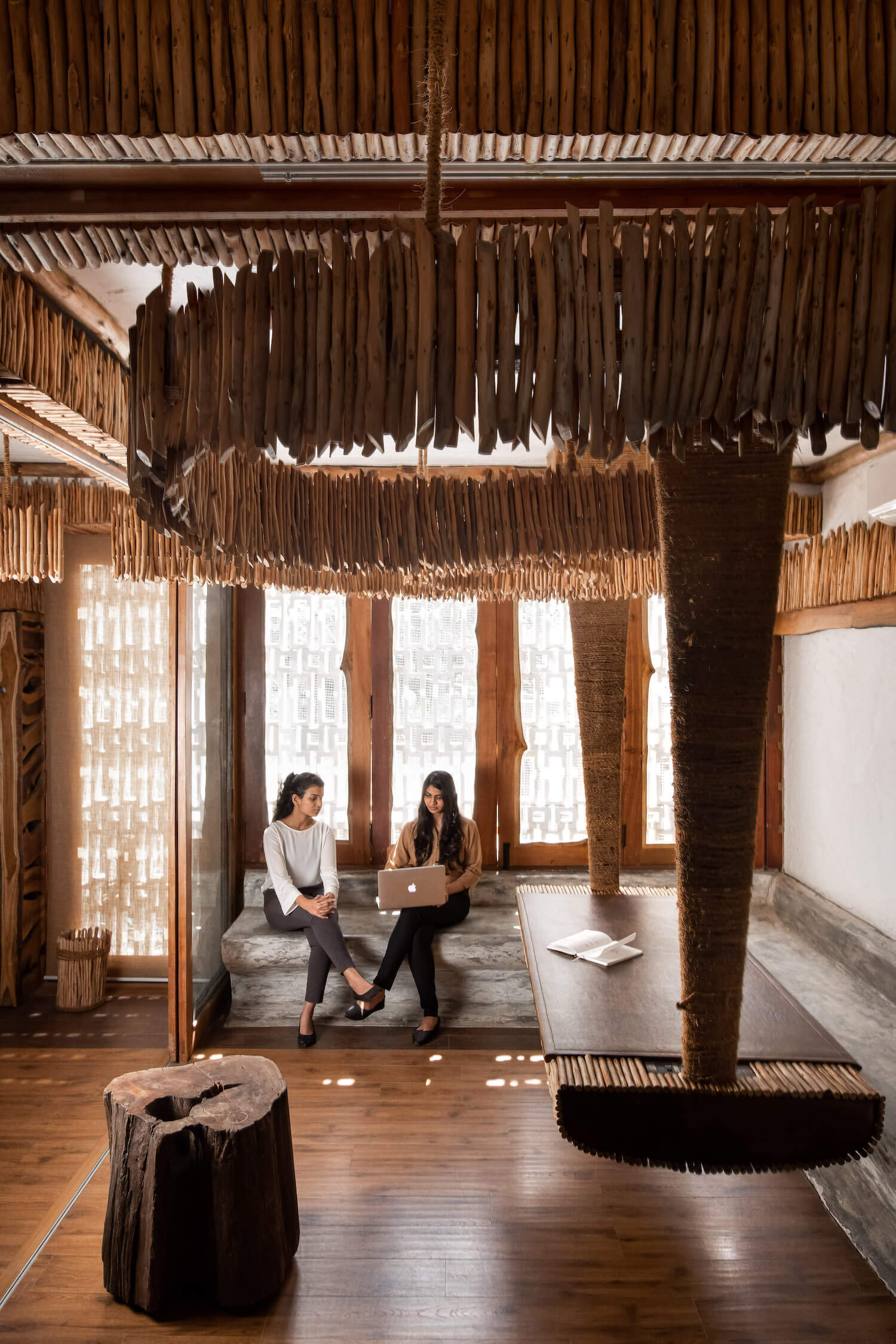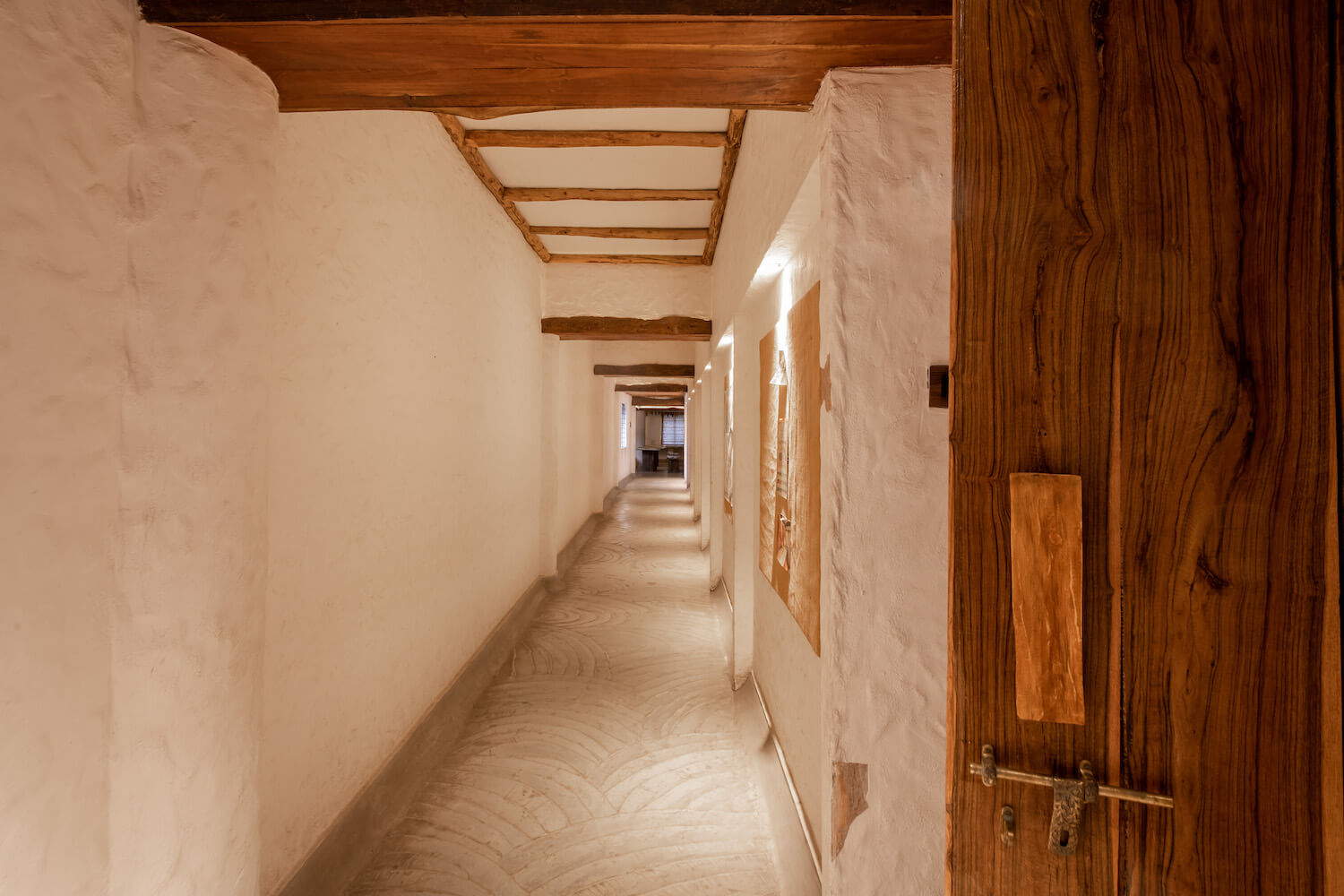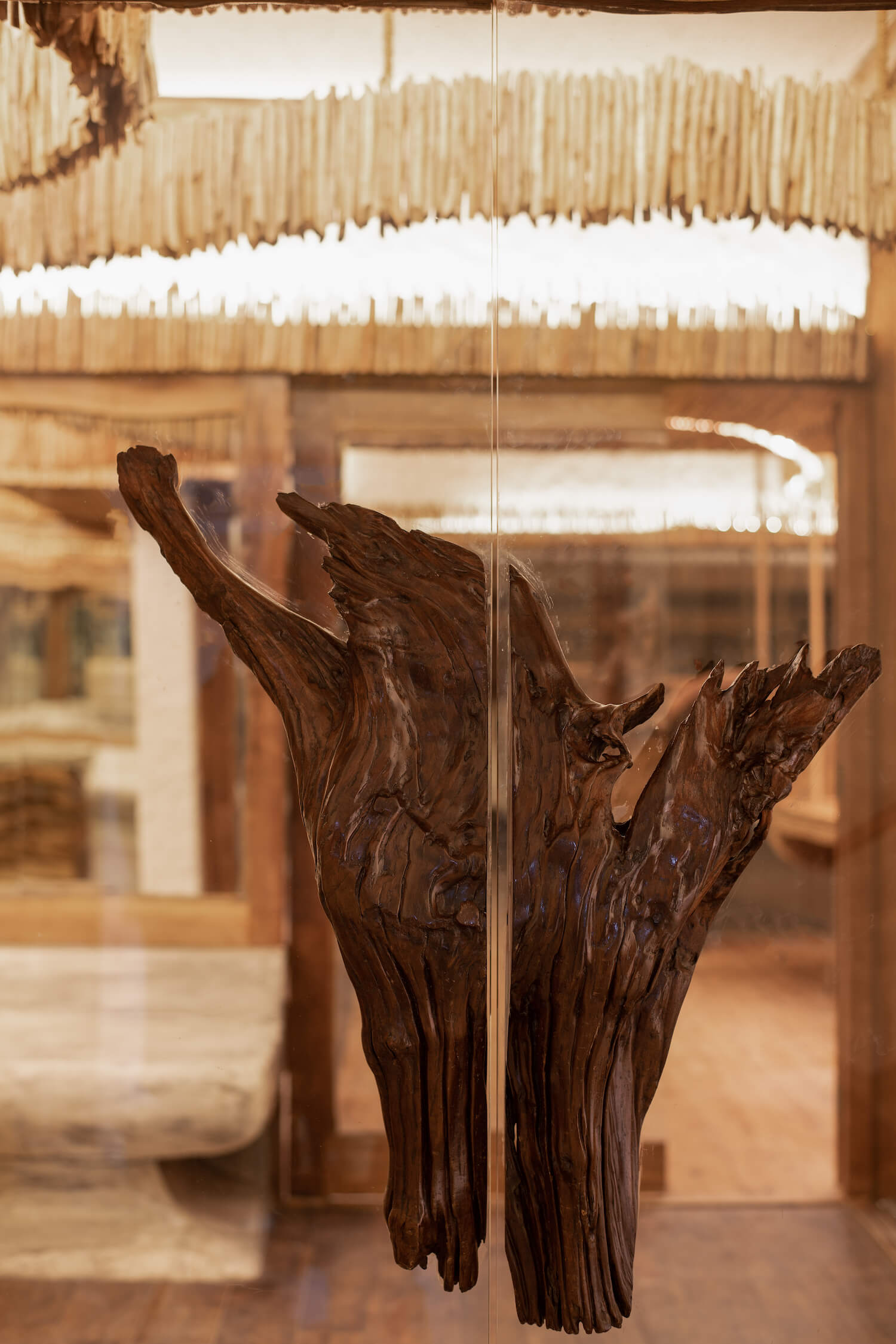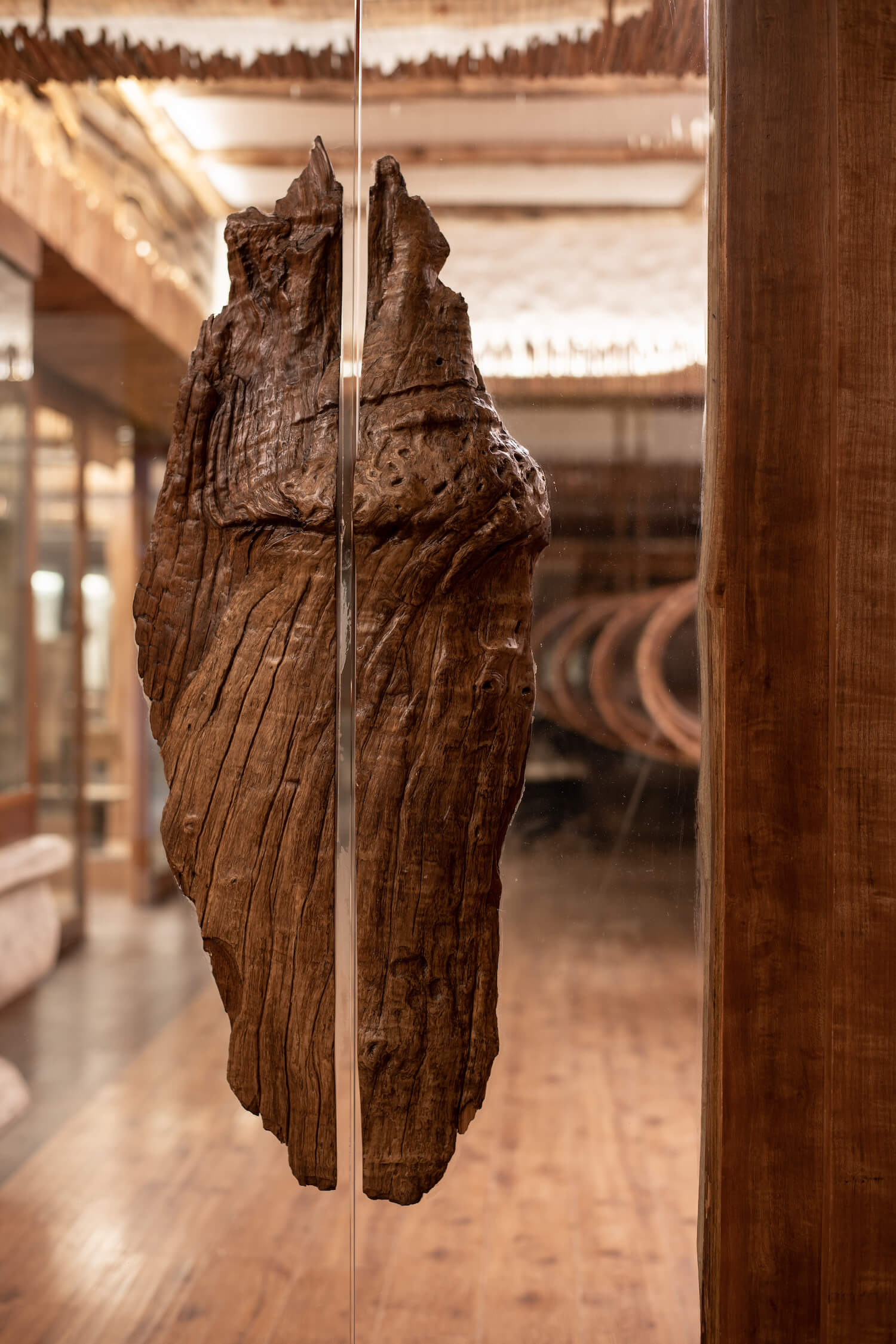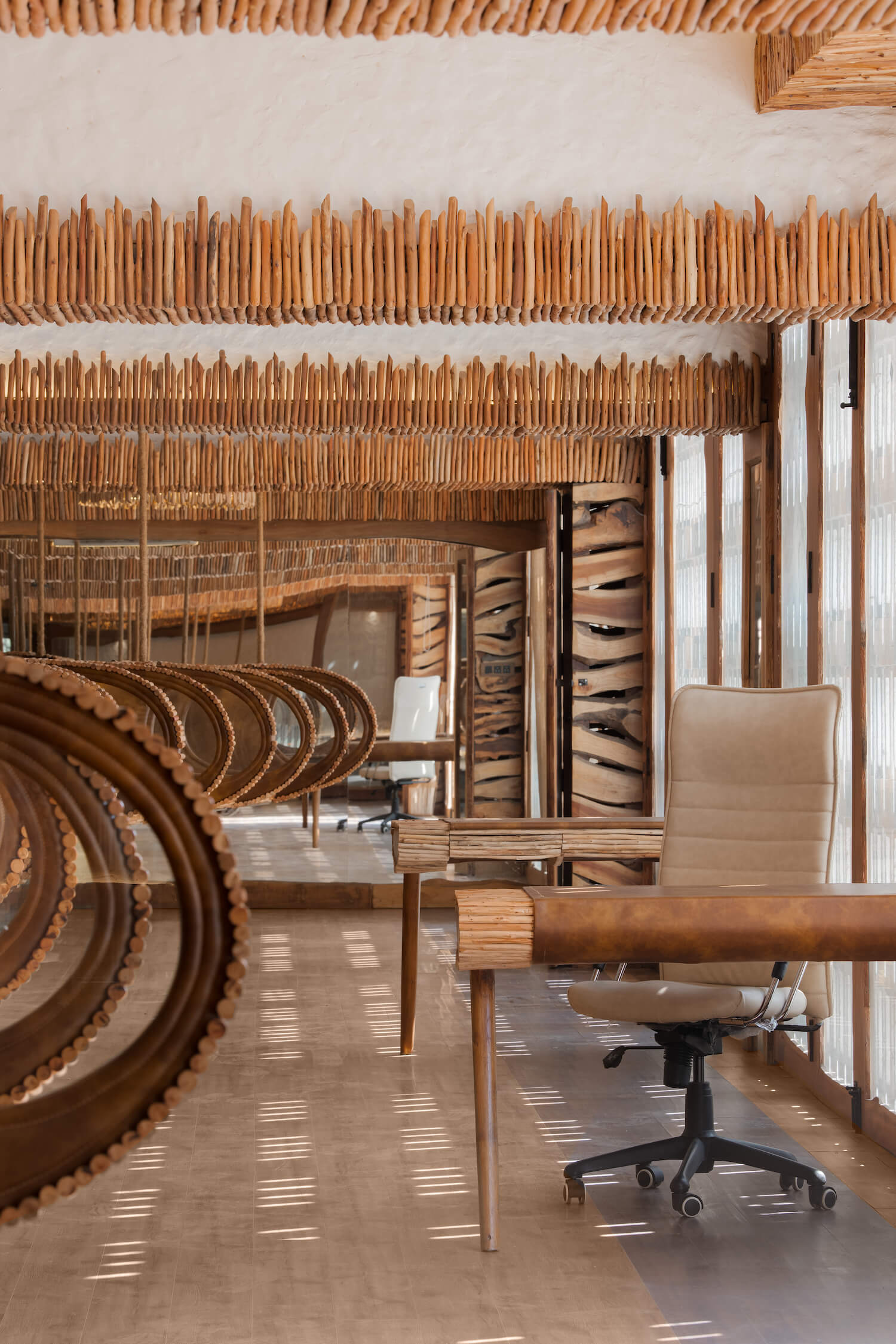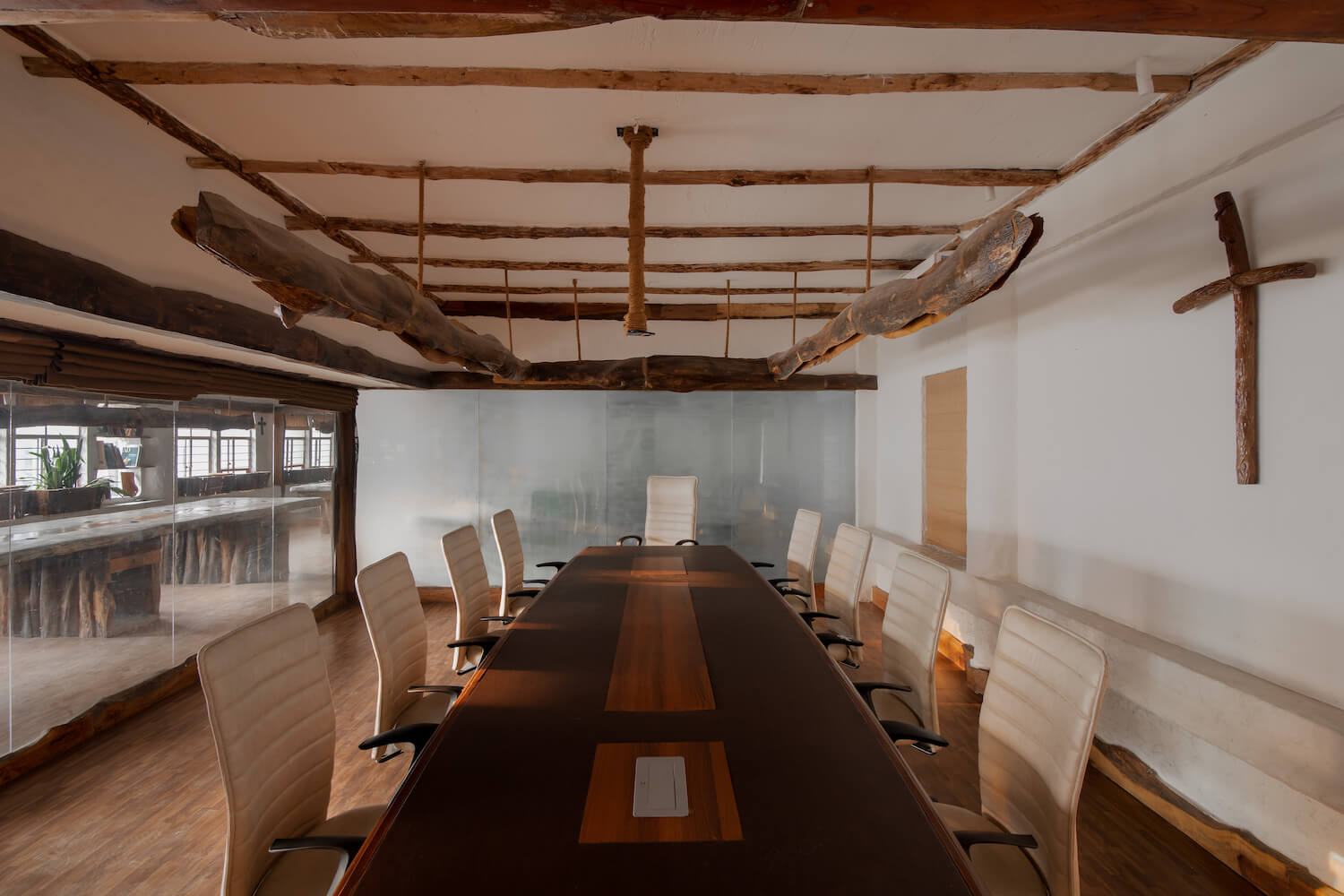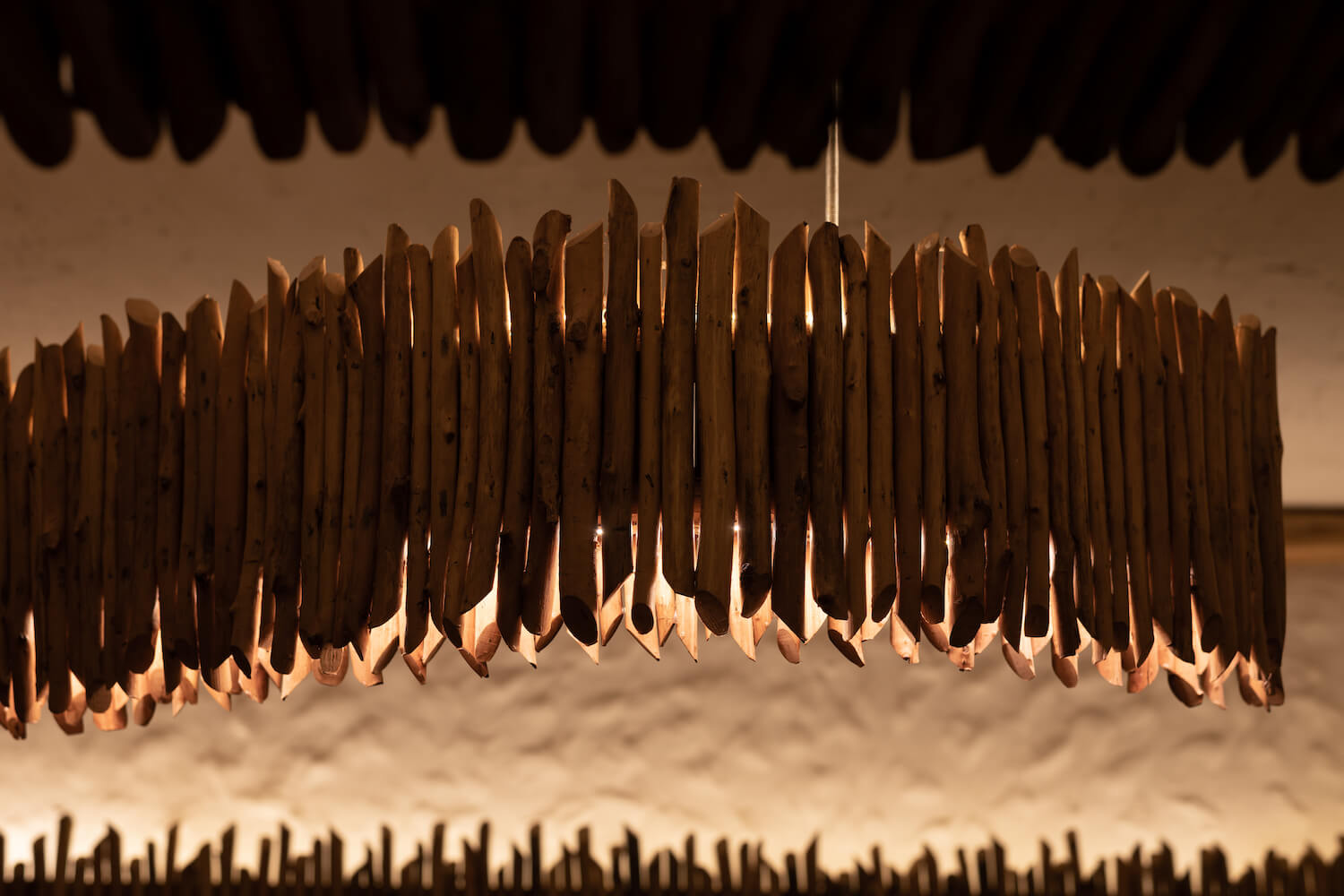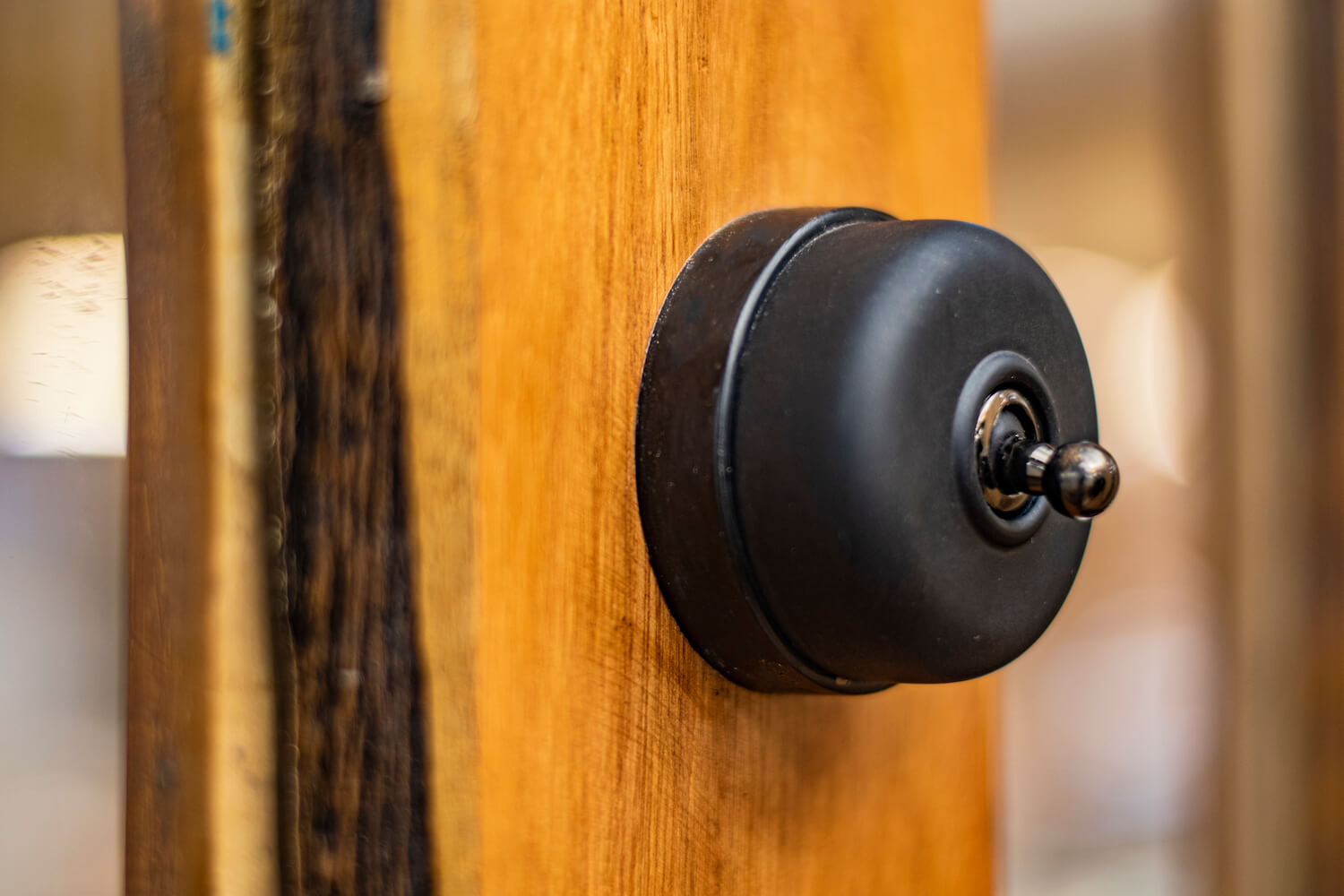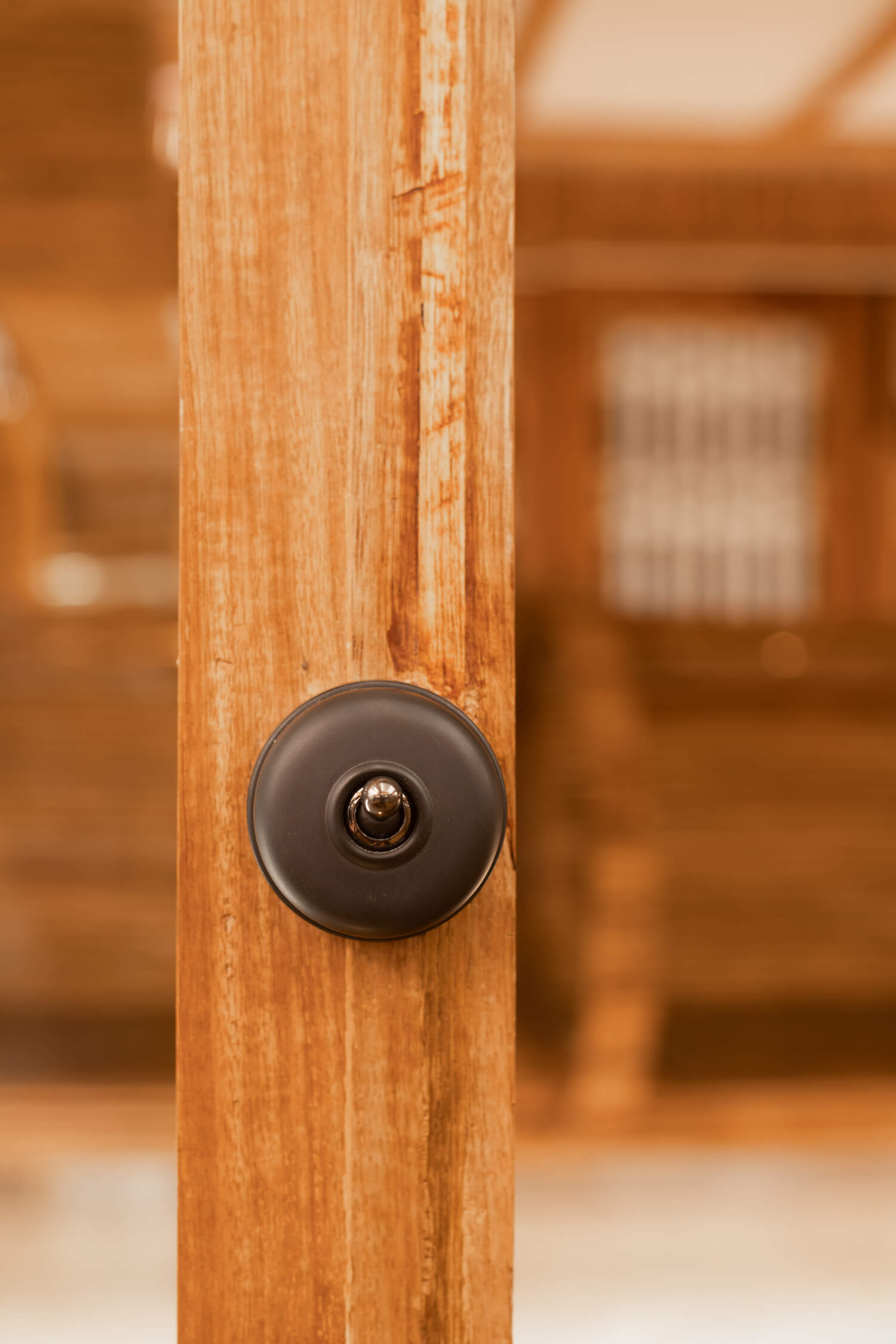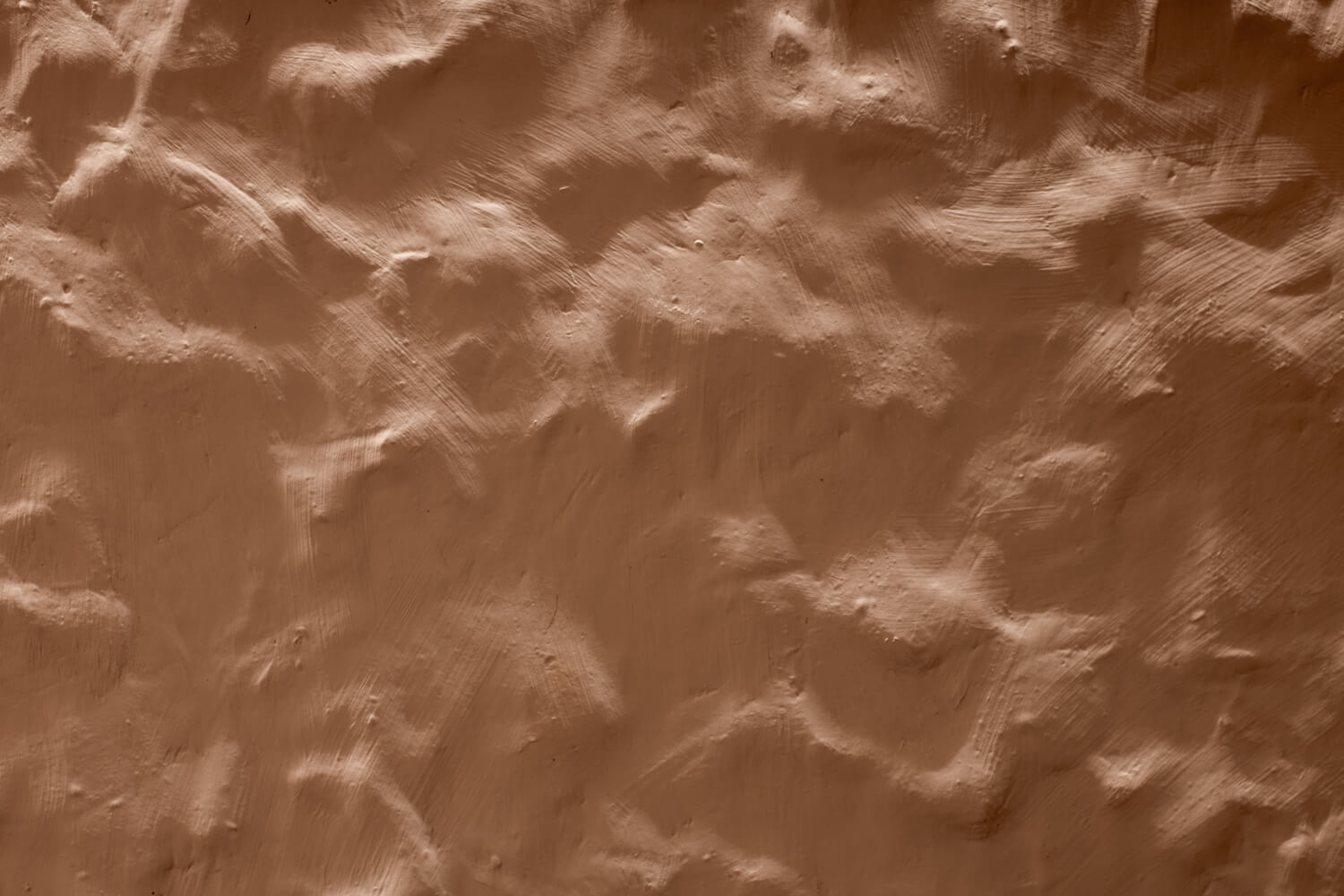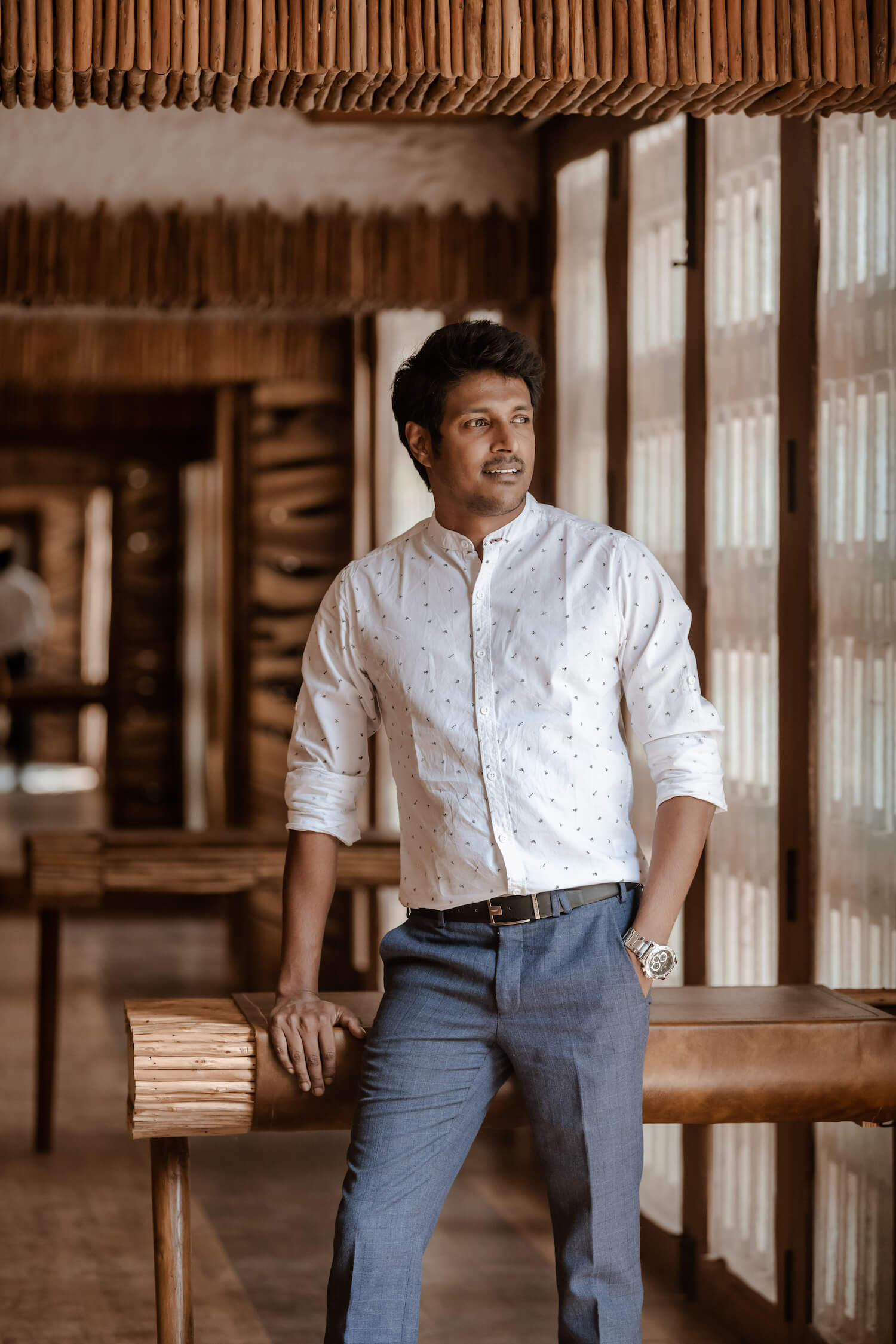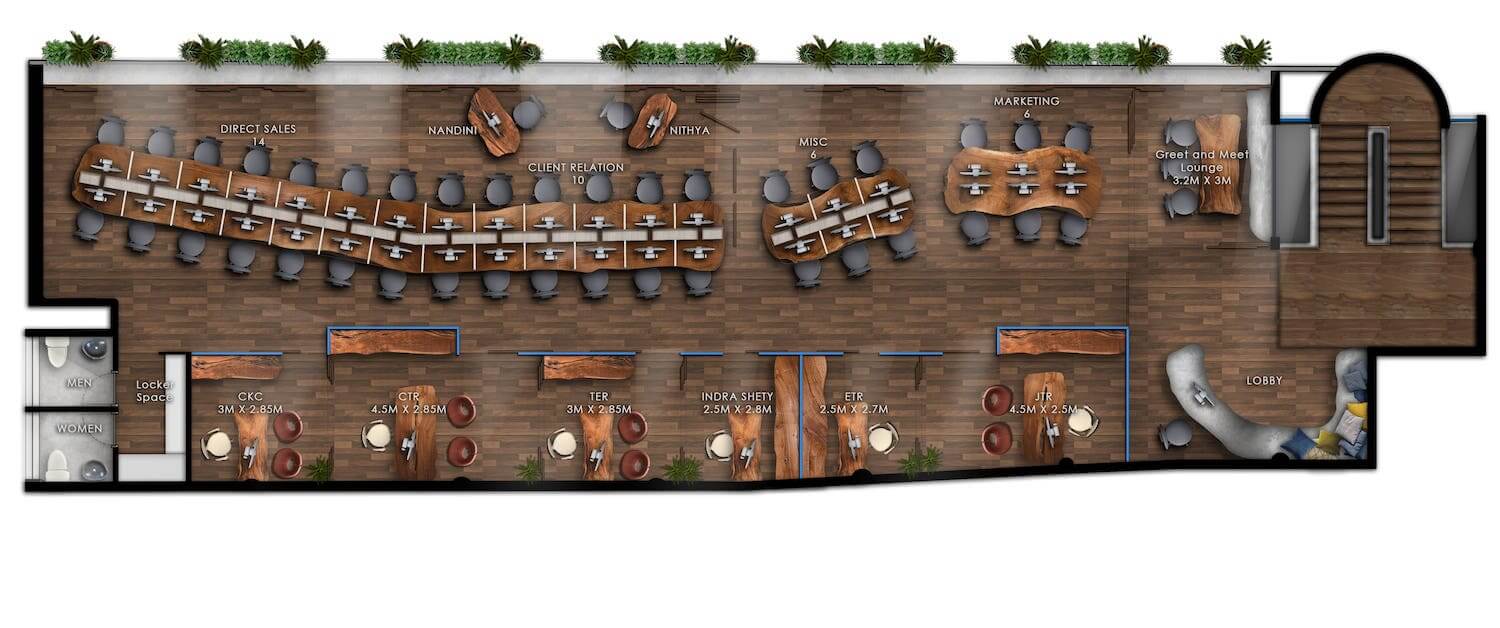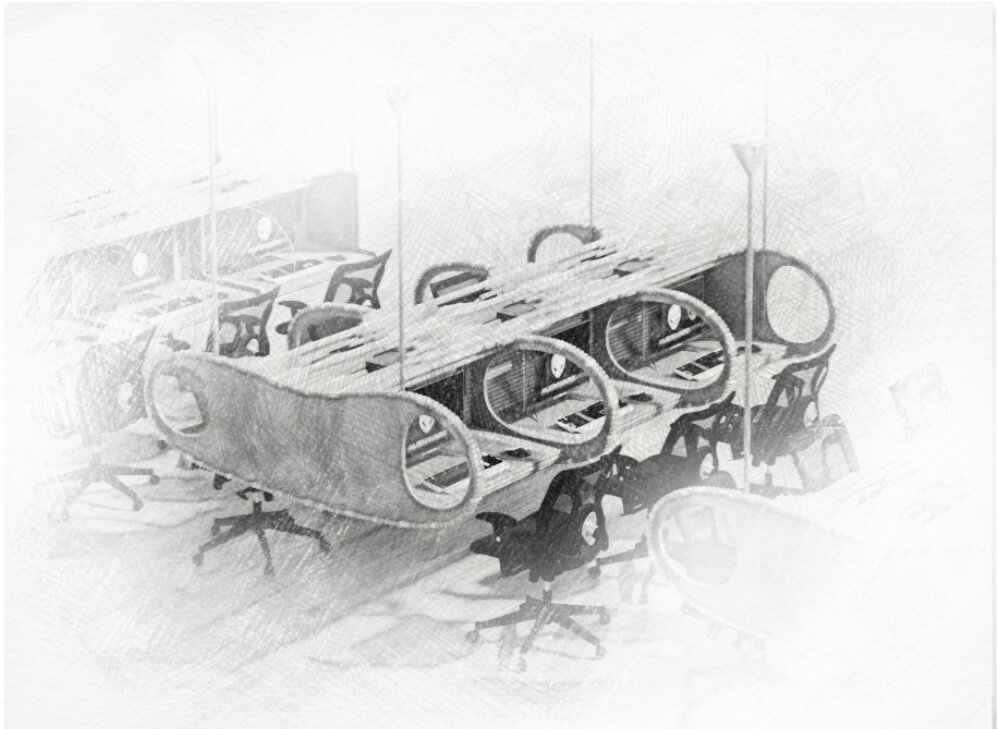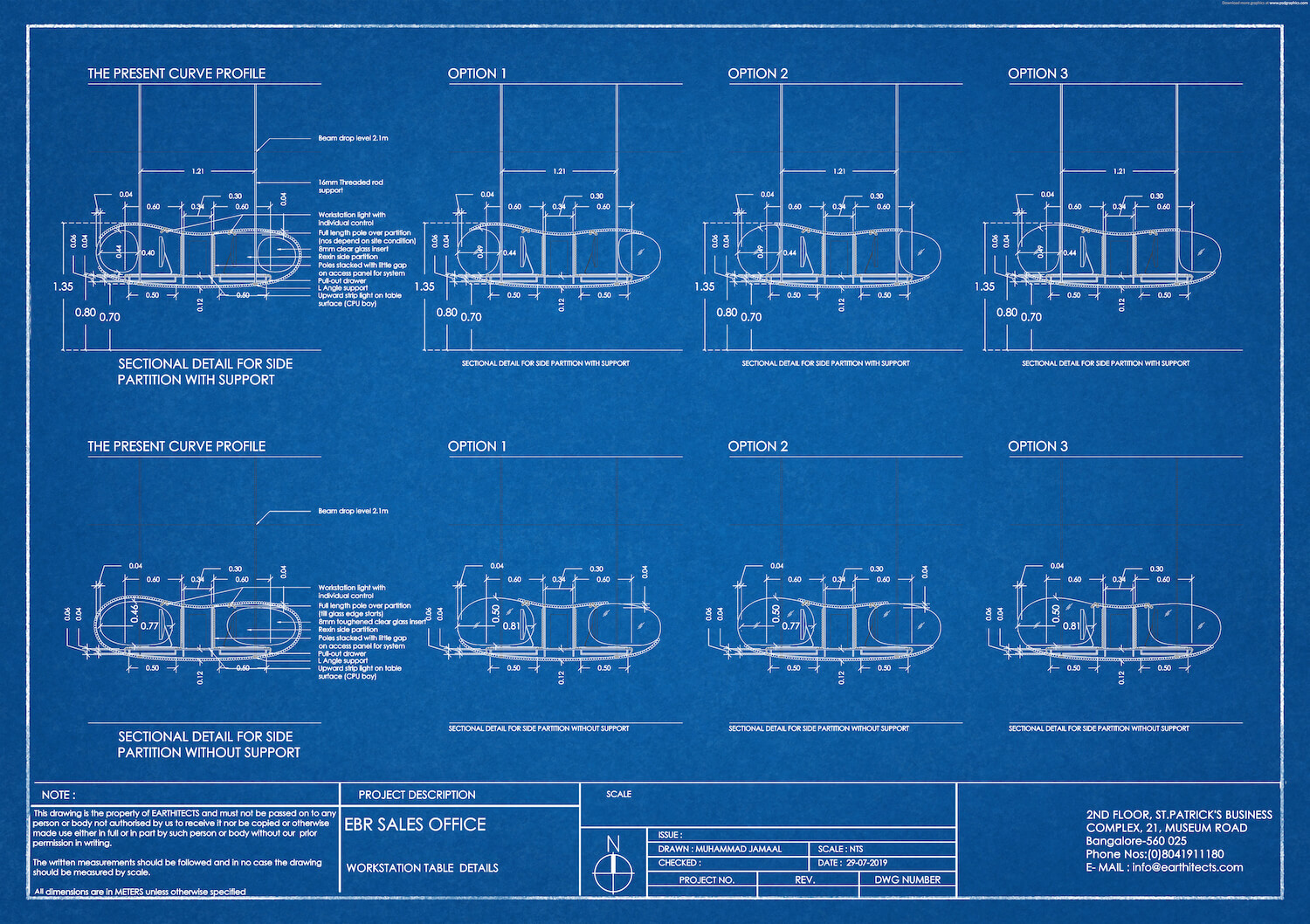 ARCHITECTING THE FUTURE
We, Earthitects continue to pioneer, innovate and inspire "living and working" concepts of the future. We hope this concept of re-imagining the experience of everyday living and working will inspire and encourage others to follow this journey and lead a sustainable lifestyle. With the abundance of natural materials and a positive change in everyday living and working, the world would be a better place for us to thrive in.
Surrounded by nature, from his earliest years, George E. Ramapuram's core belief has been rooted firmly within him:
"God is the greatest Architect and Nature is the greatest design to ever exist."
This core belief, ingrained in our visionary and consequently every member of Earthitects, has resulted in harnessing Nature to "facilitate 'life' in its abundance by enabling the fullest enjoyment of God's creations."
This inbuilt sensitivity of our signature design style finds expression in every Earthitects' creation. Being passionate about pioneering, creating, and constantly innovating a positive change in the way we as a world "live", led us on the quest to create a concept of living and working which would allow us as a species and our world to experience "living" to the fullest.
In experiencing "life in its abundance", the outcome is an ecologically conscious design that works closely with the environment with an uncompromising need for the perfectly balanced relationship between man, the built space and the natural environment.
---