First Prize winner of SKYHIVE Skyscraper Challenge, The Aero Hivehas designed by Suraksha Acharya of Midori Architects which is located at Kai Tak area of Kowloon, Hong Kong.
Project description by the architect:
Aero Hive is a breathing entity. The breath of this building transpires through vertical diaphragms in the form of green sky atriums that behave as lungs, performing the intake of oxygen and removal of carbon dioxide. This exchange is a way of natural ventilation and is the preferred option when attempting to deliver fresh air to any space due to its low energy requirements. The wind flow to the indoor spaces is carried using wind-scooping and the 'venturi' effect through the traversing green diaphragms that are oriented facing prevailing winds. Aerodynamic architectural design is realized by taking into consideration building orientation, position, form, and plan variations.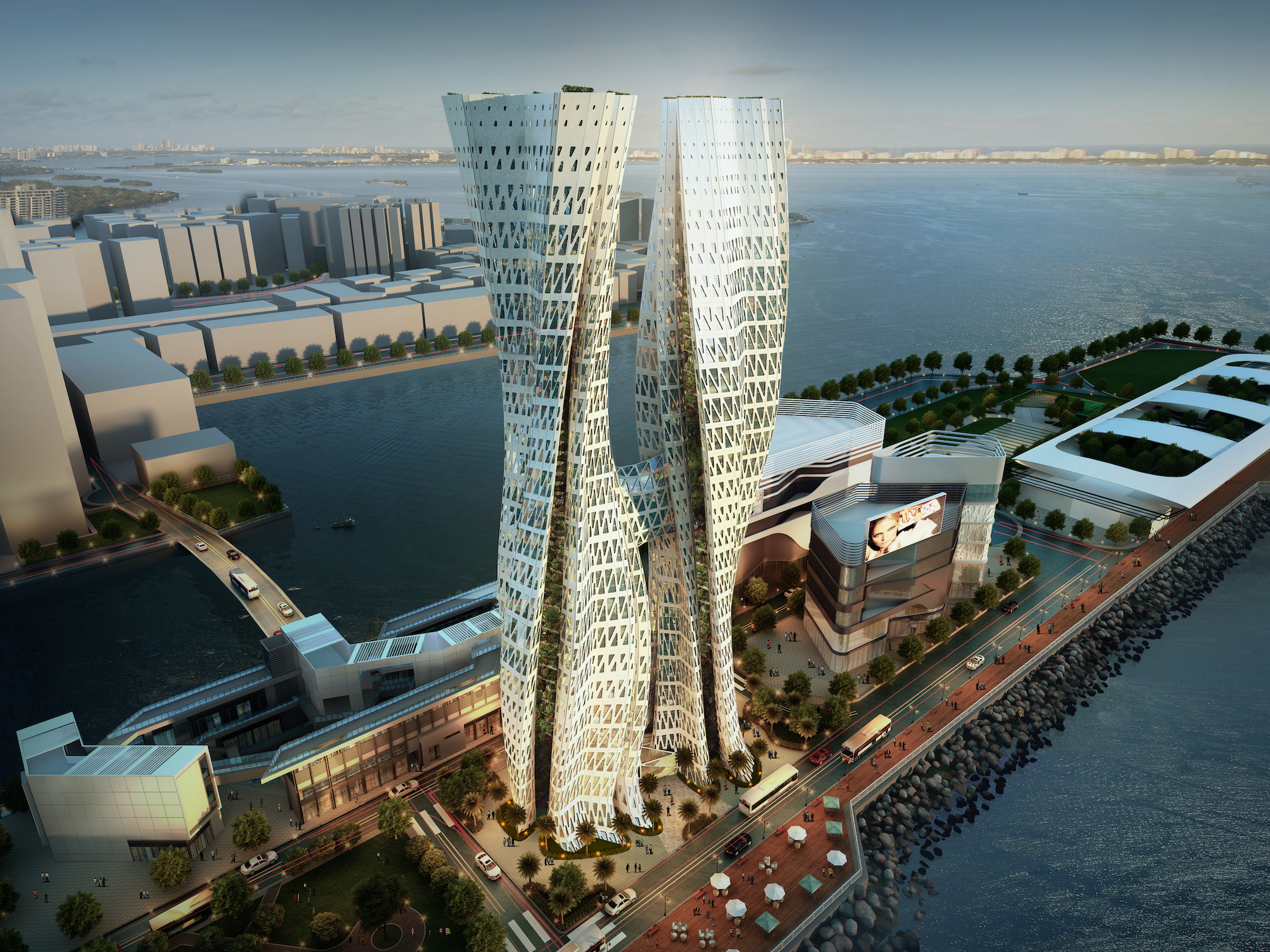 Visualization © Vizis
An algorithmic process of design has been followed by creating a differentiated array of a hexagonal floor plates that variably changes scale based on environmental criteria, functional aspects, structural logics and aesthetic parameters. Parametric modeling and computational simualtions, namely, solar insolation and CFD analysis were carried out to verify the climatic effects of twisting geometries. Key to these forms of adaptation is the relationship of the building to their environment and the contextual forces that shape the form development and environmental behavior.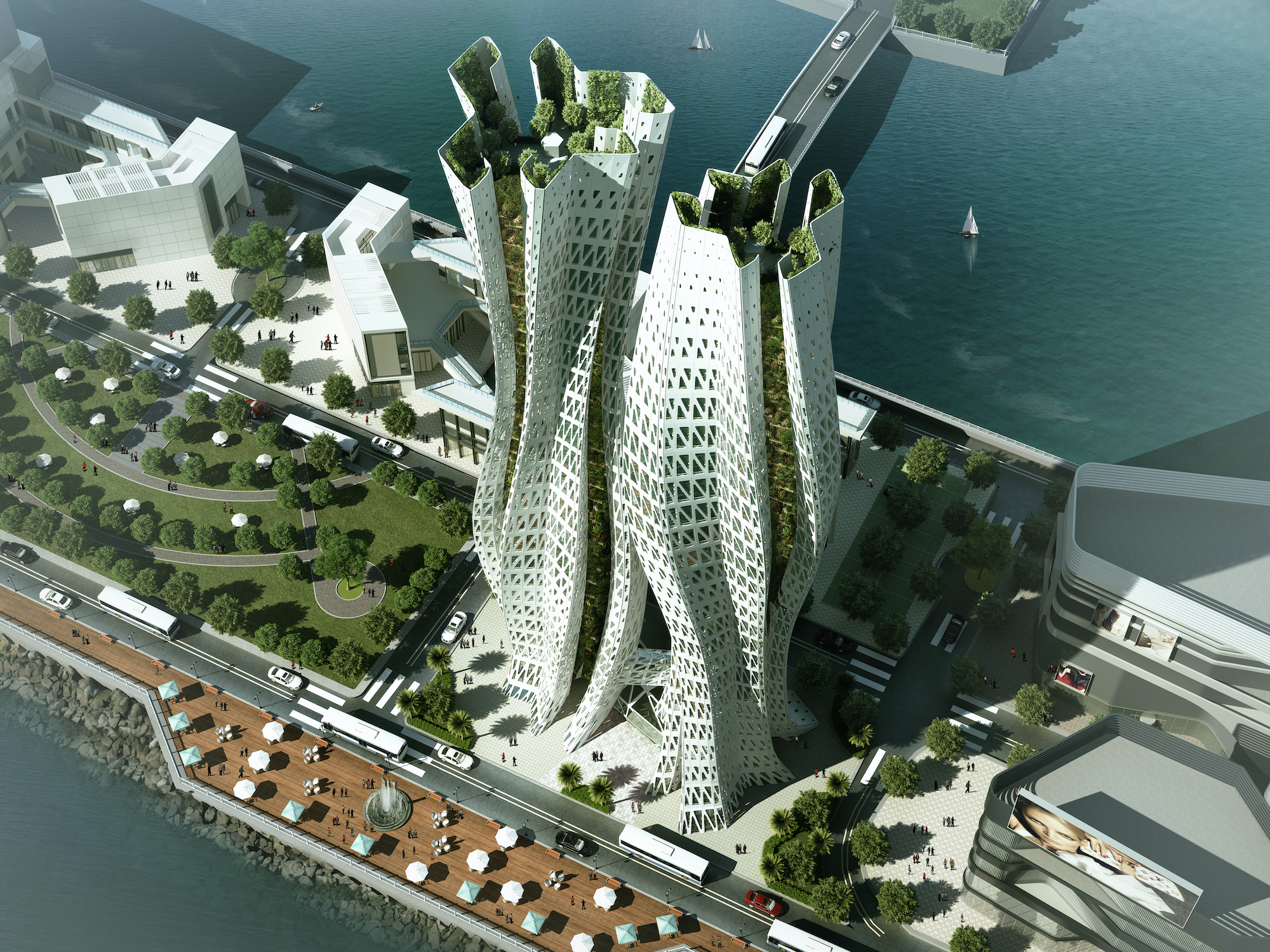 Visualization © Vizis
Environmental factors and structural concepts shape the form and skin of this tower. For optimum environmental operating efficiency, the building form should be accordingly shaped, maximizing sun control for different solar angles and insolation intensities. A series of shading & insolation (Wh) studies conducted showed that twisting the tapered hexagonal form 90 degrees clockwise (north west quadrant) and anticlockwise (south east quadrant) yielded self-shading benefits. In addition, the towers (Tower A & Tower B) are positioned such that they mutually shade each other at different times of the day and year.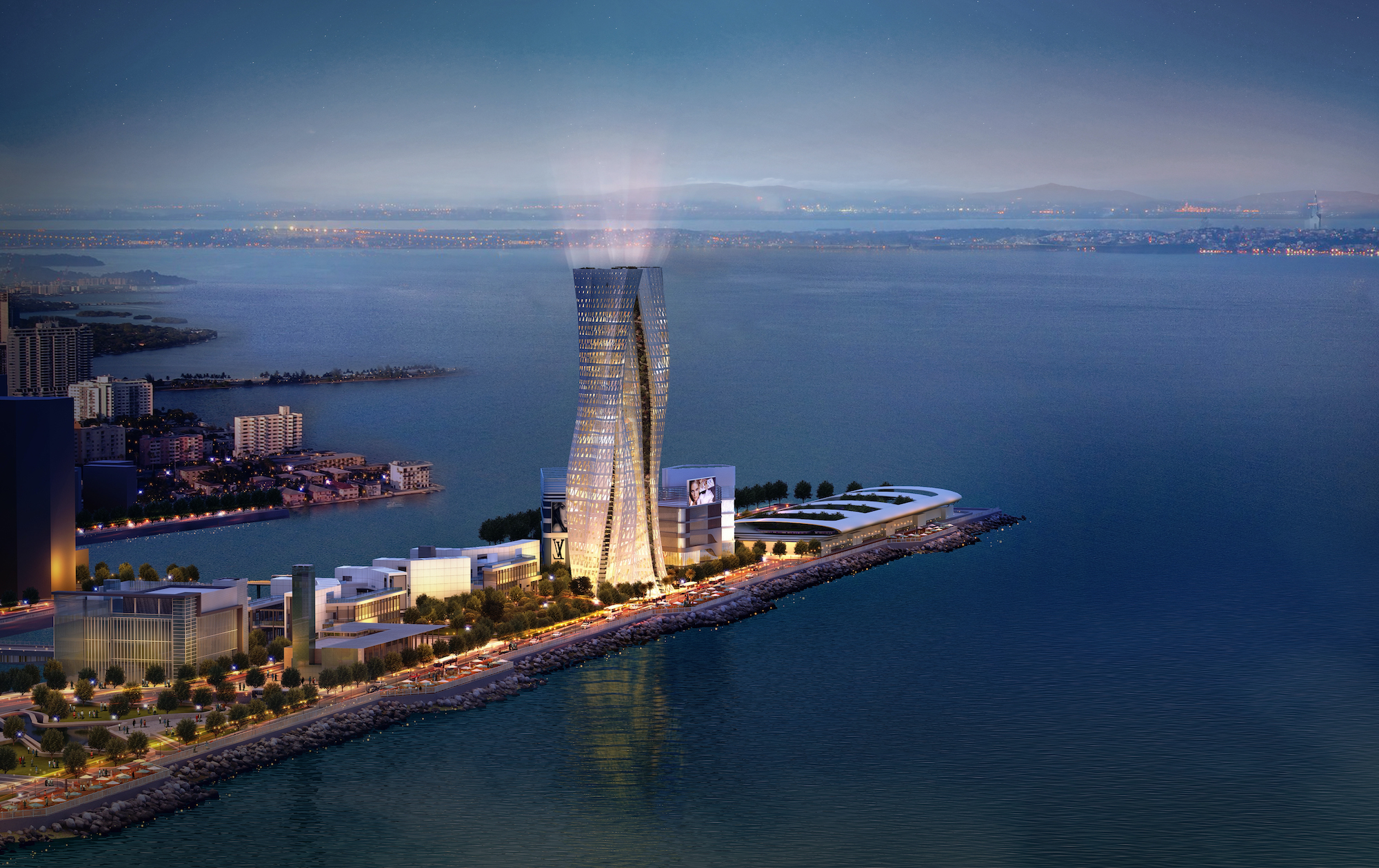 Visualization © Vizis
A central tube core anchors each tower that arises 290m above ground level carrying a twisting form. The form is encapsulated by a triangulated exoskeleton articulating a multistory atrium located at the extremities leaving clear floor plates for functional distribution. The triangulated structure geometry with an average base height of 1:4 floors extends across the facade to form the exoskeleton. The rotational and scaling aspects of floor plates around the central cores creates a folding form that grows high to create an amorphous geometry with atriums that spiral along the towers in two different directions as per climatic aspects. The parametric model based on environmental calculation projects the lines of the exoskeleton onto the free-form facade, with which a mesh wireframe is generated. In the free-form areas, the exoskeleton's tubular structural steel is single-curved and clad with composite aluminum panels, most of which are double curved. A multi-objective optimization is carried out to create a novel form where two dynamic looking towers connect at three distinct levels with structural bridges formed by tubed trusses that stretch out from the exoskeleton.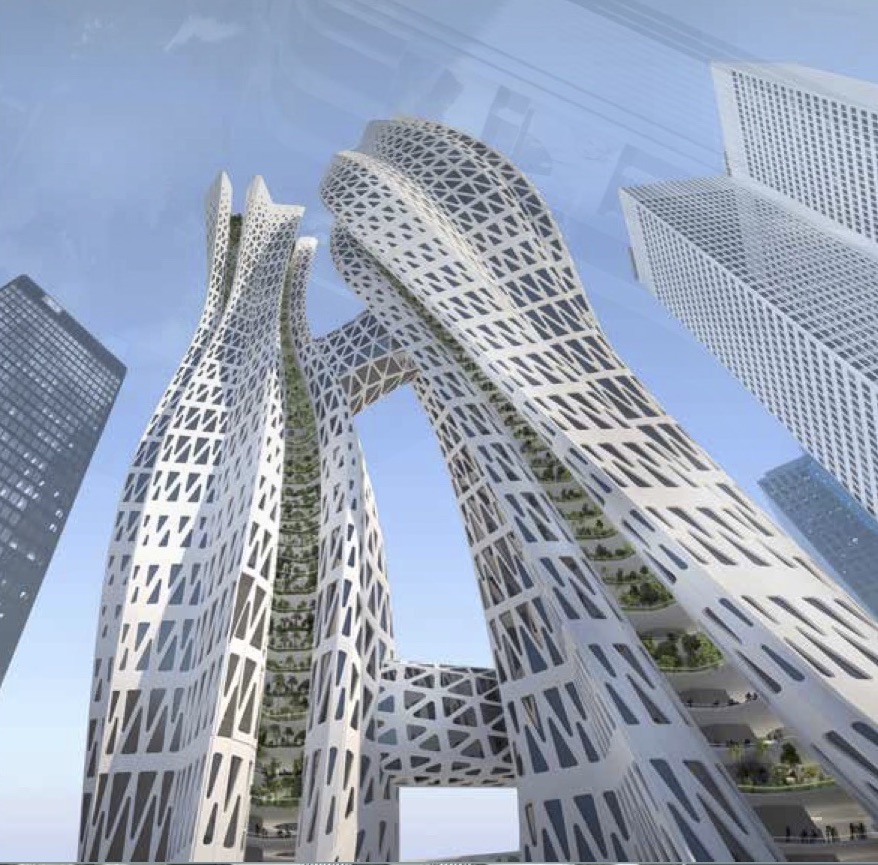 Visualization © Vizis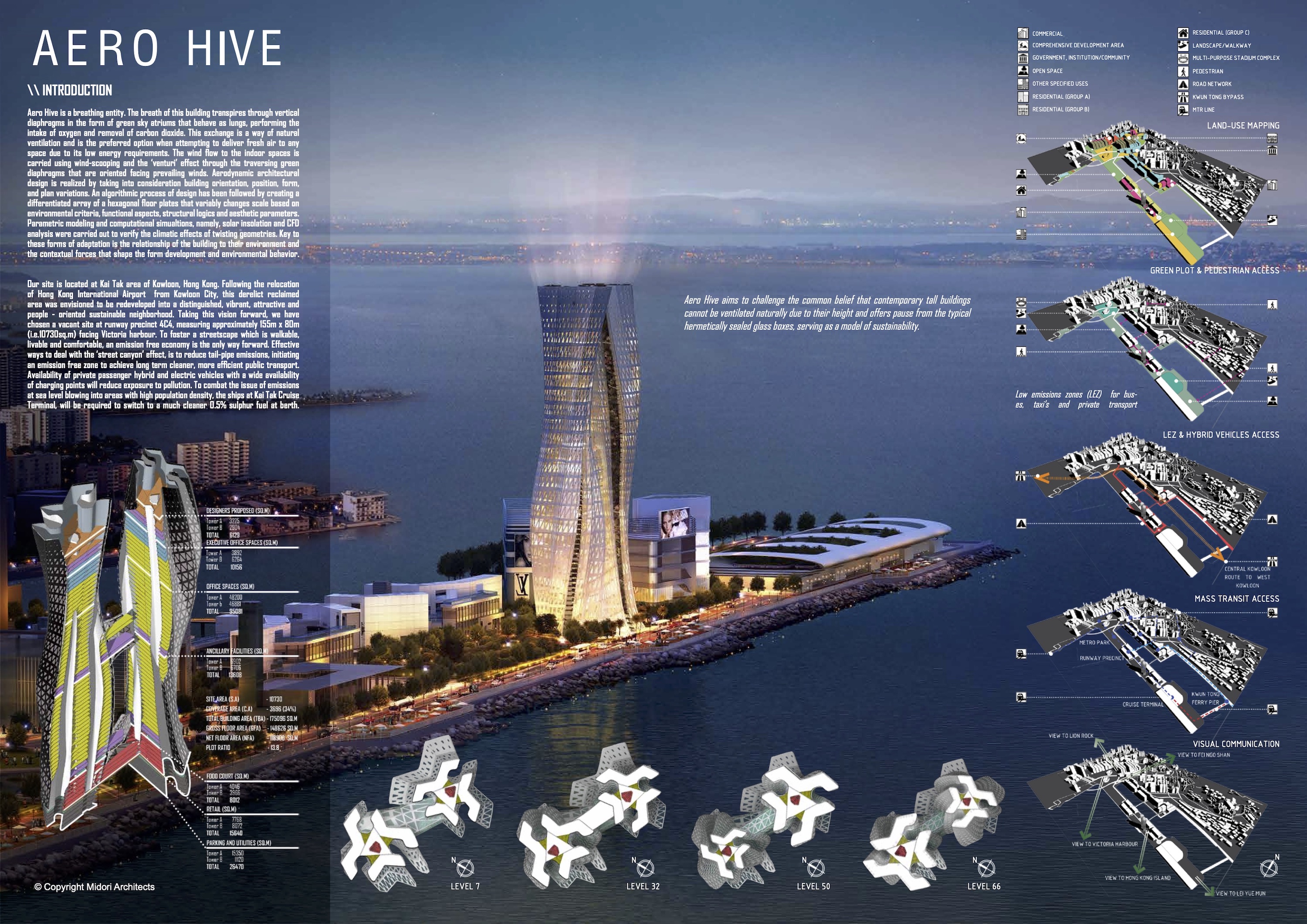 Visualization © Vizis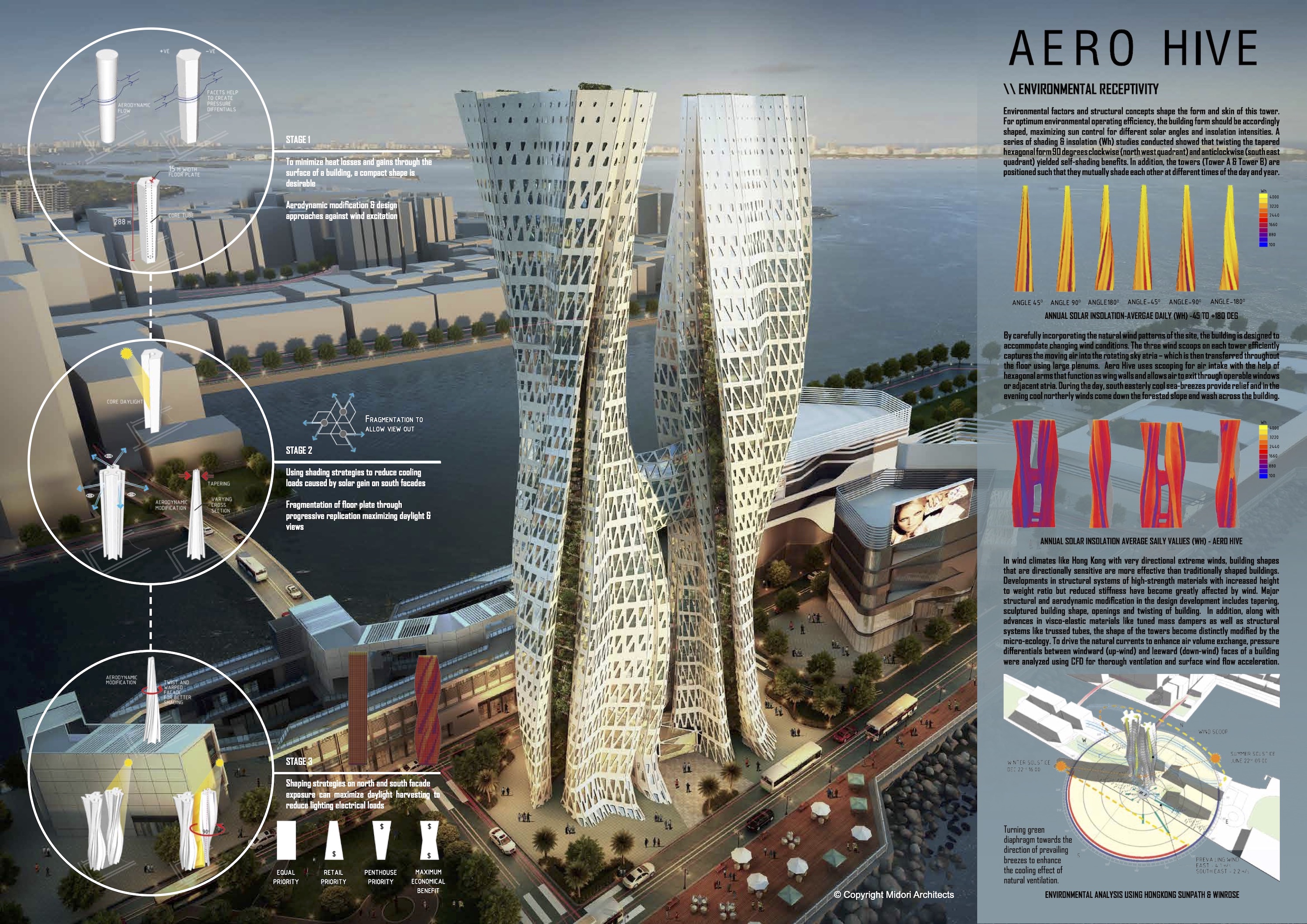 Visualization © Vizis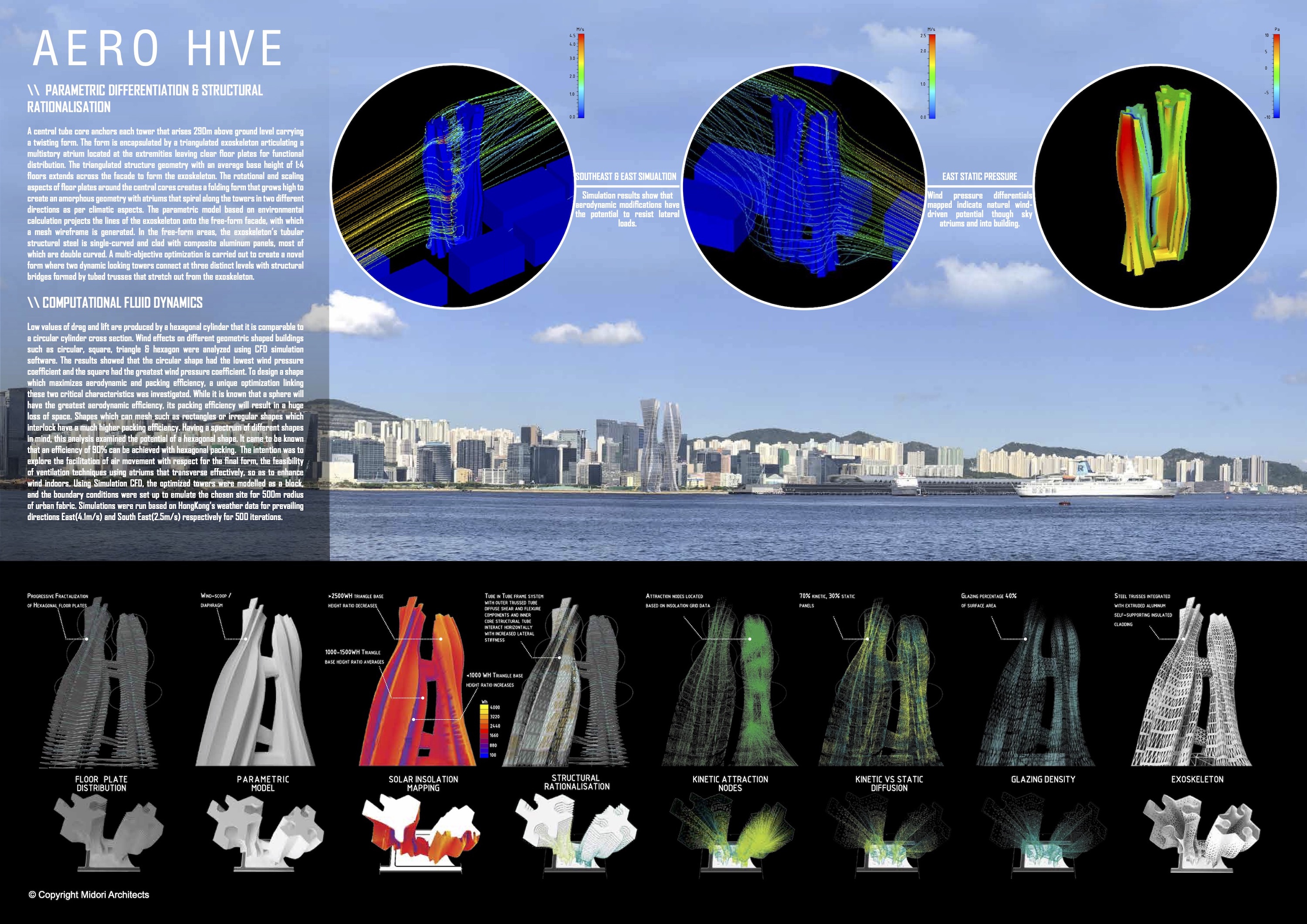 Visualization © Vizis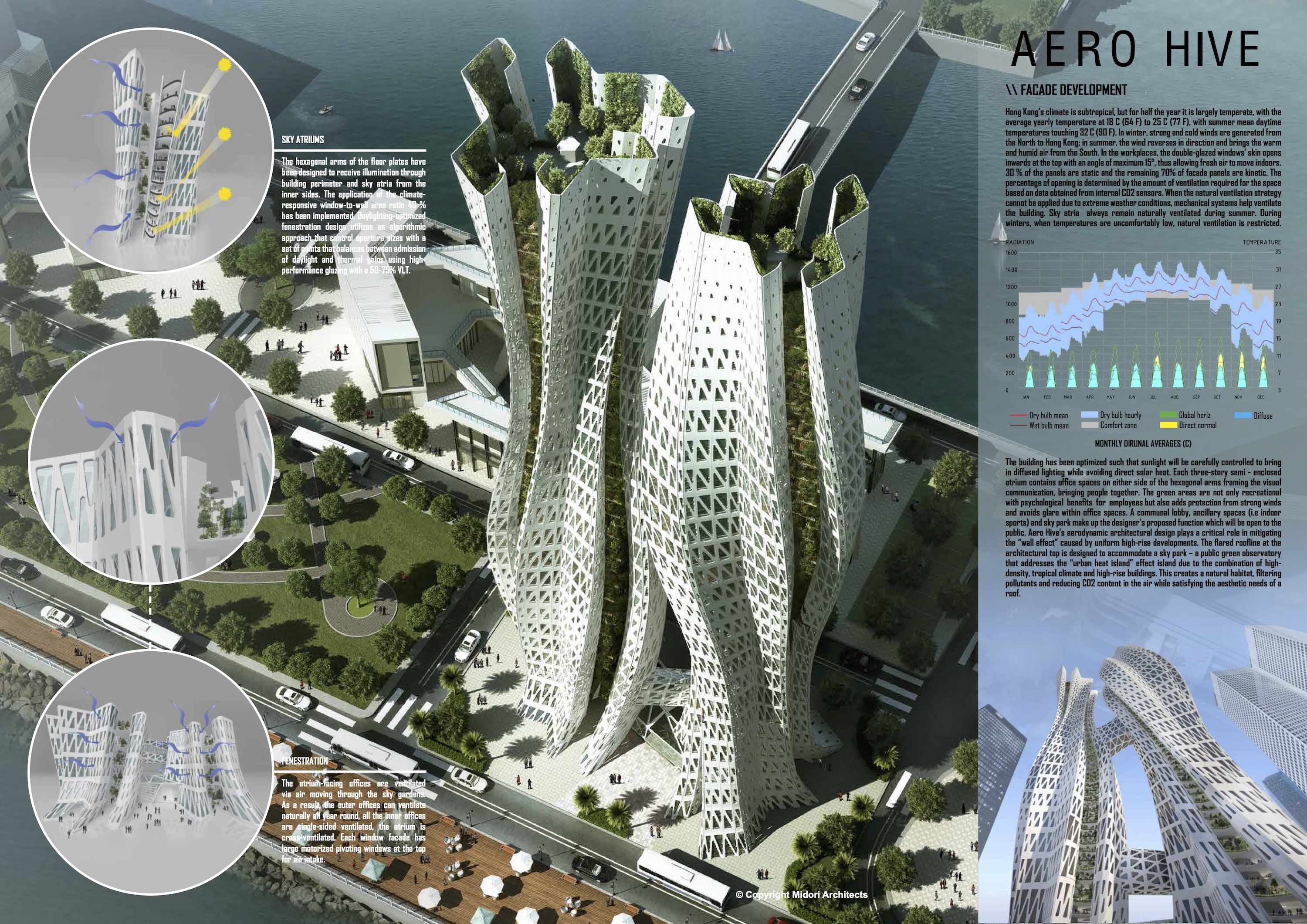 Visualization © Vizis
Architect: Suraksha Acharya - Midori Architects
Location: Kai Tak area of Kowloon, Hong Kong
Size: 1884717 ft²
Visualization: Vizis
---