Consortium awarded first place in an international competition attracting over 70 proposals from around the world. Fifteen teams were selected for the bidding stage, representing 18 countries across North America, Asia, and Europe.
3XN, B+H and Zhubo Design were recently awarded first place in an international design competition for the new Shenzhen Natural History Museum, set to be one Shenzhen's "Ten Cultural Facilities of the New Era" and the first large-scale comprehensive natural museum Southern China once complete.
Located adjacent to the picturesque Yanzi Lake in the Pingshan District of Shenzhen, the new 42,000m2 facility will be a world-class natural science museum dedicated to interpreting the laws of natural evolution, showing the geographies of Shenzhen and its ecology in a global perspective, and actively advocating science.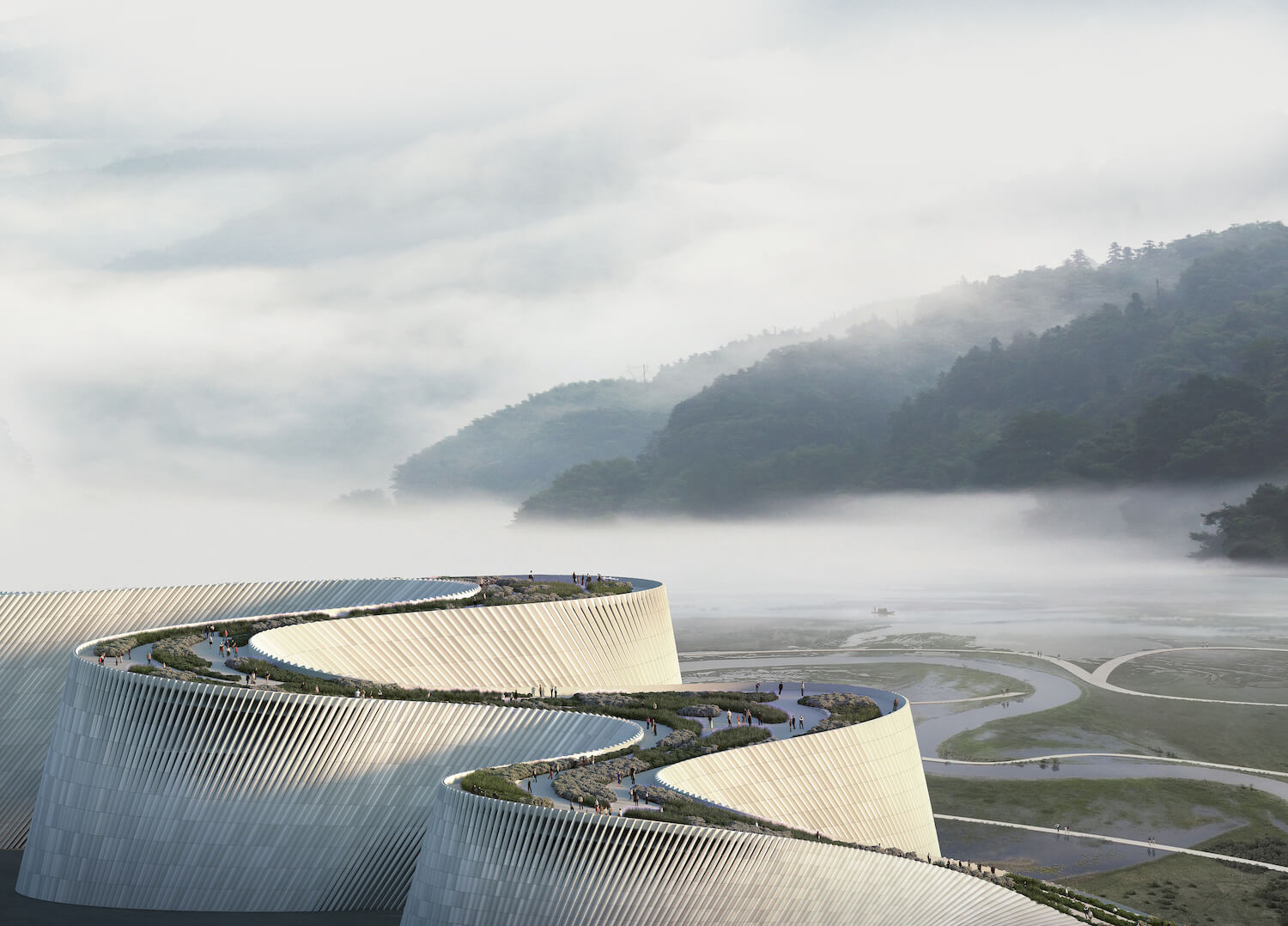 3XN, B+H and Zhubo Design's winning design scheme, entitled "Delta", rises seamlessly from the river delta, inviting visitors and residents to journey along its accessible green rooftop. A public park extends throughout the roof and highlights the Natural History Museum's organic geometries. Like a river stream finding its shape in balance with the earth, every turn frames a new spectacular view over the surrounding park, hills, and lake from dedicated viewing terraces along the roof park.
The design extends the public park network and aims to maximise access to the lush green areas throughout with a range of activities dedicated to keeping the site open and active throughout the day – from early morning jogs to late evening strolls. This gives the opportunity for residents and visitors alike to enjoy and connect with nature.
Like water streaming down a river, the undulating form leads guests to a 'cave' inspired passage that is connected to the to the museum lobby and activated by multiple cafes and public areas, serving as the pulsating heart of the building.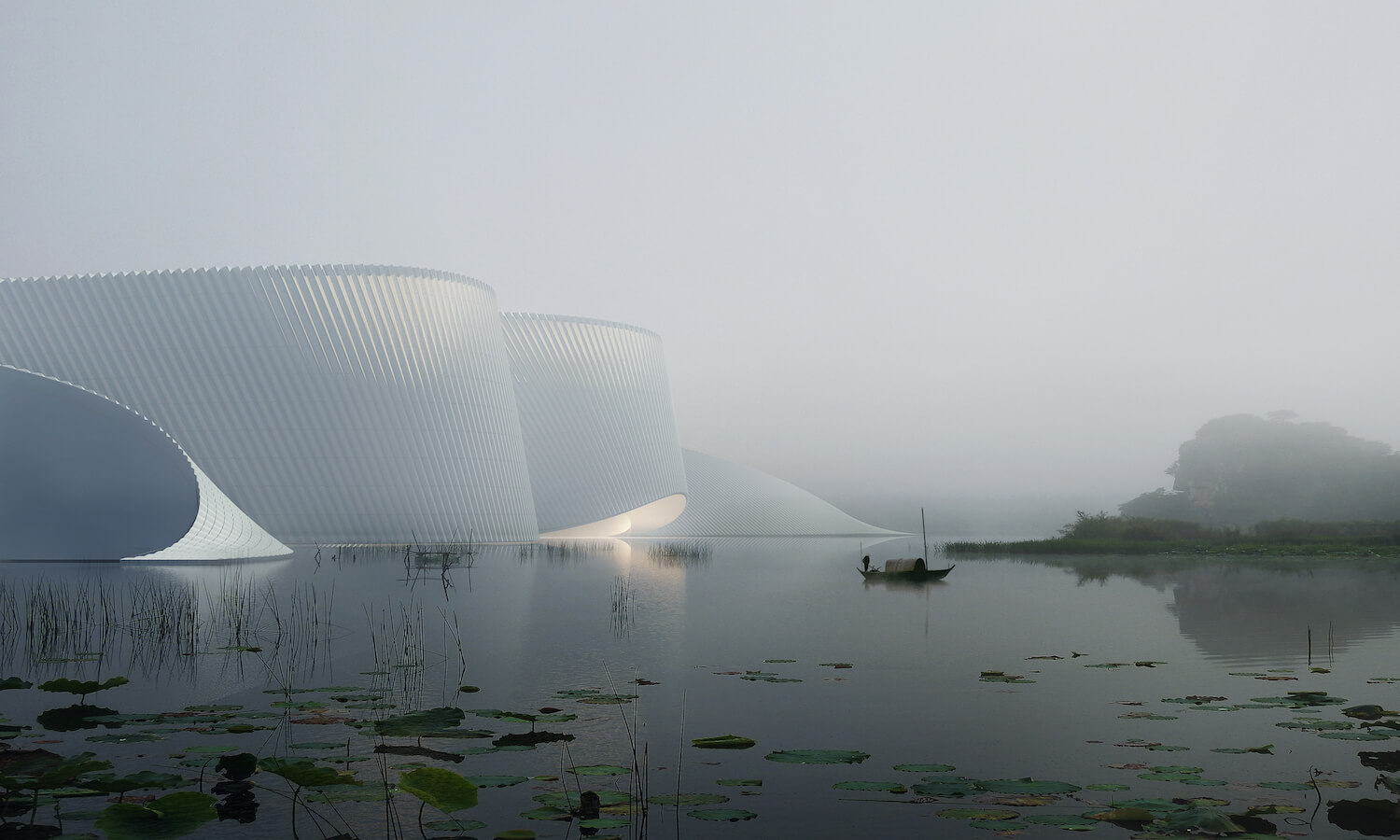 Judges' commentary
"The concept of "Delta" is very creative. The continuously sloping exterior wall with the landscape roof creates a continuous volume and spatial experience. The form of the cliff is very interesting, and the details are handled well. The layout of the museum and its interaction with ramps and walls create interesting spaces." – Philip Cox, Founder Cox Architects
"This building captures the unique atmosphere of a riverfront site and finds the timeless property of water as a concept... The connection between function, site, concept, structure, material and space is very clear." – Yvonne Farrell, Founder Grafton Architects, laureate of the Pritzker Architecture Prize
"Combined with the characteristics of Yanzi Lake Park, this design stays in harmony with surrounding landscape as an extension of landscape path." – 刘珩
"The plan makes full utilization of the landscape in the site. Through a dynamic architectural form, it creates a beautiful, natural, and dynamic nature museum concept." – 邵韦平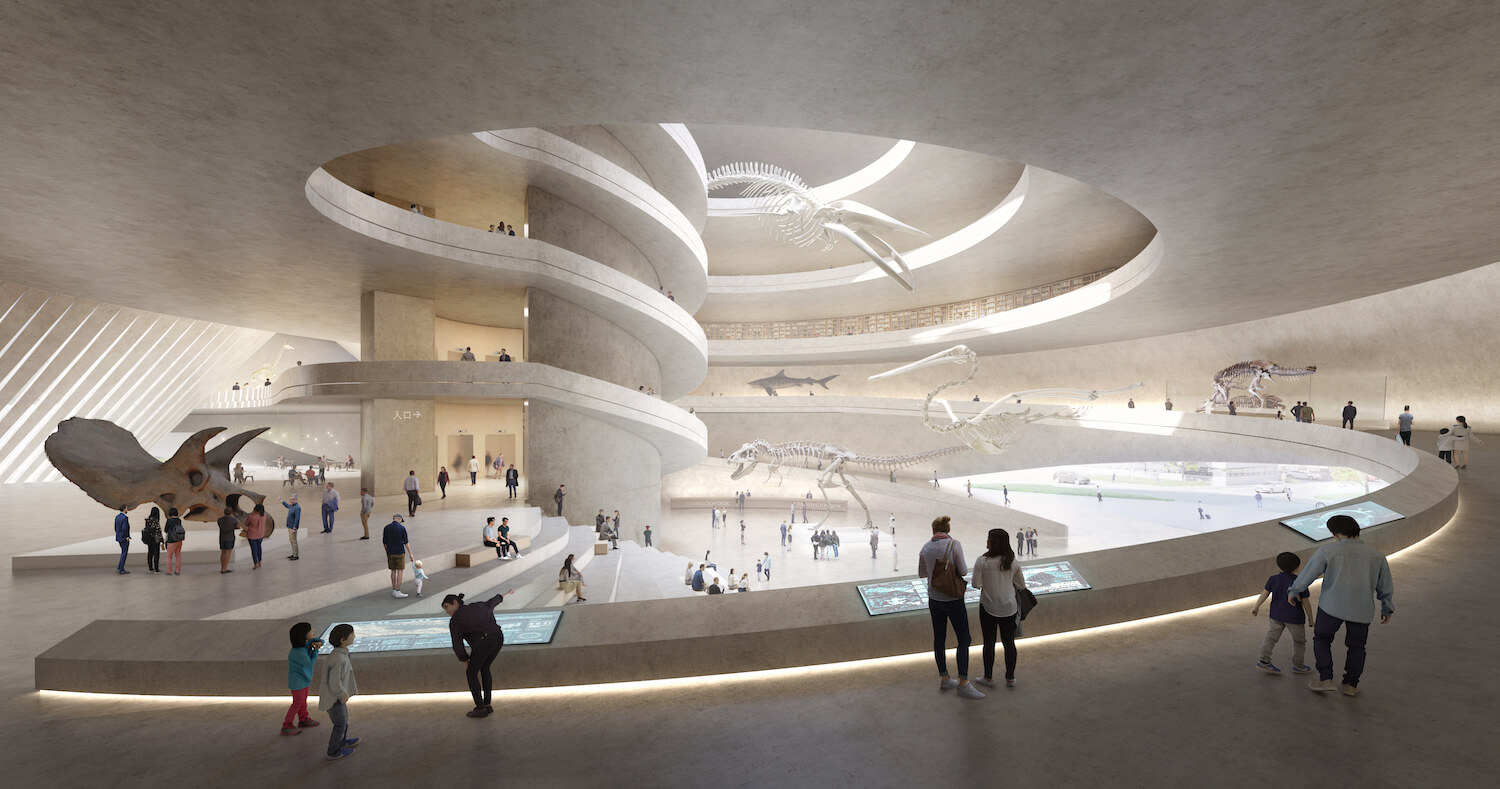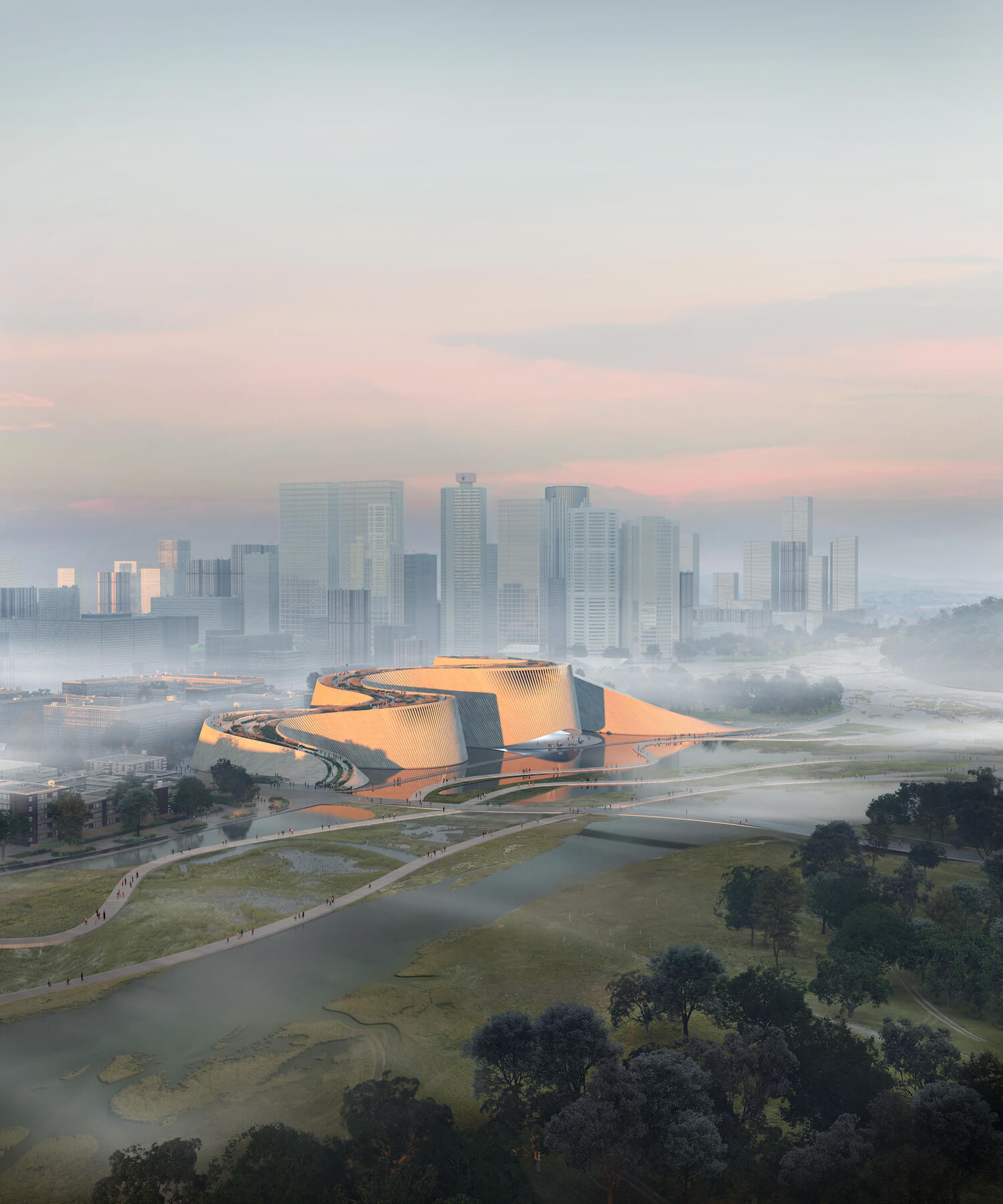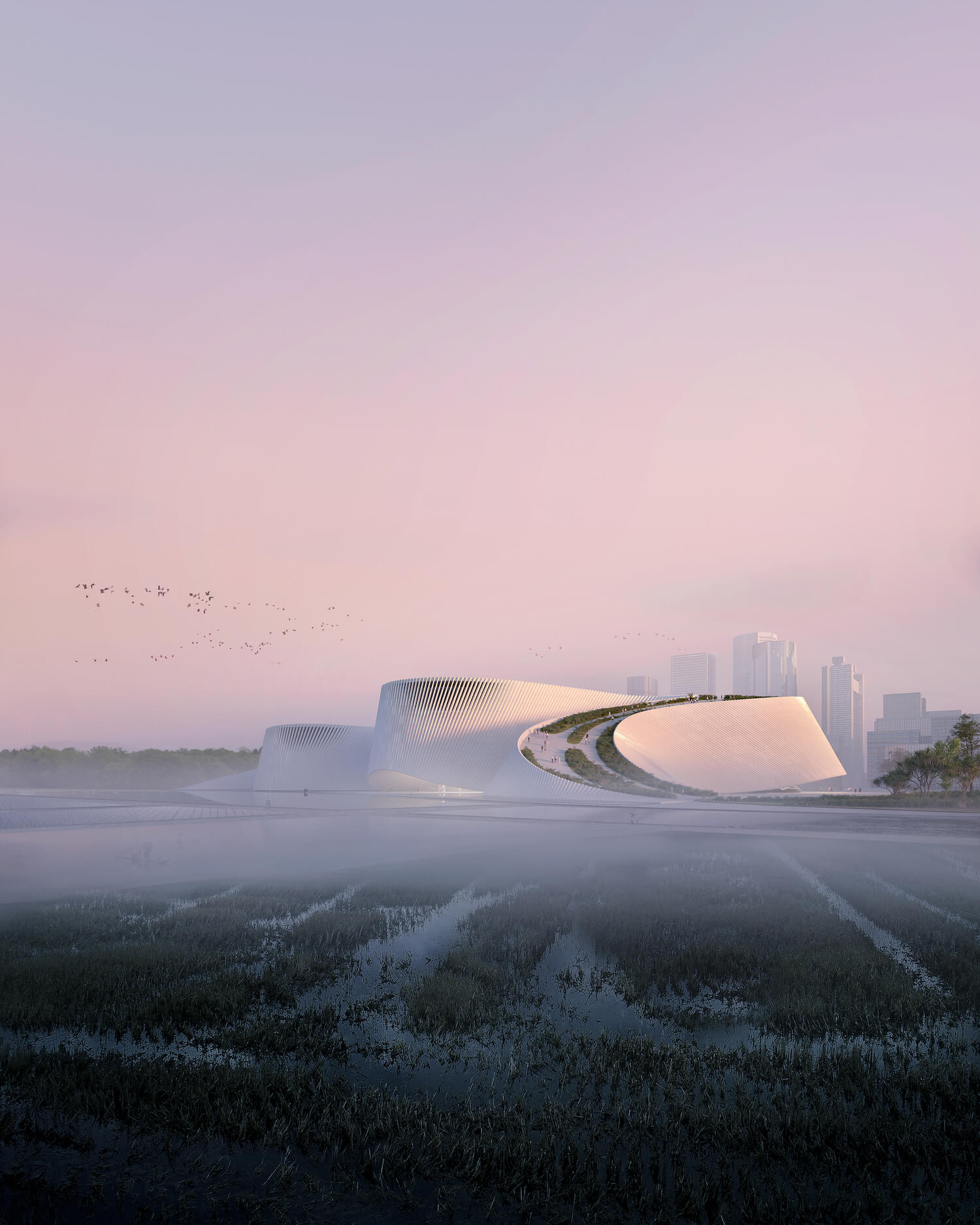 About 3XN
Award-winning Danish architectural firm 3XN offers more than three decades of experience in designing and building innovative and human-focused architecture. Founded in 1986, the firm quickly became known for creating buildings of substance with compelling aesthetics supported by a strong theoretical foundation. The firm advances Scandinavian traditions of clarity and generosity in architecture and translates them for a global audience. 3XN projects are grounded in ongoing research into how buildings reflect and influence human behaviour and the environment. This results in innovative solutions to increasingly complex contemporary challenges.
GXN is the sustainability-driven green think tank of 3XN specialising in circular design, behavioural design and digital design. The mission is to rethink and redesign the challenges of today into solutions for a sustainable tomorrow. The method is practice-focused interdisciplinary research applying the latest knowledge on materials, behaviour, and technologies to the studio's architecture.
Among the firm's most high-profile projects are Olympic House – the International Olympic Committee (IOC) headquarters in Lausanne (Switzerland); the new Fish Market and Quay Quarter Tower in Sydney (Australia); and Royal Arena and The Blue Planet National Aquarium in Copenhagen (Denmark). Headquartered in Copenhagen, 3XN also maintains offices in Stockholm, New York, Sydney, and London.
About B+H Architects
B+H is a global, award-winning consulting + design solutions firm. We leverage the core visualization and integration skills of an architecture and design practice to understand and articulate complex data into transformative solutions across a broad spectrum of sectors and services.
Founded on a 67-year legacy of creating bold and inspiring spaces for people, B+H provides core architecture, planning, landscape, and interior design services. Today our team includes more than 450 curious designers, place makers, strategists, storytellers, and creative human beings who believe in embracing change and challenging the status quo to deliver resilient, healthy environments that make positive contributions to their communities and are characterized by vibrant human experiences.
Collaborating across ten studios in Toronto, Vancouver, Calgary, Seattle, Dubai, Shanghai, Shenzhen, Hong Kong, Singapore & Ho Chi Minh City, B+H's architects, interior designers, planners, landscape architects, organizational design specialists, experience designers, researchers, analysts and brand strategists combine strategic thinking, bold design and advanced technology with the creative human energy of an interdisciplinary, multigenerational team.
B+H is behind some of the most innovative projects tranforming China's Greater Bay Area inclusing the Shenzhen Children's Hospital and Science & Education, Tencent Seafront Towers campus interior design, Lee Kum Kee Corporate Headquarters, and several luxury hospitality projects in Macao.
About Zhubo Design
ZHUBO Design Co., Ltd. was founded in 1996, and officially incorporated into a joint stock company in 2012. The company specializes in integrated design, holding National Level Grade A Qualification for Architectural Design and Urban Planning, and Grade B Qualification for Municipal Works (roads, bridges, and water supply engineering) and Landscape Design.
ZHUBO is made up of more than 2,000 highly professional technical and management employees, 25% of whom hold advanced degrees or PhDs. The technical team can boast more than 150 engineers with Chinese National Accreditation, including National Certified Architects, National Certified Structural Engineers, National Certified Planners, and National Certified Public Equipment Engineers.
Zhubo has long been actively involved in China's large-scale urbanization and spatial improvement plans. Through the medium of design, we promote asensible allocation of society's resources, founded on the concepts of human dignity and ethics,with an aim to creating a better living environment for everyone.
The representive works of ZHUBO includes Southern University of Science and Technology planning and architectural design; Nanning Urban Planning Exhibition Center; Hainan Local History Museum; Shenzhen 3rd Children's Hospital; Qianhai 19th Unit 3rd Street Block Urban design and Tower buildings architectural design.
---