OON Architecture: Located in a residential area southwest of Greater Buenos Aires, Casa Bosque is situated on a plot surrounded by large trees of different species. Its aesthetic features elements of regional architecture, reinterpreted in a contemporary style. The search for a unique architectural language is based on the use of horizontal lines and floors articulated around the figure of a courtyard. At first glance, the cubic volumes and horizontally projected planes stand out, achieving a geometric freedom that allows for cantilevered movements and elements supported on each other to demarcate the programmed volumes of the house. The structural elements organize the floor plan. A modulated series of concrete columns and slabs allow for a free façade and dematerialization of the faces of the volumes, which are occupied by stone enclosures on the ground floor or by large glass enclosures or wooden skins on the upper floor.
The exterior walls surrounding the house are topped by flowerbeds, creating a large horizontal line that is naturally broken by a cascade of hanging gardens to filter the sun's rays. The roof had to be sloped and was resolved with the design of a single large piece that covers the entire floor. A horizontal break allows for a double slope, generating a flat and low roof that extends with large cantilevers that emphasize the horizontality of the house. The double height generated by the two volumes that mark the central axis greets us and accompanies us to the heart of the house: a semi-internal courtyard that articulates the different spaces and allows for cross ventilation in the main areas. The housing program is divided into three and is organized on each of the three floors: in the basement, the service area; on the ground floor, the social area; and on the upper floor, the private area.
On the ground floor, we arrive at a central core connected to the courtyard, with a triple-height stone wall supporting a staircase that links all floors. Next, the living-dining room, integrated into a large space that is linked on one side to the kitchen and on the other to the gallery and barbecue. The interior floors become exterior, dematerializing the boundaries and allowing for an immediate relationship with the pool that occupies the nearest exterior spaces, linking the house to the garden. On the upper floor is the master suite, with a large outdoor terrace, and three en-suite bedrooms that occupy each of the remaining corners. The integration of materials, glazed corners, and dematerialization of boundaries create a sort of flow of spaces, complemented by large eaves that extend into the exterior space, combining it with the interior.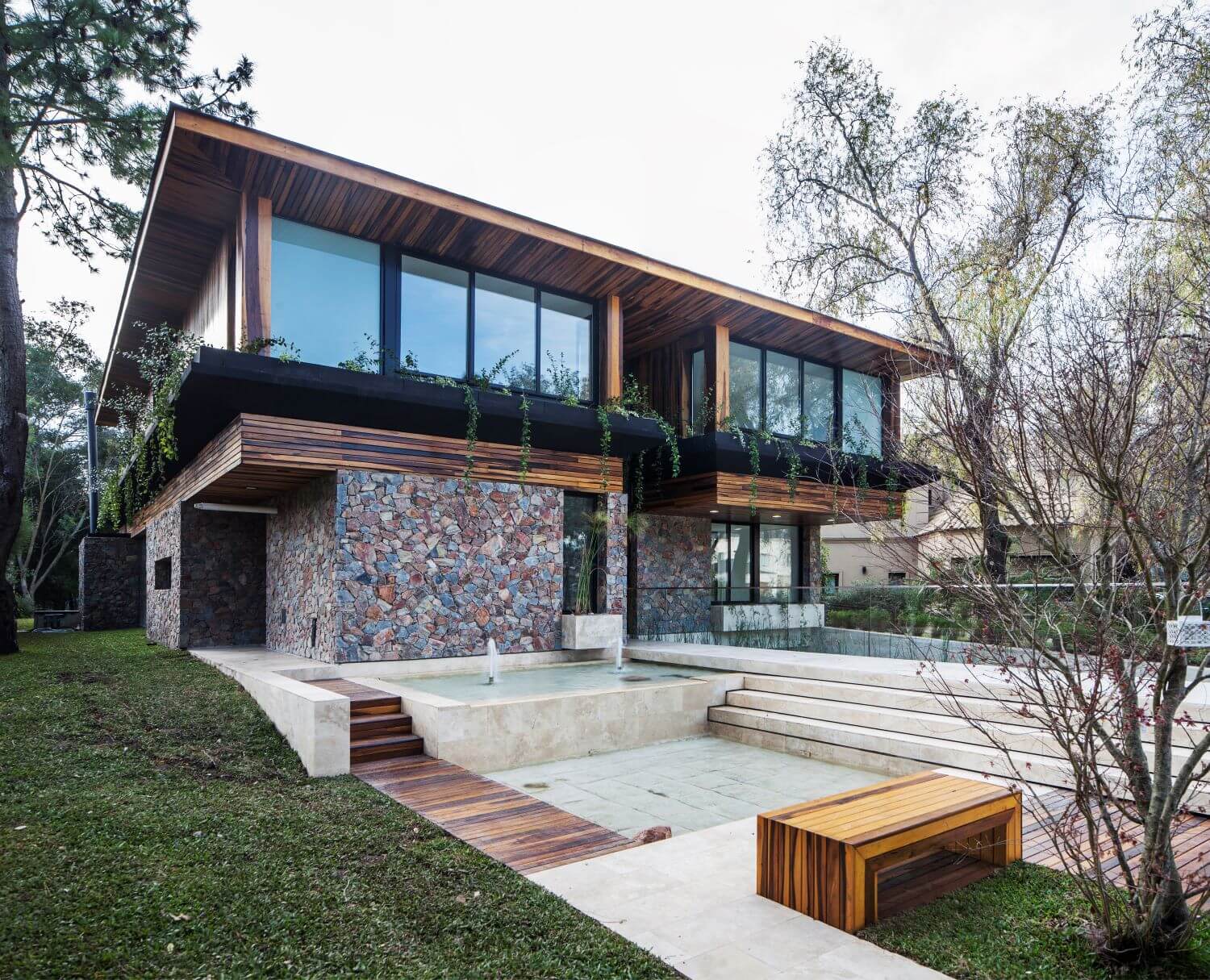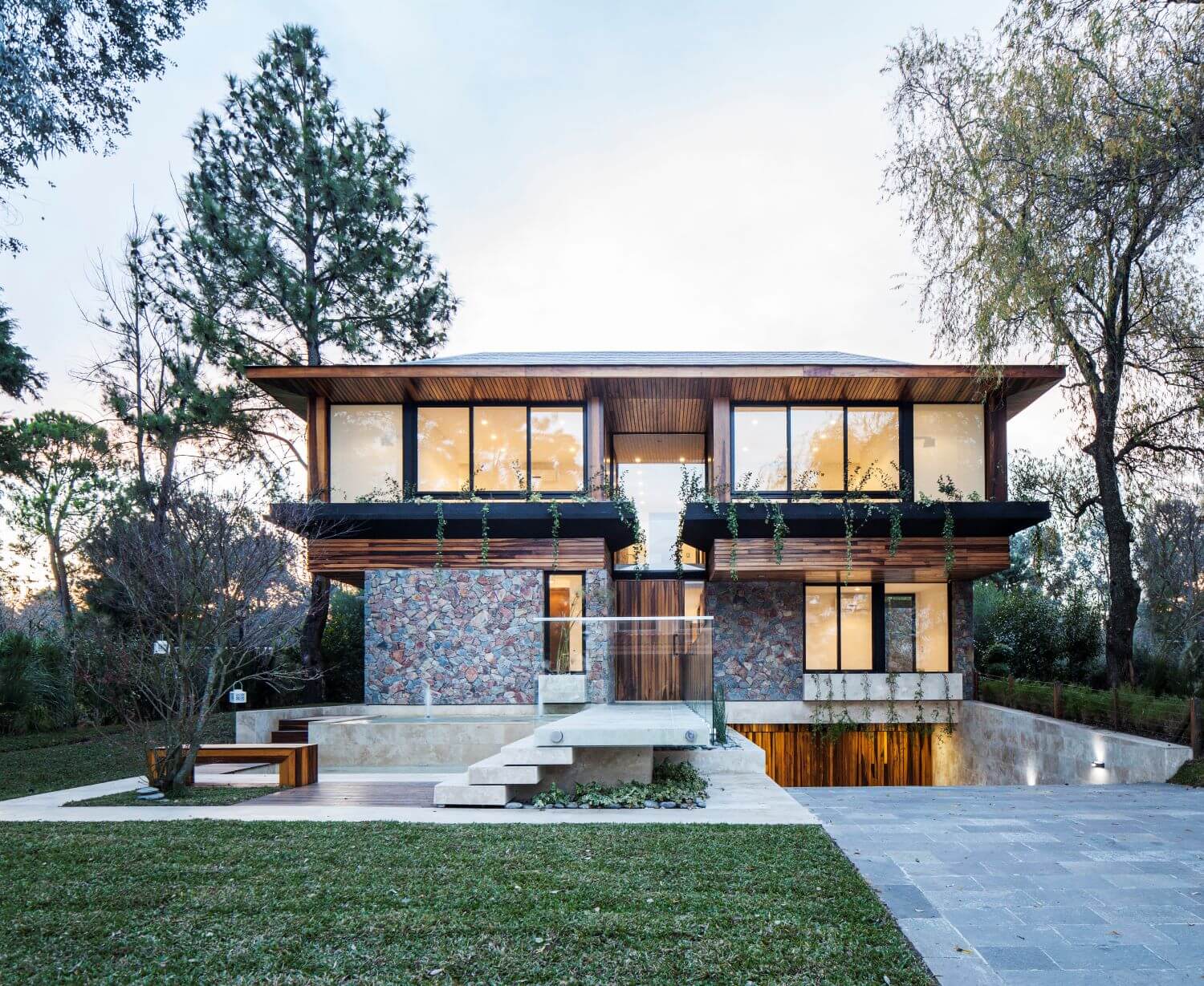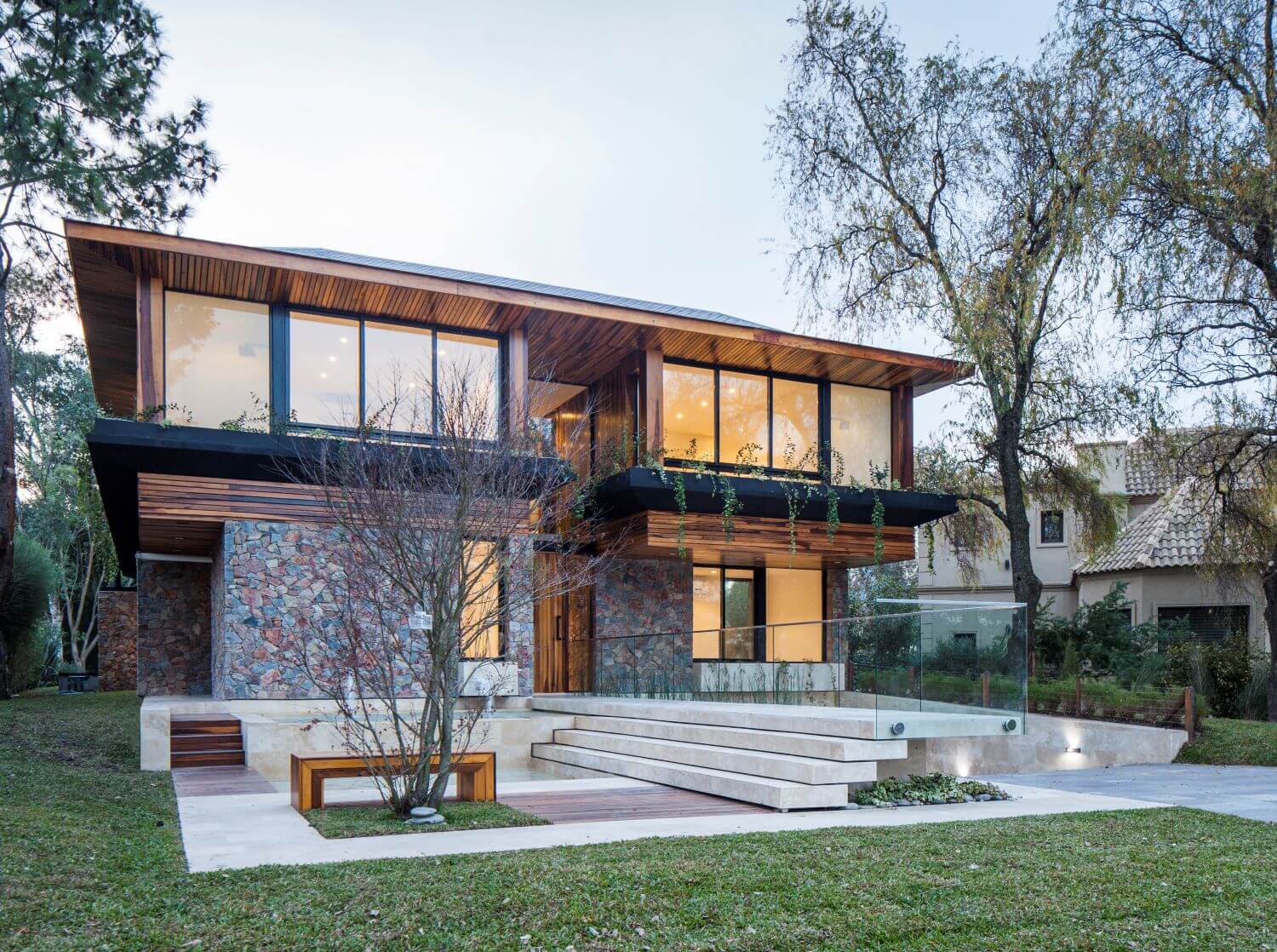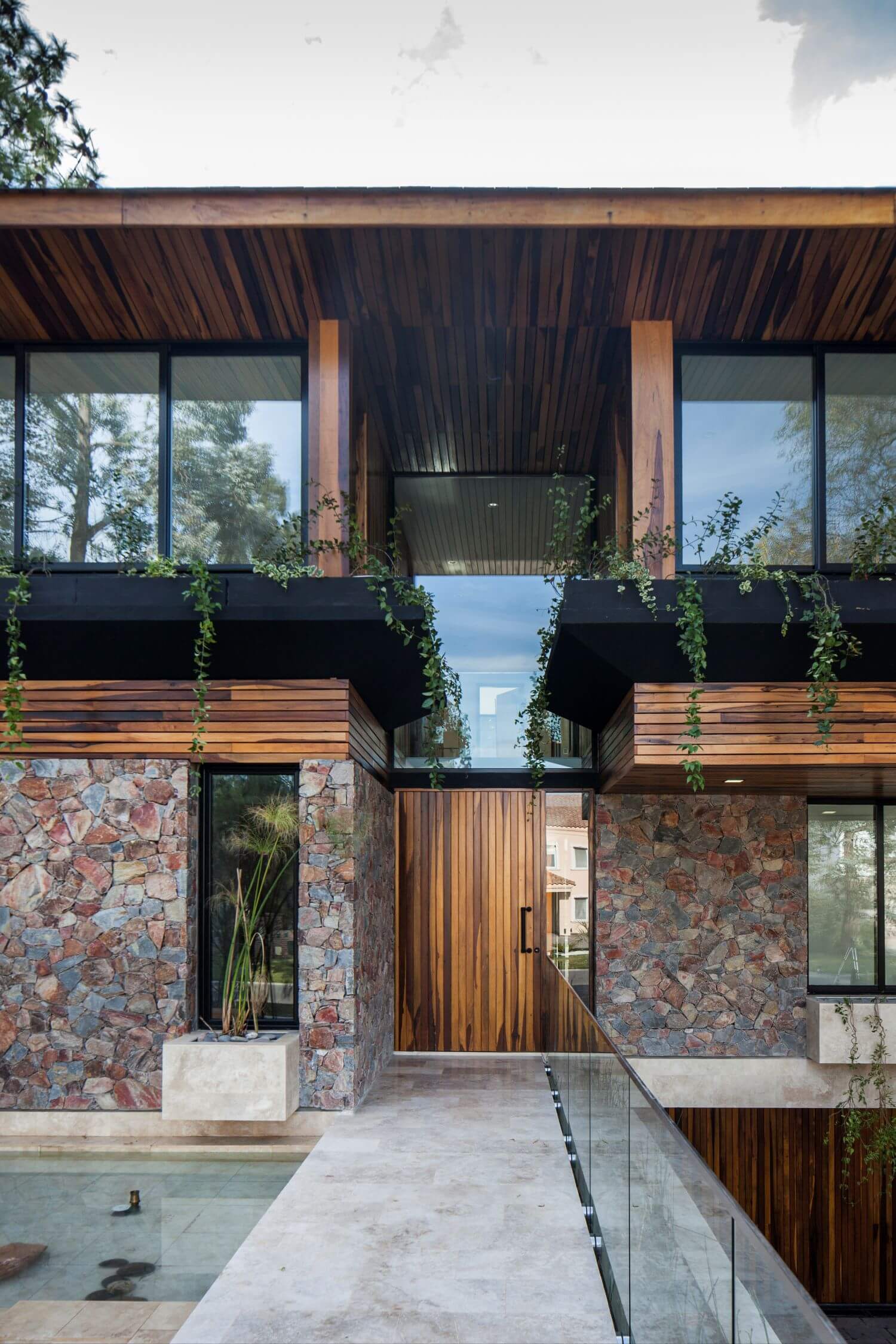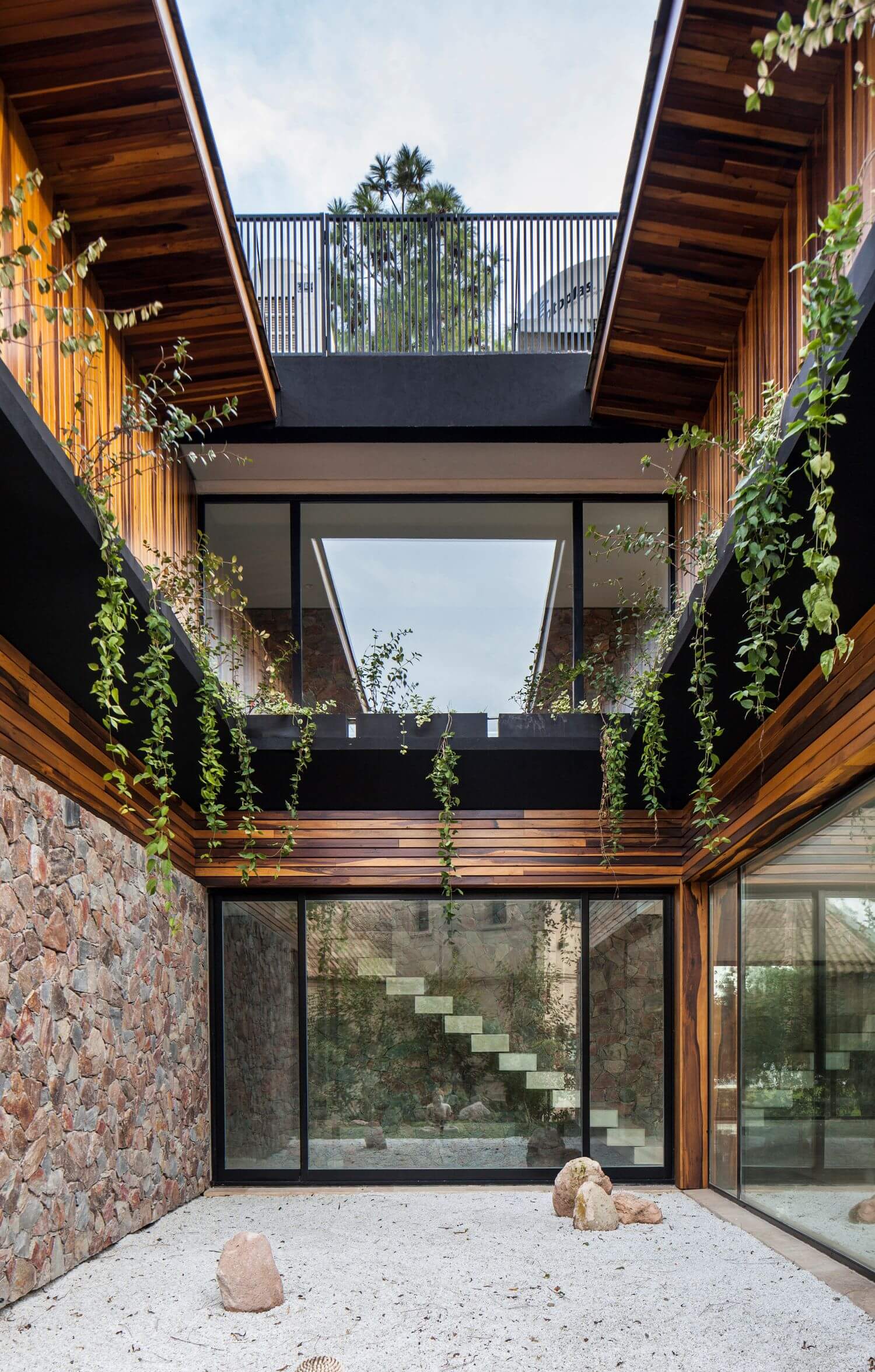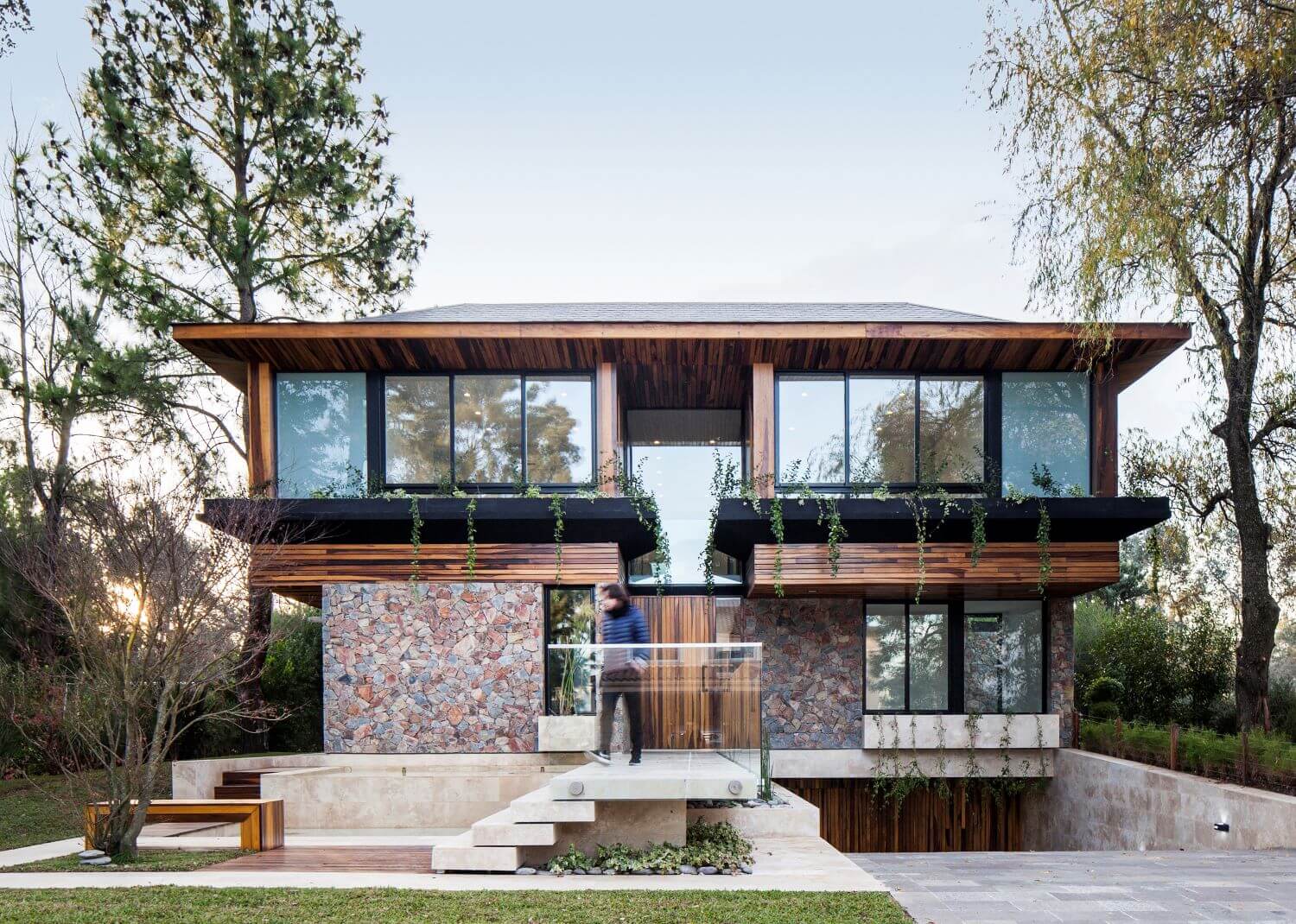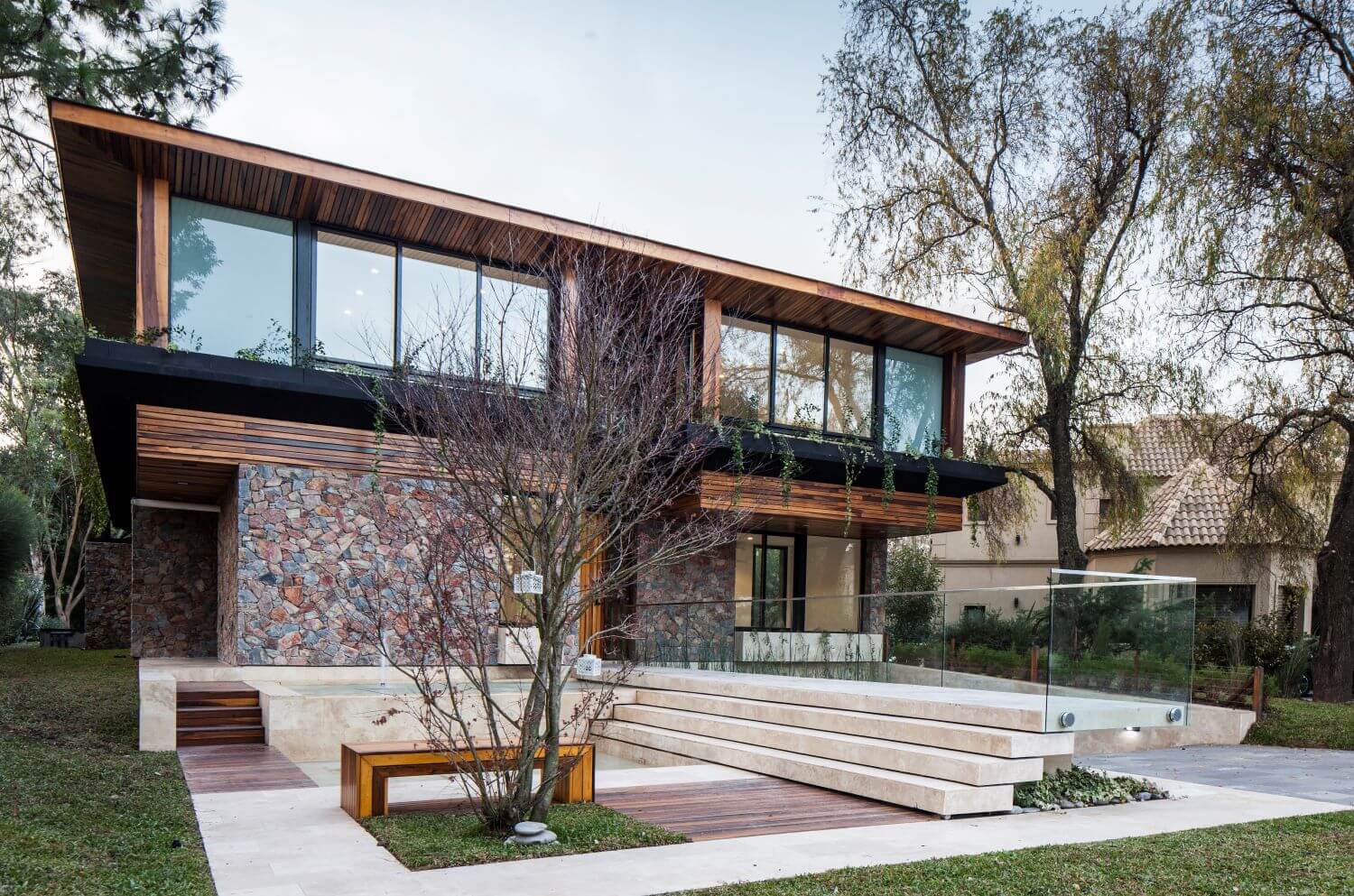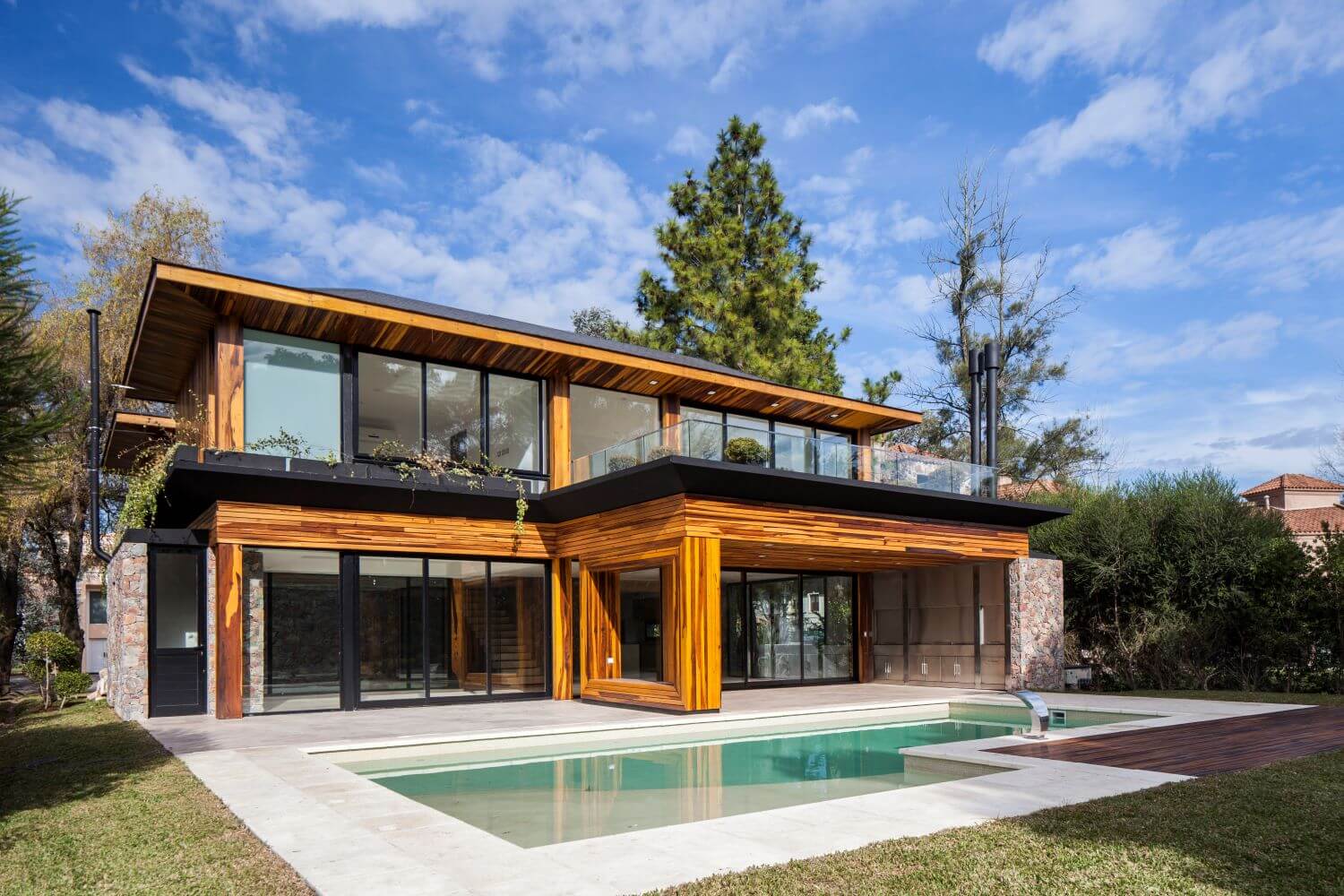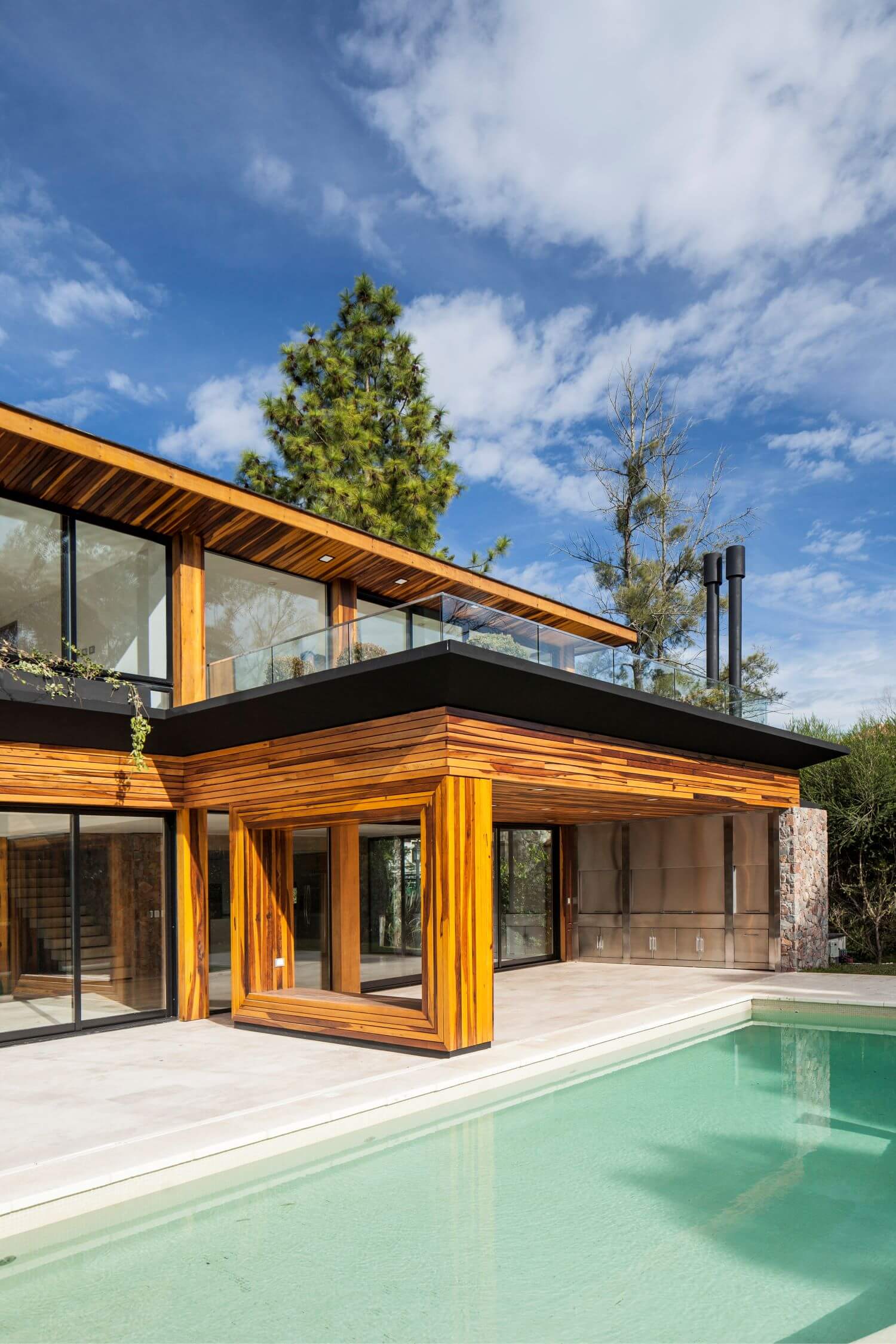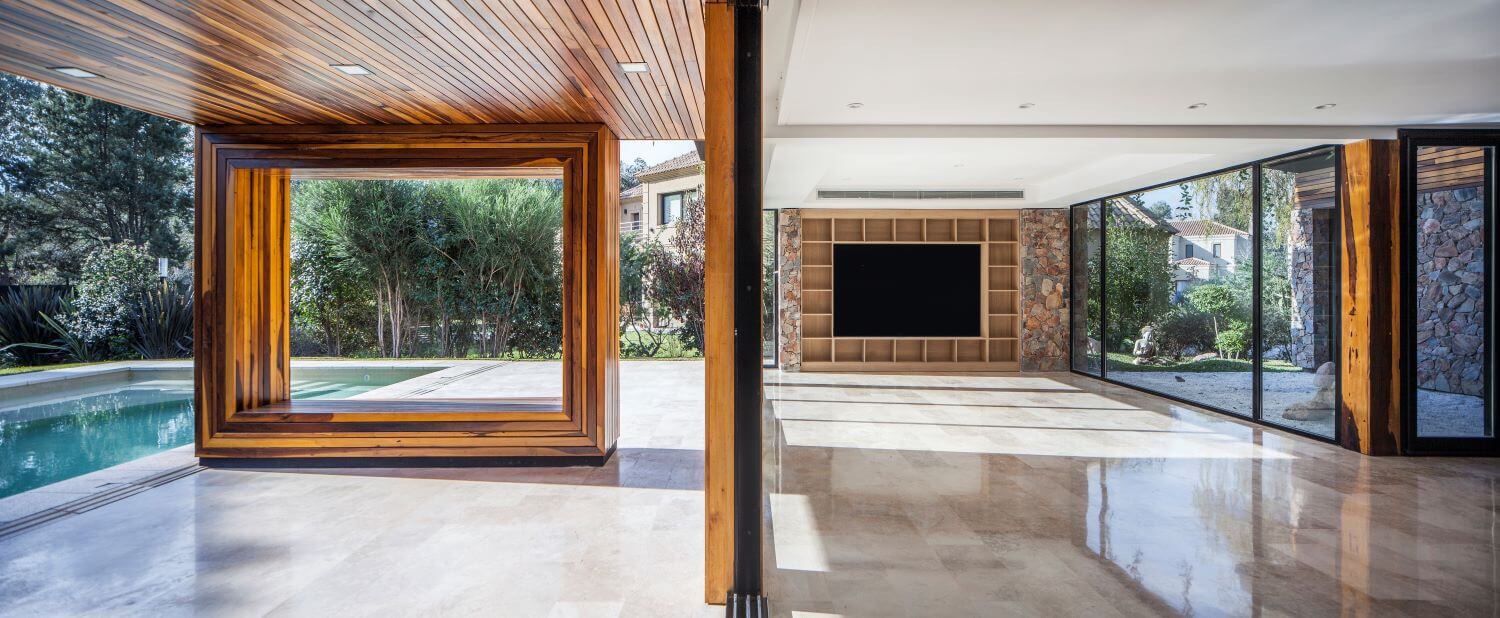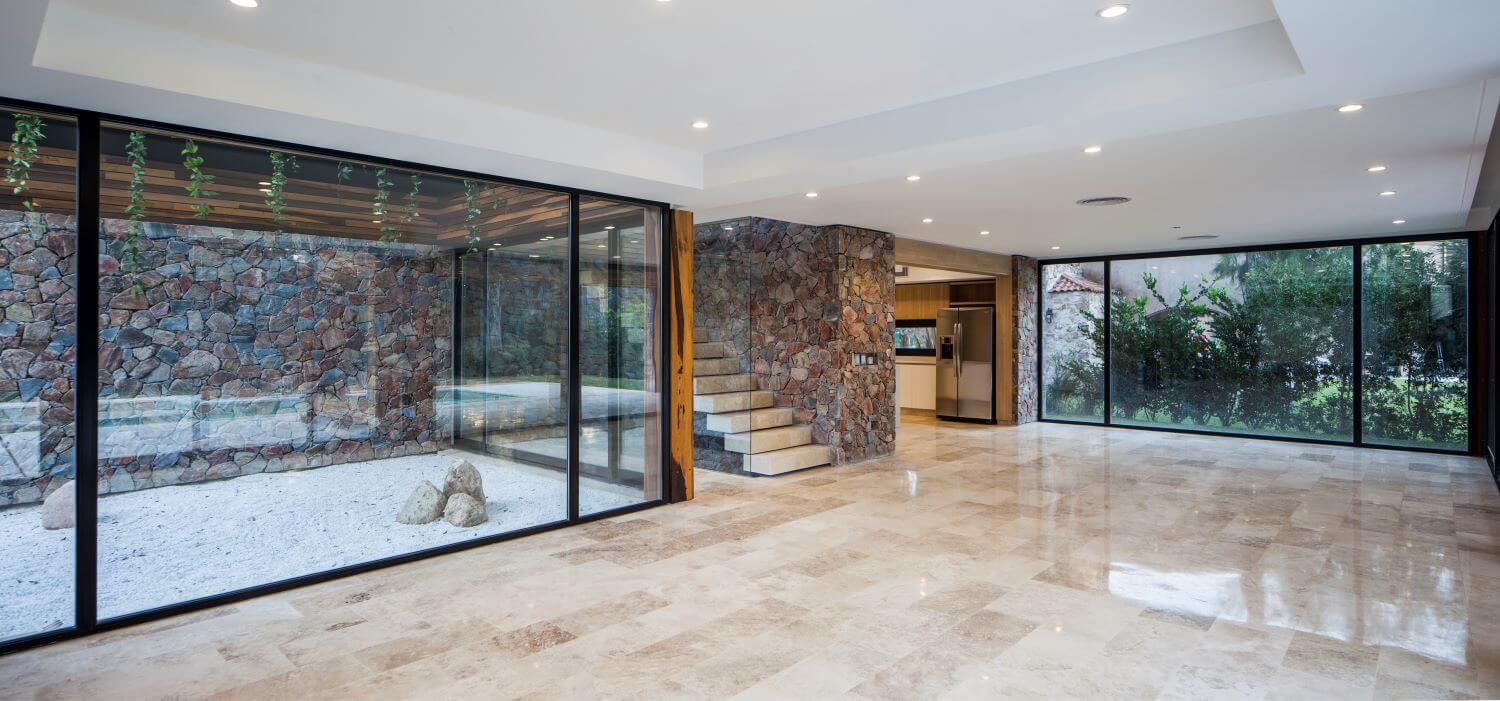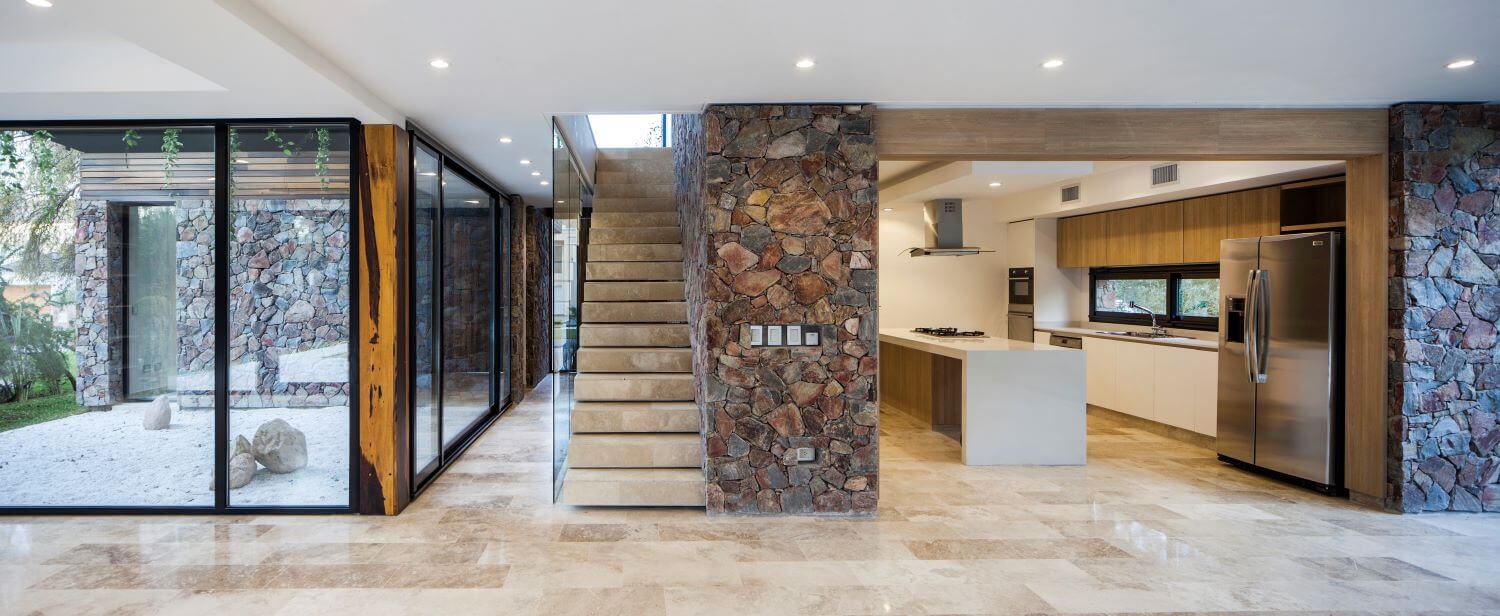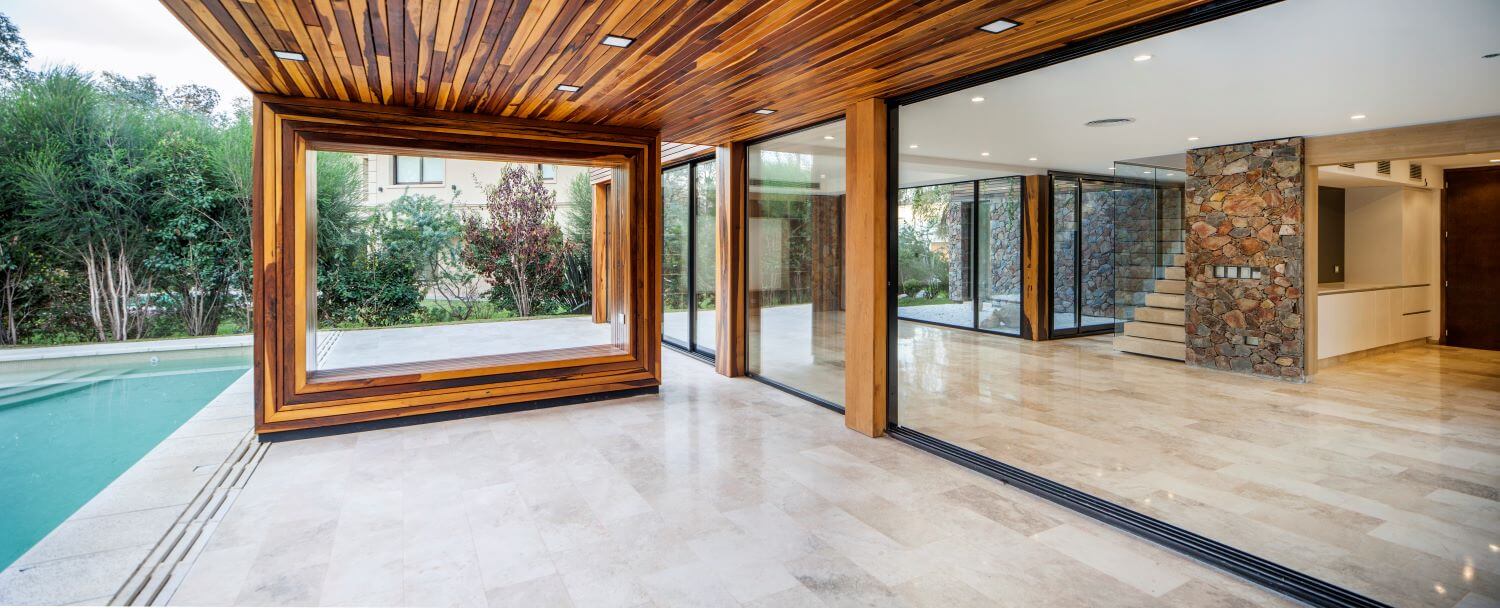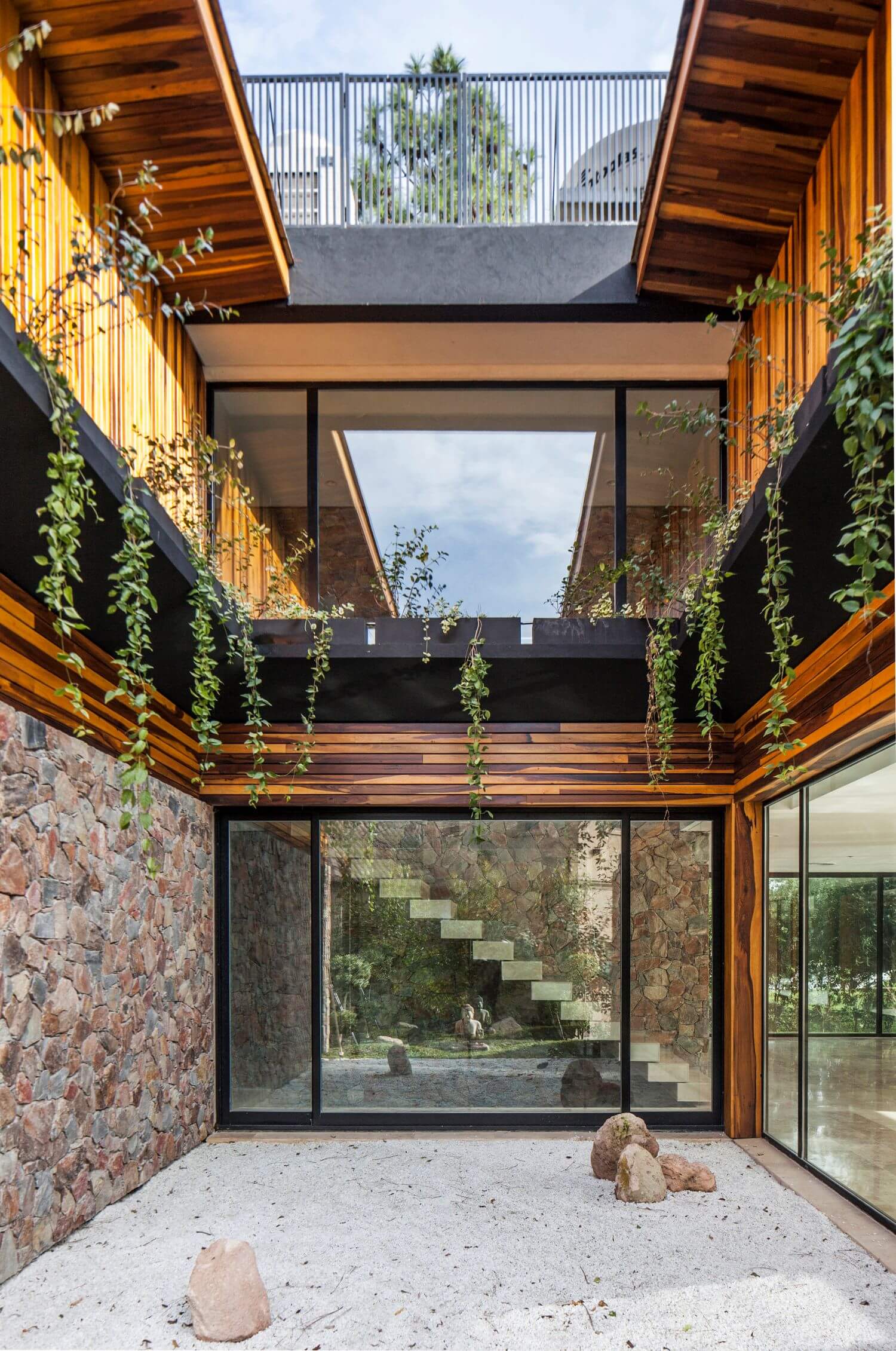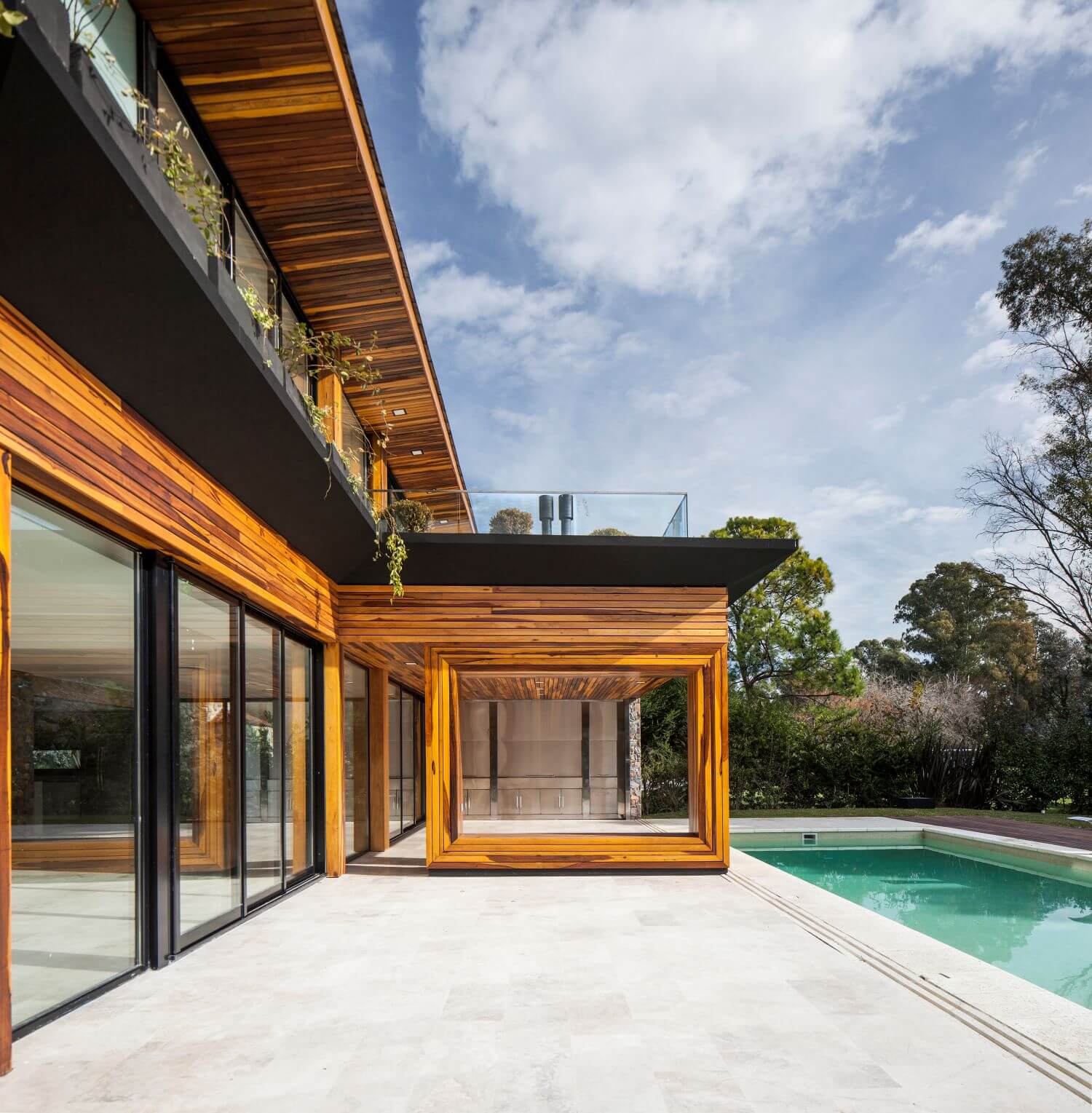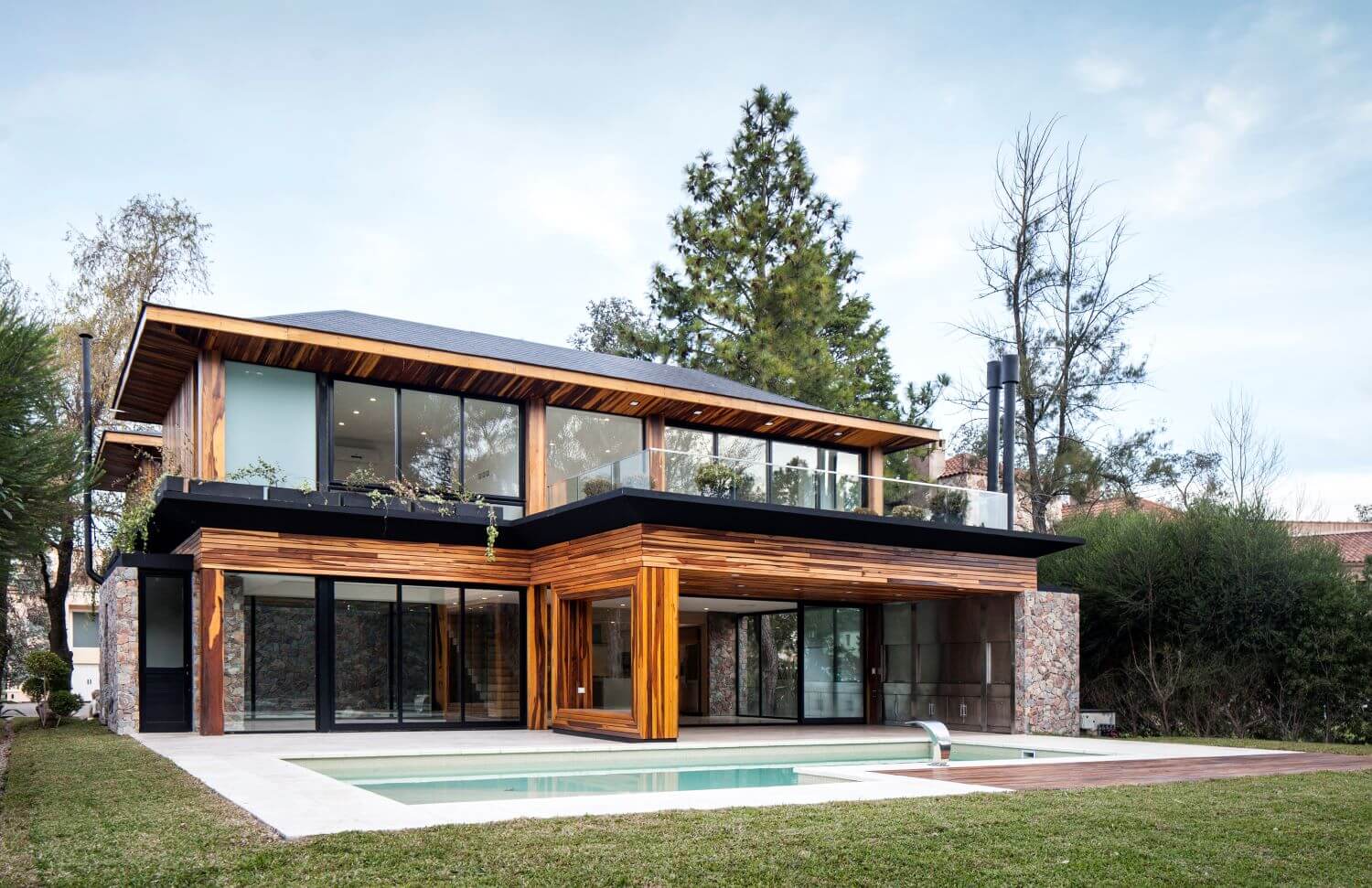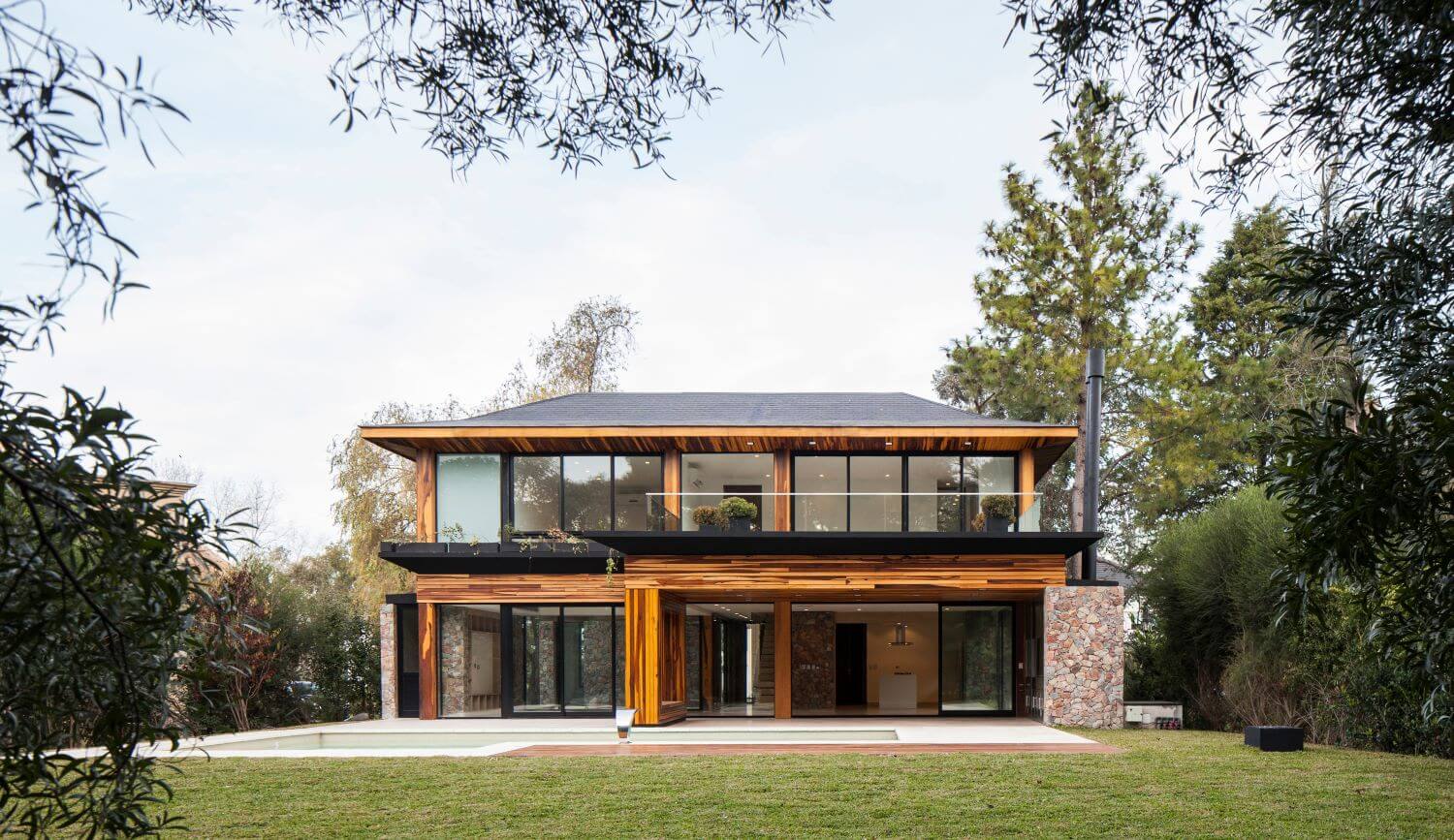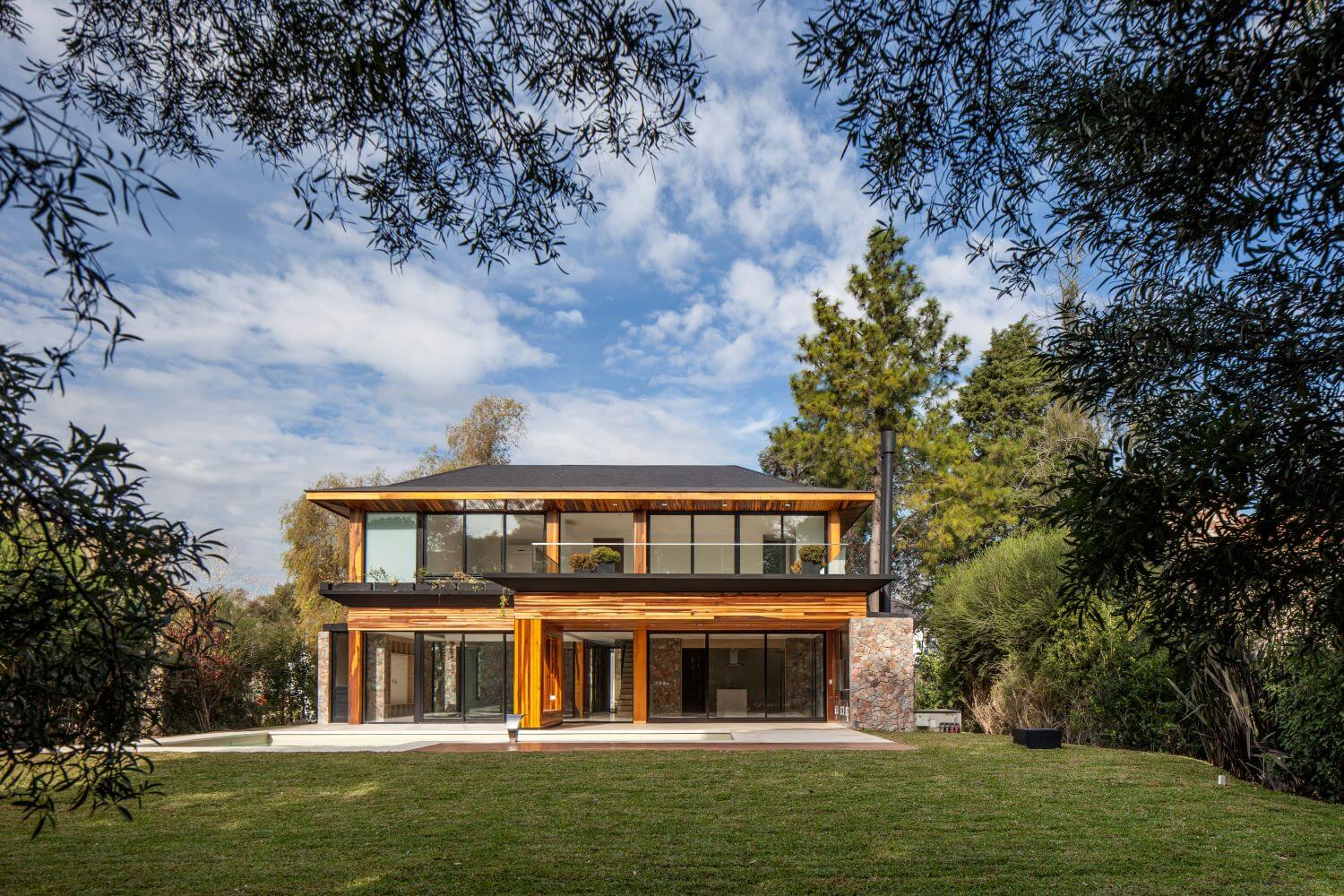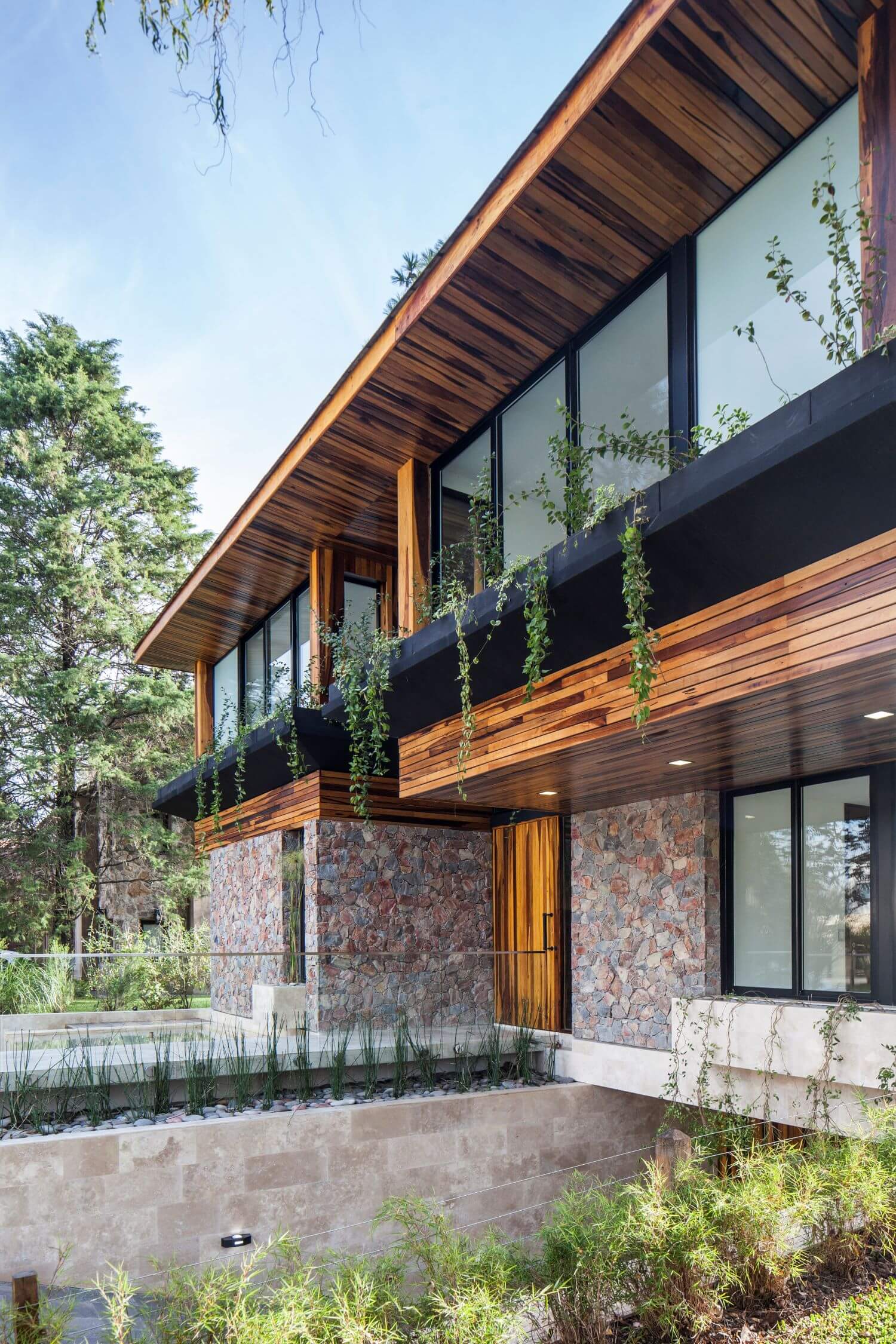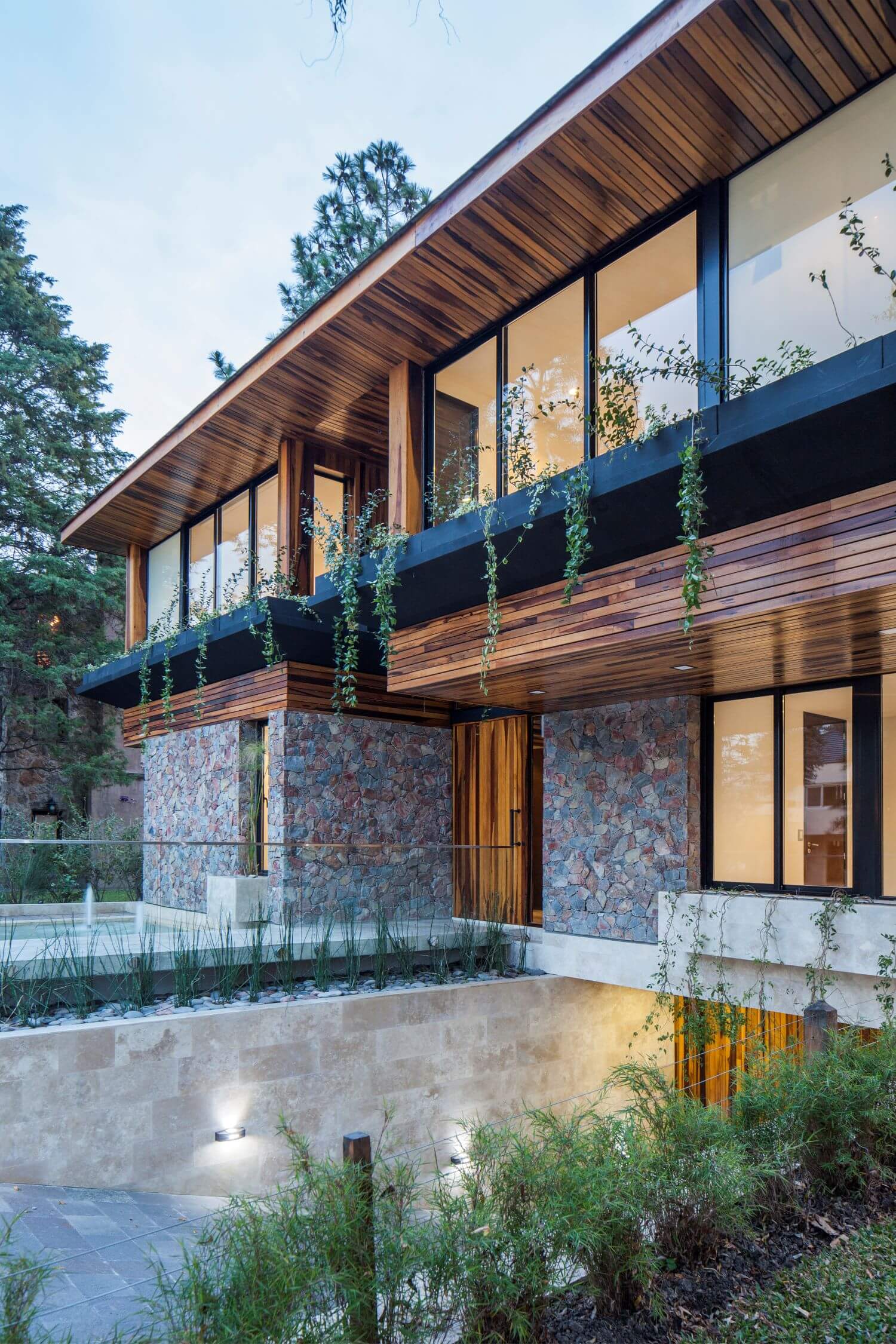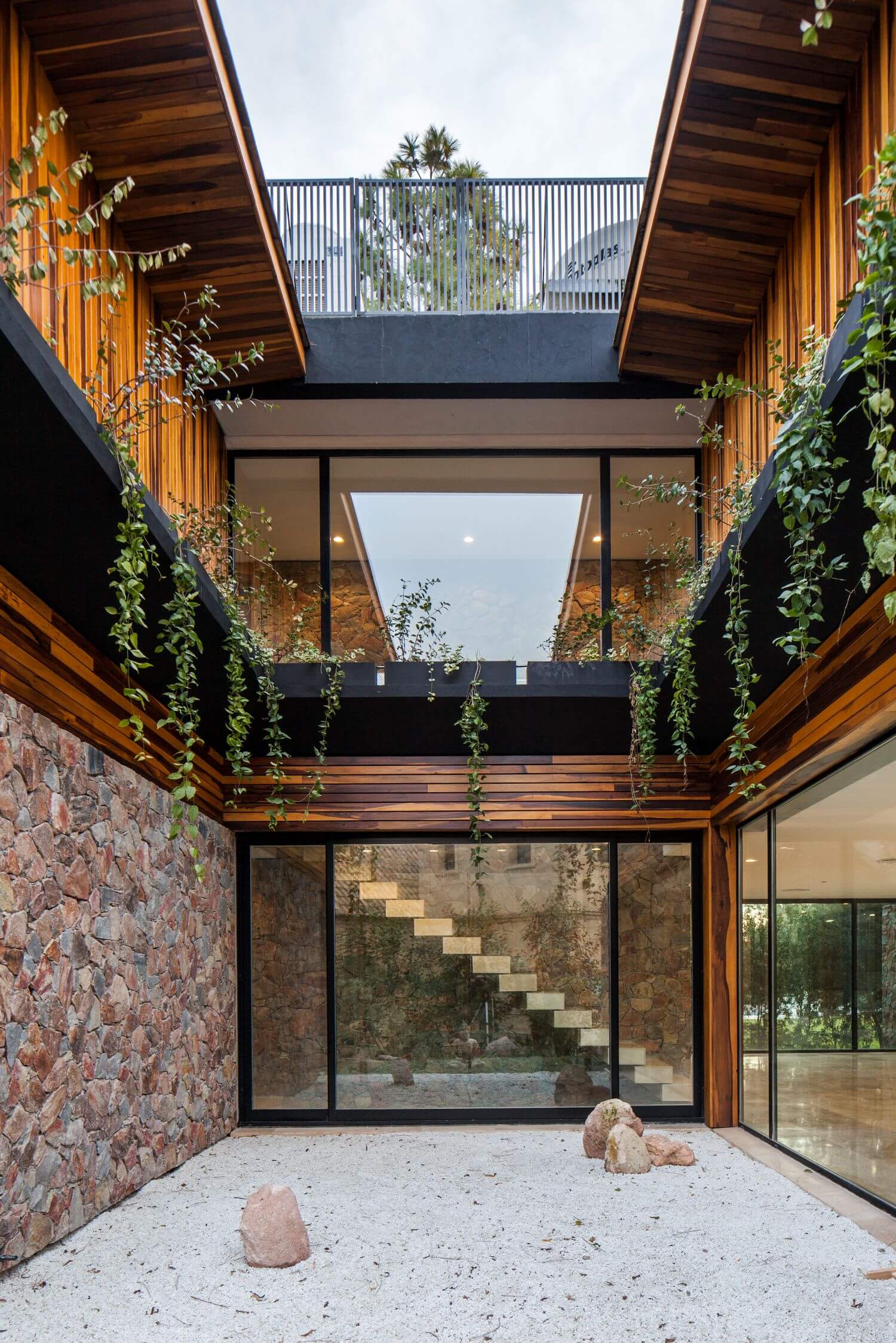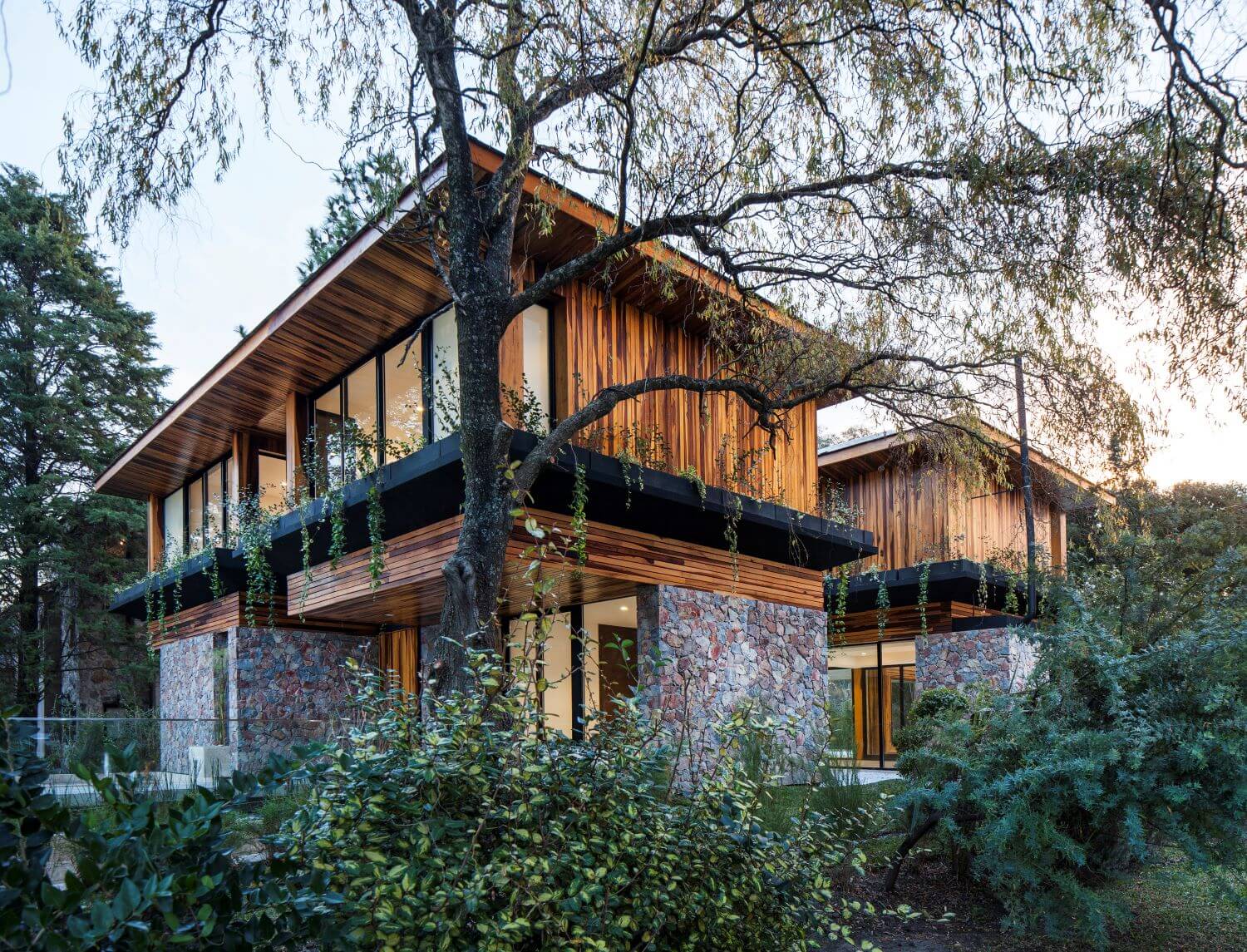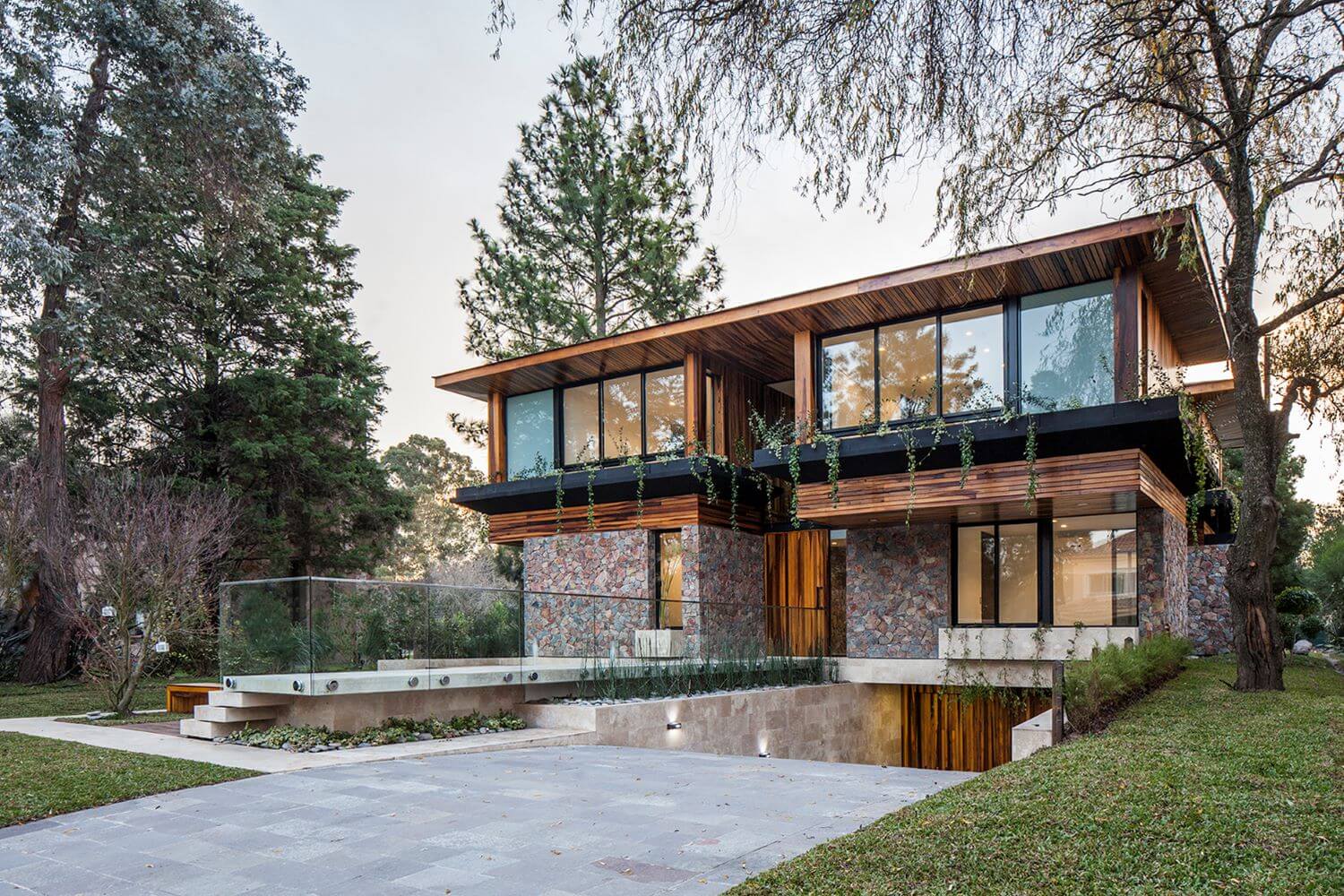 ---