Hiroshi Nakamura & NAP, Takenaka Corporation: In designing the headquarters building for ZOZO, the company behind fashion e-commerce site "ZOZOTOWN," the architect's aim was to create a "regionally integrated office" that will grow with the city, based on a vision of the city itself as being an office where needs such as cafés, parks, daycares, gym facilities, and more are outsourced within the city, rather than being provided for in-house. That way, employees become ideal sources of feedback for the company's core business in the course of building a relationship with the city and local residents. This approach also allowed for a compact office that consolidates functions on the ground floor, other than the working space and meeting rooms that require high confidentiality.
On the southwest side, facing a road with heavy traffic and a high heat load, the architect set the building back to provide green spaces and a plaza that contribute to the cityscape. On the side facing Gakuen-dori Avenue—a travel route for students from Chiba University's main gate to a railway station— the architect established a column-free space and overhanging eaves of a floating roof that open towards the north and south sides, seeking integration with the avenue. It is said that fashion is born on the street these days, and this office is designed to help create habitual observation of the fashion and gestures of people on the street.
The ceiling height varies from 2.0~8.0m, gradationally yielding both an airport-like public space and the privacy of a residence. The skip floors and roofs create differing qualities of space including shifts in sight lines, comfortable distances from one another, and spatial lighting, allowing workers to freely choose their ideal space for conducting their work or activity.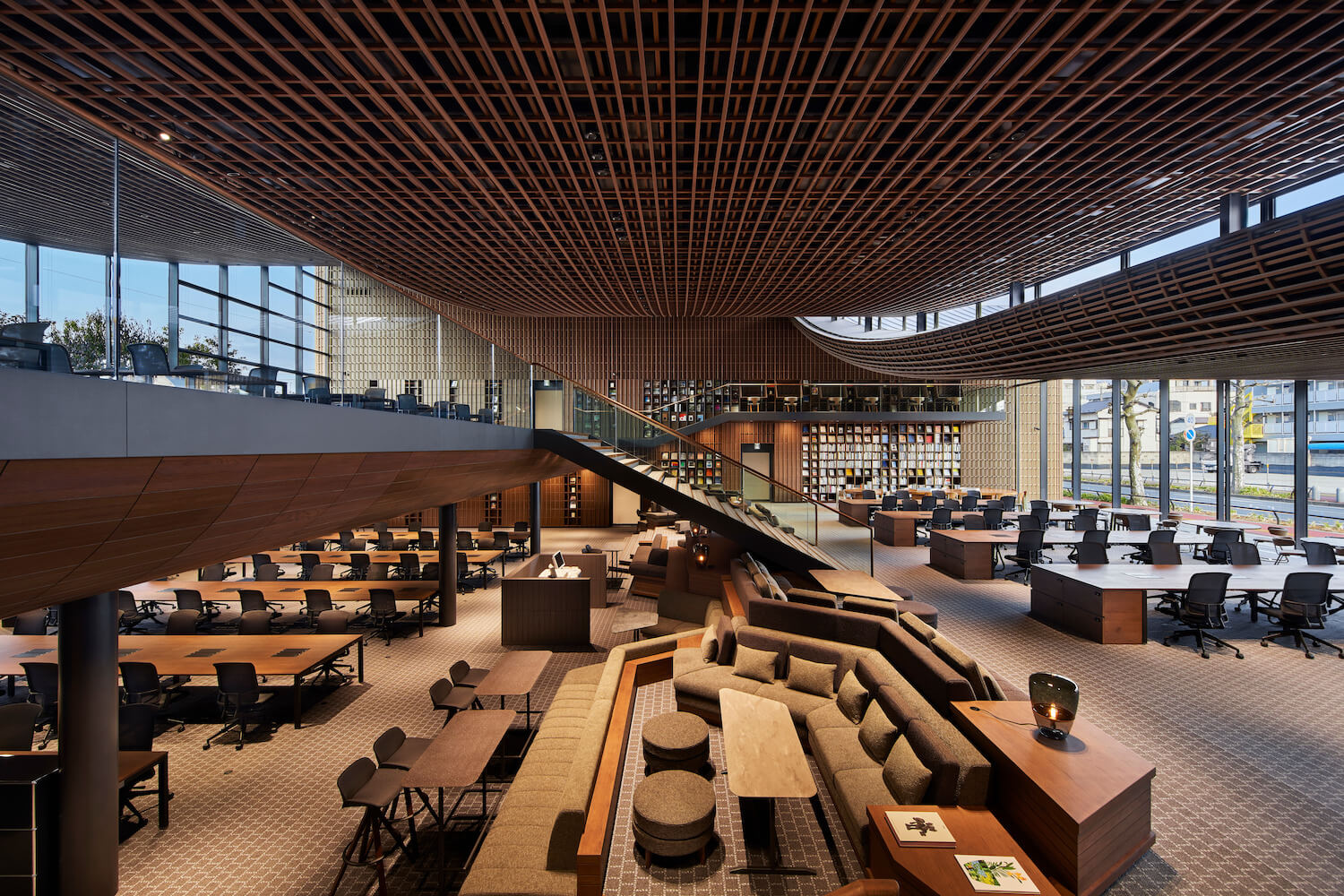 The architect employed a semi-rigid suspended roof structure to obtain a large interior space that is free of columns or other structural elements. By having backstays and core columns on both ends of the building to support the horizontal tensile force generated in the suspended roof, the architect was able to achieve a roof with a light appearance and a beam height of only 350mm, even over the larger span. To provide a comfortable indoor environment for staff, the architect adopted a system where the air circulation method switches according to the season. In summer, cool air is distributed evenly in the space through non-combustible cardboard ducts located throughout the roof. The ducts themselves, cooled by the air, create a radiant cooling effect that essentially alleviates thermal load from the roof. In winter, air diffusers on the floor efficiently supply air flow to only the occupied zone, ensuring comfort even in a large space with various levels.
The fibrous roofs and walls consist of three woven layers of slender lumber, and drape voluminously like large pieces of fabric that gently envelop people. The air conditioning/ventilation ducts and sound insulation material, made of paper installed behind the fibrous roofs and walls to create a pleasant thermal and acoustic environment, render this "a comfortable clothes-like architecture" worthy of ZOZO.
As remote working has become a popular option, the process of commuting to an office has changed significantly—having space and time that allows one to naturally acquire a mindset and behavior that interrelate to corporate philosophy and business, and a sense of unity created from working with each other's presence under one roof. Being able to share enthusiasm with one another and to indulge in close communications are the functions sought by this office.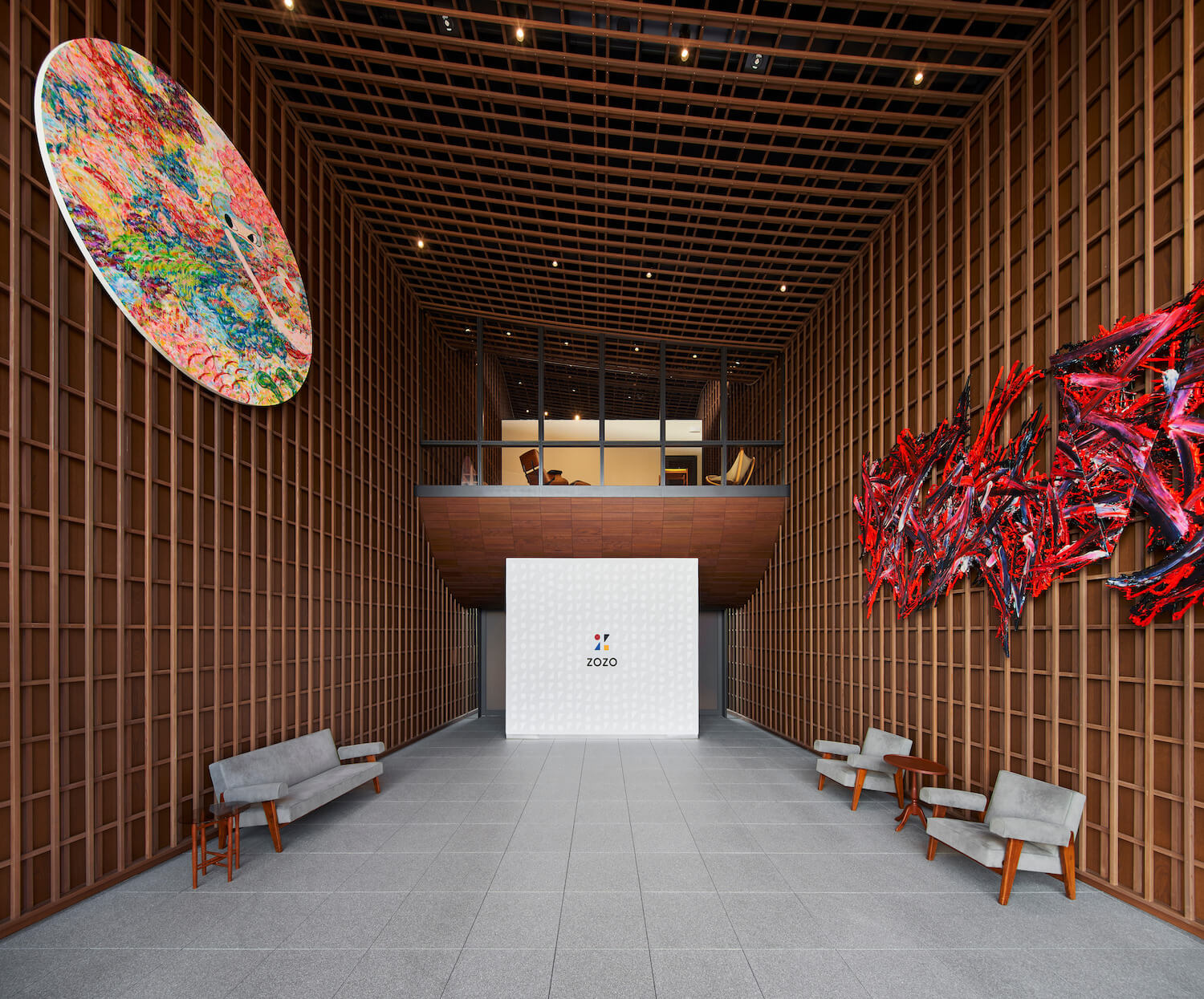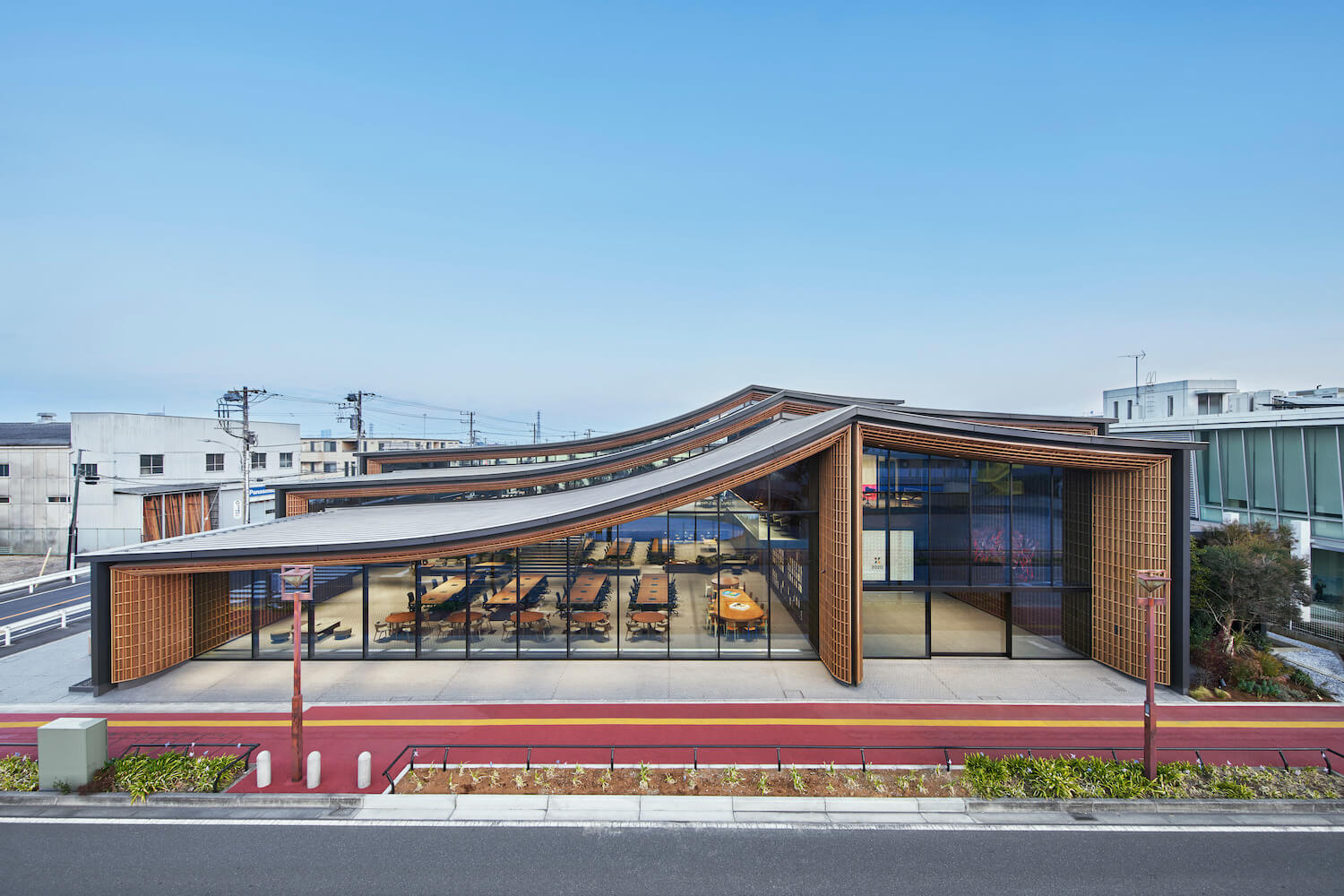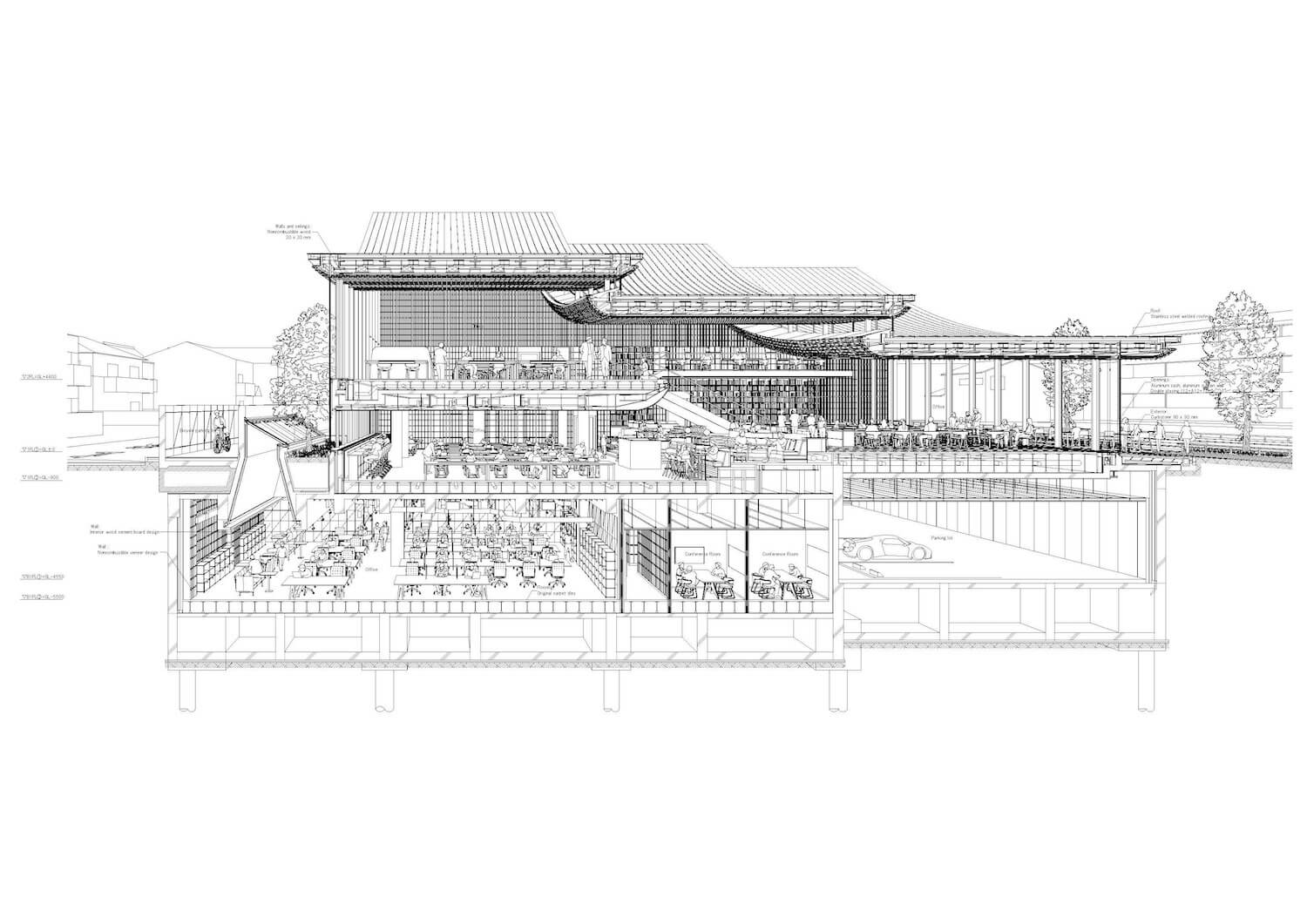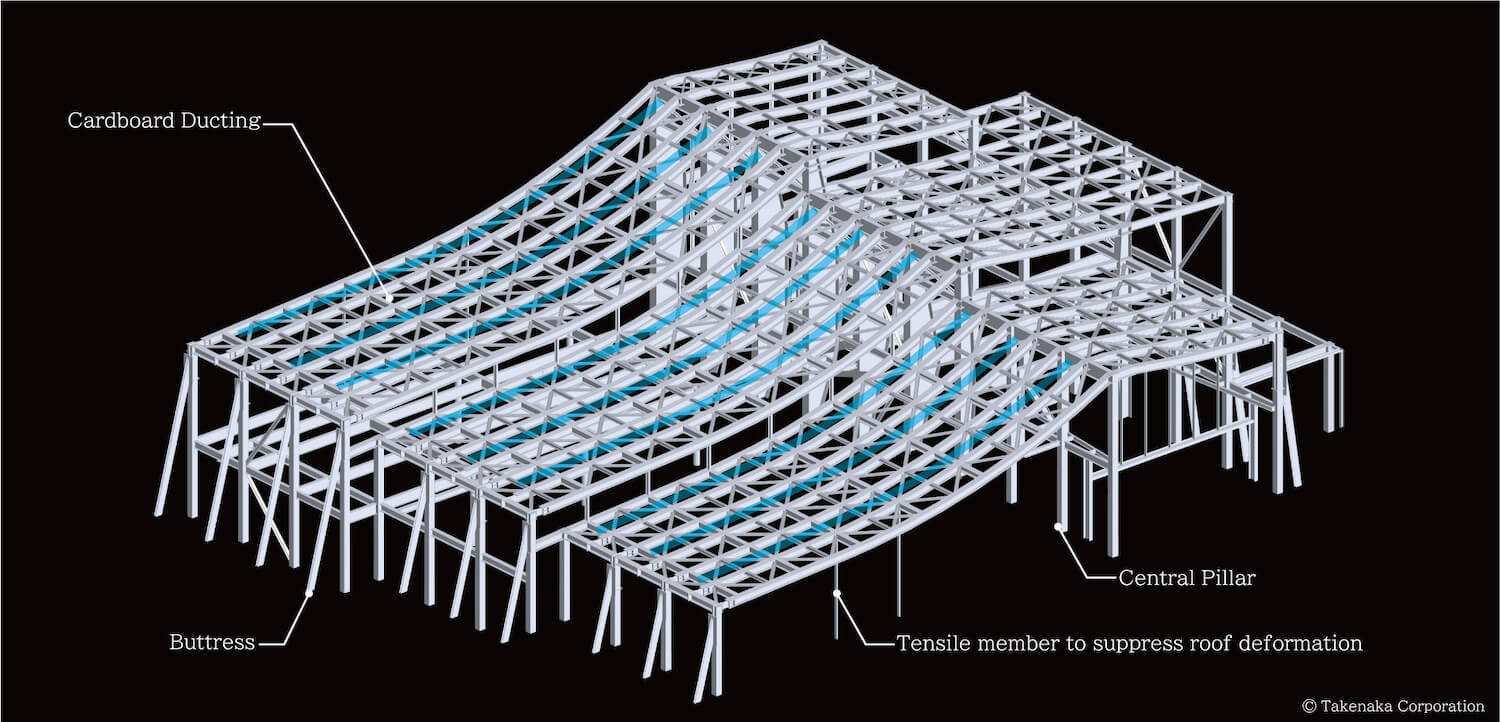 About Hiroshi Nakamura & NAP
Hiroshi Nakamura was born in 1974 in Tokyo, and spent his childhood in Kamakura and Kanazawa. In 1999, he completed his master's degree in architecture at the Graduate School of Science and Technology, Meiji University. After graduation, he started working at Kengo Kuma & Associates before establishing Hiroshi Nakamura & NAP in 2002. Currently, he is also the representative of NAP Consultant, NAP International, and NAP Design Works, dealing with a wide range of fields from urban development to furniture.
Hiroshi Nakamura's motto is to build an organic relationship between architecture, nature, and the body through "microscopic design" that draws from natural phenomena and people's behaviors and emotions. Additionally, he focuses on "architecture that can only be found there" based on the history, culture, industry, and materials of a region. In recent years, he has discovered the essence of his design thought in traditional Japanese architecture and garden culture and is working to reconstruct them.
---