l. Excellently located in the Turó Park area (Barcelona), this generously sized house offers a timeless and inspiring atmosphere.
ll. An elaborate study of color fills all rooms with life; A select collection of designer pieces give it its exclusive character.
lll. The most elegant residential Barcelona, in the quiet area of Turó Park, treasures some jewels of interior design whose owners rarely open their doors. We look out as privileged observers to a house of generous dimensions, with a total of 260 square meters, by the hand of Alex March, author of its interior design.
The need of its owner was to give it a renewed air: "my client wanted to have another relationship with her space, an inspiring, timeless, elegant, cheerful, balanced home, with soul and character" explains Alex March who highlights the sensitivity for art of the owner: "she is in love with art and, in particular, with the works of the Spanish artist Iñaki Moreno". In addition, in this project, the will to preserve, recover and rejuvenate the pre-existing elements of the house, located on a farm of the 20s, has been a priority.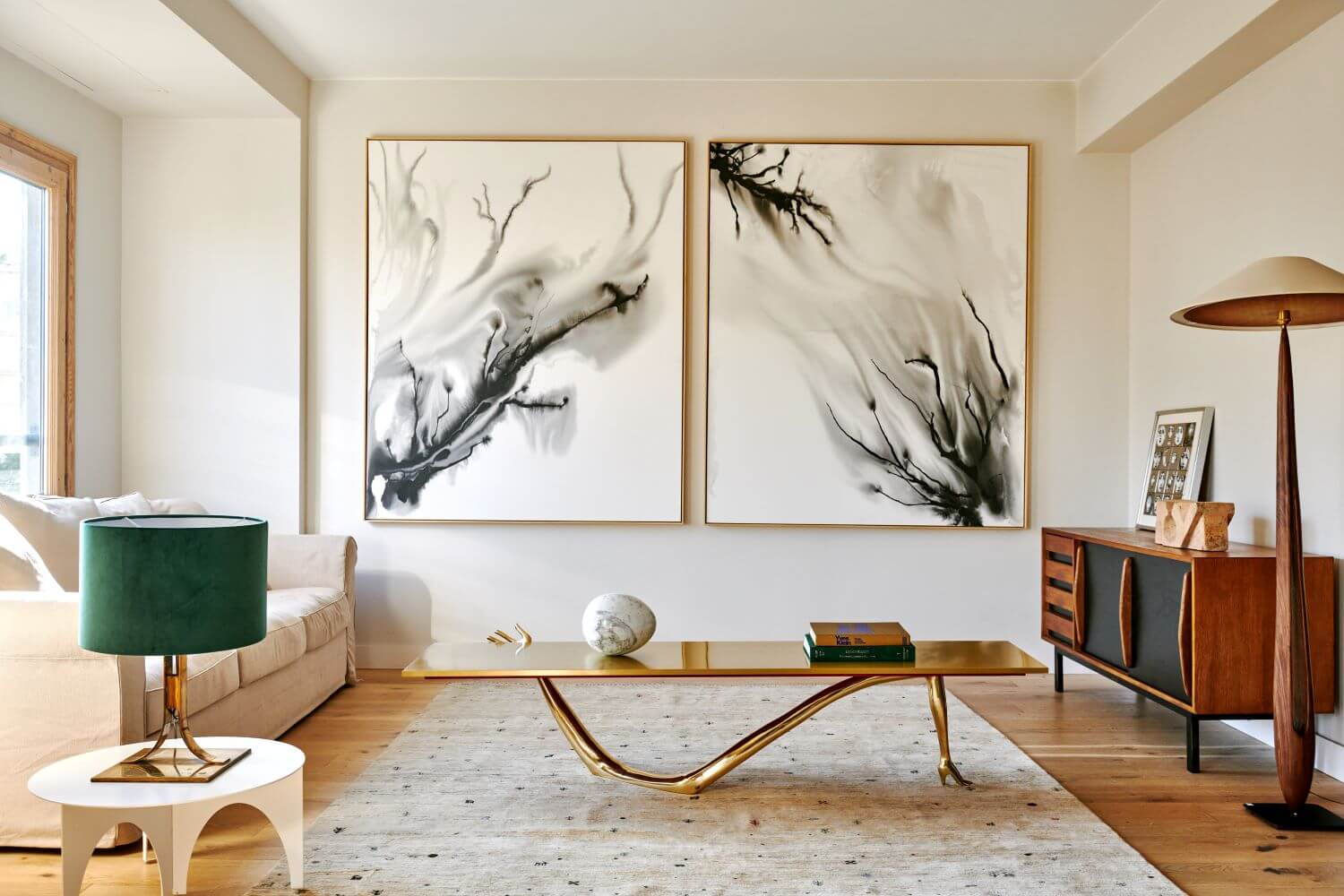 Mediterranean style with European and African influences
In essence, the house is a space represented by clear Mediterranean influences. A very lively and warm Mediterranean character is palpable, enriched with a mixture of European and ethnic influences, mainly African. The interior design of this house responds to a great work of color, something usual in much of the work of Alex March's studio.
Also common is the mixture of styles and eras, as well as the balanced selection of unique pieces of art and design, in the interior design projects of Alex March Studio. For this house, a mixture of furniture and decoration elements has been chosen, where figurative art, surrealism and expressionism converge with abstraction in art, craftsmanship and numerous pieces of unique furniture. Some of these pieces are unique, belonging to authors practically unknown today or sometimes, without known author, others by iconic Catalan authors, also from the rest of the Iberian Peninsula, combined with pieces by iconic European authors of the twentieth century.
Some lamps are unique and exclusive pieces for the project, designed by Omar Sherzad (Omalight), most of the paintings bear the imprint of contemporary artist Iñaki Moreno, the carpets are made of Iranian wool (Turkestan). The plants (Casa Protea) provide the ideal touch of freshness in all rooms of the house.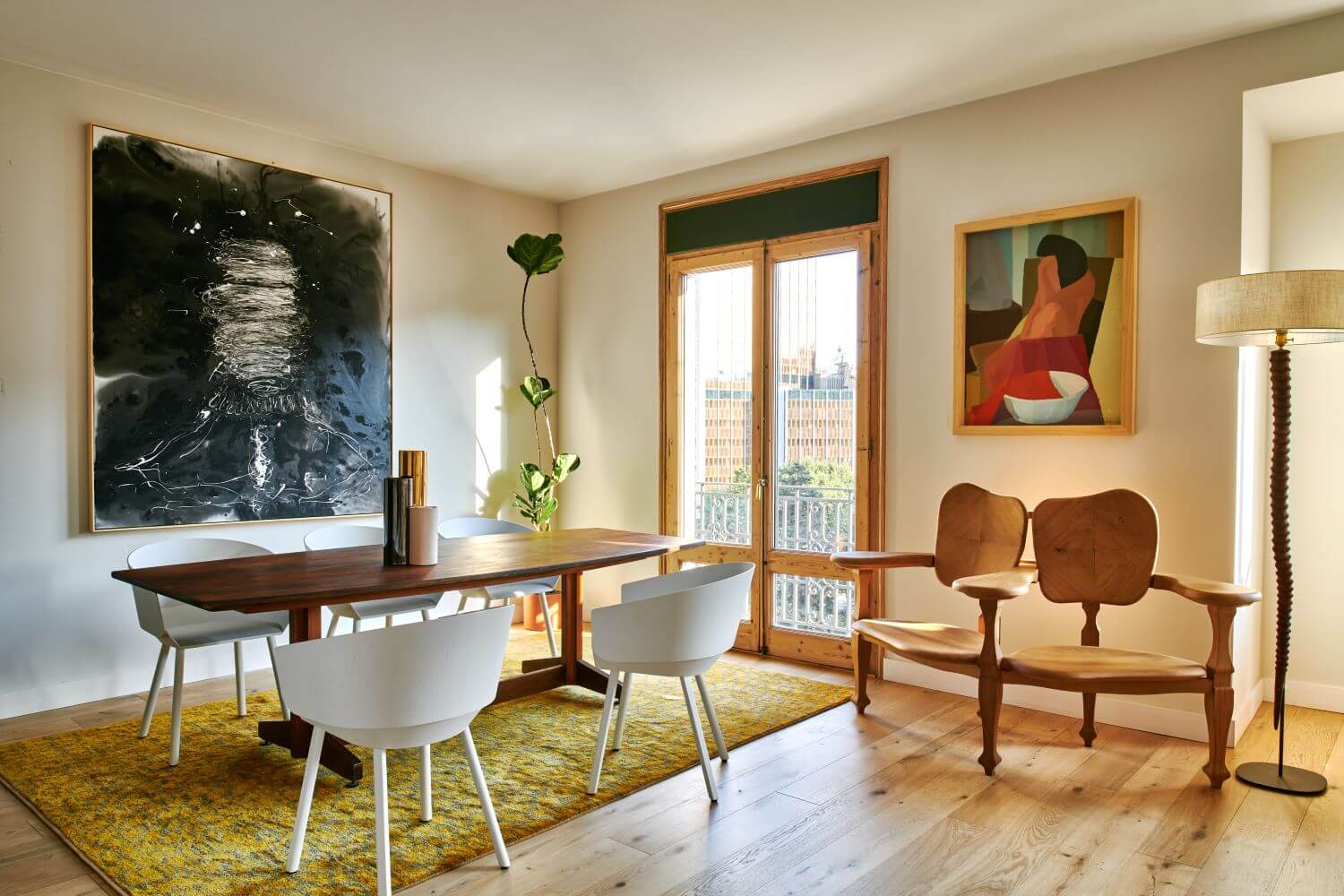 Surrealism in the center of the room
Undoubtedly, the star piece of the room is the large table-sculpture Leda, designed by Salvador Dalí, from BD Ediciones. It is a large coffee table 190 cm long in brass, with a hand-shaped foot and leg with a heeled shoe, on which stands out an egg in Carrara marble, a design taken from the painting "Femme à tête de roses" (1935) thanks to the extreme detail of Dalí's painting.
The house exudes an atmosphere of elegance and passion for art and design, although in the living room and dining room this feeling is where it is most accentuated. On the central wall of the living room, a pair of black and white paintings fills the room with agility and dynamism. On one side, the sofa has been strategically placed in the opposite direction to the entry of light, creating an intimate and cozy effect. Next to this and on a white table, a unique piece designed by Alex March himself, stands out the table lamp of the Bach series, designed in 1970 by the couple of architects Federico Correa and Alfonso Milá.
For the opposite side, a Cabinet designed by the great visionary of modern interior design, the French architect and designer Charlotte Perriand in 1958, acquired in Antigues Matèries, has been chosen. With the intention of giving this piece the importance it deserves, they have selected only two decorative pieces on this piece of furniture: a painting made from original pieces by the Italian artist Piero Fornasetti and a sculpture by Julio Bono. To achieve greater warmth, the natural wood floor is dressed in an Iranian wool carpet.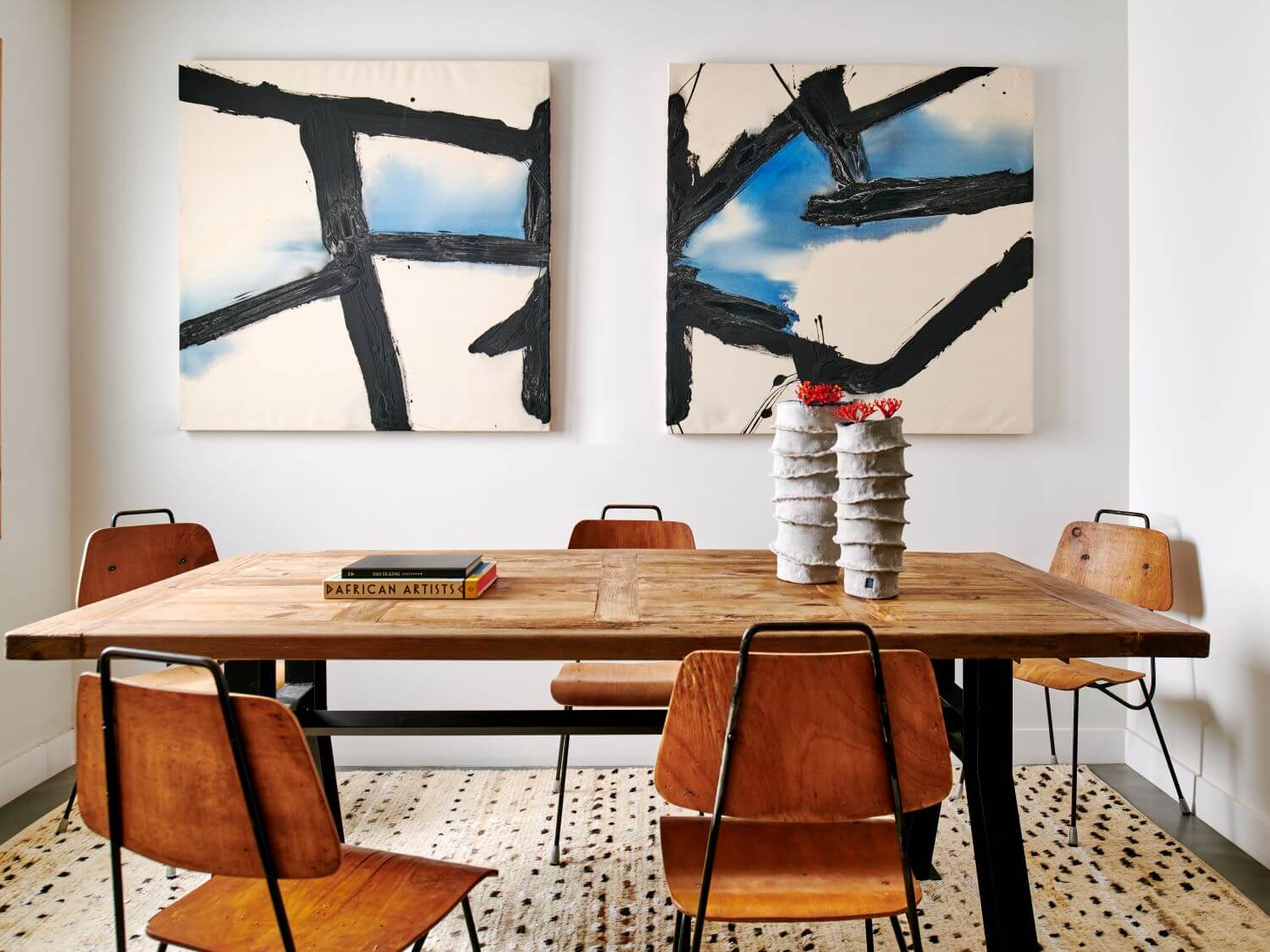 An eclectic-style dining room
As in the living room, natural light bathes the entire dining area. The starting point is a base of raw walls, with a solid oak wood floor. The carpentry has been left in the original wood, it has only been pickled and varnished in transparent, thus showing the beauty of its organic nakedness.
The iconic Batlló bench, designed by Antoni Gaudí, acts as a majestic connecting thread between the living room and the dining room. It is a faithful and numbered reproduction of one of the pieces of furniture that Gaudí originally designed for the main dining room of Casa Batlló, produced by BD Ediciones. On this bench, a painting of the 70s, of unknown author, shines thanks to a chromaticism that harmonizes with the rest of the elements.
The dining table, in natural wood, is a 1960s design by Jordi Vilanova. This piece of pure lines and dark tonality, contrasts with the abstract shapes and white of the Houdini chairs with arms, iconic pieces designed by Stefan Diez. Every decorative detail is worth admiring in this house, such as the exceptional vases on the Is-Dher table by HE Shk. Hind Majid Al Qassimi for BD Barcelona, three connected vases of glazed stoneware in three different finishes: 24 carat gold, platinum and a beige engobe.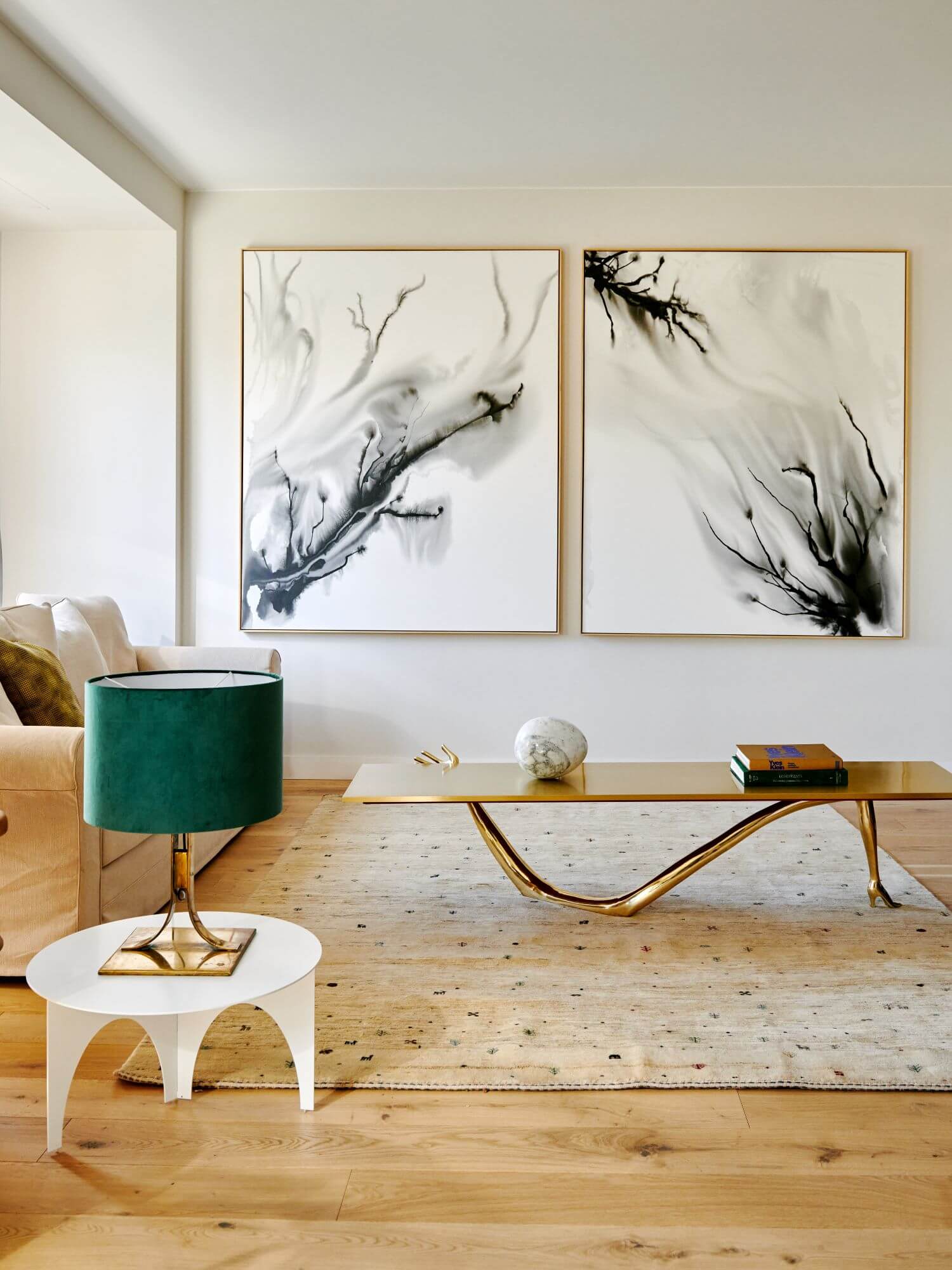 A bedroom between Africa and the Mediterranean
Far from opulence, the bedroom is a haven of calm and balance that offers a pleasant rest. The absence of curtains, in addition to providing a very natural aesthetic, fits the habit of homeowners to take advantage of sunlight to wake up.
It is committed to a chromatic range that moves between white and raw tones and different browns of natural wood. African reminiscences are achieved with pieces such as the wooden floor lamp Phare, by Omalight and a sculpture by José Berlanga (1981).
To highlight a timeless classic of the design of the twentieth century, the armchair of Charlotte Perriand "Bauche 1946", in wood and straw, brings the rustic touch to the room along with a stool in solid wood of the 50s.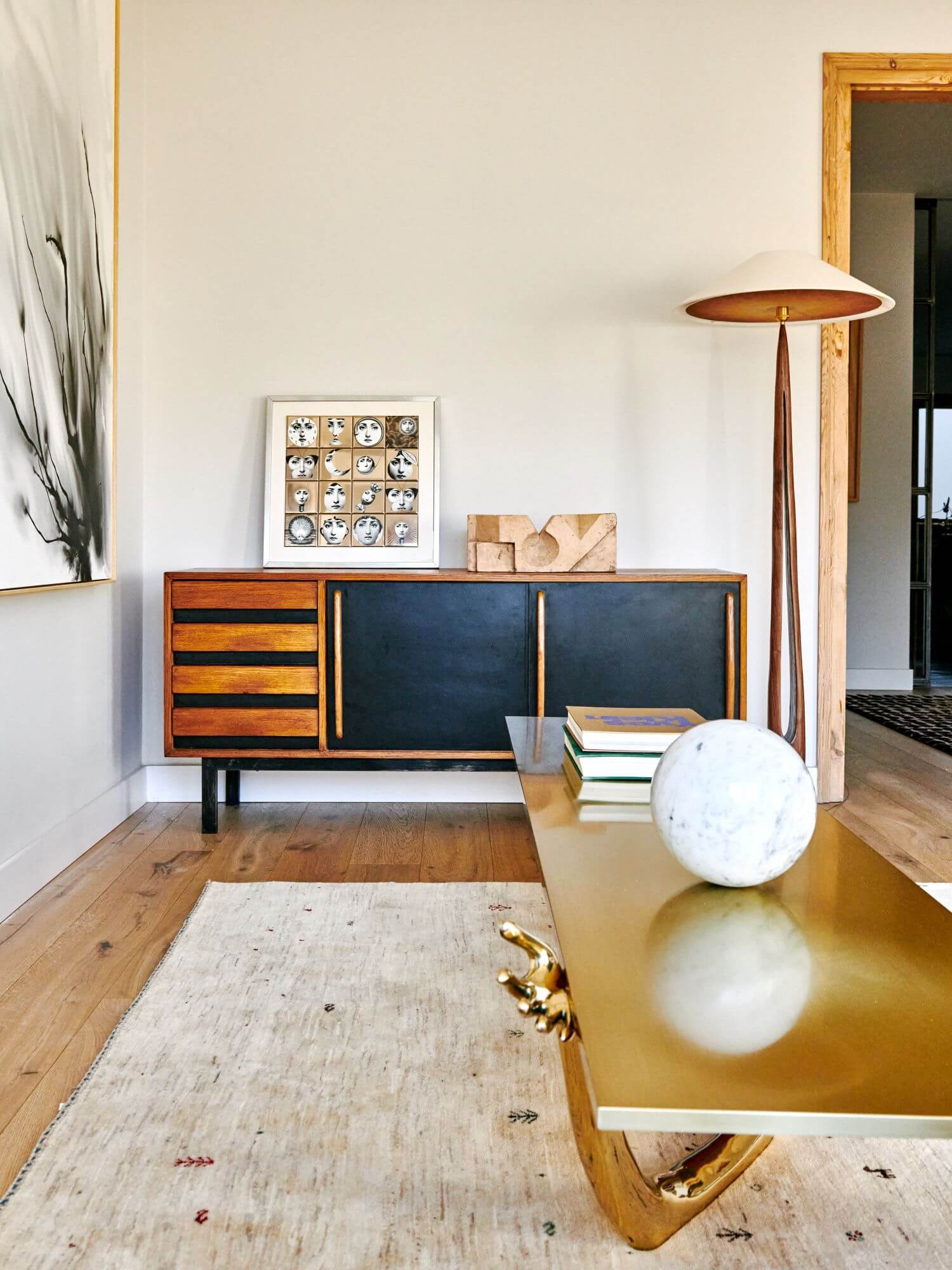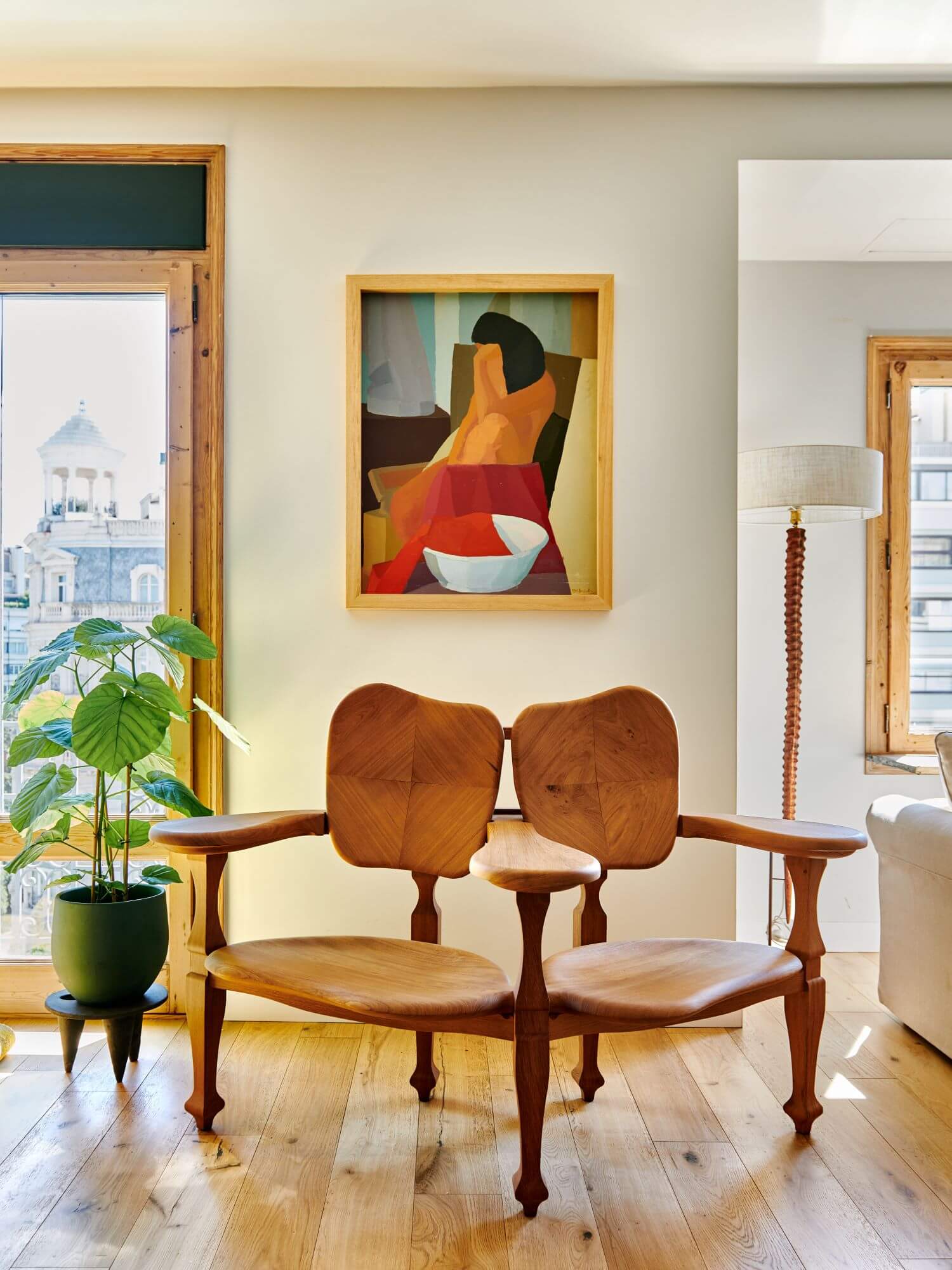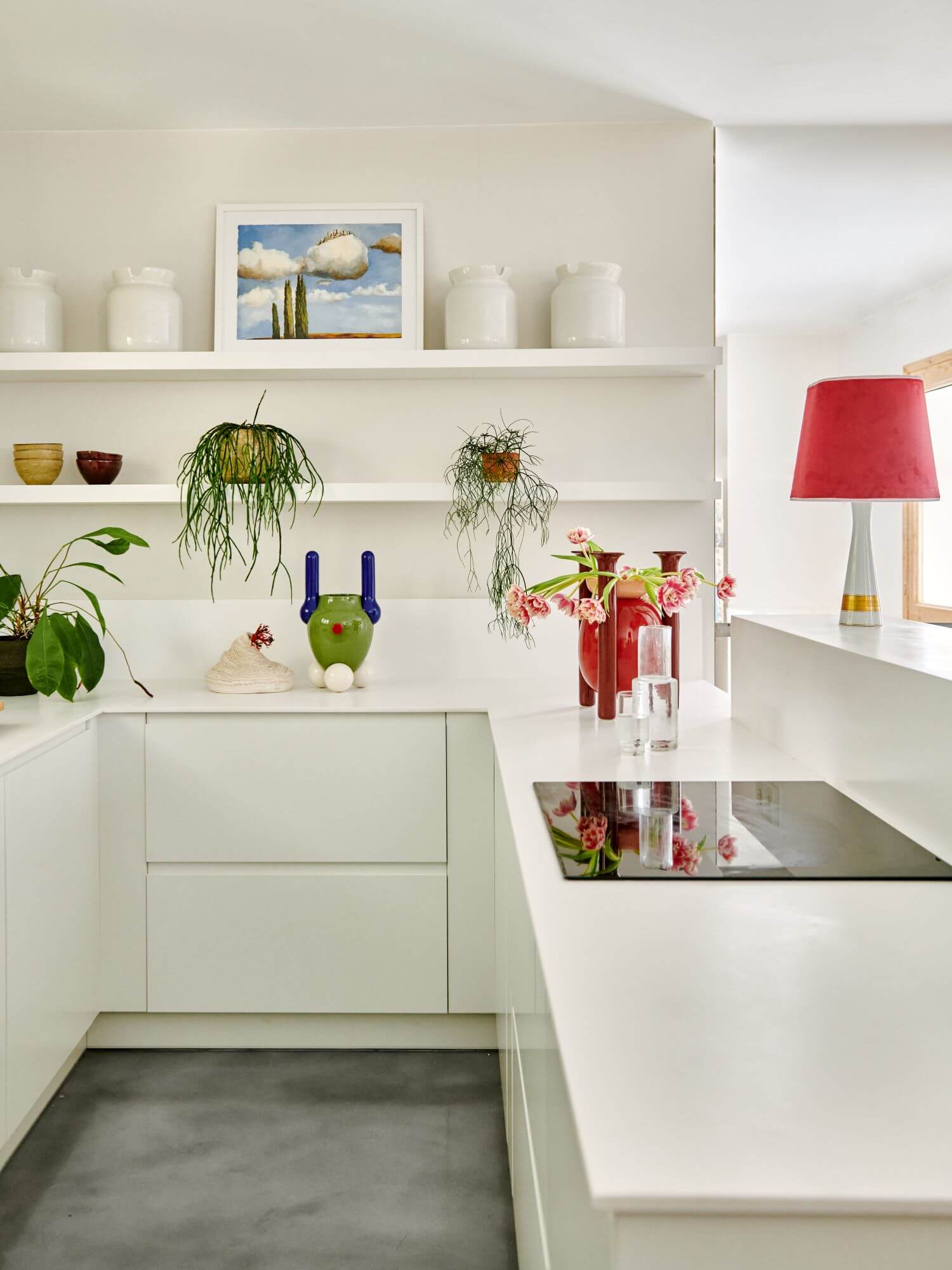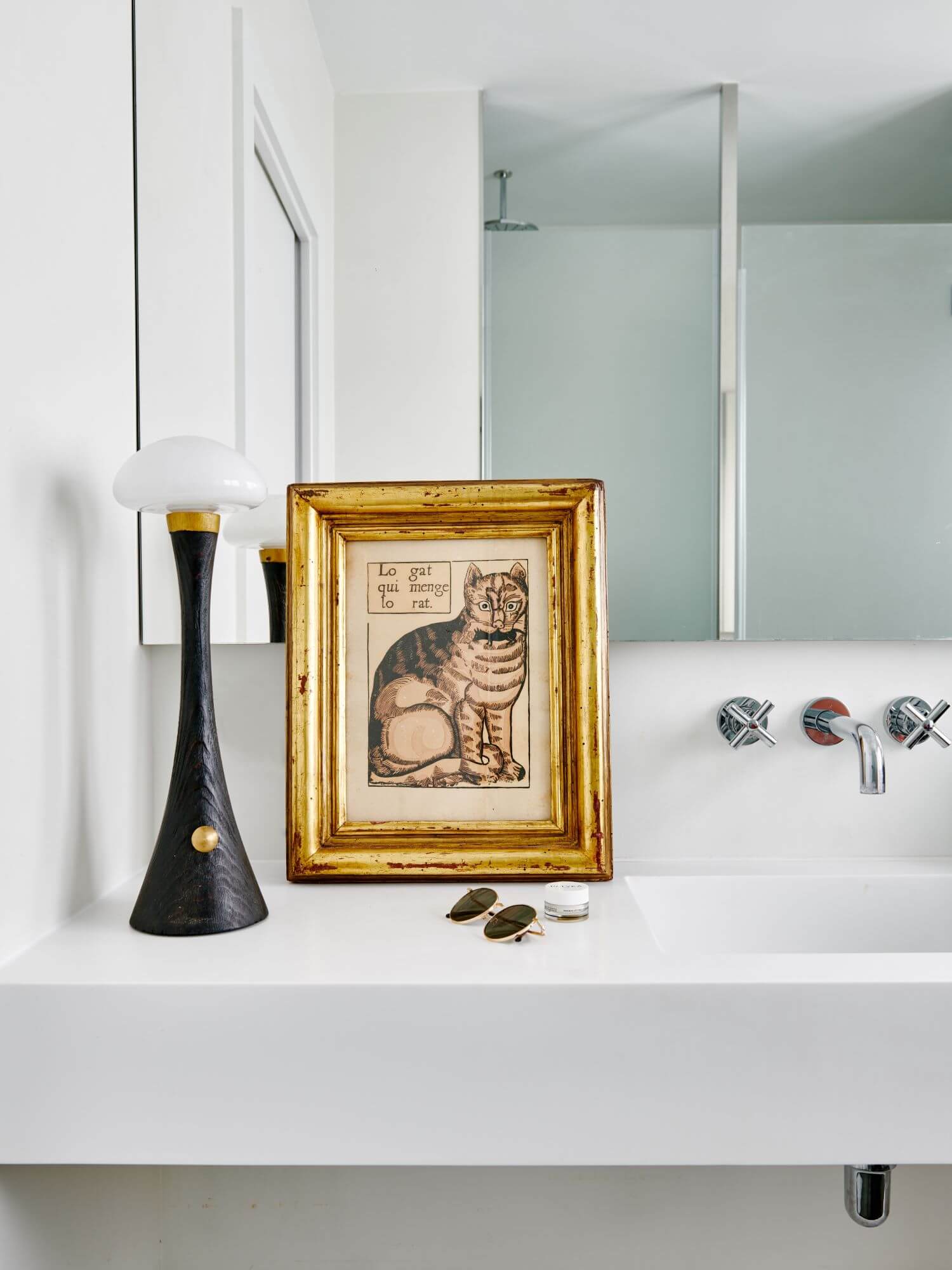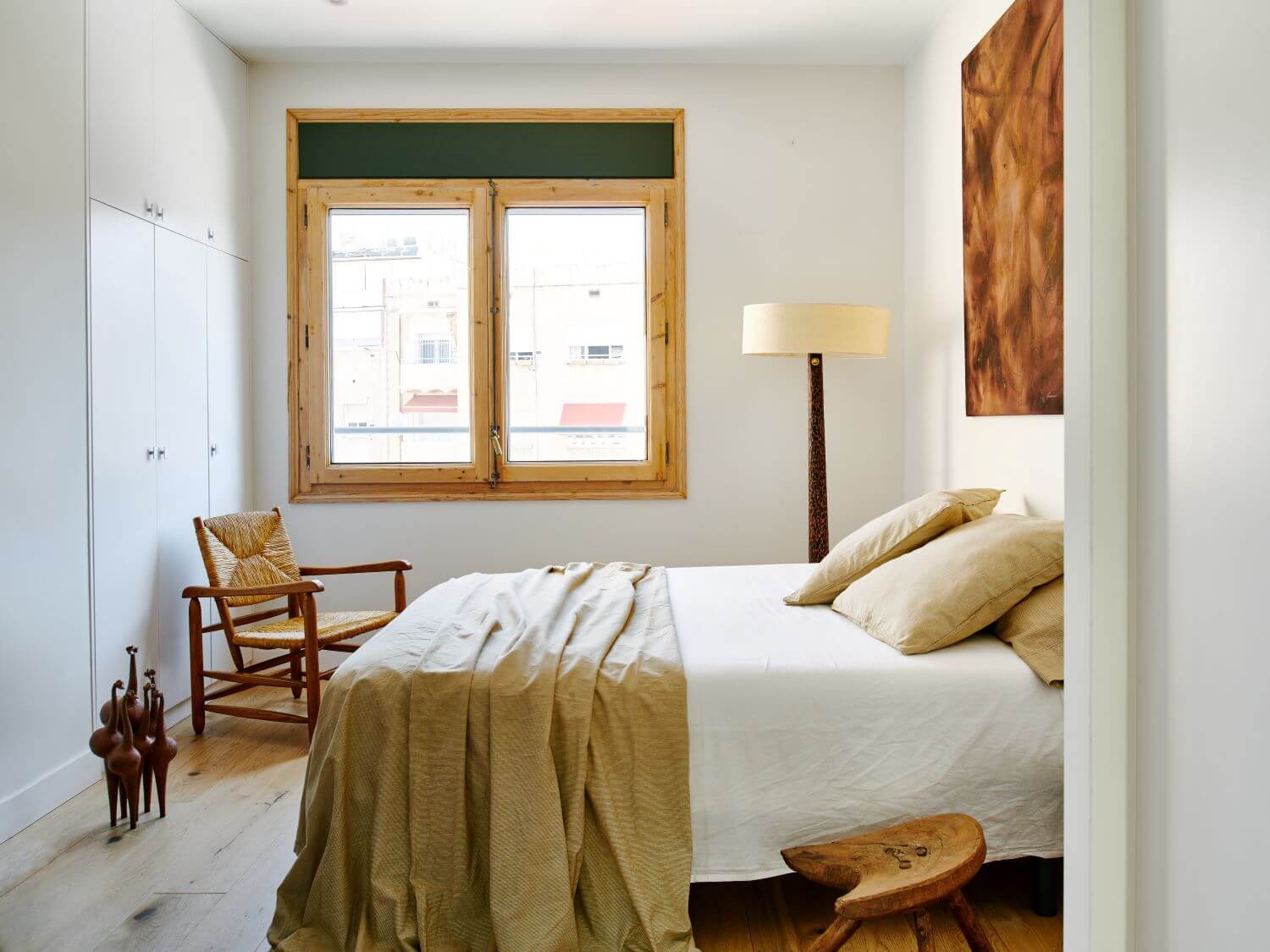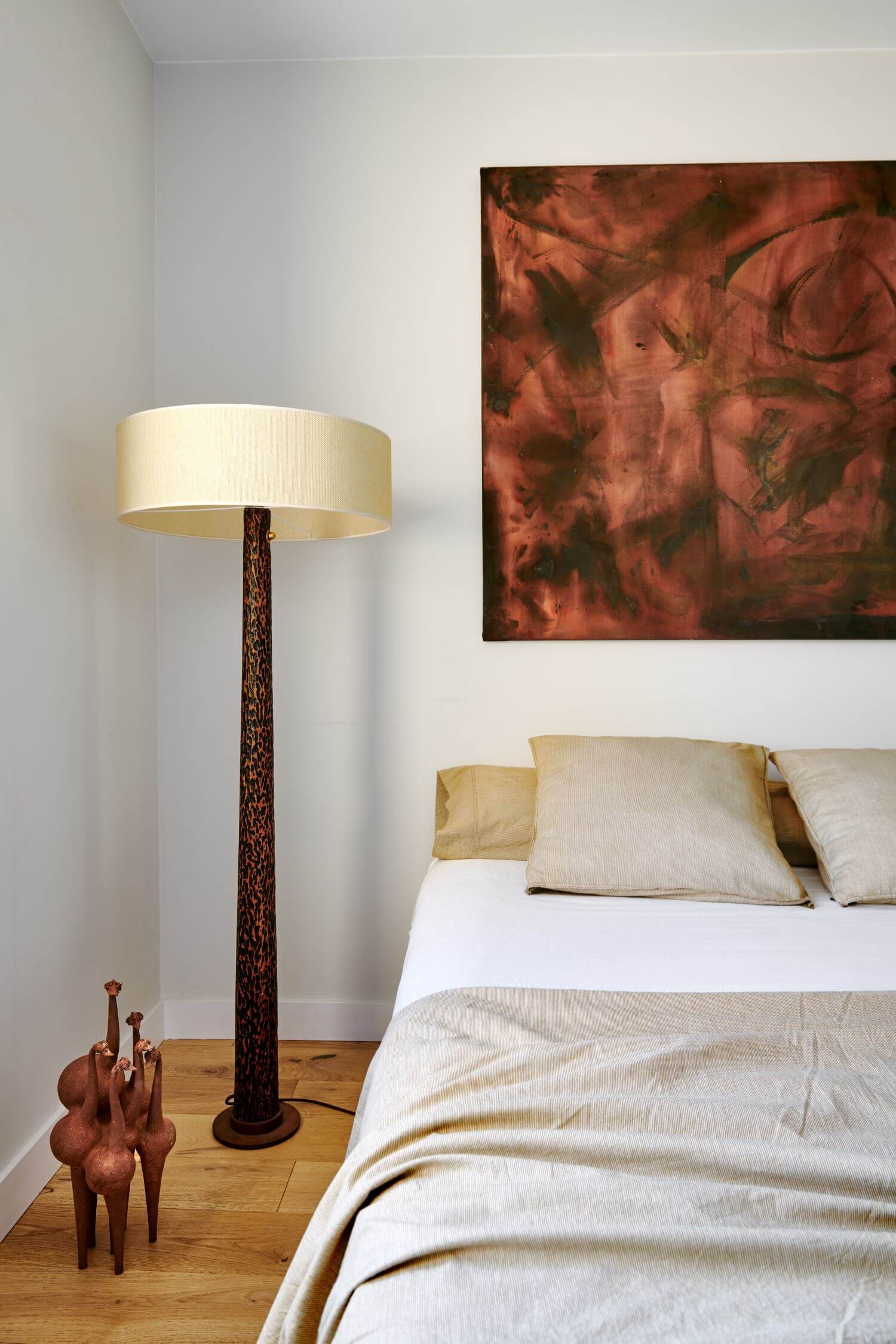 About
Born into a family of several generations dedicated to the artistic field, Alex March's love affair with interior design goes back a long way. His vocation for interior design was discovered very young, soon he began to combine his higher studies of interior design and art direction with work in art galleries and antiques.
Without neglecting these activities, he began to take on work of art direction, branding and exhibition design working for agencies, producers, studios and brands nationally and internationally.
In 2010 he opened his own studio in Barcelona, Alex March Studio, dedicated to interior design and furniture design and production. Since then he has carried out numerous projects for restaurants, offices and homes and has also designed some products such as counters, lamps, tables and chairs.
---