School is a building which has four walls with tomorrow inside. - Lon Watters.
Studio Ardete: The client having an existing school building in Mahilpur, Hoshiarpur district (Punjab) is a modern school, set among the rural farming village setup which has children coming from all segments of the background.
The facility in the school, as such, are not available even in the village. Among providing more enhanced education, the facility gradually increased in school to provide multi-dimensional experience to all students. with this thought Process, A new auditorium cum multipurpose building was proposed to make more dimension of interschools international and national events possible in the school leading to immense growth of all students.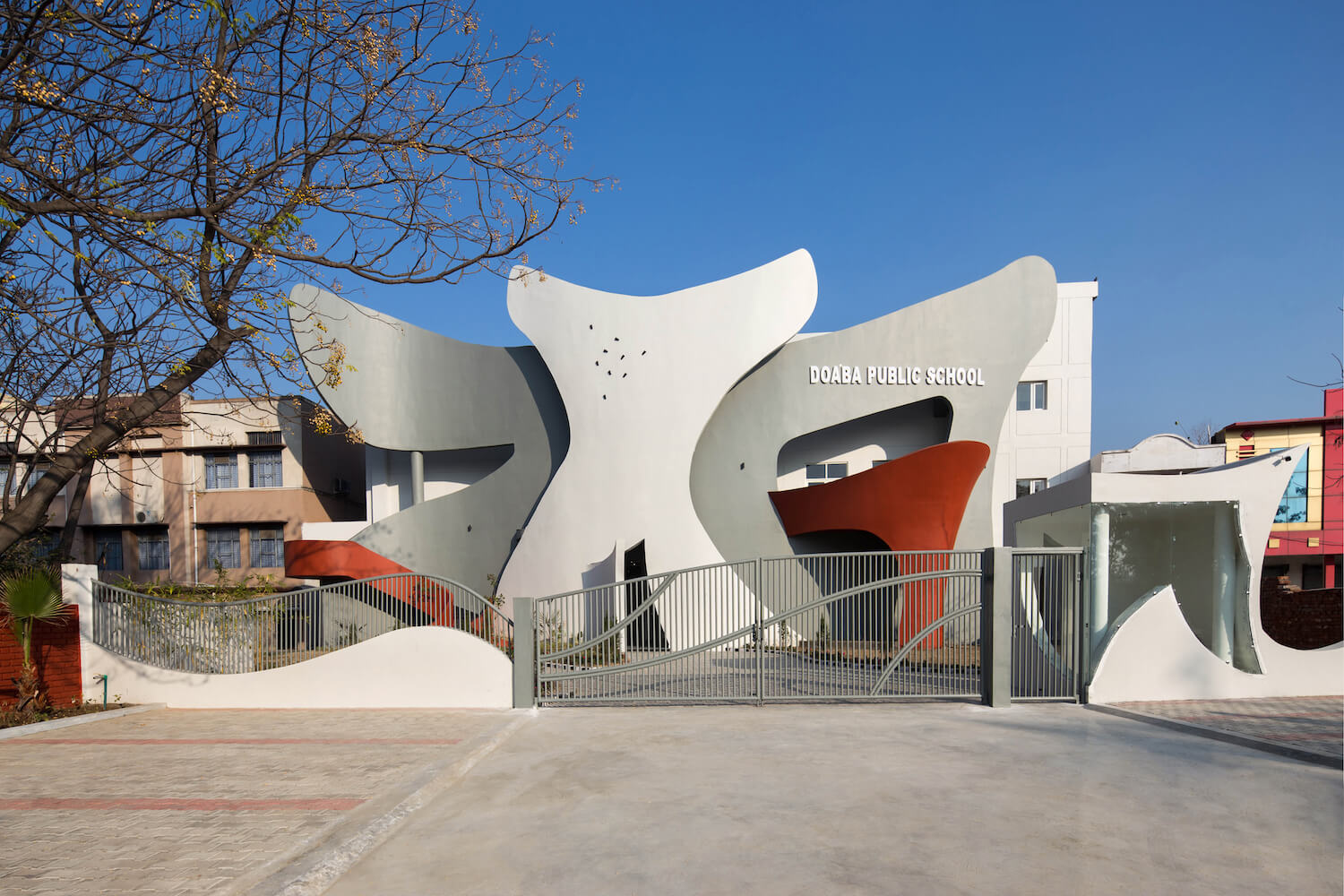 This important addition, is proposed to make more stand out invitations and upliftment for the surrounding area, villagers, and parents, thereby placing it at a strategic location confronting the main highway.
The challenge was to design an invitation both with the purpose and exterior outlook to have a significant landmark from far distance and creating a non-seen architecture. The limitation was the possibility of available working teams and resources.
Understanding the given constraints, the design journey travelled through various possible icerations, finally landing into a very fluidic design language, trying to translate the deep thought process behind the project initiation. Easily accessible from both the routes, the new design aims at comfort of an easy reach without having to drive around the village to reach the school gate as there stand gates at both the ends to welcome the kids and parents.
The heat gain from south - west facade was primarily handled with a more opaque design with terrace partly covered terrace allows a serene beauty ensuring a whirlpool of fresh air and which can be used as a multi-functioning area, waiting lounge or an open spread for creative activities for students.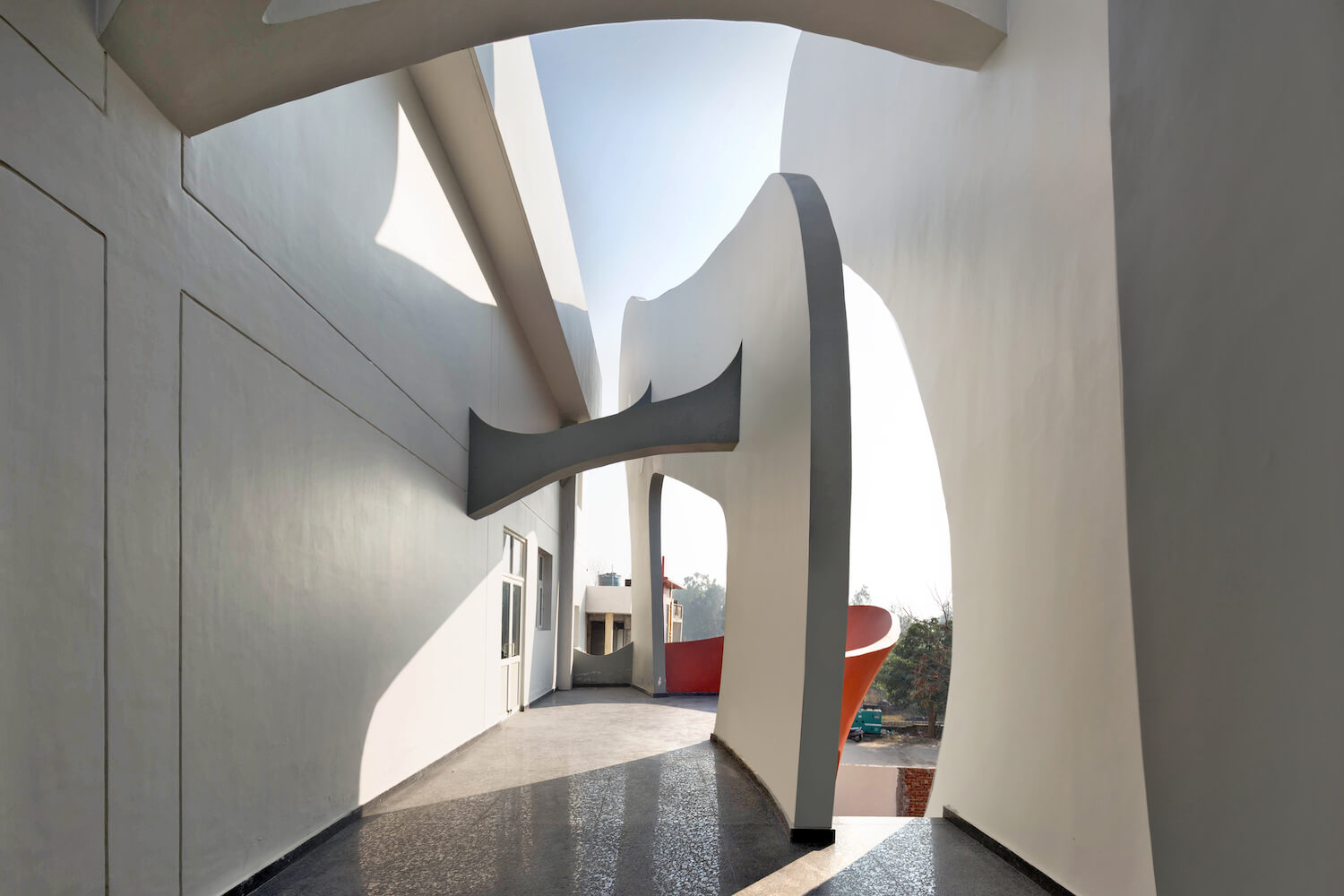 The building housing a 400-seater Multipurpose Hall and other facilities standout from the existing campus. Design Primarily has been made to create an INVITATION. This idea that the structure itself invites oneself into it. The form is fluidic in sense, portrays a strong feel of boldness. "Invitation "was paralleled with thought that when a traditional event is held, normally a fabric tented structure is made in front of the existing building to attract people. Similarly, we made a facade structure as an invitation.
South-west facing structure invites grace from the Sun God in full bloom; a blessing in winters, can be sweltering during the summers. So to this end, the walls have been shaped in curves and arches to have the heat play peek a boo and allow the students inside an interrupted study. To keep it cool, walls have been raised from one side with diffused lights mounted . Architecture, this way promises many needle holes to cover up for the natural shortcomings.
Besides, what becomes a stylish alma mater to boast of. The facade has been done in a way, it exemplifies the laws of reflection , casting shadows so as to bring physics into practical understanding besides creating a kaleidoscope of umbra and penumbra.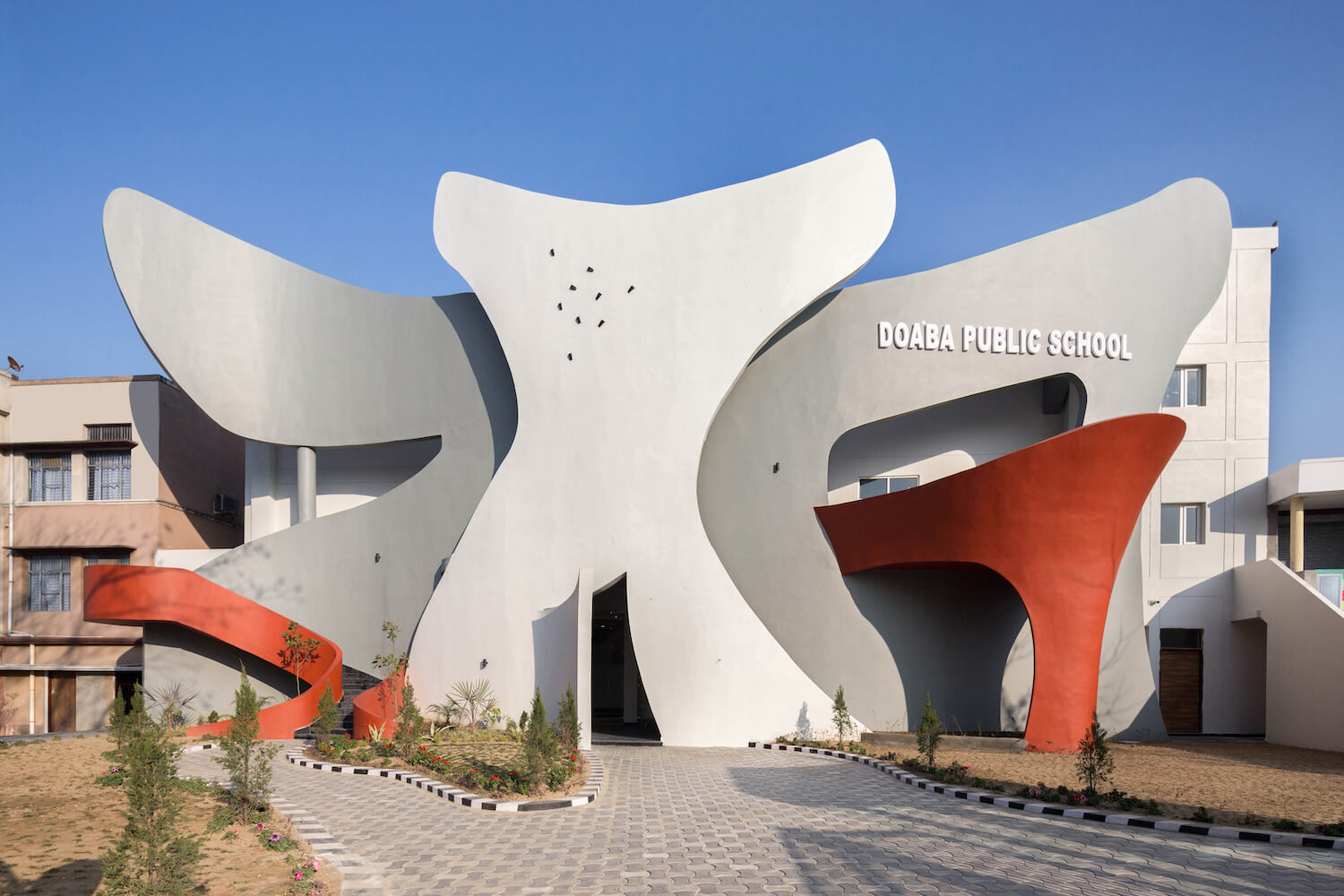 To avoid clutter and allowing an easy accommodation in case of a heavy footfall, various big and small waiting areas have been crafted in a manner which give a perfect combination of a formal space with the ease of an informal comfort.
An auditorium, first of its kind in and around the area, has been designed in a way to seat ample with walls and rest of the parameters considering the acoustics for various functions. Only when there is such a facility in the school, it would invite gathering and functions on a larger scale to bring the school on a wider platform.
The tomato red highlights as a bright stop to muited curvaceous walls as they play with light and shade, brings the skies inside. Bringing the element of sky and air closer to the inmates, a design around which, the urge to work, learn and play is effortless and inborn.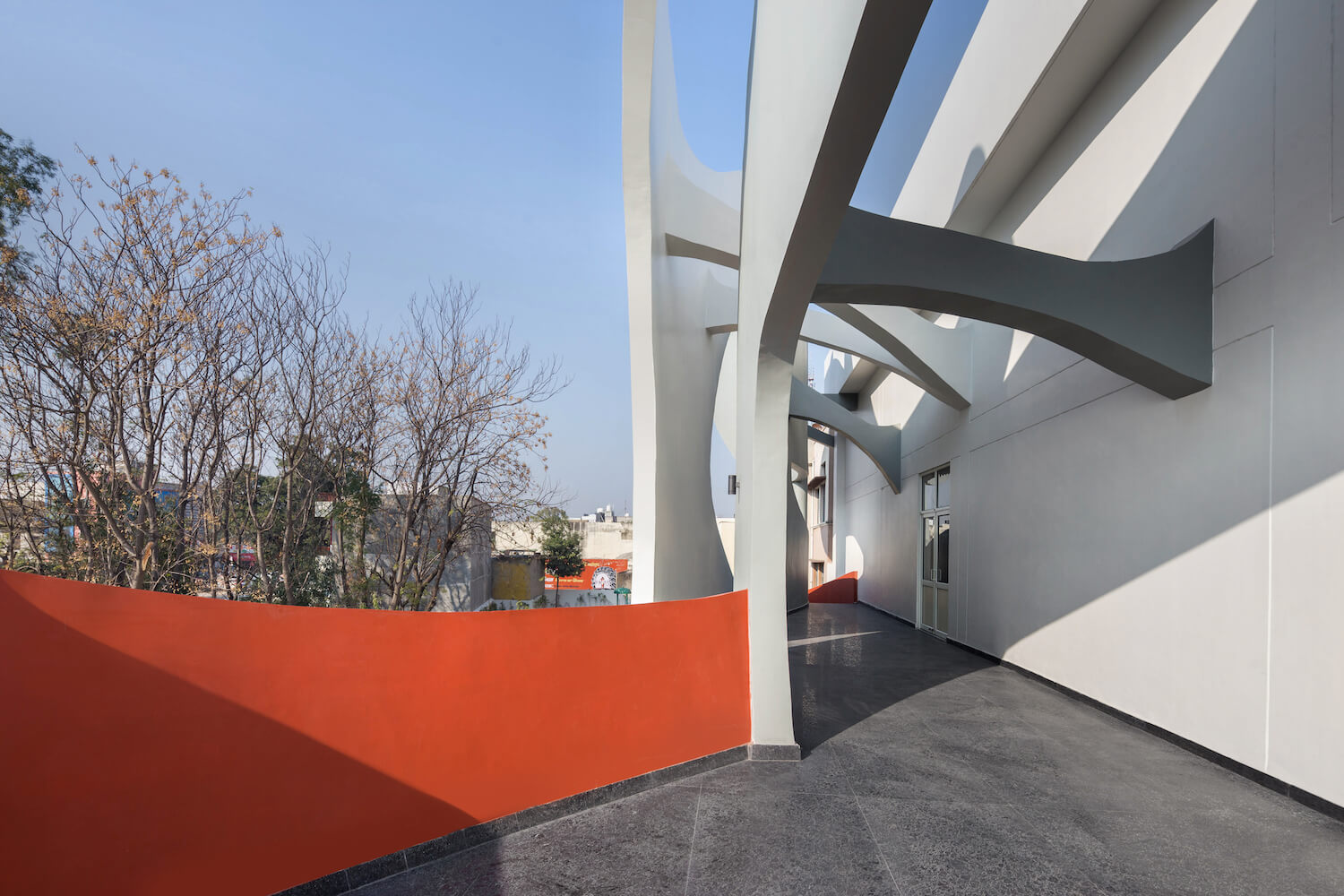 It is with such visions, taking the whole village and around together, up the stride towards progression and brighter horizons. When such opportunity looks for someone who could about .it is not only going to be a game changer for both, but for generations to come a legacy to boast off.
The trysts during various occasions require gathering in big and small numbers. So , to ease this and allow the comfort of some personal space , small pockets have been designed at various levels and floors , which keep you connected to the purpose and the building and also give you space to ponder and stroll...for the students , staff and the parents .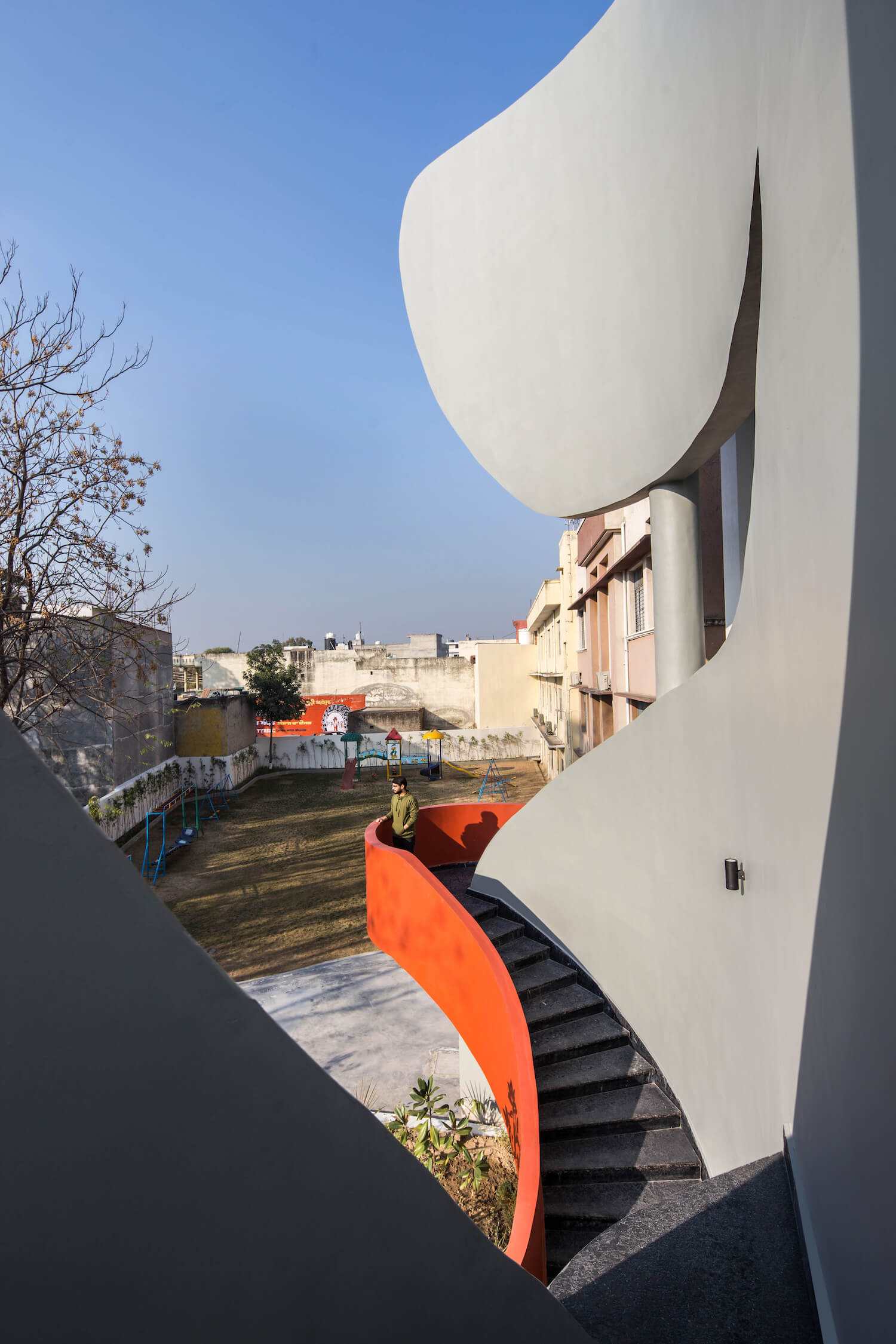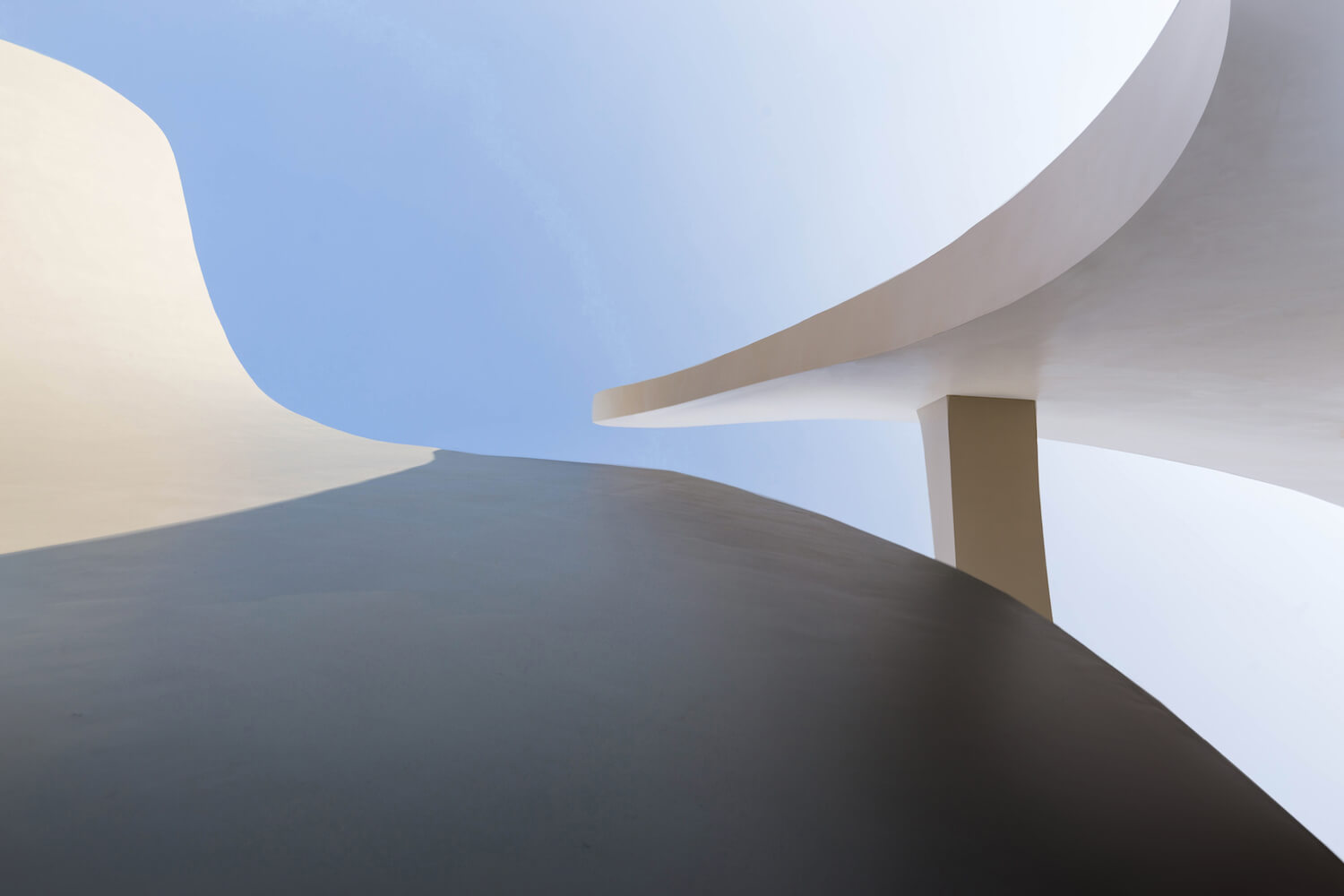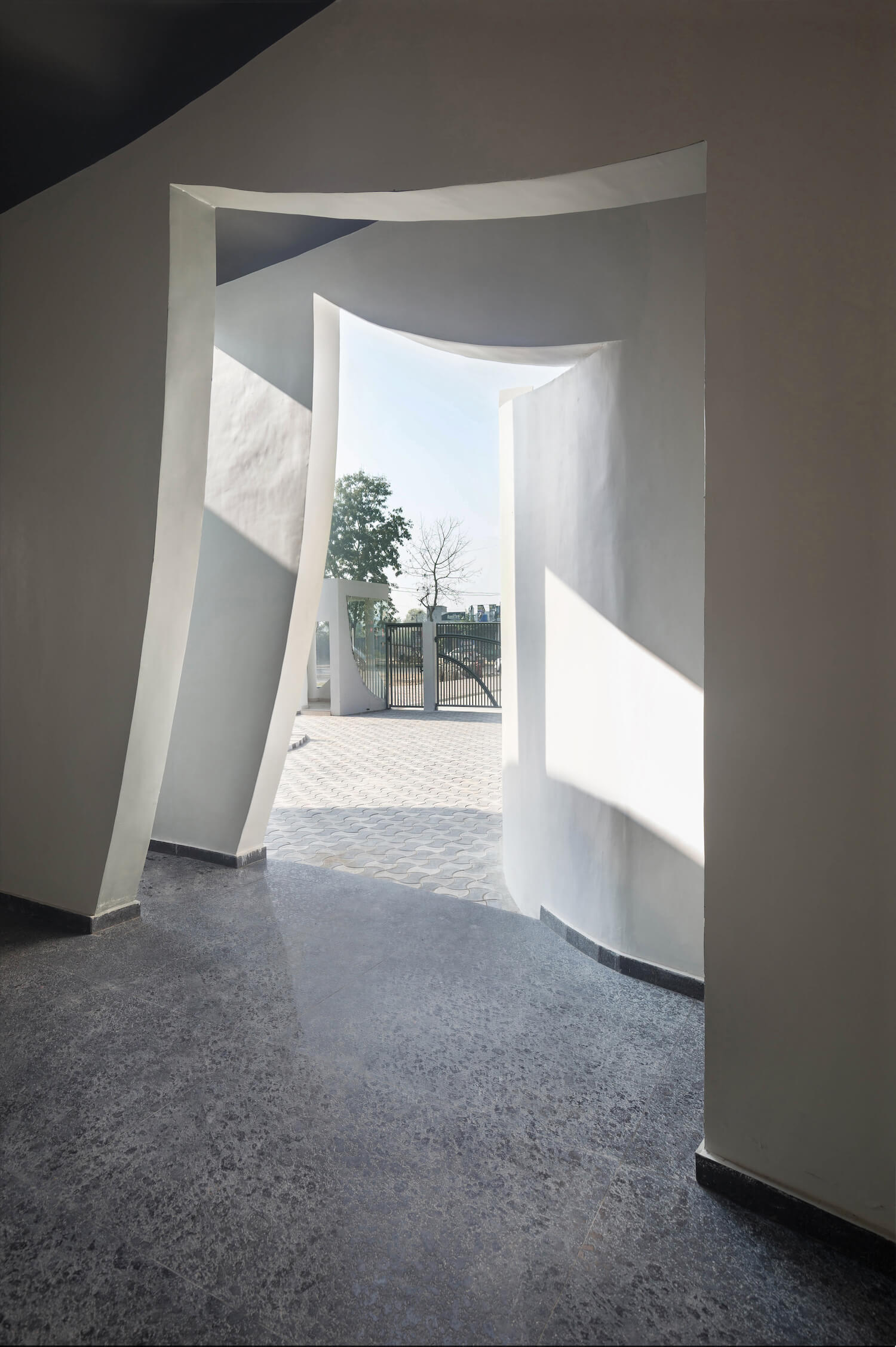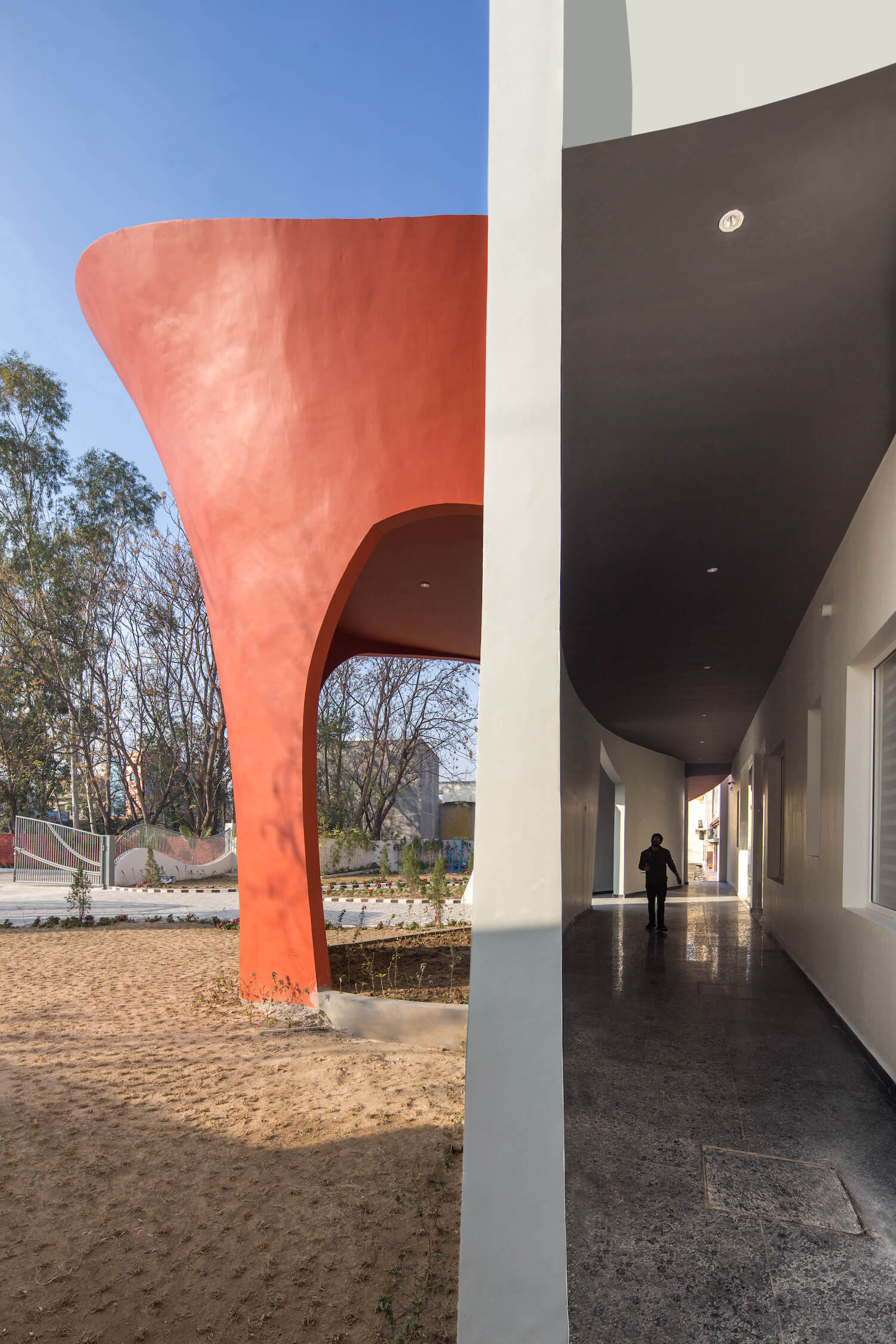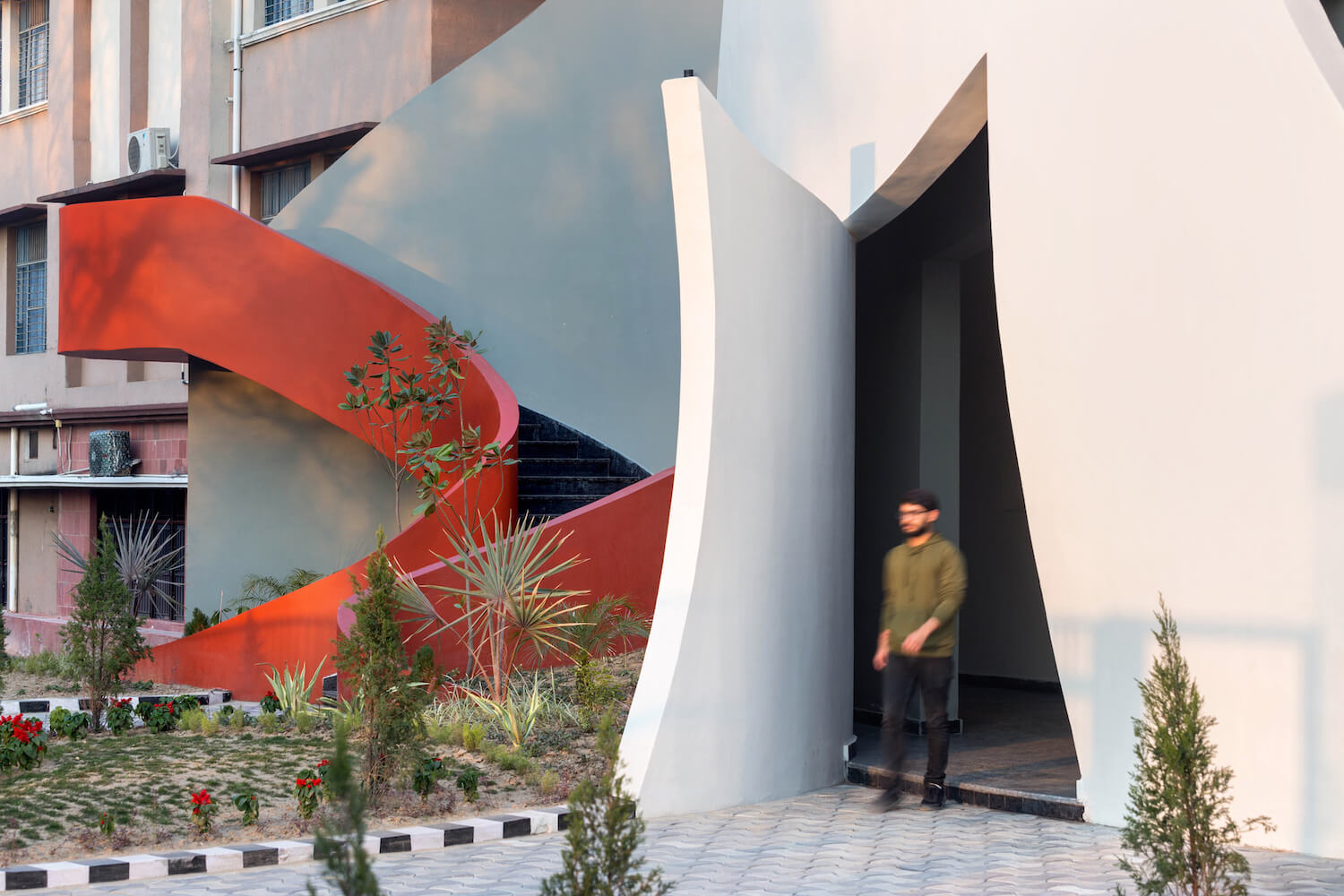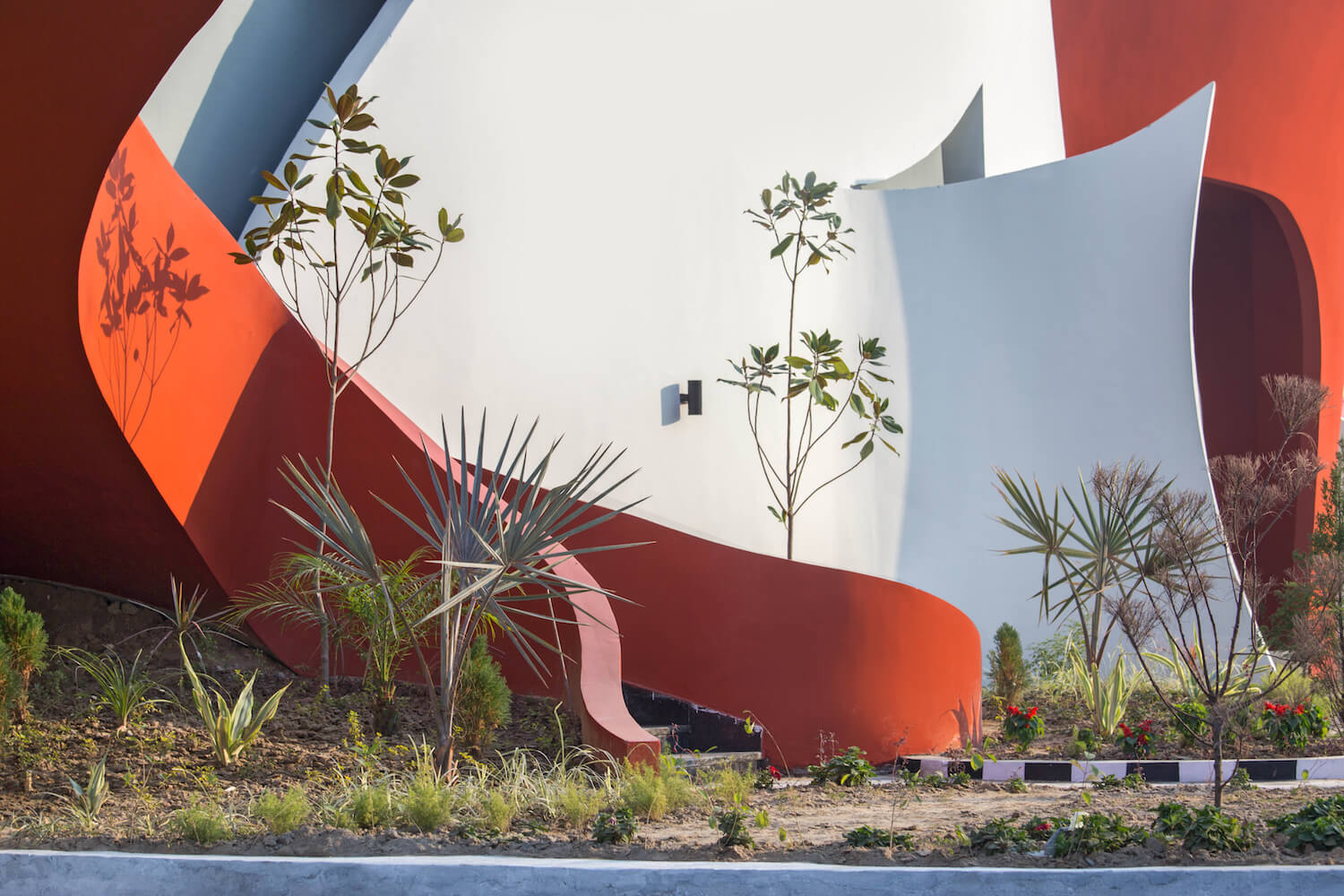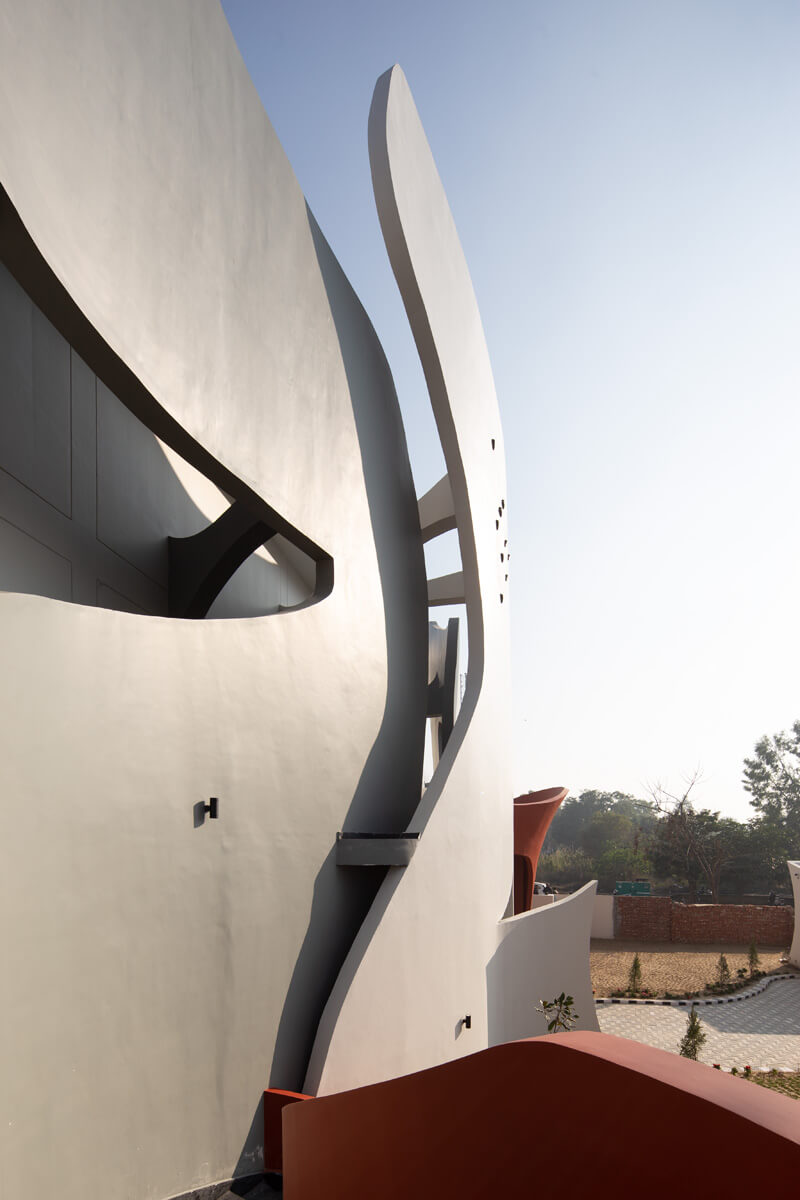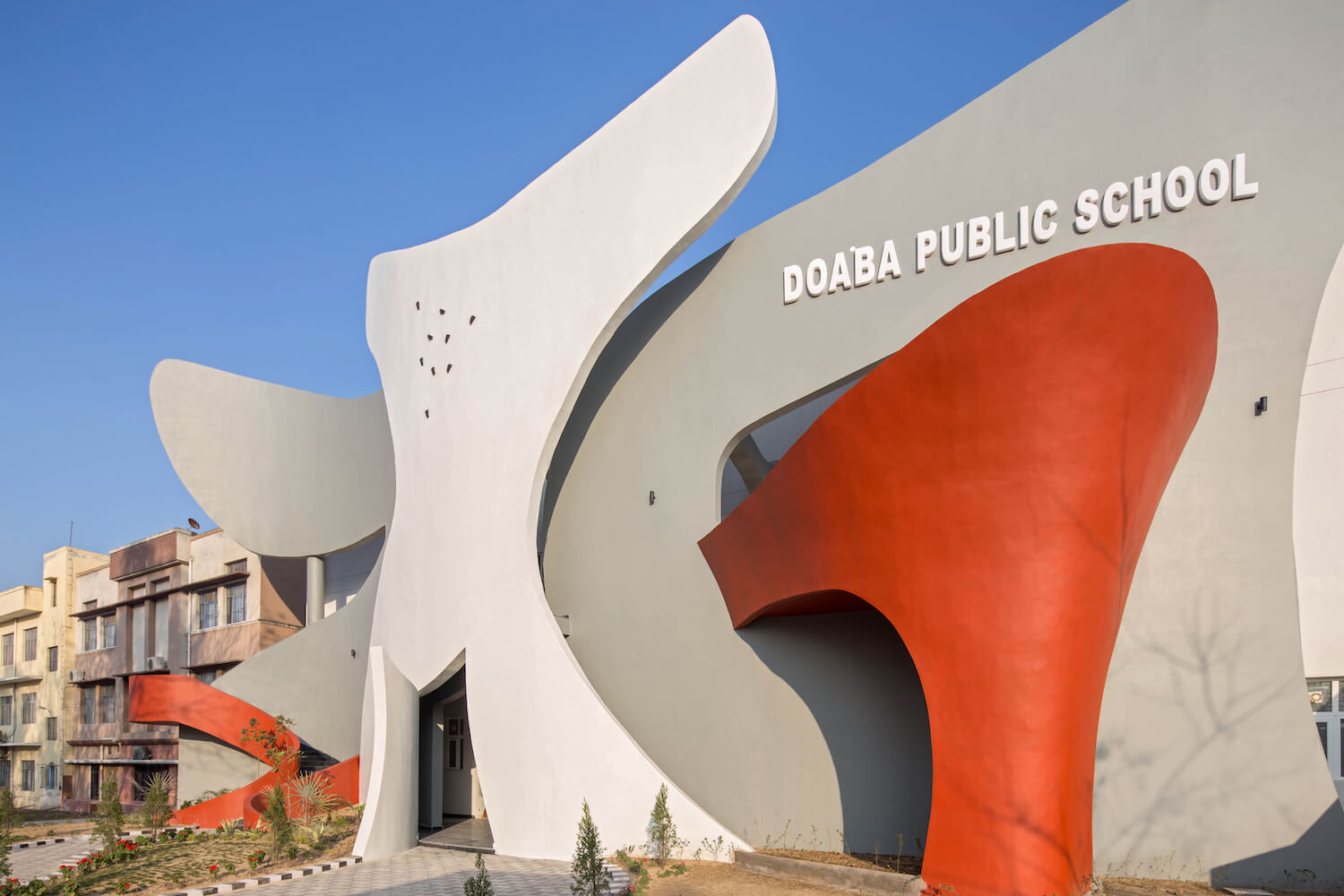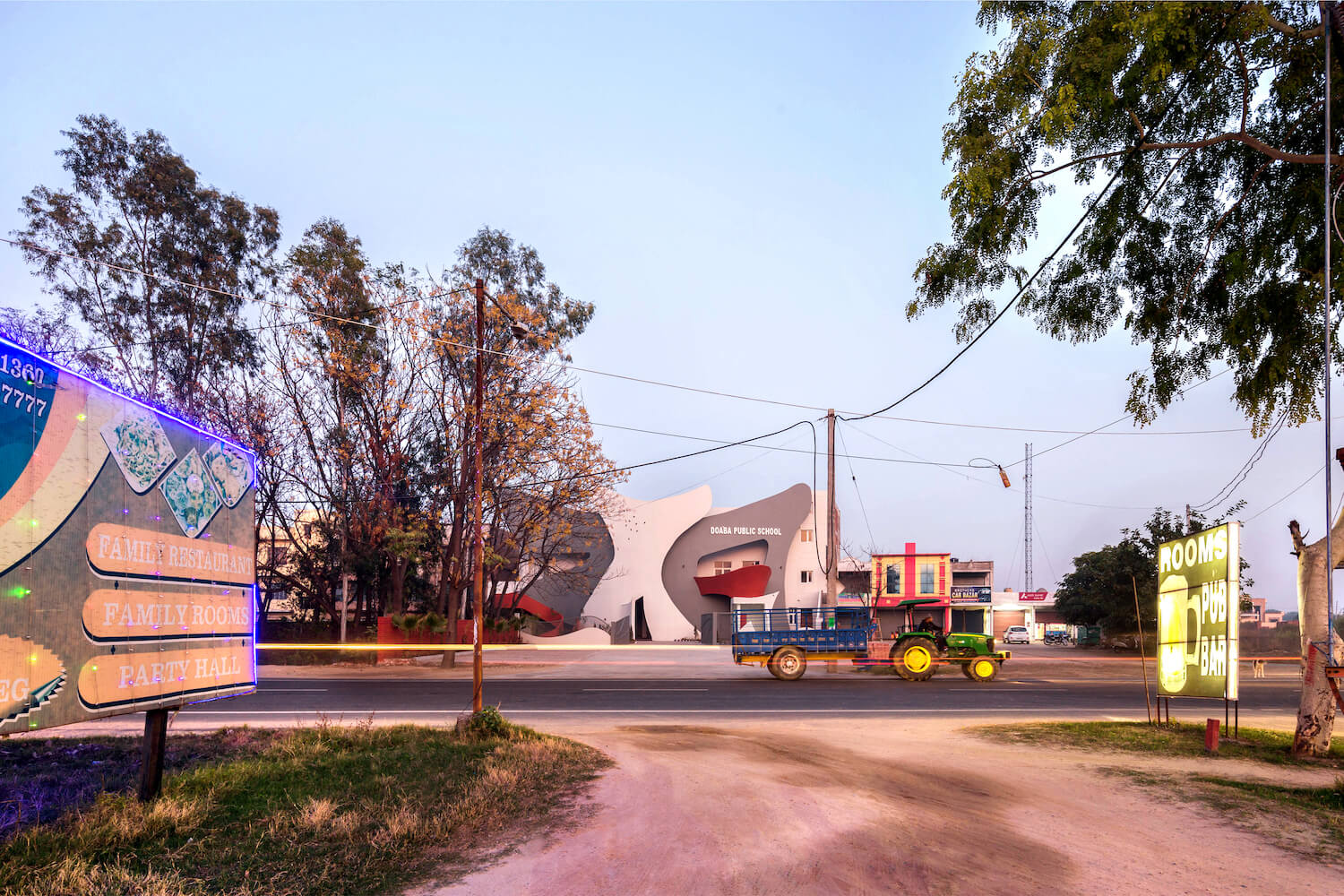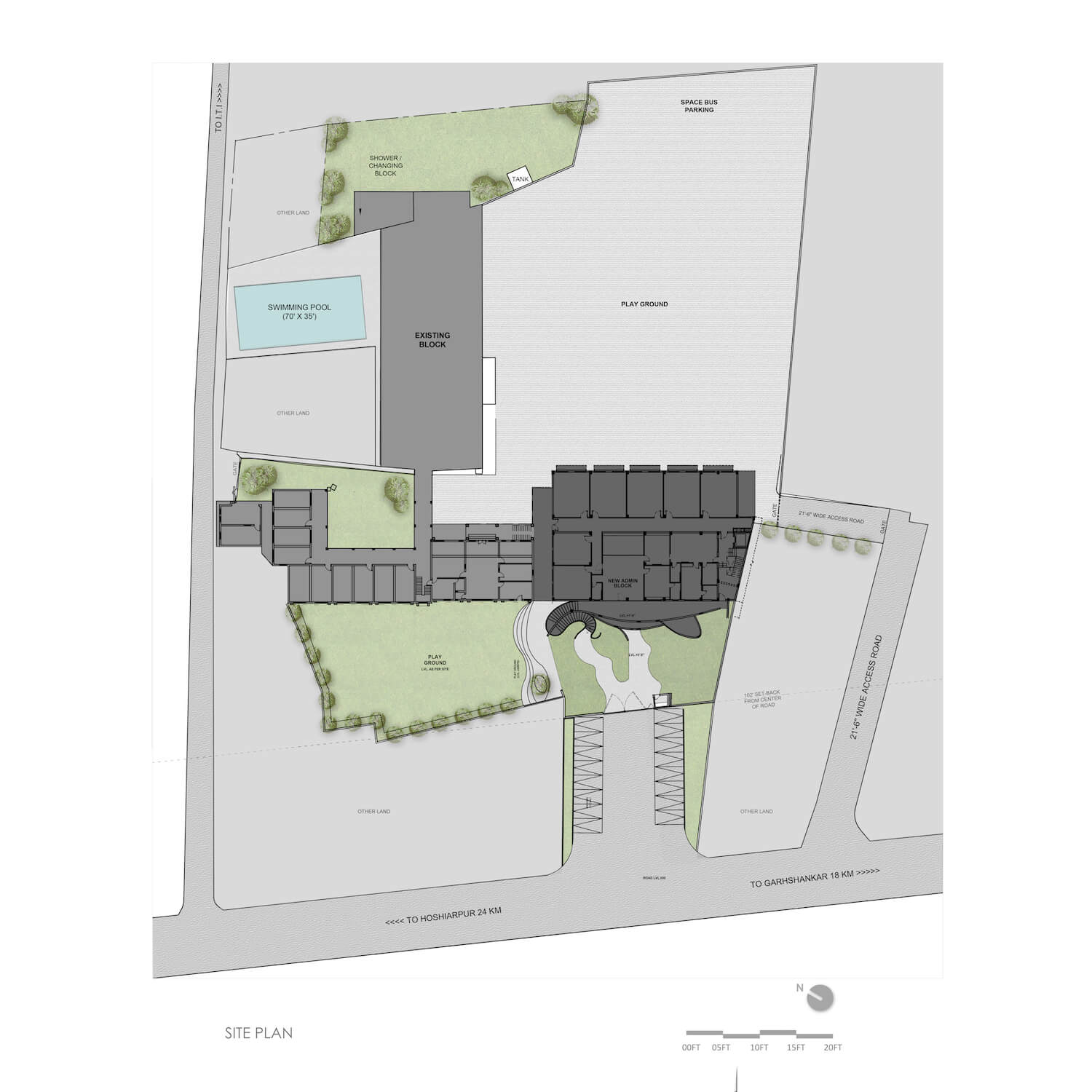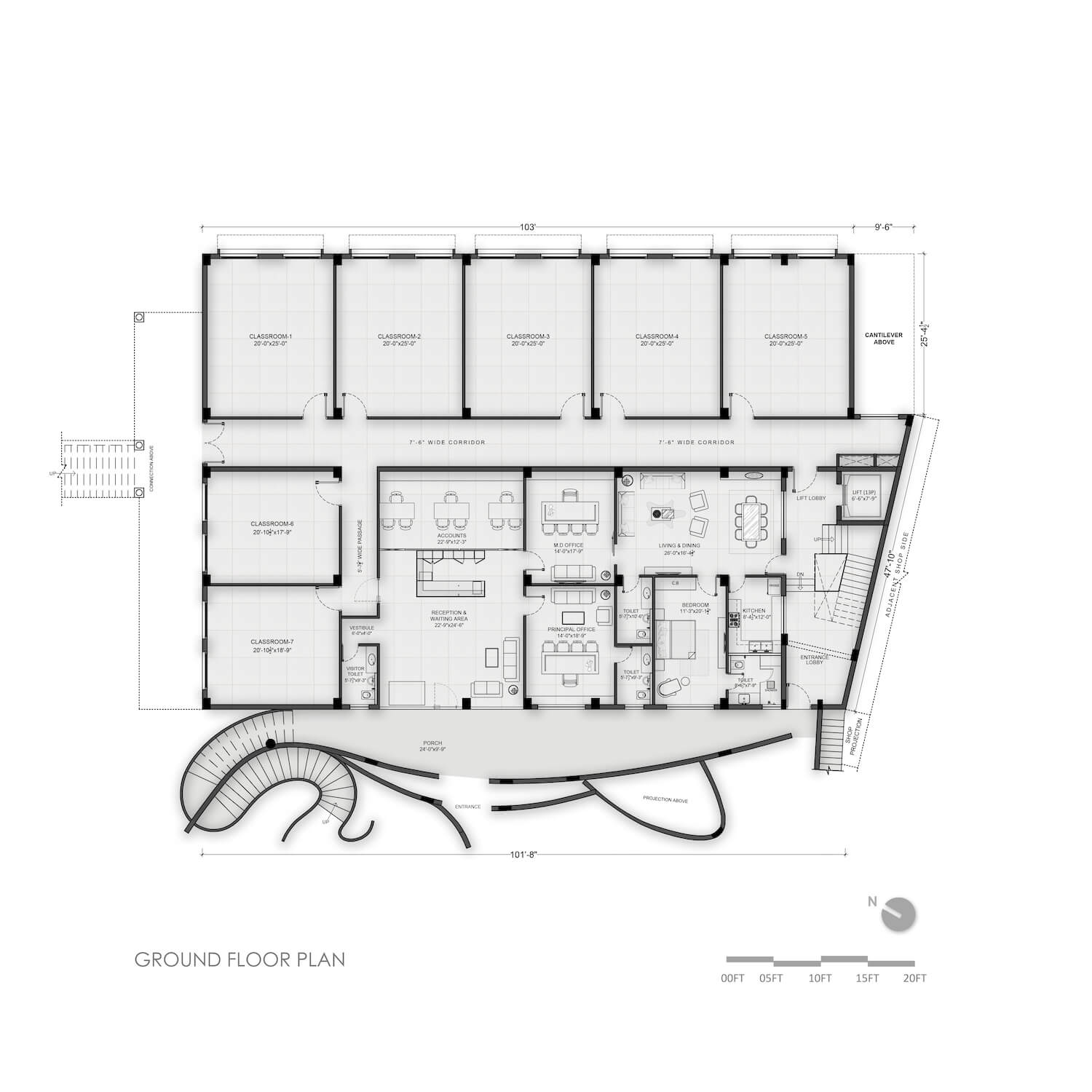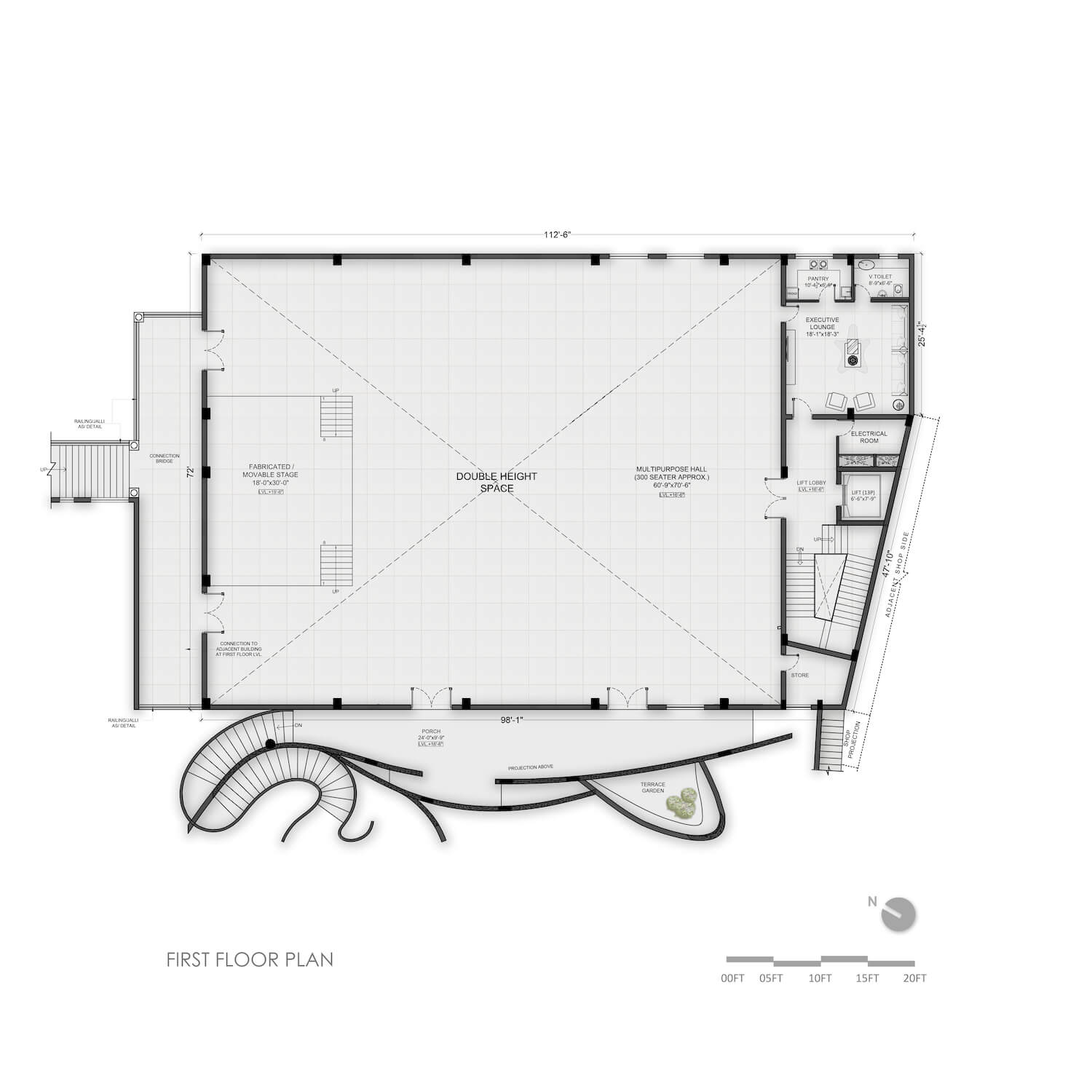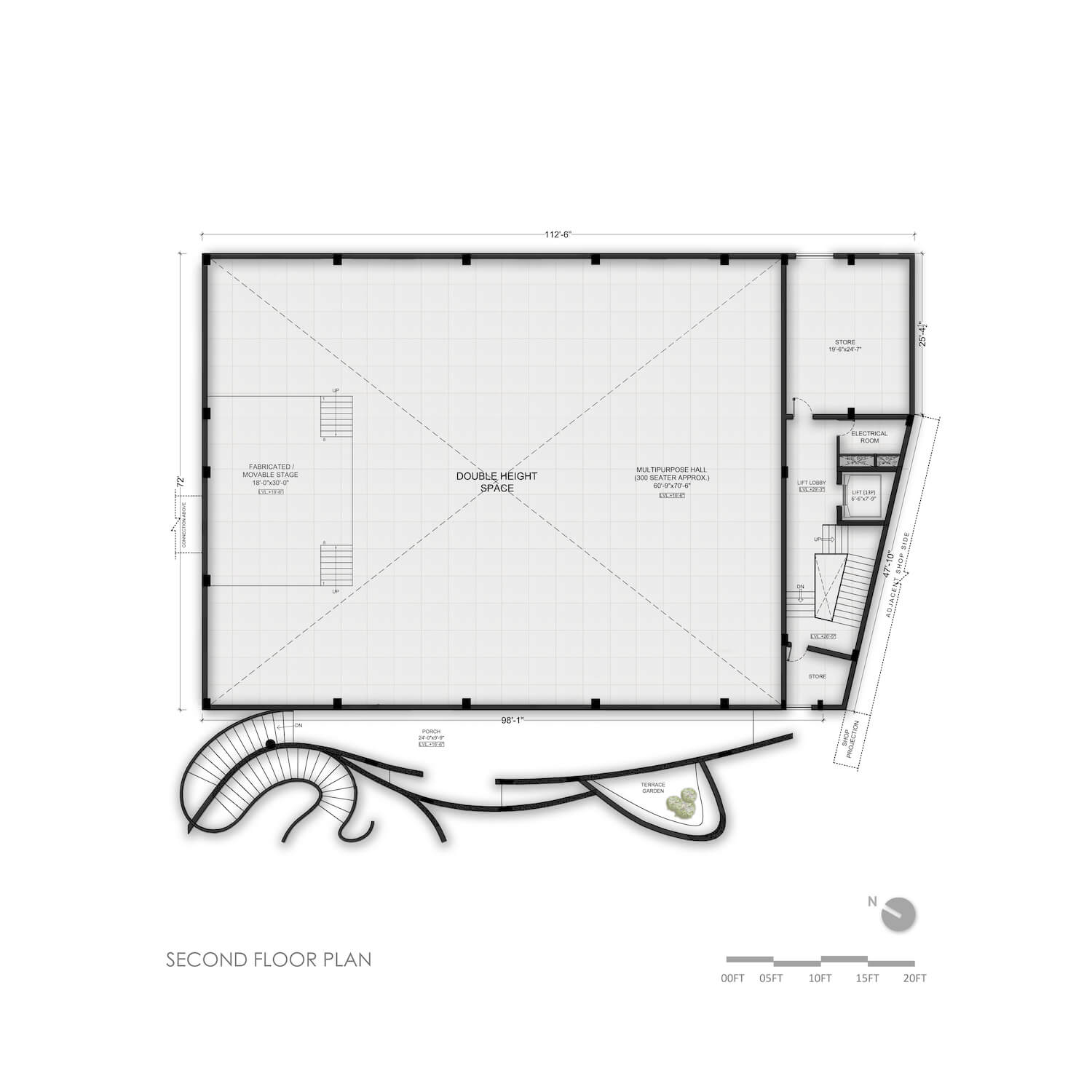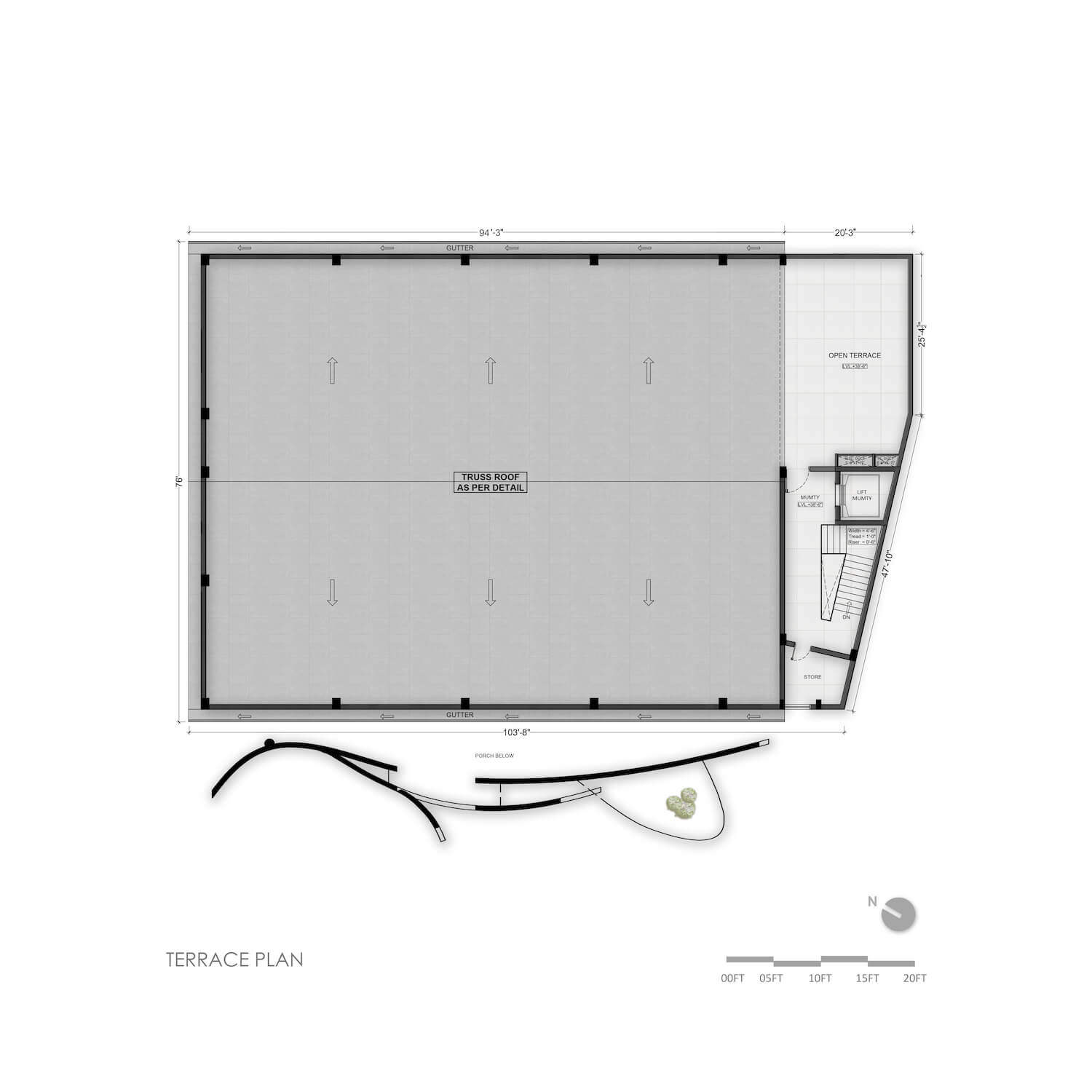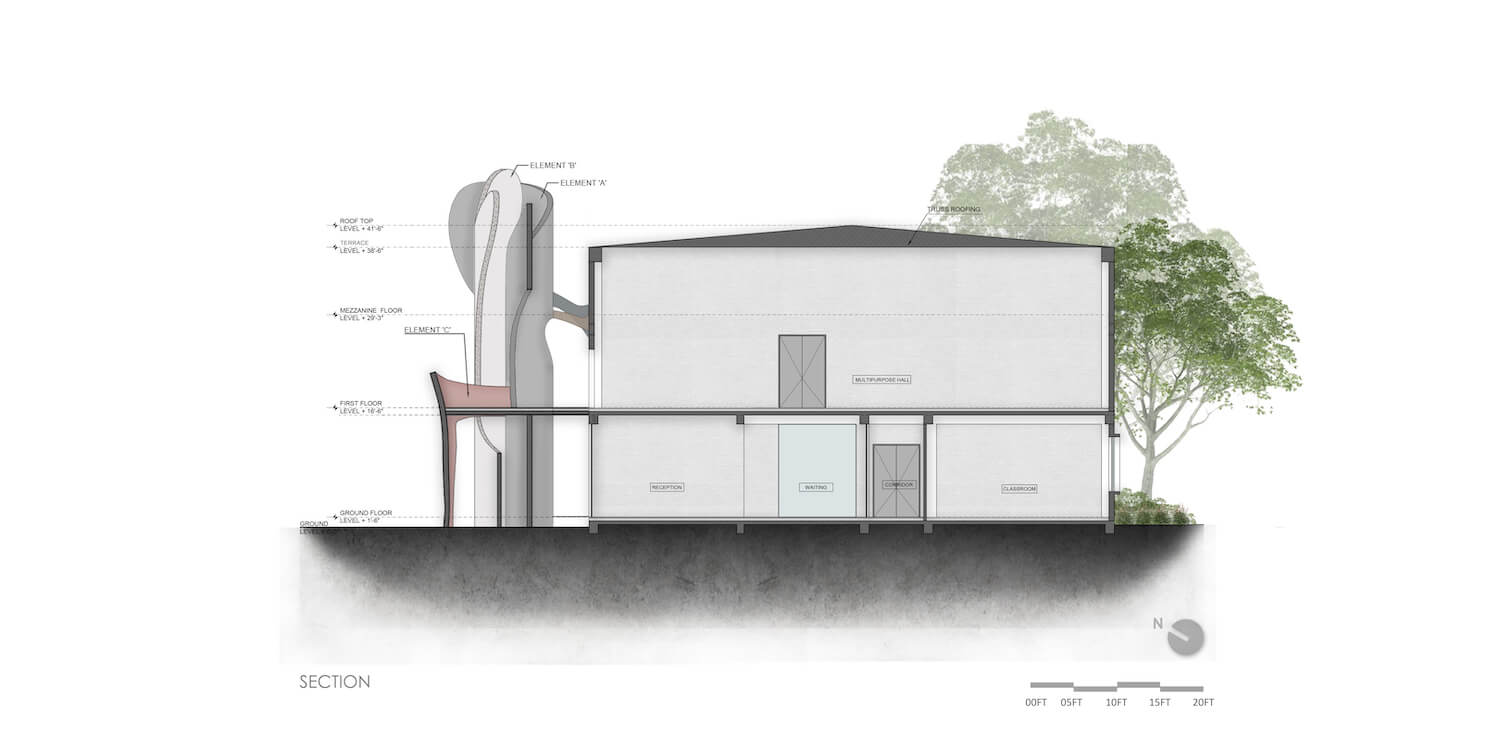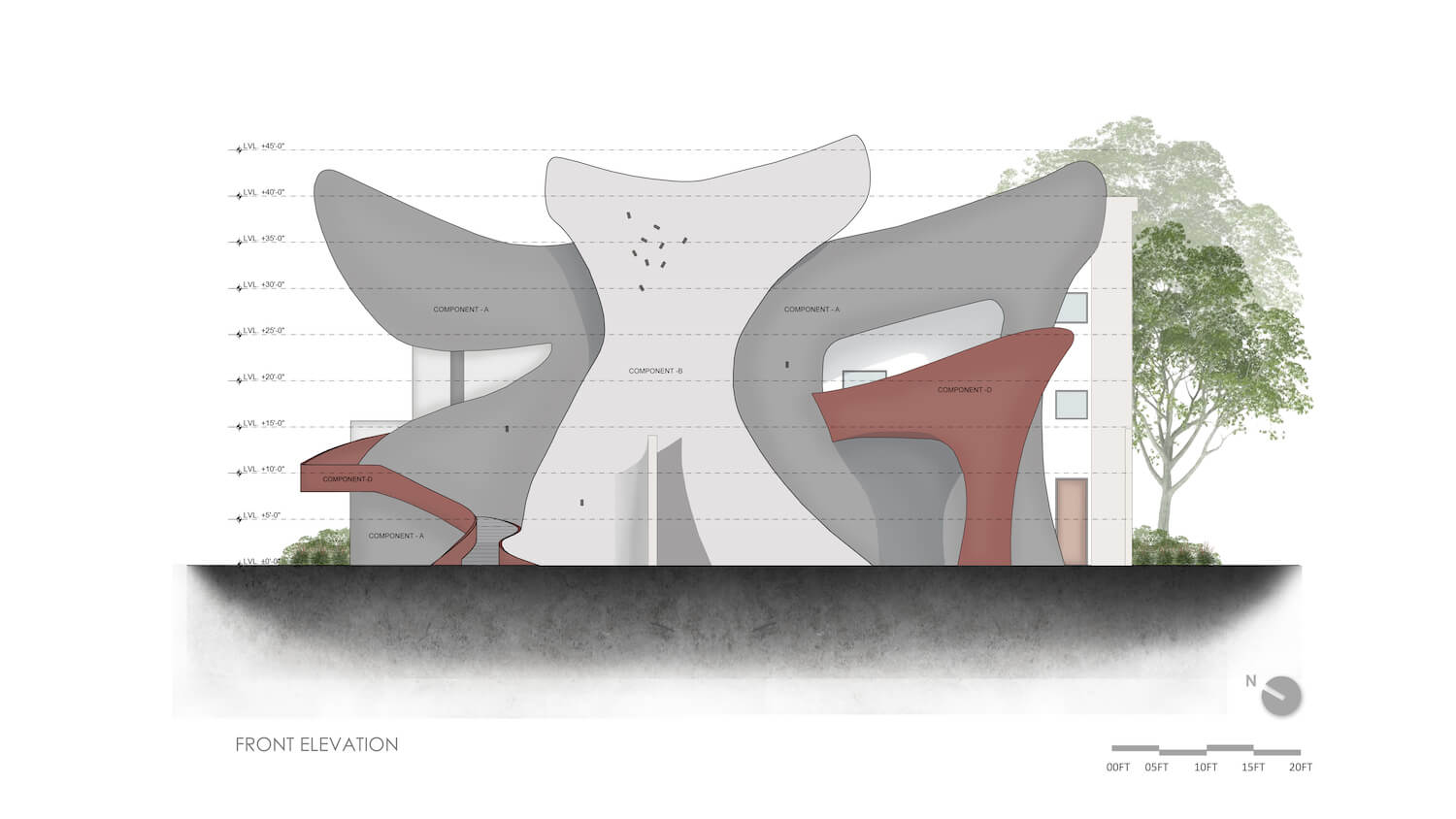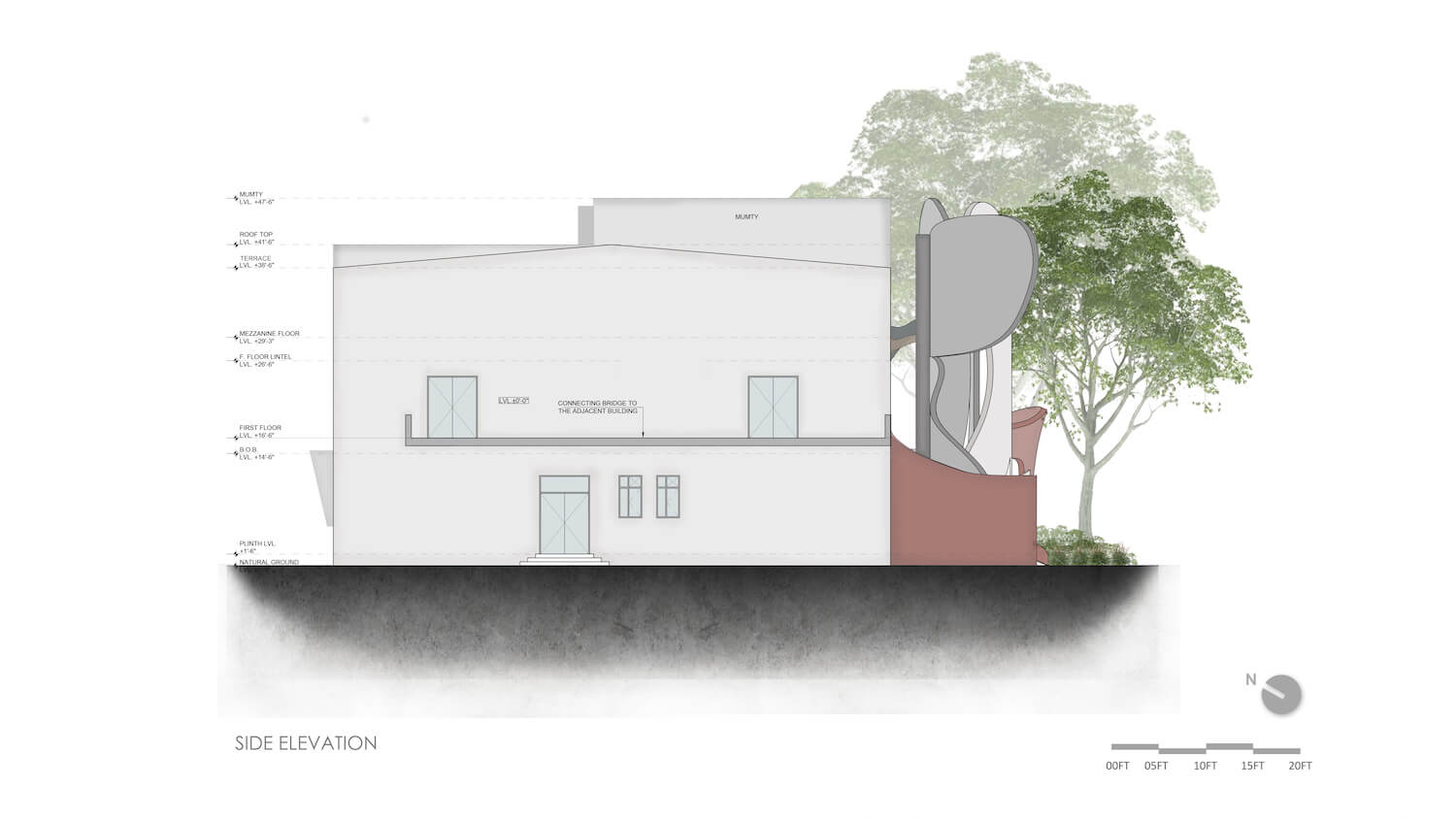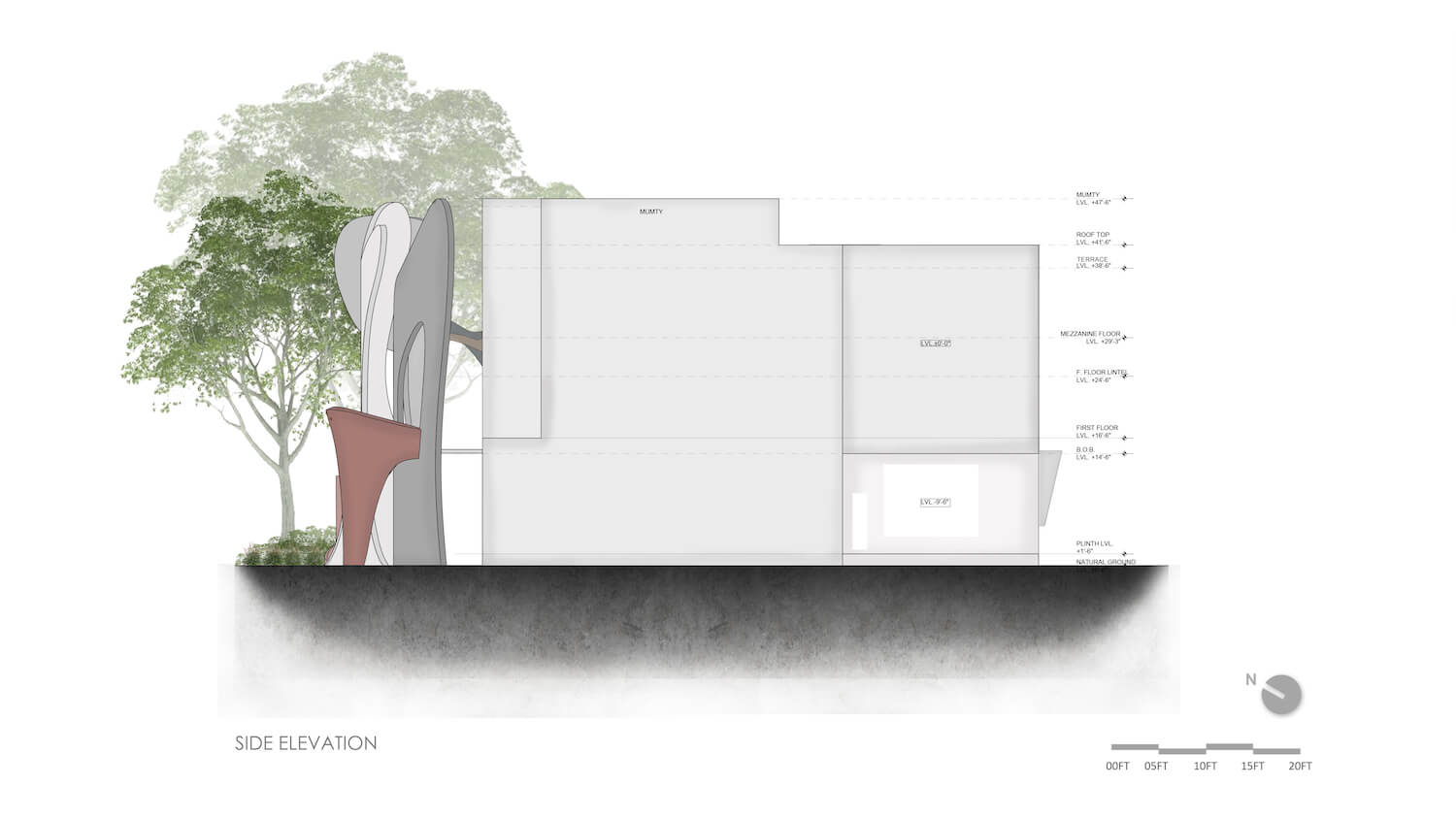 ---