K.N.Associates: Redefining Fluid Architecture with Iconic Circular Patterns set on Exposed RCC.
Embracing the charm of concrete monolithic elements and unique patterns set on exposed RCC with concept of fluidity throughout the structure.
The sense of raw brutalism of exposed concrete has garnered huge attention in the global design industry. Raw materials like concrete, steel and architectural glass evoke effortless charm, something that people from the top tier are taking note of. Concrete homes have fast emerged as stylish, practical and versatile housing solutions that can adapt to different landscapes and settings.
Setting a new benchmark in concrete structures is our MadhuVilla – the Concrete House! It is a 20,040 sq. ft. house located in Vadodara (Gujarat) that creates peace of mind through its stillness. Huge glass openings connect the front elevation to front garden & backside areas to the corresponding garden to create a transcendental continuous green expanse. Subtle landscapes add nuance to the interior design.
Creating a simple, practical space was our approach. By using material palettes that are both innovative and aesthetically pleasing, we have been able to deliver a space that exceeds our client's expectations while meeting the needs of their operations.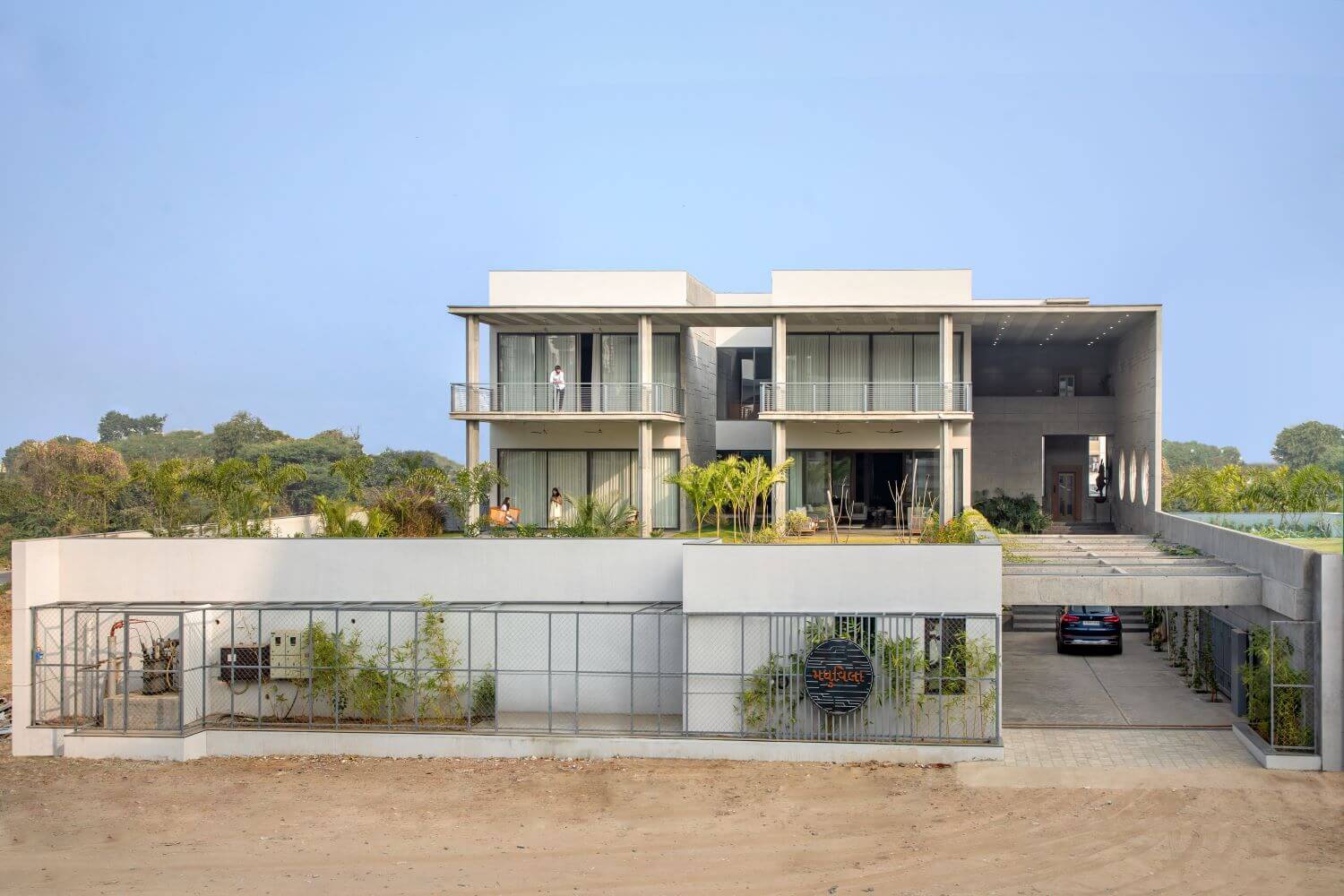 Exterior
The project reflects a tasteful fusion of old and new aesthetic elements so that the resulting environment is truly unique. The villa's innate characteristics are brought to life by opening up its large floor plan—high ceilings; exposed RCC walls, patterned RCC walls, and landscaped gardens. Located in a flood-prone zone, this private villa is constructed on a raised plinth. Additionally, raised plinth also helps in maintaining the privacy of the villa. A large glass fenestration allows light to filter through the layout, drawing attention to unfinished surfaces. The zoning and layout are shuffled in the villa in such a manner that whenever and wherever one sits the expanse of green vistas should not be missed.
The ground floor of the building is a massive parking lot. A post tension structure is used to avoid columns up to 50 feet width. A pergola set in open grid design offers a dreamy entrance pathway to the villa. The entrance on the first floor with beautiful steps and landscape on the sideway, is adorned with distinctive circular cutouts with murals by Avinash Gondaliya.
Foyer
The main door has a beautiful handcrafted brass relief with elaborate circular wooden handles that takes your breath away as you step inside. The foyer encompasses a huge Ganesha Idol and hand-painted murals by Avinash Gondaliya with RCC exposed walls in the background and manually done brass inlay in green Kota on the floor - setting the stage right for the big reveal.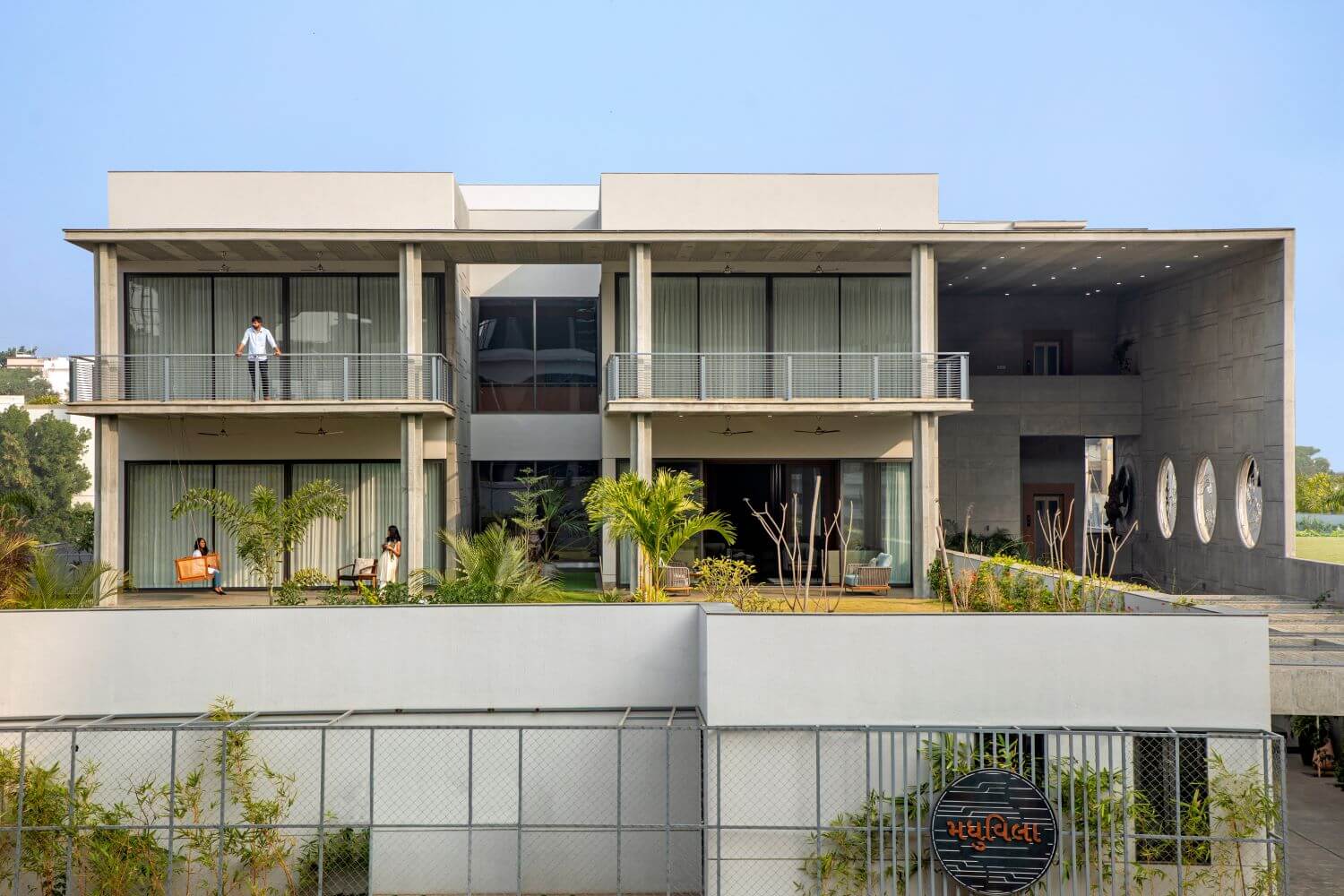 Pooja
The circular cut out between Foyer & Pooja room is a beautiful way to separate the two rooms, while still keeping them connected. A secluded yet eye-catching camouflage in the passage with a small pooja ghar highlights a dramatic and striking feature of this project. The mandir unit is made of Veneer and boasts a huge image of Goddess Durga. Neutral colors and ambient lighting keep the sanctity alive of this space while complementing the modern design aesthetic.
Formal Living
The formal living room is a visual connection with the courtyard and staircase as it unfolds itself in muted shades of grey, white, and wood. An exquisite sculpture by Avinash Gondaliya adorns the courtyard area. The Architect's use of Green Kota, wooden ceiling, and subtle shades of grey gives this space a feeling of elegance and warmth. An attached veranda connects the outside to the inside and makes us feel closer to nature." Aakara" Outdoor furniture redefined the open-air outdoor living experience at MadhuVilla.
Family Seating
Bringing neutral colors, minimal decor, and clean lines into your home interior is the key to a modern design. The Family Space in MadhuVilla is designed to achieve this goal. Centered around comfort and entertainment, this family seating is ideal for families who like to bond over movies and games.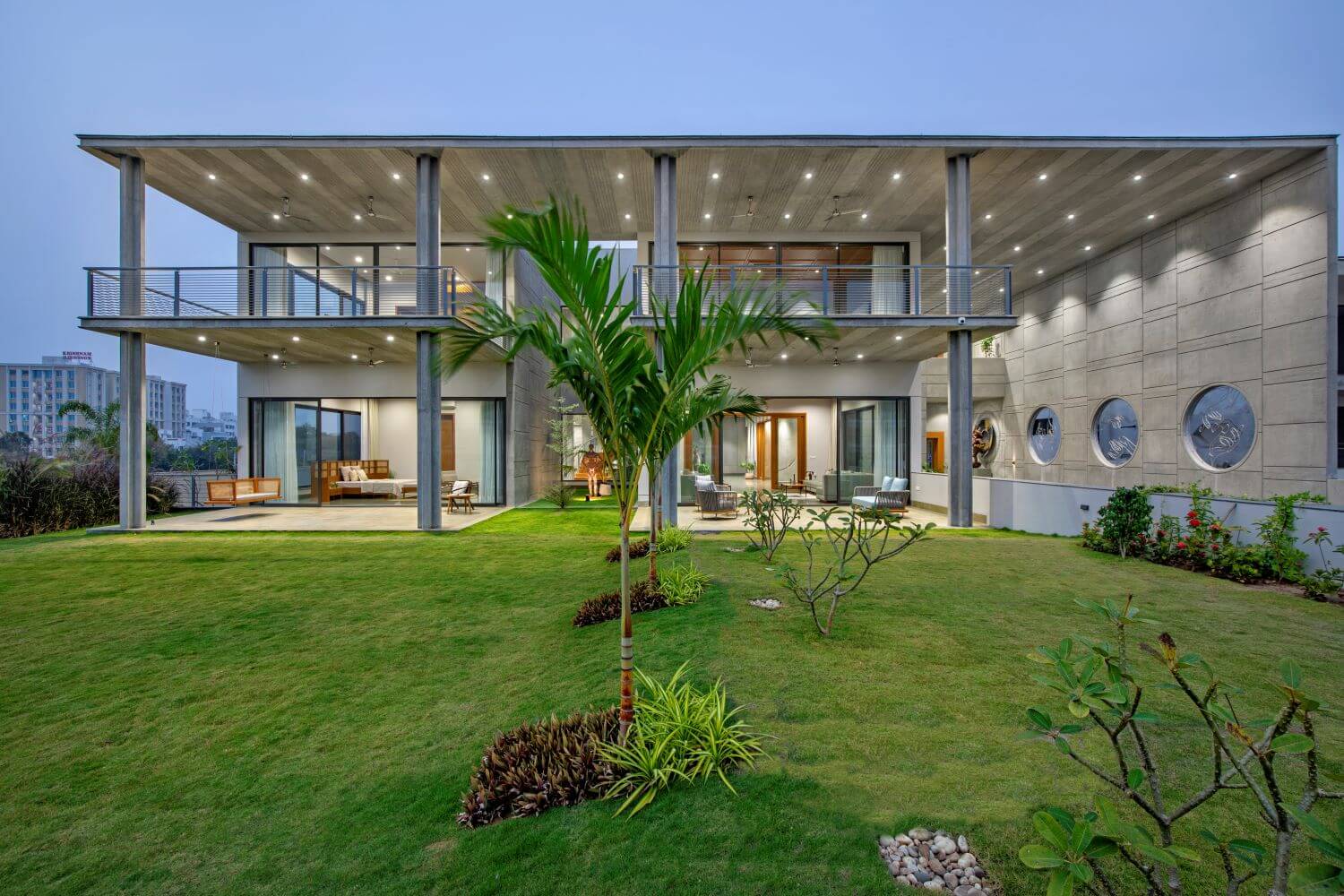 Staircase
It is the staircase that epitomizes why this villa is a step above the rest in its interior design. The staircase is the main element of the house – both structurally and aesthetically. It's a single RCC flight structure without any external supports. The circular staircase of exposed RCC is one of the first things you will notice when you enter this house. The passage with green Kota flooring and multi-color Kota pattern enhances the beauty of this space. The pattern designed in way it sets a visual connection with the exposed RCC patterns throughout the house. The metal screen between stair cabin and family seating is a beautiful addition to the space.It creates a sense of privacy, while still allowing for an open-air feel. A simple wooden tread and metal & wooden railing on either side of the staircase is turned up by a "wow" factor with its gorgeous centralized Skylight chandelier by Kaanch – Hemanshi Patwa Shah. It's as if the staircase is navigating you to a sky of large levitating blue bubbles.
Kitchen
The kitchen in MadhuVilla is designed in a way that makes life easier, comfier, and classier. With gorgeous countertops, agate grey cabinetry, matt marble finish backsplash, a functional island, and an extending breakfast table off the island, there's a lot to love about this Stainless Steel Modular "Kuche-7" kitchen. The kitchen and dining areas are connected to the backside garden.
Dining
Here's an interesting yet simple and minimalistic space that makes your mealtime delicious. The matt Black stone dining table and white chairs match the green and yellow Kota stone flooring beautifully. The pendant light drops definitively from the wooden ceiling, contrasting with simple accessories.
Master Bedroom
A spacious en-suite designed to give the clients a feeling of private haven, this master bedroom is an oasis of opulence. The master retreat opens to a veranda with a garden accented by a lush lawn and tall palms. Wall-size huge window fenestration on two sides, wooden ceiling, Wood & Wicker bed back, and green and yellow patterned Kota floor in place of a rug impeccably and aesthetically bring out the opulence and exuberance of the interior.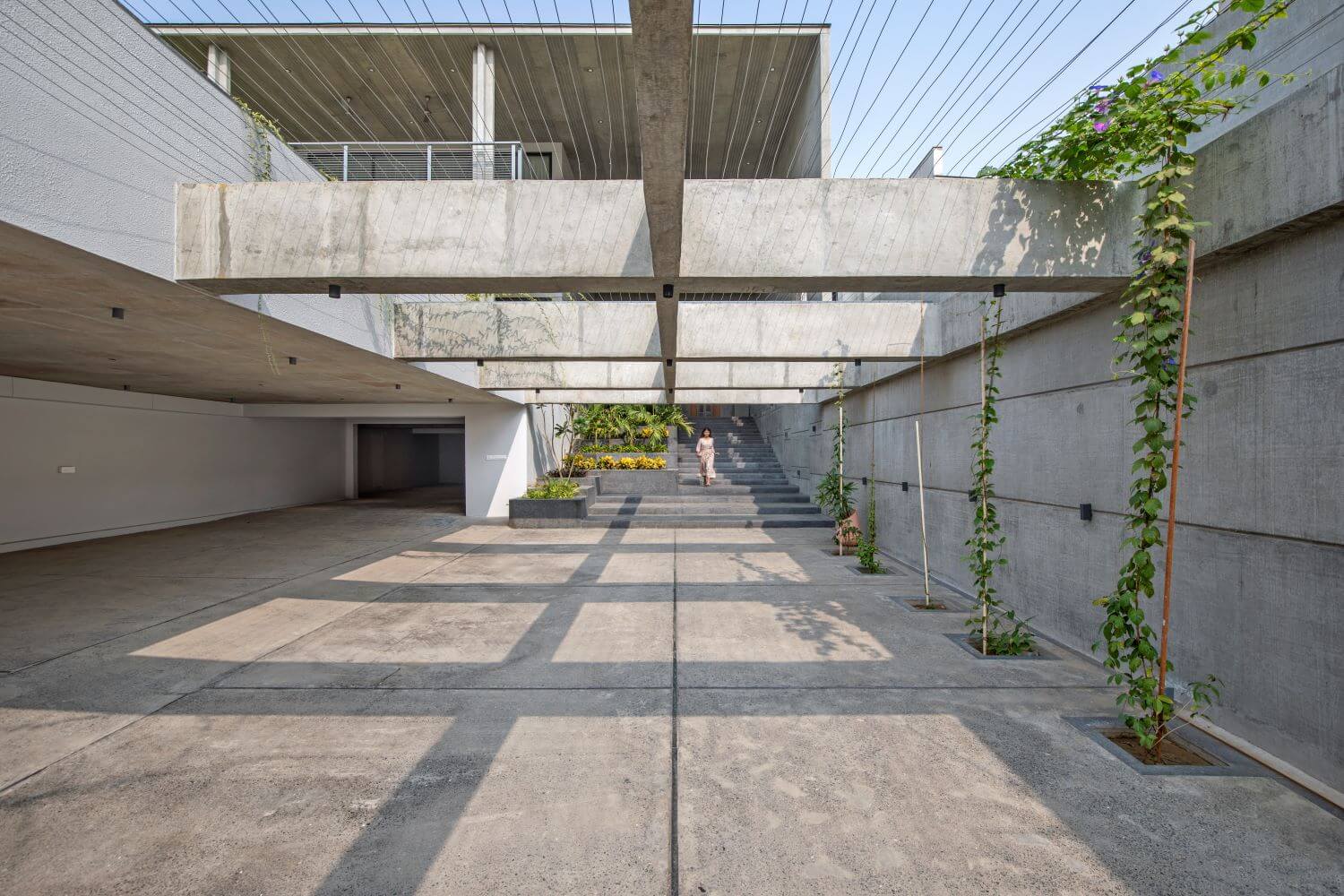 Son's Bedroom
A scene-stealing customized portrait art by Avinash Gondaliya on an exposed RCC wall is the highlight of this bedroom. One-of-a-kind through-out cut wooden bed back creates an organic feel in the cool and classy room. The monotone color scheme of the room creates a luxurious minimalist cocooning feel. The huge windows of the room open up to the backyard garden.
Daughter's Bedroom
A calming grey and beige monotone color scheme wrap around three walls of the room. The wall behind the bed has been designed with patterned RCC walls which seems like an extension of the grey bedback. The skylight above the bed headboard adds dimension and completes the casual, lived-in feel of a room. This bedroom windows open up to the backyard garden.
Entertainment Room
Set as a space to host family and friends, the entertainment arena is designed to manifest much more than just its function. Basic furniture, large windows overlooking the garden, wooden ceiling, and room for ample natural light to come in make this entertainment space look welcoming. The shade of beige and brown bring warmth to this entertainment room. A perfect blend of fun and peace, this room has ample sitting space to host big gatherings.
Concluding Thoughts…
Concrete House is a statement. It is a testament to the inherent charm of raw unfinished textures, the enhancement of material technology and a wholesome understanding and execution of transforming a house into a home!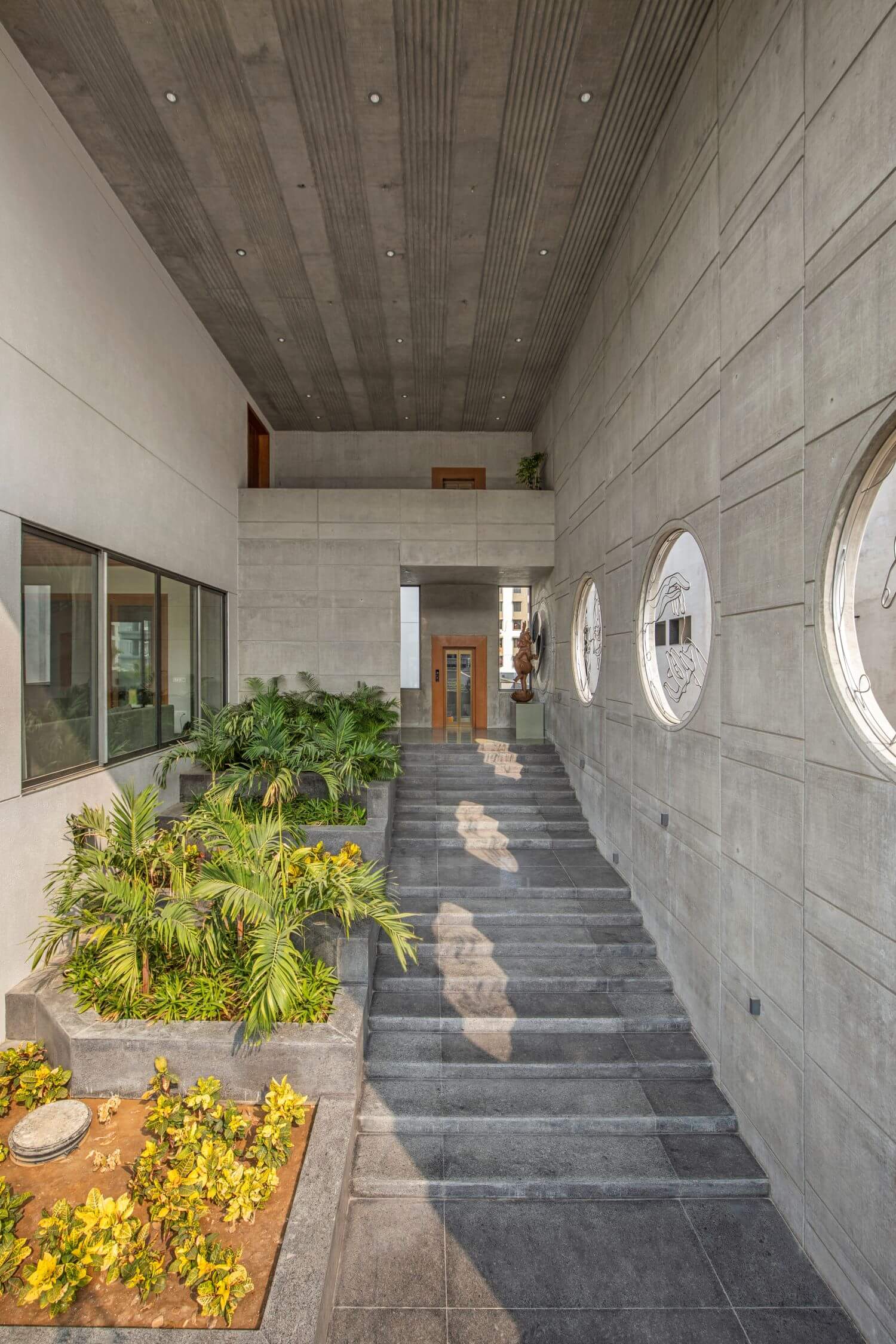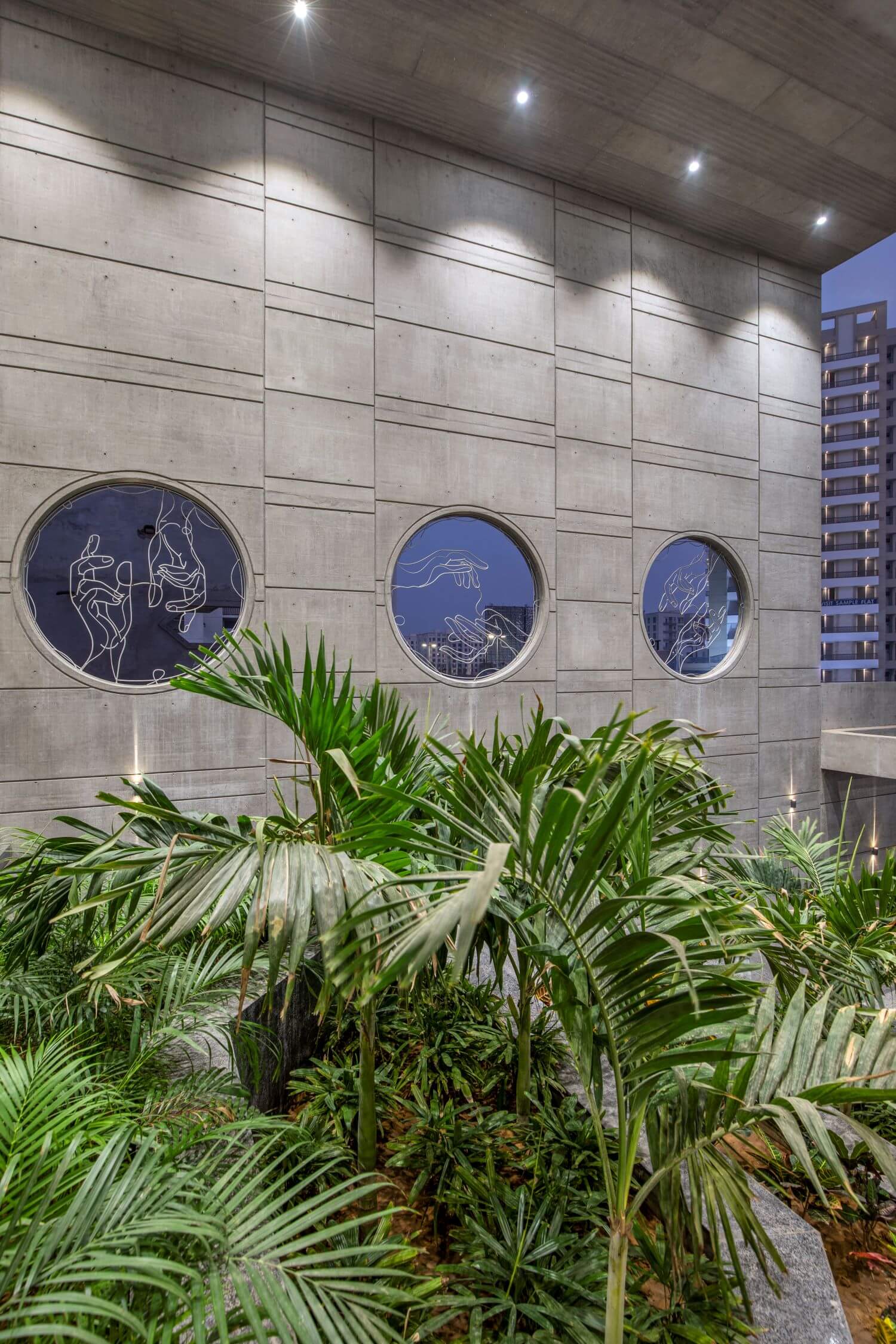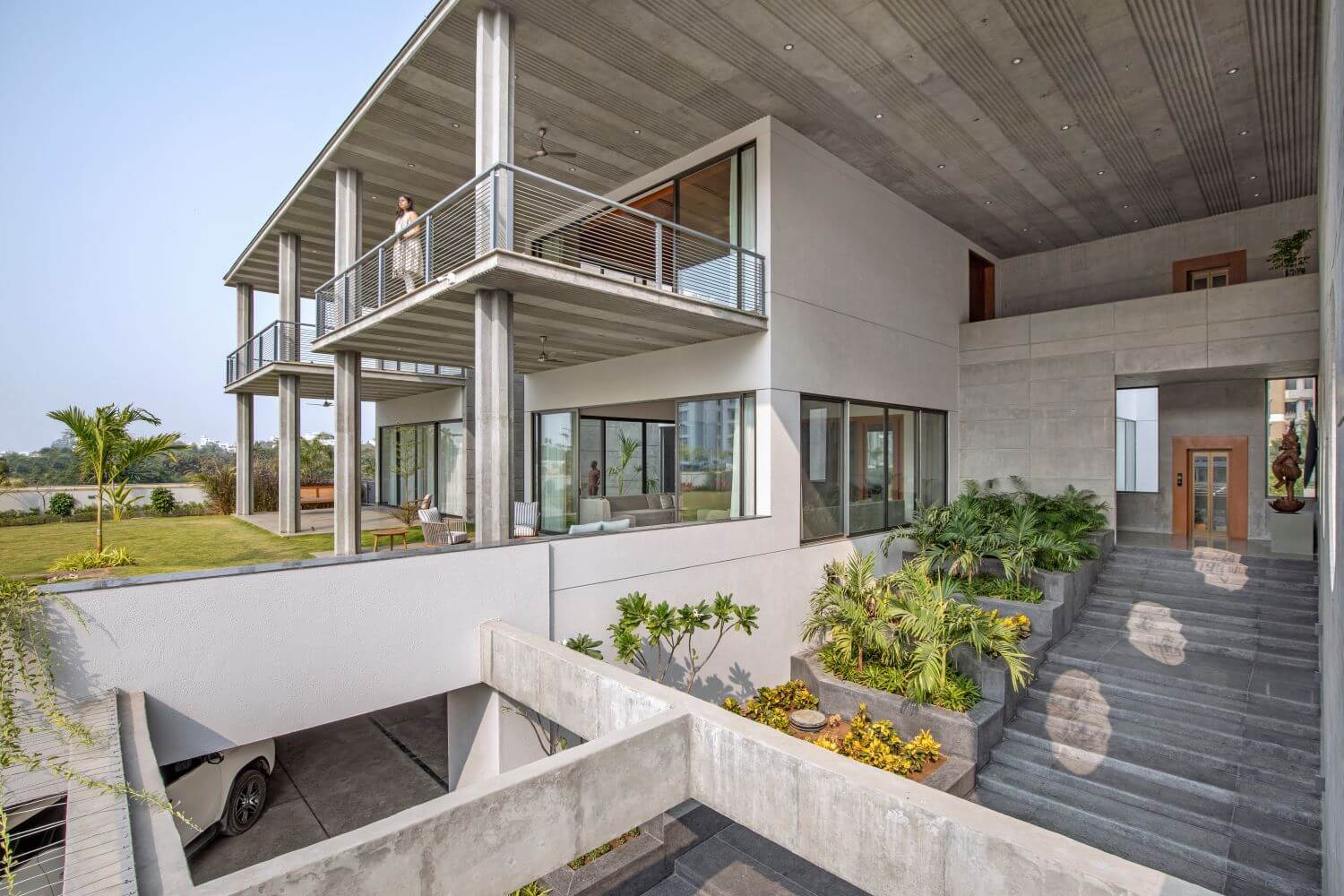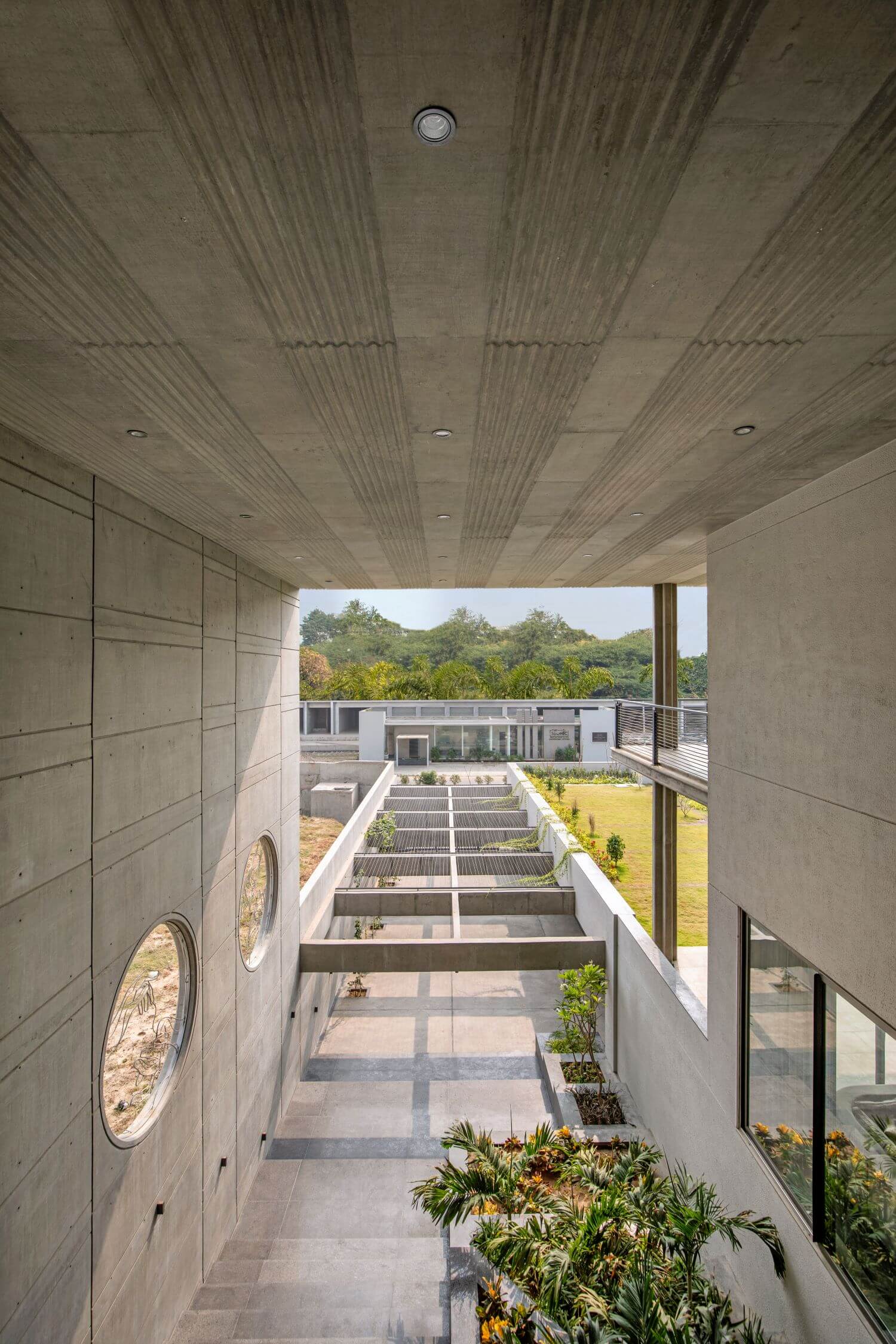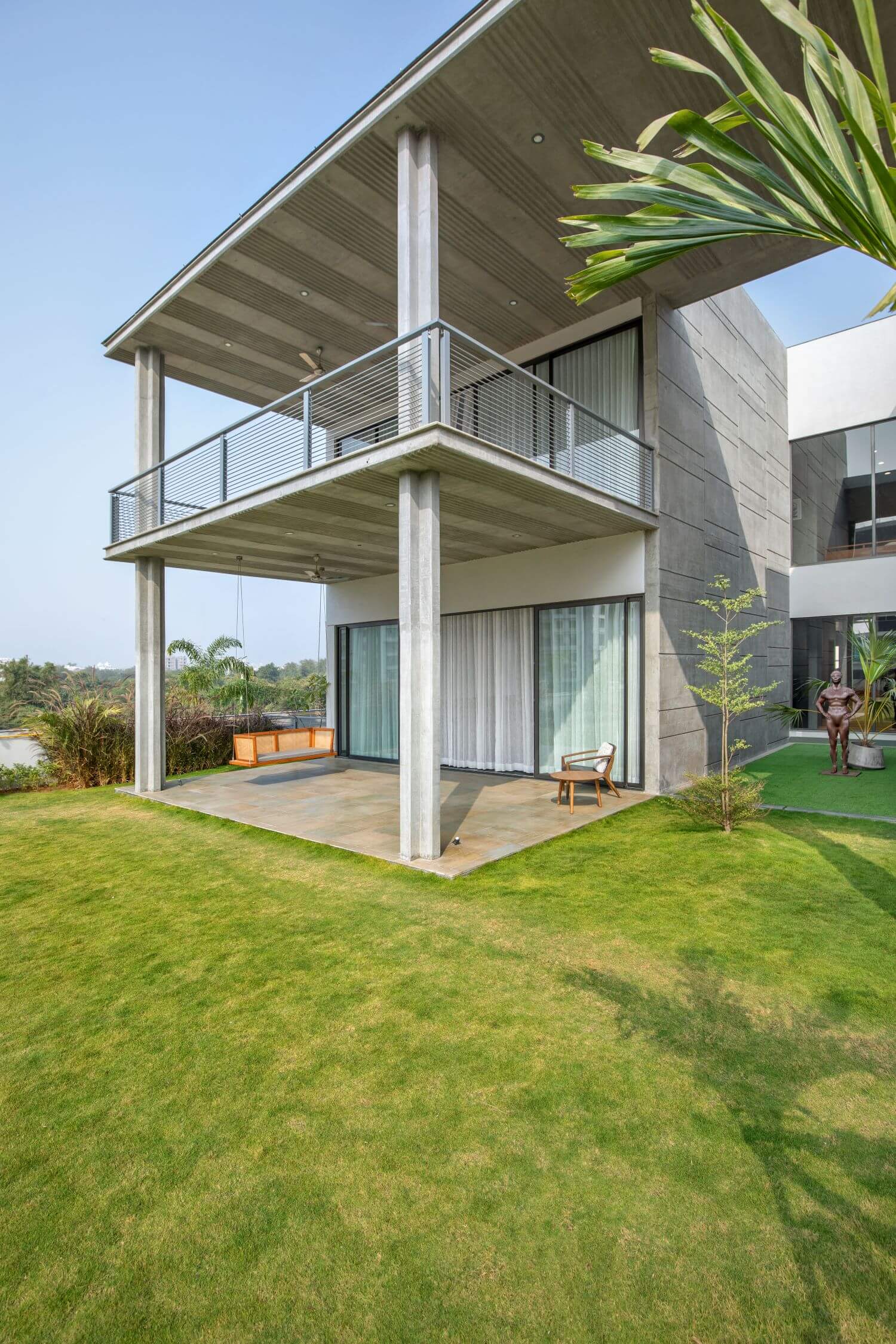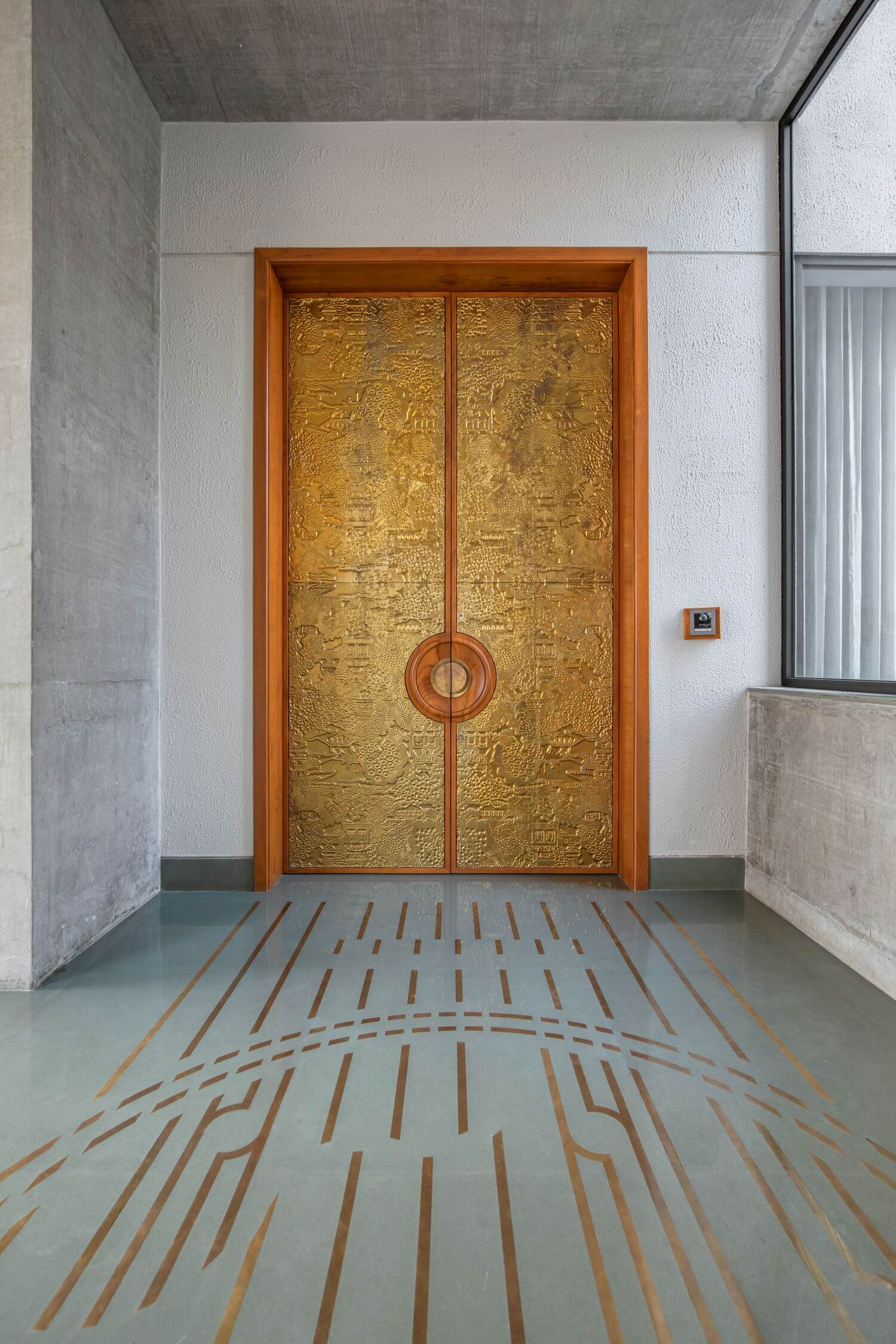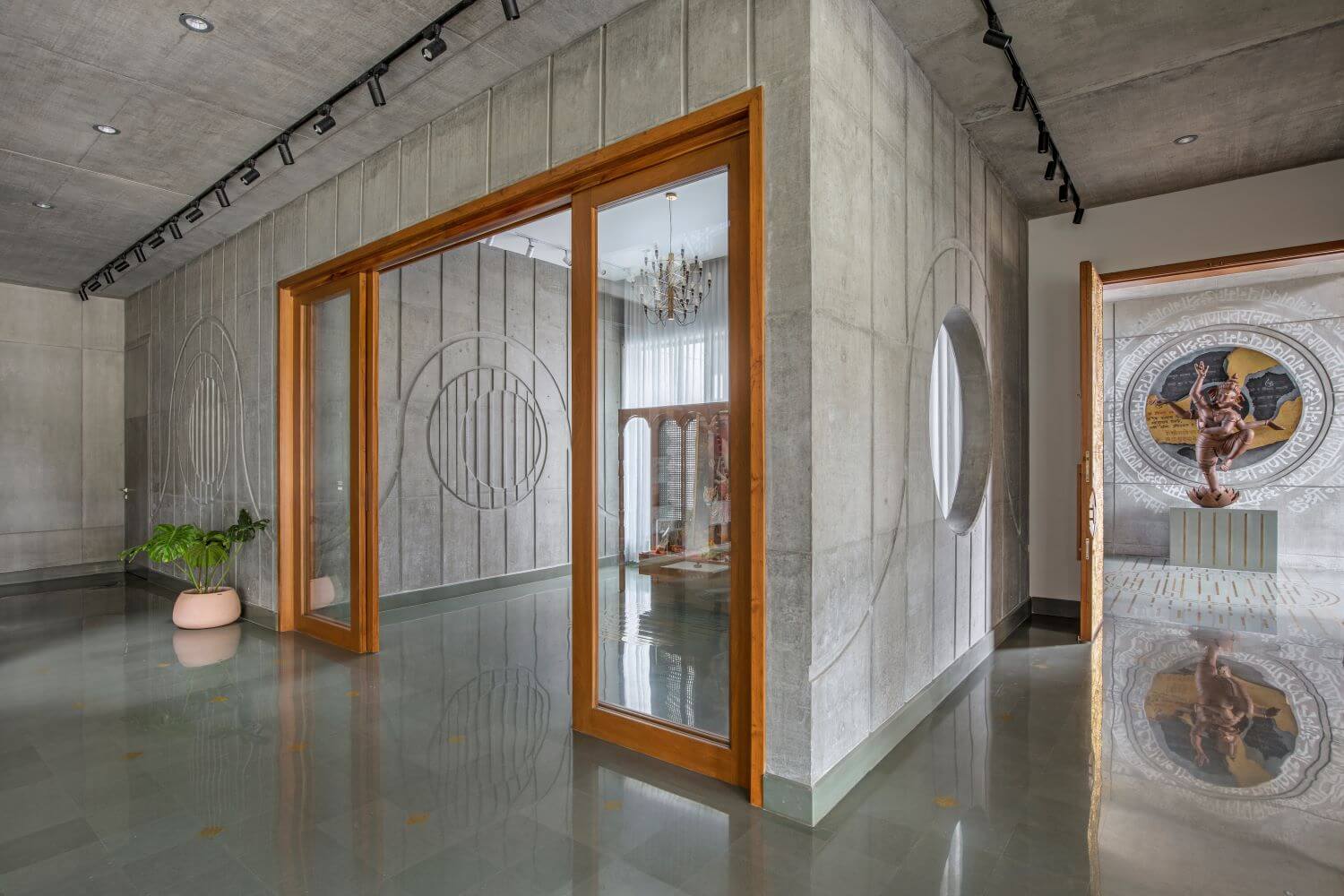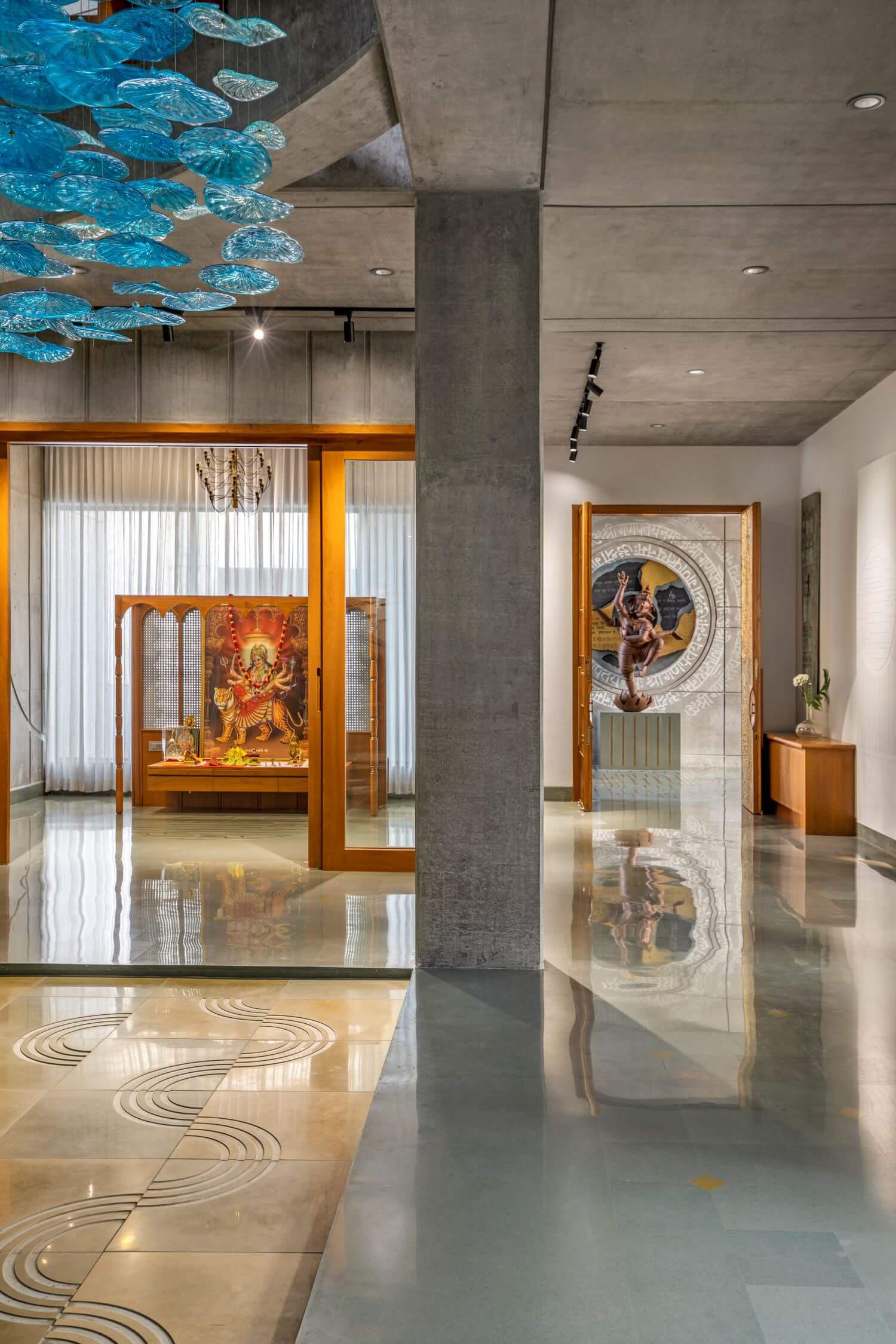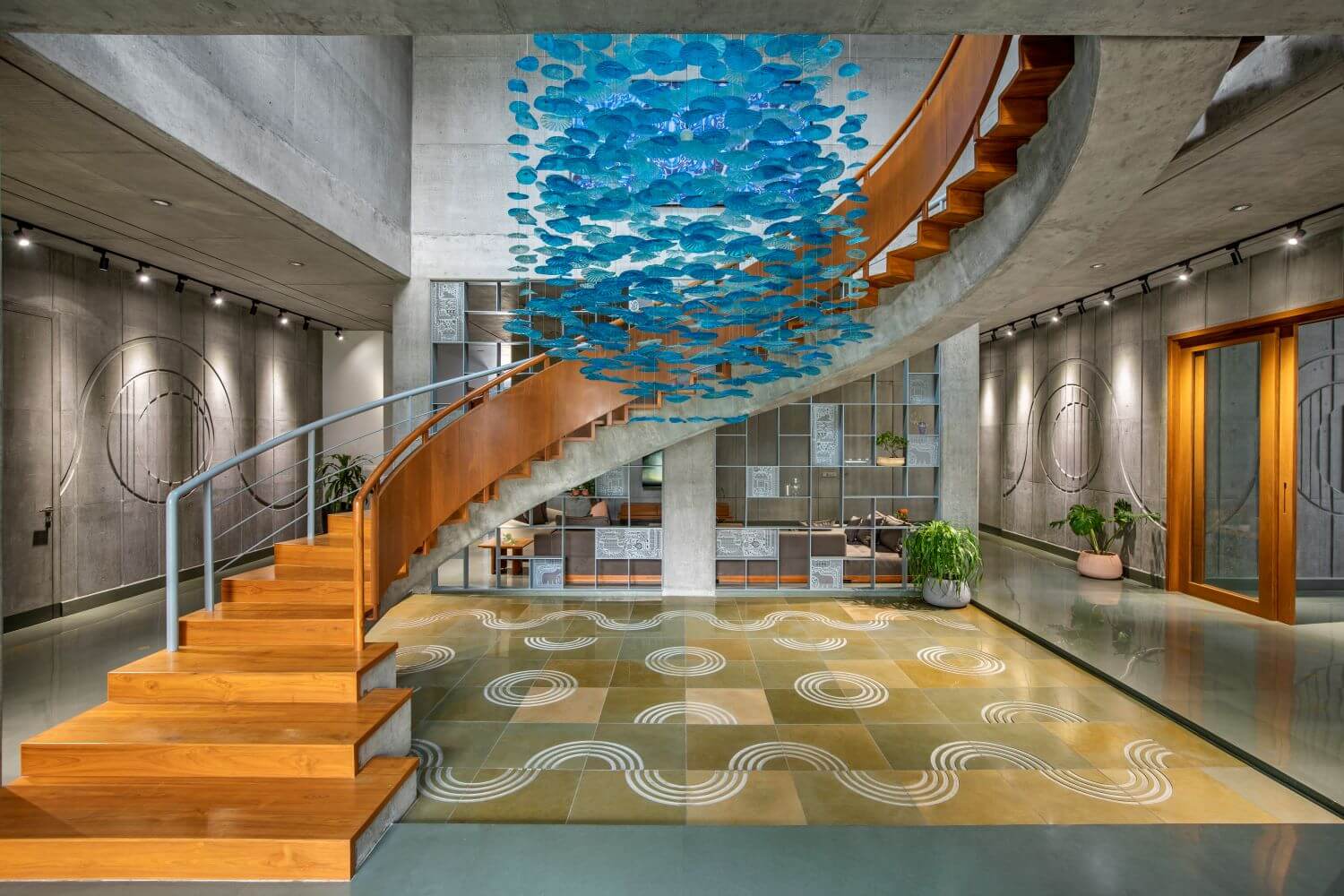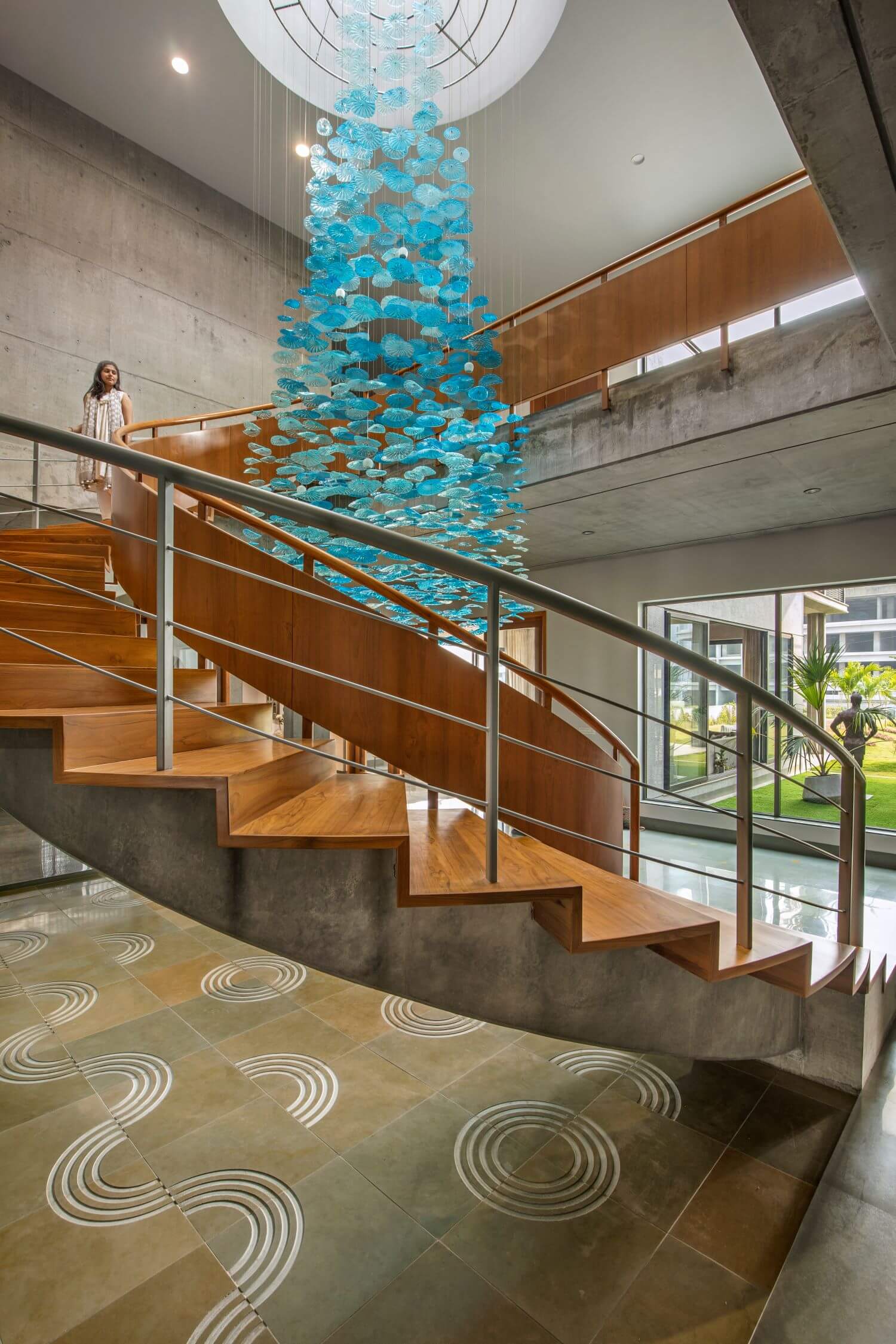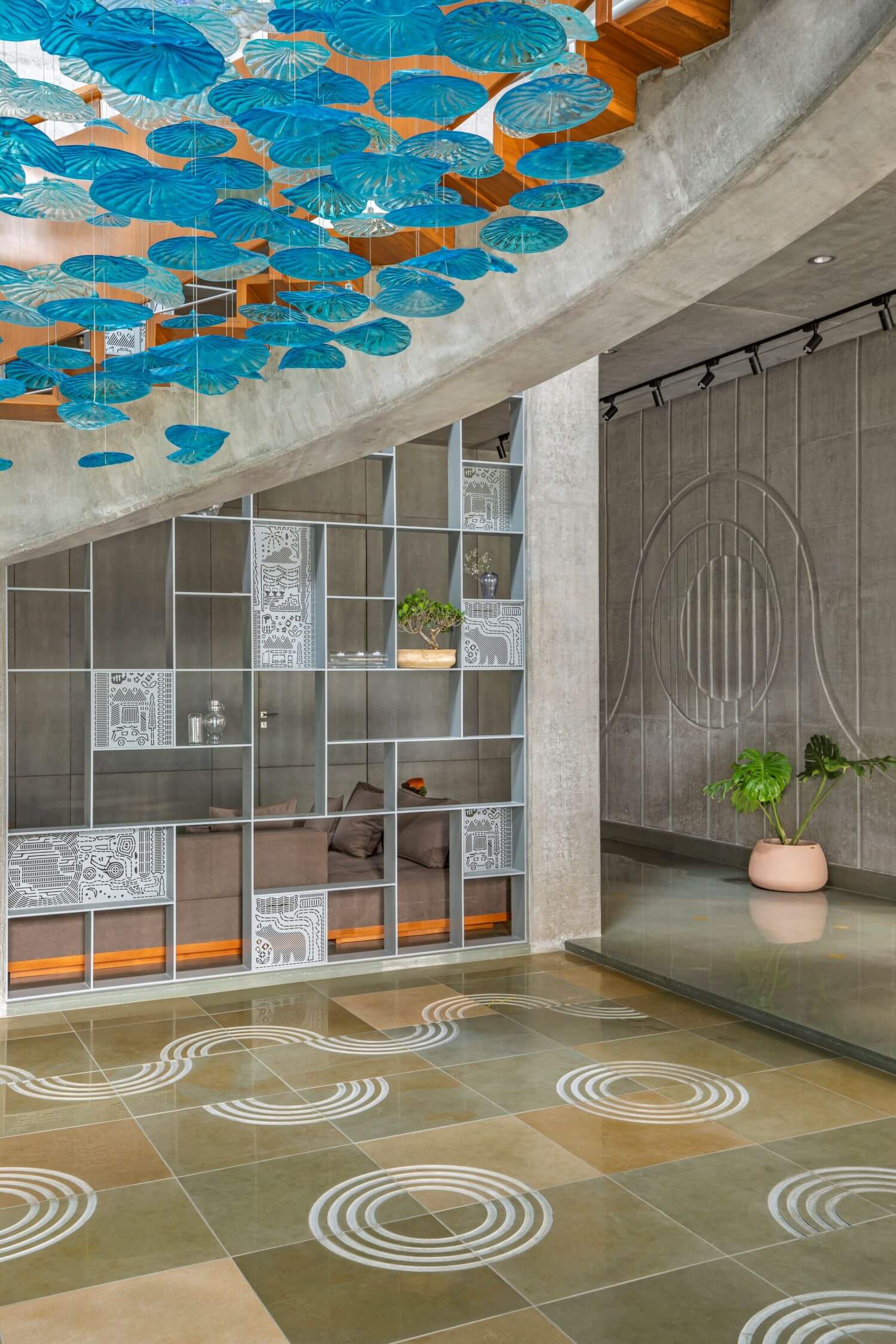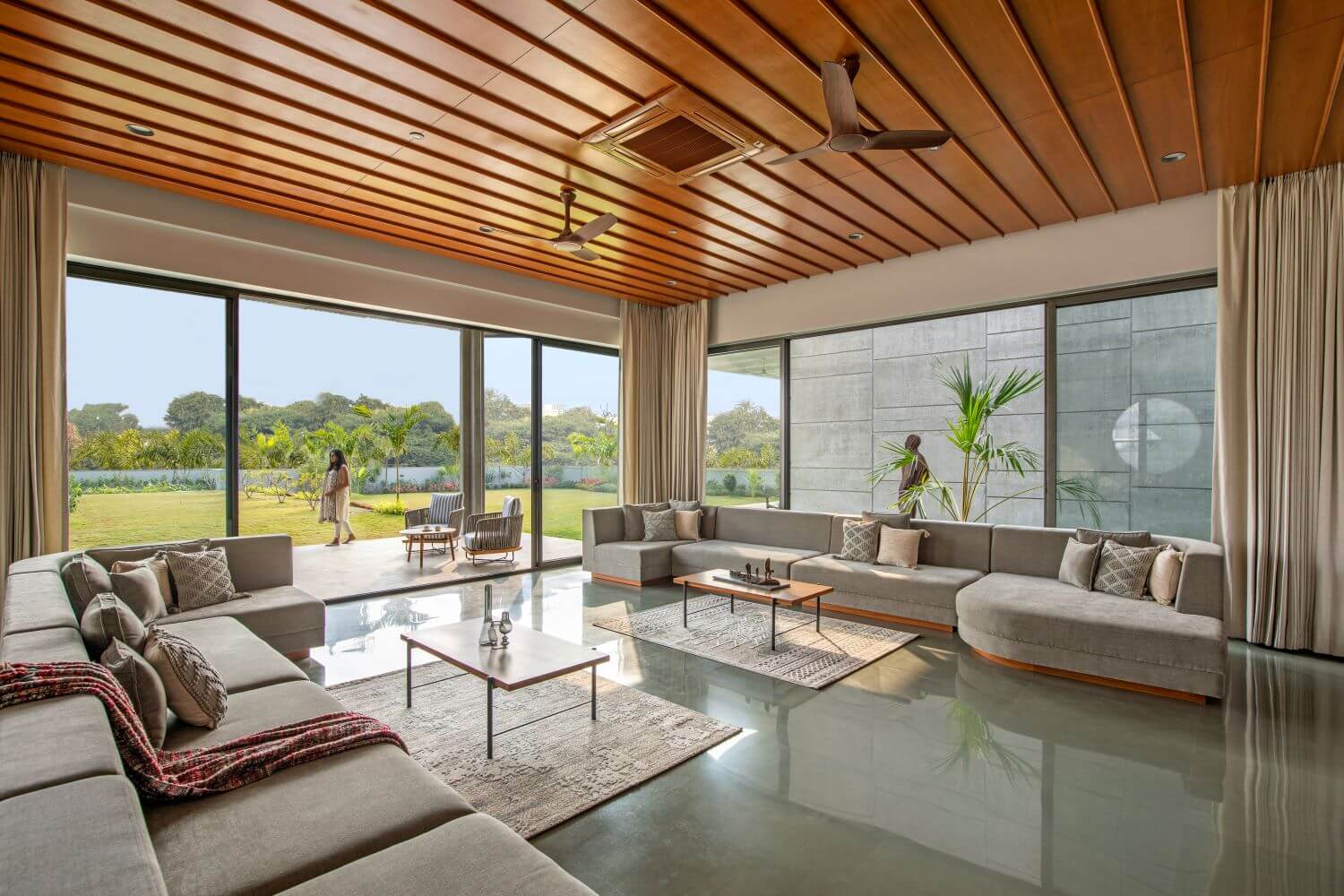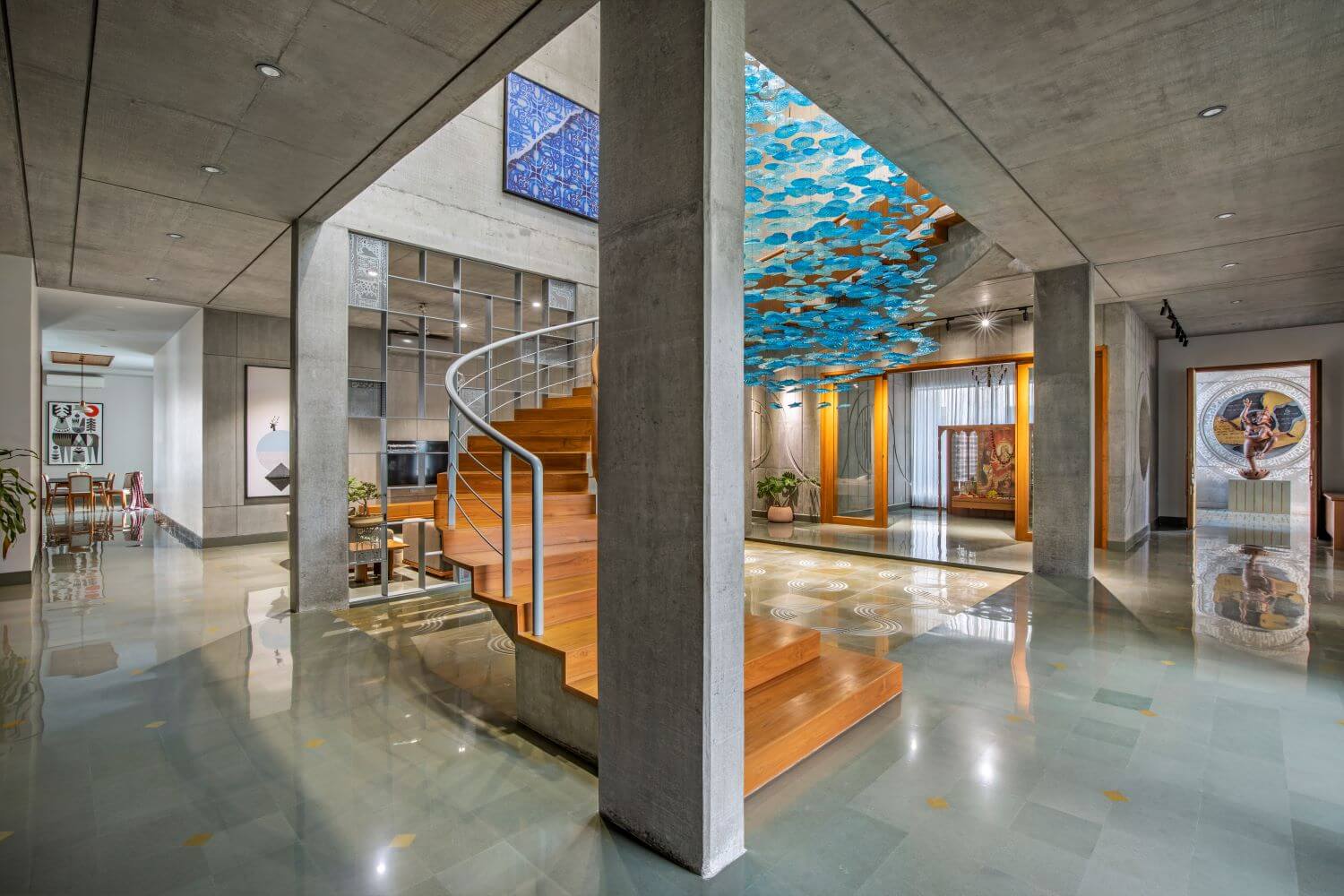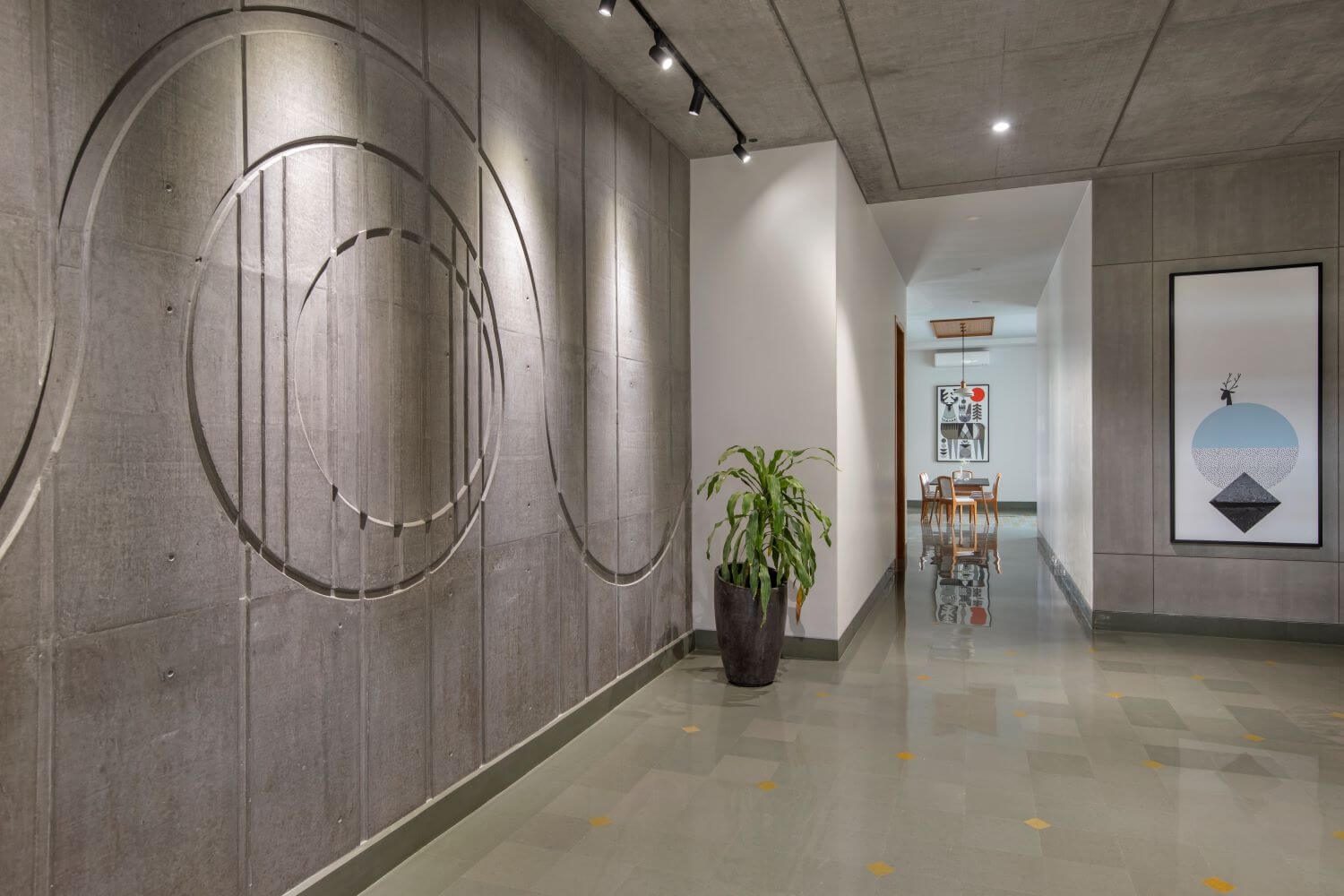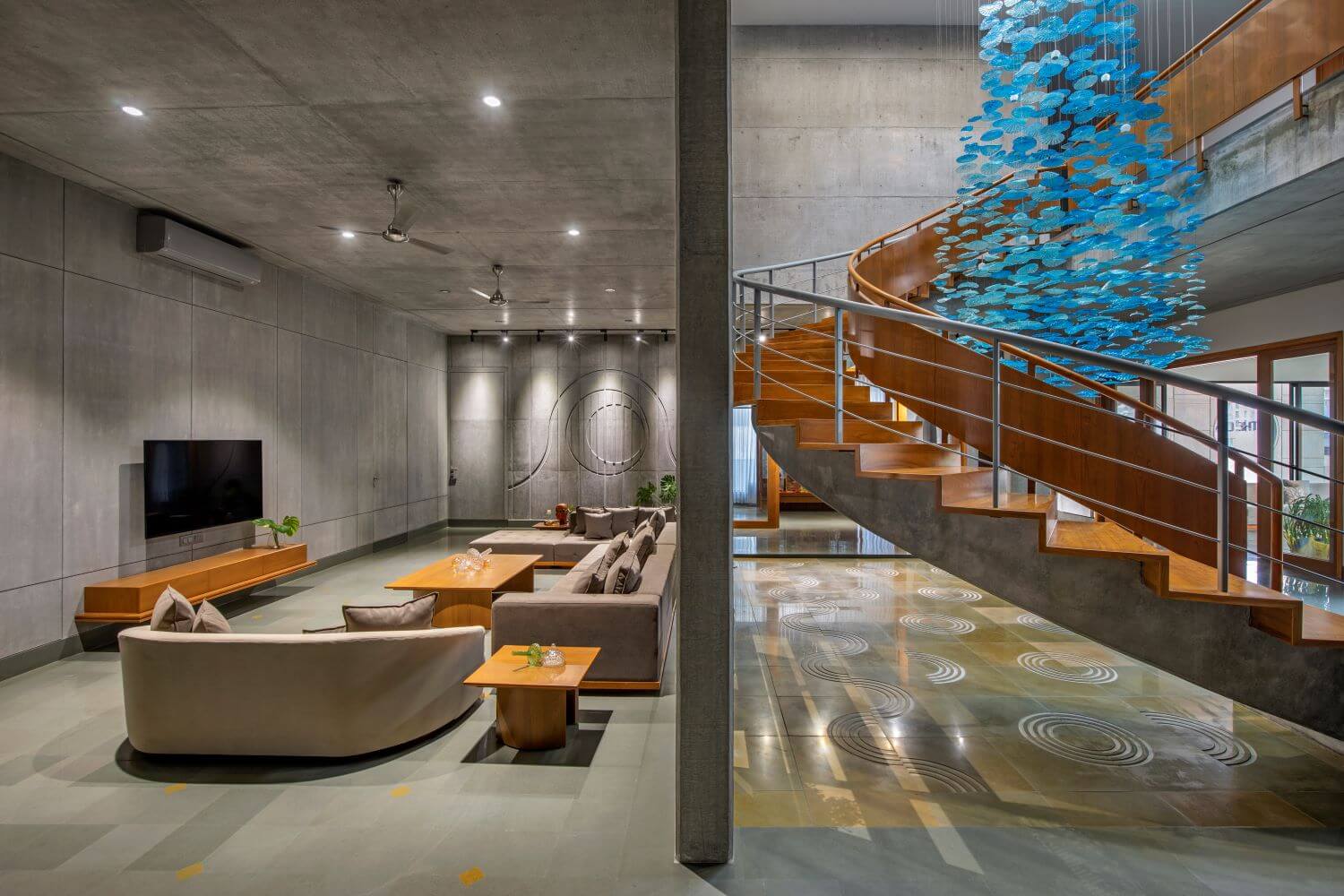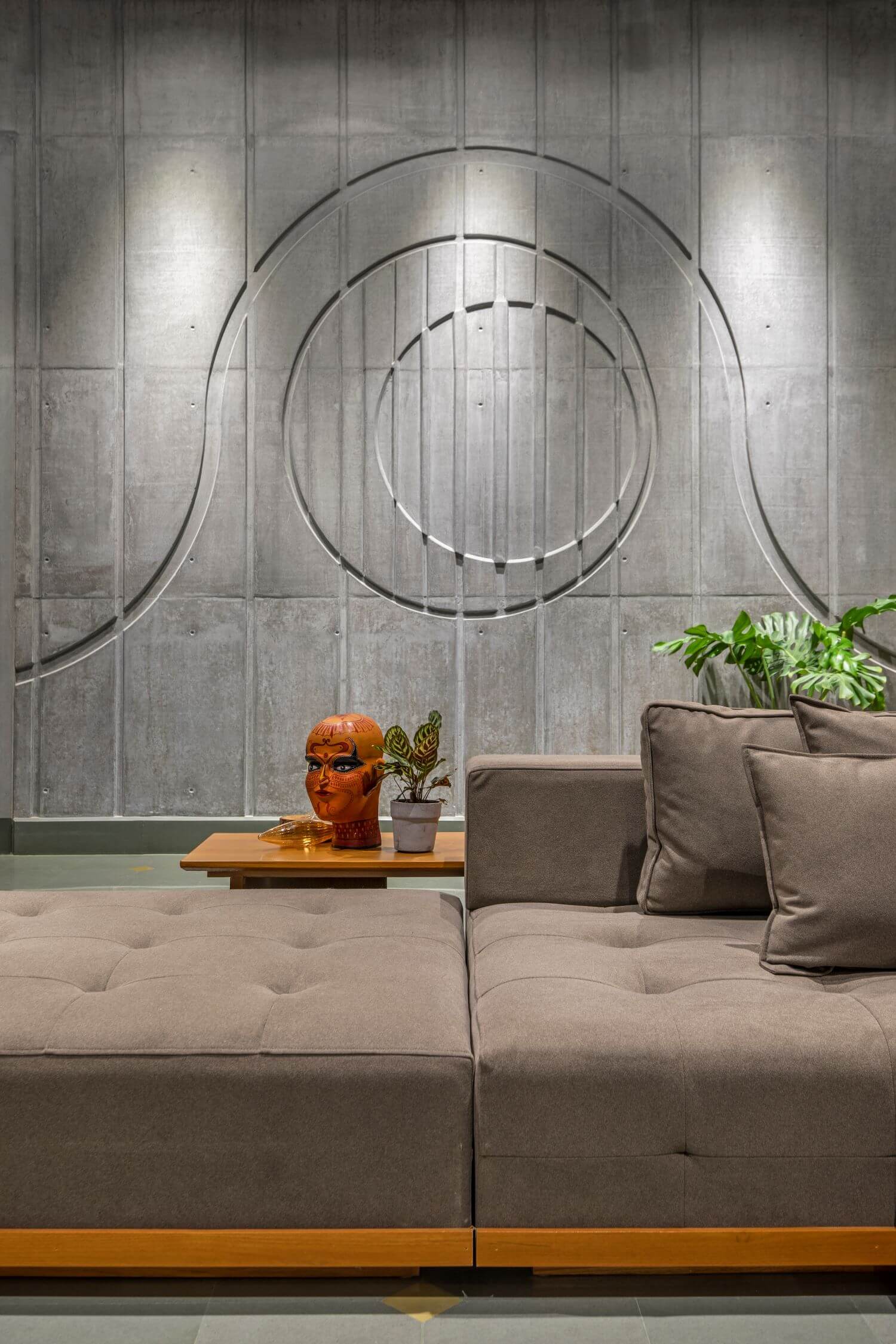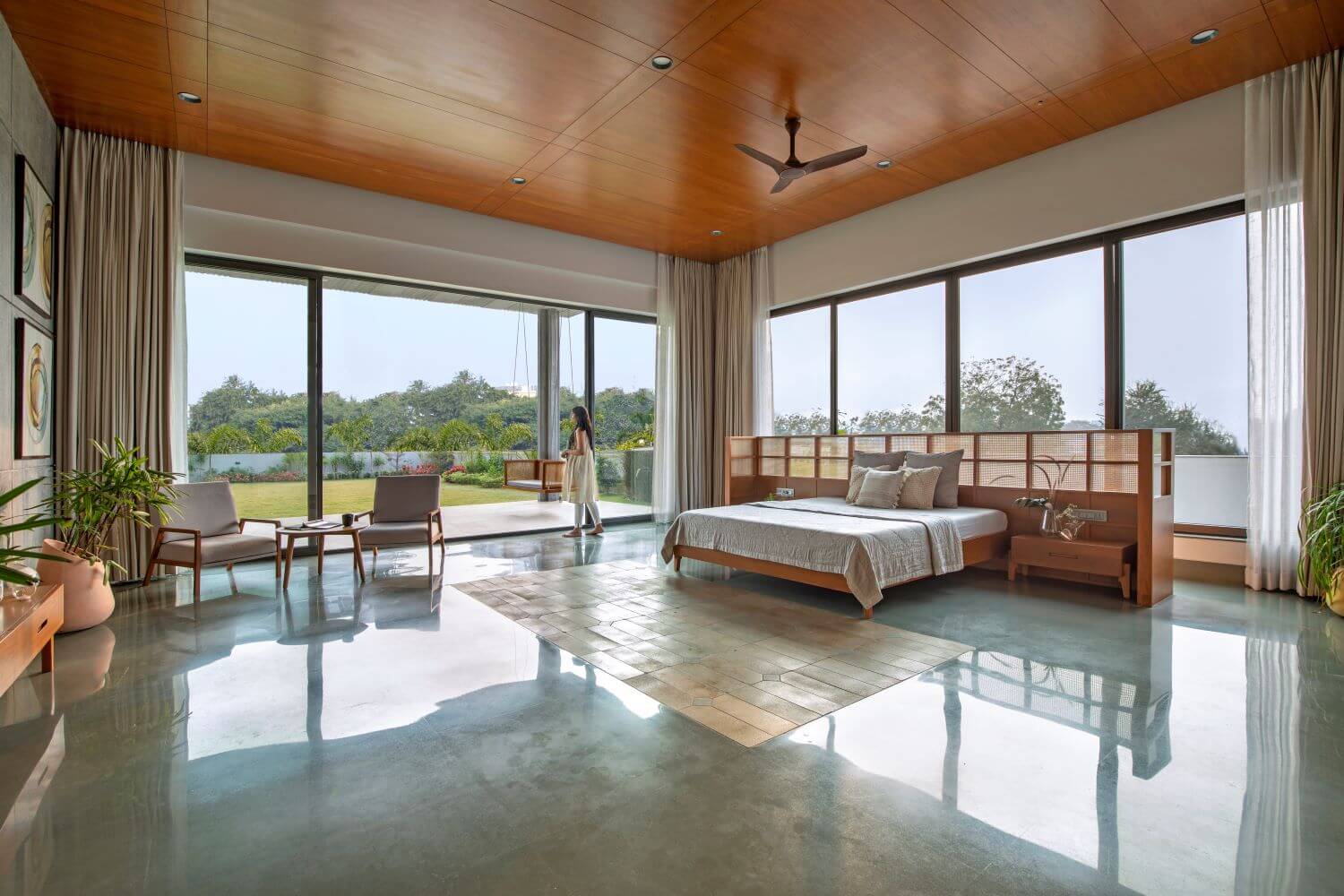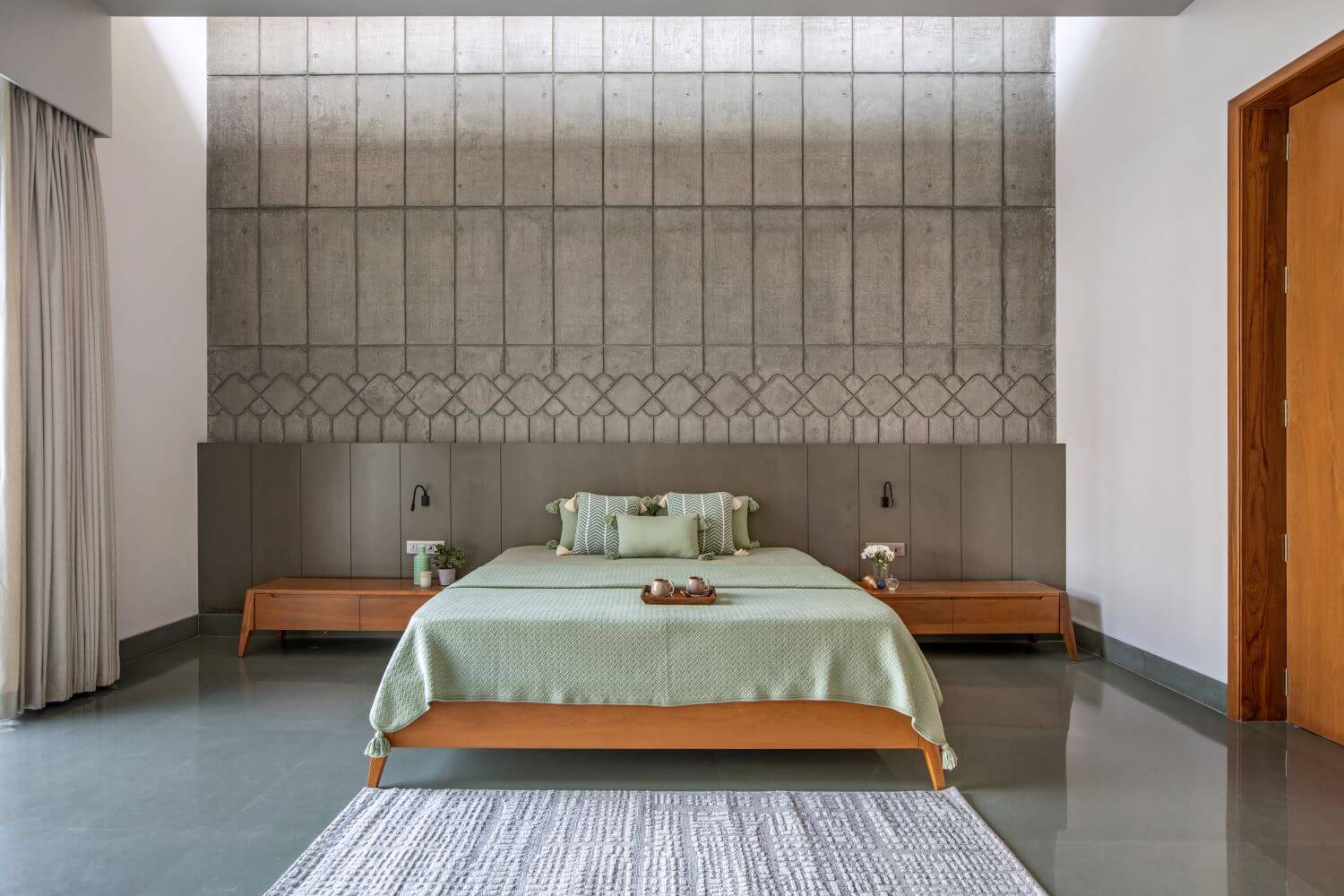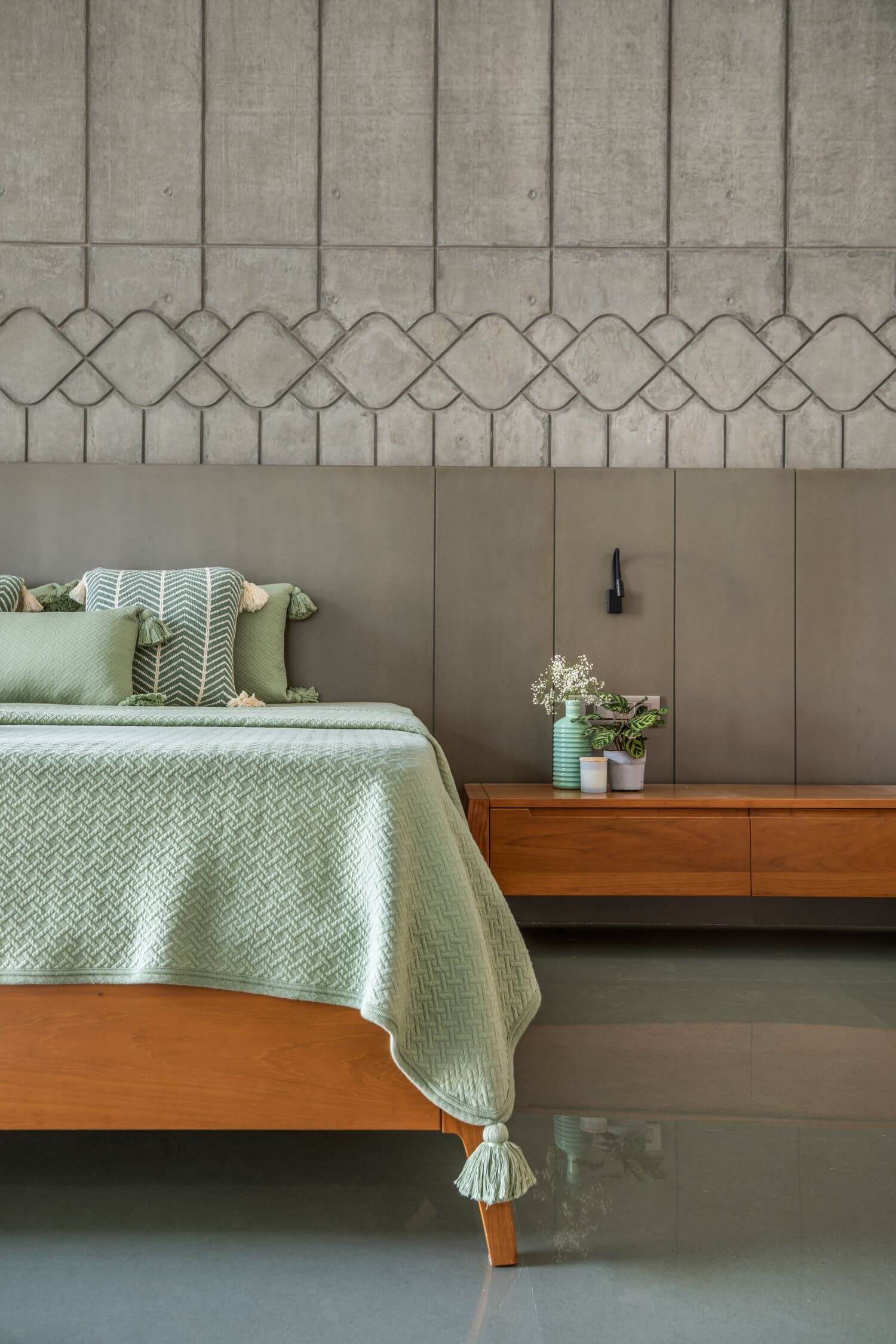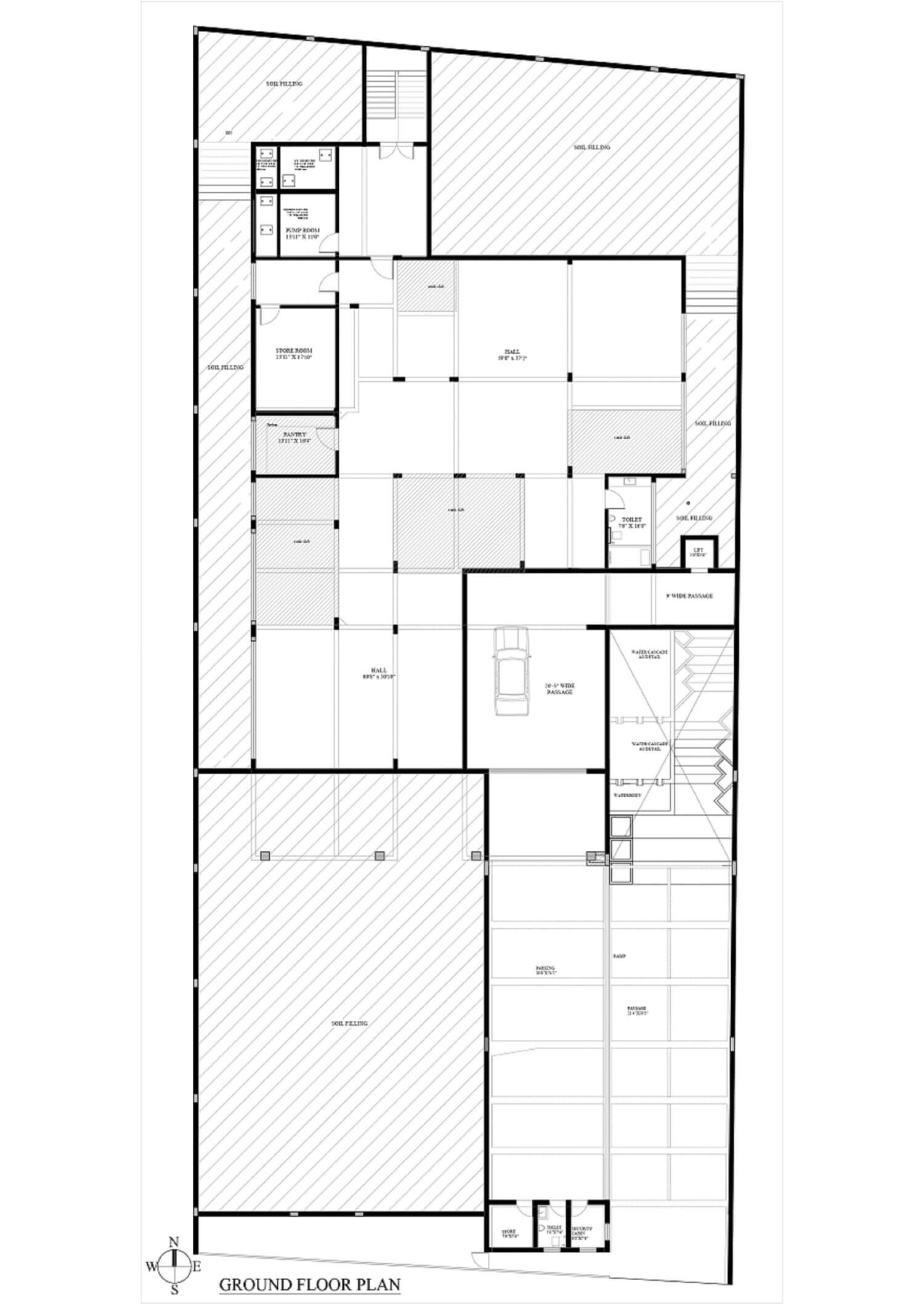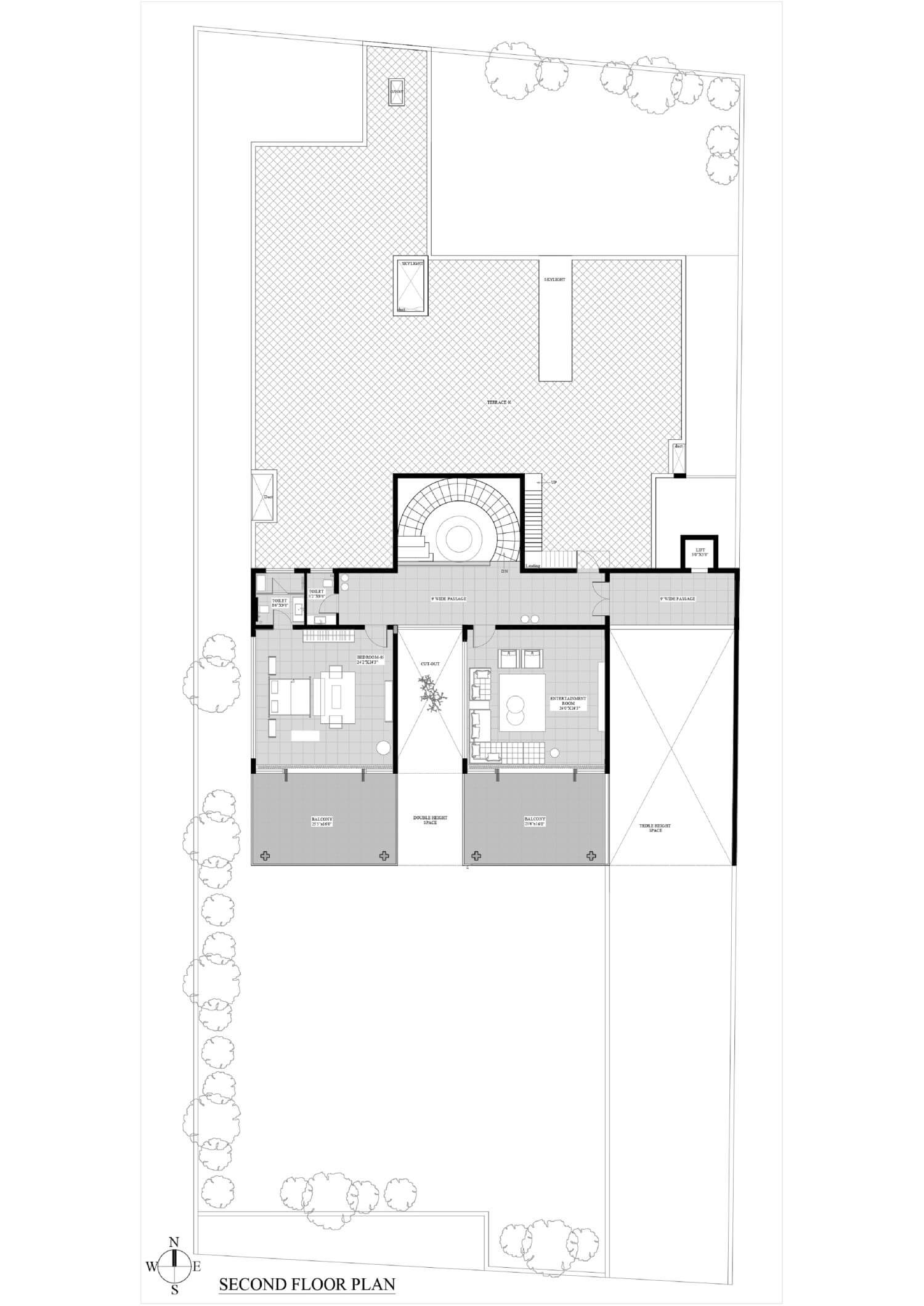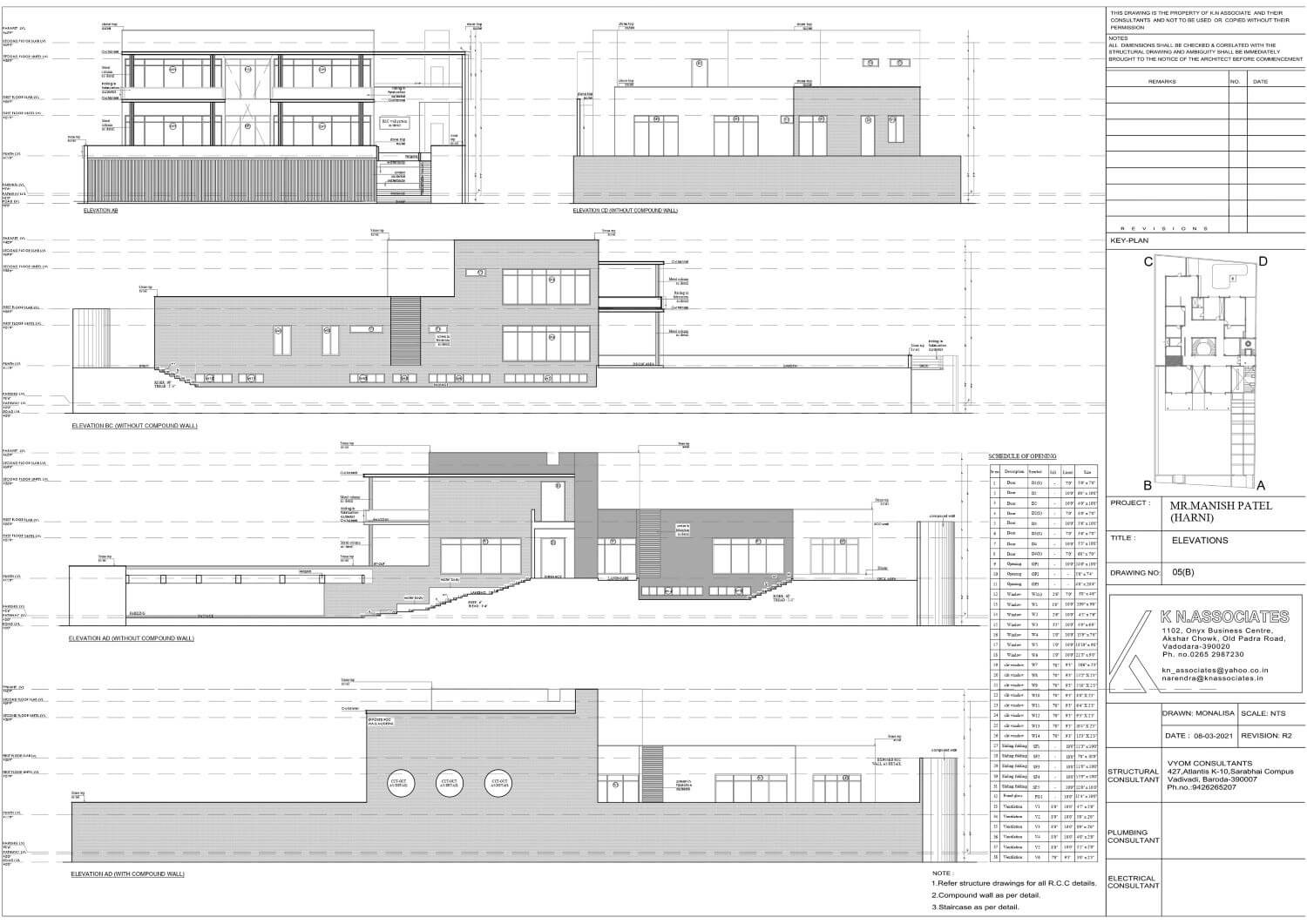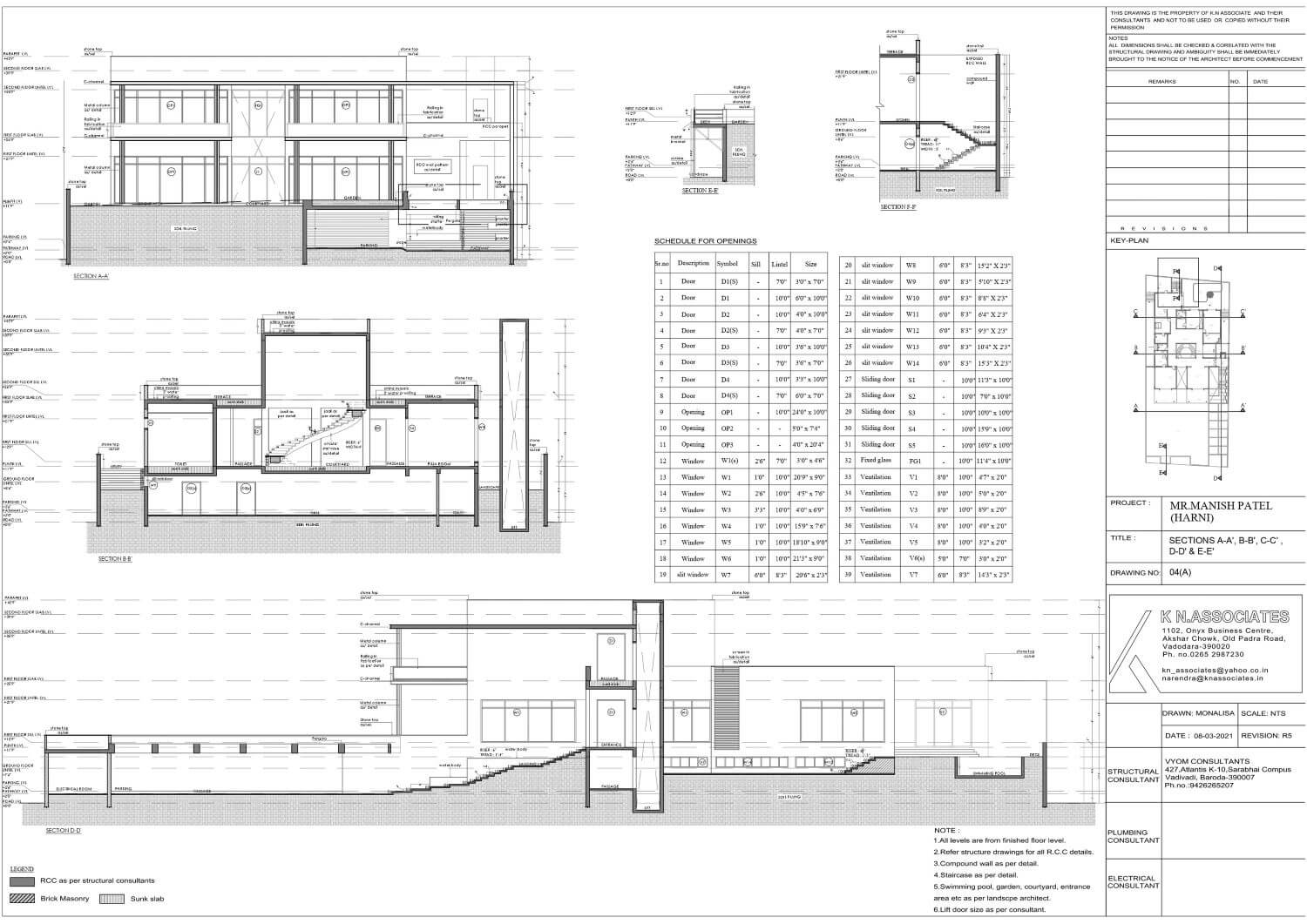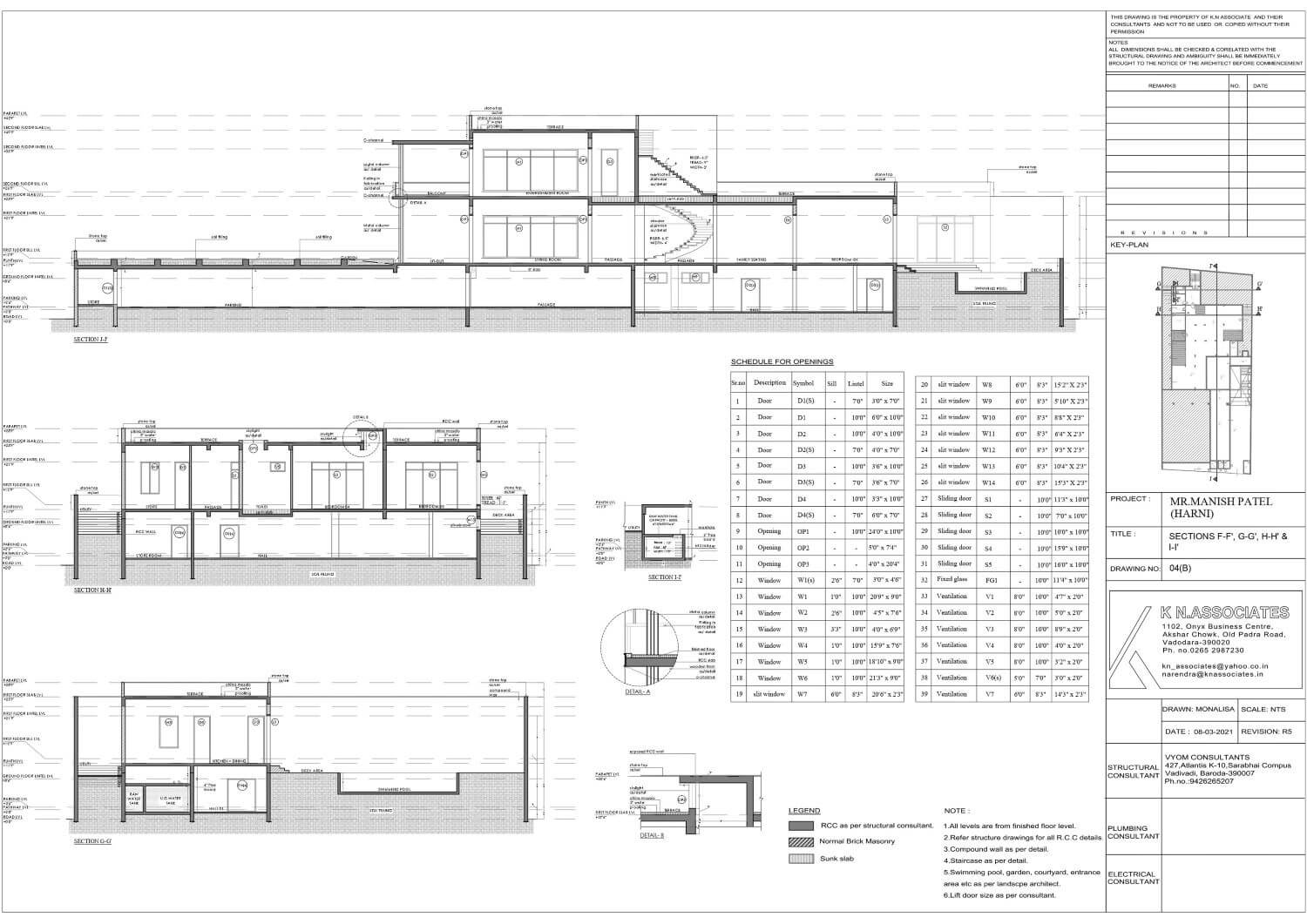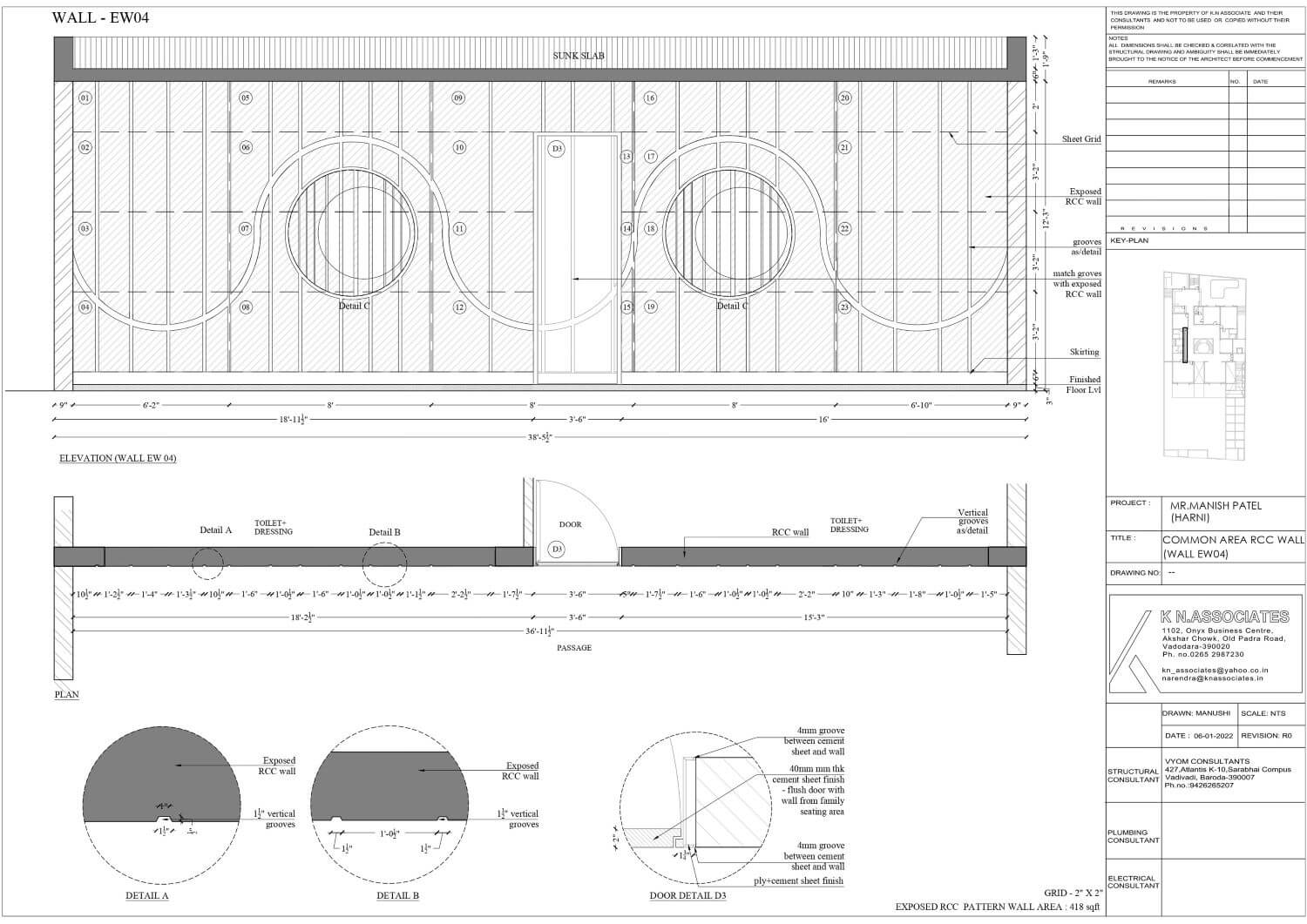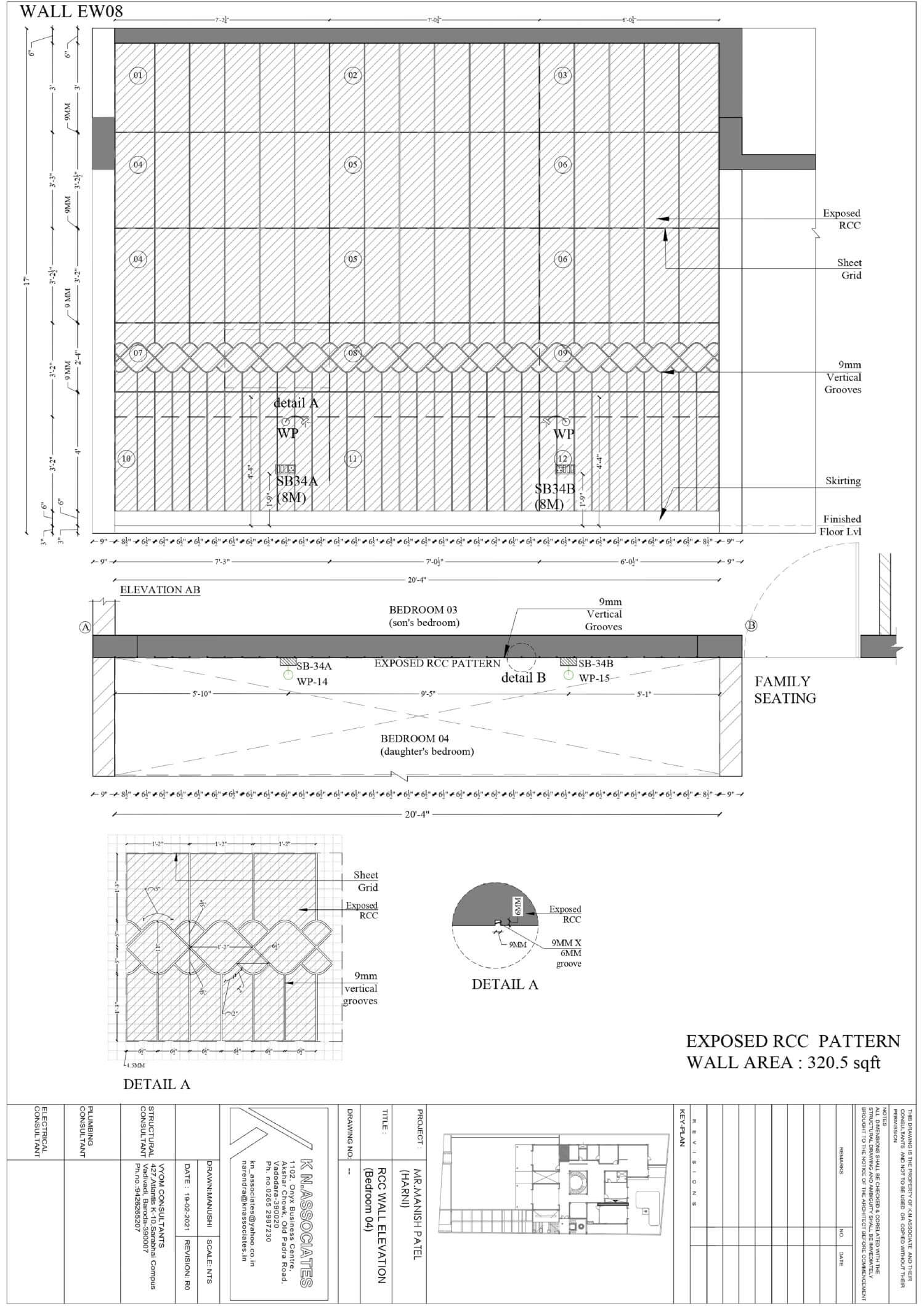 ---