How can a dark basement of a commercial mixed-use development be transformed into a warm and pleasant conference center that appeals to a young, trendsetting customer target group? Creating this interior design project 'The Arcade' in Hangzhou presented Superimpose Architecture with that as its main design challenge.
To address the conference center's imminent daylight issue, Superimpose Architecture incorporated key features of a traditional shopping arcade; a once successful architectural retail and public space typology that flourished in Europe from the 18th to the 20th century. These arcades consist a series of arches supported by a colonnade with retail shop fronts on both sides. Natural daylight penetrates through glass skylights creating a pleasant and protected indoor retail environment and social gathering space.
In the conference center, two long linear 'floating' acrylic ceiling boxes with artificial light resemble the glass skylights of the shopping arcade and mimic the color and intensity of natural daylight along the two main circulation axes. The light boxes also have an immediate visual impact in the basement and serve as a clear indicator for circulation. The two axes can also be used as exhibition space.
The basement's concrete columns are purposefully exposed, revealing the initial inspiration for selecting the arcade as the design concept. Façade-like white modules are inserted between structural columns and along two main axes to create entrance portals to functions such as meeting rooms and auditoriums. Each modular portal comes with its own respective functionality. The portal of the auditorium can be fully opened, allowing the auditorium to expand and become part of the entrance area for events.
Each conference room has a distinct spatial concept and character, which is achieved through color selection, light fixtures or materialization. The seating in the large auditorium is organized in a semi-circle that runs the entire length of the space to create a forum-like setting. Linear light boxes follow the seating arrangement and provide character to the space. Wooden louvers and red carpet help to improve acoustics and provide a warm atmosphere in the auditorium.
When entering the conference center, visitors will instantly notice another element meant as a practical solution to the dark characteristic of the basement. A large floating oval shape frame with various types of light integrated helps to make the transition from outside to inside more pleasing to the eye. Keeping the ceiling open and exposed allows daylight to enter the basement from the adjacent sunken courtyard. The entrance area, and 'living room' with a cafe and lounge area are designed to be pleasant and green. These are places where visitors can stay for an extended period of time to relax between activities or work.
With the conference center's design, Superimpose Architecture met its objective to use the disadvantage of the basement as its inspiration, resulting in the transformation of a dark and unpleasant space into a welcoming working environment and social place.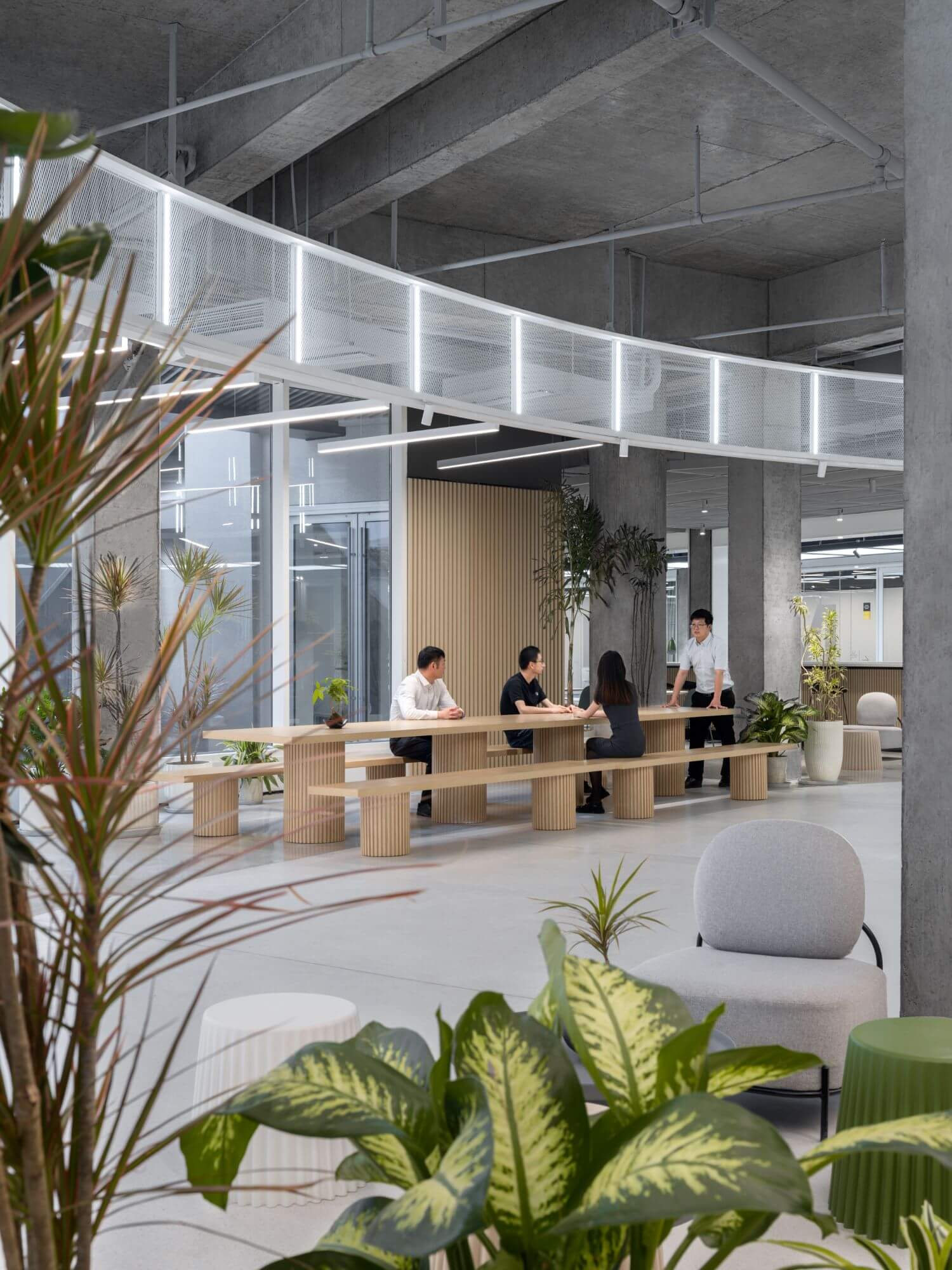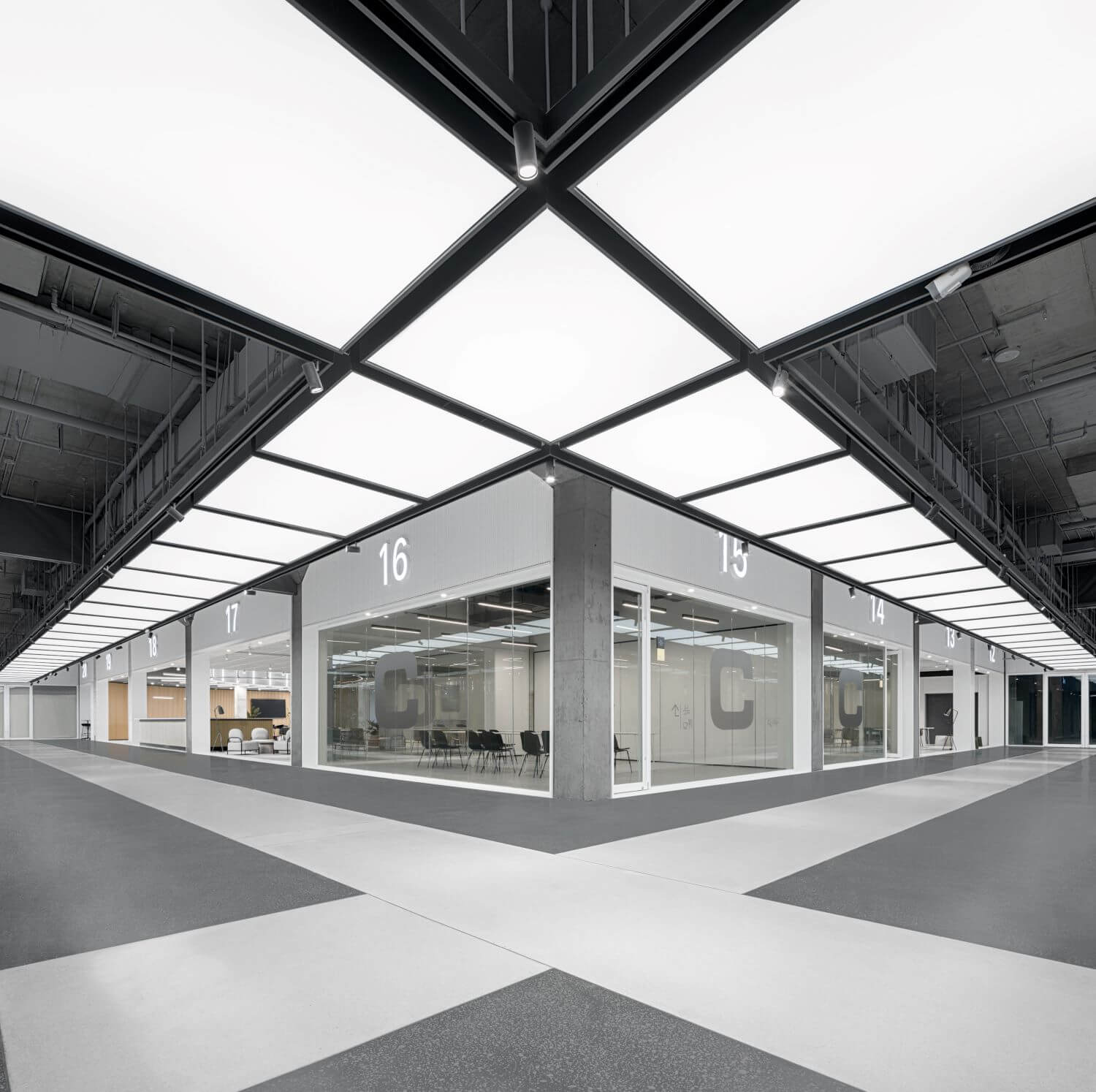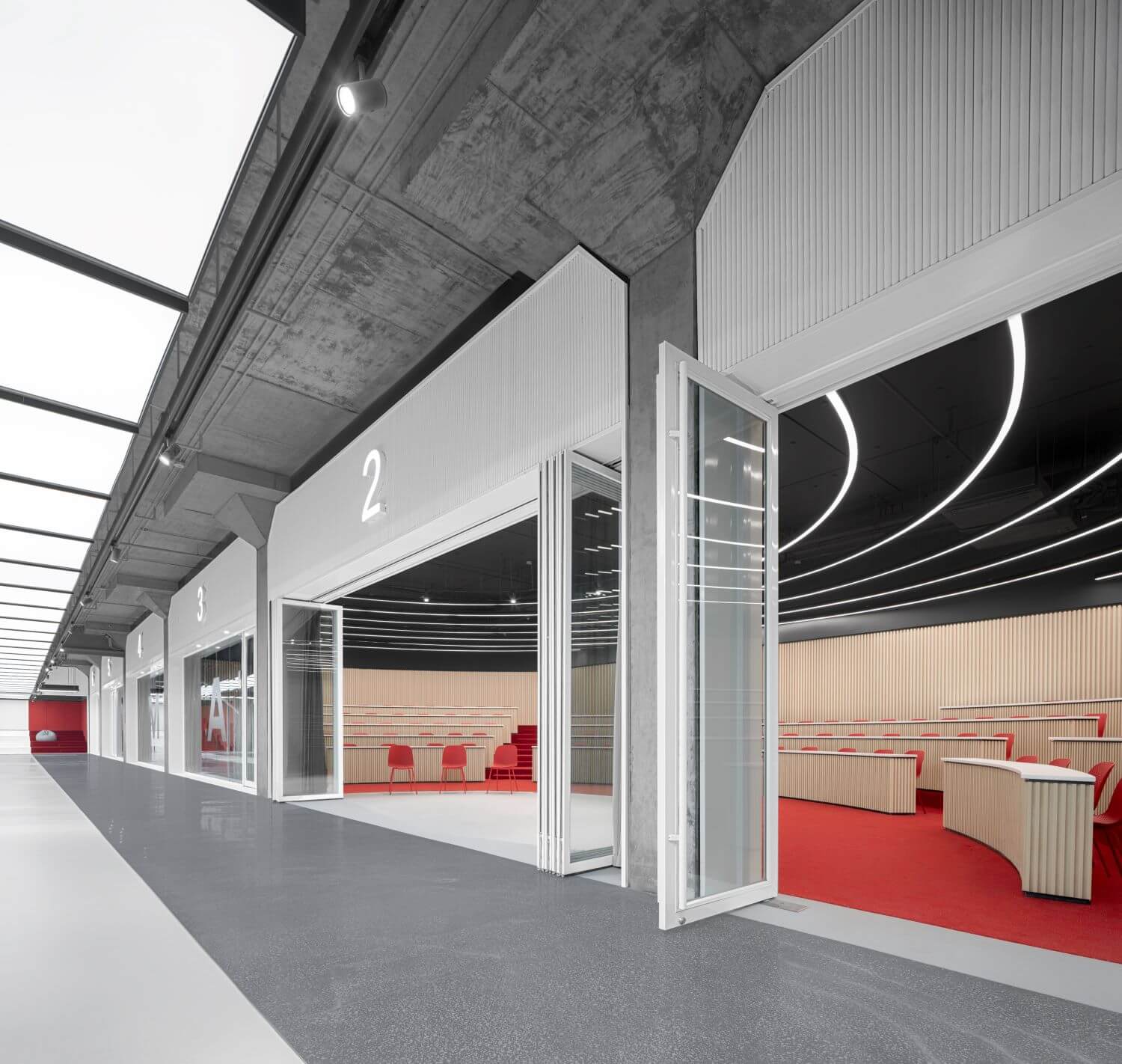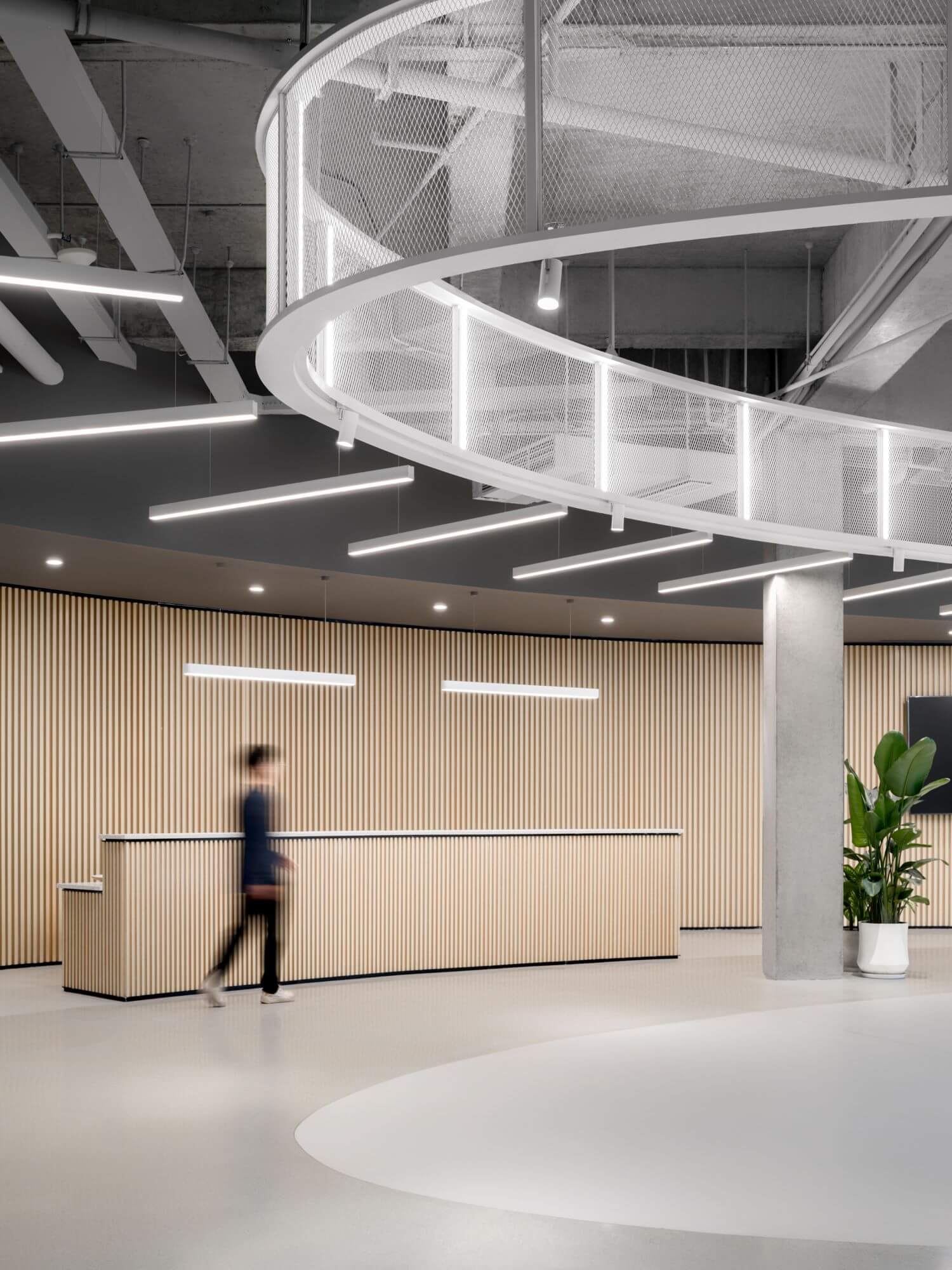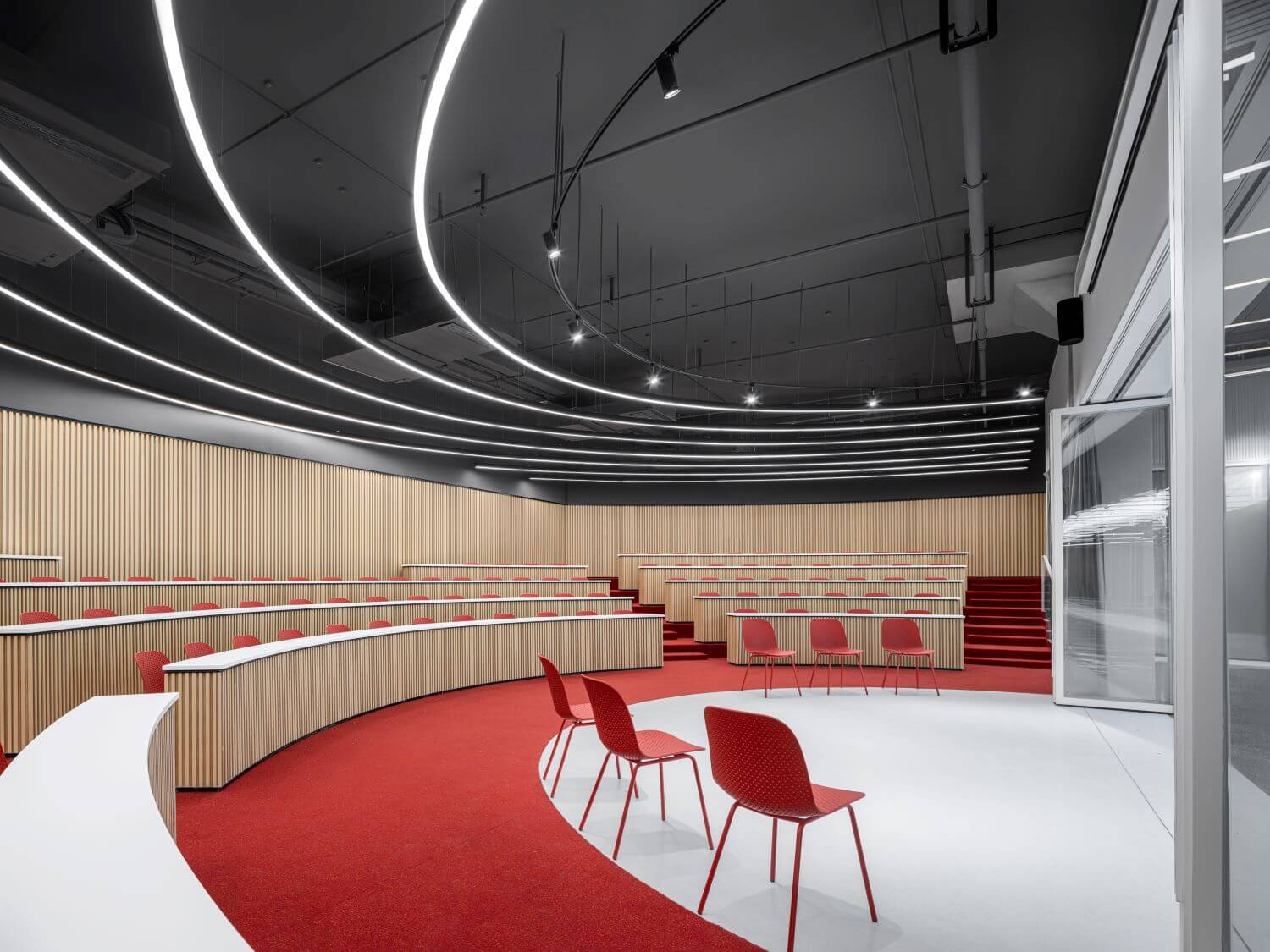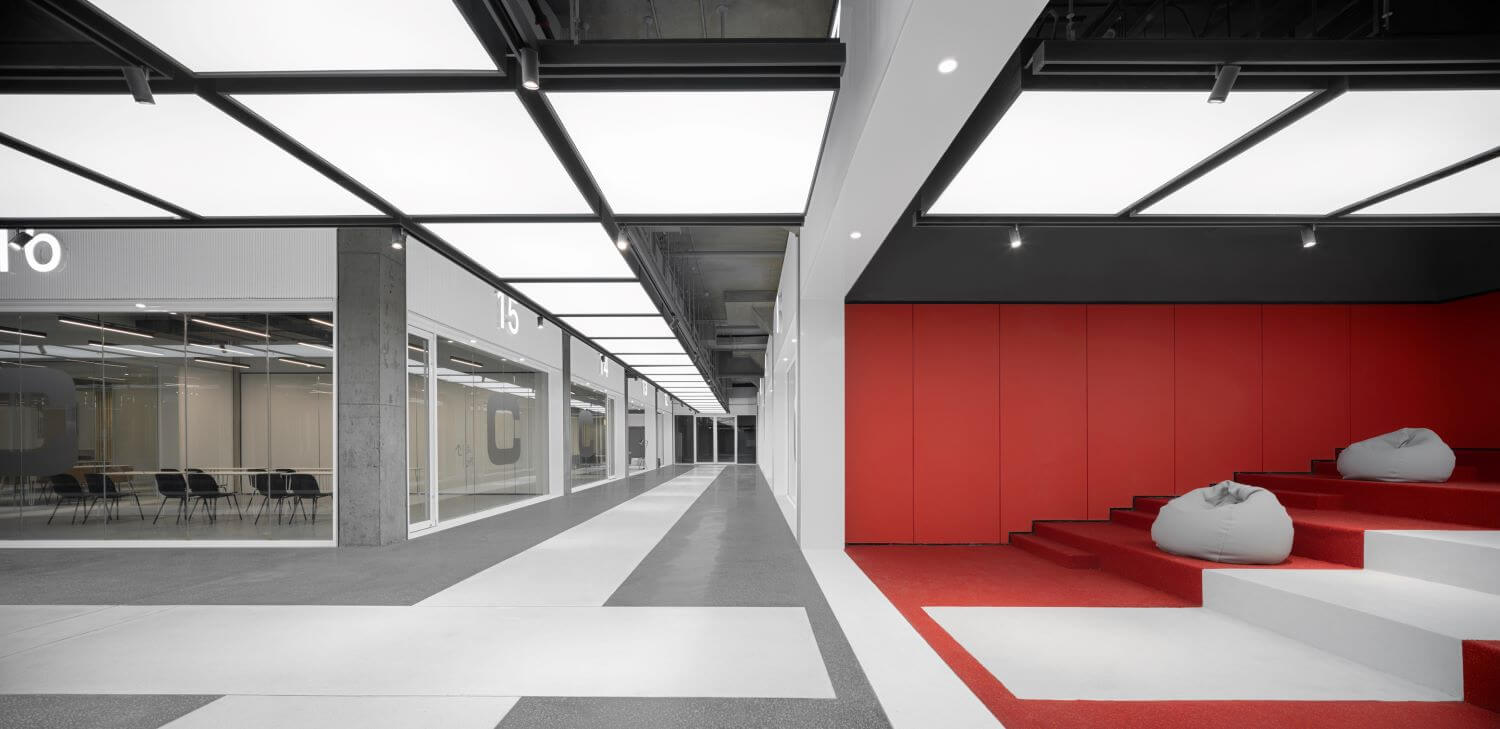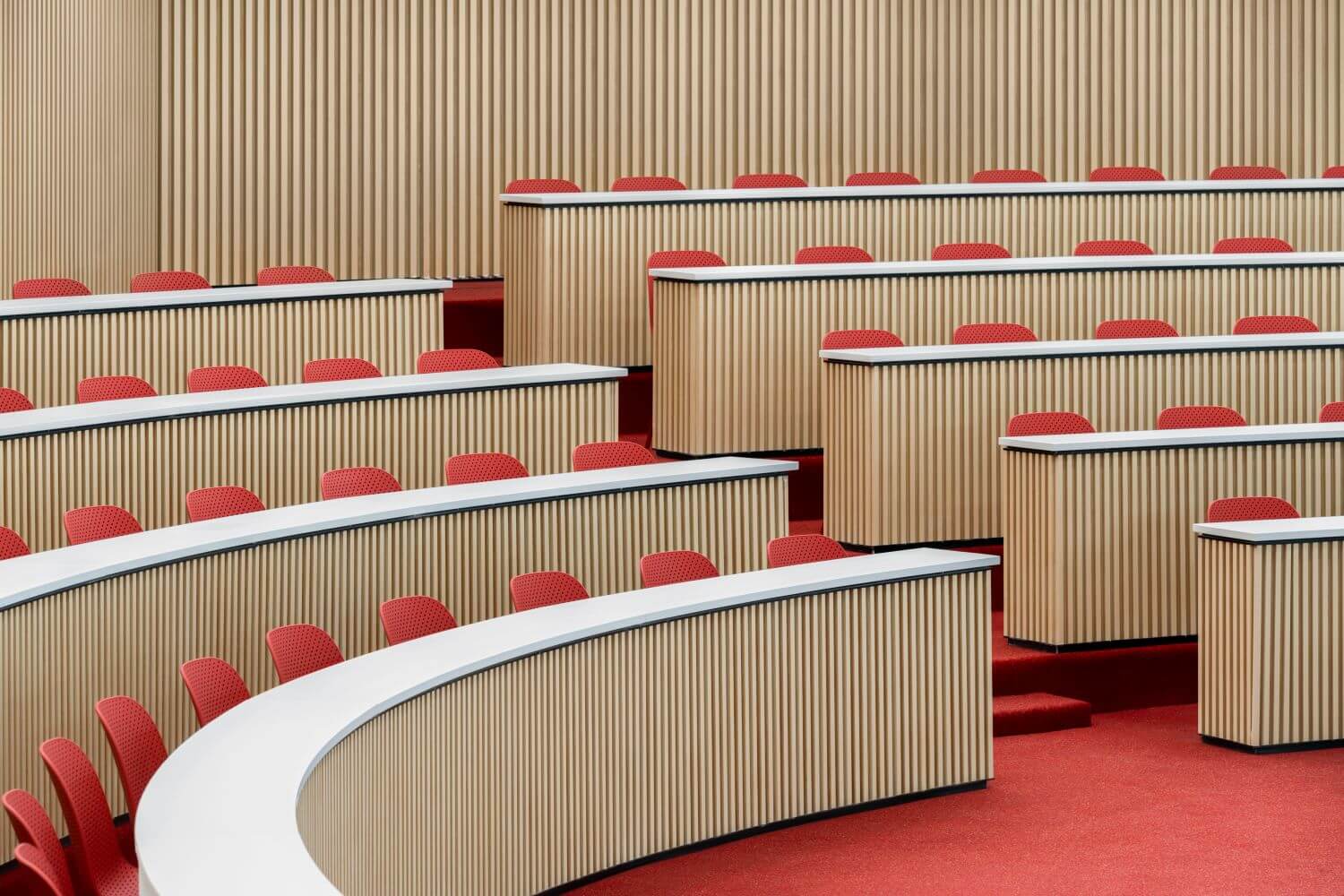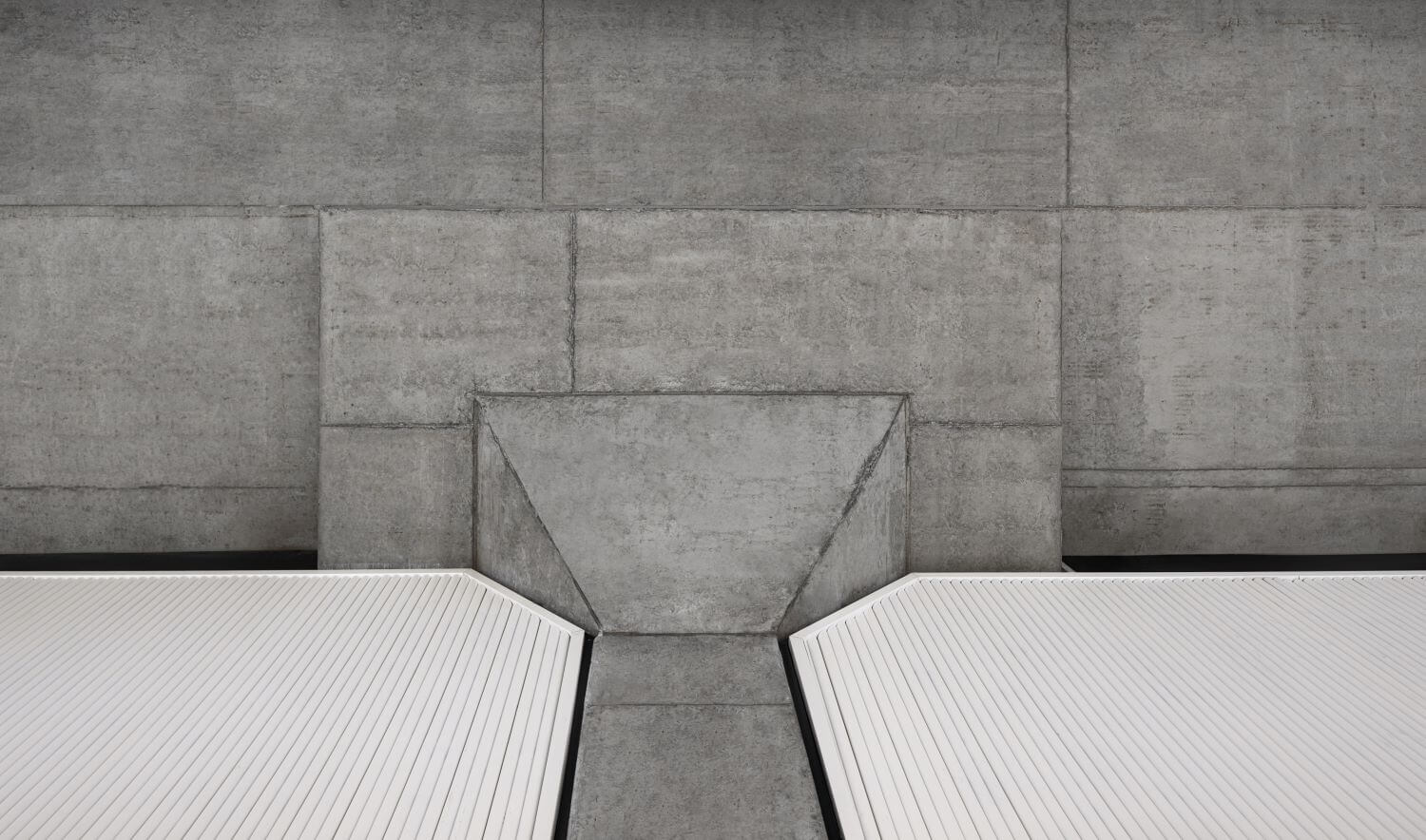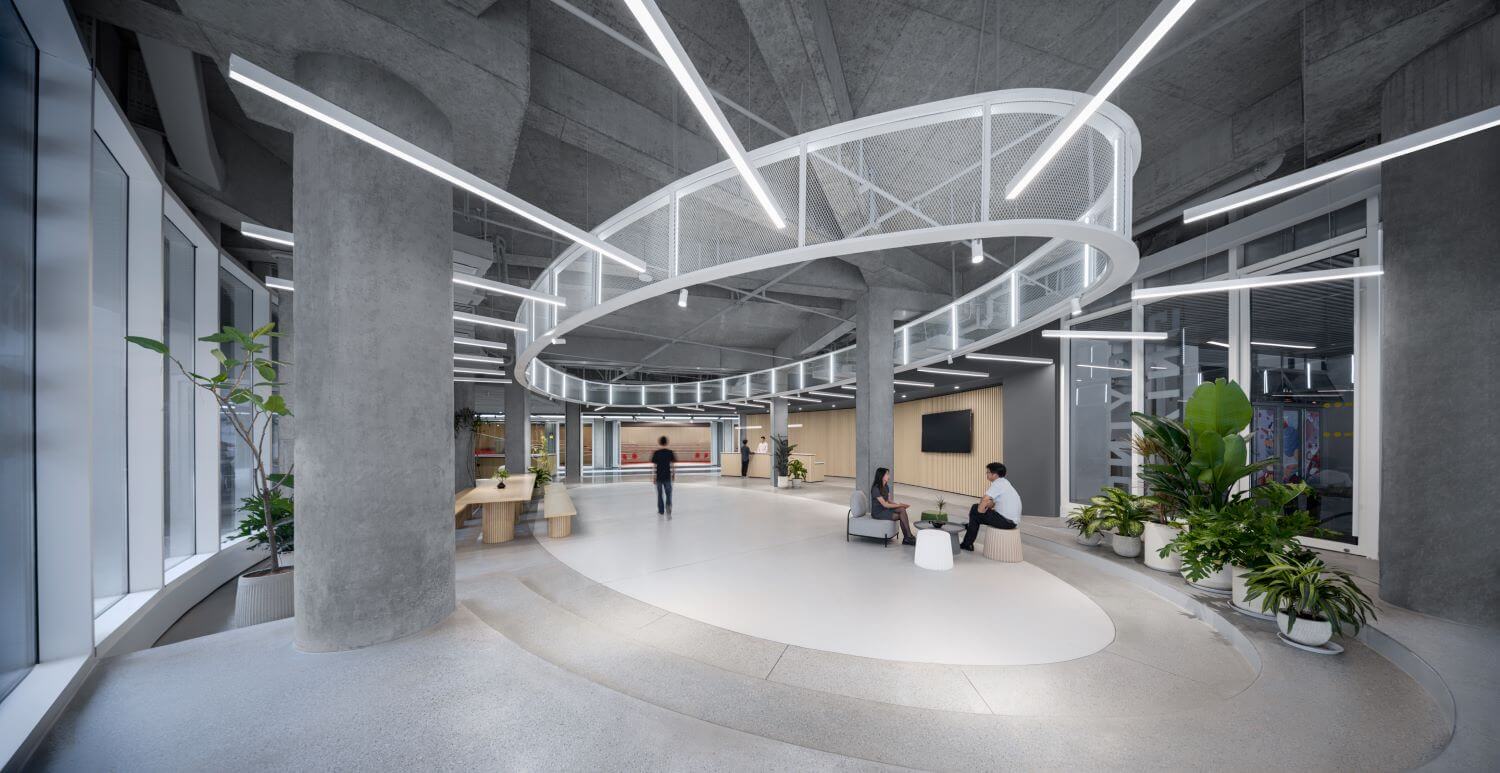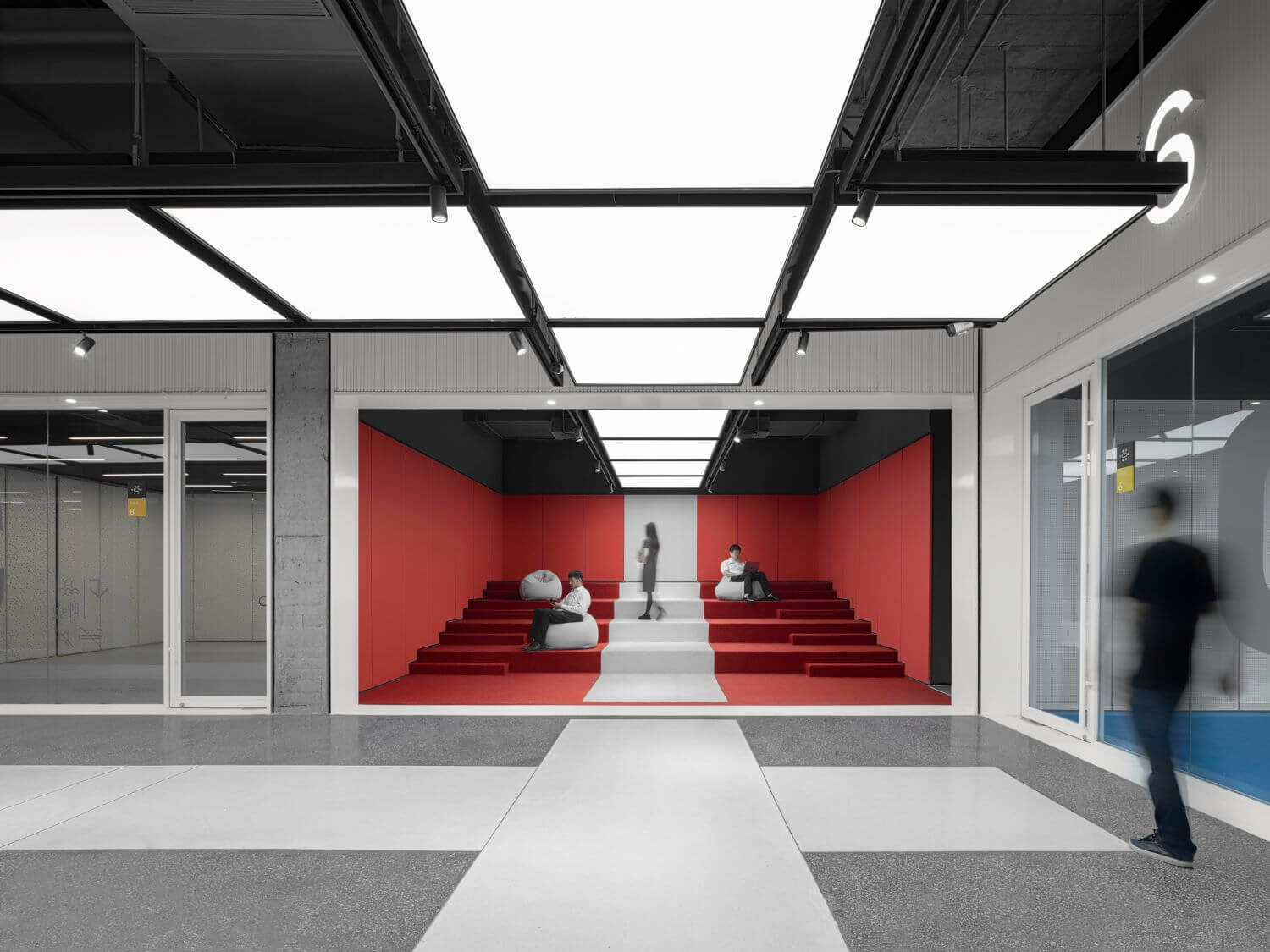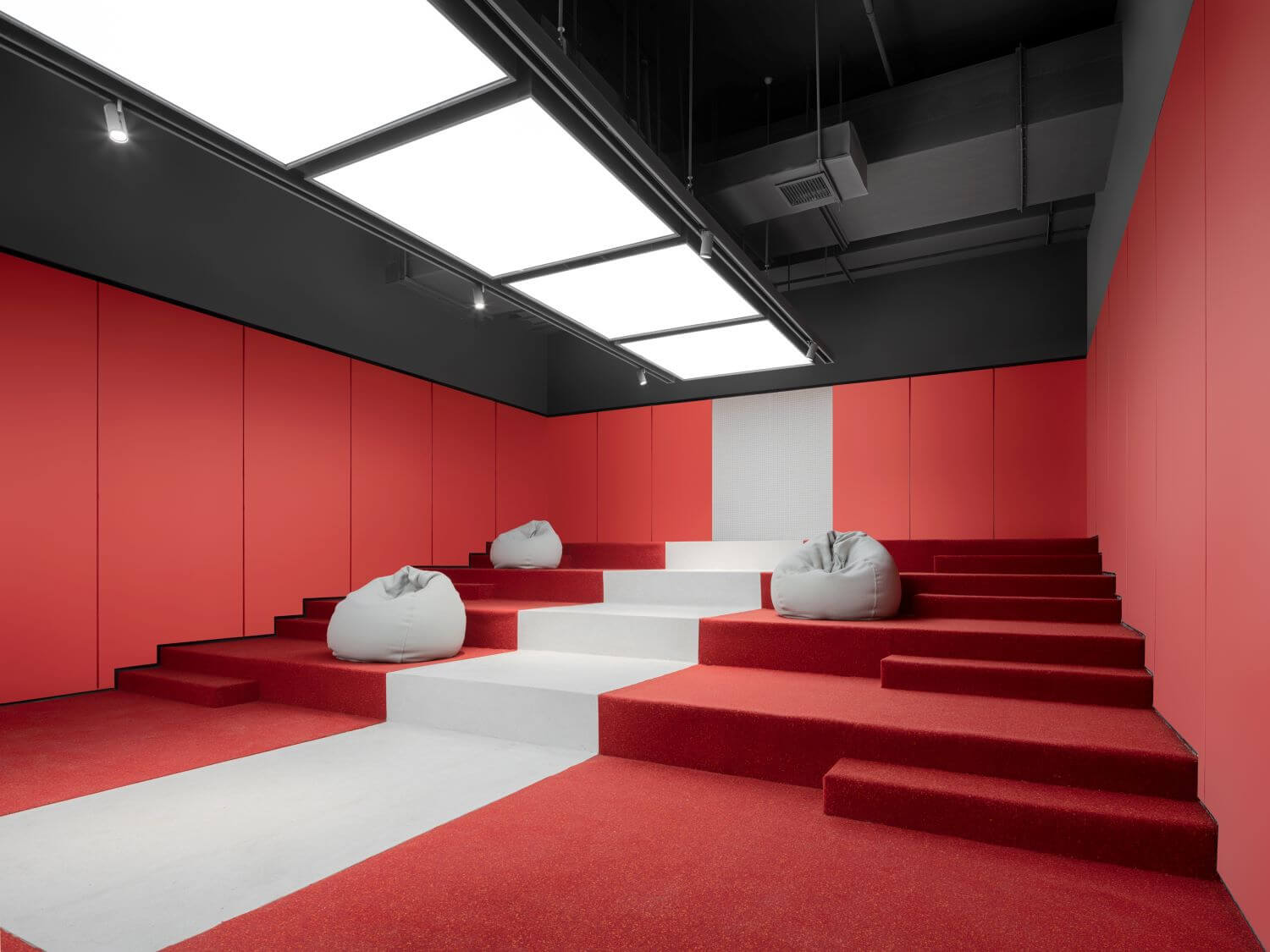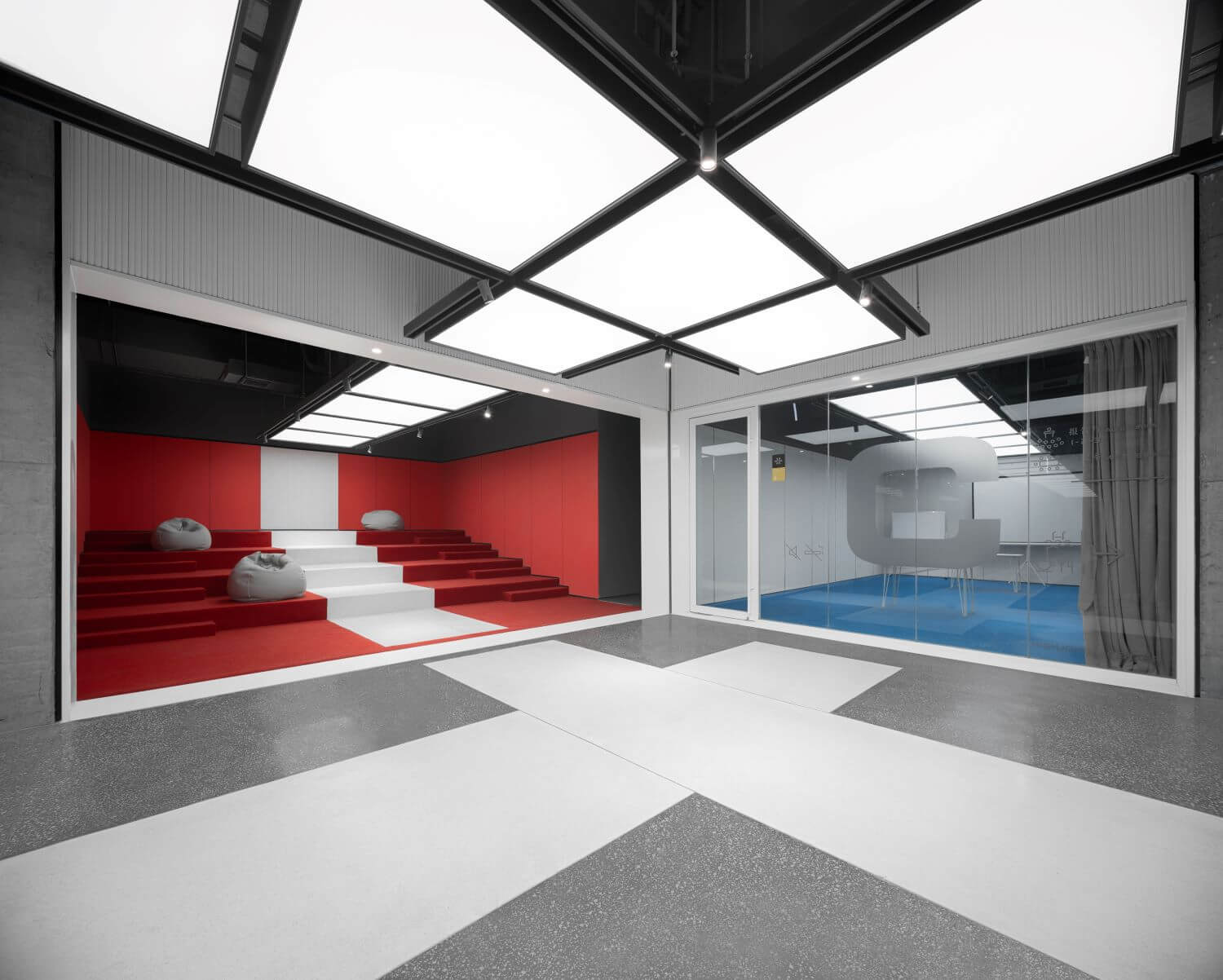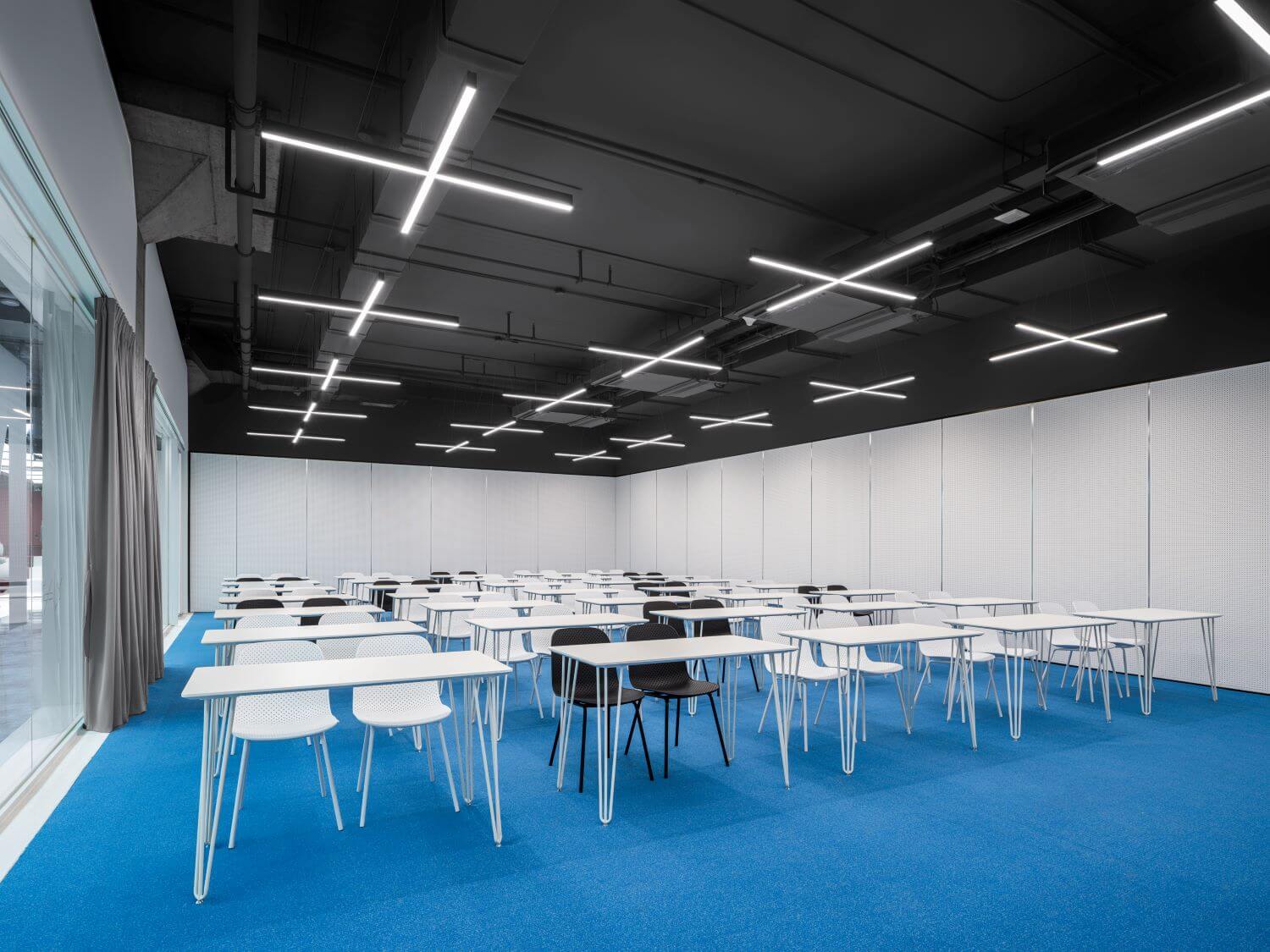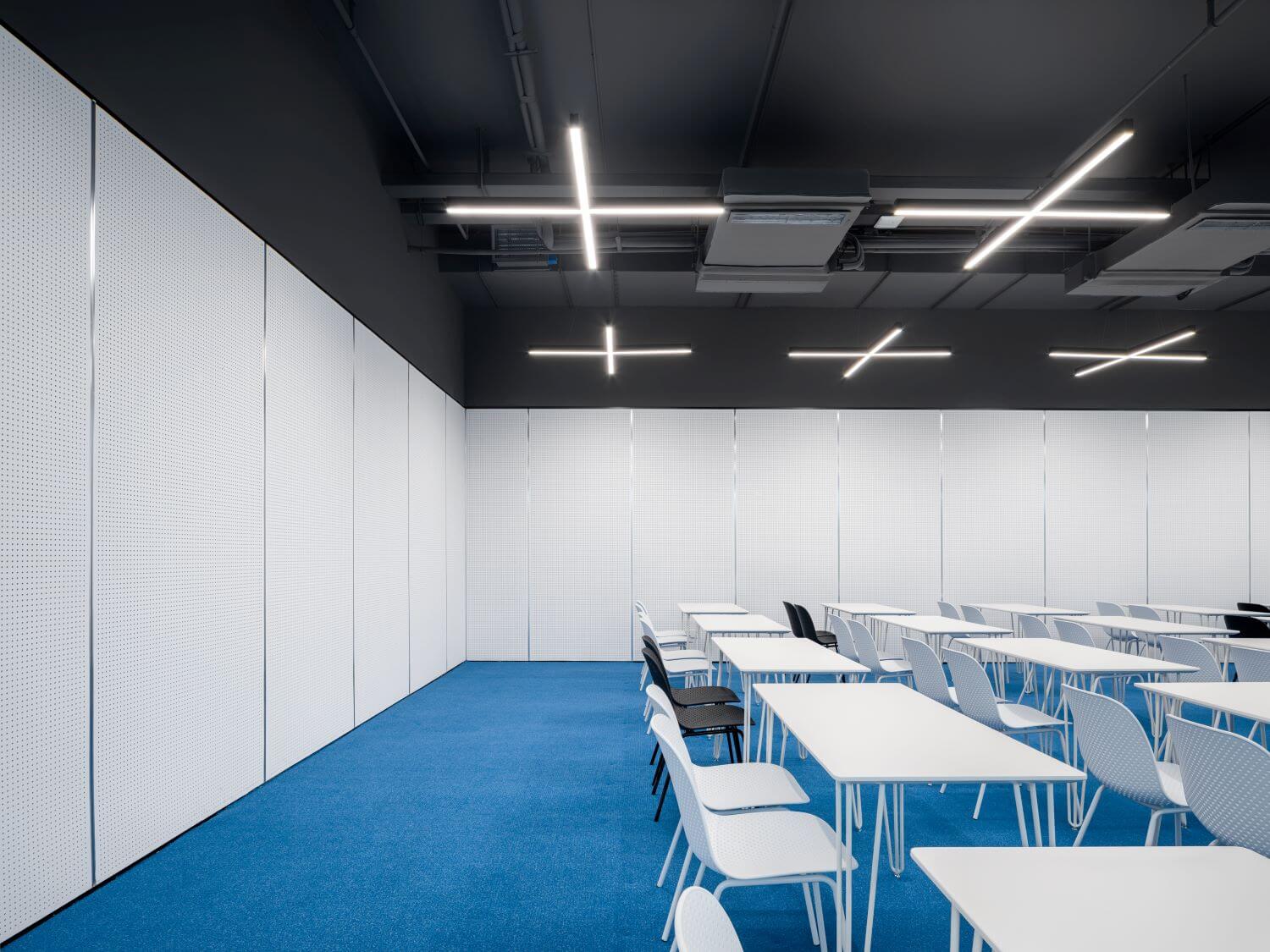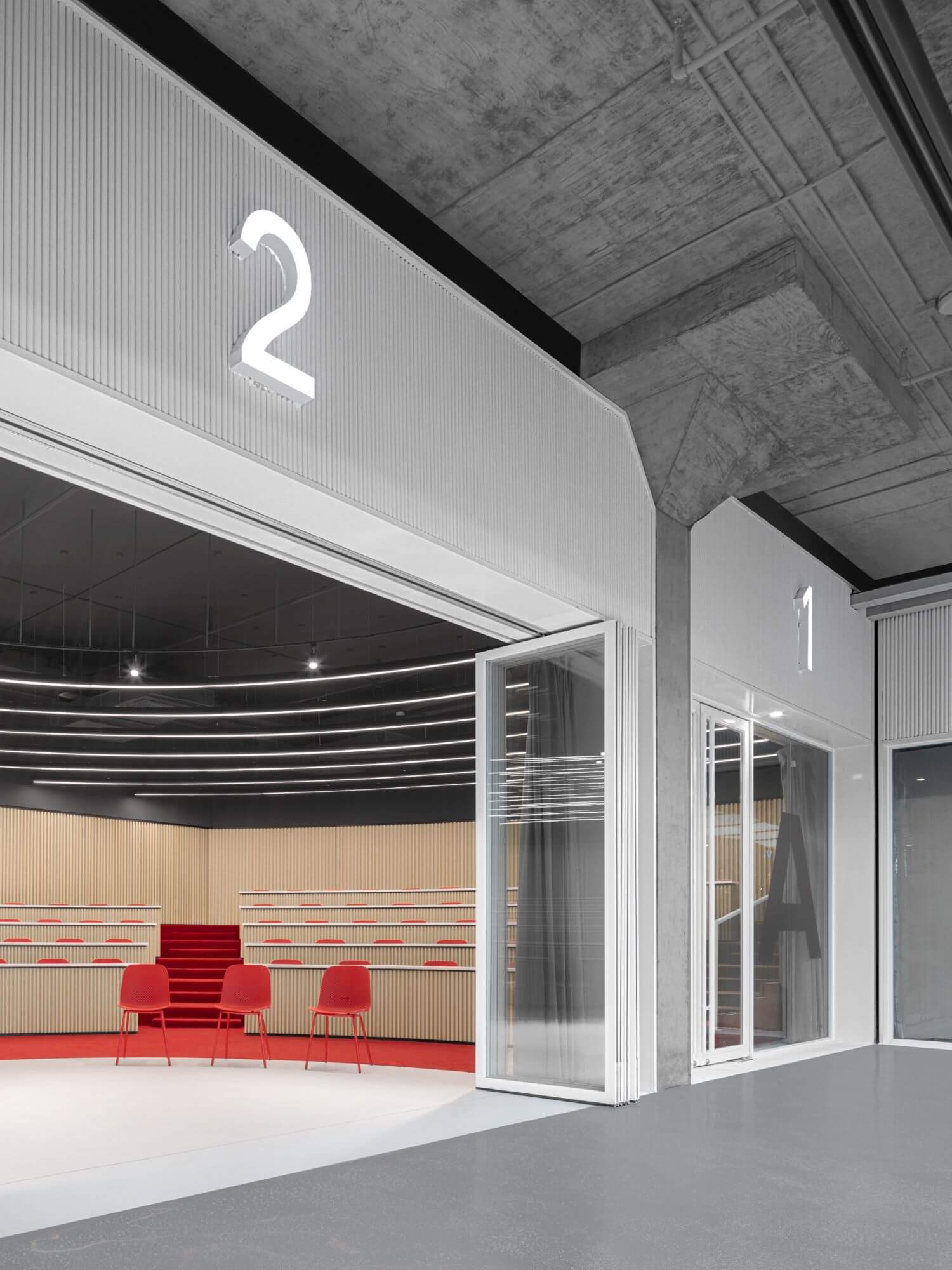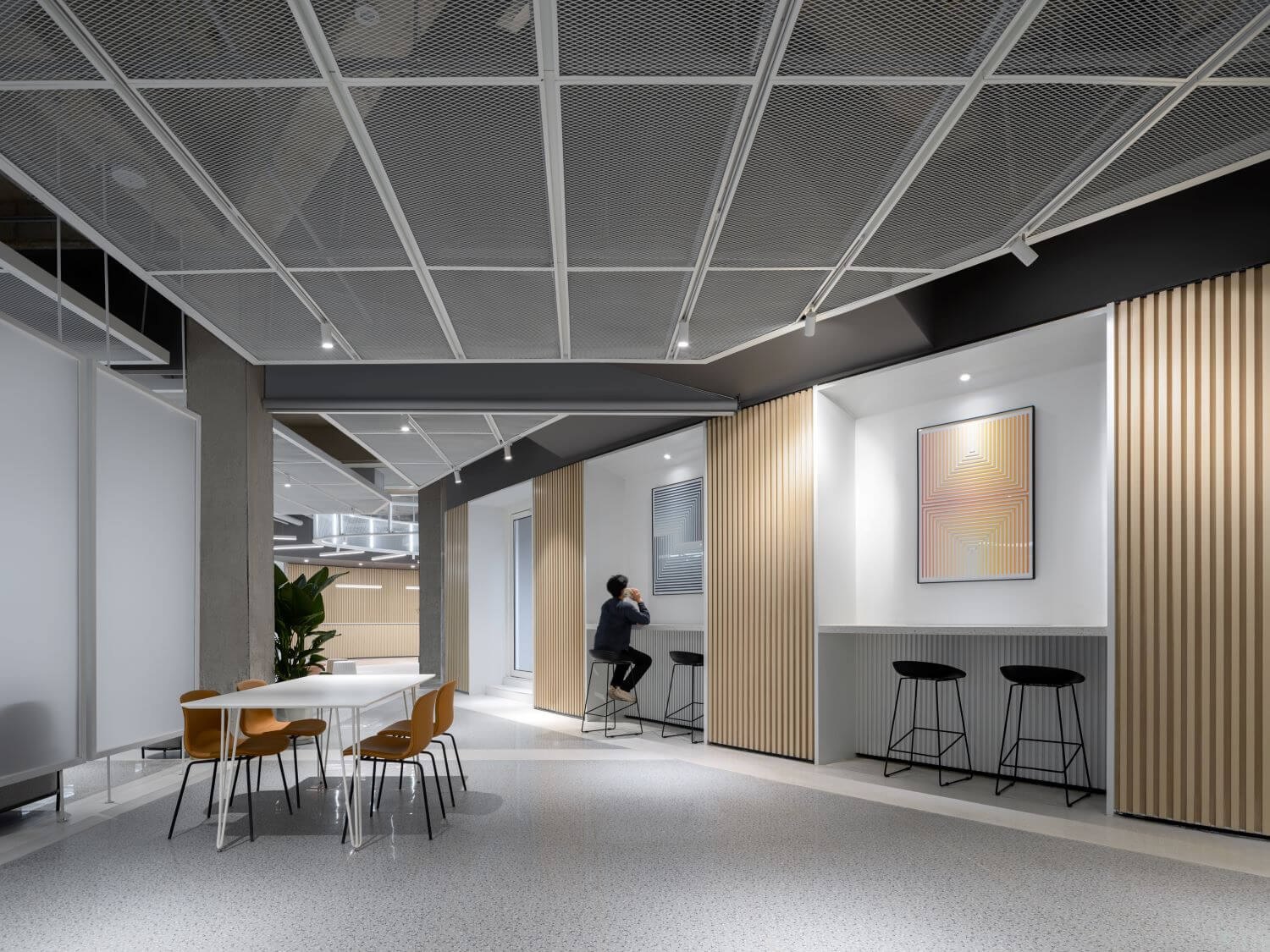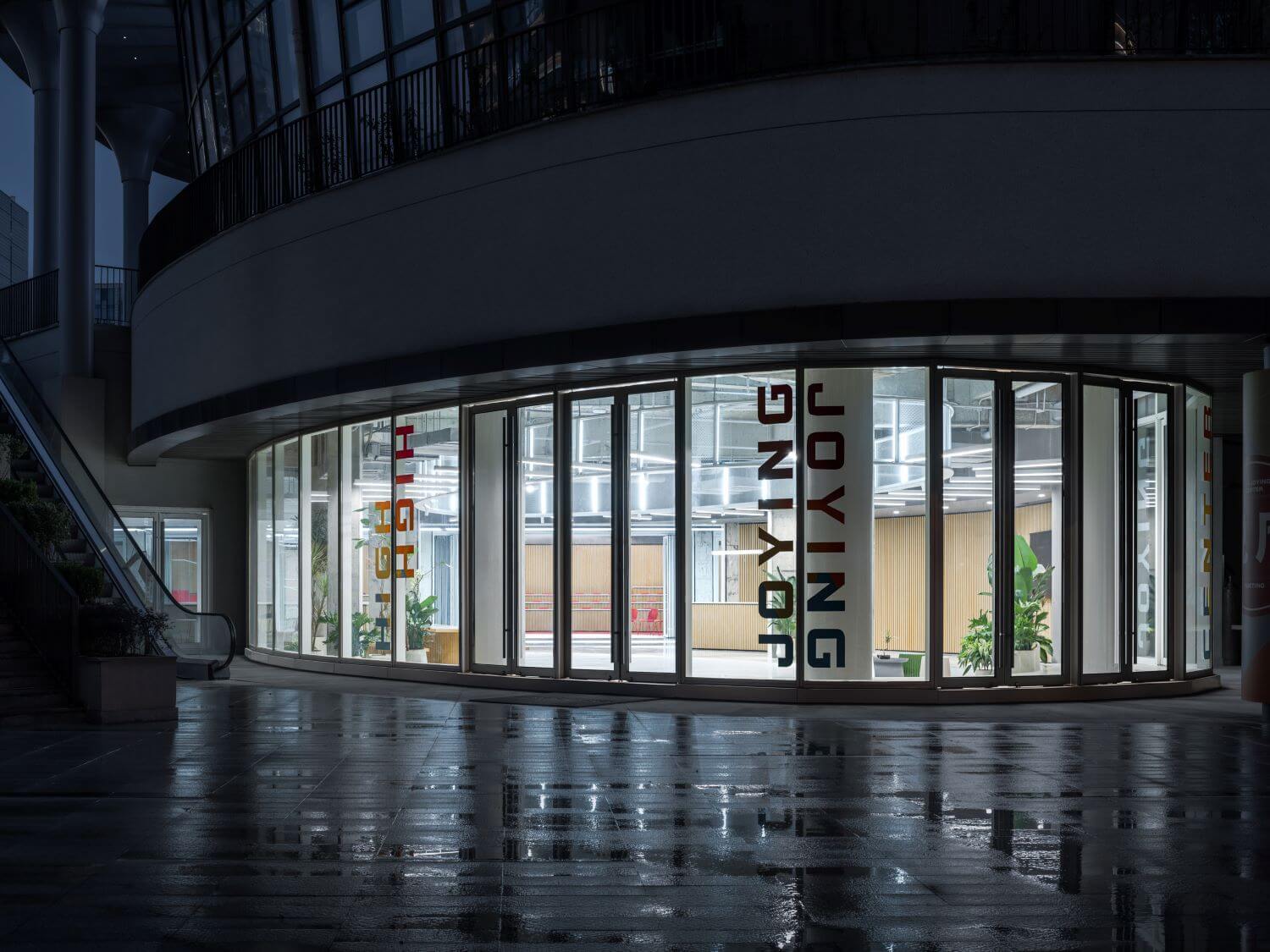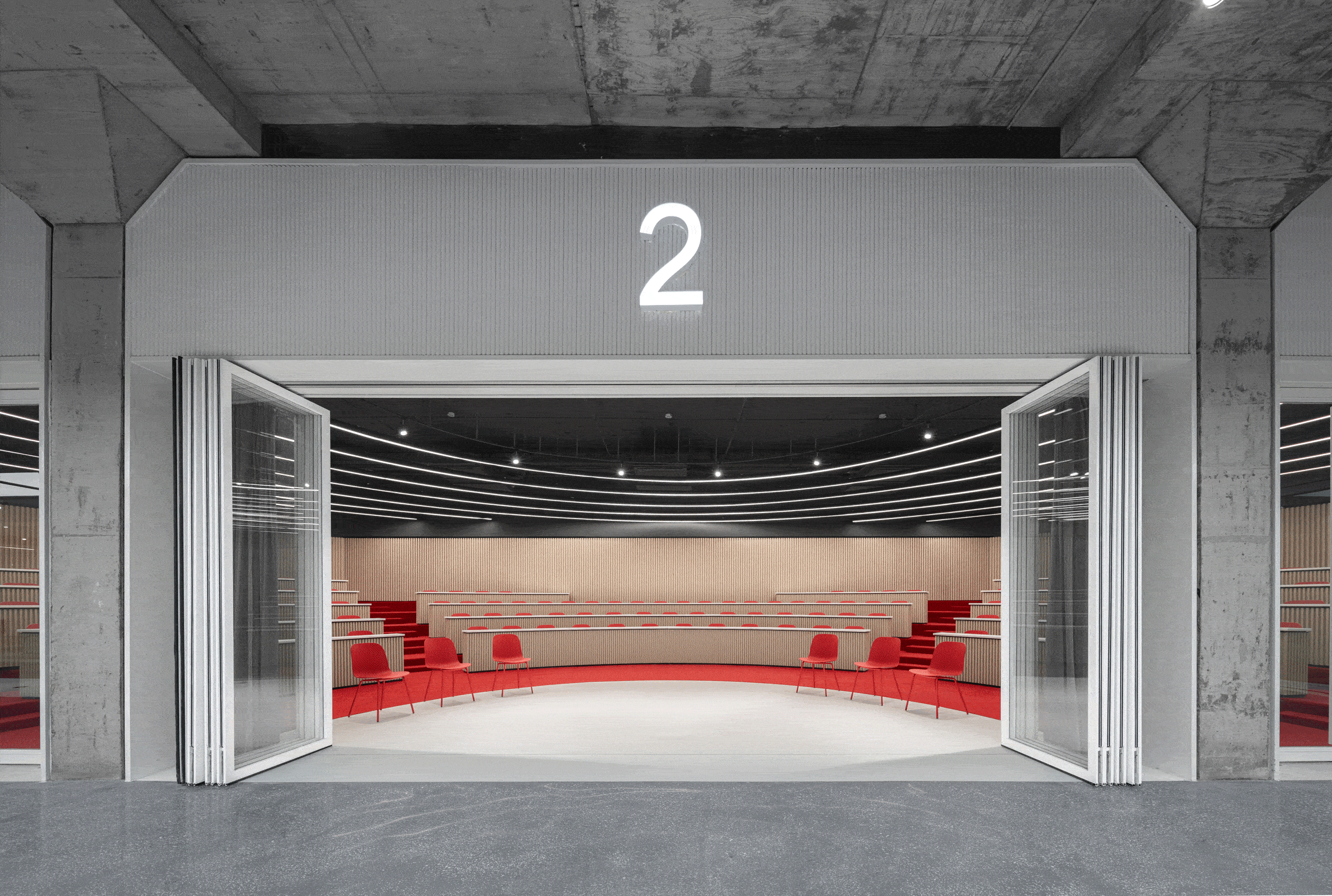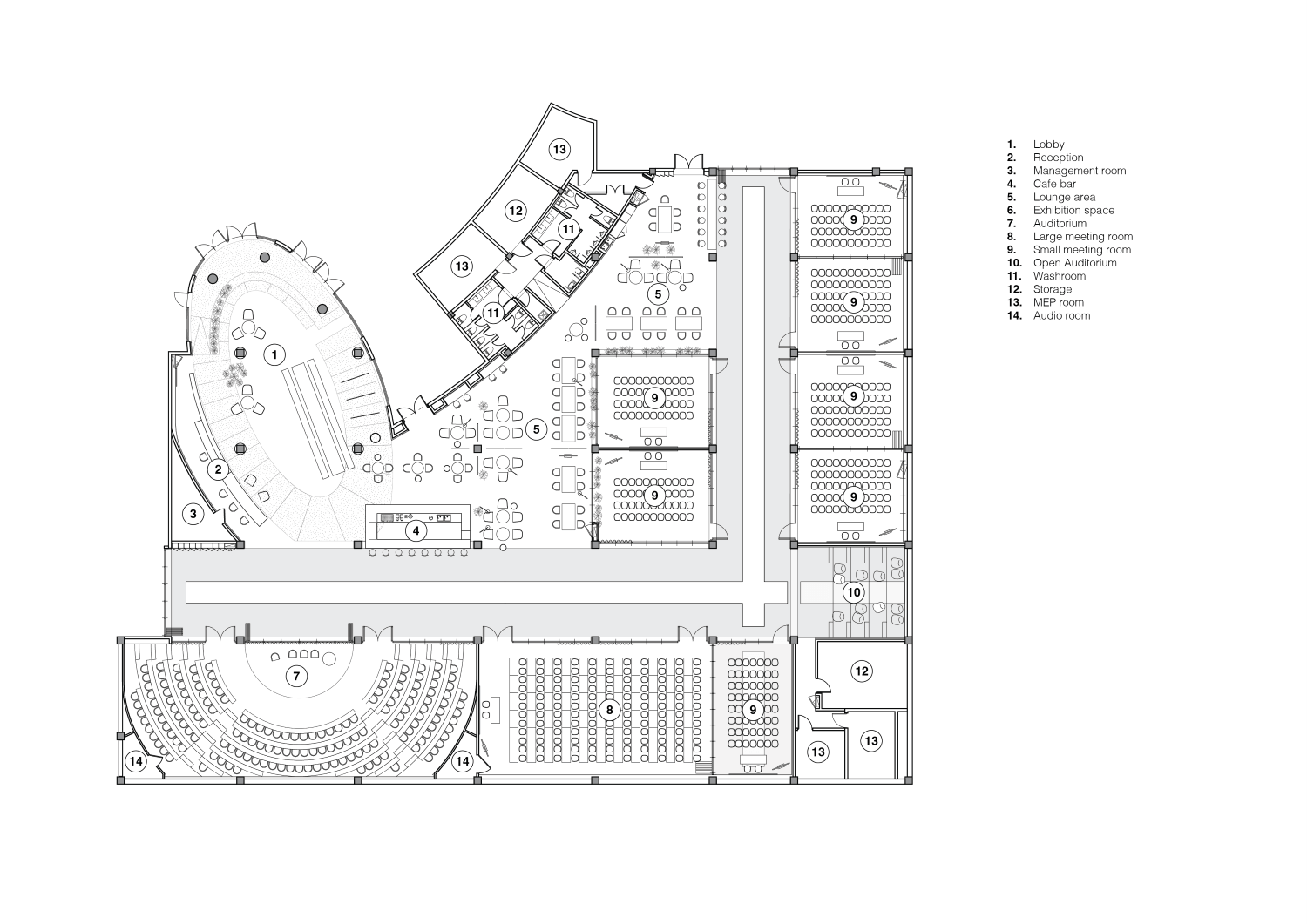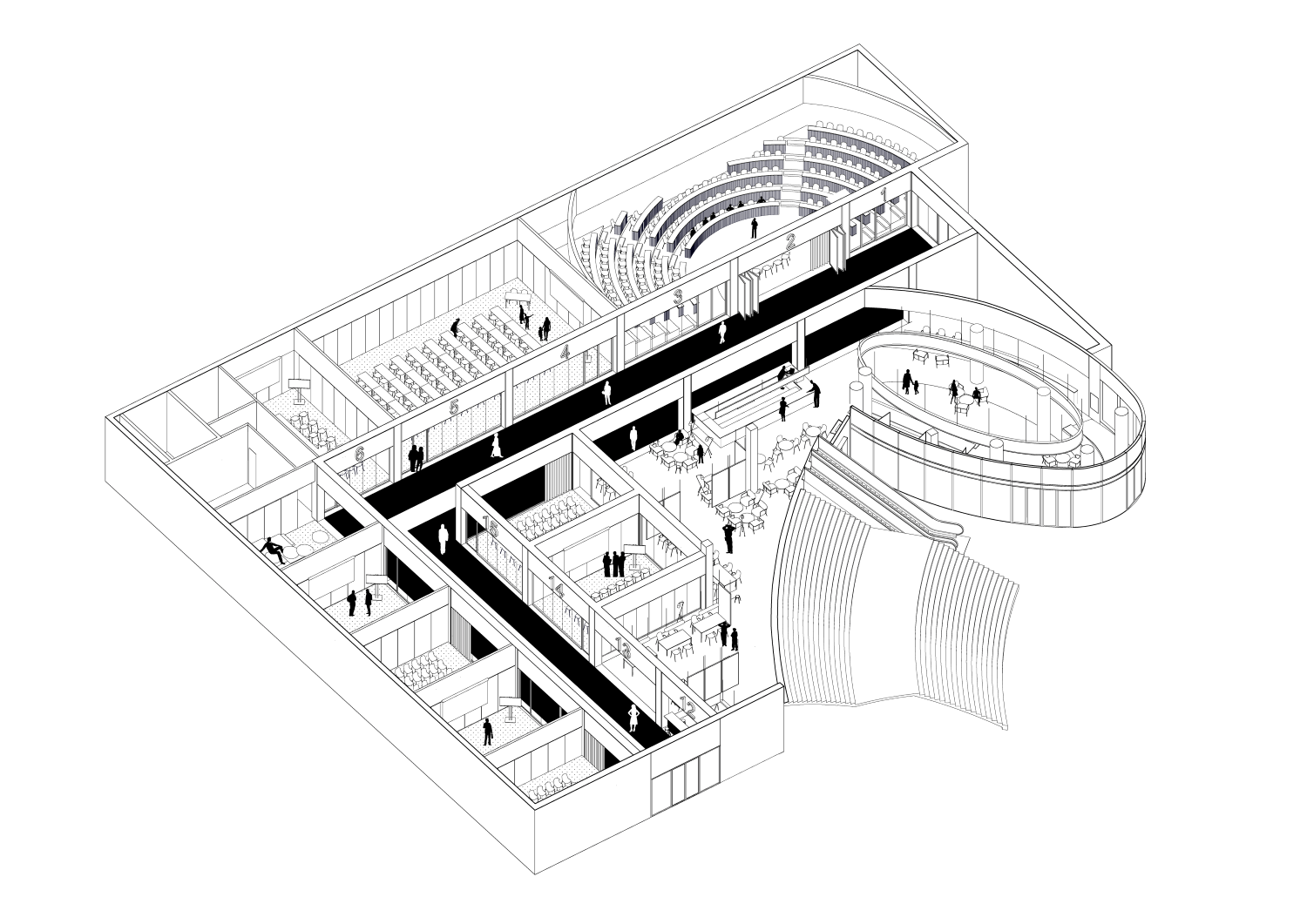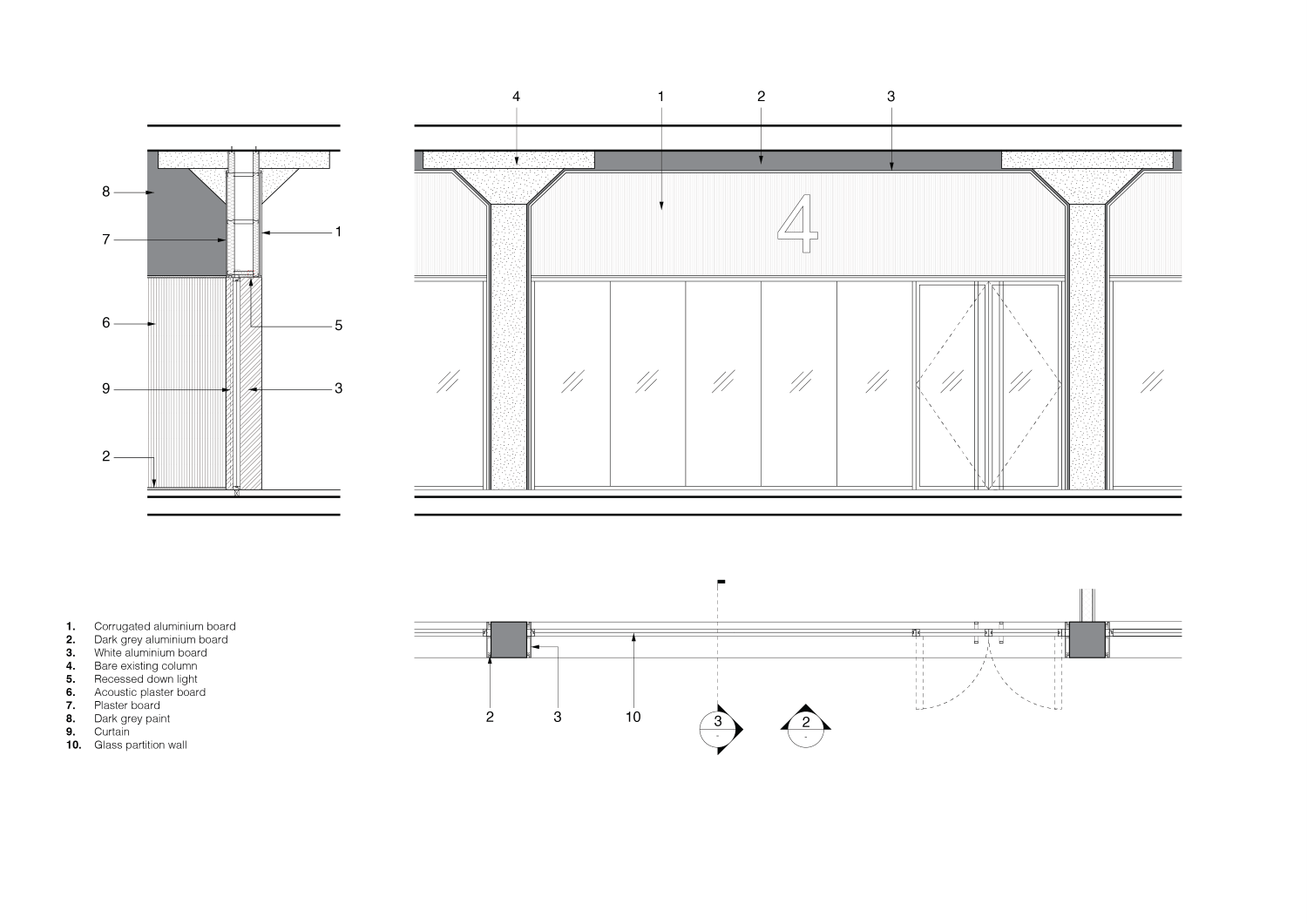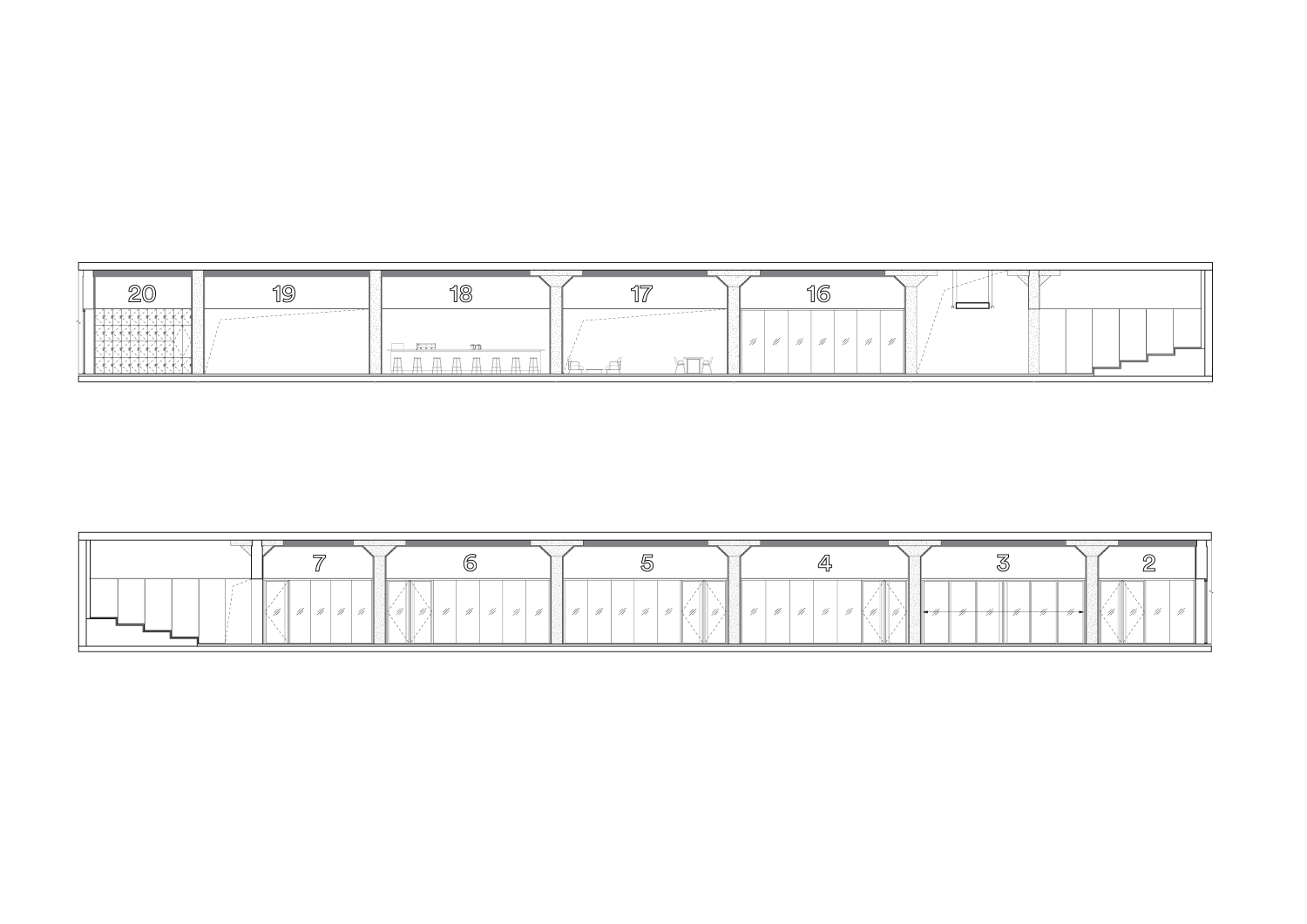 About Superimpose Architecture
Superimpose Architecture is an award-winning Sino-Dutch design practice based in Beijing, Rotterdam, and Hong Kong founded by three accomplished partners Carolyn Leung, Ben de Lange and Ruben Bergambagt. Since 2015 Superimpose has worked on a wide range of project typologies and scale in Europe and Asia. With our international team of innovative designers, we create meaningful and sustainable spaces through architecture, masterplan, interior and exhibition design.
Superimpose employs a bold and creative Dutch design approach hand-in-hand with a tactile and sensible Asian design philosophy. We don't advocate any particular design style but rather focus on applying problem-solving strategies to find functional, sustainable, innovative, crisp, balanced, well-detailed and striking design solutions. We take pride in thinking along with our clients to improve or redefine the design brief. Over the years Superimpose Architecture has built a solid portfolio of projects, which together establish a proven track record for strategy-based design.
Our name 'Superimpose' reflects our design methodology and office mentality. We design with contextual awareness and carefully overlay contextual components with our designs with the responsibility to improve, protect, recycle, revitalize and sustain both our natural and built environments. We design with future generations in mind and our design relates to people in terms of scale and usability.
Superimpose has completed multiple high-caliber projects such as the TOD project Vanke Sky City in Hangzhou, rural education Center 'Micr-O', factory transformation 'the Re-Veil', residential development 'Y-Loft City' and the Well Living Lab, amongst many others. The partners share experience on around thirty built projects. Prior to founding Superimpose in 2016, the partners worked at international top-tier practices such as Foster + Partners, Benoy, Spark Architects, Richard Stirk + Harbour, waa, Urbanus and Mei Architects and worked on the Sterling prize winning Bloomberg Headquarters and the Amazon Headquarters in London and The Museum of Contemporary Art in Yinchuan.
Besides receiving multiple project design awards, such as the 'Iconic Awards', the 'American Architecture Prize' and the DFA in Hong Kong, Superimpose has been receiving international recognition by being shortlisted as Dezeen Emerging Architect of the year 2018 and by AD100 YOUNG as one of the top 100 of young architecture practices in China in 2020.
Our team is selected based on diversity rather than similarity so that different perspectives and cultures can inspire us. We believe design should not be a sole creation by one individual. We design by listening to each other and organize 'idea farms' to stimulate knowledge exchange in between our international practices.
We value all forms of collaboration to make our designs more complete. Besides our successful collaborations with numerous local design practices and architecture related disciplines, we collaborate with sustainability experts, cultural experts, movie makers, projection artists, light artists, wood craftsman, furniture makers and many others. We support sustainable initiatives that create a better and livable community to our future generation.
Superimpose also continuously contributes to academic and public design education. We have participated in various lectures, key-note talks and design reviews at the AA Visiting School, Tsinghua University, Oxfords Brookes university, Dutch Embassy, Beijing Design Week, Hong Kong Green Architecture Association, the Hong Kong Chinese University, etc.
---