The project is a new school designed for the town of Birmenstorf in Switzerland. The building has been conceived as a public building where the educational program takes place, selected as part of an invited competition. It is Focketyn Del Rio's first realized school, challenging the traditional idea of an educational building. The Swiss school system has long been recognized as one of the best in the world, but this new design offers a fresh perspective on creating a learning environment that fosters creativity and collaboration.
This building is designed for a primary school in a relatively dense urban environment, situated on a squarish site, with four different conditions: a street, parking, an existing sports hall, and an existing school courtyard. The design concept is to create an urban activator that answers to the different conditions, creating an intimate space that allows for an immersive education experience towards the courtyard. Facing nature and the city, this project is influenced by the idea of an urban garden, which can provide children with opportunities to learn about nature and the city.
Key architectural decisions and gestures are to create a functional and welcoming environment. A meandrical corridor with light on both ends defines different-sized rooms that host the program. This creates a sense of unity and coherence among the spaces and a sense of openness and fluidity between them.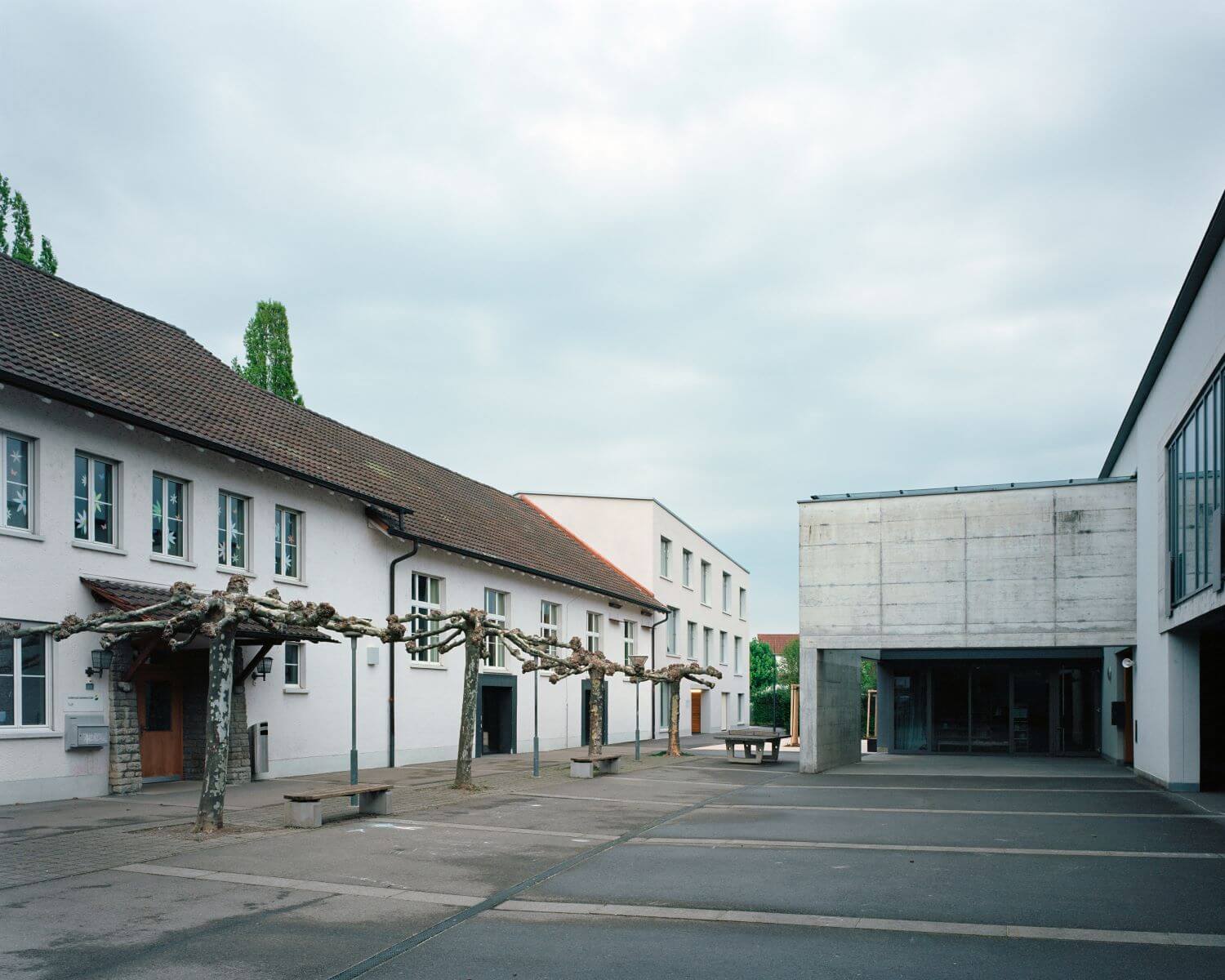 Quite generally, the school's design is based on three pillars: sustainability, flexibility, and creativity. Its facade, made of insulating clay, is highly sustainable because it is recyclable, low-cost, and with a long lifespan. The school is designed to be flexible, allowing students and teachers to use the space as they need it. The architects have created a building with different functions, which can be adapted to various needs. For example, the classrooms can be transformed into spaces for the community or other activities. One floor might have an office while another has a music room or library. It is an example of how schools adapt to modern students' needs. Small design gestures continue this example down to the granular level of the students and the teaching methods. For example, a magnetic coating was applied on the closets so they could be activated as teaching surfaces with magnets. This principle extends to the corridors and their metal acoustic surfaces that turn the whole corridor and classrooms into one continuous learning landscape.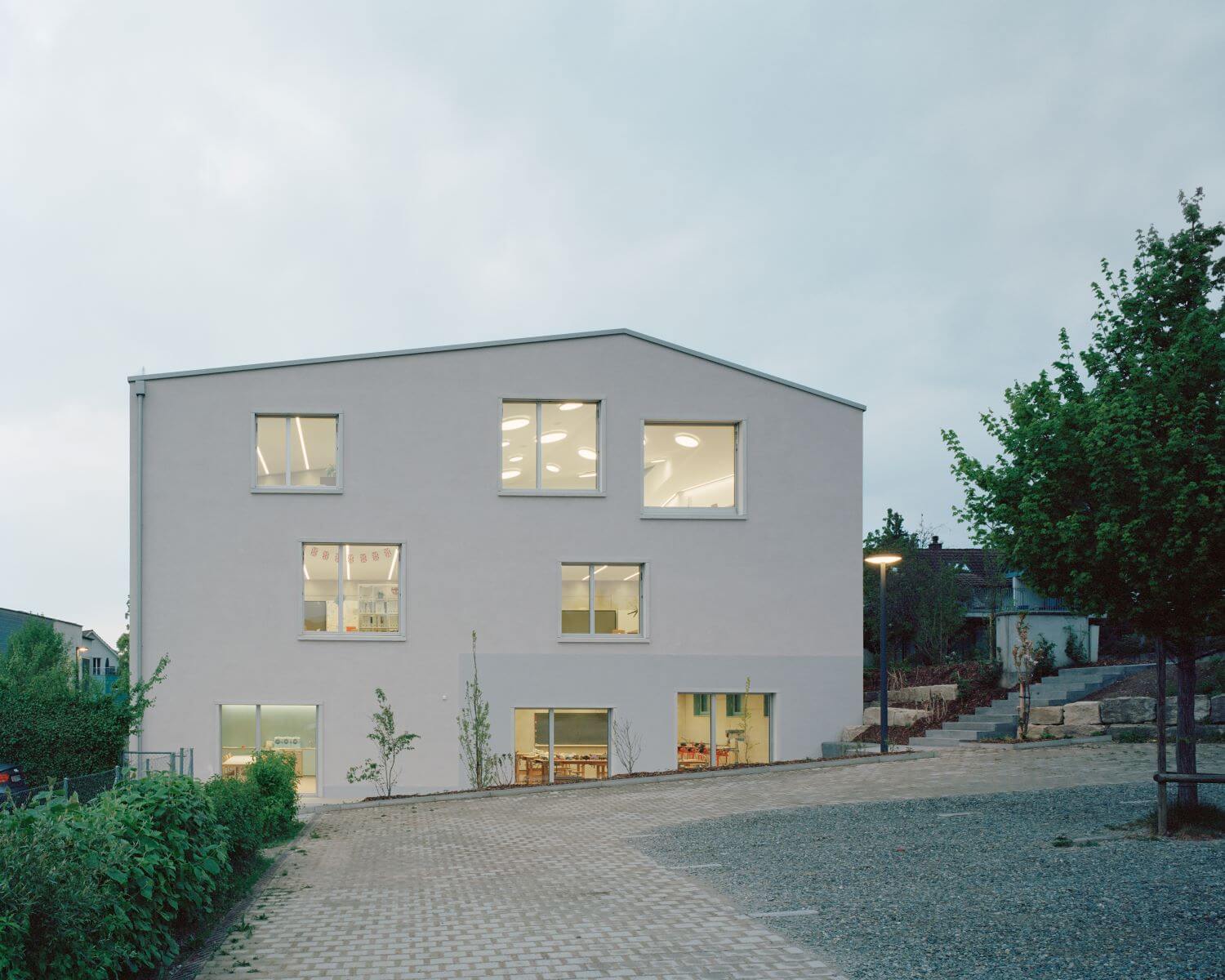 The design of the roof is based on the idea of a "geometric garden". It is composed of two volumes, one with a flat roof and the other with a pitched roof. The second floor has dormer windows to appear as a low building to the street while still occupying 3 floors: Its geometry is exact, and it's not just an aesthetic choice. It's also functional because it allows for natural light to enter through the windows in every room.
The three-story building contains 7 classrooms, an auditorium, offices for teachers and administrators, as well as a gymnasium and community-facing event space. There are also social services situated in the building. The building is a contemporary approach to the classic barn typology. The design was inspired by the local landscape, the traditional farming culture, and the vernacular architecture. The architects have created a building that is perfectly integrated with its neighbors but on a second glance appears as radically contemporary.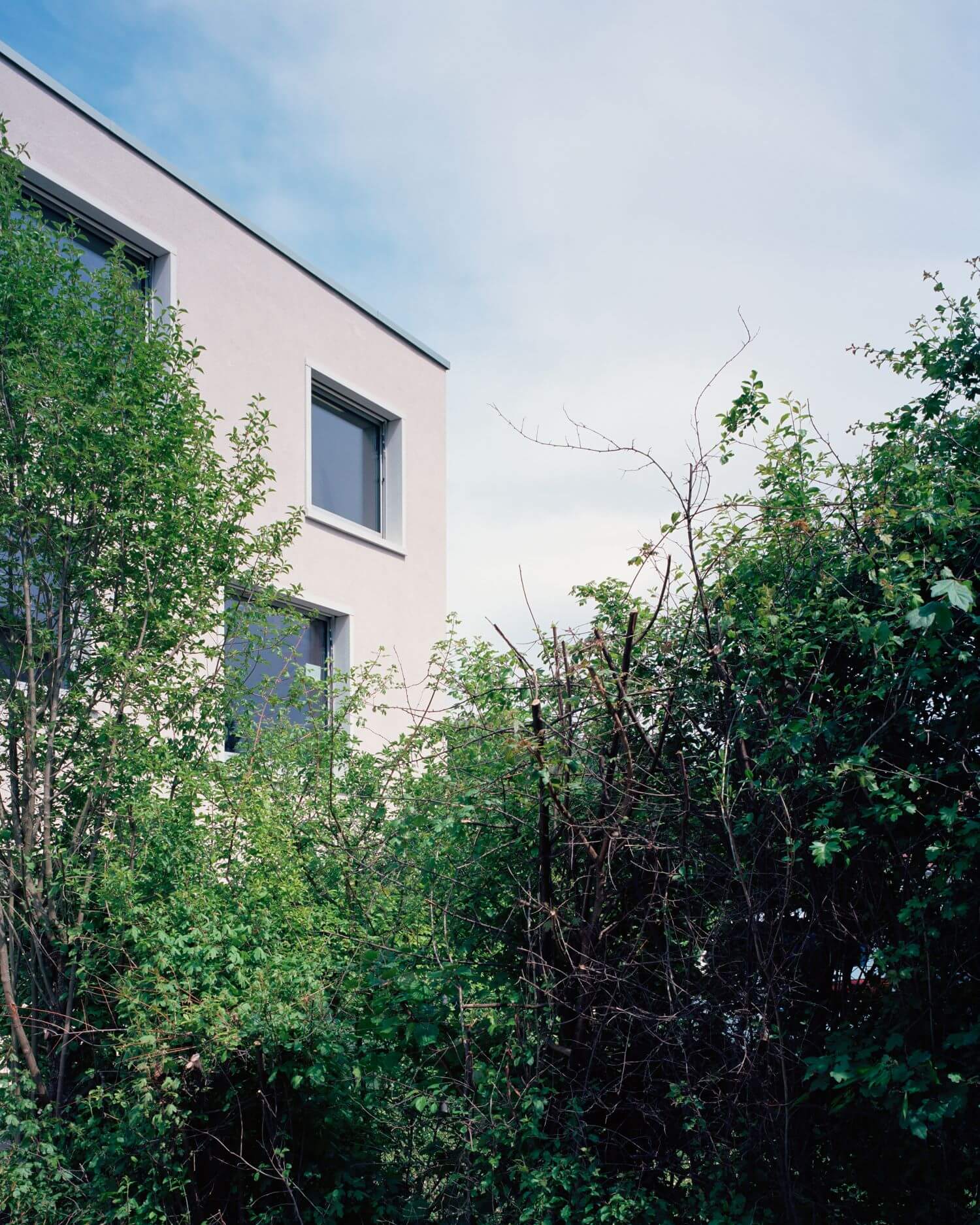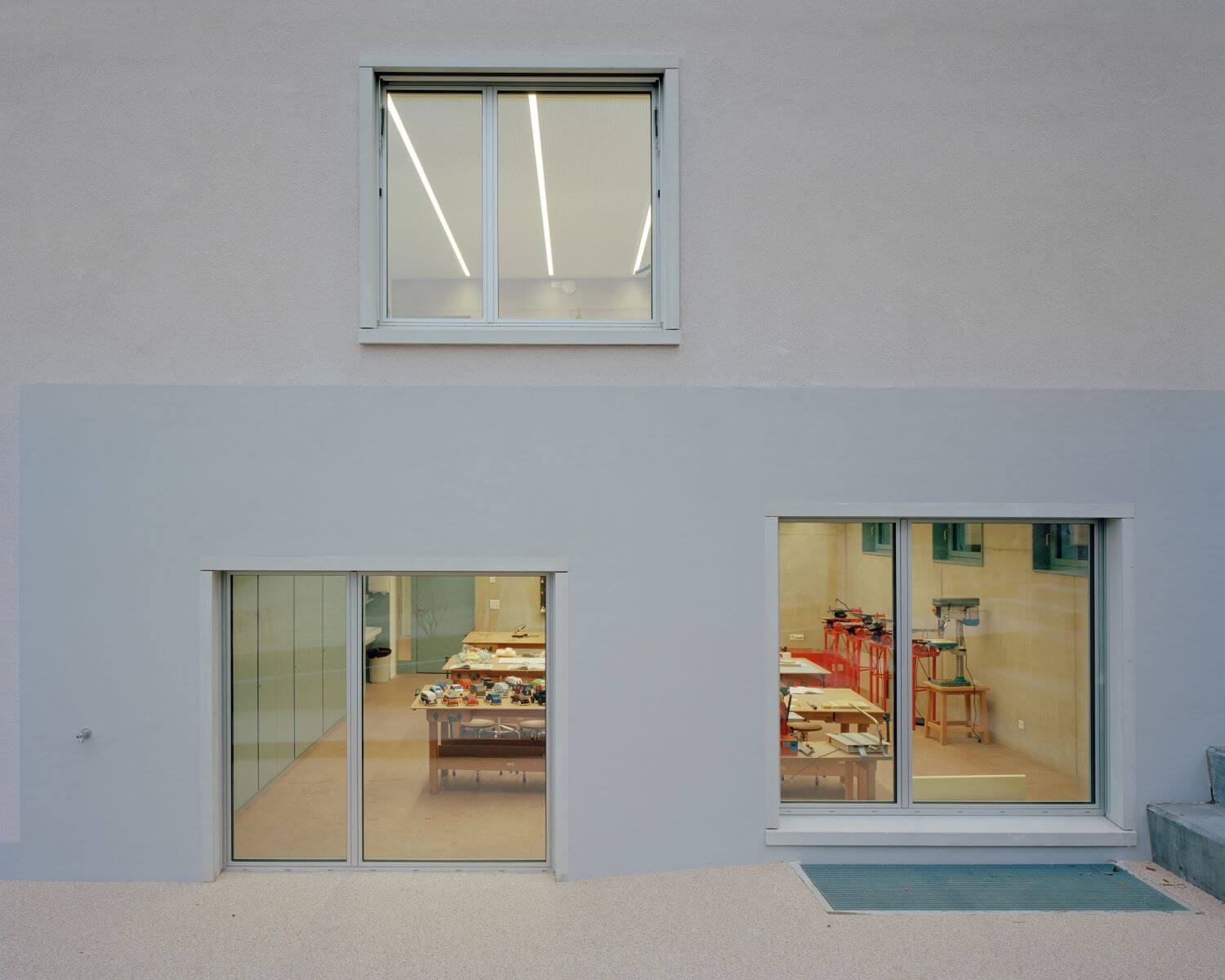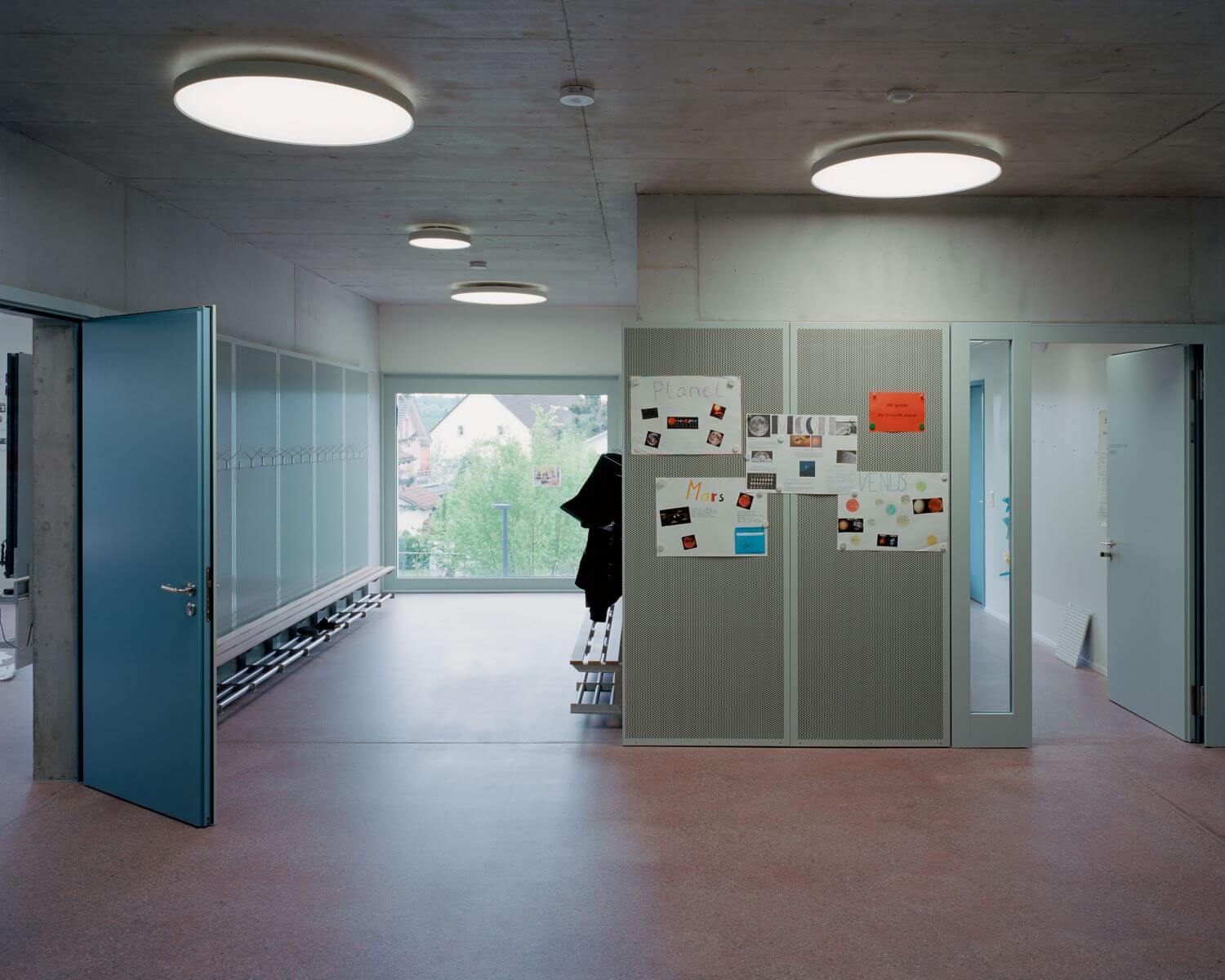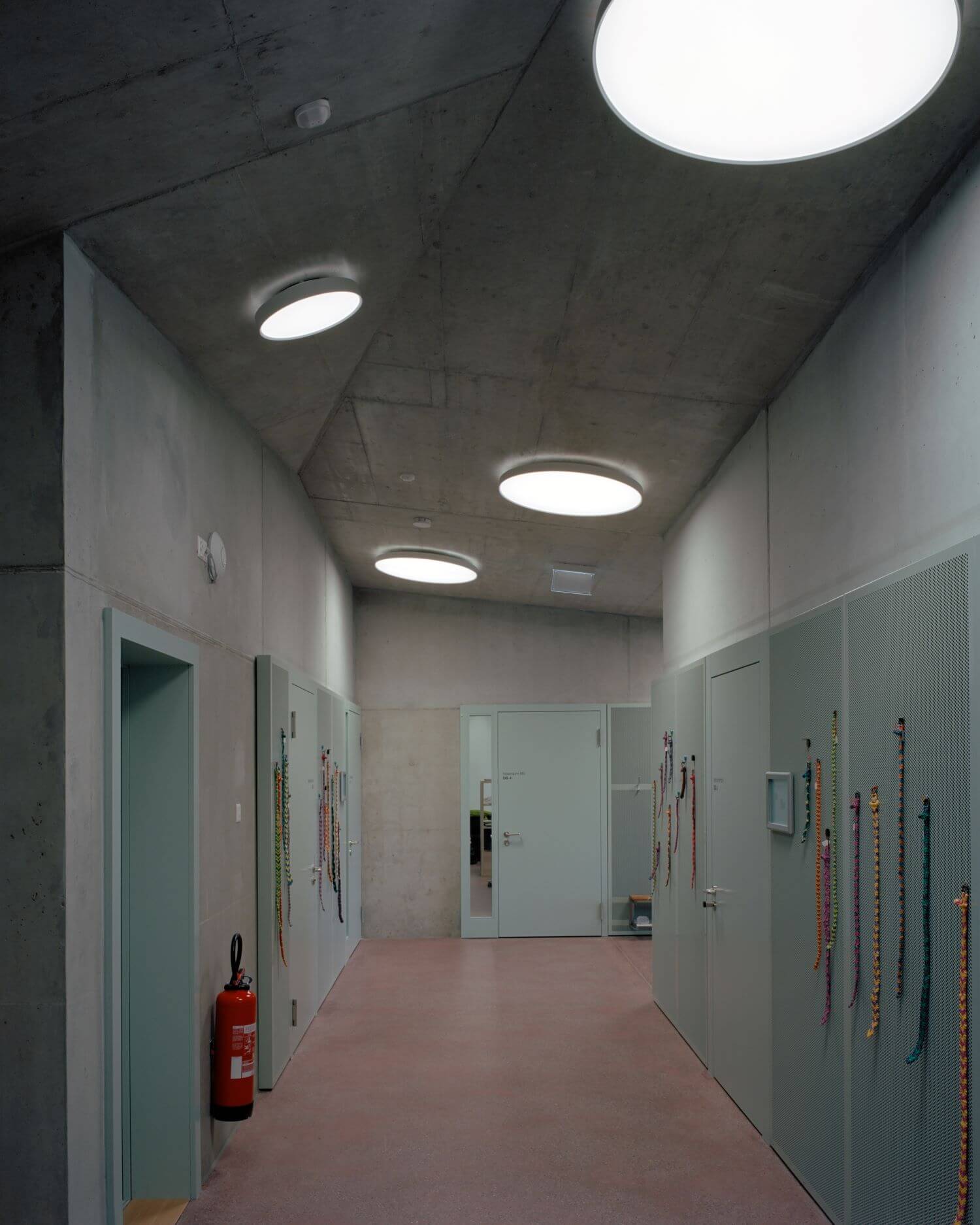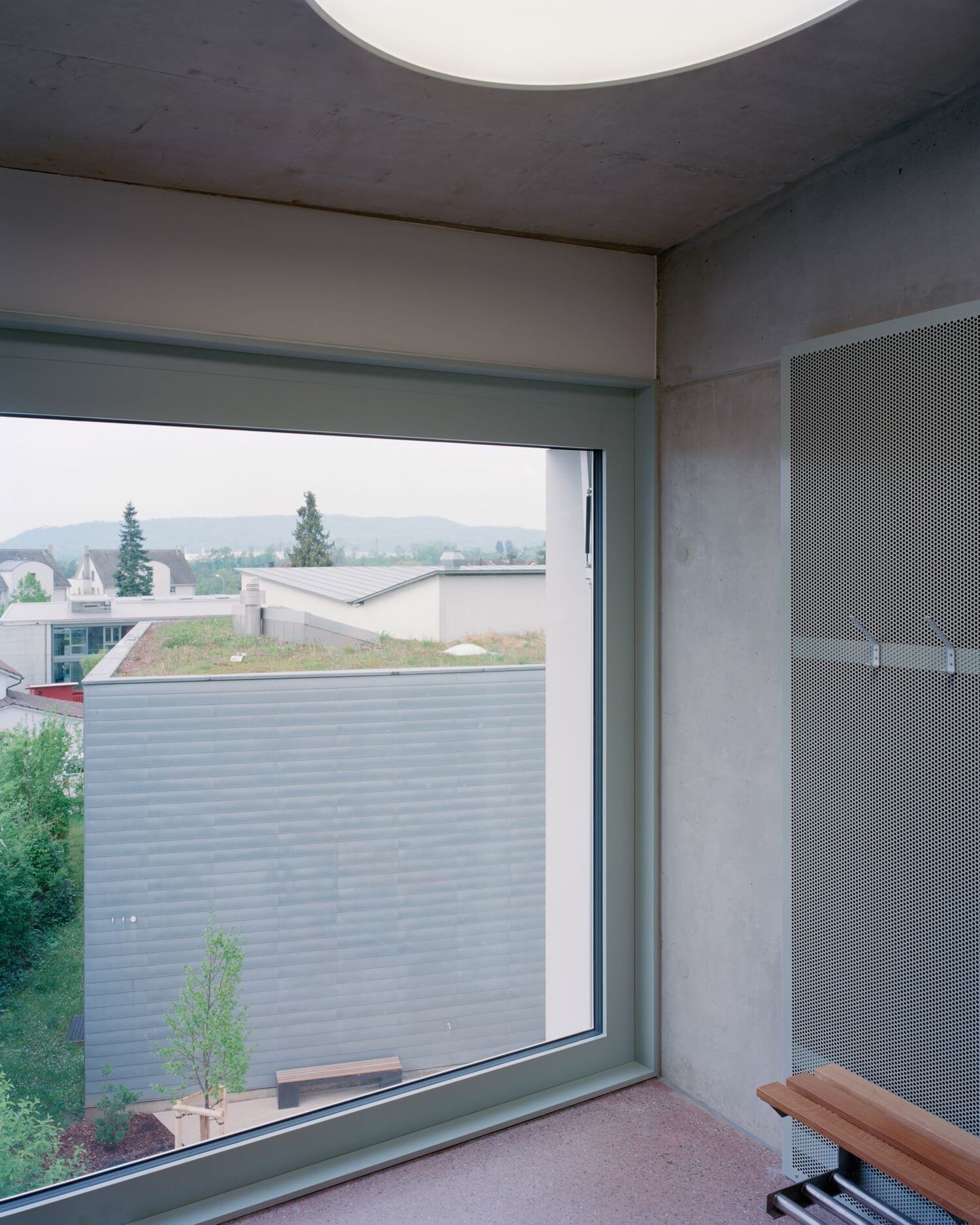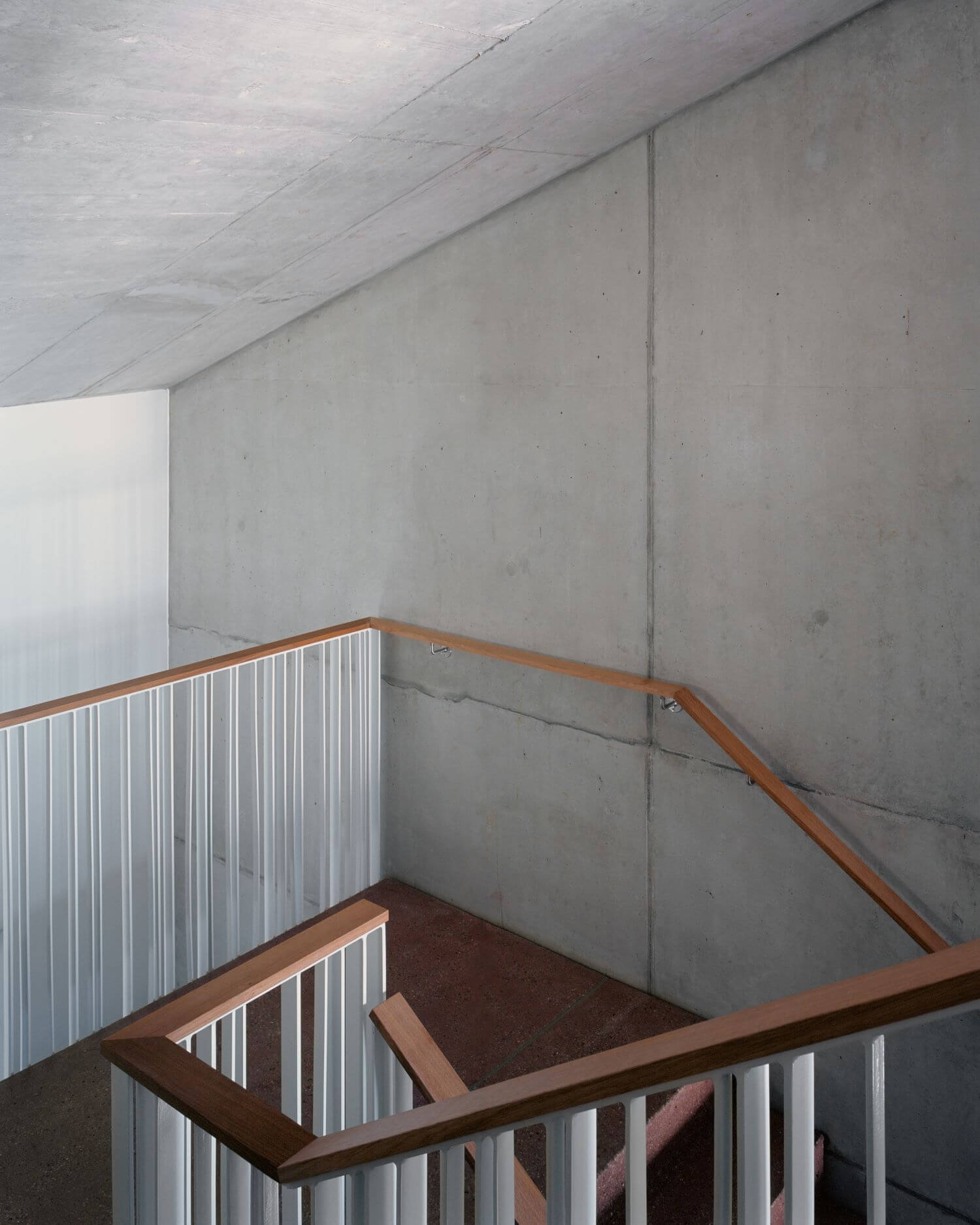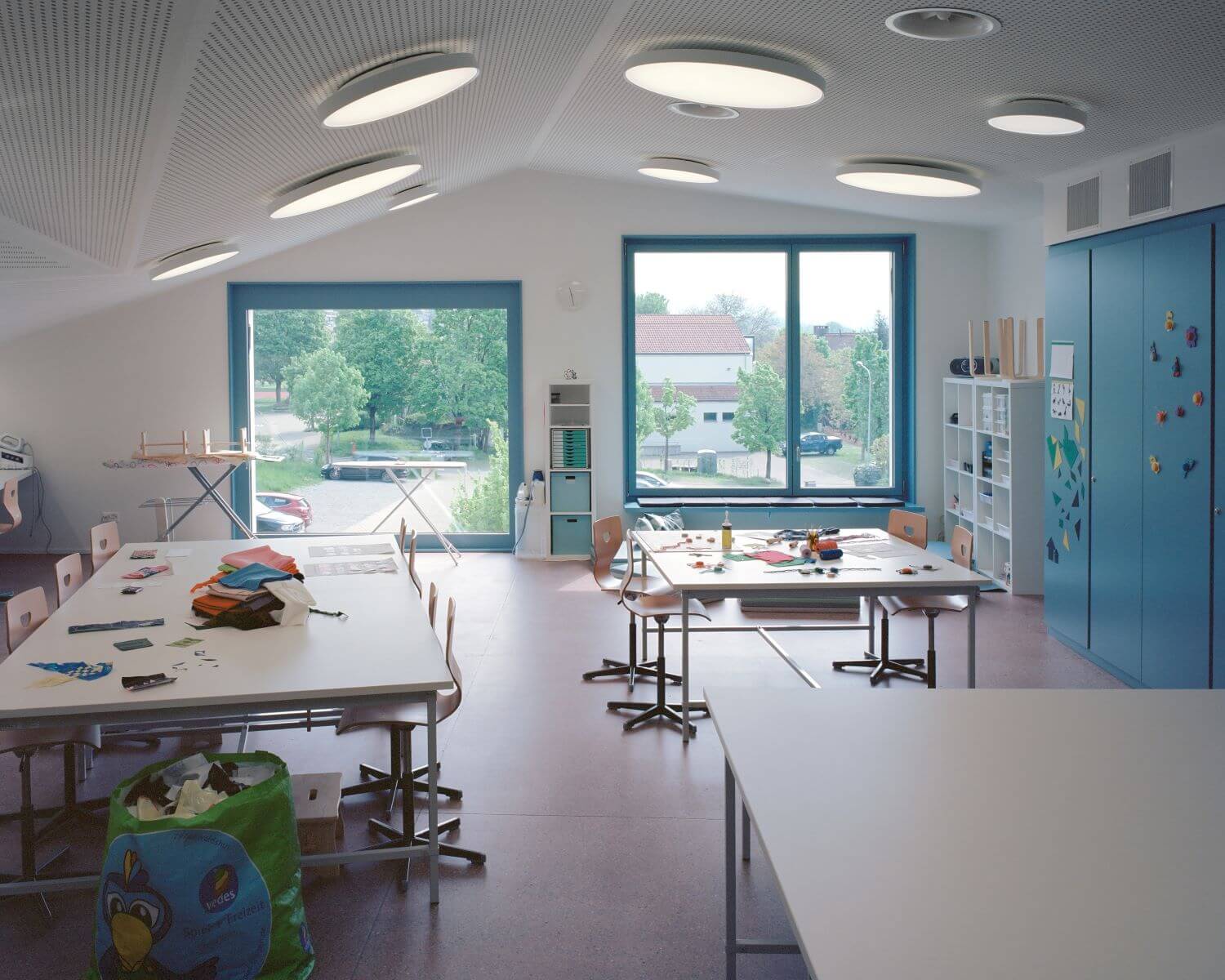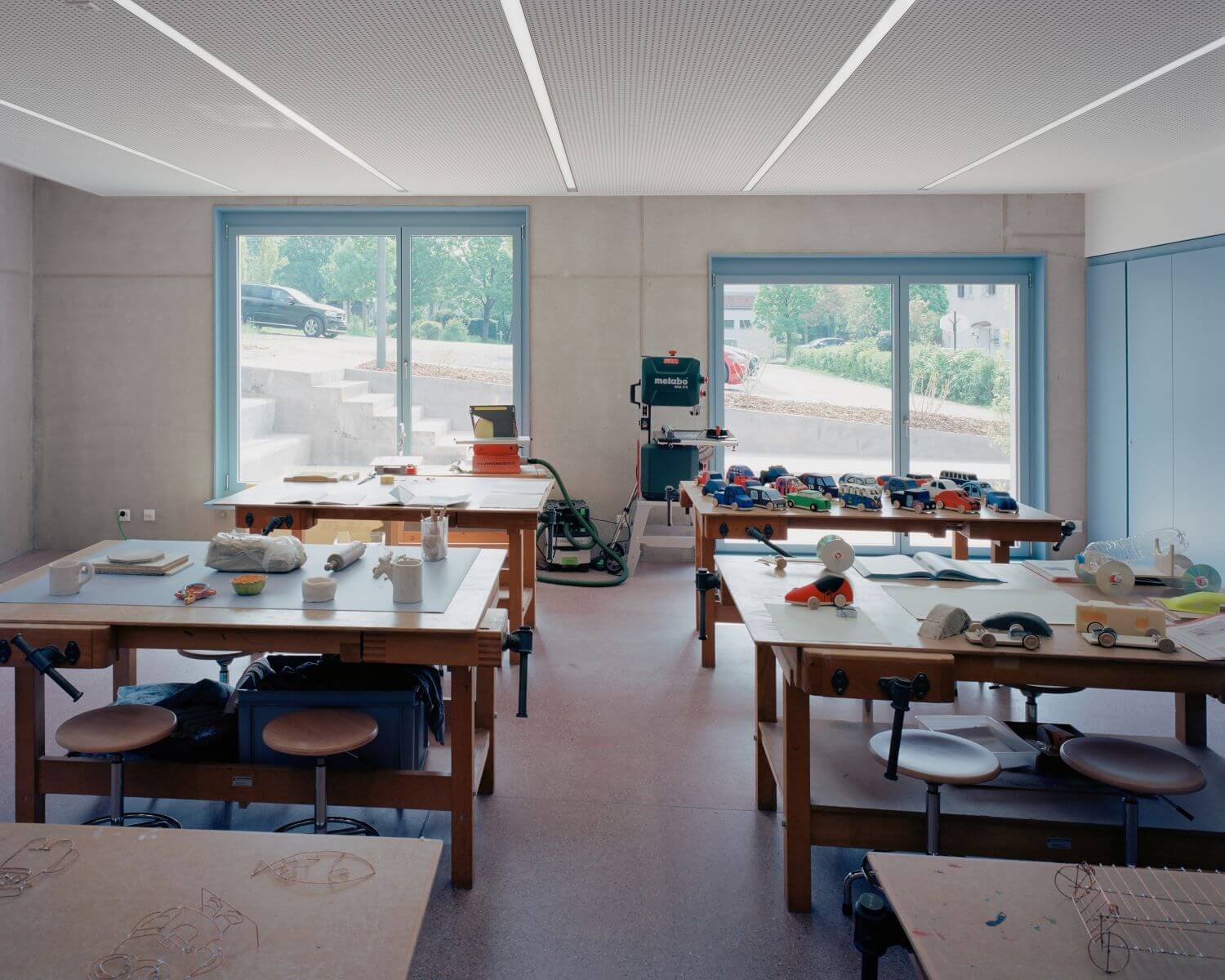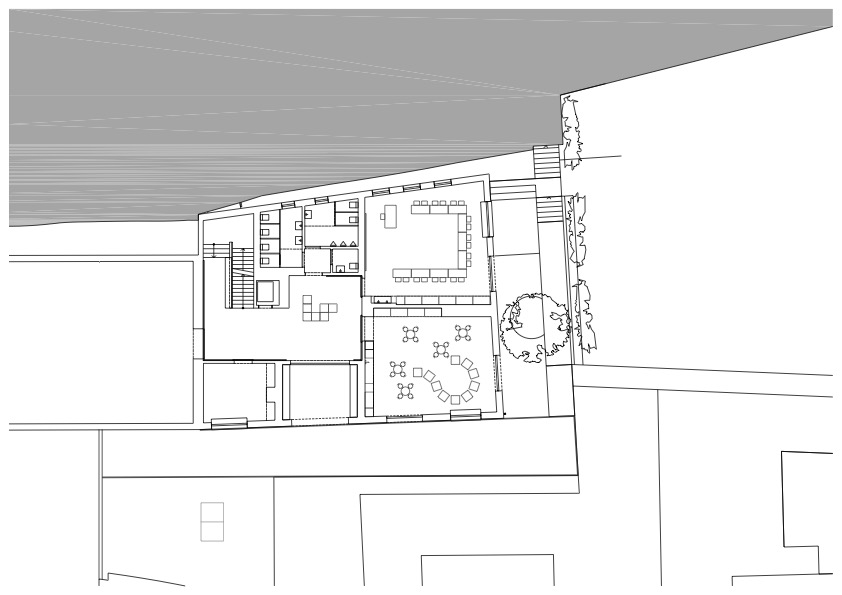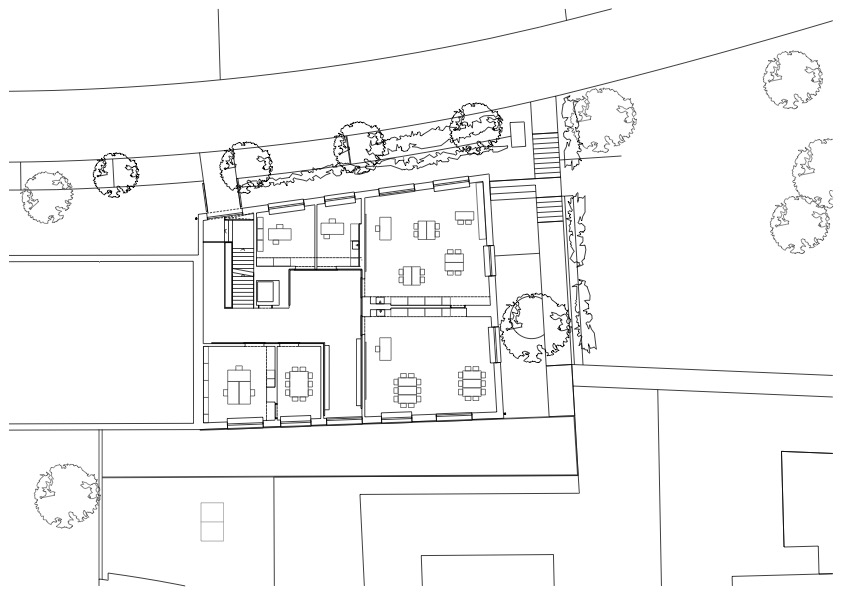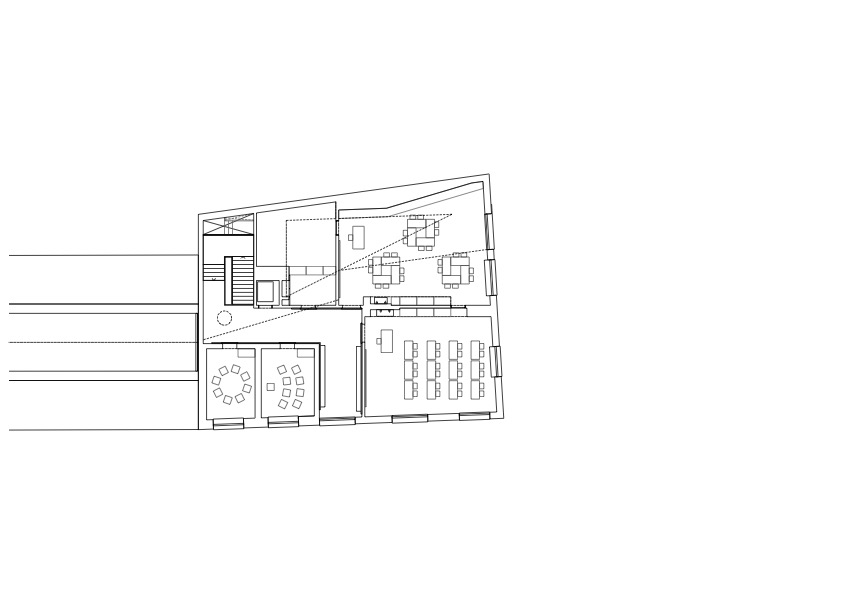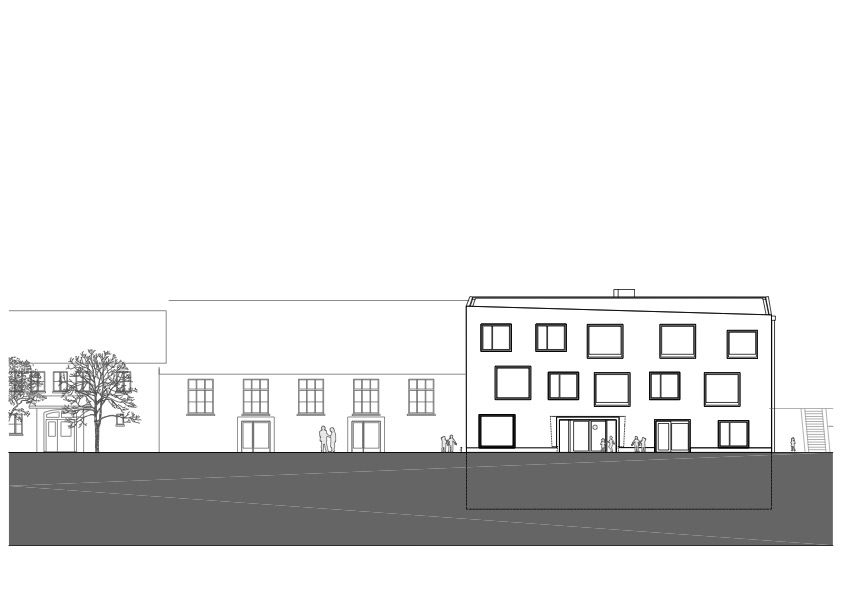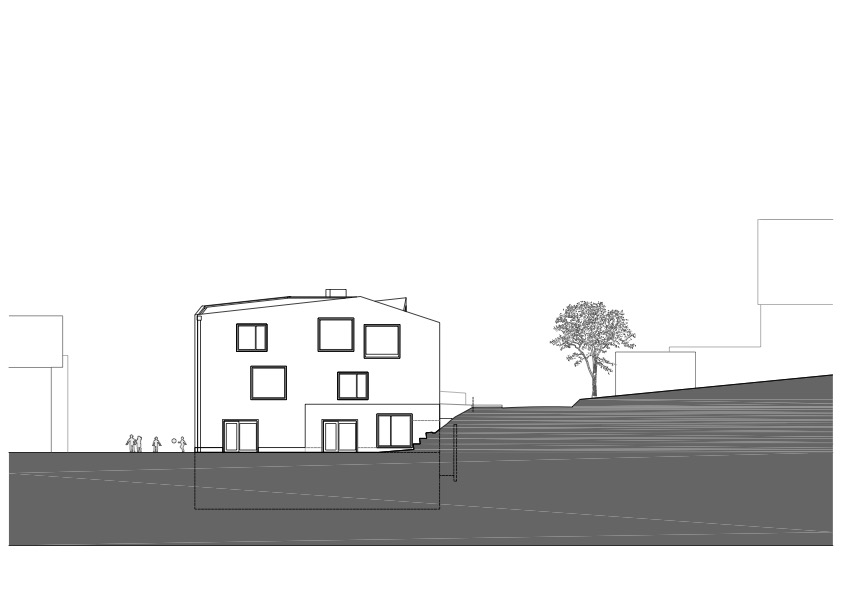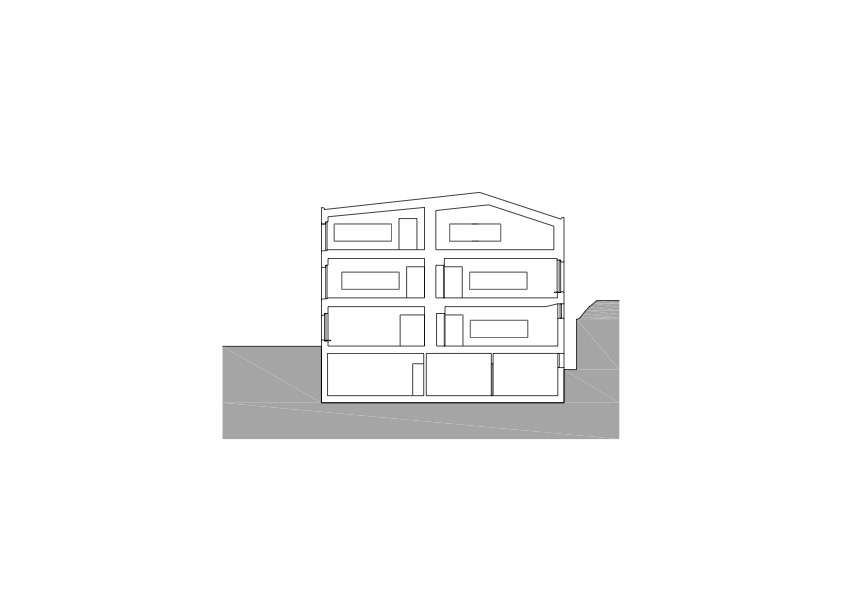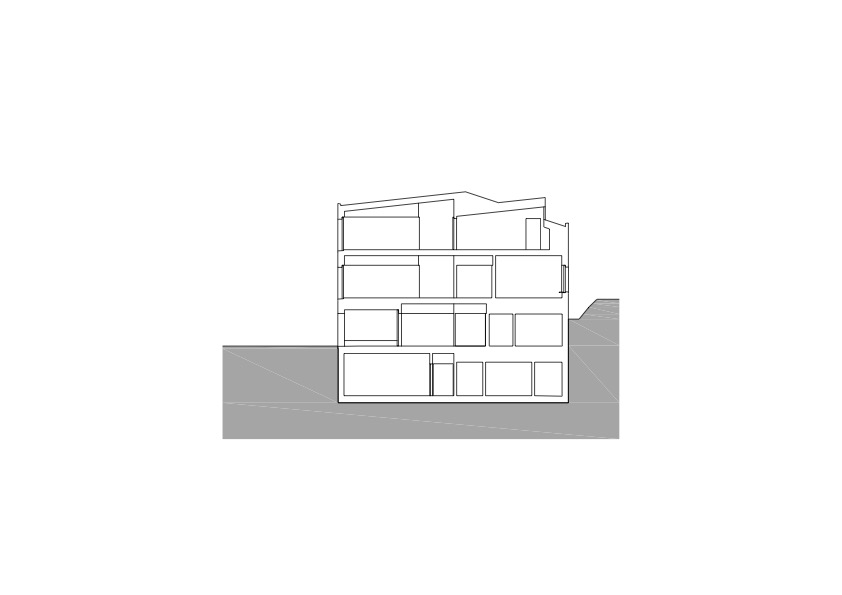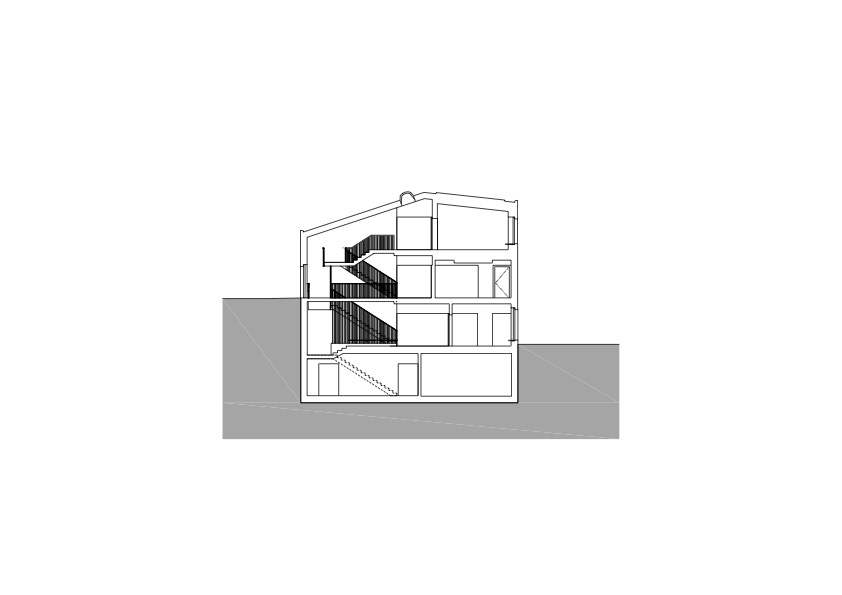 About
FOCKETYN DEL RIO STUDIO is now MIDERI ARCHITEKTEN GMBH + Hans Focketyn Architekten GmbH
"After 10 years working together, we have looked at us and celebrated our different paths. As Bowie or others did before, we are ready for our new skin!" MIQUEL DEL RÍO SANÍN
Hans Focketyn will work through his new firm, Hans Focketyn Architekten, while Miquel del Rio will work via his new studio MIDERI. All of our ongoing work and projects will continue through FOCK-ETYN DEL RIO STUDIO until completion, and all existing contracts will not be impacted by this re-structuring in any shape or form. However, FDRS will not accept any new contracts from now on, while both new studios are open for business.
Our office started in 2013 when we won the competition to transform the Kaserne, now close to opening. We are very thankful for this decade of collaboration with an engaged team of clients, em-ployees, and collaborators, which were essential in realizing such a highly complex project. But not only that: we were honored to have been given the opportunity to build many other projects with var-ying scale, such as the Parterre One, and also to create new methods of collaborating, which we call the Guerrilla projects, that gave Basel important cultural destinations such as the Kaschemme.
Furthermore, together with all of you, we defined our own working methods in architecture, with a solid and professional network of collaborators operating in Basel, Colombia, or Barcelona. Togeth-er, we enlarged the classical frame of our architectural practice and gave back to the community of the metropolitan region of our home, Basel.
Since 2019, we have started expanding our scope by activating the educational sphere into the DNA of our office through the Professorship of Hans Focketyn in the BFH and multiple lectures of Miquel del Río in several universities across the globe.
"The richness of projects, formats, and connections will not only remain but continue to grow through two our new offices" HANS FOCKETYN
---