Pianoterra: Part of a 1925 villa in the center of Bucharest that now hosts a group of offices from different creative industries, this 125 sqm (gross area) apartment was designated as a hub for meeting spaces. The brief was quite simple, yet elusive, which turned the whole process into a very organic and fluid one. The brief stated the need for a common meeting venue for the whole group of companies (with separate type of businesses, teams and more important, with different cultures), where people can meet internally, with suppliers or with clients, with areas for private conversations, or just places where one can change the ordinary office setting and spend some solo time, for ideas to aggregate. Our challenge was to find a "common ground" in the more physical sense, for the different cultures and spaces existing in the building, under the same roof. A roof that, in a metaphorical sense, reveals similarities that led to precious insights - all companies are operating in the creative industries (from video production to online publishing to fashion) and have a dynamic and "on the go" culture. That inspired us to dig further and dare for a more juicy and creative narrative - a place that can be a positive disruption, presenting itself as an unexpected realm. Inspiration came from a Spanish movie, TOCTOC, where the whole story takes place in one set up - therapist (psychologist) office, with ample and elegant waiting areas. Fascinated by the deep jewel color scheme and the retro chic touches in the movie, we unleashed all our creative ideas into narrating a different kind of meeting space.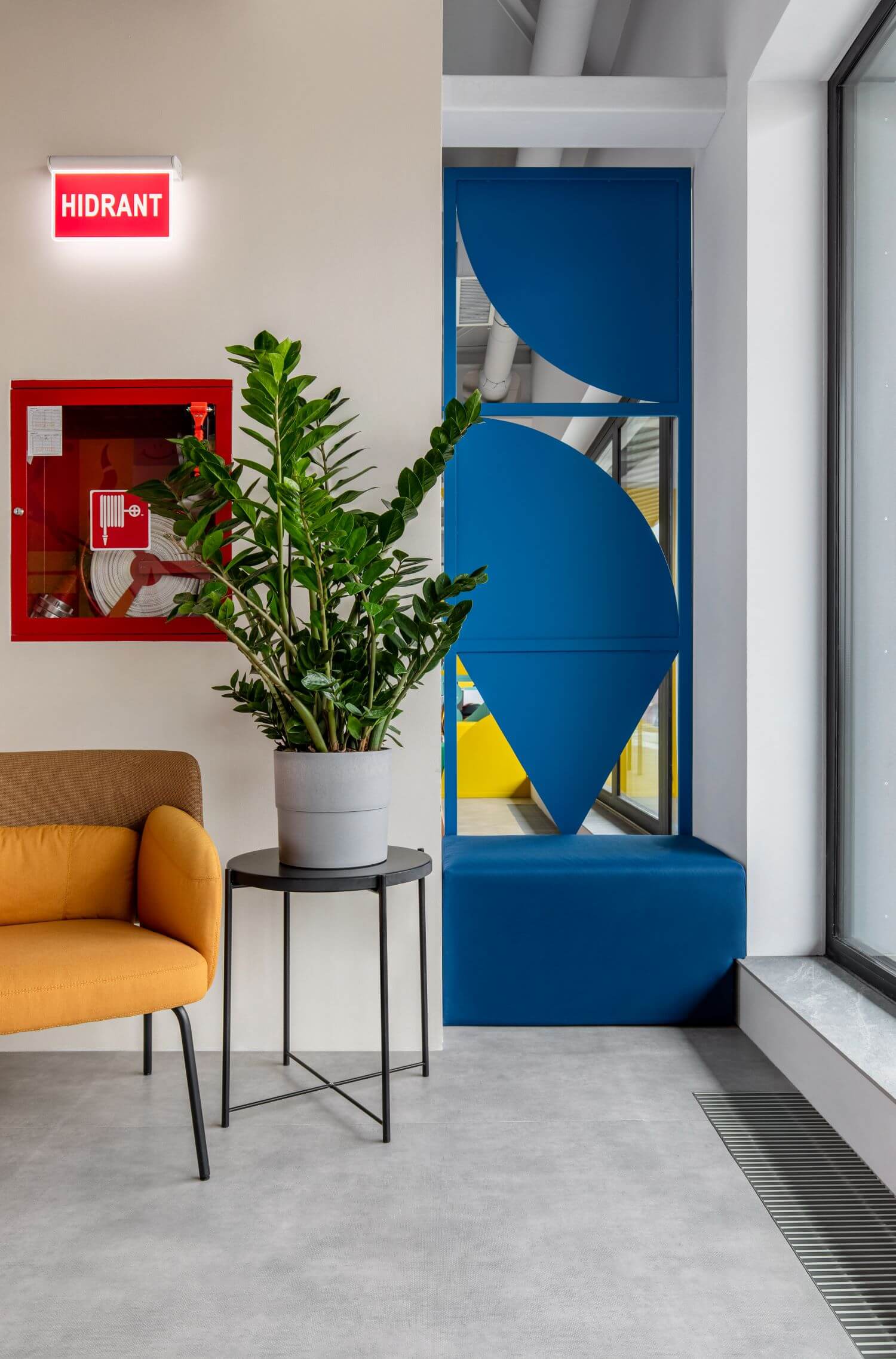 A space where one feels relaxed but not tuned down, a space that invites to slow down, to integrate fast-forward information gathered throughout the day and moreover a space where human connection is facilitated at a deeper level.
How we did it? First, with a new space planning that consists in a big central room (initially divided into a small kitchenette and two other rooms) with three adjacent rooms, each with a slightly different functionality. Where now is the yellow room was a closed rooms with a simple door, and, for the sake of rhythm and repetition, an ample french door was installed.
Then, the main actors were colors and textures, which helped us create the desired ambiance - moody and deep. The "white spaces" from the brief were bravely filled with colors, in a rather experimental and organic process; we started in mind with the three primary colors, which were than subdued, mixed with more split complementary colors and in the end some black and white accents were added. Every decision was taken in situ, without any previous computer design, and this is how the space grew together with the ideas, and every element has a robust justification.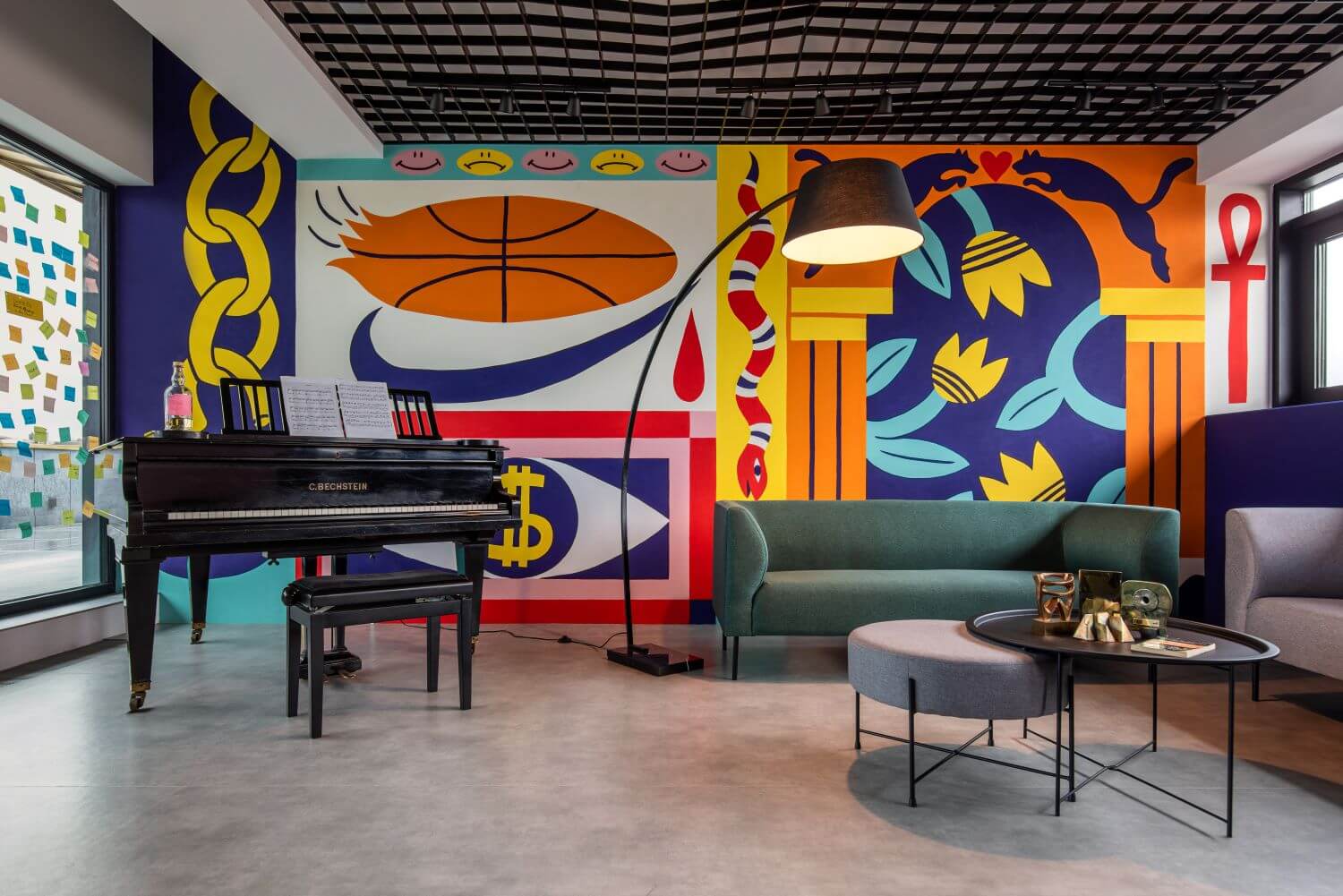 Main central room is divided into several seating areas, defining a "room in the room" and inviting for pause and reflection. The key piece here is the metallic structure which is a hybrid between a bench and a room divider and was designed by us as a mixture of Bauhaus geometries with brancusi lines. The black and white decorative brand (also custom designed) acts like a cohesive belt for the room.
The yellow room invites to informal meetings, where ideas are exchanged at a higher speed. Since yellow has a big power on our emotions, we turned it down into mustard and blend it with black and white accents, especially from the romand shades (each with a different pattern). We happily designed here a special table, named "ace of diamonds", featuring stone and brass intrusions in a wooden top, having chubby legs wrapped in velvet.
For the round room we experimented with rose shades to amplify a feminine vibe, balanced in the end by the grounded table, with bespoke bulky legs, which adds sobriety for more formal meetings.
As for a B/W corner room, we wanted to recreate a safe and mysterious feeling from a cigar club, but in a more contemporary and airy way. Deep green and brown is assembled with the custom designed wallpaper that makes the whole space witty and surprising.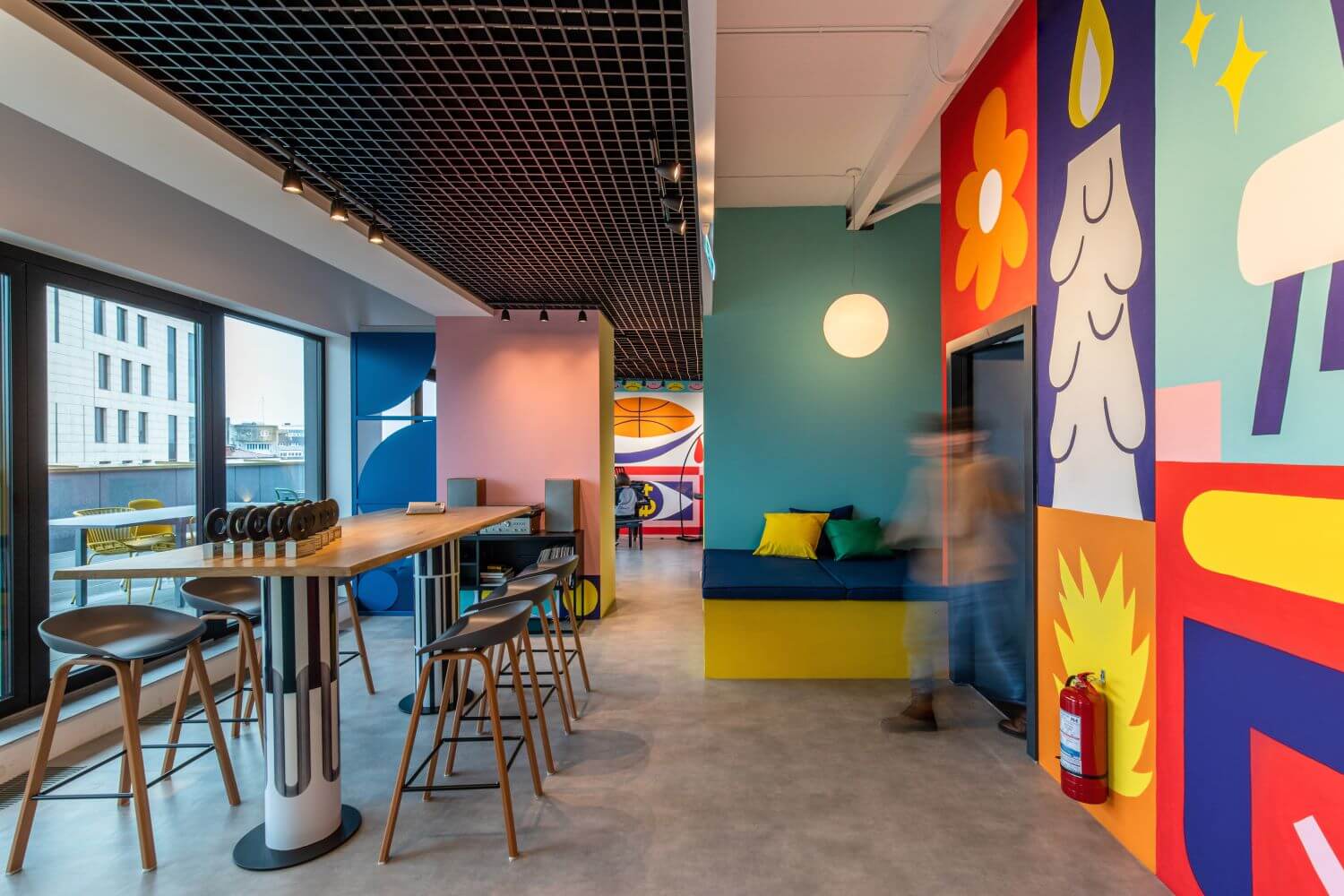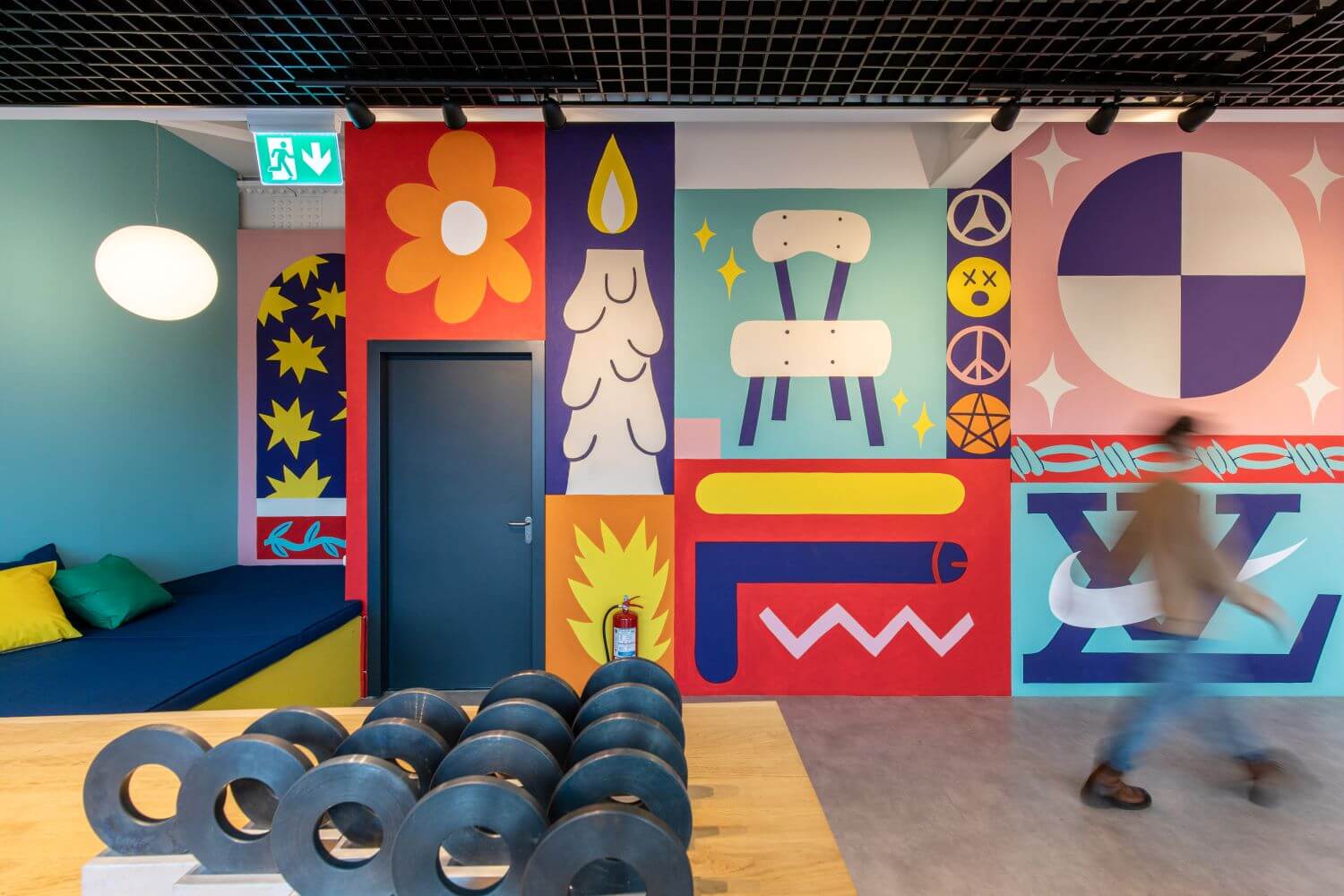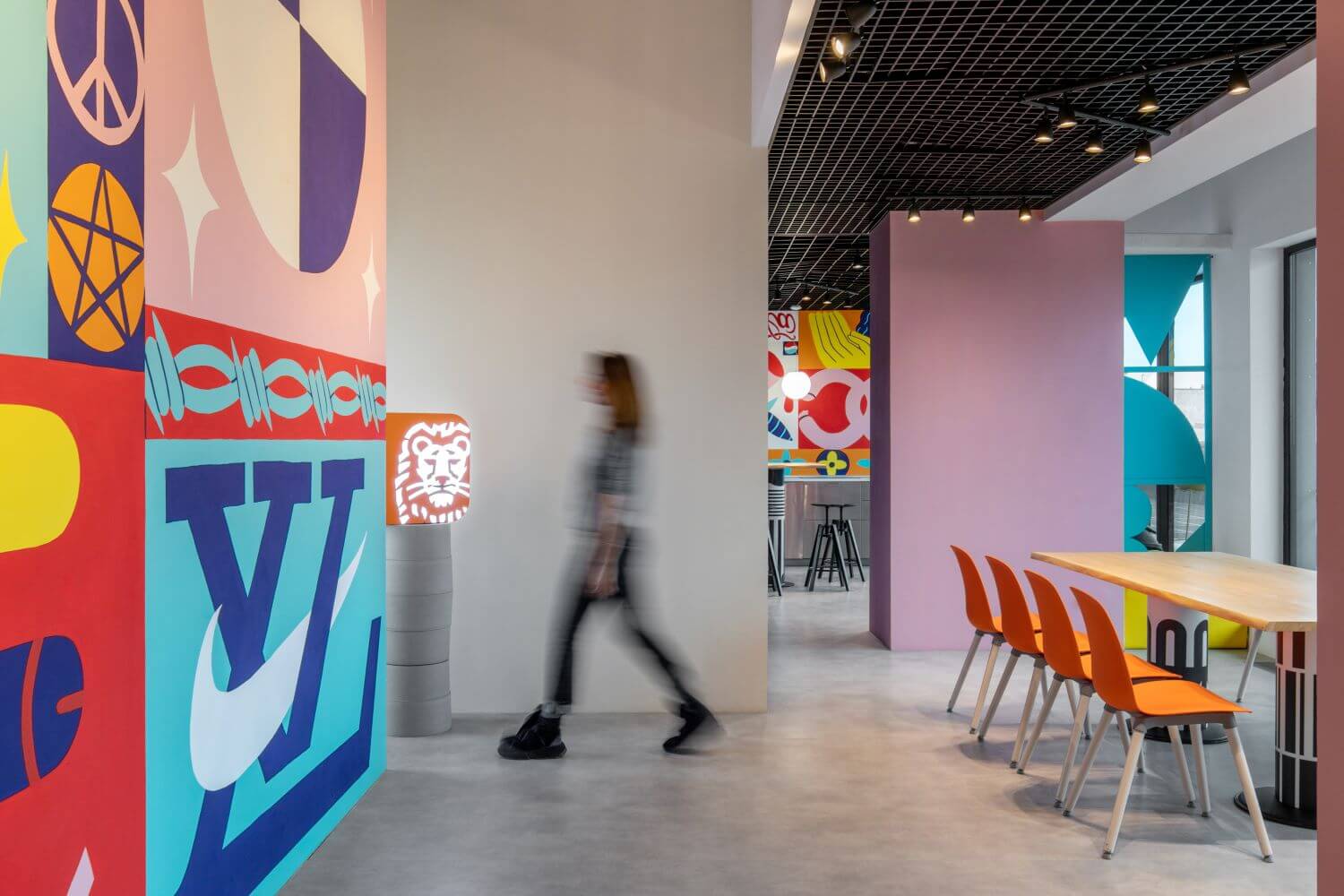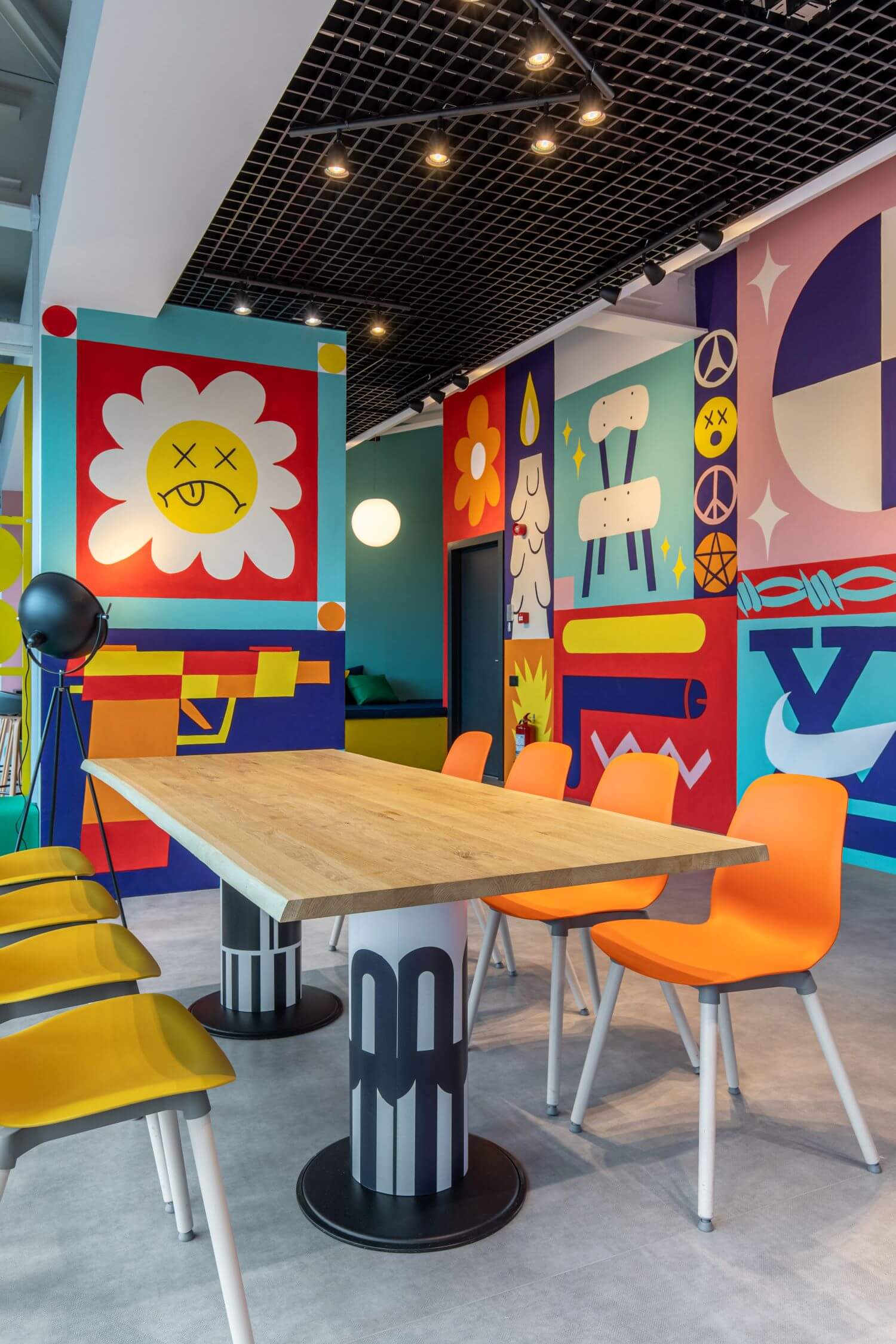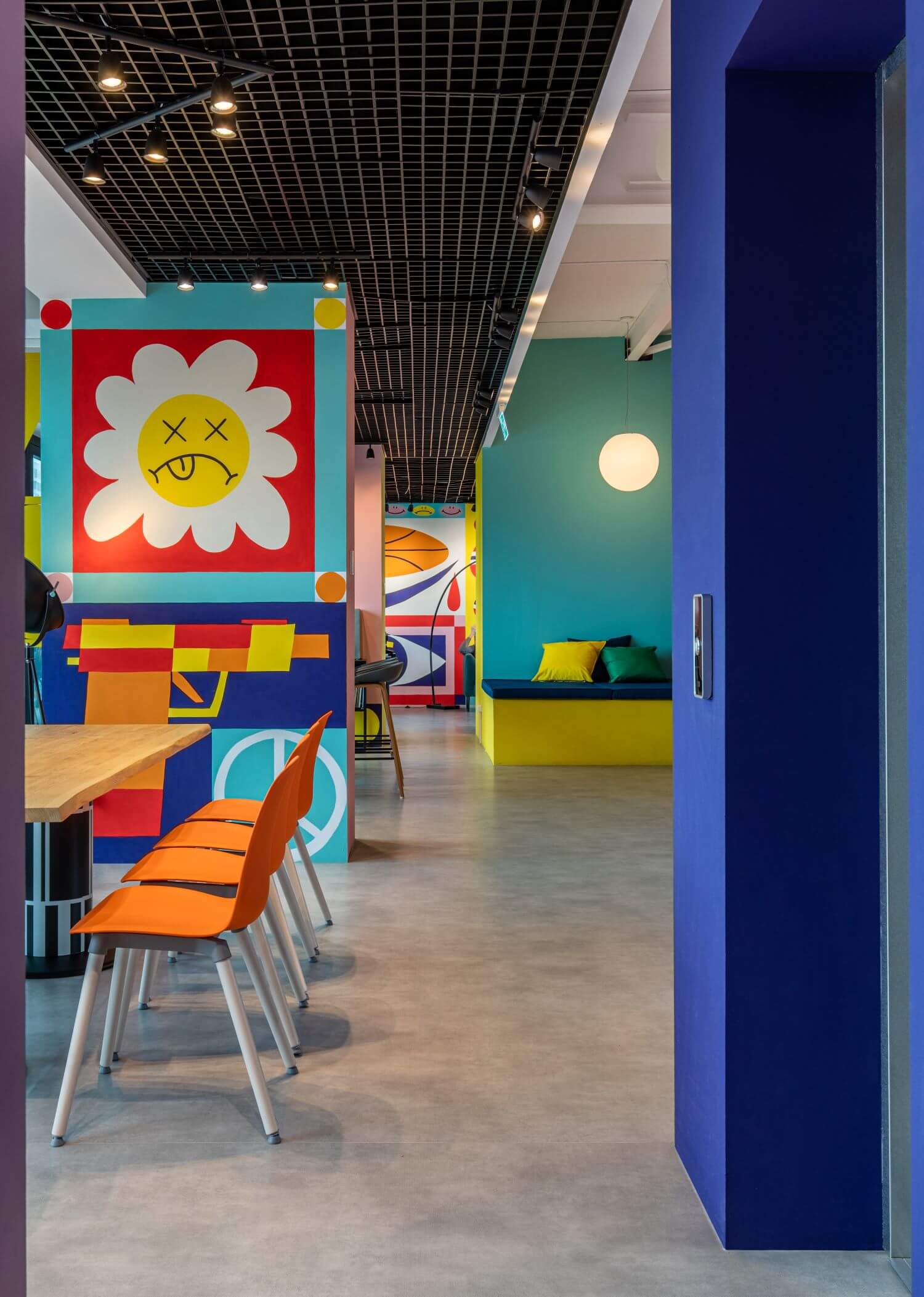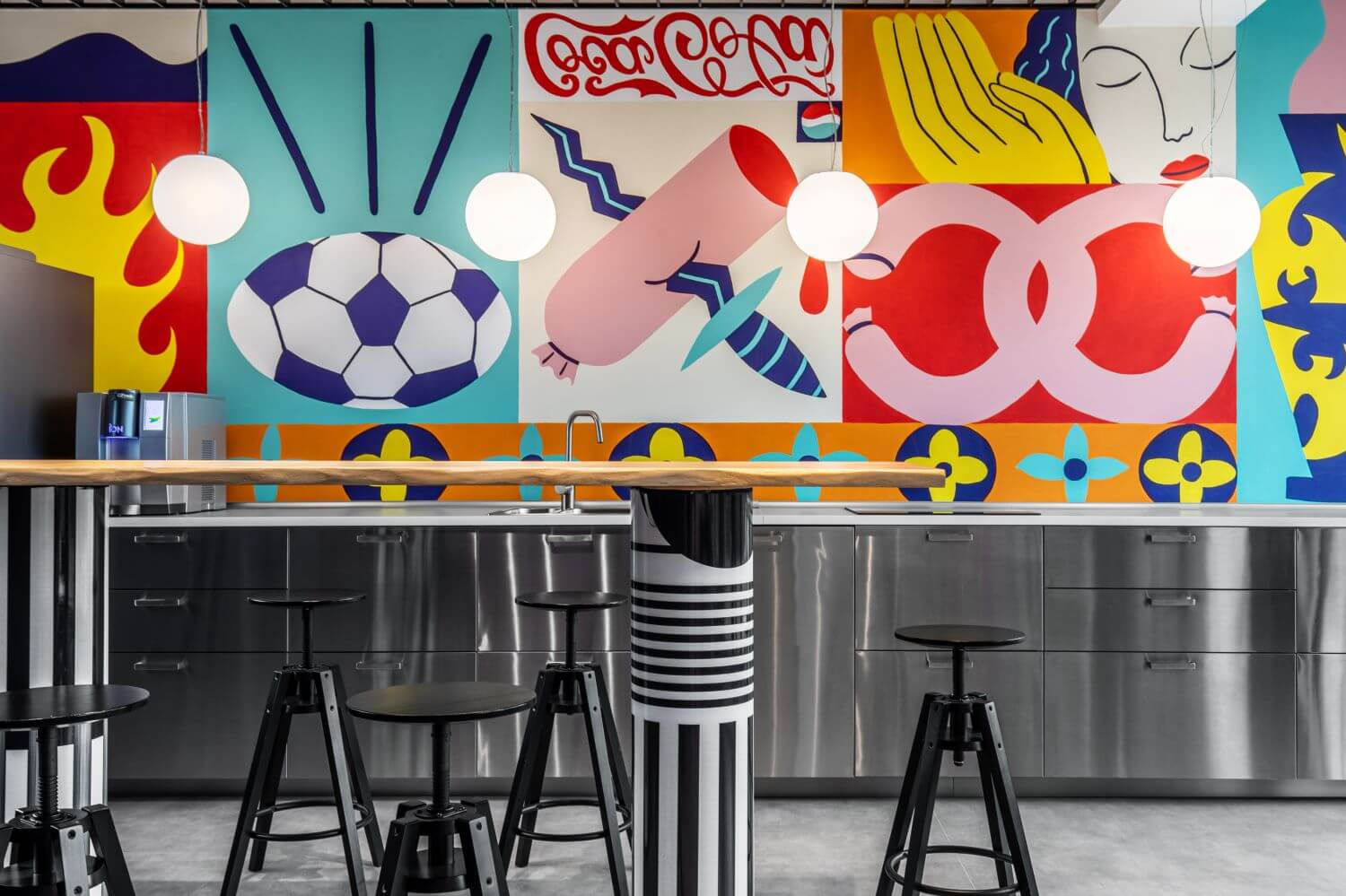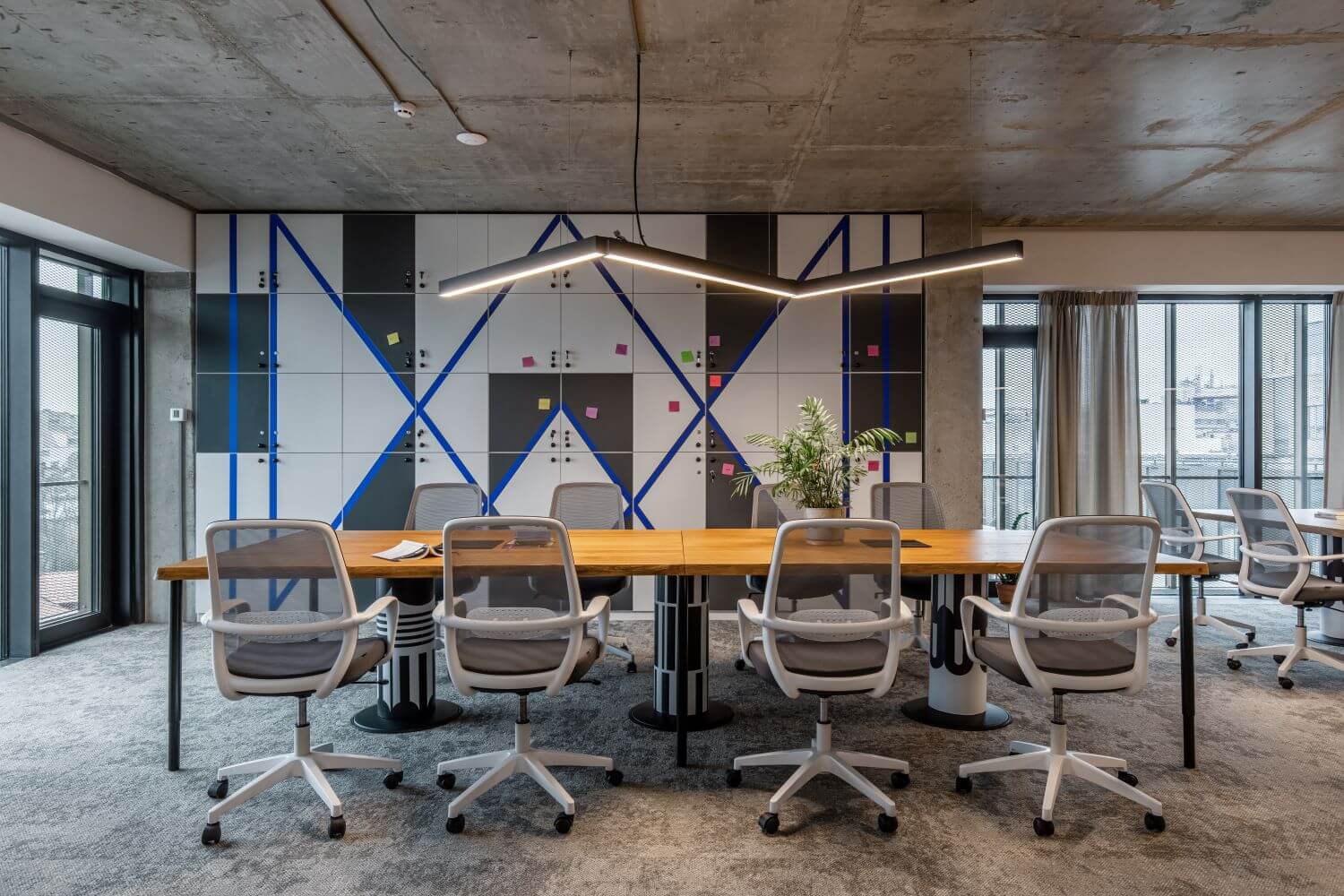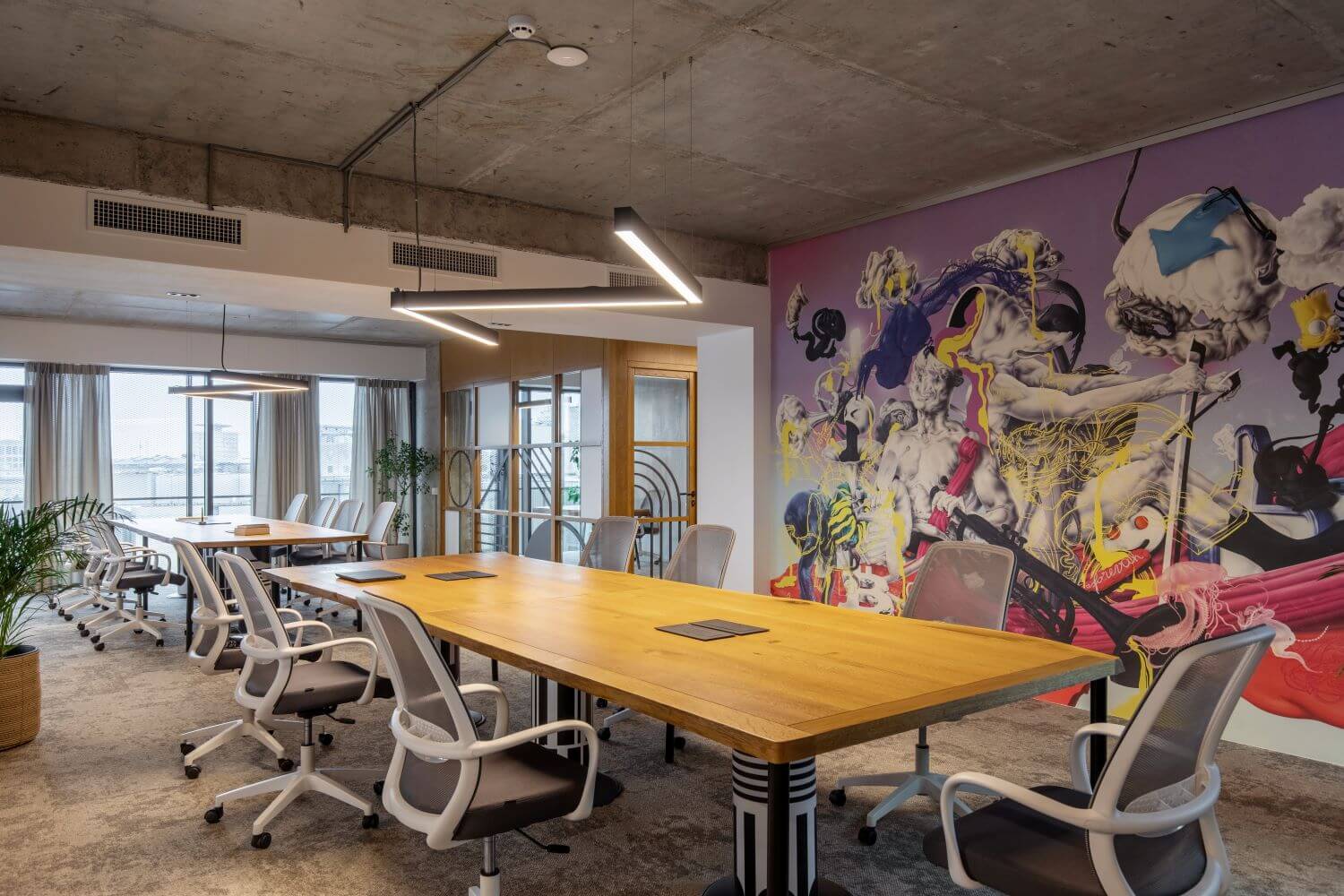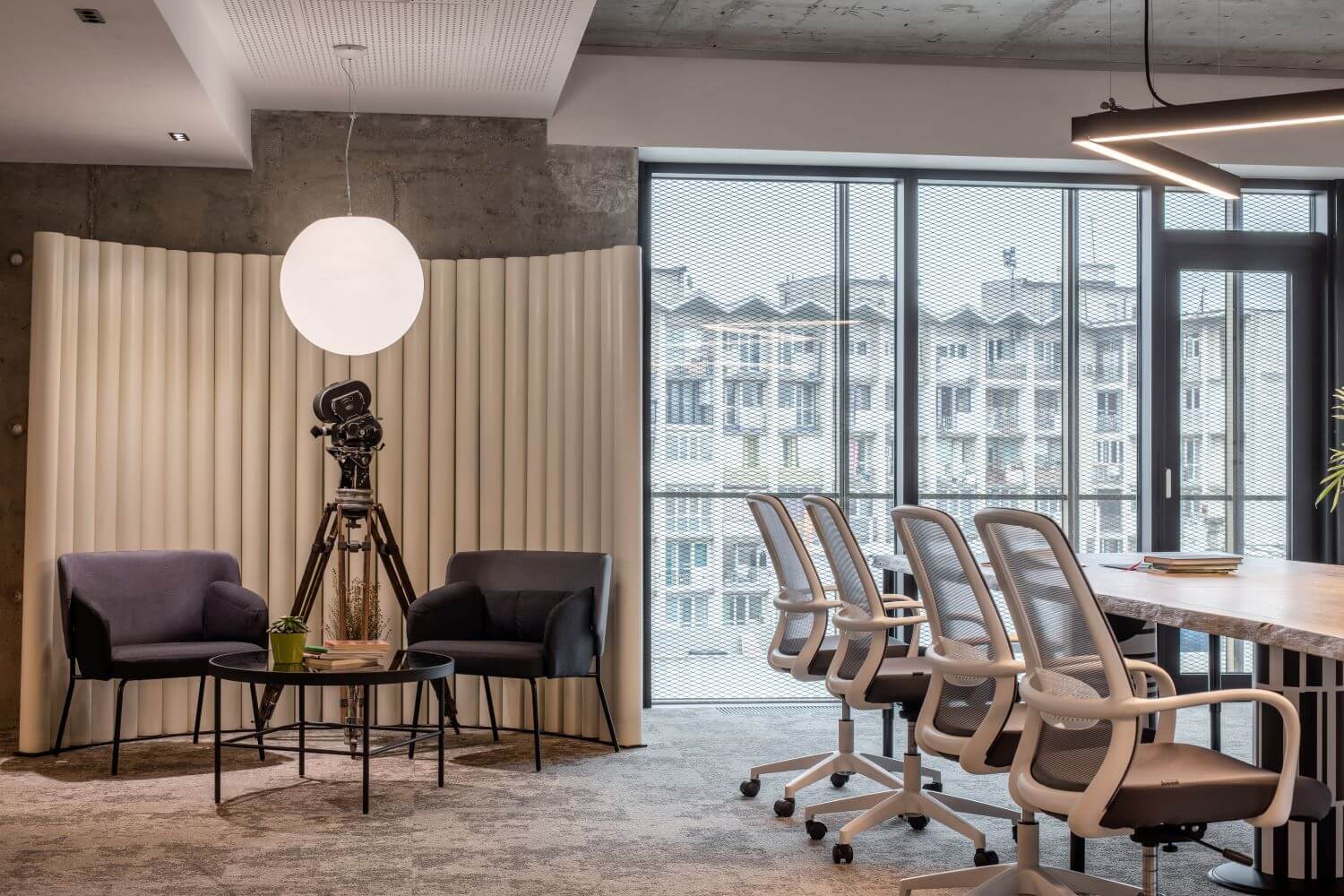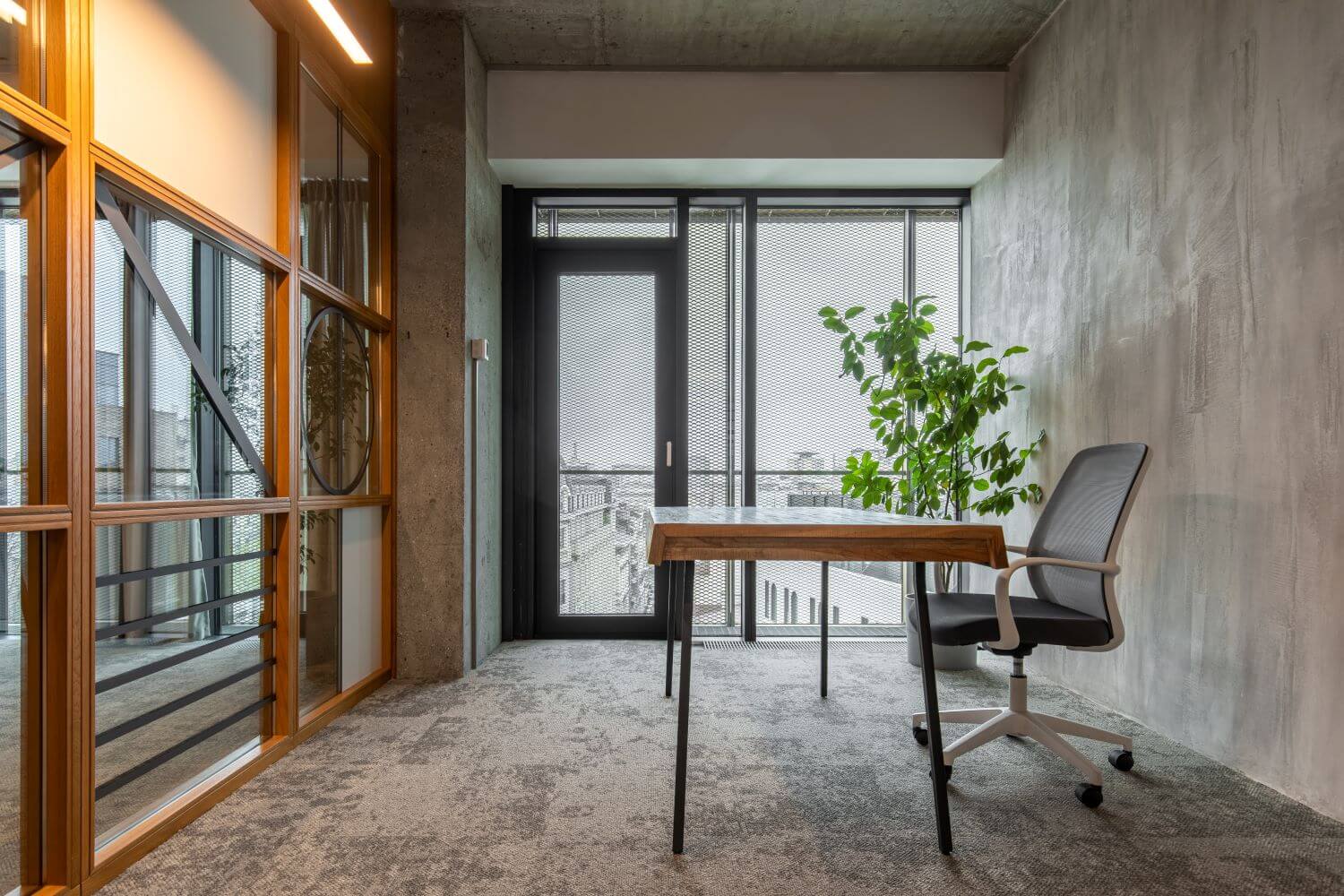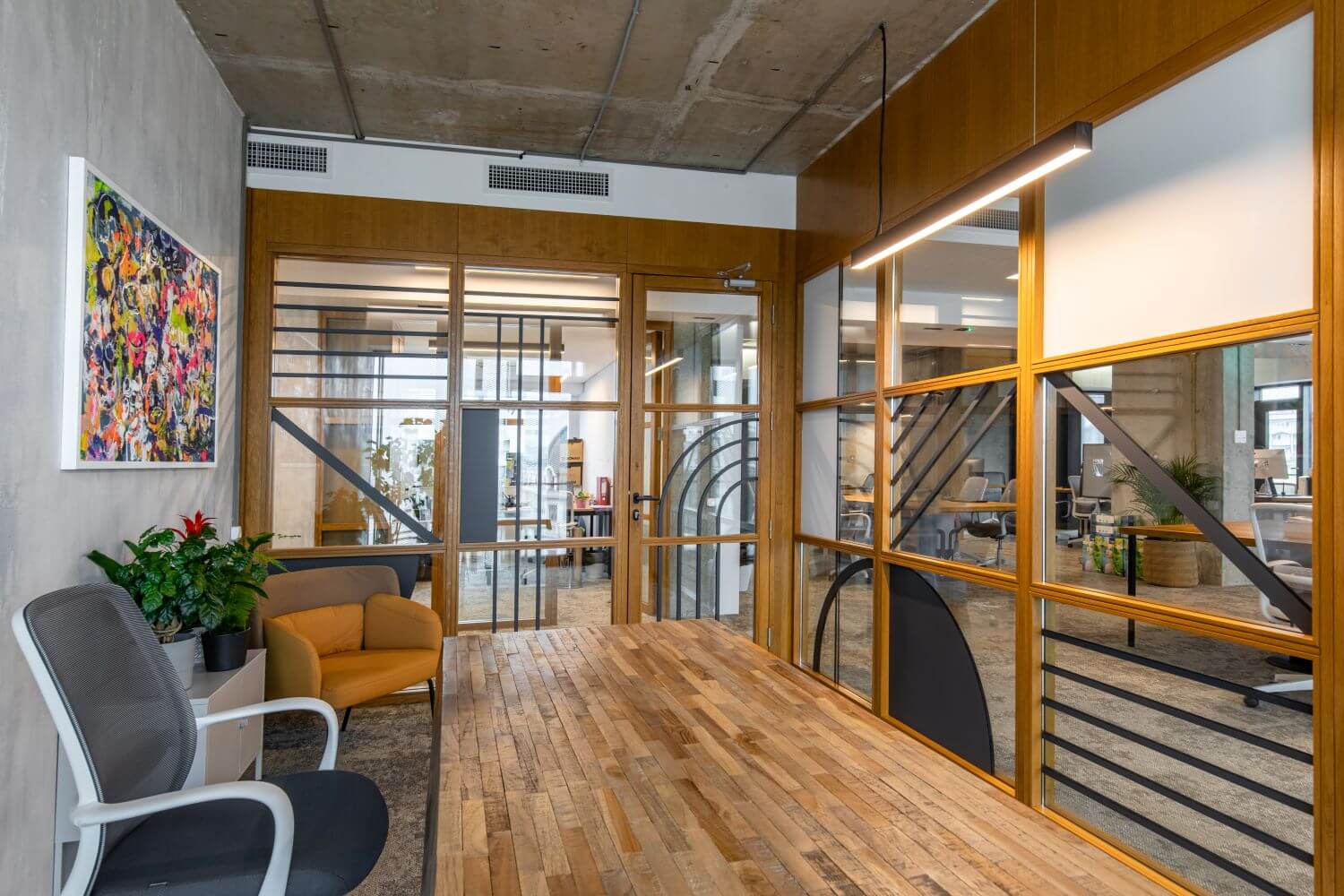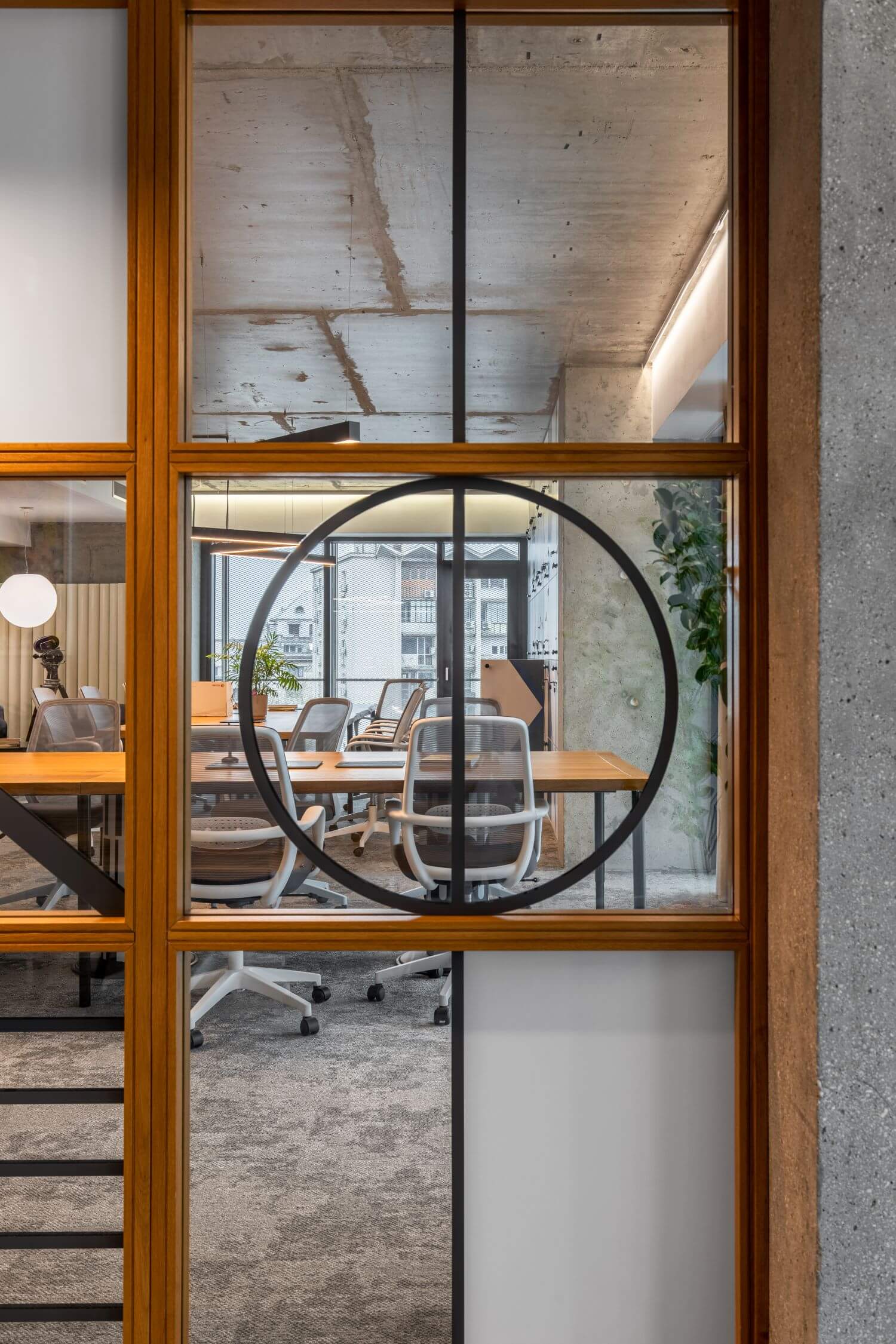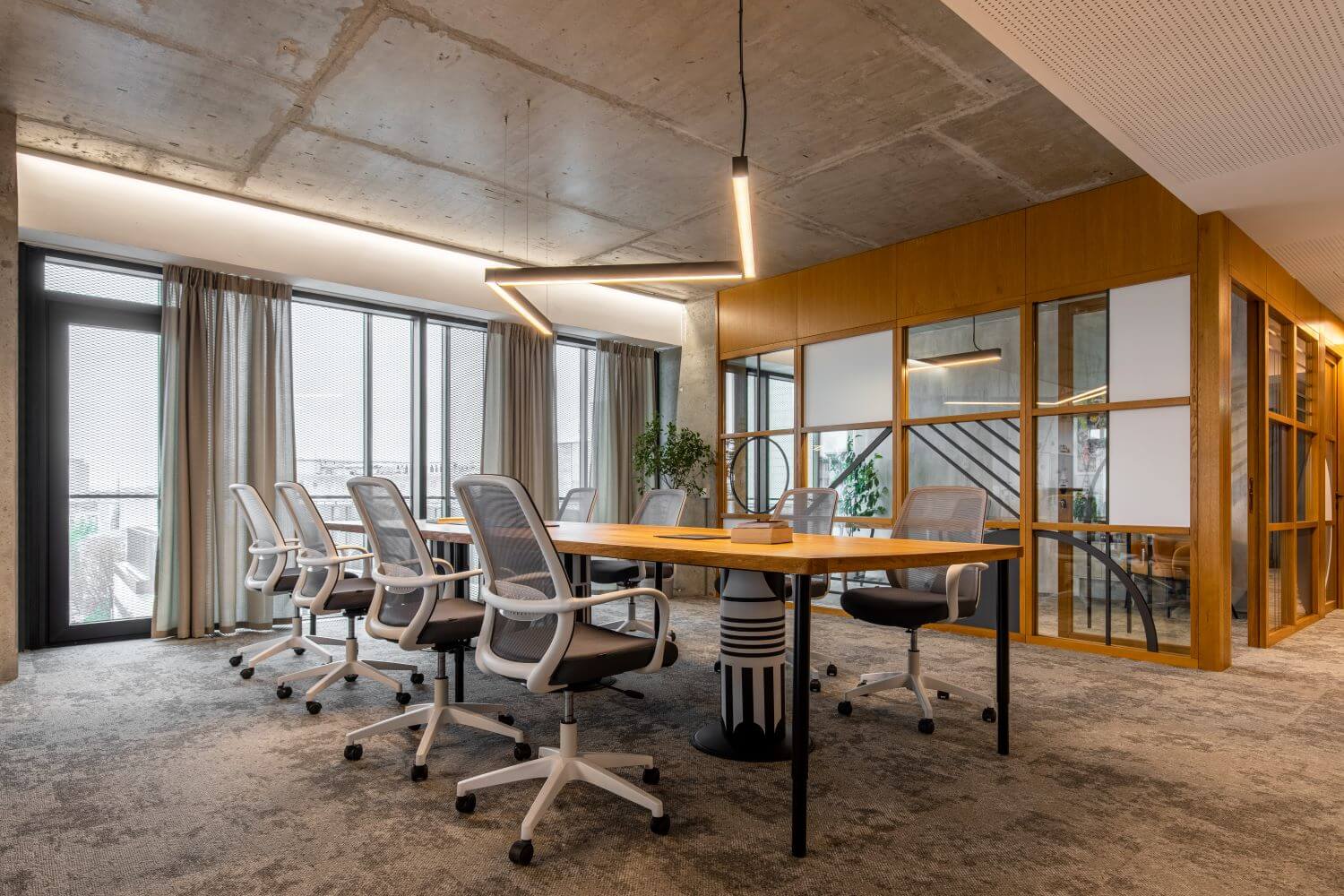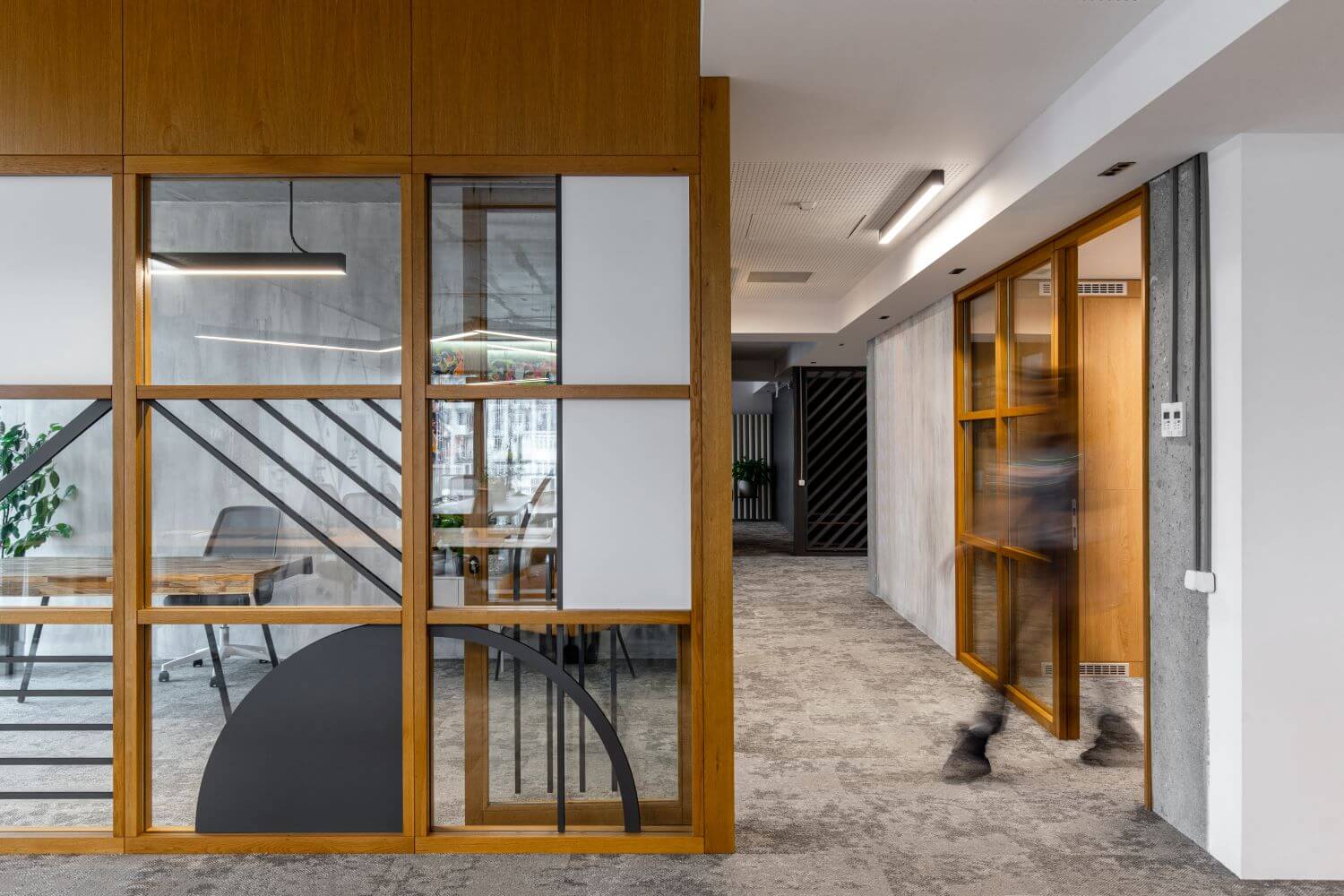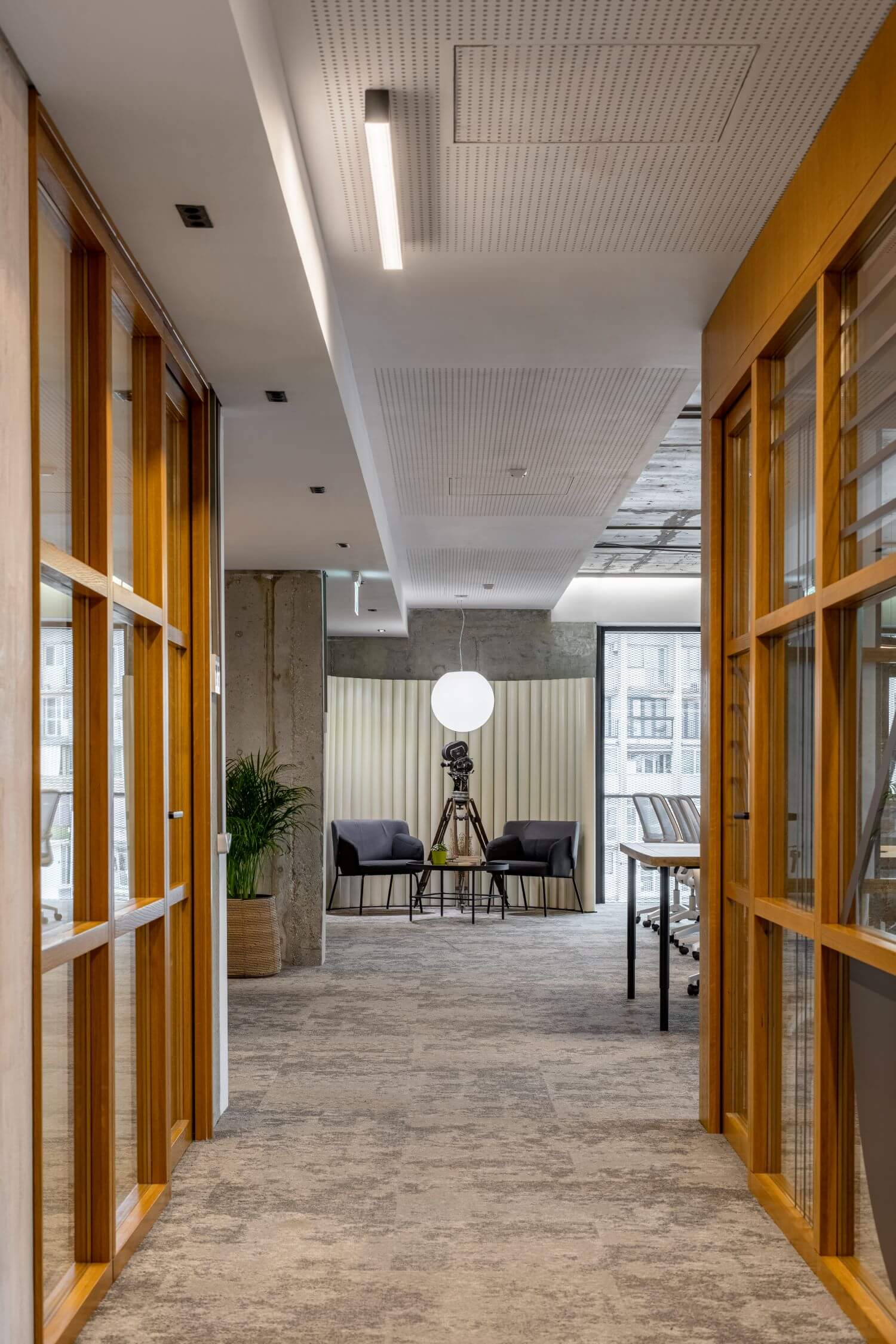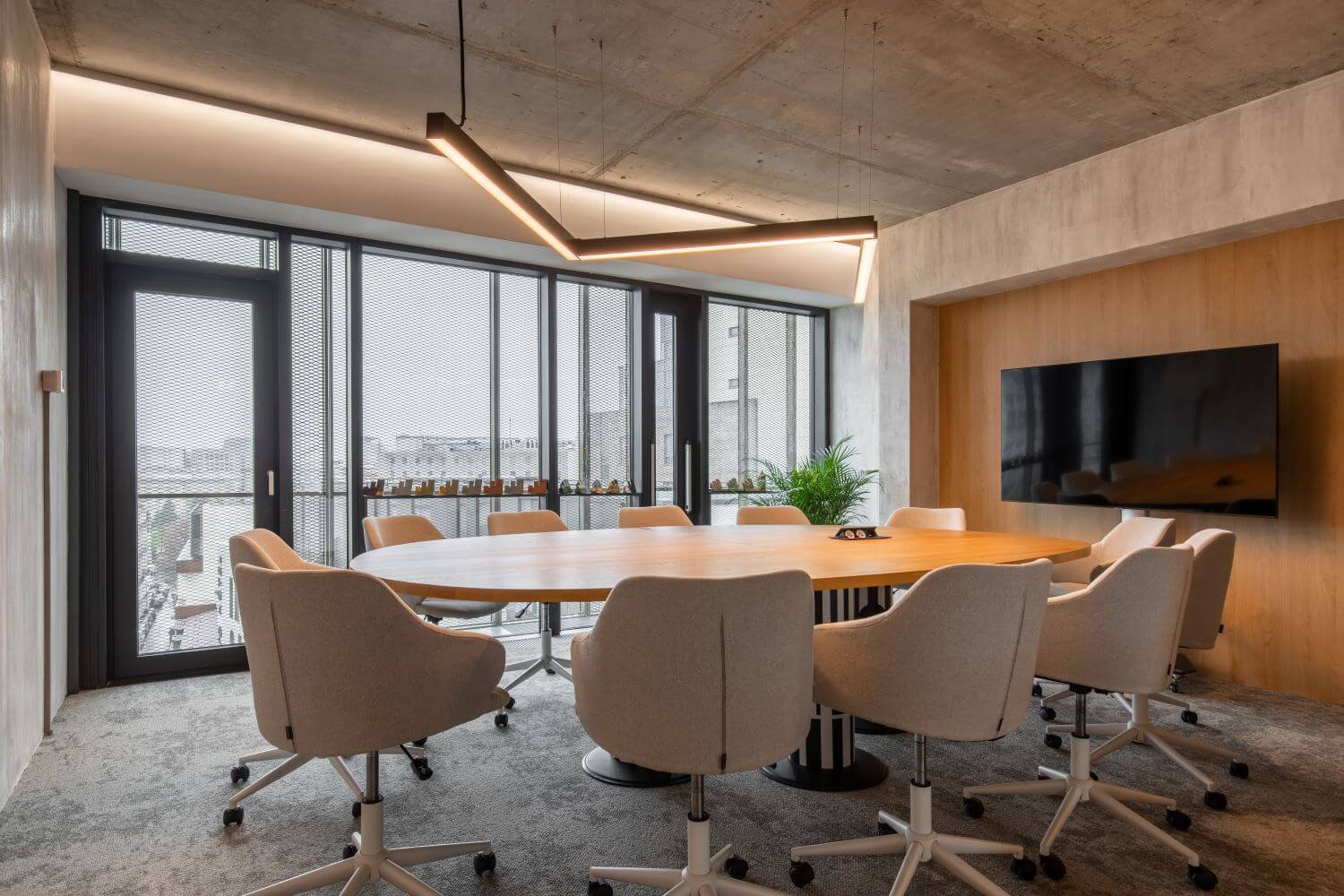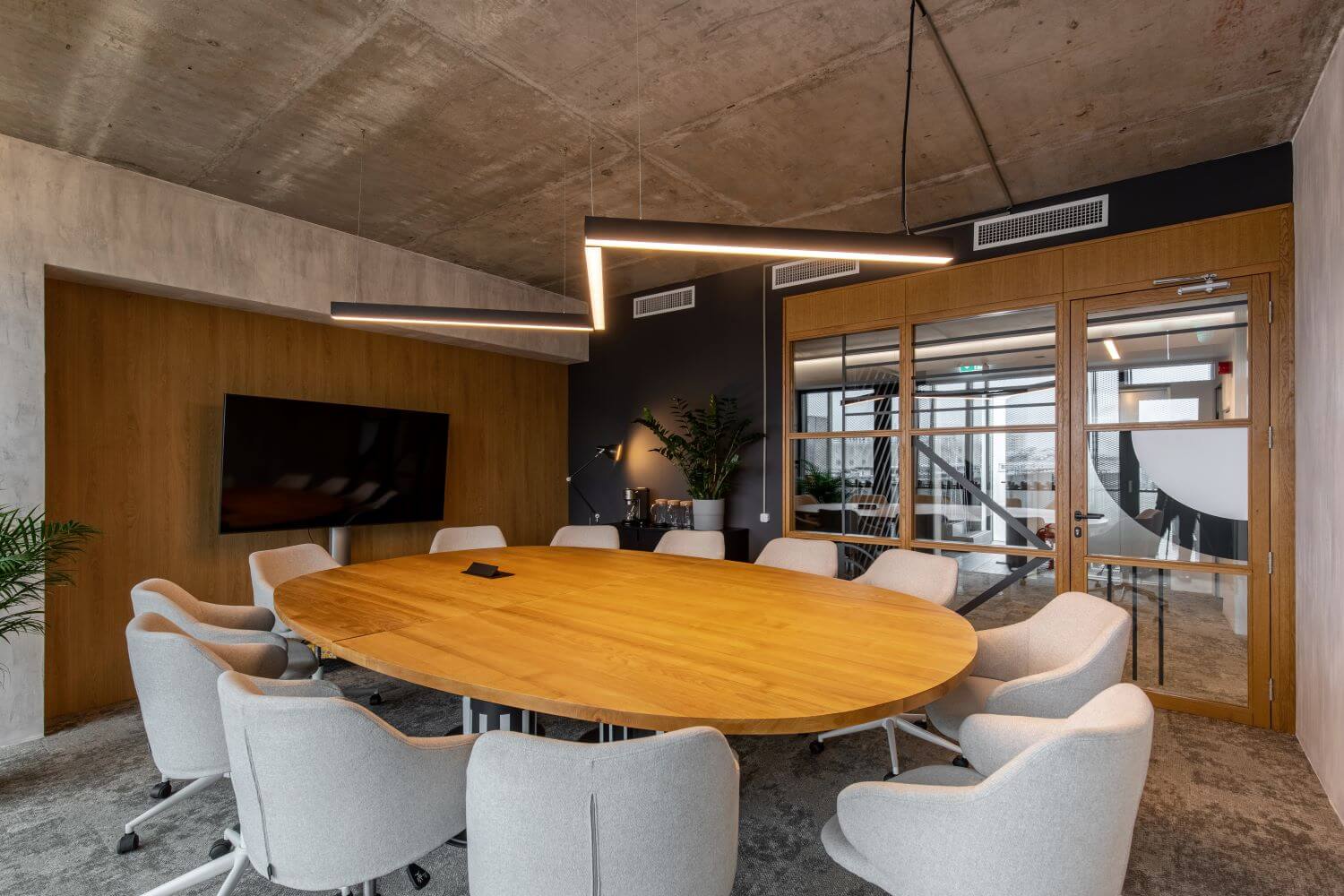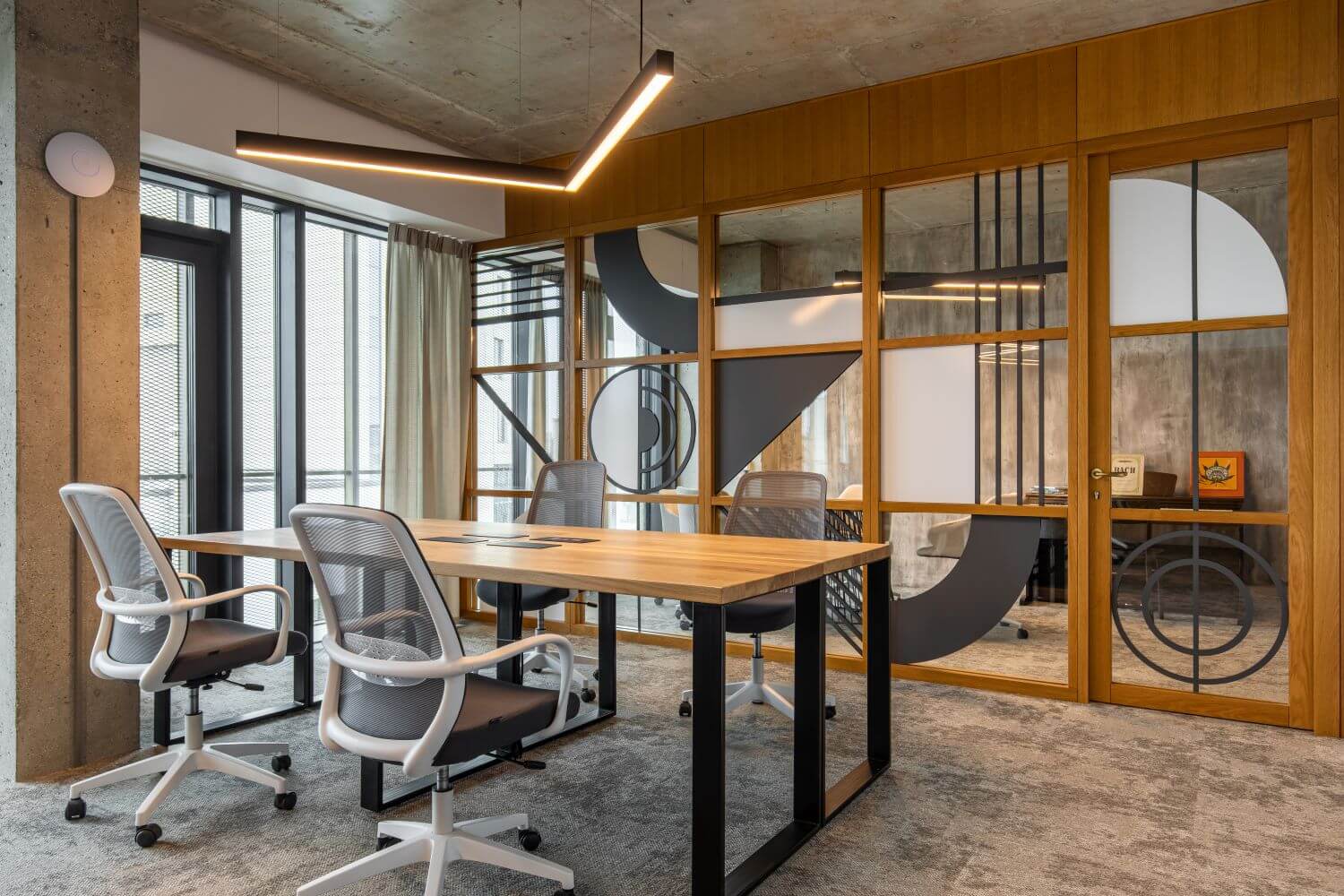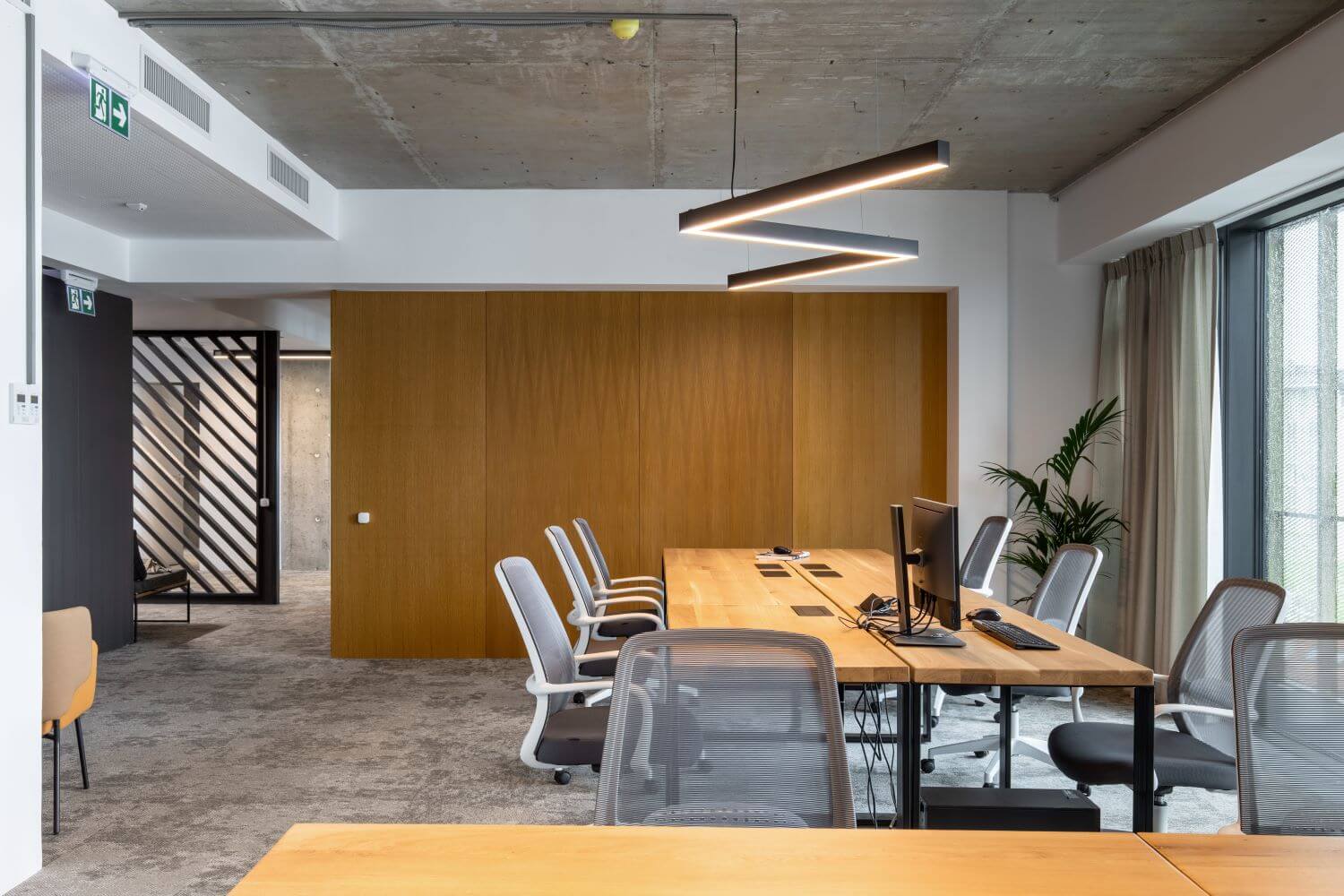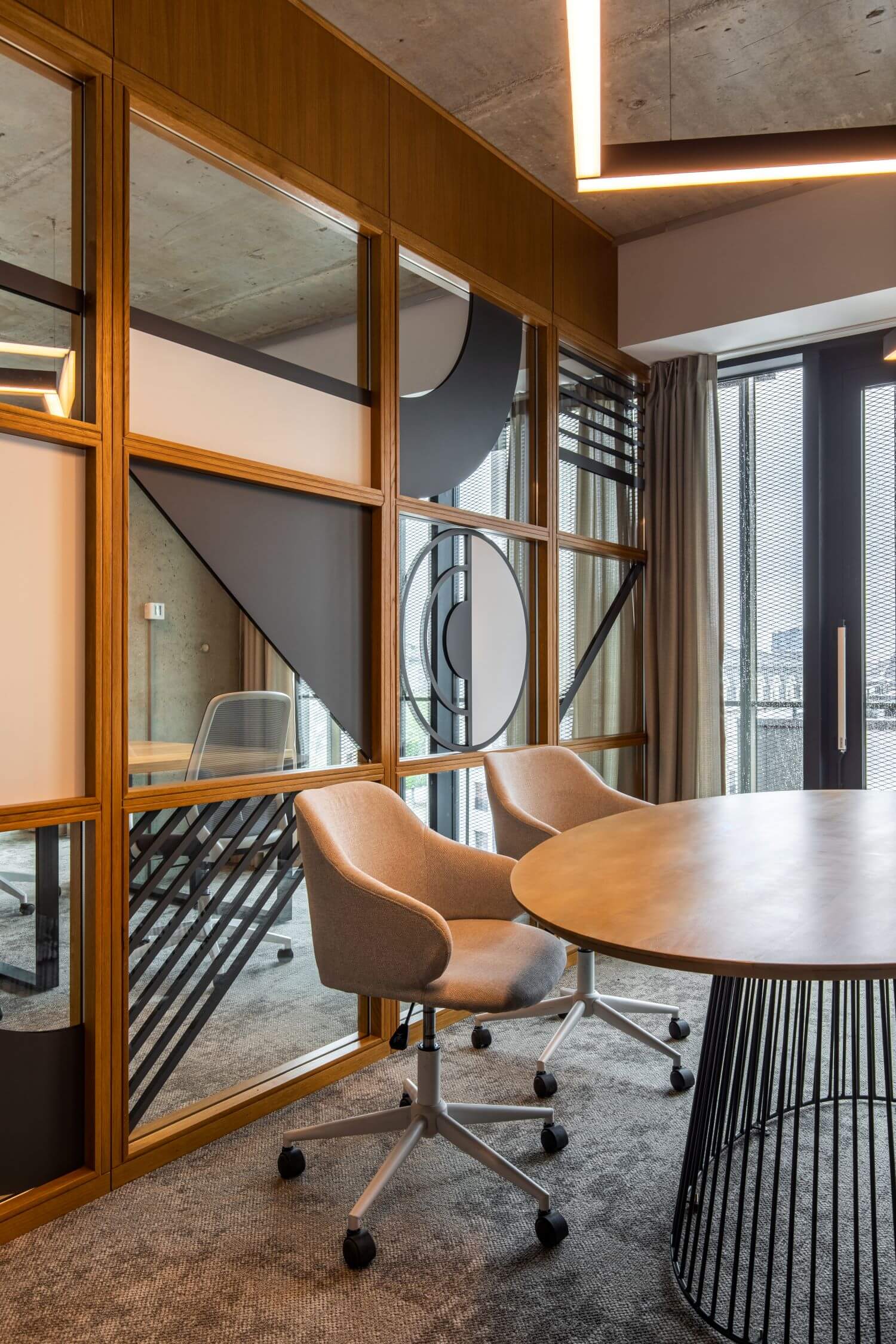 ---